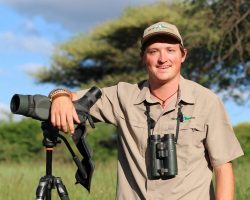 Read the blog article 'Getting to Know our Guides - Wian van Zyl'
Tour Leader and Social Media Manager
Growing up on a 50 000-acre Big Five private game reserve in the heart of the African bush with an ecologist father, it is only understandable how Wian managed to develop a strong love for nature and wildlife starting from his early childhood days. It all started with the identification of indigenous trees at the tender age of three, and from there things progressed at a rapid rate, his curiosity leading him to explore all aspects of his natural surroundings. First the larger mammals, then trees, and then onto the 'creepy crawlies', but at the age of 13, when an extravagantly colored Southern Red Bishop caught his attention, his addiction for all things feathered was ignited.
Now a qualified and experienced field guide through the Field Guides Association of South Africa (FGASA), Wian finds himself swapping his beloved second home, the Kruger National Park, for the fynbos-dotted landscape of the Western Cape, where he now resides. Having grown up traversing various parts of Southern Africa with his family and having subsequently guided in a lot of South Africa's varying biomes, Wian's knowledge of the local fauna and flora is truly remarkable.
When traveling with Wian you are bound to have a good laugh and an enjoyable, fun-filled time exploring nature as a whole but making sure to focus on the business end of finding target species when the time calls for it! His undying passion, enthusiasm, chivalry, and willingness to go the extra mile are characteristics hard to find in some modern-day bird guides but are all characteristics which make Wian, well, Wian!
When not birding, he enjoys exploring nature with his family, hiking, photography, dreaming of one day experiencing birding in the Neotropics, and sitting around the campfire listening to the stories of likeminded world travelers.
Join Wian on the following upcoming tours:
Read Wian's feedback from clients:
We traveled with Wian for nearly three weeks and 4,000 kilometres across Namibia, Botswana and Zambia. He went above and beyond in every way: driving, guiding, birding, dealing with the occasional difficulties and keeping us and our tour-mates safe and happy. His knowledge and skills belie his age and his stock of stories of growing up in the African bush provided background and entertainment. On top of all this, he found virtually all of the target species for us. We couldn't have asked for more.

Ron & Ruth Bonner – USA