First posted 17 February 2020, second installment posted on 4 June 2020 (please scroll down to "4 June 2020 update" below if you've already read the first part).
By Chris Lotz
My wife Megan and I are in the midst of an extended visit to Norfolk, arguably England's best birding county, containing some of Britain's most famous bird reserves such as RSPB Titchwell Marsh Nature Reserve and Cley Marshes. We arrived here on 1 January 2020, and as I write this blog we have now been here for a full 1.5 months.
The winter birding has been amazing! The birding here in Norfolk has been so good that I've hardly had time to miss the superb birding in Ohio, where we were based for three years, setting up the US office of Birding Ecotours (which is now being capably managed by Jacob Roalef). I've reached 130 species so far in Norfolk (plus a few more from other counties I've forayed into). Trying to see as many birds as possible while I'm here in Norfolk is really just an excuse to bird with old friends such as Paul Gaffan, Andrew de Klerk, and others who live in the area, to meet people I know of in the birding world who live in Norfolk (there are many of them), and, importantly, to get to know the county!
There are many highlights. I joined my first UK twitch for a Desert Wheatear on a beach in Norfolk. Then a male, blue-headed Eastern Yellow Wagtail (Norfolk's first ever and Britain's fifth ever) pitched up at a dung heap in northern Norfolk; what a great bird to see! Not only is this overwintering individual, which sticks to a small area around the dung heap it likes to forage on and is pretty reliably seen (it's still there as I write this in case you're interested!), a beautiful bird, but it's nice to join the excitement and energy of local birders arriving at the stakeout in droves.
I've loved the massive flocks of Pink-footed Geese, picking out rarer ones such as Tundra Bean Goose among the flocks. Whooper and Tundra/Bewick's Swans have been great to see. The Western Marsh Harrier roost at Titchwell was a true highlight (thanks Sue Bryan, who works there for the RSPB, for helping me with that). Getting my best views, by far, of Water Rail in the famous ditch also there at Titchwell was also a real highlight. Eurasian Woodcock roosting was yet another highlight of this winter's birding. The owls here are stunning, and I have enjoyed seeing Short-eared Owl on the famous Norfolk Broads, Tawny Owls roosting at Lynford Arboretum, Little Owl at Highfields Farm just south of Norwich, and many Western Barn Owls all over the place; I love how the barn owls hunt in broad daylight, giving superb views, quite different from the strictly nocturnal ones in South Africa. Seeing Common Cranes, a few of which are resident on the Broads, was also one of the memorable highlights of the birding here.
Lynford Arboretum has proved lots of fun, with about a dozen Hawfinches, a few Bramblings, close-up Eurasian Nuthatch, Mistle Thrush, Song Thrush, and a lot of Redwings and close-up, dazzlingly bright Yellowhammers.
I've enjoyed the gulls, too. Apart from the common gull species, Moss Taylor helped to show me a Caspian Gull at Sheringham Beach. We were actually struggling to locate the bird when someone started feeding bread to the gulls and several species of them came in and started swarming around right next to us. I ended up getting photos and videos of the Caspian Gull with my iPhone; I could almost touch the bird, it was so close. Here are a couple of them:
Norfolk locals suggested I just wait a few weeks until Mediterranean Gulls would "be everywhere", but is it really realistic to expect a birder to wait for a lifer? I certainly didn't want to wait, so one Saturday after a sightseeing drive from Norwich (where we live) to Cromer, then southwards along the beautiful Norfolk coast, and after enjoying a traditional cream tea at Great Yarmouth I mentioned to Megan "since we're only five minutes away, why not go to Great Yarmouth Beach now to look for Mediterranean Gulls" (it's the best place in Norfolk for them). They didn't disappoint, and several of these beautiful gulls with their stunning white wings were much in evidence among the many Black-headed Gulls and other common gull species.
A birding day with Andrew Stainthorpe, concentrating around Holkham National Nature Reserve, was incredible, to say the least. Four Shore Larks (as the Horned Lark is called in Europe), a nice flock of beautiful Snow Buntings, hundreds of Common Scoters, a few Velvet Scoters, a few Long-tailed Ducks out at sea, so many Brant Geese and other geese, etc., were fabulous to see. Nearby at Wells-next-the-Sea we had great views of Rough-legged Buzzard (or Rough-legged Hawk, as it's called in North America), and we also easily located the three Western Cattle Egrets nearby (this is a rare species in England!).
Megan and I occasionally find an excuse to make a foray into another county. The highlight was a trip to Rutland Water to see Smew, and we enjoyed seeing a pair of them; the drake is such a stunning bird, the female being more subtly beautiful. I'd only previously seen this species in captivity, so it was great now getting it as a lifer. Rutland Water is a wonderful site for winter birding, and we saw loads of other good species as well, not to mention the beautiful countryside between Norwich and the Midlands. On the way back from Rutland Water we also dropped in at King's Lynn and the 20,000-acre (8000 ha) Sandringham Estate (the Queen's private home); England is such a wonderful country for combining birding with sightseeing. The hundreds of hundreds-of-years-old buildings, spectacular gardens, etc., are nothing short of spectacular.
What will the next few weeks bring? We've loved the winter birding, and I bet the spring is going to be even better!
4 June 2020 update
Well, on 17 February 2020, when I made the closing statement to the first instalment of this blog, that "We've loved the winter birding, and I bet the spring is going to be even better!", I had no idea what we were actually about to be "in for". Megan and I went to South Africa for a family visit at the end of February, and barely made it back to Britain. We made it back in the nick of time, literally just before both South Africa and the UK started stringent lockdowns. Suddenly we found ourselves in the midst of the COVID-19 pandemic! Who would have thought that 2020 was going to turn out the way it did!
The day before the lockdown started I did manage a trip to the well-known tea room at Pretty Corner just outside of Sheringham, where I had absolutely superb eye-level views of a beautiful, rather vocal Common Firecrest (this is not actually a common bird, despite its name). Moving westward, a couple of other new year birds then came in the form of Common Snipe at Lady Anne's Drive at Wells-next-the-Sea, and then a couple of fantastic Eurasian Spoonbills nearby. And near where the spoonbills were I actually found a small gathering of Western Cattle Egrets, a rare bird in England (this was the same place I'd seen them earlier this year, as per the first instalment of this blog).
After a good birding session in the morning that evening an announcement was made that we could no longer do any non-essential driving and that we were only permitted one form of outside exercise per day near our homes. Otherwise the instruction was loudly and clearly to "stay at home" to minimize the transmission of the virus. So my would-be spring birding (at least the way I had envisioned it) came to a standstill, but at least I had gotten in the good morning of birding mentioned above.
Actually, the several weeks of lockdown (and with it the forced change of lifestyle) were in reality refreshing to Megan and me (we understand that this was by no means the case for everyone; we are incredibly thankful that we did not have to endure the same kinds of suffering as many people). The dawn chorus from our home was just so loud and cheerful. We could enjoy the songs of so many birds in and around our house, including some new arrivals such as Eurasian Blackcap, Common Chiffchaff, Willow Warbler (the song and contact call of which I am so familiar with from growing up in Johannesburg; not all birds overwintering in South Africa sing, but Willow Warblers certainly do!). Megan and I also enjoyed a daily walk from our home, sometimes to Lion Wood, sometimes along the River Wensum (where I saw my first of year – or FOY – Common Tern), etc. Sometimes we also walked to the 900-year-old Norwich Cathedral to enjoy the Peregrine Falcons that breed there. Lockdown birding for us was definitely pleasant, even though we knew we were missing things like Ring Ouzel that are common in the spring for a couple of weeks in Norfolk as they pass through, but not at places within easy walking distance from us. And the Willow Tit feeders about 40 minutes from our home were also a no-go during lockdown, so that species remains a tough bird for me to get for my year list as I missed the opportunity to see it visiting the feeders because of lockdown. So we knew we were missing "target" birds, but the forced change of focus wasn't at all arduous (just different from our expectations). Even just the beautiful songs of Common Blackbird, European Robin, Eurasian Wren, and the various tit species provided a lot of joy to us. And our bird feeders were attracting the good-looking Eurasian Jay, Great Tit, Blue Tit, and more rarely Coal Tit and Long-tailed Tit. Flocks of Eurasian Goldfinch were much in evidence.
One of the most notable changes in bird behavior was that Black-headed Gulls completely vanished from around our home during lockdown. Prior to lockdown this (usually) abundant bird was always present flying around, much in evidence every time I would step outside and making an appearance on every single e-bird list of mine. During lockdown suddenly there were hardly any in Norwich. I can only guess that the species moved to pig farms (of which there are many in Norfolk) and beaches, as humans weren't providing the usual food source. Norwich streets became eerily empty from a human point of view, and the skies above became similarly empty of Black-headed Gulls which I assume like to feed opportunistically on items people drop and leave behind. Lesser Black-backed and Herring Gulls remained (at least in some numbers), whereas Black-headed Gulls left the city of Norwich for all intents and purposes.
During the course of the lockdown more and more migrants from their African wintering grounds started showing up around Norwich. Common Swifts one day suddenly became a regular site above our home, much to our delight. Hirundines also arrived back. Within the space of a couple of days I quickly added Barn Swallow, Common House-Martin, and Sand Martin (Bank Swallow) to my Norfolk year list. Common Cuckoo with its characteristic call was also much in evidence. And warblers arrived in force, many of them best observed at the nearby Thorpe Marshes NWT (Norfolk Wildlife Trust) or across the river at Whitlingam Country Park (both quite easy walks from our home). The most common ones apart from the two Phylloscopus warblers and Eurasian Blackcap mentioned earlier were Greater Whitethroat, Sedge Warbler, Eurasian Reed Warbler and in fact Cetti's Warbler with its loud song. Common Grasshopper Warbler is much scarcer, but it's wonderful to hear its insect-like "song" on occasion.
The real highlight at Thorpe Marshes NWT was not any warbler, though, but instead it was most certainly hearing Corn Crake a couple of times! Yes, one pitched up here, right in Norwich, and entertained many a local birder for at least a couple of weeks. Some lucky birders even got visuals and photos of it. I need to go and see (or more likely hear) if it's still around now as I write this blog on 4 June. What a bird to get onto my British list, a species I'm more familiar with from Zimbabwe trips I've done!
Lockdown has recently become far less stringent, and we can drive anywhere we want and spend as much time outdoors as we wish. So in late spring I've managed to add some really great birds to my Norfolk year list. At least two European Turtle Doves were putting on a real show (calling and doing flight displays) at Alderford Common SSSI (Site of Special Scientific Interest). A trip to Hickling Broad generated a female Red-footed Falcon, at least two Eurasian Hobbies, a couple of booming Great Bitterns, and a Hooded-Crow-type thing (perhaps a hybrid, comments welcome, please e-mail info@birdingecotours.com).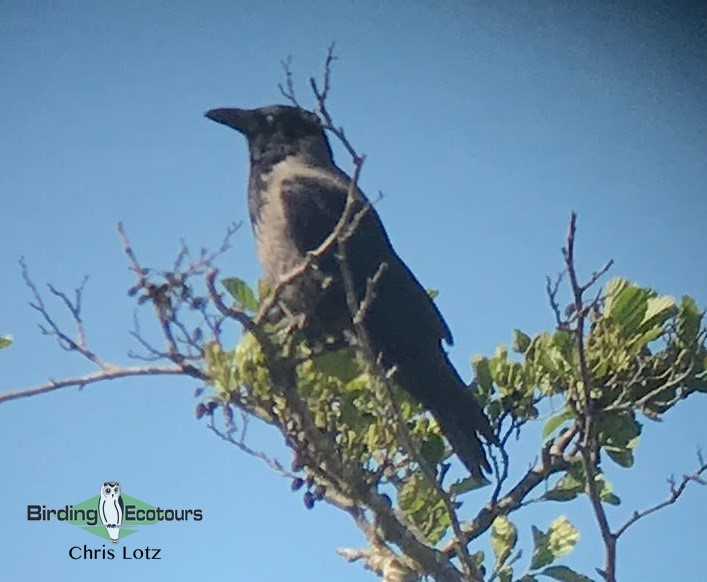 Hooded Crow is rare in the east of England and is more a continental European bird. I digiscoped this one at Hickling Broad the other day. Is this a hybrid (with Carrion Crow), though?
Megan and I recently took a drive to the beautiful Winterton Dunes NNR (National Nature Reserve) for an evening-visit. We were lucky enough to see a flock of Northern Gannets out at sea, a Common Whimbrel flying past, three Little Terns (this is the site of the UK's biggest colony of these dainty little beauts), and various other birds.
Most recently a visit to the village of Cockley Cley parish after dinner one evening was super-productive. Highlights were a couple of singing Tree Pipits, one of them posing on a nearby wire, a few Eurasian Nightjars, a Eurasian Woodcock flying over a field at dusk, and a nicely posing Spotted Flycatcher. Really high-quality birds!
Well, that's it for the "end of spring" 2020 Norfolk birding year blog. Let's hope the summer brings good things, too!
Before saying "cheers for now", however, I should note that worldwide lockdowns have given the whole Birding Ecotours team a rare opportunity to spend a lot of time generating brand new birding tour itineraries and updating a lot of other content on our website. Relevant here is that we have just added two British birding tours! So why not join us on one of our two UK annual set-departures birding holidays? Please see details of our Ultimate Spring bird tour (Scotland and England) and of our England in Winter trip here. Norfolk features in these birding tours, not surprisingly, being one of Britain's best birding counties.
Please watch this space for the next instalment of my Norfolk birding blog.