Go to Kruger Park & Escarpment bird tour page | South African bird tours | African trip reports |  All our birding tours
DOWNLOAD TRIP REPORT
29 SEPTEMBER – 7 OCTOBER 2019
 By Jason Boyce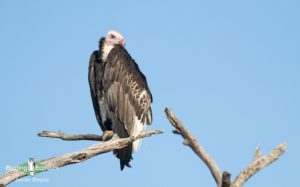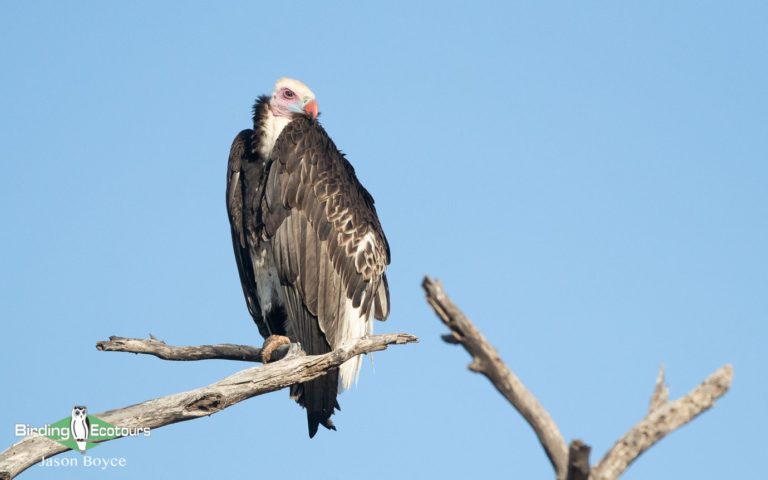 Kruger National Park is a great location to see many of the endangered Vulture species that we have in South Africa. Here is the Critically Endangered (IUCN) White-headed Vulture.
Overview
This is one of my personal favorite areas to go birding in South Africa. The escarpment regions hold a variety of different habitats and can produce some really top birds, while the reputation of Kruger National Park speaks for itself. We spent a couple of days birding the grasslands of Dullstroom, the escarpment forests near Graskop, and the rocky landscapes through the J. G. Strijdom Tunnel. Top birds here included Cape Eagle Owl, Blue Crane, Gurney's Sugarbird, Narina Trogon, and Knysna Turaco, not to mention the pair of African Finfoots seen in the Wilge River Valley en route to Dullstroom. Kruger National Park delivered right from day 1 with Dark Chanting Goshawk, White-headed Vulture, and Greater Painted Snipe around Letaba. We worked our way south from Letaba Rest Camp all the way to Berg en Dal Rest Camp over the next few days, with Satara Rest Camp producing Martial Eagle, the magnificent Saddle-billed Stork, and a large pride of Lions with cubs on the famous S100. Berg en Dal Rest Camp was great for birding, once again producing Retz's Helmetshrike, Purple-banded Sunbird, African Barred Owlet, Purple-crested Turaco, and Bearded Scrub Robin. Our last night's stay was in the famous birding area about one hour north of Pretoria, known as the Zaagkuildrift road and Kgomo-Kgomo floodplain. Here we picked up a number of dry-country species such as Violet-eared Waxbill, Cape Penduline Tit, Southern Pied Babbler, and Cape Vulture. The trip also focused on smaller mammals and large game, and Kruger National Park delivered on both accounts: Thick-tailed Greater Galago and Common Dwarf Mongoose were both very entertaining. Sightings of Lion, Leopard, and Spotted Hyaena were also incredible!
Detailed Report
 Day 1, 29th September 2019. The Wilge River Valley and drive to Dullstroom.
We started our tour with birding a fairly well-known Gauteng birding spot, the Wilge River Valley. Things were rather quiet and in general very dry, but some new growth in many of the plants and trees did liven things up. We enjoyed picking up the likes of Familiar Chat, Greater Striped, Lesser Striped, and Red-breasted Swallows, Black-headed Oriole, Green Wood Hoopoe, Striped Kingfisher, and Black-winged Kite. The morning's highlight, though, was a pair of African Finfoots cruising slowly on the Wilge River.
We arrived safely in Dullstroom, where we enjoyed a really good home-made-style lunch. Birding in Dullstroom for the afternoon was also slow. We headed up the De Berg Road and after some time with not much activity picked up Pied Starling, Hadada Ibis, and beautiful pair of Blue Cranes. Cape Longclaw, Mountain Wheatear, and Eastern Long-billed Lark were seen in good numbers, while a single male Sentinel Rock Thrush was on the lookout. We ended the day pretty well at the Dullstroom Nature Reserve, where we found a few Yellow-billed Ducks, Intermediate Egret, Rock Martin, Greater Striped Swallow, and, of course the bird of the evening, Cape Eagle-Owl. Cape Eagle-Owl is known to occur in this area, but finding it is a completely different story. We were lucky enough to see a pair of them, albeit from a distance.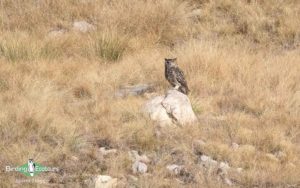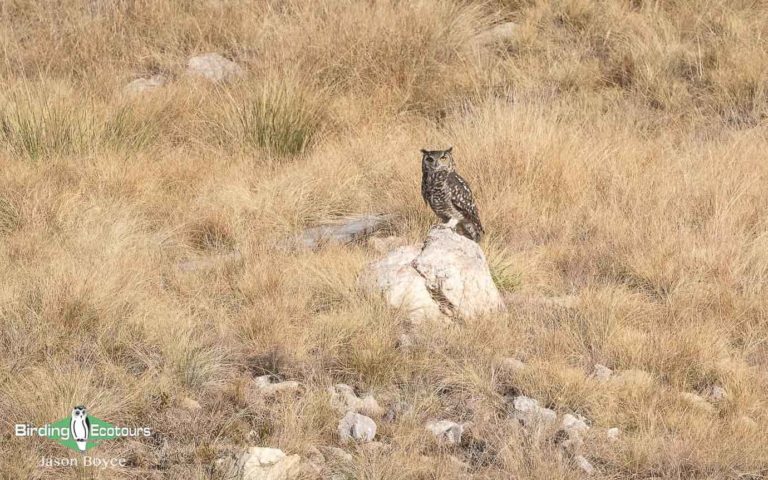 Not often seen, Cape Eagle-Owl is certainly a sought-after species in South Africa.
Day 2, 30th September 2019. Verloren Valei and Mount Sheba Nature Reserves
Another morning in the Highveld grassland habitats around Dullstroom certainly proved to be productive. Bird species were not too vocal today, but we still managed to get a few great species. A pair of Buff-streaked Chats was looking really nice on some nearby rocks, while Pied Starlings were moving from their roost sights. No less than three Marsh Owls put on a great show for us by quartering over the grasslands at the top of Verloren Valei Nature Reserve for a good fifteen minutes. One flew by with a large mouse in its talons. Mountain Wheatear, Cape Longclaw, Eastern Long-billed Lark, and African Pipit were all plentiful. We did well to pick up a Denham's Bustard at least a kilometer away in the distance – an enjoyable sighting nonetheless. Malachite Sunbird was spotted landing on one of the few protea trees in the area. Later in the morning we tried a known spot for Gurney's Sugarbird and were not disappointed. At least three Gurney's Sugarbirds were around, singing away. We also picked up Cape Bunting, Streaky-headed Seedeater, African Black Swift, and another Cape Eagle-Owl! Getting another (even better) visual of the owl was both unexpected and incredibly welcome!
En route to Mount Sheba we enjoyed sightings of a few Cape Crows and a single Alpine Swift cruising overhead.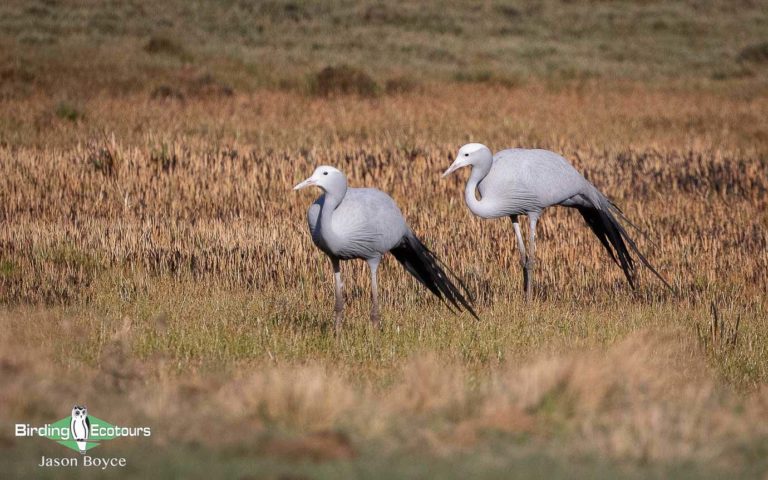 Blue Crane is South Africa's national bird.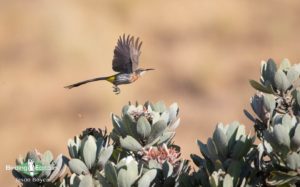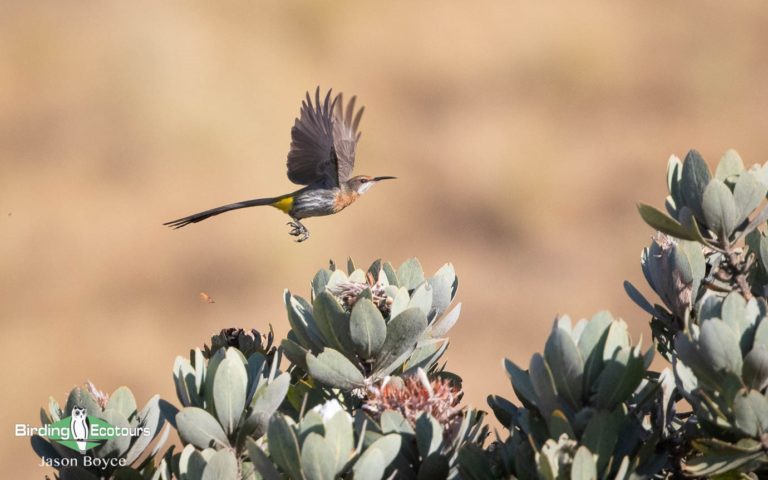 Both sugarbird species, Cape Sugarbird and Gurney's Sugarbird, are almost always seen in association with protea plants.
Mount Sheba Nature Reserve is a well-known escarpment spot with the potential to deliver some excellent bird species. We arrived at the start of the forest and found a few Bar-throated Apalises, Swee Waxbill, and a lively flock of Cape White-eyes. Farther into the forest we picked up a single Lemon Dove feeding on the side of the road. After check-in and a quick rest we headed back into the forest. Narina Trogon, White-starred Robin, and Cape Batis were almost immediately found. Farther up the road we also picked up African Dusky Flycatcher, Yellow-throated Woodland Warbler, Grey Cuckooshrike, and one of the specials of the area, Knysna Turaco! Things didn't end there; we continued and found: Olive Thrush, and some Sombre Greenbuls showed well before the mist rolled in for the evening.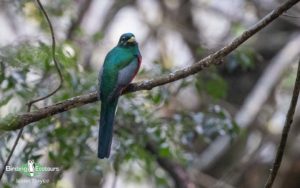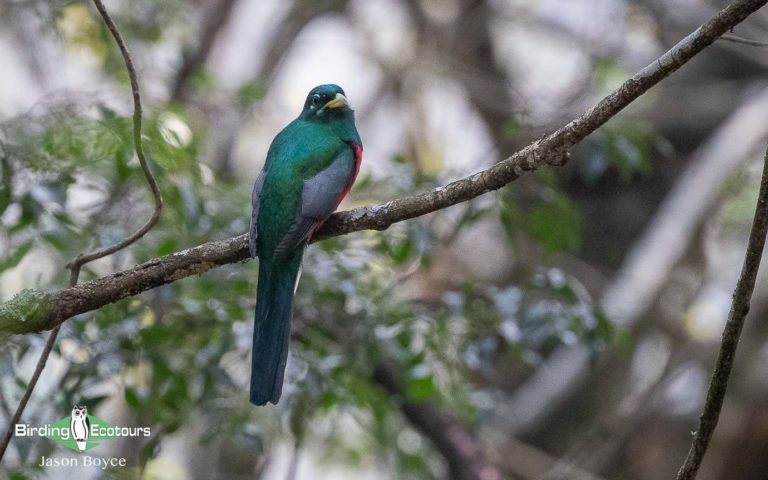 The only trogon species in South Africa, Narina Trogon.
Day 3, 1st October 2019. Mount Sheba Nature Reserve to Kruger National Park
The famous Mount Sheba weather man struck again with misty, drizzly weather for most of the morning, but we still managed to pick up the likes of Chorister Robin-Chat, Blue-mantled Crested Flycatcher, Olive Thrush, and Natal Spurfowl. En route to Phalaborwa, where we would enter Kruger National Park, we picked up a single Southern Bald Ibis along a section of the escarpment. We spent some time at the J. G. Strijdom Tunnel, which has historically been a breeding site for Taita Falcon. Despite spending a fair amount of time here scanning we did not manage to find the falcon. Consolation prizes were Cape Vulture, Cape Rock Thrush, Mocking Cliff Chat, Rock Martin, Alpine Swift, Swee Waxbill, and White-bellied Sunbird. We had a fairly easy drive to a cold and windy Phalaborwa Gate (with a nice Purple Roller sighting included). The weather was pretty unexpected for Kruger. We made the most of it and focused on enjoying a few bird sightings. First Dark Chanting Goshawk was seen chasing a Smith's Bush Squirrel around a dead tree. A single adult Bateleur came cruising over, while a small flock including Golden-breasted Bunting, Yellow-throated Bush Sparrow, Cape Starling, Red-billed Buffalo Weaver, and Long-tailed Paradise Whydah were feeding on the ground. Our first Lilac-breasted Roller produced the expected highs. Arriving at Letaba Rest Camp we birded around camp for a while, picking up the likes of Greater Blue-eared Starling, Mourning Collared Dove, Arrow-marked Babbler, and the awesome Southern Yellow-billed Hornbill. The river held Goliath and Grey Herons, Yellow-billed Stork, and three Greater Painted snipes. Areal feeders were in good numbers, with Wire-tailed, Red-breasted, Lesser Striped, and Greater Striped Swallows all present. The latter being a fairly rare passage migrant for Kruger National Park and the Lowveld in general. Spotted Hyena was really super to see; two animals were trotting along the riverbed at dusk.
Days 4-5, 2nd-3rd October 2019. The Letaba Area and onward to Satara
We explored a few of the areas around Letaba Rest Camp. The Engelhard Dam lies just to the east of the camp, so we decided to check out that area. We enjoyed a few bushveld species before we arrived in the riverine woodland habitat; these included Southern Black Tit, Green-winged Pytilia, Golden-breasted Bunting, Yellow-fronted Canary, Red-billed Firefinch, Blue Waxbill, and a few Yellow-throated Bush Sparrows. We also picked up a family of White-crested Helmetshrikes, which were slightly uptight about the fact that a Pearl-spotted Owlet was hanging around nearby. The riverine woodland was nice and produced Little Bee-eater, Arrow-marked Babbler, African Paradise Flycatcher, and a Red-capped Robin-Chat. The river was teeming with birds; various plovers including Common Ringed and White-fronted Plovers, Ruff, Common Greenshank, Little Stint, Common and Wood Sandpipers, Black-winged Stilt, and Collared Pratincole made up the shorebird count, and Saddle-billed Stork and African Openbill were a real treat. An African Fish Eagle was keeping watch while Striated, Squacco, Purple, Grey, and Goliath Herons were all not far away. It was also a good day for eagles; Brown Snake Eagle, Tawny Eagle, a pair of African Hawk-Eagles and Martial Eagle all made an appearance today in the Letaba area. Areal feeders were on the wing, decent numbers of Grey-rumped Swallows as well as a single Banded Martin. The latter is also a fairly scarce passage migrant through parts of central Kruger National Park. Our journey south to Satara Rest Camp the following day produced both Red-crested Korhaan and the sought-after Kori Bustard. A few vulture species were also a treat to see; White-backed, White-headed, and Hooded Vulture all showed nicely, some in flight and others perched in nearby acacia trees. The past few days had also produced some great mammal sightings. Spring Hare had been seen in massive numbers in the evenings from the Letaba restaurant, and we had had sightings of Slender Mongoose, Black-backed Jackal, Spotted Hyena, Lion, African Elephant, Common Warthog, Giraffe, Cape Buffalo, Greater Kudu, Impala, and good numbers of Blue Wildebeest.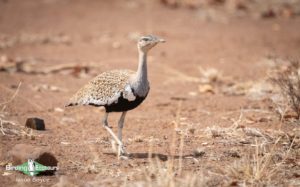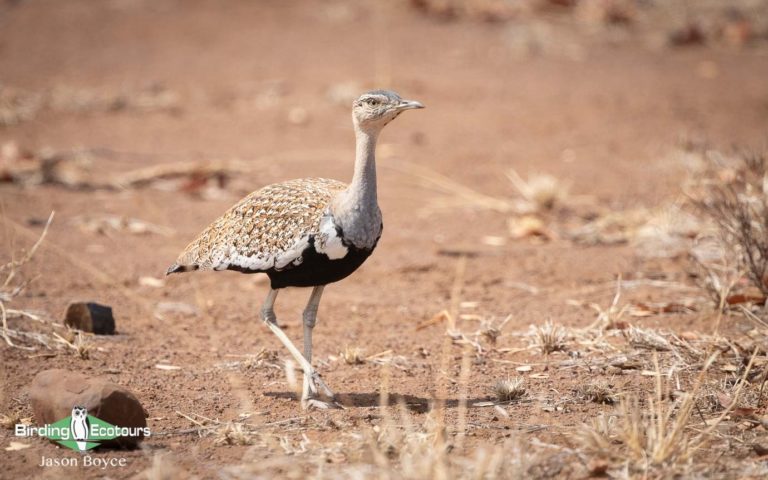 Red-crested Korhaan is a very smart-looking bird species. It is even smarter-looking when it raises its striking crest in display.
Day 6, 4th October 2019. Satara to Berg en Dal
We enjoyed quite a long day's drive today, heading south to Berg en Dal Rest Camp via the best- known camp in the Kruger Park, Skukuza. Once again we had exceptional big-game sightings en route; in addition to the more common antelopes, African Elephant seemed to be around almost every corner at one stage, while Cape Buffalo did well to attract both Red-billed and Yellow-billed Oxpeckers. We couldn't relocate the Lion pride (which included seven cubs) that we had seen the afternoon before on the S100 but did have two fantastic sightings of Verreaux's Eagle-Owl. A Little Sparrowhawk was around to give one of the Owls a hard time. It was another good day for raptors; after the Sparrowhawk we also picked up Dark-chanting Goshawk, Wahlberg's Eagle, and African Harrier-Hawk, as well as many Bateleurs cruising overhead in the heat of the day. Some more common species around Skukuza included Crowned Hornbill, African Hoopoe, African Green-Pigeon, and Red-faced Mousebird. Berg en Dal is situated in a beautiful array of rocky hillsides and outcrops, where many Leopards roam during the night. Nocturnal species at the camp were very vocal (as we enjoyed our South-African-style braai), namely Freckled Nightjar, Fiery-necked Nightjar, both Water and Spotted Thick-knees, and then a number of different African Barred Owlets were also heard calling.
Days 7- 8, 5th-6th October 2019. Berg en Dal and travel to Zaagkuildrift
A full day in the Berg en Dal area produced well over one hundred bird species. We started in the Berg en Dal Rest Camp, where we picked up most of the day's specials. Eastern Nicator was the first of those specials, a single bird came by as we were having some coffee outside our cabin. Brown-hooded Kingfisher, Green Wood Hoopoe, and Black-headed Oriole were also around in good numbers. Both White-browed and Red-capped Robin-Chats were seen in small thickets, while African Green-Pigeon and both Grey-headed and Orange-breasted Bushshrikes were very vocal from the taller foliage. We ended up recording six species of sunbirds this morning; these were Scarlet-chested, Amethyst, White-bellied, Marico, Collared, and the prized Purple-banded Sunbirds. The latter has moved into the eastern parts of Mpumalanga in great numbers in the past couple of years, now being common in Nelspruit and along the Crocodile River.  We finally managed to pick up one of the mammals that had alluded us on the trip so far, the last member of the big five, Leopard. A female was spotted in a large tree across one of the dry drainage lines We started our journey back to Pretoria on the morning of the 6th of October after a final walk in the camp. A few striking species showed well this morning; Purple-crested Turaco and Bearded Scrub Robin were welcome. On the way back to the Malelane Gate we found Southern White-crowned Shrike as well as a surprising sighting of Rock Kestrel. The rest of the day was spent traveling back to the Highveld and then dropping again in altitude towards the bushveld region of Zaagkuildrift. A few species greeted us at the lodge: Red-billed Firefinch, Crimson-breasted Shrike, and a fly-over Marsh Owl just after sunset.
Day 9, 7th October 2019. Zaagkuilsdrift to airport for international flight
Our final morning of the tour was productive, we added around ten species tor our trip list. The famous Zaagkuildrift Road has been known to produce good birding at all times of the year. We started with Violet-eared and Black-faced Waxbills before also getting onto Chestnut-vented Warbler. Small flocks of mixed seedeaters included Red-billed and Jameson's Firefinches, Green-winged Pytilia, and Red-billed Quelea. We stopped about two hundred meters before the floodplain starts and picked up a pair of Cape Penduline Tits, Pearl-spotted Owlet, Barred Wren-Warbler, Acacia Pied Barbet, Marico Flycatcher, and a single Neddicky. The floodplain was very dry and produced Capped Wheatear, Scaly-feathered Weaver, and Chestnut-backed Sparrow-Lark. Another pair of Red-breasted Swallows were located by their distinctive, robotic-sounding call. Other species that we picked up today in various spots before we started the journey to the airport were Cape Vulture, Yellow-billed Stork, Southern Pied Babbler, White-browed Sparrow-Weaver, Crimson-breasted Shrike, and Burnt-necked Eremomela.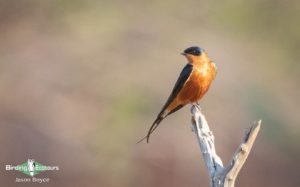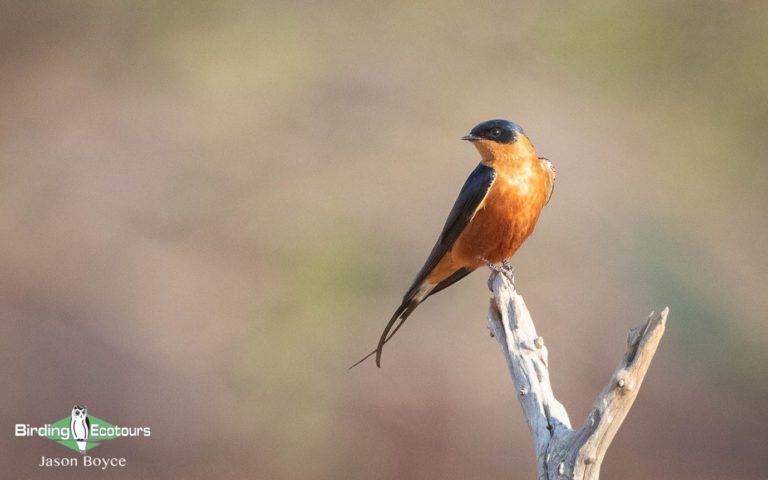 One of our most striking swallow species is the migratory Red-breasted Swallow, which is among the early arriving migrant species.
Please see the downloadable PDF above with the full species lists included.