When you're with Wian van Zyl you are bound to have a good laugh and an enjoyable, fun-filled time exploring nature! His undying passion, enthusiasm, chivalry, and willingness to go the extra mile are characteristics hard to find in some modern day bird guides but are all characteristics which make Wian, well, Wian! John spent some time chatting to this bush-loving, elephant dung consuming latest addition to the Birding Ecotours team to find out how his passion for all things alive, and specifically birds, started.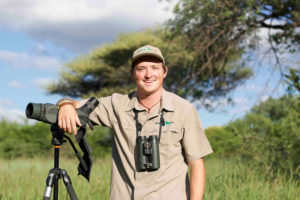 John: Give us a brief history of your childhood and what fueled your passion for birds and birding.
Wian: I grew up on a 50 000 acres Big 5 Private Game Reserve in the Waterberg region of the Limpopo Province in South Africa. For most of my primary-school life I was home- schooled, which meant that I spent more time out in the bush with my Dad than behind the books. It all obviously started with larger mammals, moving to creepy crawlies, and to trees (my Dad is an ecologist), and eventually at the bright-eyed age of 13 years a Southern Red Bishop in breeding plumage sparked the addiction of hunting down all things feathered and figuring out what it was that I was looking at. Looking for that adrenaline-filled satisfaction of successfully identifying birds on my own definitely took over my teenage years.
John: What countries rank the highest on your 'to bird' list?
Wian: I would love to head over to any South American countries as soon as I can!
John: Do you have a favorite bird or bird family?
Wian: I don't know why people always ask this question… It's so difficult to give one favorite! But gun to my head I would say owls. I absolutely go bonkers for owls!
John: Star Wars or Star Trek, and why?
Wian: Most definitely Star Wars! Because lightsabers are so much cooler than "pew, pew, pew" guns.
John: Are you a scope or binocular type of guy?
Wian: Binoculars! They're much lighter, easier, and cheaper, not to mention how one's skills really get put to the test when trying to get good views of the birds.
John: Do you have any other hobbies or interests?
Wian: I enjoy hiking and mountaineering. If I can't go birding I go and climb mountains. And I really also enjoy a good day out fishing (both in locations where there usually are birds anyway)
John: If you had one more day left to live, what would you spend it doing?
Wian: Climbing the Himalayan Mountains looking for snow leopard and Himalayan Snowcock.
John: Do you have a favorite book?
Wian: I'd say my favorite book is "The Seven Habits of Highly Effective People" by Dr. Steven R. Covey. It's a good read, challenging one's character and mind to strive for a greater quality of life.
John: What formal training have you undertaken?
Wian: I am a professionally qualified Field Guide through the Field Guide Association of Southern Africa (FGASA). And I'm about to start a degree in politics, which will keep me busy when not on tour or in the office.
John: The craziest thing you have ever done to see a bird?
Wian: Walking through knee-deep mud on the banks of the hippo- and crocodile-inhabited Olifants River in South Africa in search of the stunning Pel's Fishing Owl (I told you I go bonkers for owls.).
John: Your life motto and how you apply this to your day-to-day life?
Wian: "Achieving greatness is a step by step process". I have goals and plans for my life, and, I know this is obvious, achieving it is a marathon and not a sprint. So I start every day with my dreams and goals in mind and focus on making decisions that would get me there, and I work hard, as if success is around the corner.
John: The top five birds you want to see the most?
Wian: Shoebill, Bee Hummingbird, Snowy Owl, Greater or Lesser Roadrunner, Orange-bellied Parrot.
John: Describe yourself in three words?
Wian: Young, crazy, and joyful
John: Your best birding experience to date?
Wian: Walking in a grassy field to flush Marsh Owl, and after the first two popped up the grassland just erupted with owls, and we stopped counting at around 40 individuals!
John: Do you have a bogey bird and what is it?
Wian: Who doesn't have a bogey bird? I'd say the most frustrating bogey (out of many) would have to be Bat Hawk. I've tried many a time at apparently "very reliable" and "easy to find" spots, and I just can't seem to find this mythical creature.
John: What do you enjoy most about guiding?
Wian: Meeting people from all over the world, listening to their life stories, and getting to know where they're from.
John: What's the list you work on the most and what's its total?
Wian: I work on the IOC Southern Africa list, and it's currently at 682. I'm planning on growing it as I travel more and more.
John: What excites you most about Birding Ecotours?
Wian: The fact that I can be associated with a world-class company that has professional and passionate employees with great enthusiasm for all thing nature and conservation. And don't forget the pretty amazing food on tours…
John: What advice would you give to a budding young birder?
Wian: Learn your LBJs as soon as you can! Don't delay, and don't just rely on calls – they don't always call!