Back to African Trip Reports
DOWNLOAD TRIP REPORT
2 – 19 NOVEMBER 2018
 By Jason Boyce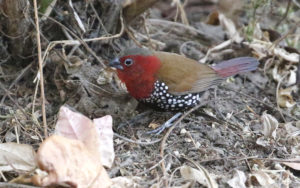 An unusual species to record on this tour: Red-throated Twinspot seen in Zambia near Livingstone (Photo: Peter Hilton)
Overview
This was a Namibia, Botswana, and Zambia birding adventure to remember. Starting in the iconic and well-known Walvis Bay we would thereafter traverse the diversity of Namibia: the escarpment, then north to the Kunene River, through Etosha National Park, and finally into the Caprivi Strip. The Okavango Panhandle in Botswana offers an amazing delta habitat filled with all kinds of waterfowl and aquatic species of birds, mammals, reptiles, butterflies, and so much more. We thoroughly enjoyed our couple of days in Botswana, and this leg of the trip, with so much time spent on boats, was certainly a highlight for some of our wonderful group. Lastly we traversed the Caprivi Strip and then found ourselves in Zambia, where we spent time around Livingstone as well as Victoria Falls.
We ended the tour with an impressive tally of 410 species of birds and an additional 10 species that were heard only. We also picked up 48 mammal species for the trip. The tour connected with some really exciting birds, some of the Namibian specials included Damara and Black Terns, Chestnut-banded Plover, Dune, Gray's, and Benguela Long-billed Larks, Rockrunner, Herero Chat, Cinderella Waxbill, Secretarybird, Black-faced Babbler, Bradfield's Hornbill, and Rufous-bellied Tit. Botswana produced African Hobby, two Slaty Egrets, African Pygmy Goose, and Pel's Fishing Owl. The eastern Caprivi and Zambia yielded Rock Pratincole, Livingstone's Turaco, African Finfoot, Collared Palm Thrush, Arnot's Chat, and the stunning Red-throated Twinspot.
Detailed Report 
Day 1, 2nd November 2018. Walvis Bay: an introduction to Namibian Birding
Walvis Bay is an amazing place to go birding; a massive lagoon and salt works surround an industrial town and provide great habitat for thousands of shorebirds and waterfowl. This is a true birders' paradise and a great place to start our birding tour. We started things with breakfast overlooking the Lagoon – Greater Flamingo, Bar-tailed Godwit, and Pied Avocet all visible from the promenade across the road. A little further south toward the Walvis Bay salt works we picked up good numbers of all the common shorebirds; these included White-fronted Plover and the prized Chestnut-banded Plover, Curlew and Marsh Sandpipers, Sanderling, Little Stint, Whimbrel, Common Greenshank, and Ruddy Turnstone, as well as Black-winged Stilt. Gulls were also well represented with the large Larus-type Kelp Gull and both Hartlaub's and Grey-headed Gulls showing well. Cape Teal was the only representative of the duck family. We also picked up four species of tern in the morning; these were Greater Crested, Caspian, Sandwich, and Common Terns. We ended the morning with a nice pod of Common Bottlenose Dolphins and a couple of Cape Fur Seals that were enjoying themselves in the lagoon.
Our afternoon session proved to be rather difficult birding, and the activity was slow before picking up later in the afternoon. We headed to the gravel plains inland from Walvis Bay, where we spent a good amount of time searching for Gray's Lark with no luck. We did, however, pick up a couple of chat species, a pair of Familiar Chats at the airport and then the pale Tractrac Chat a few times on the gravel plains. We also birded the Rooibank area, where we did manage to find the sought-after Dune Lark. We saw no less than four of them, some singing from the ground and others in fantastic display flight. Some of the other species that we picked up at the Dune Lark sight included Southern Fiscal, Pale-winged Starling, Chestnut-vented Warbler, and a flyby of a pair of Ludwig's Bustards (definitely the surprise of the afternoon).
Day 2, 3rd November 2018. Walvis Bay Lagoon birding and boat trip
The whole group was booked on a Walvis Bay Lagoon cruise. The trip is really good for Dolphin species such as Bottlenose and Heaviside's Dolphins – unfortunately today we only recorded Common Bottlenose Dolphin and missed the rarer Heaviside's Dolphin. But we did record a few excellent bird species in the form of African Penguin, Cape Gannet, Sooty Shearwater, Parasitic Jaeger, and both Black and Damara Terns. The seal colony on Pelican Point is seriously impressive and holds up to 60 000 Cape Fur Seals during the breeding season. We were also visited by two separate Cape Fur Seals on the boat, which enjoyed being on the Catamaran as much as we did and certainly enjoyed the raw fish they were being fed, as much as we enjoyed a few oysters and sparkling wine!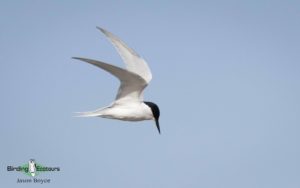 The diminutive west coast Damara Tern
After a successful morning out in the bay we headed south to the salt works lagoon roads for some shorebirds and were certainly rewarded; we saw excellent numbers of Chestnut-banded and White-fronted Plovers, both Whimbrel and Eurasian Curlew, and thousands of Curlew Sandpipers. Common Ringed Plover was found in low numbers, and a few Ruddy Turnstones and Sanderlings were also around.
Then we headed to Swakopmund and the Mile 4 Saltworks, where we finally picked up a small group of Gray's Lark. We had put in some effort for this species and thoroughly enjoyed watching the group glean whatever they could off the small succulent-type bushes growing in the deserted gravel planes. We also picked up a pair of Tractrac Chats. We checked out the Swakopmund water treatment plant, where we added Little Grebe, Red-knobbed Coot, Common Moorhen, Wood Sandpiper, Three-banded and Kittlitz's Plover, and African Reed Warbler. We stopped at the giant platform that can be seen from shore between Swakopmund and Walvis Bay, and here we added African Oystercatcher and Crowned Cormorant between hundreds of cormorants, pelicans, gulls, and flamingos. This was a very enjoyable and successful day's birding.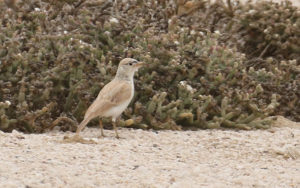 One of the species that gave our group the runaround before we finally managed to find a group of about six birds, the Gray's Lark (Photo: Peter Hilton)
Day 3, 4th November 2018. Spitzkoppe and the Namib escarpment
It was a really good day today; things went according to plan and the birds cooperated! We added a really good number of new species to the trip list today. Rüppell's Korhaan and Chat Flycatcher were two of the additions early today – a pair of korhaans were spotted on the gravel plains as we made our way to the famous Spitzkoppe. At Spitzkoppe itself we really had a great couple of hours: Herero Chat showed easily incredibly well, while a pair of Verreaux's Eagle gave us incredible flybys. Layard's Warbler, Dusky Sunbird, Black-chested Prinia, White-tailed Shrike, Monteiro's Hornbill, and Great Sparrow all came to the party, some of them very curious and singing just meters from us. Things were really starting to heat up (literally as well as figuratively) in the mammal department; we had brilliant looks at Black Mongoose a couple of times and at South African Ground Squirrel as well as small families of Klipspringer moving around effortlessly on the large granite outcrops. The central-Kalahari specials Crimson-breasted Shrike and Marico Flycatcher were both spotted as we traveled north toward our accommodation within the Erongo Mountain Nature Conservancy.
We stopped a couple times at a few local spots, targeting Violet Wood Hoopoe among others and were very successful. First there was a Tawny Eagle catching a few thermals and then a pair of Karoo Chat showed alongside the road. After arriving at our stakeout Burchell's Starling, Southern Pied Babbler, and Southern White-crowned Shrike were among the first species to give us some nice views. Rüppell's Parrot and Rosy-faced Lovebird were around in large acacia trees. Violet Wood Hoopoe was also in attendance – a large group of about eight birds. We also added Bennett's and Bearded Woodpeckers, Groundscraper Thrush, Red-billed Buffalo Weaver, and African Grey Hornbill. We ended the day brilliantly with Black-chested Snake Eagle, and at dinner Double-banded Sandgrouse came in to drink at the waterhole while a few very vocal Freckled Nightjars showed well after dinner.
Day 4, 5th November, 2018. The Namib escarpment
The Erongo Mountain Nature Conservancy is absolutely beautiful and holds some really great escarpment specials. On the way to Erongo Wilderness Lodge for some birding and lunch we enjoyed picking up a small family of Black-faced Waxbills as well as a few groups of Red-billed Spurfowls. Hartlaub's Spurfowl was heard calling, and finally we managed to get them into the scope on the rocky hillside. A pair of Carps Tits came by and showed very well at close range. Both Ashy Tit and Green-winged Pytilia were very active in the thicker thorny scrub and offered us a few good glimpses. The Erongo concession and specifically the area around Erongo Wilderness Lodge can be excellent for escarpment species among others. During the first ten minutes we found Red-headed Finch, Violet-eared Waxbill, and a brilliant Barred Wren-Warbler. A mammal highlight was seeing the intriguing Dassie Rat. But certainly our biggest target species here was Rockrunner – a legendary species and one that showed pretty well after some time of searching. The group enjoyed its bubbly call as much as seeing the bird! Cape Bunting was another good bird for us to pick up here. Our afternoon included a pretty substantial drive and of course some birding where possible. En route we found Benguela Long-billed Lark, Grey-backed Sparrow-Lark, Stark's Lark, a small group of Namaqua Sandgrouse, Rüppell's Korhaan, and Northern Black Korhaan. Late in the afternoon after a long drive we ended things with our first sighting of Purple Roller, the largest roller in the subregion and certainly one that the group had been hoping to find. 
The legendary Namibian Rockrunner often poses really nicely.
Day 5, 6th November 2018. Travel to the Kunene region
Today we all enjoyed another good day in Africa. I frequently have guests tell me that they didn't really want to come to Africa again but always end up coming back and have the time of their lives. This trip was no different, it was turning out to be one of the best Namibia tours ever. Today we traveled from Kamanjab to the Kunene region of Namibia, which is fairly long drive, and much of the day was travel. We spent some time birding the mopane and dry acacia woodlands around Kamanjab. These produced Pearl-spotted Owlet, Long-billed Crombec, Crimson-breasted Shrike, Barred Wren-Warbler, Willow Warbler, Pririt Batis, Red-billed Quelea, Monteiro's Hornbill, Carp's Tit, and a surprise Rockrunner. A roadside spot on the way north had some swift-and-swallow flocks; here we picked up four species of swift, Alpine, Bradfield's, Little, and White-rumped Swifts. A single Brown Snake Eagle as well as a single African Hawk-Eagle were both seriously impressive and showed very nicely.
Once we arrived at the banks of the Kunene River the resident Rufous-tailed Palm Thrush really wanted to be seen and showed incredibly well for an extended period of time. Other birds along the Kunene River were; Meves's Starling, Red-necked Spurfowl, Yellow-bellied Greenbul, and Holub's Golden Weaver. A European Honey Buzzard was also a pretty good sighting, a species that is considered a scarcity in Southern Africa but seems to have become a little more common in recent years.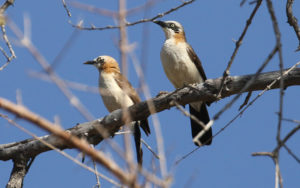 One of the most striking members of the African babbler family, Bare-cheeked Babbler
(Photo: Peter Hilton)
Day 6, 7th November 2018. A full day in the Kunene region
Unfortunately we were not able to do the Angolan Cave Chat trip to the Zebra Mountains – however, we did spend the morning going for the sought-after Cinderella Waxbill with great success. We headed up one of the river beds to an old waterfall site and on the way had an amazing interaction with a large group of Bare-cheeked Babblers. A bit further on a single Augur Buzzard gave us all great views as it came soaring down the river bed. The pretty Cinderella Waxbill didn't show for a good hour or so, and the group was a little worried we would miss them. But a little patience paid off eventually as a small group of four birds came in and hung around for a good while. We had great looks at a brilliant and range-restricted species. The afternoon was really hot, and most birds were finding some shade; we did, however, find Cardinal Woodpecker, calls of Grey-headed Kingfisher echoed across the river from Angola, Rosy-faced Lovebird showed nicely, and Olive Bee-eaters were surprisingly active. A brilliant sundowner boat cruise along the river was enjoyable with Golden-tailed Woodpecker, Common Greenshank, Little Egret, and Water Thick-knee all in attendance. After the boat ride we also decided to find some shade and eventually headed back to the lodge for another hearty meal overlooking Angola. Then we started our preparations for the magnificent Etosha National Park.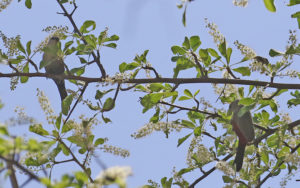 Our "princesses", the Cinderella Waxbill, finally showed after we had been waiting a good couple of hours at the site. (Photo: Peter Hilton)
Day 7, 8th November 2018. Etosha National Park
Today would mainly be a travel day where we would make our way from Kunene River Lodge to eastern Etosha, entering at King Nehale Gate. After some time stocking up with water and necessary supplies and finding a moment to have a quick lunch we found ourselves in the Andoni Plains of Etosha. Just before entering the park we birded a small water overflow area, where we picked up Wahlberg's Eagle, Banded Martin, Red-capped Lark, Pied Avocet, Little Grebe, Desert Cisticola, Ruff, almost literally hundreds of Chestnut-banded Plovers, and a few other aquatic species. The afternoon in the park was spent getting to grips with some of the more common Etosha birds and animals. We did have an amazing sighting of thirteen Blue Cranes near the Andoni waterhole. The cranes are resident here and make up a small isolated population within Namibia. We arrived at our lodge, settled in, and then enjoyed a few birds and mammals here, including Yellow-breasted Apalis, African Paradise Flycatcher, Southern Red-billed Hornbill, Grey Go-away-bird, and Banded Mongoose. 
Day 8, 9th November 2018. Eastern Etosha National Park
For a full day's birding and mammal viewing in Etosha we begun with a very early breakfast and set off into Etosha National Park, entering at the eastern gate. Our first few mammal encounters for the day were Black-faced Impala, Giraffe, and Springbok. Our first bird sightings of the day were raptor species; we encountered (rather coincidently) both Martial Eagle and Black-chested Snake Eagle within 100m of one another, and both perched on tall trees on the right side of the road.
We headed back north for the Andoni Plains, where we had an awesome, close encounter with a male Lion! We almost drove past this amazing animal, but luckily some of the group spotted it out the right side of the vehicle, only about fifteen meters from us. The highlights in the Andoni grasslands and surrounding thorny woodlands were Kori Bustard, Red-crested Korhaan, Northern Black Korhaan, Tawny Eagle, Pale Chanting Goshawk, Red-necked Falcon, European Bee-eater, Eastern Clapper Lark, Pink-billed Lark, Ant-eating Chat, Marabou Stork. and another great sighting of Blue Cranes.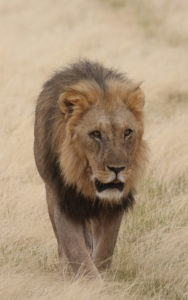 This large male Lion gave great views in Etosha National Park. (Photo: Peter Hilton)
A couple of special sighting for the group as we were traveling back to our lunch spot were first a pair of Double-banded Coursers seen right alongside the road calling away beautifully with their very upright posture and heads pointed heavenward – what a sighting of a typical Etosha species! Soon after we encountered our first Secretarybird – a bucket list bird, of course! We enjoyed a game drive that afternoon in an open safari vehicle with a local Namibia bird- and mammal guide. Good numbers of Kori Bustards showed once again, and we also picked up a male and a female Lion and added Lesser Grey Shrike to our trip list. We ended our drive heading to the Klein Namutoni waterhole, where a leopard had been seen. As we arrived we saw the young Leopard walking among the scrub about twenty meters off the road. This amazing animal had unfortunately been barking up the wrong tree and had gotten itself injured by a porcupine, and many of the quills were still lodged in its face and body. It left us wondering if it could survive in the long run and was a reminder for how cruel nature can be.
Day 9, 10th November 2018. Etosha National Park, Namutoni to Okaukuejo
It was great to spend another full day in the park, traversing the whole eastern section from Namutoni to Okaukuejo. The day was filled with more great mammal and bird sighting. Good numbers of Kori Bustards, Secretarybird, Tawny Eagle, Double-banded Courser, Grey-backed Sparrow-Lark, a single Black-winged Kite, and many others were seen. We continued to pick up some special and more uncommon species too; Temminck's Courser was a cracker, a single bird at first and then later in the day we found a pair at a separate site.
Halali camp birding is always really enjoyable, and today was not different. The large mature trees provide some shade in the heat, and many species take cover here by midday. We found Violet Wood Hoopoe, Monteiro's Hornbill, Damara Red-billed Hornbill, Southern White-crowned Shrike, and Yellow-breasted Apalis. We continued west and birded some of the grassland sections on the pan's edge. Here we found Greater Kestrel, Lanner Falcon, another small group of Blue Cranes, Desert and Zitting Cisticolas, and Spike-heeled Lark. We also picked up both Tawny and Martial Eagles at the Rietfontein waterhole. Here we also saw some great mammals: A small pride of Lions were resting under the mopane trees behind us, while a single Black Rhinoceros arrived to have a quick drink of water and a Black-backed Jackal also ran by.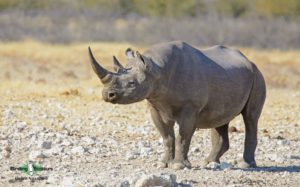 One of the most incredible mammals on the African continent must be Black Rhinoceros, and Etosha is certainly one of the best places to see it.
Day 10, 11th November 2018. Birding the Gemsbokvlakte and Okaukuejo waterholes
On our final morning in the park we had another open safari vehicle to ourselves. It was a beautiful cool morning in Etosha, which was a welcome change from the last couple of days. One of the main camps in Etosha National Park is Okaukuejo, which has a perfectly-located waterhole to watch animals and birds coming to drink. We spent some time here in the afternoon and had some nice visuals of Sociable Weaver, Acacia Pied Barbet, Black-headed Heron, Namaqua Dove, African Cuckoo, and Greater Striped Swallow. The waterhole obviously boasts a good assortment of mammals too, so we enjoyed watching a large herd of African Elephants, Springbok, Black-faced Impala, Plains Zebra, Giraffe, Gemsbok, and Black-backed Jackal. Seeing a Bushveld Elephant Shrew at close range was a real novel sight too!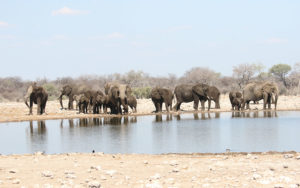 A typical sight at an Etosha waterhole, we had many brilliant sightings of African Elephant during out time in Etosha. (Photo: Peter Hilton)
One of the most exciting sightings during this afternoon was that of a cracking male Pallid Harrier – a Palearctic migrant that makes its way into the Southern African region by November most years. Rufous-eared Warbler was a real little gem of a bird to see; we managed to track down a pair of birds in the low scrubby areas to the east of Okaukuejo and had some nice looks at them calling away from the top of small bushes. On the drive back to the lodge there were huge numbers of Common Swifts moving all over the place ahead of what looked like a great electrical storm; this was quite a sight indeed! White-crested Helmetshrike showed nicely to some members of the group from the lodge in the late afternoon, while the evening provided Rufous-cheeked Nightjar and African Scops Owls calling, but unfortunately, try as we might, we did not get visuals.
Day 11, 12th November 2018. Travel day, Etosha to Roy's Camp
The grounds of Etosha Safari lodge did offer us an interesting array of species before breakfast followed by a long drive east. We certainly enjoyed Short-toed Rock Thrush, Pearl-spotted Owlet, Brubru, Golden-tailed Woodpecker, Bare-cheeked Babbler, Violet-eared Waxbill, and good numbers of Red-billed Quelea. What was mostly a travel day really did end incredibly well for us. We had about two hours of daylight left after arrival at Roy's Camp and within the first few seconds we spotted our biggest highlight for the afternoon: Black-faced Babbler. There were also a few Red-billed Buffalo Weavers hanging around with the babblers. After a long day in the car we spend some time with a drink, sharing some history knowledge and telling a few stories. 
Day 12, 13th November 2018. Into Botswana        
We left Roy's Camp early in the morning in order to spend some time birding at some of the woodland patches around Rundu as well as the water treatment plant to the east of Rundu. The woodland patches south of Rundu are slowly being destroyed by the local communities for firewood, charcoal, furniture, and the craft- and drum-making industry. These woodland patches can still be productive; however, we only managed to pick up Spotted Flycatcher, Common Scimitarbill, African Yellow White-eye, and Scarlet-chested Sunbird. The water treatment plant (more like sewage ponds) were absolutely brilliant, though! A great few hours really produced the goods for us. As we arrived we found a Lilac-breasted Roller and Magpie Shrike sitting on power lines, the edges of the ponds held Senegal Coucal, Swamp Boubou, Mourning Collared Dove, Lesser Swamp Warbler, Squacco Heron, and African Swamphen. We then moved to the north of the ponds, where some flooded grasslands run into a large reedbed, and here we truly picked up some crackers for the trip! African Rail (a true highlight) and Lesser Moorhen were both around, the latter showing incredibly well. Other species in attendance here were Collared Pratincole, Whiskered Tern, Blue-cheeked Bee-eater, and both Greater Painted-snipe and African Snipe. The ponds themselves held both African and Lesser Jacanas and Red-billed, Cape, and Hottentot Teals as well as African Darter and Reed Cormorant.
Later in the morning we birded some of the broad-leafed woodlands that we passed through while on the way to Divundu. Here we picked up the likes of African Paradise Flycatcher, Amethyst Sunbird, Bradfield's Hornbill, Meyer's Parrot, and Lizard Buzzard all near our lunch spot, and a little further east we did really well to find Pale Flycatcher and the uncommon Rufous-bellied Tit. We had already had an amazing day when we headed into Botswana – the Okavango Delta leg of our trip had begun. The border post is a breeze here, and then we started the short drive to Shakawe. On the way we picked up our first Southern Carmine Bee-eaters and Cut-throat Finches. The finches are tricky to find nowadays, and these were the only ones saw on the entire trip. A whole host of new common birds were in abundance here in Botswana, and many would continue to show well for the rest of the eastern leg of the trip; some of these were Dark-capped Bulbul, Red-eyed Dove, Orange-breasted Bushshrike, Willow Warbler, Hartlaub's Babbler, Violet-backed Starling, and White-browed Robin-Chat. 
Day 13, 14th November 2018. Full day along the Okavango Panhandle, Botswana
Unanimously, today was one of the best days of our whole tour; personally I am still quite amazed at the sightings that we enjoyed today! We started things in the morning before breakfast with some birding around the lodge, and here we found White-fronted and Little Bee-eaters, Orange-breasted Bushshrike, Rufous-bellied Heron (a flyby), Chirping Cisticola, Little Bittern, Tawny-flanked Prinia, and African Stonechat. We found a few really productive spots with some flooded grassland, at which we picked up various waterfowl and shorebirds, including African Wattled and Long-toed Lapwings, Kittlitz's Plover, Ruff, African Snipe, and Common and Marsh Sandpipers, as well as Western Yellow Wagtail. An adult African Marsh Harrier drifted over our boat as we were traveling past large pods of Hippopotamuses and the occasional three-to-four-meter-long Nile Crocodile sunning itself on the bank.
Later in the day we had incredible sightings of both African Pygmy Goose and the iconic Pel's Fishing Owl. A pair of African Pygmy Geese was in one of the eastern channels of the panhandle in a typical water-lily-covered setting. Here there was another small section of flooded grassland, where we encountered Intermediate Egret, African Snipe, Whiskered Tern, Brown-throated Martin, and a few Black Herons. We had worked hard the whole day in order to find a roosting Pel's Fishing Owl, and finally, our luck turned. We walked along a patch of woodland alongside the channel, and our brilliant local guide and skipper came back saying that he had spotted one. We spent a good twenty minutes observing this beauty in the setting sunlight.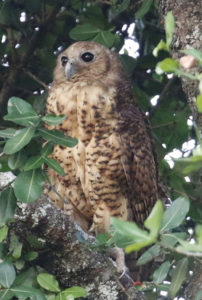 Surely one of the greatest species to connect with in our subregion, the magnificent Pel's Fishing Owl (Photo: Peter Hilton)
My personal favorite sighting of this leg of the trip, however, was an aerobatic display by an African Hobby, a bird that is not that easy to come by in Southern Africa, which spent time hunting Barn Swallows over the panhandle near the town of Shakawe. What a brilliant sighting!
Day 14, 15th November 2018. Transfer back into the Caprivi Strip of Namibia
A beautiful African sunrise greeted us as we met to start the day with a walk along the panhandle. African Barred Owlet showed particularly well this morning after we picked up the call and 'hunted' it down. After a really good, relaxed breakfast we checked out and started our short journey. We reluctantly exited Botswana and drove back into the Caprivi strip of Namibia, where we spent the afternoon exploring the fantastic Mahango Game Park, part of the large Bwabwata National Park. Highlights here were certainly too many to list, but they included Bradfield's Hornbill, Wattled Crane (four birds), a pair of Saddle-billed Storks, African Spoonbill, White-headed Vulture, Tawny Eagle, Bateleur, Brubru, Coppery-tailed Coucal, Hartlaub's Babbler, Burnt-necked Eremomela, and a pair of Plain-backed Pipits. The mammal sightings in Mahango Game Park are normally brilliant – today was certainly proof of that when we accumulated a rather large list of mammals while in the park, most of which are listed here: Roan and Sable Antelopes, Impala, Greater Kudu, Southern Reedbuck, Red Lechwe, African Elephant, and Common Warthog. Common Ostriches with youngsters gave enjoyable sightings, while the interesting Swainson's Spurfowl provided a good show as well. Our last sightings of the day were two mammal species: We finally had some really nice, close-up looks at African Buffalo, and after that we found a small herd of Tsessebe before we had to make our way out of the park and to our lodge for the night. 
Day 15, 16th November 2018. Traversing the Caprivi Strip
We kicked off our day today with a short walk from the grounds of our lodge. The banks of the Kavango River certainly delivered some nice sightings, Great Egret, African Wattled and White-crowned Lapwings, Rock and Collared Pratincoles, and Black Crake. We walked to one of the dry floodplains near the lodge, where we picked up Lilac-breasted Roller, Zitting Cisticola, Magpie Shrike, and White-browed Scrub Robin. Then we started our drive toward Zambia and Victoria Falls. We were staying in Katima Mulilo, Namibia, tonight, which is situated on the border with Zambia on the Zambezi River. We arrived at our lodge and immediately found Swamp Boubou, Schalow's Turaco, and a roosting African Wood Owl. Our lodge had organized an afternoon boat trip for us, which certainly didn't disappoint. Our first incredible sight from the boat was a pair of Greater Painted-snipes, a species in the shorebird group but one that does not usually wade out in the open such as sandpipers and stilts.
We enjoyed prolonged views of both a male and a female, allowing us to scrutinize the differences between the two. Another interesting bird was a young Western Banded Snake Eagle soon afterwards. After the snipe and the snake eagle we were ready to head back to the lodge, but the best was yet to come. First both a male and a female African Finfoot came out from the confines of the wooded overhangs, and both weren't really very shy and allowed us to drift ever closer. And then we found a pair of Half-collared Kingfishers, a bird that is not too easy to see in Namibia and one that also seems to stay in the cover of the overhanging branches.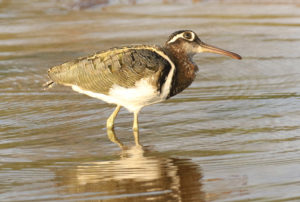 Greater Painted-snipe, one of only three members in its family (Photo: Peter Hilton)
Day 16, 17th November 2018. Into Zambia and onward to Livingstone
Our mornings birding today was one of the best mornings that we had on the tour. We really did well to pick up a good number of new species for the tour. Our first were near the lodge, Terrestrial Brownbul and Brown-throated Martin. We also had a flyby Rufous-bellied Heron, which only some members of the group saw before it flew out of sight. We headed south to a few of the remnant broad-leafed and mopani patches of woodland, where we found species such as Yellow-throated Petronia, Southern Black Flycatcher, Crested Barbet, Black-crowned Tchagra, and Striped Kingfisher. We had a few highlights here, and one of the main ones was getting nice sightings of male and female Arnot's Chat. We saw this pair just as an African Golden Oriole called from the top of a tree near us. Our walk was highly successful this morning, and we continued to walk and check a few different areas. We picked up Purple-banded Sunbird on call and then had visuals. A bit further along we checked a known roost site for Rufous-cheeked Nightjar and were successful in seeing a single bird.
After crossing the border into Zambia and a beautiful drive along the Zambezi we finally arrived at our lodge in Zambia just in time to join a boat cruise on the Zambezi. The bird life from the lodge grounds and the banks of the river was amazing, and we found Violet-backed Starling, Trumpeter Hornbill, Grey-headed Kingfisher, Broad-billed Roller, Striated Heron, and Pied Kingfisher with ease. A sunset birding cruise on the Zambezi is a really special outing, and the birding is not too bad either!
Day 17, 18th November 2018. Birding around Livingstone and Victoria Falls
So far the birding on this leg of the tour had exceeded expectations, and more was most certainly still to come. We started today with a walk around the grounds of the lodge, where we picked up Shikra, Red-faced Cisticola, Natal Spurfowl, Collared Palm Thrush, Blue Waxbill, and one of the stars of the morning, Red-throated Twinspot. Other species to really show nicely were Schalow's Turaco, Lesser Honeyguide, Red-winged Starling, and Bearded Scrub Robin. After the walk we enjoyed a really great breakfast, packed our things and headed toward Livingstone and Mosi-oa-Tunya National Park. We spent some time in the park and found a few interesting things, not the least of them was a cracking male Bateleur flying low over us. The national park runs along the northern banks of the Zambezi and has sections of nice open savanna and other sections of thick riverine woodland. We encountered herds of African Buffalo in the savanna sections and a few dapper-looking male Bushbucks in the riverine woodland. Other species we enjoyed this morning were African Openbill, Marabou Stork, Hooded Vulture, Gabar Goshawk, and Black Cuckooshrike. Then we headed to the world-famous Victoria Falls, some of us from the Zambian side and others from the Zimbabwean side. The water levels are low in November, but the falls were still incredibly impressive from either side. We spent time just taking it all in, the views, the sound, the breeze, and of course a few birds too: Red-winged Starling and Common Buzzard were both new to the trip. After we had enjoyed this wonderful spectacle long enough we had a late lunch and afterwards went back to the lodge.
This tour is one in which we really try to fit in as many boat cruises as possible; there is something very special about spending time on the water. We had reached that time of the trip where, sadly enough, we went on our last boat cruise. We once again had cracking, close-up visuals of Rock Pratincole and also encountered White-browed Coucal, Trumpeter Hornbill, Brown-hooded Kingfisher, a single Sand Martin, and later in the afternoon a Common Cuckoo.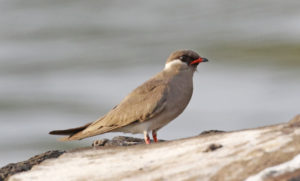 A really great sighting of Rock Pratincole – a couple of birds sitting on the rocks in the middle of the Zambezi River (Photo: Peter Hilton)
Day 18, 19th November 2018. Departure
Our final morning saw some of the group head in their own direction, while others joined a last birding session in the miombo-type woodland that is situated west of Livingstone. We had a good morning, adding some new birds to our trip list. A pair of Racket-tailed Rollers really put on a great show for us, calling and giving their display flight. We also managed to find a couple of White-breasted Cuckooshrikes, many Willow Warblers, Retz's Helmetshrike, and a single Stierling's Wren-Warbler. We walked around a little more in search of Miombo Rock Thrush but weren't having any luck in the first hour. We did find a good bird in the form of Collared Flycatcher – a species not too uncommon in Zambian woodlands in the summer – and thereafter a brilliant little party of Green-capped Eremomelas. The call of the Miombo Rock Thrush is incredibly distinctive, and just when we were going to leave I heard a bird calling. We tracked it down and found the female first and then a lovely male bird – a super way for us to end a great tour!
Please see the downloadable PDF above with the full species lists included.