Back to Asian Trip Reports
DOWNLOAD TRIP REPORT
7 – 16 APRIL 2019
By Andy Walker
Overview
This 10-day custom birdwatching tour of Northeast India commenced in New Delhi on the 7th of April 2019 and ended back there on the 16th of April 2019. The tour was based on a shortened version of our Northeast India March set-departure tour with modifications to fit the timescale available and target the monotypic Spotted Elachura; the main reason for this custom tour. During this short tour we birded at Nameri Tiger Reserve, the Eaglesnest (Lama Camp and Bompu Camp) area, and Kaziranga National Park.
A total of 335 bird species were seen (plus 18 species heard only). The main target bird, and main reason for this whole trip was the Spotted Elachura, which we saw well. However, by placing ourselves in this part of India we found plenty of other highly-sought species such as White-winged Duck, Bugun Liocichla, Temminck's Tragopan, Ward's Trogon, Fire-tailed Myzornis, Kalij Pheasant, Greater Adjutant, Lesser Adjutant, Beautiful Nuthatch, Himalayan Cutia, White-breasted Parrotbill, Hoary-headed, Rusty-fronted, and Streak-throated Barwings, Sikkim Wedge-billed Babbler, Rufous-throated Wren-Babbler, Bar-winged Wren-Babbler, Great, Wreathed, and Oriental Pied Hornbills, Red-breasted and Blossom-headed Parakeets, Spotted, Scaly, Blue-winged, Black-faced, Bhutan, Striated, Rufous-necked, and Chestnut-crowned Laughingthrushes, Red-faced Liocichla, Yellow-rumped Honeyguide, Swamp Francolin, Indian Grassbird, Dusky Eagle-Owl, Black-necked Stork, Spot-billed Pelican, Pallas's Fish Eagle, Grey-headed Fish Eagle, and Black-breasted and Finn's Weavers.
It was not just all about the birds on this tour as we found, and really enjoyed some incredible animals, such as the huge armor-plated, prehistoric-looking Greater One-horned Rhinoceros, the stately Asian Elephant, and a stunning (and rather lengthy) King Cobra! With a supporting cast including Wild (Water) Buffalo, Barasingha (Swamp Deer), Hog Deer, Arunchal Macaque, Capped Langur, Smooth-coated Otter, Black Giant Squirrel, and more. Full species lists are provided at the end of this report.
Detailed Report
 Day 1, 7th April 2019. Arrival into New Delhi
Everyone arrived in New Delhi during the day ahead of our flight to the northeast the following day.
Day 2, 8th April 2019. New Delhi to Guwahati, then travel to Nameri Tiger Reserve
After a delayed flight out of New Delhi we arrived in Guwahati in the afternoon before driving out to Nameri Tiger Reserve area for the night. A stop in Guwahati at the waste facility was an assault on the senses and heartstrings but did give us an incredible opportunity to see both Greater and Lesser Adjutants, two species of humongous prehistoric and exceedingly ugly creatures, the former being Critically Endangered (BirdLife International). After this quick stop, we just picked up the odd common bird along the way such as Black Drongo, White-throated Kingfisher, and Black Kite. We arrived at our accommodation in the evening, had a quick dinner and went to bed!
 Day 3, 9th April 2019. Nameri to Lama Camp (Eaglesnest)
It was light early so we were up early too, well we were awake before it got light due to the calls of Oriental Scops Owl, Asian Barred Owlet, Savanna Nightjar, Indian Cuckoo, and Asian Koel. We had a nice pre-breakfast hour's birding in the grounds of our accommodation finding numerous birds, the best of these included a pair of Great Hornbills at their nest, plenty of Red-breasted Parakeets, Yellow-footed Green Pigeon, Common Hill Myna, Great Myna, Chestnut-tailed Starling, Spotted Owlet (as well as seeing the Asian Barred Owlet), Scarlet-backed Flowerpecker, and Black-hooded Oriole.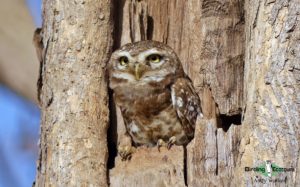 Spotted Owlet is a common species but always nice to see!
After breakfast we started the long drive up to Lama Camp. We made several stops along the way finding Verditer Flycatcher, Blue Whistling Thrush, Grey-throated Babbler, Black Eagle, White-naped Yuhina, Streaked Spiderhunter, Plumbeous Water Redstart, Lemon-rumped Warbler, Ashy Drongo, Orange-bellied Leafbird, and White-throated Fantail.
Once we got near the camp, we bumped into a mixed species flock, which included Green-backed Tit, Black-throated Bushtit, Buff-barred, Blyth's Leaf, Hume's Leaf, and Chestnut-crowned Warblers, Chestnut-tailed Minla, Red-tailed Minla, and Grey-headed Canary-flycatcher. Nearby we also saw Brown-flanked Bush Warbler and Fire-breasted Flowerpecker.
On arrival at the camp we were unfortunately met by low cloud and rain which substantially hindered our birding. We did however see a few birds, such as Grey-headed Bullfinch, Himalayan Bluetail, Olive-backed Pipit, Chestnut-bellied Rock Thrush, Grey-chinned Minivet, Yellow-cheeked Tit, and Beautiful Sibia, while several species of fulvetta, laughingthrushes, and flycatchers were heard calling but would not come out, unsurprising given the weather. An early night beckoned and we hoped for decent weather the following morning.
Day 4, 10th April 2019. Lama Camp to Bompu Camp (Eaglesnest)
We spent the morning birding around the Lama Camp area. Although we were unable to find any elachuras we did find a number of highly sought-after species, such as the Critically Endangered (BirdLife International) Bugun Liocichla (an endemic laughingthrush found only in the Eaglesnest area). While walking here we found Bhutan, Scaly, Blue-winged, Striated, and Chestnut-crowned Laughingthrushes, Red-faced Liocichla, Streak-breasted Scimitar-Babbler, Beautiful Sibia, Whiskered Yuhina, Streak-throated Barwing, and Rusty-fronted Barwing, Bar-throated Minla, Red-tailed Minla, and Striated Bulbul. Both Red-headed and Grey-headed Bullfinches were found feeding in thistle seed heads and we kept bumping into a mixed flock containing Ashy-throated, Buff-barred, Yellow-browed, Blyth's Leaf, and Lemon-rumped Warblers, Black-throated Bushtit, Yellow-cheeked and Green-backed Tits, White-throated Fantail, Green-tailed Sunbird, Black-faced and Grey-cheeked Warblers, Rufous-bellied and Crimson-breasted Woodpeckers, Short-billed Minivet, Blyth's Shrike-Babbler, Little Bunting, White-tailed Nuthatch, Grey-winged Blackbird, and Rufous-breasted Accentors.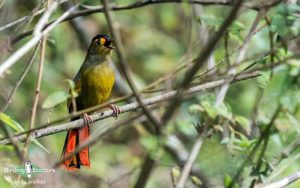 Bugun Liocichla, a Critically Endangered (BirdLife International), range-restricted endemic gave us some good views as we searched for the Spotted Elachura.
After lunch we drove on to Bompu camp, our base for the night. Along the way we noted Alpine Thrush and a pair of Kalij Pheasants, with a Eurasian Hoopoe present in the camp grounds as well as White-collared Blackbird.
We set off walking from the camp and heard several species of wren-babbler and managed to get brief views of a couple, such as Rufous-throated Wren-Babbler and Scaly-breasted Cupwing. We also heard Spotted Elachura but were unable to call it in close enough to see. The visibility was, as in the previous afternoon, terrible. Through the mist we did see Beautiful Nuthatch (it looked very nice but was hard to do it justice), White-naped Yuhina, Yellow-throated Fulvetta, Slaty-bellied Tesia, Lesser Shortwing, Great Barbet, Mountain Imperial Pigeon, Yellow-bellied Fantail, Sultan Tit, Himalayan Cutia, Golden Babbler, and Slender-billed Scimitar-Babbler.
Day 5, 11th April 2019. Bompu Camp to Lama Camp (Eaglesnest)
We awoke early to a glorious morning of clear blue sky and the sun about to rise. After a quick breakfast we set out near the campsite for our main target bird of the trip, and our best realistic chance to find one in the early morning – tense! We set off in nervous anticipation by car with the windows down hoping to hear the distinctive call we'd been hoping for, and suddenly about a kilometer away from our base there it was, singing! Breaks on, we jumped out of the car and got into position. It then jumped up and flew across the road where it proceeded to move stealthily through the vegetation, momentarily pausing to allow us all that hoped for view as it sang at full volume. We were watching a Spotted Elachura! The excitement and relief were palpable throughout this small team. Joyous we headed back to camp to continue our birding for a few hours. We could enjoy ourselves a bit more now!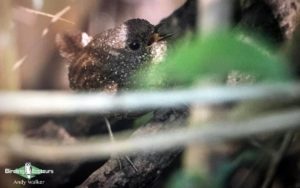 Spotted Elachura, the main target species of the whole trip was firmly in the bag and we were all overjoyed! 
We found White-collared Blackbird, Golden-naped Finch, and Long-tailed Minivet in the campsite, with Sikkim Wedge-billed Wren-Babbler, Rufous-throated Wren-Babbler, White-breasted Parrotbill, and Rusty-fronted Barwing all seen well in the adjacent forest.
We started our drive back to Lama Camp and stopped for some birding along the way at differing altitudes. These stops produced some excellent birds (as well as scenic views and glorious flowering magnolia trees), with Himalayan Cutia, Crimson-breasted Woodpecker, Coral-billed Scimitar-Babbler, Slender-billed Scimitar-Babbler, Striated Laughingthrush, Beautiful Sibia, and Large Niltava seen at one such stop. Another gave us Black-eared Shrike-Babbler, Yellow-browed Tit, Chestnut-headed Tesia, Yellow-bellied Fantail, Chestnut-crowned Warbler, White-throated Laughingthrush, Red-tailed Minla, and Rufous-winged Fulvetta. And our final stop (apart from an emergency stop for a Common Hill Partridge sat in the road!) resulted in fantastic views of Bar-winged Wren-Babbler (a really beautiful bird), Stripe-throated and Rufous-vented Yuhinas, Hoary-throated Barwing, and a stunning fly-past from a Temminck's Tragopan!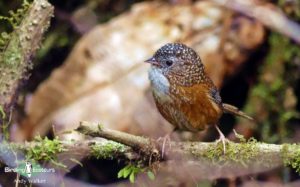 Bar-winged Wren-Babbler was one of a number of wren-babblers seen during this section of the tour and this individual showed very well.
On arrival back at Lama Camp we enjoyed a relaxing dinner and took in some of the sights and sounds around the campsite such as Large Hawk-Cuckoo, Green-backed Tit, Bhutan Laughingthrush, Rusty-fronted Barwing, and Rufous-bellied Woodpecker.
Our afternoon birding was along some of the higher ridgelines and lower down in the valley bottom, one of the big highlights of the early afternoon was Yellow-rumped Honeyguide, we also had a mixed flock that contained Green Shrike-Babbler, Sikkim Treecreeper, Whistler's Warbler, and a few other more common species. We also found a pair of Pygmy Flycatchers, Spotted Forktail, and a male Himalayan Bluetail. Down near the village we added a gorgeous male Blue-capped Rock Thrush, Large-billed Crow, and Long-tailed Shrike. At dusk we found Grey Nightjar, Hodgson's Frogmouth, and Mountain Scops Owl, thus ending a great day in northeast India, with our main trip target firmly in the bag.
Day 6, 12th April 2019. Lama Camp (Eaglesnest) to Nameri Tiger Reserve
Our final morning birding in the mountains before it was time to drop down to Nameri for the night. Another morning session along the Eaglesnest Pass was rewarding with plenty of new and exciting birds seen such as Spotted Laughingthrush, Black-faced Laughingthrush, Darjeeling Woodpecker, Spotted Nutcracker, Fire-tailed Myzornis, Rufous-vented Yuhina, Fire-tailed Sunbird, and Yellow-breasted Greenfinch.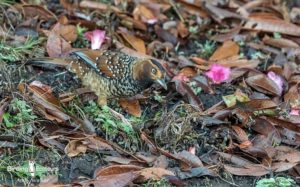 Spotted Laughingthrush is simply stunning and was one of our favorites from numerous species seen during the tour.
We dropped into some beautiful forest and pretty much immediately were watching a gorgeous male Ward's Trogon, soon followed by a singing male Black-headed Shrike-Babbler, a pair of Chestnut-headed Tesia, Large-billed Leaf Warbler, Lesser Shortwing, Snowy-browed Flycatcher, Streak-throated Barwing, Beautiful Sibia, Chestnut-bellied Rock Thrush, Blue Rock Thrush, Dark-sided Flycatcher, and Yellow-rumped Honeyguide. We arrived back at Lama Camp for lunch and to pack up for the final time before our drive back to the lowlands, where we arrived in time for dinner and mulled over all the great birds we'd had in the mountains, particularly the Elachura!
Day 7, 13th April 2019. Nameri Tiger Reserve and travel to Kaziranga National Park
A morning walk in to Nameri Tiger Reserve after breakfast was wonderful, however prior to that we enjoyed most of the species listed for the morning of Day 2 again, such as Great Hornbill and Red-breasted Parakeet, but with the addition of a troop of Capped Langurs too- beautiful. The walk into Nameri went really well and we found a pair of the rare White-winged Duck, our main target bird for the area. Plenty of other widespread species were new for our trip such as Grey-headed Fish Eagle, Great Thick-knee, River Tern, Wreathed Hornbill, Small Pratincole, Sand Lark, Bengal Bush Lark, White-rumped Shama, Pin-tailed Green Pigeon, Grey-capped Pygmy Woodpecker, Lesser Yellownape, Black-crested Bulbul, Pied and Common Kingfishers, Chestnut-headed Bee-eater, Ruddy Shelduck, Red Junglefowl, Green-billed Malkoha, Banded Bay Cuckoo, and Scarlet Minivet. Another male Blue-capped Rock Thrush was also a good record.
White-winged Duck can be a tough species to connect with, it is particularly shy and so we were very happy to find a pair and then were able to sneak up on them to grab a photo!
After lunch it was on to the Kaziranga area. A brief walk around the local area of the accommodation produced Indian Cuckoo, Crimson Sunbird, Common Emerald Dove, Alexandrine and Blossom-headed Parakeets, Striated Swallow, and Grey-backed Shrike.
Day 8, 14th April 2019. Kaziranga National Park
A pre-breakfast walk yielded a few new trip birds, such as Siberian Rubythroat, Rufous Treepie, Nepal House Martin, Plaintive Cuckoo, and Oriental Pied Hornbill. A Blue-naped Pitta was heard but frustratingly a huge thunderstorm rolled in just at that point and then washed out the remainder of the morning, luckily Assam makes good tea!
The thunderstorm had moved off by the time of our afternoon safari and in the space of a couple of hours we recorded nearly 100 species! Birds were of course big priorities, as there are several range-restricted species possible here, though the main target was Greater One-horned Rhinoceros, of which we saw nearly a dozen! These are just magnificent creatures, fully armored living dinosaurs! Other animals observed included Asian Elephant, Wild (Water) Buffalo, Barasingha (Swamp Deer), Hog Deer, and Indian Wild Pig (Wild Boar), with good close views of all. Some of the highlight birds during the afternoon included Swamp Francolin, Indian Grassbird, Striated Babbler, Chestnut-capped Babbler, Pallas's Fish Eagle, Changeable Hawk-Eagle, Grey-headed Fish Eagle, Black-breasted Weaver, Finn's Weaver, Spot-billed Pelican, Lesser Coucal, Bronze-winged Jacana, Black-necked Stork, Lesser Adjutant, Woolly-necked Stork, Black-headed Ibis, Oriental Darter, Asian Barred Owlet, Brown Hawk Owl, Blue-tailed Bee-eater, Streak-throated Woodpecker, Striated Grassbird, Eurasian Hoopoe, Citrine Wagtail, and Cinnamon Bittern. What a magnificent reserve this is and we left at sunset excited for the next couple of days to further explore this huge area.
Day 9, 15th April 2019. Kaziranga National Park
We had three highly productive birding sessions during the day and recorded almost 150 species! In the early morning we were rewarded with a small group of Rufous-necked Laughingthrushes, a tiny White-browed Piculet, several Baya Weavers, a pretty singing male Pale-chinned Blue Flycatcher, and the rather colorful trio of Crimson Sunbird, Scarlet Minivet, and Common Kingfisher. We also had our first Yellow-vented Flowerpecker of the trip. All the above set to the constant calls from several Indian Cuckoos and within walking distance of our accommodation!
Our first trip into the national park of the day was exciting for birds and other animals, more great looks at Greater One-horned Rhinoceros were had, as were the views of several Asian Elephants. A couple of new animals were noted too, such as Common Indian Monitor, Smooth-coated Otter, and best of all a huge King Cobra! Birding highlights between heavy thunderstorm showers included Ruddy Shelduck, Northern Shoveler, Eurasian Wigeon, Indian Spot-billed Duck, Tufted Duck, Temminck's Stint, Common Snipe, Common Redshank, Grey Heron, Black-headed Ibis, Blue-bearded Bee-eater, Clamorous Reed Warbler, Golden-headed Cisticola, Bluethroat, Western Yellow Wagtail, Citrine Wagtail, and Rosy Pipit.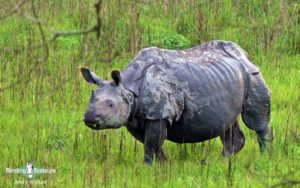 Plenty of good views of Greater One-horned Rhinoceros were had during this section of our tour.
After a brief lunch stop we were off again, this time to a large wetland area in a different section of the national park where we saw several of the above species again, along with many more, such as Greater and Lesser Adjutants, Pheasant-tailed and Bronze-winged Jacanas, Greater Painted-snipe, Lesser Whistling Duck, Cotton Pygmy Goose, Garganey, Gadwall, Northern Pintail, Little Grebe, Purple Heron, Glossy Ibis, Common Moorhen, Eurasian Coot, Grey-headed Swamphen, Pied Avocet, Grey-headed Lapwing, Spotted Redshank, Whiskered Tern, Western Osprey, Spotted Owlet, Stork-billed Kingfisher, Fulvous-breasted Woodpecker, Indian Pitta, Common Kestrel, Black-winged Kite, Velvet-fronted Nuthatch, and Pale-billed Flowerpecker. The number of birds was impressive and is even busier when we usually run this tour in March – it's quite a sight!
Day 10, 16th April 2019. Kaziranga National Park and travel to Guwahati then on to New Delhi where tour concluded with International Departure
A final morning was spent within a different sector of the national park and again we were treated to simply spectacular views of multiple Greater One-horned Rhinoceros (see trip report cover image), as well as more Asian Elephants and most the other mammals listed above. You can't help but feel immensely privileged to see these ancient-looking creatures walking about the swamps.
We saw plenty of exciting birds on this final safari with a day-roosting Dusky Eagle Owl being one of the best, along with Black-necked Stork, Woolly-necked Stork, Spot-billed Pelican, Changeable Hawk-Eagle, Pallas's Fish Eagle, Grey-headed Fish Eagle, Lesser Adjutant, Stork-billed Kingfisher, Eurasian Hoopoe, Blue-tailed Bee-eater, Common Emerald Dove, Blue-eared, Blue-throated, and Coppersmith Barbets, Small Minivet, Common Hill Myna, Crimson Sunbird, Chestnut-capped Babbler, and Striated Grassbird.
After lunch we drove back to Guwahati for our early-evening flight to New Delhi where this excellent short tour concluded with an international departure.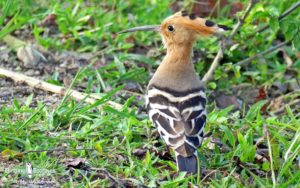 A common and widespread species, this Eurasian Hoopoe flew in and landed right in front of our safari jeep!
Please see the downloadable PDF above with the full species lists included.