Back to Asian Trip Reports
DOWNLOAD TRIP REPORT
29 MARCH – 06 APRIL 2019
By Andy Walker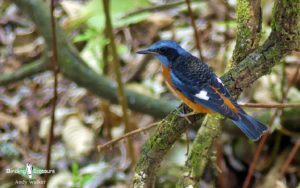 We saw several Blue-capped Rock Thrushes during the tour, a stunning winter visitor here.
Overview
This 9-day custom birdwatching tour of southern India commenced in Cochin on the 29th of March 2019 and ended in Bangalore on the 6th of April 2019. The tour was based on a shortened version of our Birding Tours India: Western Ghats and Nilgiri Endemics January set departure tour but with a couple of slight modifications to fit the timescale available. During this tour we birded areas around Thattekad Bird Sanctuary, Munnar, Eravikulam National Park, Ooty, Masinagudi, and Mudumalai National Park.
A total of 226 bird species were seen (plus three species heard only). The main highlight birds of the tour were the Western Ghats and Nilgiri endemic species we saw, such as Nilgiri Blue Robin, Nilgiri Thrush, Nilgiri Pipit, White-bellied Blue Robin, Malabar Whistling Thrush, Malabar Grey Hornbill, White-bellied Treepie, Blue-winged (Malabar) Parakeet, White-bellied Blue Flycatcher, Black-and-Orange Flycatcher, Nilgiri and Palani Laughingthrushes, Grey-headed and Flame-throated Bulbuls, Grey Junglefowl, and many more. The region also plays host to a number of birds shared with neighboring Sri Lanka, such as Sri Lanka Frogmouth, Malabar Trogon, and Blue-faced Malkoha, and all were seen well. Other highlight birds included White-rumped and Indian Vultures, Spot-bellied Eagle-Owl, Mottled Wood Owl, Brown Fish Owl, Indian Pitta, Heart-spotted, White-bellied, and Streak-throated Woodpeckers, Indian Nuthatch, White-bellied Minivet, Indian Scimitar Babbler, Indian Black-lored Tit, Crimson-backed Sunbird, and the stunning Indian Blue Robin.
Non-avian highlights included Asian Elephant, Gray Slender Loris, Indian Giant Squirrel, and Common Bronzeback Tree Snake. Full species lists are provided at the end of this report.
Detailed Report
 Day 1, 29th March 2019. Arrival in Cochin and travel to Thattekad Bird Sanctuary
After our late-afternoon arrival in Cochin we transferred to our accommodation for the next three nights near the Thattekad Bird Sanctuary, noting Brahminy Kite, Indian Pond Heron, and House Crow along the way before it got dark, and Indian Flying Fox when it did get dark.
Day 2, 30th March 2019. Thattekad Bird Sanctuary and surrounding area
As we had an early breakfast we enjoyed watching Stork-billed and White-throated Kingfishers, Oriental Darter, and Bronze-winged Jacana while we ate.
One of the top birds of the day was the final bird of the morning when we got to watch a male and female Sri Lanka Frogmouth roosting in a patch of forest. Always nice to find a nocturnal species during the day. There were plenty of great birds throughout the morning, and some of these included Malabar Trogon, Blue-winged (Malabar) Parakeet, Malabar Woodshrike, Flame-throated Bulbul, Yellow-browed Bulbul, Nilgiri Flowerpecker, Malabar Barbet, White-cheeked Barbet, Malabar Grey Hornbill, Malabar Starling, Heart-spotted Woodpecker, White-bellied Woodpecker, Black Baza, Vernal Hanging Parrot, and Grey-fronted Green Pigeon. We also found our first Indian Giant Squirrels (the local Malabar form) – a huge and fairly common squirrel. Lots of common and more widespread species were also present, such as Black-naped Monarch, Bar-winged Flycatcher-shrike, Bronzed, Ashy, and Greater Racket-tailed Drongos, Common Iora, and Red-whiskered Bulbul.

This roosting pair of Sri Lanka Frogmouth were an early tour highlight.
After a wonderful lunch we ventured back out for another birding session and walked around a different area, finding several further target birds such as White-bellied Treepie, Grey Junglefowl, Red Spurfowl, Indian Golden, Black-naped, and Black-hooded Orioles, Common Emerald Dove, Jungle Owlet, and a pair of Mottled Wood Owls. At dusk we heard Great Eared Nightjar, but unfortunately it didn't show. However, a night walk a bit later in the evening gave excellent views of Jerdon's Nightjar and of a really great mammal in the form of a Gray Slender Loris (the local Malabar subspecies).
Day 3, 31st March 2019. Thattekad Bird Sanctuary and surrounding area
Our breakfast soundtrack was provided by Indian Cuckoo, Asian Koel, and Greater Coucal. After breakfast we spent another morning birding the same area as on the previous day and found several different species in doing so, such as Malabar Whistling Thrush, White-bellied Blue Flycatcher, Crimson-backed Sunbird, Indian Paradise Flycatcher, Mountain Imperial Pigeon, Common Hawk-Cuckoo, Orange-headed Thrush, and, probably best of all, the gorgeous Indian Pitta. Other goodies included Grey-fronted Green Pigeon, Malabar Trogon, Malabar Grey Hornbill, Blue-winged (Malabar) Parakeet, Flame-throated Bulbul, Asian Fairy-bluebird, and Sothern Hill Myna. Some excitement during the morning involved the finding of a Common Bronzeback Tree Snake that sat motionless for quite a while, allowing good views and great photo opportunities.
During our afternoon birding session we tried to connect with a few new species and found the huge Great Eared Nightjar, another couple of Indian Pittas (showing slightly better than the birds in the morning for most of us), Thick-billed Warbler, Large Cuckooshrike, Crested Treeswift, and Cinnamon Bittern. A fruiting tree held all three orioles seen the previous day as well as Malabar Starling, White-cheeked Barbet, and several Rufous Treepies. A couple of lucky people got to witness a Crested Serpent Eagle flying off with a freshly caught (unidentified) viper!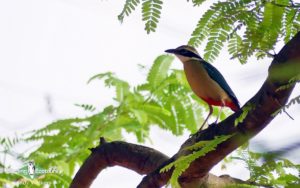 Indian Pitta was one of the major targets of the tour, and we found a few birds.
Day 4, 1st April 2019. Thattekad Bird Sanctuary to Munnar
We headed back to Thattekad to see if we could connect with any other local specialties, and after a lot of perseverance we connected with the difficult endemic Grey-headed Bulbul. With the bird always giving only fleeting views it was indeed hard work. Here we did have further looks at Rusty-tailed Flycatcher, Indian Paradise Flycatcher, Malabar Trogon, Banded Bay Cuckoo, Indian Cuckoo, and a pair of Orange-headed Thrushes. We also saw our first Bonnet Macaques, a small troop stuffing their faces in a fruiting tree, with Eastern Barn Owl and Lesser Fish Eagle both also seen.
After lunch we left our accommodation near Thattekad and traveled to Munnar, where we gained some elevation (and a Black Eagle) and started picking up some new birds as soon as we jumped out of the van, such as Palani Laughingthrush, Indian Scimitar Babbler, Crested Hawk-Eagle, Indian Swiftlet, Alpine Swift, White-browed and Grey Wagtails, Long-tailed and Brown Shrikes, and Jungle Myna.
On arriving at our hotel near dusk we were pleased to find several further new species just before it got dark and hoped that we'd get better photo opportunities for these birds the following day. These included a stunning male Indian Blue Robin taking a bath, Tytler's Leaf Warbler moving through the garden with a flock of Indian White-eyes, Brown-cheeked Fulvettas passing overhead, Malabar Whistling Thrush moving through, and a brief, beautiful Blue-capped Rock Thrush. Lots of promising signs for the next couple of days in the area!
Day 5, 2nd April 2019. Munnar and Eravikulam National Park
The early-morning breakfast at our accommodation was briefly interrupted by a stunning male Indian Blue Robin (and a much more reserved female) along with Indian Thrush, a flyover Nilgiri Wood Pigeon, Square-tailed Bulbul, and Blyth's Reed Warbler. After breakfast we moved on to Eravikulam National Park, where we gained substantial altitude and a big change in scenery. Here also the birds were different, and we found most of our primary targets, such as Nilgiri Thrush, Nilgiri Flycatcher, Nilgiri Pipit, White-bellied Blue Robin, and Tickell's Leaf Warbler. We also had our best views yet of Malabar Whistling Thrush, Blue-capped Rock Thrush, and Palani Laughingthrush along with more views of Indian Blue Robin. Frustratingly Nilgiri Blue Robin and Painted Bush Quail were heard only. We did, however, have extremely good views of Nilgiri Tahr, a rare, goat-like mammal.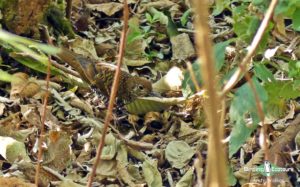 The often shy and secretive, cryptically-plumaged Nilgiri Thrush showed well.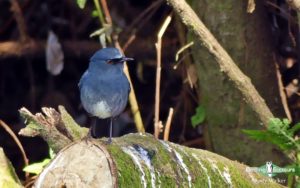 White-bellied Blue Robin gave some fantastic views throughout the morning.
Back at our accommodation for the afternoon we made good use of the hotels garden and surrounding woodland patch and enjoyed a few quality birds, including Velvet-fronted Nuthatch, Loten's Sunbird, Square-tailed Bulbul, Nilgiri Flycatcher, Nilgiri Flowerpecker, Indian Blackbird, Malabar Whistling Thrush, Grey-fronted Green Pigeon, and Nilgiri Wood Pigeon, but best of all were several Pied Thrushes, a rare passage bird here, that were gorging themselves on the heavily laden fruiting trees.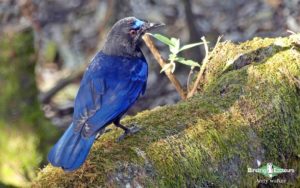 We had great views of Malabar Whistling Thrush while we were in the hills.
Day 6, 3rd April 2019. Munnar to Sethumadai via Chinnar Wildlife Sanctuary
We spent the early morning birding around our accommodation, finding a nice mix of species that included Pied Thrush, White-bellied Blue Robin, Indian Yellow-lored Tit, Orange Minivet, Square-tailed Bulbul, Indian Blue Robin, Indian Blackbird, Bonelli's Eagle, Greater Flameback, Malabar Barbet, Malabar Whistling Thrush, Blue-winged (Malabar) Parakeet, and Blue-capped Rock Thrush.
After breakfast we commenced our journey to Sethumadai, and we called in at the Chinnar Wildlife Sanctuary along the way. Here we found a few new birds for the trip, or improved our views of others, such as White-browed Bulbul, White-rumped Shama, Blue-bearded Bee-eater, Asian Brown Flycatcher, Jerdon's Leafbird, Black Eagle, Yellow-crowned Woodpecker, Black-rumped Flameback, White-bellied Drongo, and White-browed Fantail. Nearby we also found Crested Treeswift, Red-rumped Swallow, and Common House Martin along the roadside.
On arrival at our accommodation for the night we discovered a pair of Spotted Owlets, a family of Yellow-billed Babblers, and Asian Palm Swift and were treated to a dusk chorus of Indian Peafowl as they bugled away.
Day 7, 4th April 2019. Sethumadai to Masinagudi via Ooty and Mudumalai National Park
We left Sethumadai after an early breakfast, pausing briefly to watch Purple-rumped Sunbird, Pale-billed Flowerpecker, Yellow-billed Babbler, and Black-rumped Flameback mobbing a pair of Spotted Owlets.
It was essentially a travel day, as we had a lot of ground to cover, but we too drove a route that allowed us to stop for a couple of hours birding at high elevation near the hill town of Ooty. Here we immediately found the beautiful Nilgiri Laughingthrush and a troop of Nilgiri Langurs. A mixed flock gave some excitement as we found Tickell's Leaf Warbler, Western Crowned Warbler, Large-billed Leaf Warbler, and Greenish Warbler along with Indian Scimitar Babbler, more Nilgiri Laughingthrushes, Velvet-fronted Nuthatch, Olive-backed Pipit, and Grey-headed Canary-flycatcher; however, the star of the show here was the Nilgiri Blue Robin. It was great to see this bird after only hearing one earlier in the tour. We had one final target in mind, and after a lot of searching we found ourselves watching the rather cute Black-and-orange Flycatcher, another regional endemic.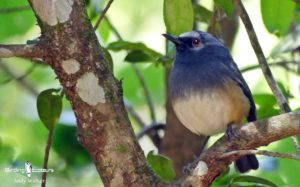 Nilgiri Blue Robin has a tiny global range and so was a big target on the tour; this one showed well.
We continued our drive down to the plains, and as we drove through Mudumalai National Park we saw Indian Peafowl, Red Spurfowl, Black-winged Kite, Crested Hawk-Eagle, Indian Robin, Brahminy Starling, Jungle Myna, and Yellow-throated Sparrow, as well as Chital, Indian Grey Mongoose, Indian (Black-naped) Hare, and Bonnet Macaque.
Day 8, 5th April 2019. Masinagudi and the Mudumalai National Park area
The final day's birding of the tour saw us focusing on a few local target species, and over the course of a couple of hours we did really well. Grey Junglefowl was sighted in the grounds of our accommodation, along with several other birds and mammals – great views of Tufted Gray Langur.
After breakfast we headed into the thorn scrub, and almost immediately we were watching a pair of Indian Nuthatches, quickly followed by White-bellied Minivet, Jerdon's Bush Lark, Yellow-eyed Babbler, and Blue-faced Malkoha. We moved to some more-open farm/wasteland and found an Indian Pitta feeding along a roadside verge, and here we also saw the first of several Booted Warblers seen during the morning. Other great birds here included Malabar Lark, Blyth's Pipit, Hume's Whitethroat, Yellow-wattled Lapwing, Grey Francolin, and Yellow-billed Babbler. Keeping an eye on the sky also paid dividends when we found a kettle of Woolly-necked Storks on a thermal with Indian Vulture and White-rumped Vulture too. Both vultures, once abundant throughout the country, are now considered Critically Endangered by BirdLife International due to rapid population declines, so they were a real privilege to see. Driving around the local area produced a Common Indian Monitor and also resulted in a brief covey of Jungle Bush Quails, Short-toed Snake Eagle, Common Woodshrike, and Eurasian Hoopoe.
After sitting out the heat of the day and enjoying some of the birds in the hotel grounds (such as Common Hawk-Cuckoo, Indian Nuthatch, and a rarity in the form of a stunning breeding-plumaged Taiga Flycatcher) we ventured out for our final birdwatching session of the tour and ended in a suitable blaze of glory by finding both Spot-bellied Eagle-Owl and Brown Fish Owl. To see these huge owls was a real treat and a fitting way to end the birding on the tour. We also saw several other quality birds during the afternoon, such as Streak-throated Woodpecker, Heart-spotted Woodpecker, and Orange-headed Thrush. Some of the group even saw an Asian Elephant!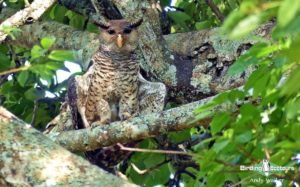 We ended the tour in style with this huge Spot-bellied Eagle-Owl – what a bird!
 Day 9, 6th April 2019. Masinagudi to Bangalore, where the tour concluded
This was a travel day, driving from Masinagudi to Bangalore, where the tour concluded with international departures.
Please see the downloadable PDF above with the full species lists included.