Go to Subtropical South Africa bird tour page | South African bird tours | African trip reports |  All our birding tours
DOWNLOAD TRIP REPORT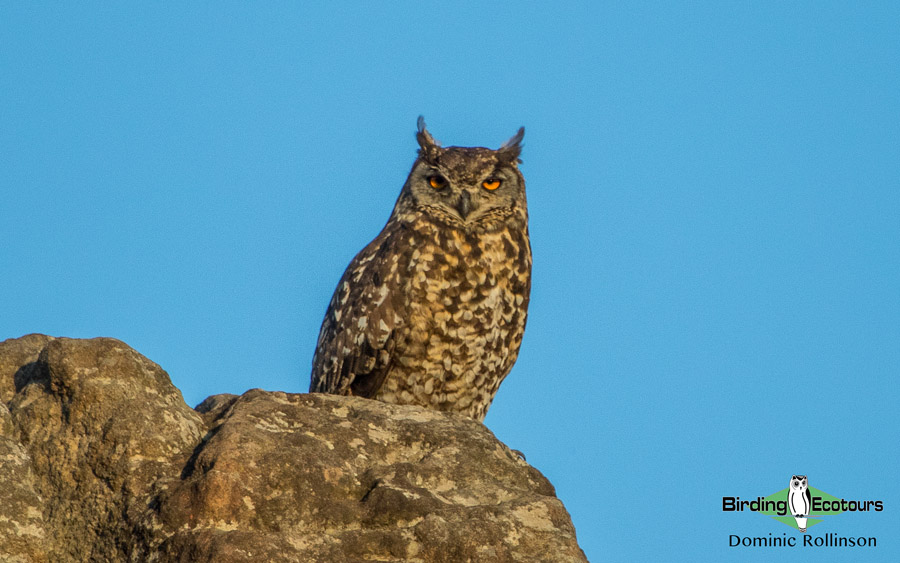 Cape Eagle-Owl was an unexpected sighting in the Drakensberg Mountains.
Overview
This set-departure Subtropical South Africa tour is a comprehensive tour of eastern South Africa that visits a number of South Africa's major game reserves and includes a broad diversity of habitats. Due to the diversity of habitats visited it often results in an impressive bird and mammal list. The tour starts in the coastal city of Durban, then heads inland to the Drakensberg Mountains, down into the lowlands of Zululand, and then through the highveld areas to the Kruger National Park, finally ending in the drier woodlands north of Johannesburg.
During this 18-day tour we managed an impressive bird list of 463 species seen (plus 6 species heard only), including many South African endemics and near-endemics such as Cape Gannet, Southern Bald Ibis, Jackal Buzzard, Grey-winged Francolin, Blue Crane, Blue Korhaan, Northern Black Korhaan, Rudd's, Botha's, Eastern Long-billed, and Large-billed Larks, Bush Blackcap, Cape Parrot, Cape and Sentinel Rock Thrushes, Buff-streaked, Sickle-winged, and Ant-eating Chats, Drakensberg Rockjumper, Ground Woodpecker, Cape Grassbird, Cloud Cisticola, Cape Penduline Tit, Karoo and Kalahari Scrub Robins, Chorister Robin-Chat, Fairy Flycatcher, African Rock, Yellow-breasted, and Mountain Pipits, Layard's and Barratt's Warblers, Grey Tit, Gurney's Sugarbird, Neergaard's, Greater Double-collared, and Southern Double-collared Sunbirds, Swee Waxbill, Forest Canary, Pink-throated Twinspot, and Drakensberg Siskin.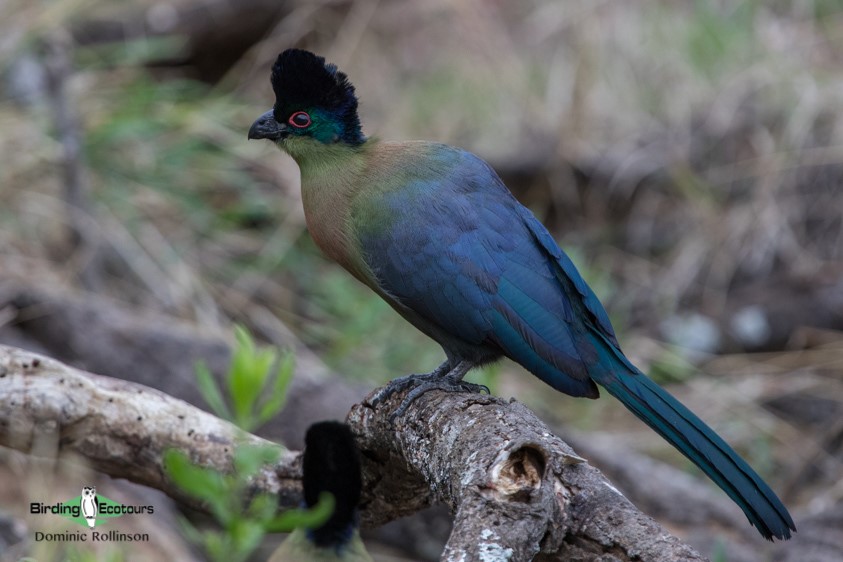 The loud and colorful Purple-crested Turaco showed well in Mkhuze Game Reserve.
As always we paid special attention to the mammals on this tour, which resulted in a large selection of charismatic African wildlife and also a number of smaller and less-common-seen species. Some of the mammal highlights of this trip included Lion, Leopard, Serval, Spotted Hyena, Side-striped Jackal, African Clawless Otter, African Elephant, White Rhinoceros, African Buffalo, Sable Antelope, Nyala, Blesbok, Mountain Reedbuck, Oribi, and Thick-tailed Greater Galago.
Detailed Report
 Day 1, 14th October 2019. Arrival in Durban and Umhlanga birding
We arrived around mid-afternoon at our accommodation in the Umhlanga area, just north of Durban, and after quickly unpacking our bags we made our way to the nearby Umhlanga Nature Reserve for our first taste of Durban birding. This is a great little spot; some time spent in the wetland and coastal forest patches here can soon amount to an impressive bird list. Some of the highlights from this afternoon included Little Bee-eater, Common Square-tailed Drongo, Rufous-winged Cisticola, Black-bellied Starling, Grey Sunbird, and Eastern (African) Golden Weaver. There was a strong onshore wind blowing, which meant that a number of seabirds had moved close to the coast; a quick seawatch produced Shy Albatross, White-chinned Petrel, Cape Gannet, Grey-headed Gull, and Sandwich Tern. We enjoyed our first dinner of the trip overlooking a large wetland, listening to the cacophony of calling frogs.
Day 2, 15th October 2019. Umhlanga birding and transfer to the Drakensberg
As we were still after a number of specials in the area we decided to head back to Umhlanga Nature Reserve, which worked out well with good sightings of Burchell's Coucal, Black-throated Wattle-eye, Cardinal and Golden-tailed Woodpeckers, Southern Boubou, African Paradise Flycatcher, Sombre Greenbul, Red-capped Robin-Chat, and Dark-capped Weaver, with the highlight of the morning being a small group of Red-headed Queleas among Southern Red Bishop flocks. As we were loading the vehicle we had brief fly-over views of some of the feral population of Rose-ringed Parakeets.
After a quick breakfast at the guest house we hit the road and made our way inland toward the impressive Drakensberg, with a full day of birding en route. Our first stop was in the KwaZulu-Natal midlands for Blue Swallow. This Vulnerable (IUCN) swallow is restricted to montane grasslands, where it breeds in sink holes, and it is in trouble in South Africa due to habitat loss. Thankfully it played along today, and we had good but brief sightings of a single bird among the similar Black Saw-wings at our stakeout. We also found some other great birds in the general area, including Crowned Eagle, Long-billed Pipit, Cape Crow, Wailing Cisticola, Drakensberg Prinia, Pied Starling, and Cape Longclaw. After finding the Blue Swallow we headed through the Umkomaas valley, which offered more great birding with Lesser Honeyguide, Blue-mantled Crested Flycatcher, Olive Bushshrike, Southern Tchagra (heard only), Black-headed Oriole, African Firefinch, and Amethyst Sunbird all seen on the drive.
Once we had left the valley we birded the Xumeni Forest for a couple of hours before making our way higher into the Drakensberg. The forest proved productive, and we had brief views of Orange Ground Thrush, Narina Trogon, African Olive Pigeon, and White-starred Robin. After a lot of work we eventually saw enough of the notoriously skulking Barratt's Warbler.
After a long productive day of birding we finally arrived at our accommodation for the evening, with a few good birds seen around Underberg en route, including Grey Crowned Crane, African Black Duck, Long-crested Eagle, and Long-tailed Widowbird.
Day 3, 16th October 2019. Sani Pass birding
Today proved to be one of the highlights of the trip as we made our way up the famous Sani Pass and into the kingdom of Lesotho with our knowledgeable local guides Stuart and Aldo. We left our accommodation early and made our way toward the Sani Pass. Before even reaching the pass we had already encountered a number of our targets, including Red-winged Francolin, Brown-backed Honeybird, Buff-streaked Chat, Bokmakierie, Red-throated Wryneck, Olive Woodpecker, African Yellow Warbler, Swee Waxbill, Cape Weaver, Greater Double-collared Sunbird, and Wing-snapping Cisticola. As we headed up the lower slopes of the pass we added new birds such as Black Stork, Ground Woodpecker, and Cape Rock Thrush. As we gained in altitude the species changed, and we had our first looks at Drakensberg Rockjumper, Karoo Prinia, Fairy Flycatcher, Cape Vulture, Drakensberg Siskin, African Rock Pipit, Sentinel Rock Thrush, and Grey Tit. Once we had crossed the border post into Lesotho we started birding the plateau, and new birds kept coming with Large-billed Lark, Sickle-winged Chat, Mountain Pipit, Layard's Warbler, and Yellow Canary all putting in an appearance. Farther into Lesotho we found Karoo Scrub Robin and a Bearded Vulture on the nest.
After we had found all our targets on the Sani Pass we headed down a little earlier than anticipated, and Stuart and Aldo took us to a Western Barn Owl roost and a nearby Spotted Eagle-Owl roost. En route back to our accommodation we had great views of a pair of Secretarybirds, with the day being capped off perfectly with an obliging Cape Eagle-Owl showing beautifully in the late afternoon light (see image on the title page).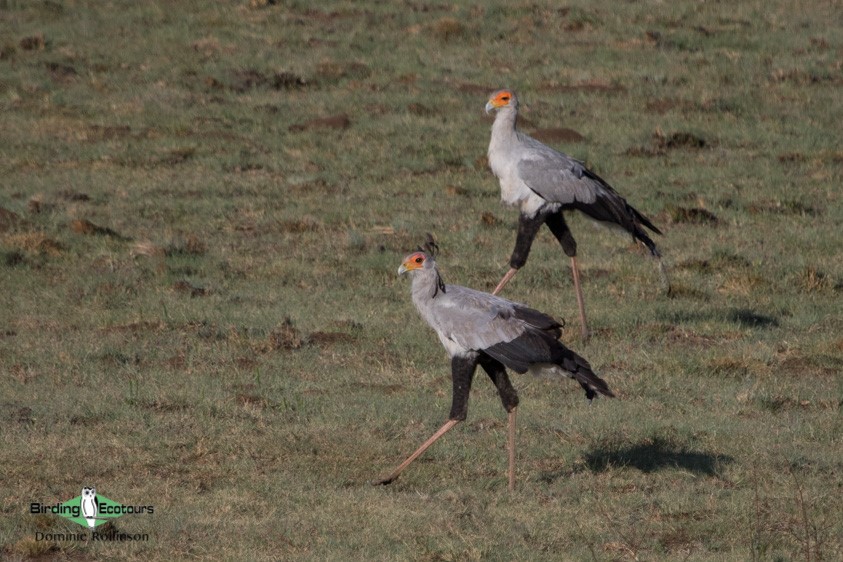 This pair of Secretarybirds were seen in the grasslands below the Sani Pass.  
Day 4, 17th October 2019. Drakensberg to Eshowe
We had a lot to get through today and so decided to leave our accommodation early and head to a nearby wetland, where we hoped to get views of Wattled Crane. Unfortunately, the best we could do was to hear the calls of a bird in a nearby valley, but it would not show for us. In the general area we did manage to find a large flock of Quailfinch as well as South African Cliff Swallow and a calling Red-necked Spurfowl.
Next we headed to the nearby Marutswa Forest, where we found our target species, Cape Parrot, as we arrived at the stakeout. We had breakfast here while enjoying views of Orange Ground Thrush, Bush Blackcap, Knysna Turaco, Forest Canary, Cape Batis, and Olive Bushshrike.
From the foothills of the Drakensberg we still had a good drive ahead of us to the lowlands of Zululand, so we didn't spend too much time at Marutswa before moving on. As we made our way through the KwaZulu-Natal midlands we kept an eye out for Wattled Crane but could only come up with Grey Crowned Crane, Secretarybird, and Jackal Buzzard as well as smaller birds such as African Yellow Warbler, Plain-backed Pipit, and Golden-breasted Bunting. A brief stop closer to Eshowe produced a low flock of African Black and Alpine Swifts.
After arriving in Eshowe we quickly unpacked the vehicle before heading out to Dlinza Forest for the afternoon in the hope of finding Spotted Ground Thrush and other forest specials. We had no luck with the thrush; however, we did find Lemon Dove, Chorister Robin-Chat, African Goshawk (heard only), Terrestrial Brownbul, White-eared Barbet, and many noisy Trumpeter Hornbills. The bird of the afternoon was a pair of obliging Green Twinspots, which we watched as they came to feed.
Day 5, 18th October 2019. Eshowe birding
This morning we headed out to Dlinza Forest again in the hope of finding Eastern Bronze-naped Pigeon and Spotted Ground Thrush. Unfortunately we had no luck with either, and the forest was remarkably quiet. We did, however, see Crowned Hornbill, Yellow-rumped Tinkerbird, African Emerald Cuckoo, Olive Sunbird, Ashy Flycatcher, and Scaly-throated Honeyguide and had much better views of Narina Trogon.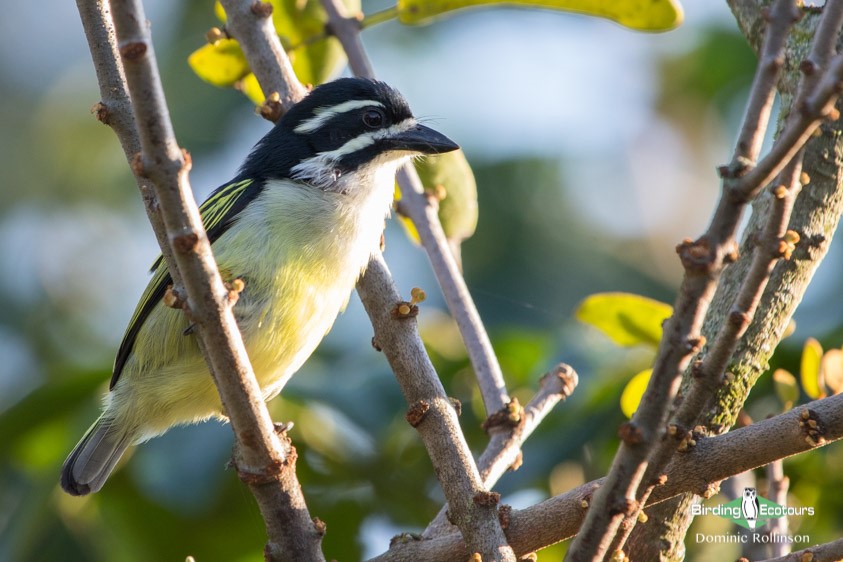 Yellow-rumped Tinkerbird posed nicely in Dlinza Forest.
We then headed to another nearby forest, Entumeni Forest, where our luck improved drastically. In the grasslands and scrub outside the forest we added Fan-tailed Grassbird, Red-fronted Tinkerbird, Martial Eagle, Common House Martin, Lazy Cisticola, African Firefinch, Red-backed Mannikin, and Red-collared Widowbird. In the forest itself the birding was great, and we managed to find many of our targets, including Eastern Bronze-naped Pigeon, Green Malkoha, Yellow-throated Woodland Warbler, and Grey Cuckooshrike. We also managed good views of Blue-mantled Crested Flycatcher, Green Wood Hoopoe, Red-capped Robin-Chat, and Southern Double-collared Sunbird. On our way back to Eshowe we had improved views of a pair of Crowned Eagles.
In the afternoon we headed to yet another forest, this time Ongoye Forest, which is the only forest in which the endemic woodwardi subspecies of Green Barbet occurs. This forest is nestled up in the hills above Eshowe, surrounded by beautiful, pristine grassland, and really is one of the more scenic forests in South Africa. It did not take long for us to find Green Barbet along with other forest specials such as Yellow-streaked Greenbul and Brown Scrub Robin. On the way back to the lodge we birded the grassland and bushveld valleys, which were incredibly productive and produced Striped Pipit, Orange-breasted Bushshrike, Yellow-breasted Apalis, Little Bee-eater, Red-faced Mousebird, Black Sparrowhawk, and Diederik Cuckoo.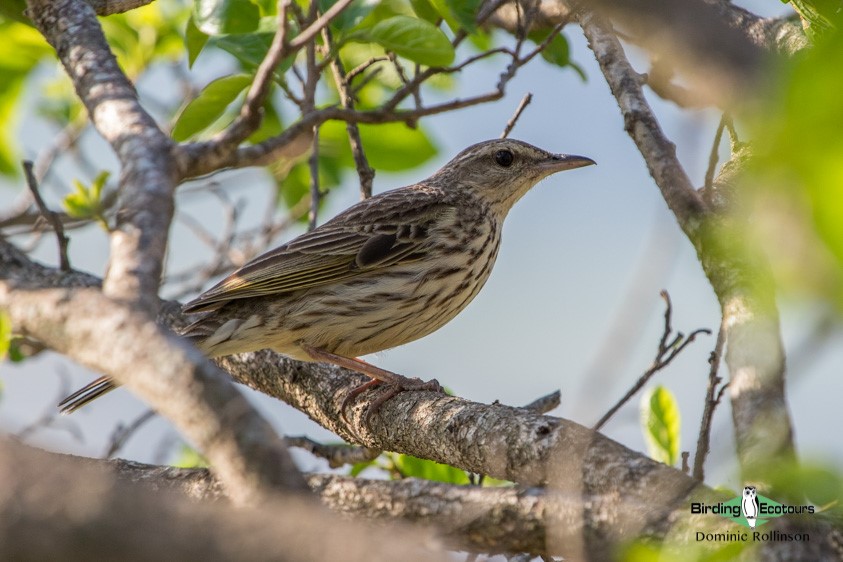 Striped Pipit was seen in the grasslands around Ongoye Forest.
Day 6, 19th October 2019. Eshowe to St Lucia
Today we had our final shot at Spotted Ground Thrush in Dlinza Forest, and thankfully it did not take long until Rosie spotted movement in the shadows and we eventually all managed views of a single foraging bird.
Breakfast tasted that much better with the thrush in the bag, and soon afterwards we made our way to the coast and farther north into Zululand toward St Lucia. En route we stopped at a small farm dam, which produced Collared Pratincole, White-backed Duck, African Pygmy Goose, and Rufous-winged Cisticola. We also stopped in Mtunzini to look for Palm-nut Vulture, which took longer than normal. However, we did eventually obtain good scope views and had a brief African Cuckoo-Hawk flyby while we were enjoying lunch.
Soon after arriving in St Lucia we headed to the estuary mouth to search for a few waders and other coastal species. The estuary mouth was a little quieter than expected, but it did hold a few Chestnut-banded Plovers, Greater Sand Plover, African Oystercatcher, Sanderling, and Marsh Sandpiper as well as a number of other common Palearctic waders. A relatively small tern roost contained Caspian, Sandwich, Little, and Greater Crested Terns as well as a few Grey-headed Gulls. Other waterbirds present here included Goliath and Purple Herons and Yellow-billed Stork. On our way back to our accommodation we had good views of the comical-looking Crested Guineafowl.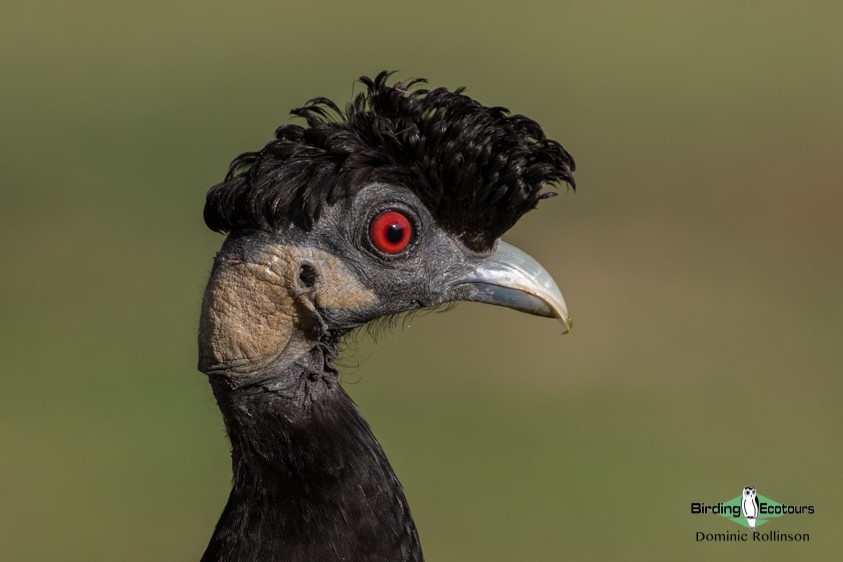 Crested Guineafowl was common and confiding in St Lucia.
Day 7, 20th October 2019. St Lucia birding
As usual we were up early and headed to the eastern shores section of iSimangaliso Wetland Park, where we spent most of the morning driving the area and stopping at a few viewing points and hides. Highlights of the morning included Palm-nut Vulture, Livingstone's Turaco, Rudd's Apalis, Woodward's Batis, Eastern Nicator, Red-breasted Swallow, Croaking and Pale-crowned (heard only) Cisticolas, Greater Honeyguide, and many Black-bellied Starlings. We also had some good mammal sightings in the park, such as White Rhinoceros, African Buffalo, Side-striped Jackal, Banded Mongoose, Bushbuck, Natal Red Duiker, Greater Kudu, and Giraffe. On our way back into town we had brief views of Southern Brown-throated Weaver among many Eastern (African) Golden Weavers.
Much of the afternoon was spent in the western shores section looking for Southern Banded Snake Eagle. However, we unfortunately didn't have any luck here, but we did find both Brown and Black-chested Snake Eagles.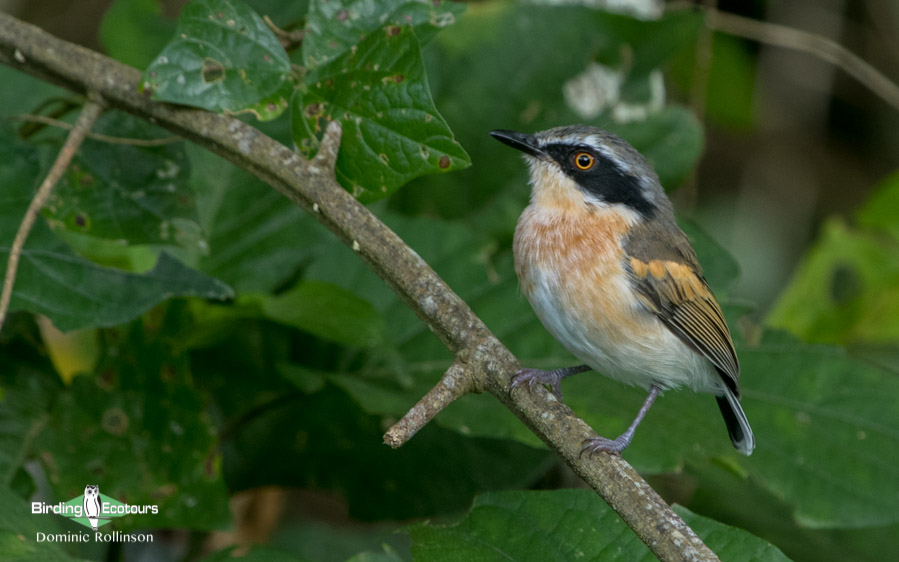 Woodward's Batis was seen well in St Lucia.
Day 8, 21st October 2019. St Lucia to Mkhuze Game Reserve
The early morning before breakfast was spent birding a trail around town, which produced many of the birds seen yesterday as well as African Green Pigeon and Grey Waxbill. After breakfast we packed our bags and decided to give Southern Banded Snake Eagle another shot. Thankfully it did not take too long to find the bird, and we could then be on our way again, heading north toward Mkhuze Game Reserve.
We stopped for lunch just south of Hluhluwe and had some good birding here, including Burnt-necked Eremomela, Long-billed Crombec, and African Hoopoe. After lunch we continued north and birded the floodplain of Lake St Lucia, which didn't have too much of interest but did give us a few African Wattled and Senegal Lapwings.
Soon we entered Mkhuze Game Reserve, where we spent the rest of the afternoon settling into our accommodation and birding the general area. We added White-crested Helmetshrike, Pale Flycatcher, Little Sparrowhawk, Chinspot Batis, White-browed Scrub Robin, Wahlberg's Eagle, and Grey Penduline Tit and improving our views of African Cuckoo-Hawk. In the evening while we were enjoying our braai (barbeque) we were interrupted by a fly-by Fiery-necked Nightjar and a particularly bold Greater Thick-tailed Galago.
Day 9, 22nd October 2019. Mkhuze Game Reserve birding
We had the whole day to enjoy the birds and other wildlife in the reserve and started the day by heading into the sand forest to bird around Kumasinga Hide. Almost immediately we found our major target in the form of a male Neergaard's Sunbird, which was feeding in a flowering tree among many Purple-banded Sunbirds. Right after the sunbirds we found an obliging pair of Pink-throated Twinspots, which was another big target in the sand forest. In the area we also found Crested Guineafowl, Crested Francolin, Stierling's Wren-Warbler, Bearded Scrub Robin, Emerald-spotted Wood Dove, and Grey-headed Bushshrike.
Throughout the rest of the day we visited many of the park's impressive hides, waterholes, and pans and ended with an impressive day list which included Pink-backed Pelican, Gorgeous Bushshrike, Brown-crowned Tchagra, Brubru, Black Cuckooshrike, Eastern Nicator, Rudd's Apalis, Red-billed Oxpecker, Green-winged Pytilia, Marico Sunbird, Acacia Pied Barbet, and many others.
In the evening we did a night drive, where we added Bronze-winged Courser and African Scops Owl as well as a few more Senegal Lapwings.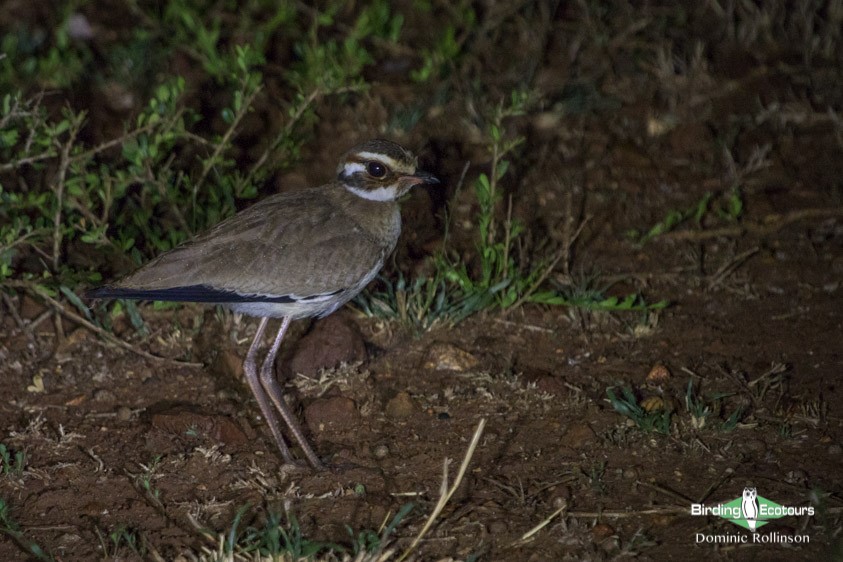 Bronze-winged Courser was seen well on our night drive at Mkhuze Game Reserve.
Day 10, 23rd October 2019. Mkhuze Game Reserve to Wakkerstroom
We started the morning with an early drive around the reserve and were rewarded with an amazing sighting of an adult female Leopard and her two sub-adult offspring, which showed briefly before disappearing into the thick bush. We also found Yellow-throated Bush Sparrow (Petronia), Grey Tit-Flycatcher, White-backed Vulture, Common Scimitarbill, Southern Yellow-billed Hornbill, and Cape Starling.
With a lengthy drive ahead of us we left around mid-morning and made our way northwest to Wakkerstroom. Most people are unlikely to ever have heard of this small town in the Mpumalanga province of South Africa; however, it has an almost legendary status among South African birders, as it has some of the best highveld grassland birding in the country and harbors a number of rare endemics. Just before reaching Wakkerstroom we found Southern Bald Ibis and Spike-heeled Lark.
Once we had checked into our accommodation we headed to the wetland in town, which eventually produced glimpses of Red-chested Flufftail as well as African Snipe, African Swamphen, Cape Weaver, African Reed Warbler, calling African Rail, and Cape Shoveler. Back at our accommodation some of us managed views of African Clawless Otter and Mountain Reedbuck. We ended the day with a brief owling mission, which produced the goods with fantastic views of African Grass Owl.
Day 11, 24th October 2019. Wakkerstroom birding
We had a full day of grassland birding ahead of us today. First we made our way to the Botha's Lark stakeout with our local guide Sufiso, who had up-to-date information on where to find most of the special birds in the area. En route to our first stop we found a large flock of Blue Cranes as well as Swainson's Spurfowl, Long-tailed Widowbird, and a Secretarybird on the nest. Botha's Lark took a while to show, but eventually we had excellent scope views. While we waited for the lark to show we added Capped Wheatear, Sand Martin, Cape Longclaw, Lanner Falcon, Cape Crow, and many Red-capped Larks.
Next on the agenda was Fickland Pan to target Rudd's Lark. En route we saw Eastern Clapper Lark and Cloud Cisticola. Once having arrived at Fickland Pan it did not take too long before Rudd's Lark showed well. We were all amazed at its ability to disappear into the grass and not show again. In the nearby area we found South African Shelduck, Ant-eating Chat, Common Quail, Pied Starling, Banded Martin, and Pale-crowned Cisticola.
We went back to our accommodation for lunch and then headed out for the afternoon's birding. It did not take long until we found White-bellied Bustard, which was another of our targets, and then we also came across yet another pair of Secretarybirds. With the light fading we decided to have another try for Blue Korhaan, which we had failed to find earlier. After much searching we eventually had good views of at least three birds in some nearby fields. A great way to end another successful day of birding!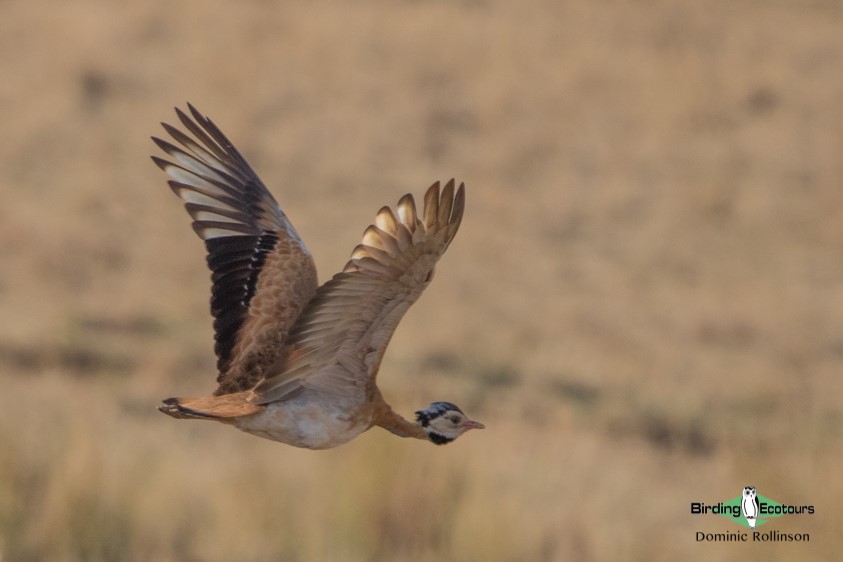 White-bellied Bustard was seen in the drier grasslands near Wakkerstroom.
Day 12, 25th October 2019. Wakkerstroom to Kruger National Park
Today was mostly a travel day. However, as we had yet to search for Yellow-breasted Pipit around Wakkerstroom, we decided this would be our major target for the morning. It took a bit of work, but eventually we had really close views of a displaying bird and also found Mountain Wheatear, Sentinel Rock Thrush, Buff-streaked Chat, and Eastern Long-billed Lark. We stopped at the wetland in town on our way out and found African Rail, Little Bittern, African Marsh Harrier, and Intermediate Egret. The long drive to Kruger National Park did not produce much of interest besides Karoo Thrush at our lunch spot.
As we arrived at the entrance gate to Kruger National Park we saw a flurry of new birds, including Red-headed Weaver, Brown-headed Parrot, and Yellow-fronted Tinkerbird.
Day 13, 26th October 2019. Kruger National Park birding
We spent the whole day on the back of an open-top safari vehicle all to ourselves, which made visibility and finding birds even easier. We were based at Pretoriuskop Rest Camp, which had recently seen much of the surrounding bush burned by a runaway fire. But we still managed to find some great birds and other wildlife. Highlights from our morning drive included Flappet Lark, Bushveld Pipit, Yellow-bellied Eremomela, Magpie and Southern White-crowned Shrikes, Southern Red-billed and African Grey Hornbills, Greater Blue-eared and Burchell's Starlings, Cardinal Woodpecker, Natal Spurfowl, Hooded Vulture, Bateleur, Tawny Eagle, and Striped Kingfisher as well as a huge male Sable Antelope. We also had views of a number of African Elephants which occur in large numbers in the park.
The afternoon drive was a not as productive; however, we still found Spotted Eagle-Owl, Red-faced Cisticola, Grey Go-away-bird, Bushveld Pipit, Jameson's Firefinch, Little Bee-eater, and Mocking Cliff Chat and had great views of a Klipspringer silhouetted against the dramatic sky.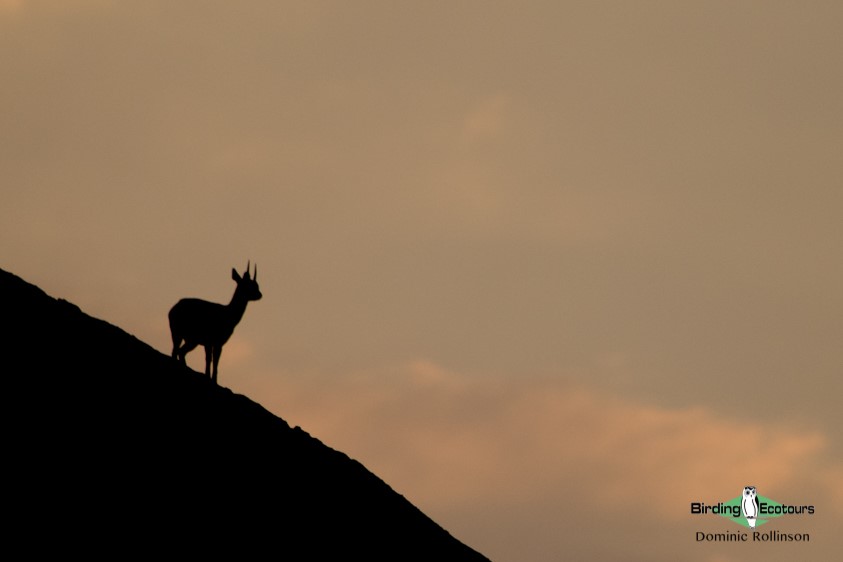 Klipspringer was seen in the granite 'koppies' around Pretoriuskop Rest Camp.
Day 14, 27th October 2019. Kruger National Park birding
With the morning starting fairly cool with some decent cloud cover we made our way north through the park towards Satara Rest Camp, where we were staying for our final night in Kruger. Soon after leaving Pretoriuskop we had point-blank views of a Red-crested Korhaan, giving its high-pitched, deafening call, as well as of the slightly larger Black-bellied Bustard. We had breakfast at Skukuza Rest Camp, where we managed to find White-browed and White-throated Robin-Chats, Saddle-billed Stork, Red-billed Buffalo Weaver, Golden-breasted Bunting, and African Firefinch.
Soon after leaving Skukuza we were lucky enough to find a pair of roosting Southern White-faced Owls as well as a Leopard sleeping in a huge tree along the river. The afternoon drive to Satara did not add too much more of interest besides Purple Roller, Arrow-marked Babbler, Namaqua Dove, and Groundscraper Thrush.
With the really hot temperatures we decided to take it easy for a little while before heading out for our afternoon drive from Skukuza Rest Camp. With the temperatures having dropped (slightly) later there was a bit more activity on our drive, and we managed sightings of a pride of Lions as well as White-headed Vulture, Chestnut-backed Sparrow-Lark, Pearl-spotted Owlet, and Lesser Spotted Eagle. A couple of Spotted Hyaenas were also seen on our afternoon drive.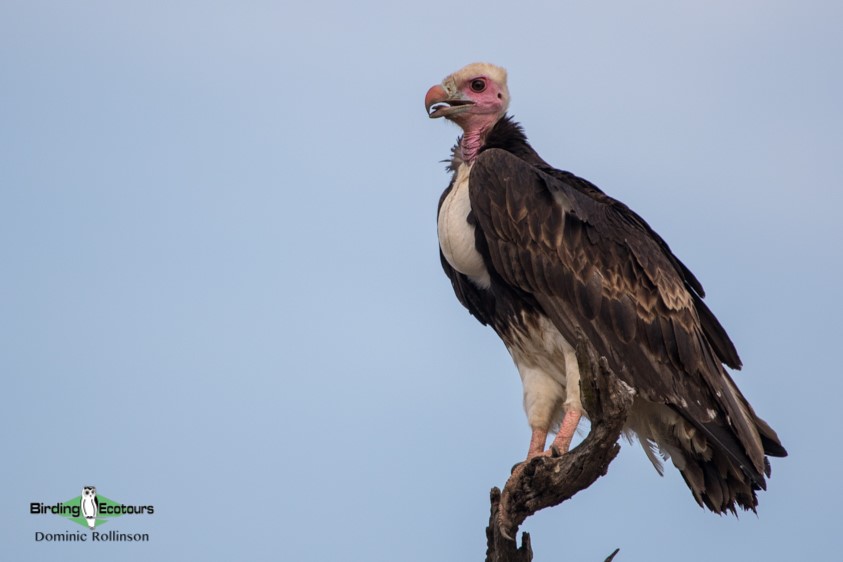 White-headed Vulture, perhaps the most attractive of southern Africa's vultures.
Day 15, 28th October 2019. Kruger National Park to Dullstroom
The day couldn't have started much better when as we left camp we were greeted by three huge male Lions making their way south. Really impressive to see up close! Not long after this we had good views of a lone Leopard before it hid in a culvert under the road. Next we concentrated on some of our bird targets and soon found Common Ostrich, Southern Ground Hornbill, Kori Bustard, Desert Cisticola, and Kurrichane Thrush.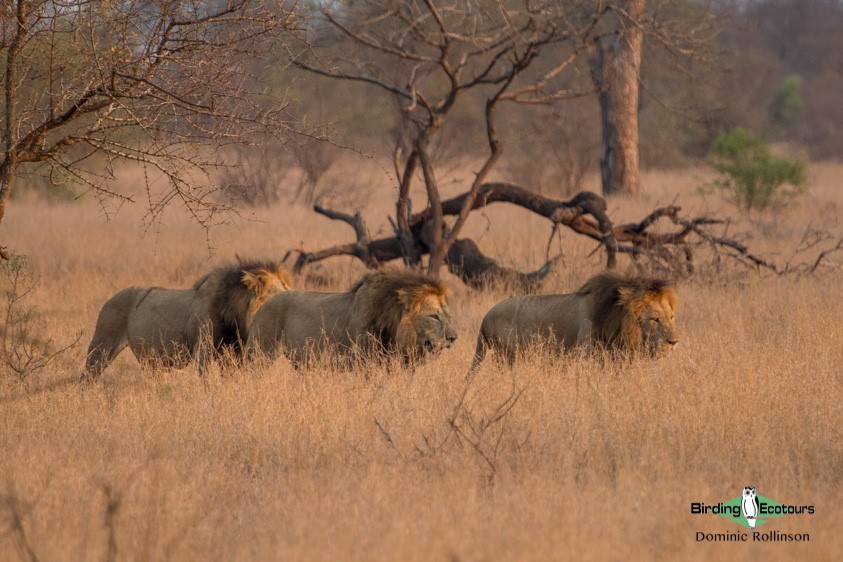 The group of three male Lions seen in Kruger National Park.
It was another scorcher today, so we left camp early after enjoying a good breakfast and made our way out of the park. On our way we stopped at a waterhole which had a large herd of African Buffalo as well as a few Yellow-billed Oxpeckers. Careful scanning through the flocks of aerial feeders produced Grey-rumped and Mosque Swallows too.
Once out of the park we made our way south toward Dullstroom, where we were staying for the night. En route we stopped at the Blyde River Canyon to look for Taita Falcon; however, they were unfortunately not around.
We arrived in Dullstroom in the late afternoon and decided headed out to try to find a few more targets. It took some effort, but eventually we had good scope views of Wattled Crane alongside a dam and found Red-winged Francolin, Cape Longclaw, and African Wattled Lapwing in the surrounding grasslands as well.
In the evening before heading for dinner some of the group managed good views of African Wood Owl.
Day 16, 29th October 2019. Dullstroom to Zaagkuilsdrift
We birded for a few hours around Dullstroom this morning in the hope of finishing our remaining targets in the area. Gurney's Sugarbirds were most obliging as we arrived at the stakeout spot, and we managed a number of Denham's Bustards and Blue Cranes in the area too as well as a Marsh Owl hunting over a wetland in the early-morning light. Perhaps the highlight of the morning was watching a Serval hunting in the same wetland as it walked through the tall grass without paying much attention to us. Close to our accommodation we had good views of Pale-crowned Cisticola, Yellow-breasted and Long-billed Pipit, African Olive Pigeon, Jackal Buzzard, Streaky-headed Seedeater, and Olive Thrush.
After breakfast in Dullstroom we headed west towards Zaagkuilsdrift, where we would be doing some dry-country birding with a very different mix of species. En route we stopped for lunch in Mabusa Nature Reserve, which produced Buffy Pipit, Shelley's Francolin, Red-headed Weaver, and Green-capped Eremomela. Nearby we also had brief views of Oribi, a rare, grassland-restricted antelope.
After lunch we continued west to our accommodation in the Zaagkuilsdrift area, where we soon added new birds in the form of White-browed Sparrow-Weaver, Chestnut-vented Warbler, and Northern Black Korhaan.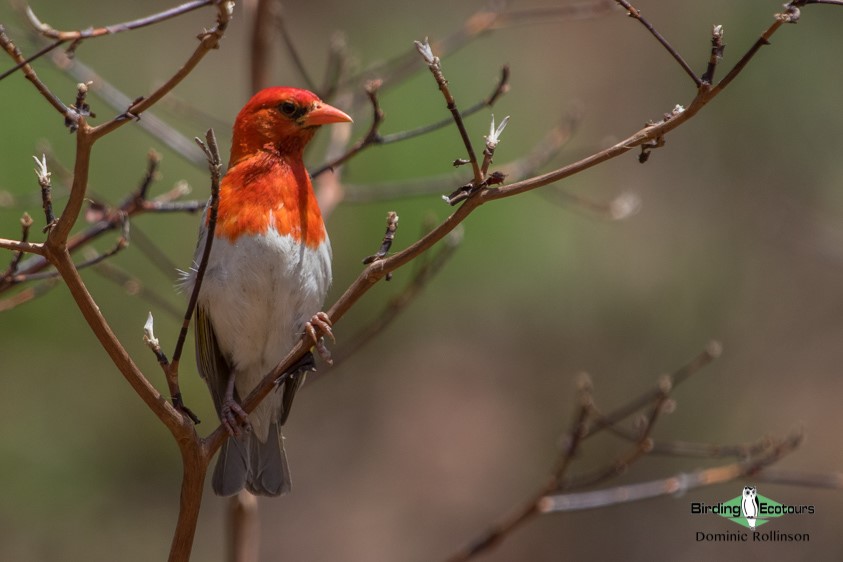 The stunning male Red-headed Weaver was seen at its nest in Mabusa Nature Reserve.
Day 17, 30th October 2019. Zaagkuilsdrift birding
Today was our last full day of the tour, and with lots of birds to still find we headed out early before breakfast and birded the woodlands and Kgomo-Kgomo floodplain. Soon after we left our accommodation we came across a bird party, which included Barred Wren-Warbler, Violet-eared Waxbill, Crimson-breasted Shrike, Cape Penduline Tit, Marico Flycatcher, and Southern Pied Babbler. Around Kgomo-Kgomo we found more new birds in the form of Great Spotted Cuckoo, Pearl-breasted Swallow, Red-headed Finch, Black-chested Prinia, Black-throated Canary, Kalahari Scrub Robin, Scaly-feathered Weaver, and Shaft-tailed Whydah.
Breakfast back at our accommodation was interrupted briefly by Levaillant's Cuckoo and Karoo Thrush.
The final afternoon was spent birding the general area, looking for anything we were still missing. We did find some more good birds, such as Capped Wheatear, Marico Sunbird, Burnt-necked Eremomela, Wattled Starling, and Red-breasted Swallow.
Day 18, 31st October 2019. Zaagkuilsdrift birding and departure
With flights in the early afternoon we had most of the morning to bird the area before heading south to Johannesburg. Despite this being the final morning we still managed to add a number of new birds. Grey-backed Camaroptera finally showed itself in the surrounding bushveld, and Kgomo-Kgomo floodplain gave us more birds new to the list, such as Yellow-crowned Bishop, Cut-throat Finch, and Great Sparrow.
We finally had to leave Zaagkuilsdrift and head to the airport, but our luck had not yet run out, as we managed to add Black-faced Waxbill and Greater Kestrel while we were driving out of the area. Thankfully the trip to the airport was uneventful, and it ended a great 18 days around South Africa with many highlights to remember fondly. Thanks to all tour participants for making this a fun and highly successful tour. Looking forward to the next one!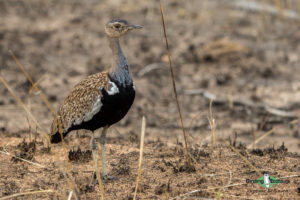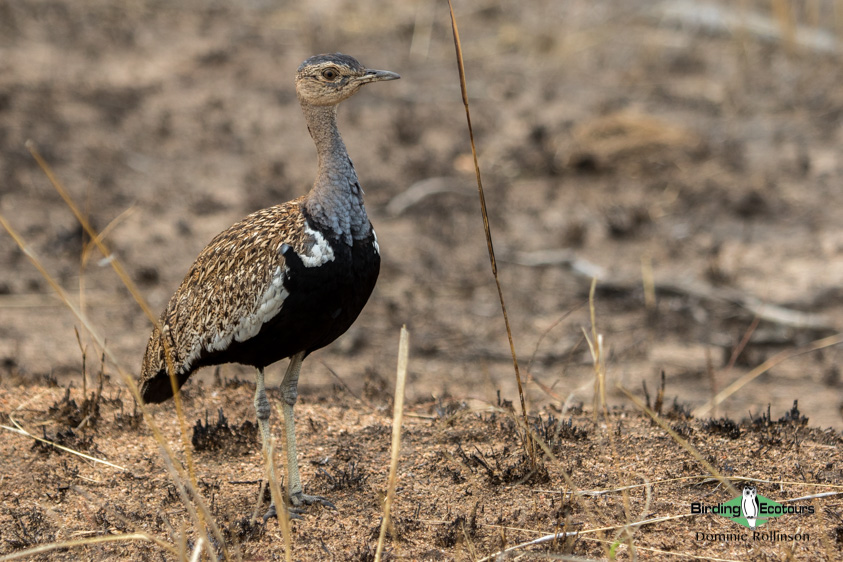 This male Red-crested Korhaan showed really well in Kruger National Park.
Please see the downloadable PDF above with the full species lists included.