Mozambique Birding Tour — African Pitta Special
Go to: Mozambique Birding Tours | Birding Tours in Africa | All our birding tours
Download Itinerary
Mozambique Birding Tour— African Pitta Special
November 
This is a special tour, specifically set up to facilitate easy and safe travel during the Covid-19 pandemic, and will be run in place of our popular Highland Zimbabwe to Coastal Mozambique – African Pitta special tour.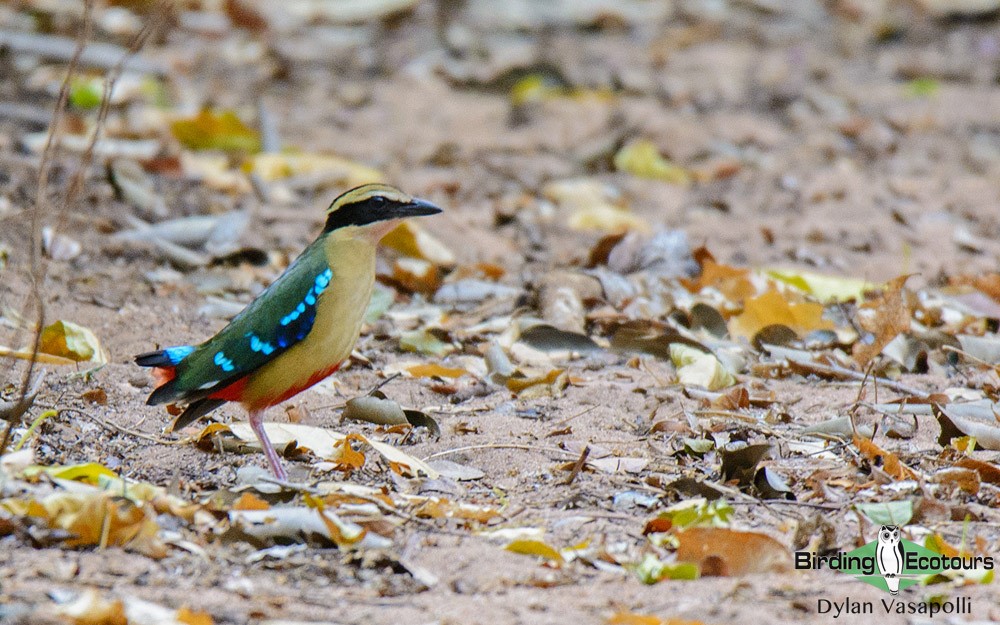 This tour is specifically timed to maximize chances of finding the mythical African Pitta.
This tour is run solely within central Mozambique, and offers a mouth-watering array of top specials, including almost all of the birds we'd typically be searching for in Zimbabwe! As its name suggests, this tour is centered on locating the mythical African Pitta, in the lowland forests of Mozambique. While searching for this highly prized bird, we'll also be on the lookout for skulkers such as White-chested Alethe, East Coast Akalat and Lowland Tiny Greenbul, amongst others. Noisy flocks of Chestnut-fronted Helmetshrike flop around overhead, and we'll keep an eye out for other scarce and localized species such as Böhm's Bee-eater, Racket-tailed Roller, Dickinson's Kestrel, Mangrove Kingfisher, Livingstone's Flycatcher, Speckle-throated Woodpecker and so many more!
We will also make a special excursion into western Mozambique along the Chimanimani Mountains. Here we will be searching for a number of 'typical' Zimbabwean birds including bVumba species such as Chirinda Apalis, Roberts's Warbler, Stripe-cheeked Greenbul, Black-fronted Bushshrike and Red-faced Crimsonwing, amongst others. The Vulnerable (IUCN) Blue Swallow also occurs in the montane grasslands here, and will be another major target. This area will also allow us to access excellent tracts of miombo woodland (a unique woodland type, restricted to south-central Africa), and by extension a host of birds that are almost exclusively found in this woodland, many of which have miombo in their name. These include the likes of Miombo and Cinnamon-breasted Tits, African Spotted Creeper, Miombo Rock Thrush and Eastern Miombo Sunbird.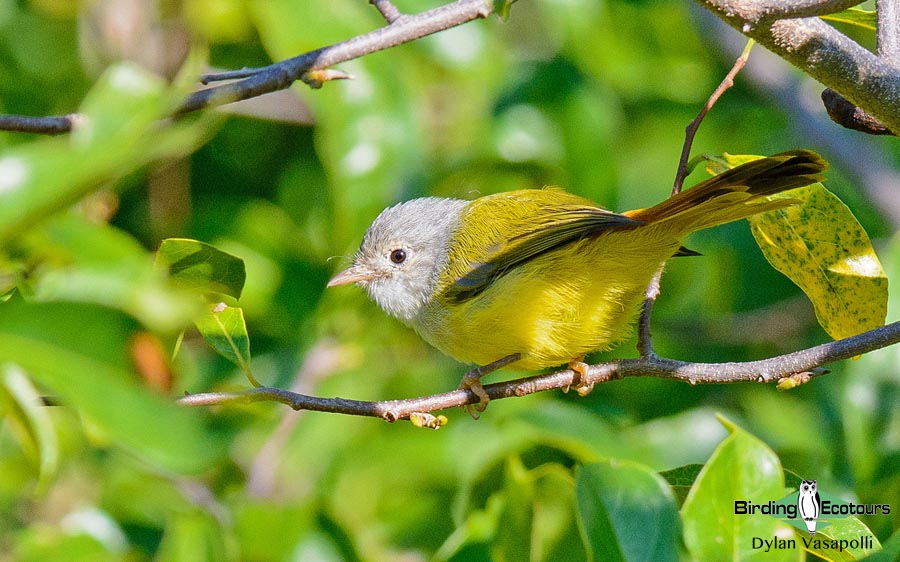 Livingstone's Flycatcher is a localized species we'll be searching for in the lowlands of Mozambique.
Beginning and ending in the port city of Beira, we firstly explore the vast grassy floodplains, wetlands, and coastal areas around the town. Following which, we transit westwards to the Zimbabwean border, where we spend our first few days exploring a mix of miombo woodlands and montane forests. We then transit to the incredible Gorongosa National Park. This magnificent wildlife area is one of the continent's best conservation success stories, and boasts a wide range of Africa's megafauna. The nearby Mount Gorongosa is sadly, still out of bounds, however, we will be able to see this famed site as we transfer to the Zambezi River delta area, with its associated lowland forests. Here we will search for our main quarry on this tour – the African Pitta, along with a great deal of other mouth-watering species. We then journey back to Beira, where this tour ends.
This special tour (designed with the global Covid-19 pandemic in mind) can be easily combined with our southern Mozambique pre-tour, where we target some of the most range-restricted birds in south-east Africa such as Olive-headed Weaver, Green Tinkerbird, Neergaard's Sunbird, along with the monotypic Crab-plover. This is a wonderfully complementary tour and will ensure you experience the best birding Mozambique has to offer!
Itinerary (15 days/14 nights)
Day 1. Arrival in Beira, Mozambique
Today your international flight arrives in Beria. Depending on your exact arrival time, there may be some time available for us to explore nearby wetlands, and coastal areas, surrounding Beira. The vast floodplains here, especially out towards Rio Savane, are usually fairly dry at this time of the year, with only the odd pond containing some water. For those joining this tour from our southern Mozambique pre-tour, we will already be based in Beira, and will have the full day at our disposal to get a head-start on some of the area's birds.
Some of the species we'll be looking for here include Wattled Crane, Rufous-bellied Heron, African Pygmy Goose, Lesser Jacana, African Marsh Harrier, along with more nomadic species such as Locust Finch, Blue Quail and Great Snipe. The scarce Lesser Seedcracker also occurs, but much luck is required to see this difficult bird! Coastal mudflats can also be visited, where we'll look for Greater and Lesser Sand Plovers, Terek Sandpiper, along with Lesser Crested Tern amongst others.
Overnight: Beira
Day 2. Birding Beira, and transfer to western Mozambique
We will have a full morning available to continue our birding in and around Beira (see Day 1 above for an account of some of the possible species). Following our morning birding, we will transfer to western Mozambique, situating ourselves in the foothills of the Eastern Highlands for four nights. We anticipate arriving in the afternoon, and will likely do some local exploring, familiarizing ourselves with some of the birds occurring in the area, such as White-browed Robin-Chat and Variable Sunbird.
Overnight: Manica province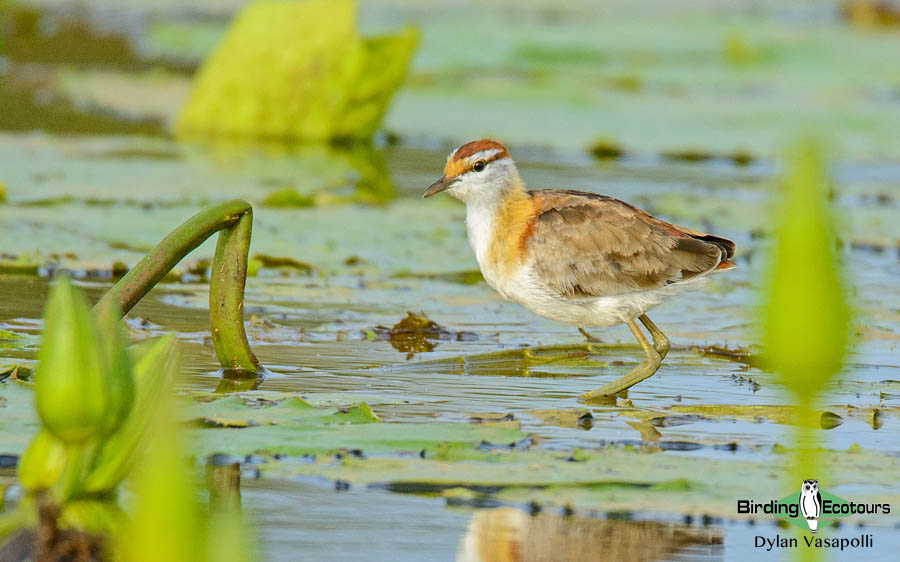 Lesser Jacana can be seen in the wetlands near Beira.
Days 3 – 5. Birding western Mozambique
We will have three full days to explore two of the core birding sites in the area; Mount Tsetserra and the recently proclaimed Chimanimani National Reserve. Mount Tsetserra lies within clear eyeshot of the bVumba highlands of Zimbabwe and support a near-identical suite of birds. The montane forests will be searched for prized birds including Stripe-cheeked Greenbul, Chirinda Apalis and Roberts's Warbler. The localized Swynnerton's Robin has been recorded, but is rarely seen here. Other species occurring here that we'll keep an eye out for include Livingstone's Turaco, Orange Ground Thrush, Olive and Black-fronted Bushshrikes, White-starred Robin, Yellow-streaked Greenbul, White-tailed Crested Flycatcher, Barratt's Warbler, Singing Cisticola, Bronzy Sunbird, Yellow-bellied Waxbill and Red-faced Crimsonwing. The more open areas atop the mountain will be searched for Blue Swallow, along with others such as Wailing and Singing Cisticolas and Cape Grassbird. We will keep an eye to the sky, as Scarce, Mottled and Alpine Swifts do occur in the area, and various raptors may pass overhead, and might include the likes of Crowned Eagle, Augur Buzzard, Rufous-chested Sparrowhawk and Rock Kestrel.
The lower slopes of Mount Tsetserra and the nearby Chimanimani National Reserve offer some excellent miombo woodlands, and we will also be sure to include some time here to help find as many targets as possible. This area is a great site for the scarce and local Cinnamon-breasted Tit, and we'll also search for other typical miombo species as Miombo Tit, African Spotted Creeper, Red-faced Crombec, Southern Hyliota, Miombo Rock Thrush, Pale Batis, White-breasted Cuckooshrike, Green-capped Eremomela, Stierling's Wren-Warbler, Grey Penduline Tit, Cabanis's Bunting and Black-eared Seedeater.
Overnight: Manica province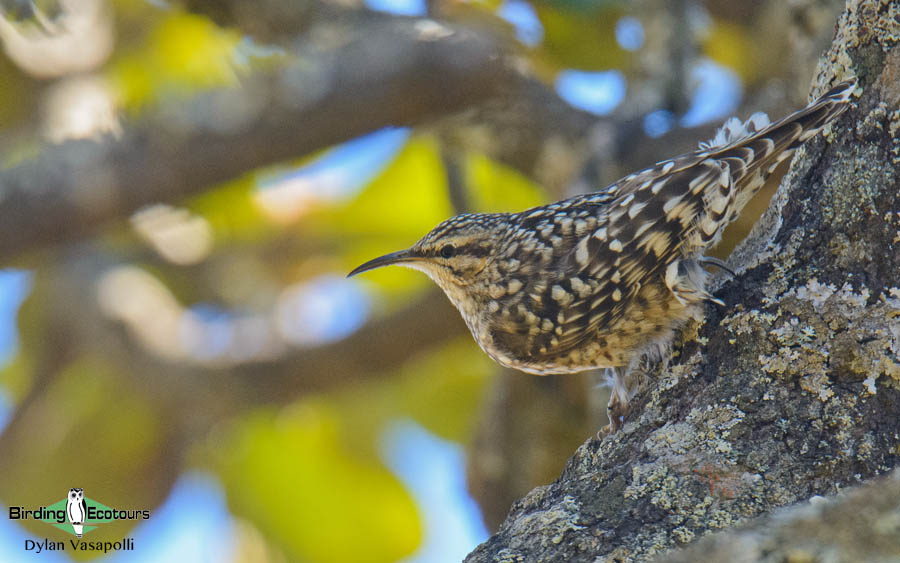 African Spotted Creeper will be one of our main targets in the miombo woodlands!
Day 6. Transfer to Gorongosa National Park
We have a full morning available to us to continue birding in the area, searching for any species that may still be eluding us, before we set off to the Gorongosa National Park, where we will likely arrive in the afternoon. The entrance road towards the park passes through some phenomenal mixed-miombo woodlands, and we will be sure to spend some time birding these rich woodlands this afternoon (time permitting), and over the next two days. While we will likely be familiar with the bulk of the miombo birds already, these woodlands do host a number of other target species we may well not have seen yet, some of which include Thick-billed Cuckoo, Speckle-throated Woodpecker, Racket-tailed Roller, Pale Batis, Arnot's Chat, Red-winged Prinia (Warbler), Orange-winged Pytilia and Miombo Blue-eared Starling. We will eventually make our way into the Gorongosa National Park, and onwards to the Montebelo Lodge, where we will be based for three nights.
Overnight: Montebelo Lodge, Gorongosa National Park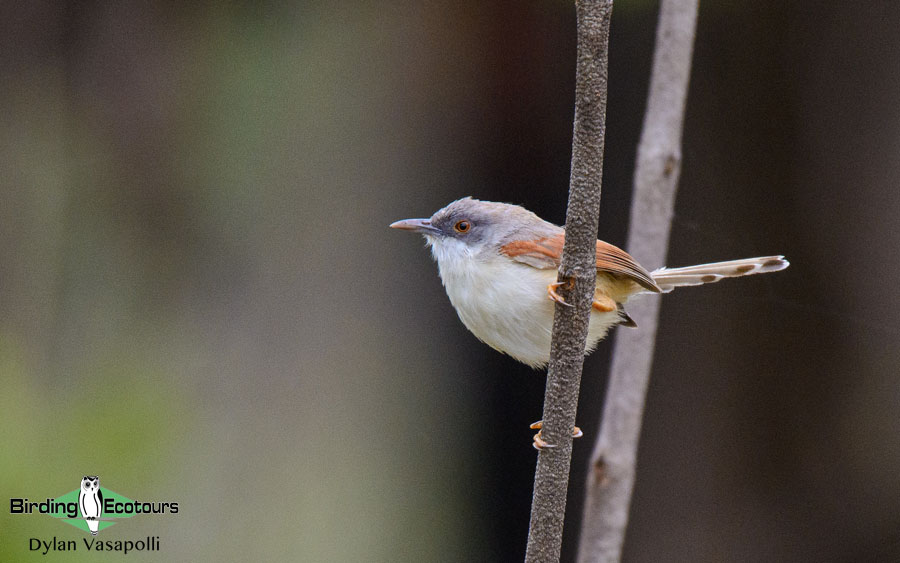 Red-winged Prinia (Warbler) can be reliably seen around Gorongosa.
Day 7 – 8. Birding Gorongosa National Park
We have two full days to explore the park, and surrounds. Depending on road-access (flooding does occur from time to time), we will try to access the stunning Urema Floodplain which will present us with a host of new species. Among others, we'll look for Great White and Pink-backed Pelicans, Grey Crowned Crane, Saddle-billed Stork, Long-toed Lapwing, Collared Pratincole and many more. Other species such as Dickinson's Kestrel, Black-and-white Shrike-flycatcher (Vanga Flycatcher), Collared Palm Thrush, and Short-winged Cisticola are to be sought in the area as well. This is a phenomenal raptor area, a true testament to how 'wild' these parts are, and we stand a good chance at seeing a number of vulture and eagle species, with the likes of White-headed Vulture, Bateleur, Martial and Wahlberg's Eagles, and Lizard Buzzard all being regular. The woodlands throughout this area support some forest-edge species as well, which include the likes of Brown-necked Parrot, Narina Trogon, Crowned Hornbill, Bearded Scrub Robin and Eastern Nicator. We should also encounter some of our first large mammals of the tour, with many of Africa's megafuana such as Cape Buffalo, African Elephant, Lion, Giraffe and a host of others, occurring in the park as well.  We will also have opportunities to explore the woodlands on the entrance road to the park (species mentioned under Day 6 above) as well, should we still be searching for any of those species.
Overnight: Montebelo Lodge, Gorongosa National Park
Day 9. Gorongosa to the Zambezi River delta area
Today we make our way to M'phingwe Lodge, near Caia. This is in the Zambezi delta area, which is another absolute treasure-chest for special birds, including a whole new suite of species we won't yet have seen. Following breakfast in the morning, we will bird on the drive out from our lodge along the access road, searching for any of the woodland species we may still need (mentioned on Day 6), before starting the drive, in earnest. The condition of the road to Caia seems to vary from year to year, and although it has recently been upgraded, the journey may still take some time to complete. We will likely arrive at the rustic yet wonderfully comfortable M'phingwe Lodge in the late afternoon, and time permitting, we may explore some of the vast concessions (coutadas) surrounding the lodge, and get a slight head-start on some of the species listed for Days 10 – 13 below.
Overnight: M'phingwe Lodge, Catapu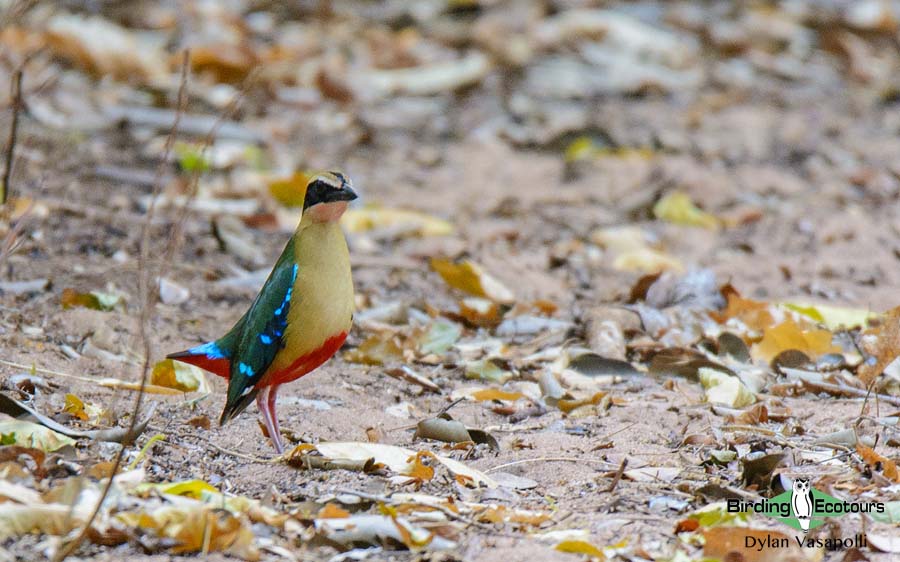 This tour is specially designed to see the mythical African Pitta!
Days 10 – 13. Birding M'Phingwe Lodge and surroundings
We have four full days to spend birding in the stunning mixed woodlands and towering lowland forests spread throughout the region. This is an incredibly rich area and hosts a great many birds, and our chief target will be the dazzling African Pitta, which we will hopefully find displaying in its preferred forested habitat. The audible wing-beats and loud frog-like call herald this highly prized bird, and we have had great success with finding this bird over the last ten years or so, and have yet to miss this species on this tour. Some of our other target species will include White-chested Alethe, East Coast Akalat, Chestnut-fronted Helmetshrike, Livingstone's Flycatcher, Lowland Tiny Greenbul, Mangrove Kingfisher (in this area, away from the coastal mangroves it frequents elsewhere in its range), rare Barred Long-tailed Cuckoo, Green Malkoha, Black-and-white Shrike-flycatcher, Woodward's Batis, Plain-backed Sunbird, Black-headed Apalis, and Southern Banded Snake Eagle. Finding all these specials, some of them real skulkers, takes time, and this is why we have four full days to properly explore and bird the area. We are sure to accumulate a large list of species in the area; we may also come across species like the magnificent Pennant-winged Nightjar, Mottled and Böhm's Spinetails, Broad-billed Roller, Swallow-tailed Bee-eater, Scaly-throated Honeyguide, African Hobby and Mosque Swallow, to mention a few. We will also be sure to include some time near the Zambezi River, and will importantly try to get to the Villa de Sena region, where a recently discovered population of Böhm's Bee-eater (the only known population in the southern African subregion), has been found. The associated Zambezi River floodplains also have excellent birding and give us further chances for species such as Moustached Grass Warbler, Marsh Tchagra and Short-winged Cisticola, while also hosting species such as Rufous-winged Cisticola and Southern Brown-throated Weaver.
Overnight: M'phingwe Lodge, Catapu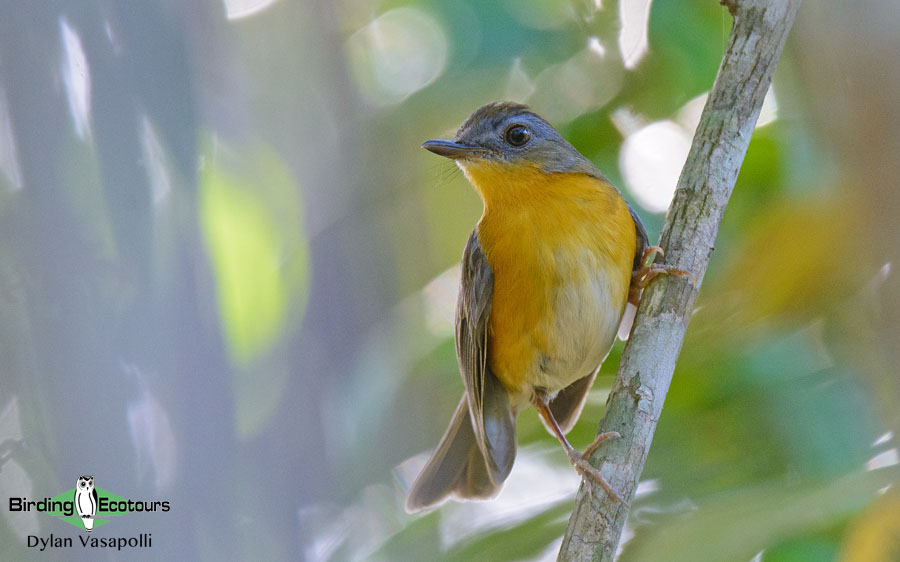 East Coast Akalat is another of the denizens of the 'pitta forests'.
Day 14. M'Phingwe Lodge to Beira
Today we have a long trip to get to Beira from the wonderful M'Phingwe Lodge, and we will be departing early in the morning (around sunrise). Depending on the state of the road, we will likely arrive in the afternoon. Although the road is slow going, there is usually excellent birding to be had, and we'll be making many stops to explore the woodland tracts that remain. Depending on our arrival time into Beira, we may be able to head out for some brief afternoon birding (searching for a similar suite of species as mentioned for Day 1 above). We will end this tour off with a dinner on the beachfront, reminiscing about all of the excellent birds we have encountered!
Overnight: Beira
Day 15. Birding Beira, departure
The first half of the morning will see us birding the above-mentioned areas around Rio Savane and Beira, searching for the specials of the area, before transferring to the airport, where this tour will conclude around midday (as most of the flights out of Beira depart in the early afternoon).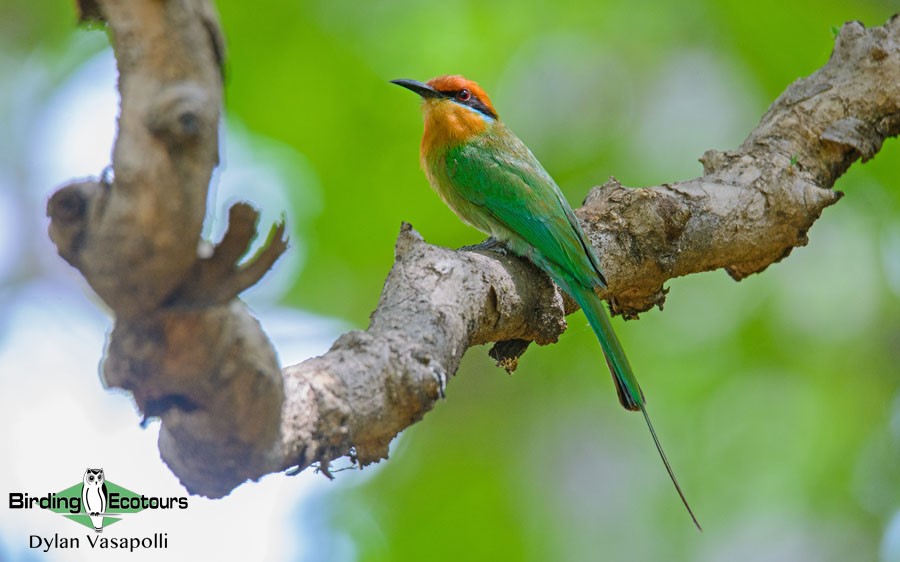 Böhm's Bee-eater is one of many localized species possible on this exciting tour!
Please note that the itinerary cannot be guaranteed as it is only a rough guide and can be changed (usually slightly) due to factors such as availability of accommodation, updated information on the state of accommodation, roads, or birding sites, the discretion of the guides and other factors. In addition, we sometimes have to use a different international guide from the one advertised due to tour scheduling.
Download Itinerary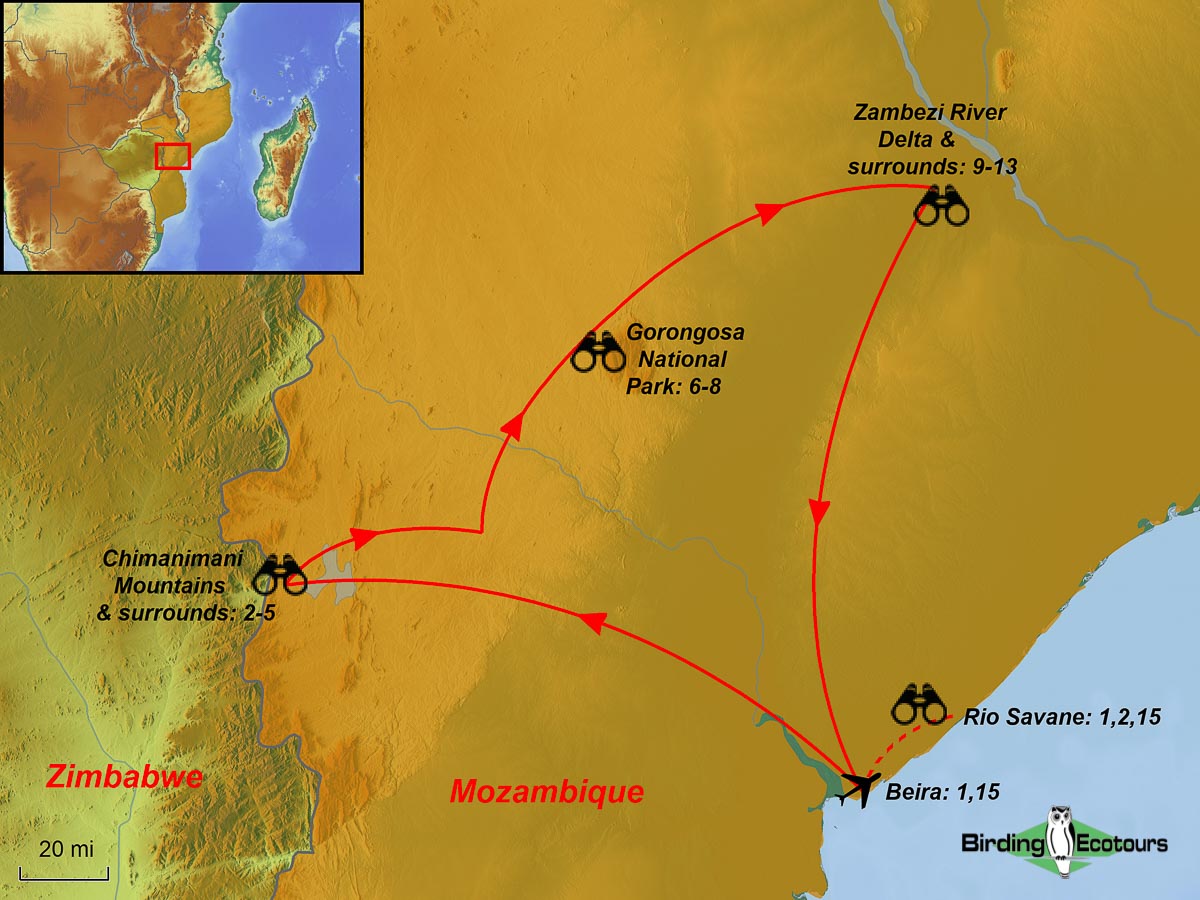 MOZAMBIQUE: AFRICAN PITTA SPECIAL — SET DEPARTURE TRIP REPORT
20 NOVEMBER – 5 DECEMBER 2021
DOWNLOAD TRIP REPORT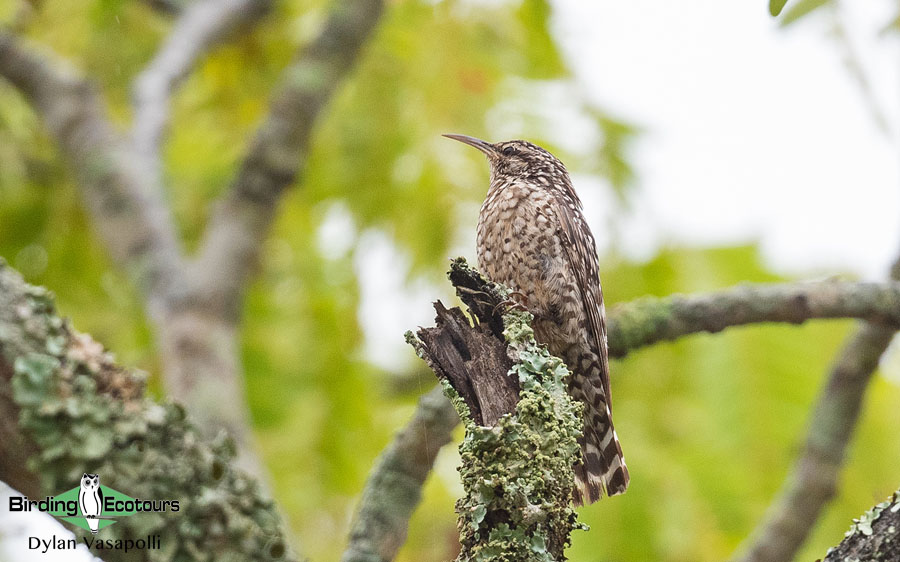 African Spotted Creeper is an important specialty in miombo woodland.
Overview
This set departure tour was set up and timed specifically to maximize chances at finding one of Africa's most sought-after birds, the African Pitta. This scarce and nomadic species usually move into the area following the onset of the rainy season and begin displaying – giving birders a small window to see this enigmatic bird. Once paired up and nesting, the birds become very secretive and are difficult to find. As an aside to the pitta, we also search for many specials of the lowland forest region of southeast Africa. These are also of particular importance as the area of central Mozambique south of the Zambezi River, which this area falls squarely within, also counts to the Southern African subregion which has a dedicated listing group.
Birding Ecotours usually runs a Zimbabwe and Mozambique tour, that focuses on finding African Pitta, along with a host of other localized and sought-after species found in the two countries, but the ongoing Covid-19 pandemic has made cross-border tours specifically difficult, and this particular routing impossible with the land border between these two neighboring countries closed. Therefore, we opted to run a Mozambique-only tour, which would see us targeting African Pitta and the other central Mozambique specials, along with heading into the remote highlands of western Mozambique – which are contiguous with the Zimbabwe 'Eastern Highlands', and host the same suite of miombo woodland and montane forest specials.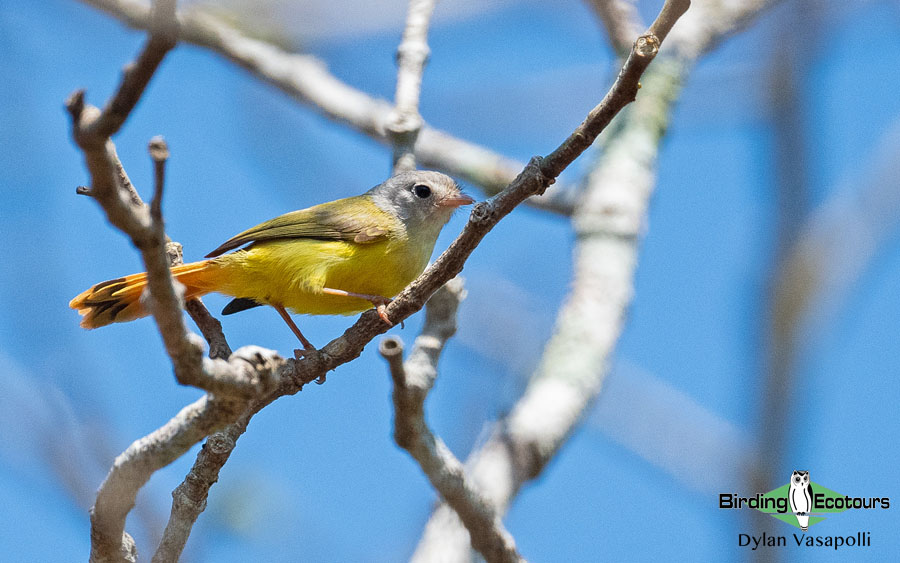 The lively Livingstone's Flycatcher is a special bird that occurs in the dense thickets and lowland forests of central Mozambique.
As mentioned, this tour took place during the ongoing Covid-19 pandemic, and despite complicated and altered travel arrangements needed after the end of the tour for some participants to return home (due to the discovery of the Omicron variant of Covid-19, and several airline routes immediately shutting), the actual running of the tour was not impacted, and aside from some minor vehicle issues, the tour went by smoothly. This tour also followed on directly from our Southern Mozambique pre-tour, which had several clients on, with several additional clients joining just for this central Mozambique African Pitta Tour.
The birding itself was largely excellent, and we began proceedings off well in the western highlands. Miombo specials such as African Spotted Creeper, Miombo and Cinnamon-breasted Tits, Miombo Rock Thrush, Western Violet-backed Sunbird and White-breasted Cuckooshrike were all well seen, and were complemented by montane forest species such as Livingstone's Turaco, Stripe-cheeked Greenbul, Chirinda Apalis, Roberts's Warbler, White-tailed Crested Flycatcher, Yellow-throated Woodland Warbler and Red-faced Crimsonwing. The mixed woodlands and open floodplains of the Gorongosa National Park followed, where we enjoyed some of Africa's megafauna such as African Elephant and Hippopotamus, with thousands of antelope, together with a wide selection of birds ranging from Grey Crowned Cranes to African Skimmers to Speckle-throated Woodpeckers, and many in between.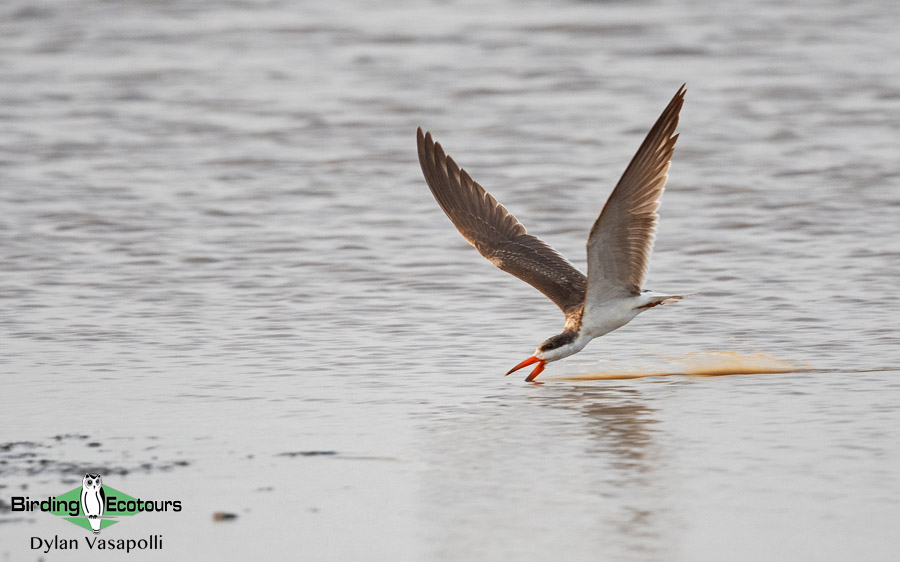 A large flock of African Skimmers put on a show for us in the Gorongosa National Park.
The lowland forests of the Zambezi Delta followed, where we were unsuccessful in our bid to find African Pitta due to the ongoing drought in the area (we have seen this species on all our previous tours from 2014 onwards, so we really were unlucky this year that the rains came late), but came up trumps with many other specials such as Mottled and Böhm's Spinetail, Chestnut-fronted Helmetshrike, Livingstone's Flycatcher, Lowland Tiny Greenbul, Black-headed Apalis, East Coast Akalat, reclusive White-chested Alethe and Plain-backed Sunbird to more widespread specials such as Mangrove Kingfisher, Narina Trogon and African Broadbill. A special trip was made to see Böhm's Bee-eaters on the banks of the Zambezi River. The tour concluded in Beira, where we explored the surrounding seasonally inundated floodplains and surrounds, which turned up such exciting species as Blue Quail, Black-rumped Buttonquail, Great Snipe, Locust Finch and Lesser Seedcracker.
Detailed daily reports, and trip lists can be found below.
Detailed Report
Day 1. 20th November 2021. Arrival, and birding the Rio Savanne floodplains
Some of the group were already in Beira, as a result of joining our Southern Mozambique pre-tour, and therefore had this extra morning available for birding. We had an early start as we went out to explore the nearby Rio Savanne floodplains. Although somewhat inevitable, it was a bit disheartening to see just how much the city and the ever-expanding population has encroached on this area. As expected for this time of the year, the floodplains were dry, and we opted to spend the first part of our morning searching for Lesser Seedcracker. We hunted high and low, but couldn't find any seedcrackers. We did have various other species around to keep us entertained and enjoyed the likes of Collared Pratincole, Croaking Cisticola, Red-headed Quelea, Magpie Mannikin and Brimstone Canary, amongst others. We had just enough time left to explore some of the fields looking for some of the more exciting specials of the area, such as Blue Quail and Locust Finch. We hit a bit of luck early managing to get a Black-rumped Buttonquail, which showed well, albeit briefly. A wide range of other species were seen throughout our morning, from where we had a midday break, while additional clients joined for this main "African Pitta trip" which was centered in Central Mozambique. A quick afternoon jaunt to some nearby open areas yielded a lovely pair of African Pygmy Geese, numbers of Africa Jacana, and a brief Lesser Jacana, with shorebirds such as Wood and Marsh Sandpiper and Black-winged Stilt, and waterbirds such as Purple Heron, Black-crowned Night Heron and Yellow-billed Stork all showing well. A surprise Grey-headed Kingfisher added some excitement, before we called it a day.
Day 2. 21st November 2021. Birding Rio Savanne floodplains, and transfer to Casa Msika
With the full group in, following further arrivals the previous evening, we set off to bird the Rio Savanne floodplains in the morning. The sky was gloomy, but the weather held for our first walk through the grasslands. We opted to explore a different area from the previous day, which held slightly lusher vegetation, and some water underfoot in places. Here we managed to find a few Black-rumped Buttonquails, and enjoyed good looks, along with some other species such as Quailfinch and Yellow-throated Longclaw. Following a quick coffee and tea break, the sky darkened dramatically and the heavens opened. With heavy rain set in, we made our way back to our Beira guesthouse where we had breakfast and checked out. Some vehicle issues saw us taking a little time to get going once more, but we were eventually back on our way, and made good progress to Casa Msika. Here we would be based for the next four nights as we explored the western highlands of Mozambique, searching for many of the typical Zimbabwe Eastern Highland birds, such as Roberts's Warbler, Chirinda Apalis, and African Spotted Creeper, amongst others. Following our afternoon arrival, we set off for a walk around the grounds of the lodge, and while it was quiet, did pick up the likes of African Fish Eagle, Willow Warbler, and a brief Bearded Scrub Robin. We settled in for the evening, with exciting days ahead.
Day 3. 22nd November 2021. Birding Mt Tsetserra
We had a full day set aside to explore Mount Tsetserra and surrounds. The road getting there was in bad condition, and took a while to navigate, but we eventually arrived into the patchy miombo woodland on the foothills, and immediately set out. We had a wonderful spell of birding, picking up many species such as African Golden Oriole, White-crested Helmetshrike, Red-faced Crombec and Green-capped Eremomela. A Green-backed Woodpecker left us wanting a bit more, while some of the cleared vegetation produced a flurry of birds with Red-faced and Singing Cisticolas, African Firefinch and a lovely Red-winged Prinia (Warbler). Exploring some of the more mature miombo further along yielded an incredible party of African Spotted Creepers. We spent some time enjoying these secretive birds, and managed great looks, before a White-breasted Cuckooshrike flew in and stole the limelight for a little bit.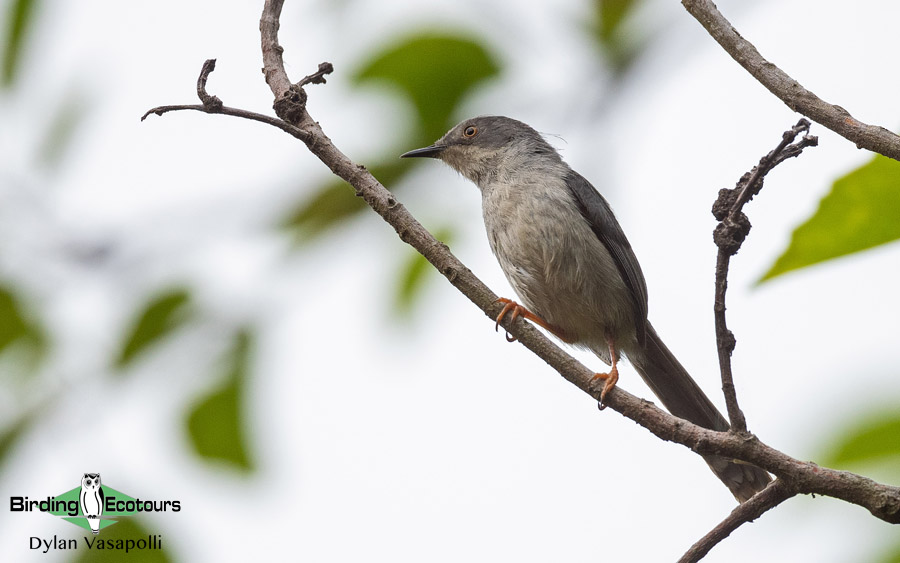 Chirinda Apalis is a very localized species, virtually endemic to the highlands of western Mozambique and eastern Zimbabwe.
We eventually made our way to the upper reaches of the road, where the montane forest started, and we set off on foot. The cool and overcast conditions persisted and meant that the good birding continued largely unabated. Two of our core targets, Chirinda Apalis and Roberts's Warblers showed well early on, while Stripe-cheeked Greenbul took a few attempts to track down. A Red-faced Crimsonwing left us wanting a bit more, while calling Livingstone's Turacos eventually showed. Lively White-tailed Crested Flycatchers and Yellow-throated Woodland Warblers showed well, as did a lovely pair of Black-fronted Bushshrikes. Olive Bushshrike gave us brief views, while a calling Buff-spotted Flufftail frustrated us by remaining out of sight, despite a concerted effort to see it. Eventually we started making our way back down the mountain, and ultimately back to our lodge, with birding stops along the way producing Grey Waxbill and Lesser Honeyguide, amongst others en-route. Our dinner went down well, following an exciting first full day out birding in the area.
Day 4. 23rd November 2021. Birding Chimanimani National Park
We had a full day set aside for birding Chimanimani National Park. This recently proclaimed national park forms a cross-border transfrontier park with the Zimbabwe equivalent, and protects vast tracts of pristine miombo woodland. Indeed, this picturesque park is a major highlight on the tour. Following a long drive from our lodge, and an opportunistic stop en-route for a Gorgeous Bushshrike, we arrived and enjoyed a very productive spell of birding. Miombo birding often requires patience, and as we slowly worked the area, so we notched up the species. Vocal groups of Green-capped Eremomela and Retz's Helmetshrike were early highlights, as was a Stierling's Wren-Warbler and White-breasted Cuckooshrike, all of which showed well. The harsh grating calls of a tit led us to a stunning Cinnamon-breasted Tit – one of our major targets of the area. The bird showed very well, and we soaked up our views of this special bird! Another patch of bird activity produced a plethora of species, with Red-faced Crombec, Pale Batis, Southern Hyliota and Black-eared Seedeater all being seen.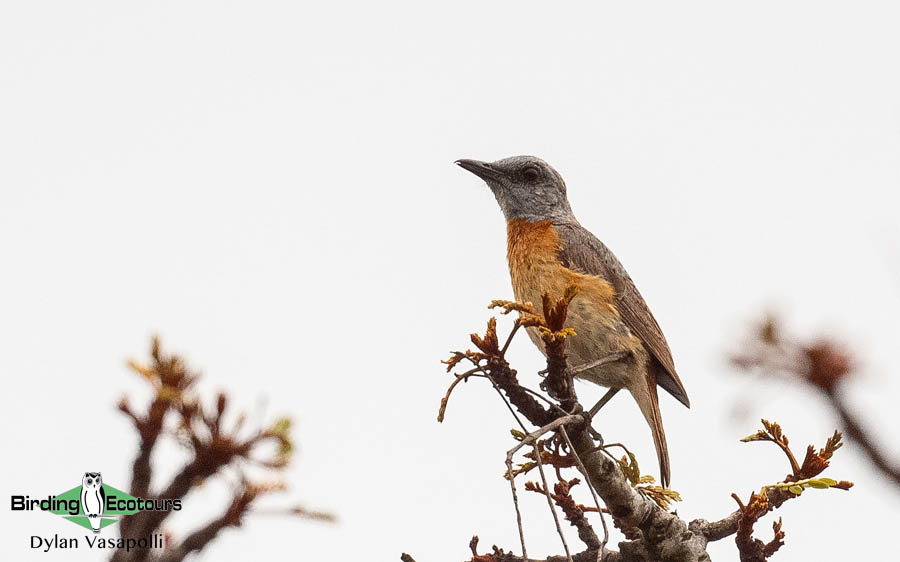 As its name suggests, Miombo Rock Thrush is a denizen of miombo woodland.
Shortly afterwards, the rain began, and we had to bide our time waiting for it to abate, and as soon as it did, found ourselves in the midst of another bird party. Here numbers of African Spotted Creepers were present, and showed remarkably well, as did the scarce and local Miombo Rock Thrush. More Cinnamon-breasted Tits were located, and we eventually picked up Cabanis's Bunting in addition to the more common Golden-breasted Bunting. A Yellow-bellied Eremomela was present in the bird party, as were others such as Bearded Woodpecker, Green Wood Hoopoe, Common Scimitarbill and Pale Flycatcher amongst others. Following our lunch break, our final area of birding produced yet more goods, with us once again enjoying such sought-after species as African Spotted Creeper and Cinnamon-breasted Tit, in addition to new species such as Western Violet-backed Sunbird and Wood Pipit. Following a fantastic day out birding the stunning Chimanimani National Park, we began the journey back the lodge, with birding stops en-route producing Levaillant's Cuckoo, Black-throated Wattle-eye, and a string of raptors with Booted and Wahlberg's Eagles notable finds.
Day 5. 24th November 2021. Birding Mount Tsetserra and surrounds
We had another full day to explore Mount Tsetserra, where we hoped to clean up on the outstanding species we were still searching for. We started off in the miombo woodlands on the lower slopes, where we slowly worked our way along exploring various bouts of bird activity. Pale Batis and Grey Waxbill were early highlights, as were numbers of African Golden Orioles and African Paradise Flycatchers. It took a little while, but eventually in some of the bird parties we found a single Miombo Tit, which showed very well, and improved on our views of Western Violet-backed Sunbird in the process. A Striped Pipit showed very well for us, and we enjoyed repeat views of Cinnamon-breasted Tit and Retz's Helmetshrike.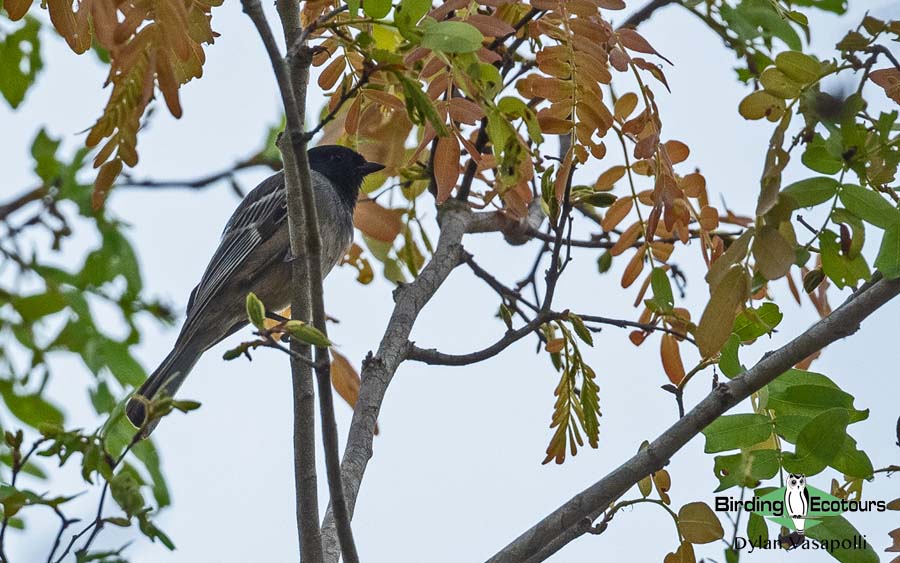 Cinnamon-breasted Tit is a scarce resident of miombo woodland in southeast Africa. It was a major highlight of our time in the Mozambique highlands!
We made our way up to the montane forested areas of the slope and set off for further birding. The birds were quieter today, and we eked out new species such as Cape Robin-Chat, Common Square-tailed Drongo, Olive and Eastern Miombo Sunbirds amongst others, while enjoying some of the specials of the area such as Chirinda Apalis and Stripe-cheeked Greenbul once more. With the sky darkening, thunder rumbling and drizzle starting to fall we beat a hasty retreat. We slowly worked our way back to our lodge, birding along the route, and several birding stops produced some great birds such as Tambourine and Blue-spotted Wood Doves, African Pygmy Kingfisher, Miombo Blue-eared Starling and easily one of our main highlights of the day – a glorious pair of Red-throated Twinspots. After initially hearing the birds calling from some dense undergrowth, we found them a short while later coming down to a puddle to drink and enjoyed completely unobstructed views! We settled in for the evening once we got back to our lodge, following a fantastic time birding in the western highlands of Mozambique!
Day 6. 25th November 2021. Transfer from Casa Msika to Gorongosa National Park
An overcast morning greeted us as we set off on a birding walk around the lodge. Situated within a remnant tract of miombo woodland, we also spent some time exploring the edges of the large Chicamba Dam present here, along with some scrubby thickets on the dam's edge. We would spend around 3 hours birding and enjoyed lots of activity, with birds present around every bend. A vocal Eastern Nicator gave us some good views after a bit of effort, while various Bearded Scrub Robins stuck to the dark thickets and left us wanting more. A pair of Grey Waxbills foraged on the edge of a thicket, while a pair of Red-throated Twinspots played hide and seek with us, but eventually showed wonderfully! Both Crowned and Trumpeter Hornbills were seen as we went along. Scrubby vegetation on the edge of the dam held the likes of Yellow-bellied Greenbul, Yellow-breasted Apalis, White-browed Scrub Robin, White-browed Robin-Chat, Purple-banded Sunbird, various weavers such as Southern Masked, Village, Spectacled and Holub's Golden Weavers and some brief views of Magpie Mannikins that left us wanting more. The dam Itself held little of interest, with only African Darter, Striated Heron, Common and Wood Sandpipers, and both Spotted and Water Thick-knees being the only species of interest. Our last sighting, and main highlight of the walk came from a pair of African Cuckoo-Hawks that we heard calling for some time before eventually finding a bird perched up on an exposed branch. We reveled in excellent views, before pulling ourselves away.
Following breakfast, we gathered our things and checked out, bound for the Gorongosa National Park. We had to stop for supplies en-route, as we were self-catering with the park still not functioning at full capacity. We eventually found ourselves on the entrance road to the park, and set off on a short birding walk. Overcast conditions persisted, and meant we had a birdy walk. The scarce Speckle-throated Woodpecker was an early highlight, and was followed up with various species such as Common Cuckoo, Woodland Kingfisher, Greater Honeyguide, Grey-headed Bushshrike and both African and Eurasian Golden Orioles. We enjoyed repeat views of other classic central Mozambique specials such as Pale Batis, White-breasted Cuckooshrike and Red-winged Prinia in the process as well (all of which we had seen already in prior days). Eventually we arrived at the entrance to the Gorongosa National Park, and made our way to Chitengo Camp where we would be based for two nights. The park was still mostly closed, due to Covid, and only the basic park tents were available to stay in. Two very anxious herds of African Elephants were seen on the drive in, along with a host of antelope such as Waterbuck, Nyala and Impala. We settled in for the evening with a lovely braai (which is a South African term for a barbeque), and a vocal pair of African Wood Owls around our camp.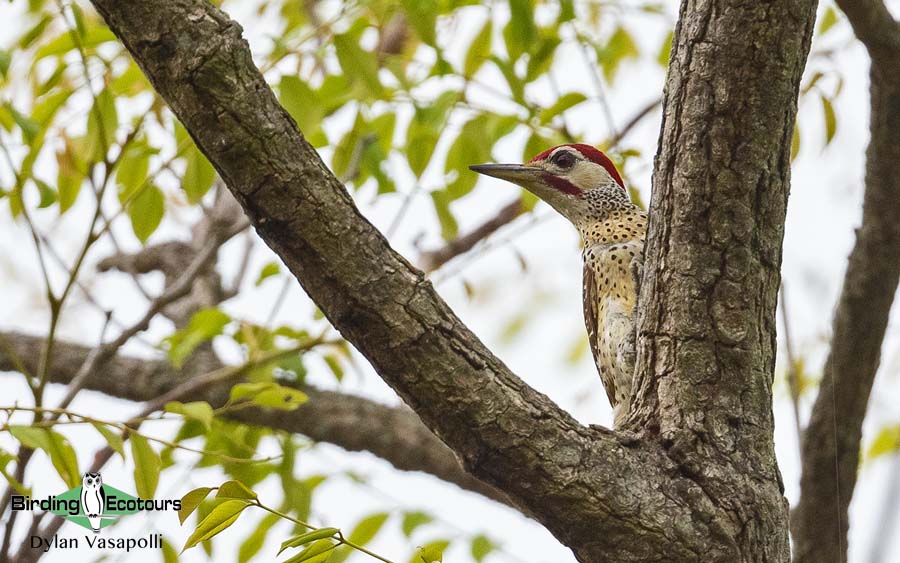 Speckle-throated Woodpecker is another difficult bird, which showed well to us in the Gorongosa area.
Day 7. 26th November 2021. Birding Gorongosa National Park
Our morning started off early with an action-packed morning drive. We slowly made our way through the mixed woodland, birding our way to the floodplain edge. Birds came in thick and fast, with the likes of Grey-headed Kingfisher, Bearded Woodpecker, Collared Palm Thrush, Brubru, Black Cuckooshrike, Grey Penduline-Tit, Long-tailed Paradise Whydah and Red-headed Weaver being the main highlights. As we moved into the dry, open floodplains reaches, the birds changed and we began adding the likes of Red-necked Spurfowl, Black-bellied Bustard and Senegal Lapwing, while raptors also featured strongly with Hooded, White-backed, White-headed and Lappet-faced Vultures, Black-chested Snake Eagle, Bateleur and Booted Eagle all beginning to move about. The most unusual, and incredible, sighting was a group of four Red-necked Falcons interacting with one another in some high-speed aerial chases! A pair of sought-after Moustached Grass Warblers were picked up in the area as well. Once we reached the edge of the large Urema Lake, our lists increased further with numbers of waterbirds. Stately pairs of Grey Crowned Cranes were sporadically distributed on the edges, whilst the likes of Yellow-billed Stork and African Openbill kept to the actual water, along with numbers of various ducks, herons and egrets. Several Knob-billed Ducks were picked out amongst the larger flocks of White-faced Whistling Ducks, as too were some distant Goliath Herons amongst more widespread heron species. We were also able to add a variety of shorebirds to our tally, including Kittlitz's Plover, Ruff, Little Stint, Marsh and Wood Sandpipers and Common Greenshank. Birds weren't our only highlight, and many mammals were seen during our drive as well. Species seen included Yellow Baboon, Blue Monkey, Banded Mongoose, Common Warthog, Hippopotamus, Western Bushbuck, Greater Kudu, Oribi, masses of Waterbuck, (Lichtenstien's) Hartebeest and Common (Blue) Wildebeest. We eventually returned to camp, where we had some downtime, before going on a late afternoon and evening drive. We were bound for another section of Urema Lake and birded on our way up there, arriving in time for sundowners, which we all thoroughly enjoyed. We also added handsomely to our species tally, with the likes of exciting birds such as Crested Guineafowl, Long-toed Lapwing, Collared Pratincole, a large flock of African Skimmers, Saddle-billed Stork, Great White Pelican, Broad-billed Roller, Green-winged Pytilia and Red-throated Twinspot all being well seen! Our trip back was under the cover of darkness, and we enjoyed an excellent night drive with Square-tailed Nightjar, Water Thick-knee and a lovely Southern White-faced Owl being seen on the birding front, whilst the mammals seen included Cape Porcupine, Thick-tailed Greater Galago, African Civet, Central African Large-spotted Genet and Marsh Mongoose. With a large number of over 130 birds on our daily list, we settled in for the evening, following a very successful day.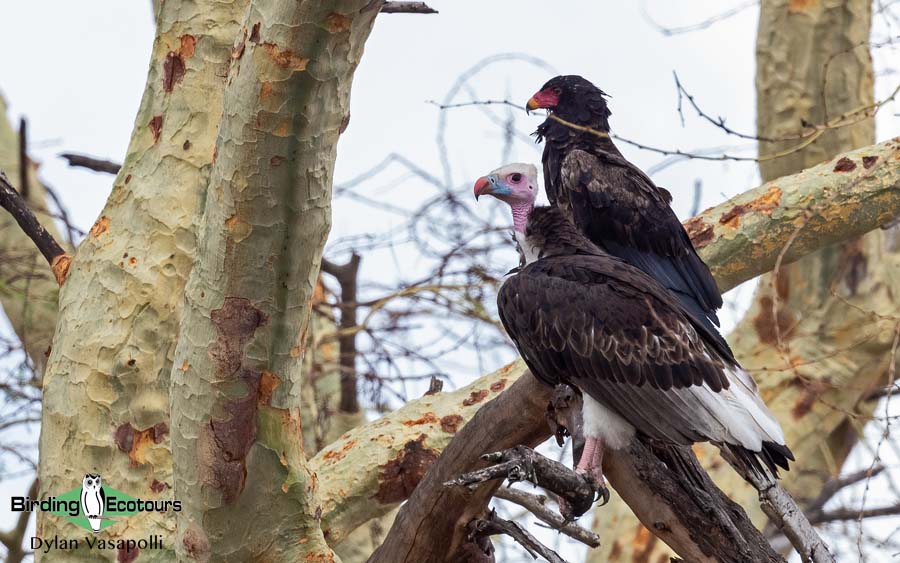 Raptors abounded in Gorongosa National Park – herewith perched are a White-headed Vulture (front) and Bateleur (back).
Day 8. 27th November 2021. Transfer from Gorongosa National Park to Catapu
Today was largely set aside as a travel day, not for an immense amount of distance we had to cover, but rather for the very bad state of the roads, which make the going very slow. We had a few hours to bird and explore the mixed woodlands on the entrance road to Gorongosa National Park, outside the park gate. We had a birdy morning, notching up a number of species which included the likes of Shikra, Green Wood Hoopoe, Pale Batis, Retz's Helmetshrike, White-breasted Cuckooshrike and African Golden Oriole. Soon however, we were off tackling the bad roads to get to our final destination in the Zambezi valley – the lovely Mphingwe Lodge on the Catapu concession, where we would spend the next six nights. Progress was slow, and we were halted even more with some vehicle issues which took some careful 'bush repairing' (with thanks to Bruce!), but we were able to press on arriving at camp in the afternoon. Several species were seen in transit, with the most notable being Red-chested Cuckoo, Brown Snake Eagle, Little Bee-eater and Black-winged Red Bishop. Following our arrival, we went on a short afternoon walk through some of the thickets on the concession, which was very quiet, but we were able to pick up on the sought-after Livingstone's Flycatcher – which showed well to the whole group.
Days 9 – 13. 28th November – 2nd December 2021. Birding the greater Zambezi Delta
The sequence of five full days we were based at Mphingwe Lodge are covered below, as many of the days were spent in the same area with a similar suite of species seen. The core reason for our extended period of time in this area is to allow us enough time to try and track down one of the 'holy grails' of African birds – African Pitta. These birds are known from this area, which they visit during a very specific timeframe in the early summer, to breed. This is virtually the only possible period to see these birds, as they display from the area, giving away their presence.  Away from their breeding period, they are shy and reclusive, and near impossible to find. Our first morning in the area confirmed our suspicions that the entire area itself was very dry, which didn't bode well for the pitta. This did indeed prove to be the case, with the entire region devoid of any rain, and as a result, pittas. We spent many hours, over many days patiently birding the area, covering all the usually reliable sites, all without an African Pitta, much to our disappointment.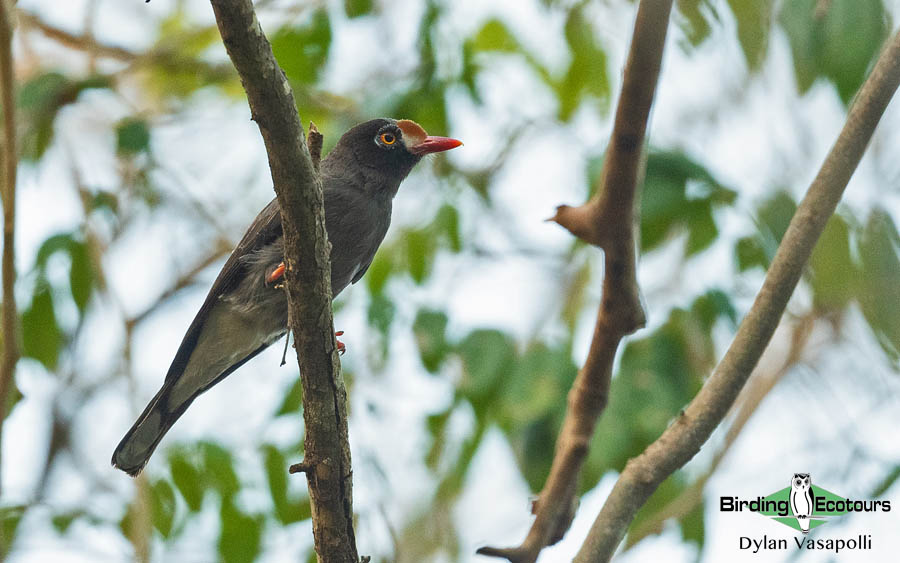 Chestnut-fronted Helmetshrikes is a denizen of the lowland forests.
The bulk of our time was spent in the lowland forests that feature here. Many of the specials are shy birds and often require some patience to find. Two of the big culprits in this regard are East Coast Akalat and White-chested Alethe. We were able to pry an East Coast Akalat from its favored thicket and enjoyed great views. White-chested Alethe was far more difficult, calling for extended periods of time, and only offering us the briefest of chances to see it – with not everyone managing to see it. Many of the other specials of the forests were seen on several occasions, and all showed well. Dainty Black-headed Apalis' moved about in the upper canopy, while the aptly named Lowland Tiny Greenbuls were a regular addition to the soundtrack and were pried out from their thickets on several occasions. Plain-backed Sunbird put up more resistance, but with some patience we were rewarded with great views of this subtly beautiful bird. A loud 'prrrt' call gave away a displaying African Broadbill, and we tracked down this incredible bird and spent some time watching the bird display. Groups of curious Chestnut-fronted Helmetshrikes were seen almost daily, while Woodward's Batis were present around us virtually continuously, with several good looks had. The strange inland population of Mangrove Kingfishers were seen well on occasions, and a major highlight for the group. Although seen previously, Livingstone's Flycatchers were regularly seen. More widespread species seen here included the likes of Crested Guineafowl, Livingstone's Turaco, Green Malkoha, African Barred Owlet, Narina Trogon, Scaly-throated Honeyguide, Blue-mantled Crested Flycatcher, Eastern Nicator, Yellow-streaked Greenbul, Black-bellied Starling, Bearded Scrub Robin, Dark-backed Weaver and Green Twinspot (for some).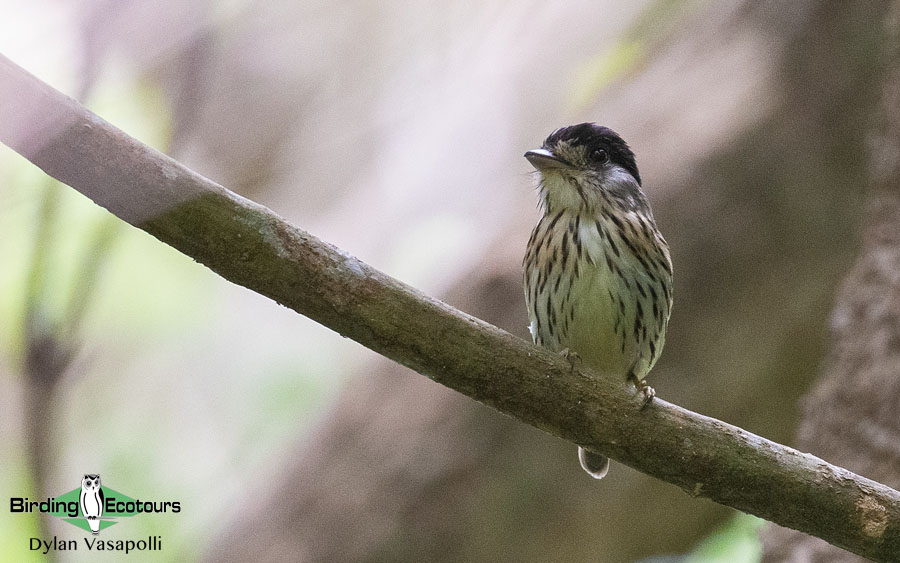 Watching an African Broadbill in full display is nothing short of spectacular! This particular bird put on a great show for us and was a firm highlight for all.
Mature mixed woodland persists outside the forest edges, and these areas were also birded. Flocks of swifts and swallows were searched successfully for both Böhm's and Mottled Spinetails, and a wide range of raptors were seen moving about – notably; White-headed Vulture, Bateleur, Crowned Eagle, Lizard Buzzard and several vocal Southern Banded Snake Eagles which always remained out of sight frustratingly. Noisy groups of Crowned and Trumpeter Hornbills were regularly seen, as too were numbers of various bee-eaters, with Swallow-tailed, Little, Blue-cheeked, European and Southern Carmine Bee-eaters all featuring. A pair of fast-flying African Hobbies were seen in the early morning hunting over the road, before a pair of the large Brown-necked Parrots gave us a good flyby. A wide array of other species, including various bushshrikes, tchagras, orioles, flycatchers, starlings and sunbirds were all seen in the area as well. We also undertook several night drives through the area, but we were rewarded only with multiple European Nightjars.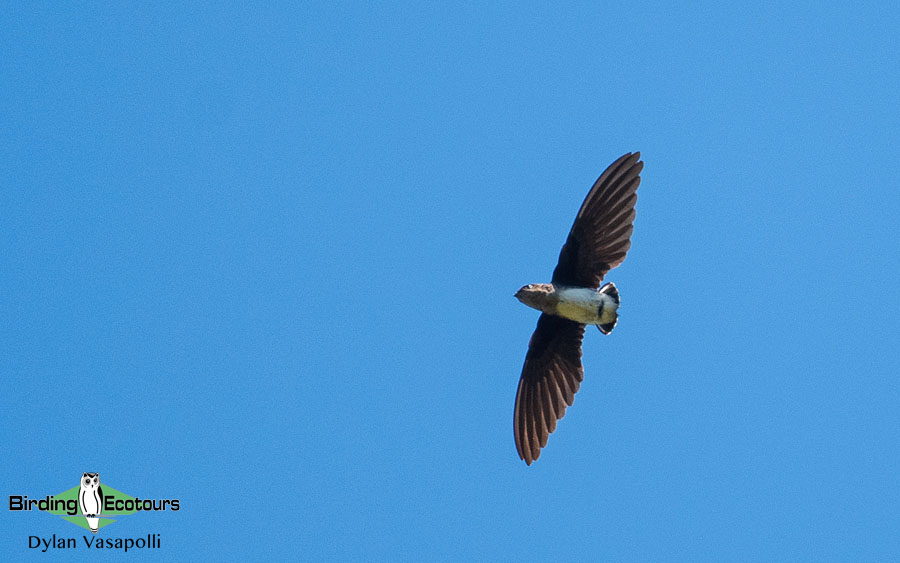 We had excellent looks at the unique Böhm's Spinetail in the area.
Some time was also spent on the Catapu concession, where a mix of lowland forest and mixed woodland occur, and this yielded exciting species such as Green Malkoha, Mangrove Kingfisher, Narina Trogon, Livingstone's Flycatcher and a lovely pair of the scarce Orange-winged Pytilia. This area too was barrenly dry, but staking out one of the small pans that had a tiny bit of water continually pumped in produced some of the best views I've had of the shy Tambourine Dove, as vast numbers came down to drink, along with several animals such as Suni, Natal Red Duiker, Impala, Nyala and Common Warthog.
A trip up to the Zambezi River at Caia, and further along the Zambezi River was also undertaken to target another of the sought-after specials in the region – Böhm's Bee-eater. The Zambezi River was as full as I've ever seen it, with all the associated pans and floodplains seemingly inundated, which brought with it a host of waterbirds. Numbers of White-faced Whistling Duck and Spur-winged Goose littered the area, while flocks of African Openbill, Reed Cormorants and Glossy and African Sacred Ibises filled the skyline. Paying some careful attention to the waterside vegetation yielded Little Bittern, Black-crowned Night Heron, Squacco and Purple Herons, Great and Little Egrets and African Jacana, amongst others. We were able to find African Reed, Lesser Swamp and Little Rush Warblers in the reeds together with Rufous-winged Cisticola and Southern Brown-throated Weaver, while Moustached Grass Warblers stuck to the bushy edges with the likes of Copper Sunbird and Red-billed Firefinch. Before long we found ourselves further up along the Zambezi River where some more wetland birding yielded Knob-billed Duck, several shorebirds such as Black-winged Stilt, Ruff and Wood Sandpiper, and Black Heron in addition to those we saw earlier in the day. Numbers of Western Yellow Wagtails stalked the edges of wetland, as a group of Orange-breasted Waxbills showed well to us, while some of the surrounding vegetation produced a fine Olive-tree Warbler. It took a little while of searching but we eventually struck gold and found our Böhm's Bee-eater target in some riverside vegetation. The birds were fairly active, and we spent some time watching them go about their business. Raptors were also out and about, and we enjoyed multiple European Honey Buzzards, still considered a scarce bird in the area, along with African Harrier-Hawk and a lovely Western Banded Snake Eagle amongst others. We were well represented with bee-eaters as well today, notching up six species in total, with White-fronted Bee-eater being the other new addition together with Böhm's Bee-eater, while our final sighting was of a delightful pair of Brown-headed Parrots perched contently for us.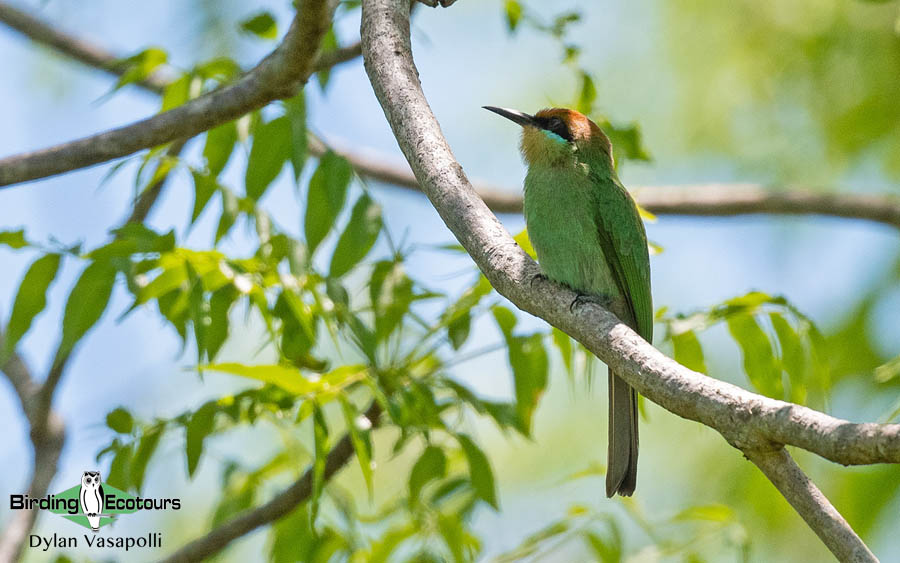 Böhm's Bee-eater occur just within the southern African subregion, with a colony on the south bank of the Zambezi River. We made a journey to go and find them on this trip.
Day 14. 3rd December 2021. Transfer to Beira
We had a long travel day in store, as we transferred from Mphingwe Lodge to the coastal city of Beira, where this tour began. Like many of the roads in central Mozambique, bad roads make for slow travel, and we eventually arrived into Beira in the late afternoon, where we settled in for the evening. A few birding stops en-route allowed us to add Crested Francolin, Jameson's Firefinch and a group of the nomadic Red-headed Queleas to our trip list, while also enjoying several other stunning birds, such as Woodland Kingfisher, Broad-billed Roller, Southern Carmine Bee-eater and Black-collared Barbet, amongst others.
Day 15. 4th December 2021. Birding the Rio Savanne floodplains
This would have ordinarily been the last day of the tour, but due to various circumstances, meant we would need one more day in the area – with the tour coming to an end tomorrow. This meant we had a full day at our disposal to do some birding in and around Beira and the Rio Savanne floodplains. Our only non-birding requirement was to be back in town at midday to process our Covid tests for our departure. We had several important bird targets for the morning, and the nature of birding this site requires time out walking in the grassy fields. We had an exceptionally successful morning as we explored various areas. Some of the open plains held the likes of Senegal Lawing, Collared Pratincole, Yellow-throated Longclaw and Plain-backed Pipit, while some of the coastal vegetation that line the riverine areas produced species such as Palm-nut Vulture, European Honey Buzzard, White-browed Robin Chat and Copper Sunbird. Walking through the grassy fields was also rewarding turning up several of the rare Great Snipe, a delightful pair of the nomadic Blue Quail, and a very showy pair of sought-after Locust Finches.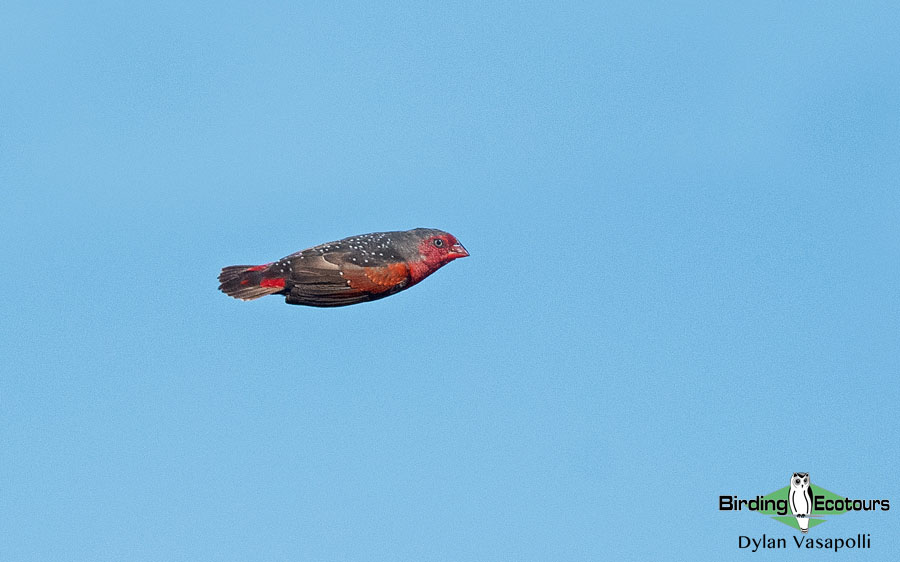 A delightful Locust Finch gave us exceptional views on the Rio Savanne floodplains.
A vast flock of Cuckoo-finches, and a stunning sighting of a Quailfinch pair drinking right in front of us were welcome additions, as too were other species such as African Snipe, Malachite Kingfisher, Flappet Lark, Red-breasted and Mosque Swallows, Croaking Cisticola and Red-backed Mannikin. We had a much-welcomed break over the midday period, and got our Covid tests out the way before spending our afternoon birding around the Rio Maria. The tides were unfortunately against us, but birding around the peripheries of the mudflats netted us almost all of the expected shorebirds. Eurasian Whimbrels dominated the numbers, as too did Common Greenshanks and Curlew Sandpipers, while careful scanning revealed Grey and Common Ringed Plovers, Bar-tailed Godwit, Little Stint and small numbers of the sought-after Terek Sandpiper. Some nearby pans held several pairs of the stunning African Pygmy Goose, which were our last notable sighting before we settled in for our final dinner together.
Day 16. 5th December 2021. Birding Dondo, and departure
This was our last morning of the tour, with the tour concluding at roughly midday. We headed out to a site to try our hand at finding the very difficult Lesser Seedcracker. We arrived in the still cool of the early morning, and as if on cue, picked up on a lovely male Lesser Seedcracker! Our first views were great, but brief before the bird disappeared into some thickets. We repositioned ourselves and were soon watching the bird once more – this time at length! We couldn't believe our luck and began concentrating on some of the other species present in the area as well. A small group of Little Bee-eaters darted around, while a Marsh Warbler popped out of thicket for some brief views, and flocks of Red-headed Queleas moved quickly through the area. No sooner had we started on the trip back, we ran into one of our outstanding raptors from the trip – Southern Banded Snake Eagle, which we enjoyed excellent views of.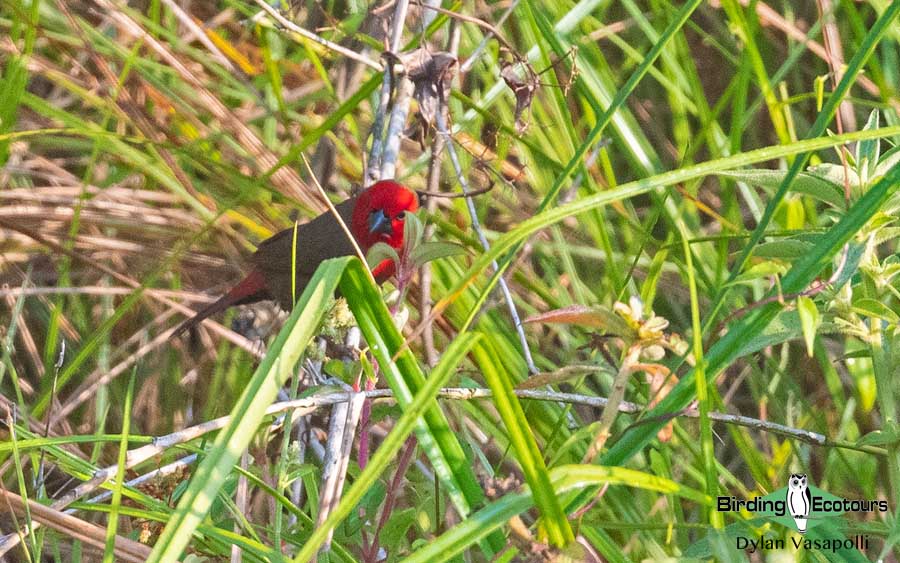 The scarce and difficult Lesser Seedcracker was a perfect way to end this tour!
At midday the tour concluded, and we all said our goodbyes, following the end of an exciting and adventurous tour, filled with excellent sightings of many difficult and highly sought-after birds.
While African Pitta unfortunately eluded us, we did remarkably well with seedeaters, enjoying unparalleled sightings of many scarce and usually difficult-to-see species such as Locust Finch, Orange-winged Pytilia, Lesser Seedcracker, Red-throated Twinspot and Red-faced Crimsonwing, amongst others. Our days spent exploring the stunning highlands in Western Mozambique were another firm favorite, with our great spells of miombo birding providing fond memories. Generally speaking, our day within Gorongosa National Park was another major highlight, with vast numbers of birds and mammals keeping us entertained throughout.
DOWNLOAD TRIP REPORT
Please see the downloadable PDF above with the full species lists included. This is a sample trip report. Please email us ([email protected]) for more trip reports from this destination.