Go to Complete Angola bird tour page | African bird tours | African trip reports |  All our birding tours
30 MAY – 03 JUNE 2018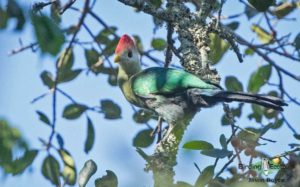 Angola's national bird, Red-crested Turaco, is also a highly-prized endemic and showed well on this scouting tour.
Overview
A birding tour to Angola had been on Birding Ecotours' radar for some time, and eventually in 2017 plans were put in place for a scouting trip the following year that would see both Jason and Dylan cover the country comprehensively in search of all the region's birds in order to set up a trip for future years. Two clients, Bruce and Paul, would join on this exciting scouting trip, and in the end contributed greatly to the success of this trip with their easy-going personalities and positive attitudes in our daily quest for not only the country's many prized birds but appropriate roadside 'camping sites' as well.
Angola truly is a birding destination that is set to feature on the world birding stage in the near future. One thing we could all agree on as a scouting team was the incredible avian diversity from one site to the next. We began the journey in the southern parts of the country, at Lubango. We had time to explore the plateaus that hold Swierstra's Spurfowl and Angolan Cave Chat, the escarpment forests with Schalow's Turaco, and the gravel plains complete with Ludwig's Bustard and Namaqua Sandgrouse. The central sections of our route included the famous sites of Mount Moco and Kumbira Forest and held amazing miombo and forest species such as Black-necked Eremomela, Margaret's Batis, Red-crested Turaco, and the sought-after Pulitzer's Longbill. Up north time was spent at the beautiful Kalandula Falls, forested patches around the village of Kinjila, and then onward to the exciting northern scarp forest of Damengola. The birds were magnificent! We saw White-headed and Grey-winged Robin-Chats, Anchieta's Barbet, Black-casqued Hornbill, Tit Hylia, Braun's Bushshrike, Chocolate-backed Kingfisher, Black Bee-eater, and many, many more. The lowland scrub and Baobab woodlands around Kissama National Park and Luanda were also incredibly productive, giving us the last of our endemic targets such as Gabela Helmetshrike, Monteiro's Bushshrike, and Grey-striped Francolin.
This scouting tour connected with a great number of species, including 13 of the 14 endemic species, and saw a total of 496 species on the trip, with an additional 18 species heard only. While Angola is not known for its mammals we also picked up seven mammal species, including the localized Southern Talapoin Monkey.
This once war-torn country is without a doubt one of Africa's best-kept secrets!
Detailed Report
Day 1, 1st June 2018. Arrival at Lubango
Following a long, three-day drive from Johannesburg, South Africa, together with Bruce, we arrived in the large city of Lubango in southern Angola in the late afternoon. We did the rounds preparing for the coming days, stocking up on some fresh food and (great) local beer before setting up our first camp in the grounds of the lodge. A few birds were moving through the grounds, with the undeniable highlight going to the desired Red-backed Mousebird – a species virtually confined to Angola. In the evening we met Paul at the airport, and with our entire group together settled in for the night.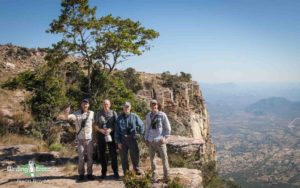 The scouting 'quattro' at the scenic Tundavala Gap
Day 2, 2nd June 2018. Birding Tundavala
After getting up early we packed up our camp and headed into the hills surrounding Lubango toward the Tundavala Gap on the Serra Leba escarpment, where we would spend the day. We began birding the scrubby lower slopes and enjoyed our first spell of birding. In no time we had one of our main targets here, the endemic Angolan Waxbill. Although the birds kept their distance, we enjoyed multiple looks at this attractive bird. Also present were Red-backed Mousebird, Little Bee-eater, Black-collared Barbet, Brown-crowned Tchagra, Tinkling Cisticola, White-browed Scrub Robin, Brimstone Canary, and quite a few of the spectacular Violet-eared Waxbills. Some flowering plants had a few Sunbirds in attendance, giving us Amethyst, Scarlet-chested, and Variable, along with females of the sought Oustalet's and the endemic Ludwig's Double-collared. Overhead we enjoyed the elegant Augur Buzzard. The scrubby lower slopes gave way to rolling grassy hills dotted with impressive rocky gorges, and we spent a while working these areas. A covey of calling Finsch's Francolins drew us firmly into the grassy hills, and we spent a while getting closer to the birds before they eventually fell silent. We waited a while and eventually gave up on diplomacy and took a walk through the zone where we thought they were. Right on cue we flushed the covey and enjoyed views as they flew across a gorge and landed on the opposite side. A species we hadn't been expecting here, and definitely a great bonus! We also investigated the first large rocky area we came across, and although the birding was quite slow, we managed to get another endemic under our belt – an Angolan Slaty Flycatcher disappeared as quickly as it had appeared! We headed on towards Tundavala and were blown away by the sheer beauty of the view here – right on the edge of the escarpment before it dropped starkly to the drier plains below. While savoring the view we enjoyed our first encounter with the sought Angolan Cave Chat as it bounded around on the very precarious-looking rocks. Also present here were Ovambo Sparrowhawk, African Harrier-Hawk, many Bradfield's Swifts, Alpine Swift, Rock Kestrel, Lanner Falcon, Rock Martin, Wailing Cisticola, Short-toed Rock Thrush, and a few more Angolan Waxbills, this time giving us some great views. We spent the remainder of the day working the various tracks, gorges, and small remnant tracts of forest in some of the gorges. We enjoyed a similar suite of species to what we had seen already, with new additions going to Red-capped Lark, Black Saw-wing, the prized Rockrunner, Wing-snapping Cisticola, Jameson's Firefinch, Quailfinch, and numbers of African, Long-billed, and Buffy Pipits. We spent some time searching for the rare, endemic Swierstra's Francolin, which is known from the area, but came away empty-handed. Our day was capped off by finally finding a male Ludwig's Double-collared Sunbird. We selected an appropriate patch of ground to set up our camp and settled in for a cool evening after a great and successful first day.
Day 3, 3rd June 2018. Tundavala to Namibe and birding the surroundings
Up early once more, we packed and were off in no time. Today we were bound for the drier desert plains around Namibe on the coast. First we passed over the incredibly scenic Serra da Leba Pass and birded our way down through some of the densely-wooded areas. Vocal Schalow's Turaco refused to show; however, we did a bit better with Yellow-fronted Tinkerbird, Cardinal Woodpecker, the sought-after Angolan Batis, Swamp Boubou, Black Cuckooshrike, African Golden Oriole, Yellow-bellied Greenbul, and Ashy Flycatcher. At the bottom of the pass the habitat changed to drier woodlands, and we spent a while working a few different spots. Here we did well with a few of the species shared with Namibia. Some of the taller trees in a riverine area held the vocal Rufous-tailed Palm Thrush, and nearby more-open woodland hosted White-tailed Shrike, Carp's Tit, Chestnut Weaver, and some brief views of the highly-prized Cinderella Waxbill, which, frustratingly, only Dylan managed to see. In addition we enjoyed a host of other species, including Shikra, Emerald-spotted Wood Dove and Namaqua Dove, Grey Go-away-bird, Southern Yellow-billed Hornbill, Acacia Pied Barbet, Golden-tailed Woodpecker, White-crested Helmetshrike, African Paradise Flycatcher, African Red-eyed Bulbul, Yellow-breasted Apalis, Meves's Starling, Yellow-billed Oxpecker, Groundscraper Thrush, and Marico and White-bellied Sunbirds, along with numbers of both White-browed Sparrow-Weavers and Red-billed Buffalo Weavers. We watched a pool for a while, where large numbers of seedeaters came in to drink, hoping for Cinderella Waxbill, but had to be content with Red-billed Firefinch, Blue Waxbill, and Bronze Mannikin. Here we also found our first mammal, Congo Rope (Striped Tree) Squirrel. We progressed onward to Namibe and watched as the surroundings rapidly changed into the dry Namib Desert. The roadside telephone poles and wires held Pale Chanting Goshawk, Cape Starling, Chat Flycatcher, and Mountain Wheatear, while the surrounding plains provided a number of larks, including Spike-heeled, Benguela Long-billed, and Stark's Larks and huge numbers of Grey-backed Sparrow-Larks. We also found a few Namaqua Sandgrouse, along with Karoo Chat and Lark-like Bunting. On the outskirts of Namibe we worked a dry riverbed and stumbled onto the near-endemic Bubbling Cisticola, and many of them – another surprise species we hadn't expected so early in the trip. Realizing that we were well behind schedule we turned around and began working our way back toward Lubango. We did well early on, finding the tricky Ludwig's Bustard along with a few groups of Rüppell's Korhaan before transitioning out of the desert and into acacia woodland – a habitat we wouldn't encounter anywhere else on the trip. We enjoyed some spectacular birding here, with birds active and present everywhere we looked, and we were hardly able to cover any ground. Species seen were Red-faced Mousebird, Swallow-tailed Bee-eater, Common Scimitarbill, Monteiro's Hornbill, Pririt Batis, Bokmakierie, Crimson-breasted Shrike, Brubru, Ashy Tit, Long-billed Crombec, Black-chested Prinia, Barred Wren-Warbler, Yellow-bellied Eremomela, Kalahari Scrub Robin, Scaly-feathered Weaver, Green-winged Pytilia, Red-headed Finch, Long-tailed Paradise Whydah, and Yellow Canary. All too soon we ran out of time and headed off in search of our campsite. We went to an area we had visited earlier in the morning, found a suitable spot, and settled in for the evening after another highly successful day.
Rüppell's Korhaan was one of our targets on the coastal plains near Namibe.
Day 4, 4th June 2018. Lubango to Mount Moco
With a very long drive ahead of us, today would mostly be spent in the car. We started at dawn and birded our way to the main road. Here we enjoyed Levaillant's Cuckoo, Striped Kingfisher, African Golden Oriole, and numbers of the prized Rüppell's Parrot. We restocked on fresh food supplies in Lubango before fighting the traffic to get through the city – which took quite a bit longer than anticipated. Pretty much the rest of the day was spent driving on an ever-deteriorating road, which eventually became a terrible pothole-ridden dirt track, before we reached Caála and got onto a good tar road again. The rest of the trip to Mount Moco went by quickly, as the road was good, and we arrived at the turnoff to the mountain in the late afternoon with a bit of time before dark. It seemed that we were the first people to drive the track toward the mountain in a while, as it was basically limited to a footpath – long grass grew over the track. Progress was slow on the bumpy track, and not being able to see what lay ahead was somewhat challenging, but we slowly made ground and arrived on a grassy plateau, where the track improved and we could see once more. We reached the village of Kanjonde at the base of the mountain as the sun was setting and set up our camp on the outskirts. Jason and Dylan went into the village to arrange access to the forests at the top of the mountain for the following day, and with all arrangements made we headed back and enjoyed a good dinner, with a cold wind picking up and forcing us into our tents a bit early.
Day 5, 5th June 2018. Birding Mount Moco
Early in the morning we met up with a few of the locals, who would take us up the mountain, and started our hike. It was quite a grueling hike to get to the top of the mountain, but taking it easy with regular stops saw us progressing nicely, despite the near-gale-force winds hampering things. We passed through a few really small relict patches of forest before arriving at the first more substantial forest patch midway up the climb. We birded around here for a while, getting our first taste of some of the forest specials, namely Western Tinkerbird and Grey Apalis, while the forest edge held African Yellow Warbler and Angolan Waxbill. While we were working our way ahead a Swierstra's Francolin began calling, and we tried for a while to get visuals on it, but eventually had to walk away without views, frustratingly. Bruce opted to return back to our camp due to the difficulty of the hike, while the rest of us pressed on. Higher up the wind only worsened and made birding almost impossible. We eventually reached the main forest patch and faced the next difficulty – getting down to the actual forest, which lay in the lower parts of a gorge, and we had to traverse an incredibly steep descent to get there. We took it slowly and soon reached the forest edge, where we were even a bit sheltered from the wind and could finally hear birds once more. A vocal Evergreen Forest Warbler played hide-and-seek but finally showed well very close to us before slinking away into the undergrowth. One of our main targets, Margaret's Batis, began calling, and in no time we had a bird above us, giving us some good views, albeit quite briefly. Bocage's Akalat was our next target, and we enjoyed good and prolonged views of this brightly-colored forest denizen. A small group of African Hill Babblers showed well but kept their distance, while noisy Cabanis's Greenbuls showed only very briefly. An African Spotted Creeper working the trunks of trees was a bit of a surprise and seemed quite out of habitat. Other species seen here included Schalow's Turaco, Olive Woodpecker (heard only), Tropical Boubou, Black Saw-wing, a small group of Angolan Slaty Flycatchers, African Dusky Flycatcher, Ludwig's Double-collared and Oustalet's Sunbirds (both females again), and Dusky Indigobird. We worked our way around the forest edge before we ran into another calling Swierstra's Francolin, this time on the opposite side of the gorge. We again tried for a while but were left frustrated once more. We had lunch on the steep slopes before undertaking the grueling task of getting back out of the gorge. It took a while, but eventually we found ourselves overlooking the forest once more and continued with the trip back down to our camp, where we rested for a while after arrival. In the late afternoon we headed into the surrounding grasslands, looking primarily for Angolan Lark. We concentrated on a recently-burnt patch of grassland, and a comprehensive search eventually provided our target, and we were treated to stunning views of this localized species. Other birds seen included Finsch's Francolin, African Marsh Harrier, Red-capped Lark, the prized Black-and-rufous Swallow, Grey-rumped Swallow, Capped Wheatear, and Plain-backed Pipit. We settled in for a good meal after a difficult day, with the wind unfortunately picking up.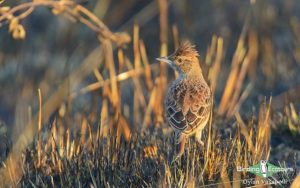 We enjoyed great looks at the localized Angolan Lark.
Day 6, 6th June 2018. Birding the Mount Moco area
After a restless night with gale-force winds we packed at dawn and headed to the lower slopes to escape the relentless wind. In the grasslands we found Coppery-tailed Coucal, Yellow Bishop, and small groups of Fawn-breasted Waxbills. We finally arrived in an area where the wind had largely abated, and after enjoying our breakfast we set off to bird in some of the surrounding miombo woodland patches. Although these were incredibly fragmented we worked a few different patches of woodland and enjoyed some spectacular birding. Top rewards here went to a pair of the highly-prized Anchieta's Barbet that we found perched quietly in the canopy, and we were able to enjoy them for a while before they moved on. We also did well with bouts of activity of numerous species, as is so characteristic of this habitat type. Boisterous Green-capped Eremomelas almost always gave away these bird parties, and regularly present were Yellow-fronted Tinkerbird, Cardinal Woodpecker, Chinspot Batis, Brubru, White-crested Helmetshrike, Black Cuckooshrike, Black-headed Oriole, Neddicky, Southern Black Flycatcher, Amethyst Sunbird, Yellow-throated Petronia, Streaky-headed Seedeater, and Golden-breasted Bunting. In addition to all these species we were able to enjoy many of the main miombo specials as well. A White-tailed Blue Flycatcher moved through the lower strata with such incredible speed that it was difficult to keep track of where the bird had moved to next, while cryptic African Spotted Creepers moved up and down the branches a bit more sedately, and tiny Red-capped Crombecs stuck to the canopy, blending in with leaves that were larger than they were. An unobtrusive Miombo Wren-Warbler disappeared almost as suddenly as it had appeared, while beautiful Yellow-bellied Hyliotas slowly moved through the leaves together with Western Violet-backed Sunbirds and Wood Pipits flushed from the ground into the trees. We also did well to find Dusky Twinspot, an incredibly sought-after bird with a somewhat-fragmented range, and enjoyed good views of it as it stuck to the grassy edges of the woodland. A number of Orange-winged Pytilias also frequented the grassy edges and showed well. We also flushed two different Fiery-necked Nightjars. Grassy riverine areas bisected a few of these patches and held further species, such as Little Bee-eater, Red-faced Cisticola, Variable Sunbird, Holub's Golden Weaver, Red-collared Widowbird, and Brimstone Canary. We took a break over the midday period and only resumed birding later in the afternoon, when we were heading back to the higher grasslands, where we would try for a few different species. A stunning male Broad-tailed Paradise Whydah halted us on our way. One of our main targets was the localized Bocage's Sunbird, and we initially thought we had this scarce bird early on, but on closer inspection it turned out to be an out-of-habitat Bronzy Sunbird, much to our dismay. This would be the closest we'd come to this bird. As we worked this area we picked up African Marsh Harrier, a calling Red-chested Flufftail, further looks at the spectacular Black-and-rufous Swallow, African Reed Warbler, Red-faced and Croaking Cisticolas, a lone Marsh Widowbird that left us wanting more, and Black-throated Canary along with numbers of Common and Orange-breasted Waxbills. With daylight running out and having to get back lower down to escape the wind we headed down, found a good camping spot, and settled in for a far more pleasant evening.
Day 7, 7th June 2018. Mount Moco to Kumbira Forest
With a long drive ahead of us, traveling further north to the endemic-laden Kumbira Forest, we had only a brief period in which to bird in the morning before having to set off. Sadly the wind had picked up down here, but we headed into the miombo woodland hoping for the best. We concentrated on a different section from where we had birded yesterday and did well, picking up a nearby calling Salvadori's Eremomela. But we were not able to pin the bird down in the wind and were left frustrated without views. The birding was quite slow, although we did pick up a number of the more common species, similar to what we had seen yesterday. A Greater Honeyguide attended a few beehives we found in the miombo, and while investigating another small bout of activity we did well finding Red-headed Weaver and the highly-prized Anchieta's Sunbird. We were able to spend a bit of time with the sunbird before pressing on. With time running out we quickly searched one more patch, and almost immediately managed to enjoy our main outstanding target here, Black-necked Eremomela. We had spectacular views of these lively and attractive birds for a while as they moved from tree to tree, but they were difficult to keep tabs on due to the wind. A curious Yellow-bellied Hyliota also came to investigate what the fuss was all about. With a smile on our faces we then settled in for the long drive to Kumbira Forest.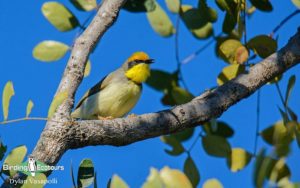 We were overjoyed at eventually finding Black-necked Eremomela!
We stocked up on a few things en route, and a roadside stop at a large wetland provided Purple Heron and Intermediate Egret, which were widely present, and some careful scanning revealed a few of the scarce Rufous-bellied Heron. The lily-covered portions hosted African Jacana along with African Swamphen and Allen's Gallinule, while Pied and Malachite Kingfishers patrolled the edges. Sand Martin and Wire-tailed Swallow flitted by regularly, and some scrubby vegetation on the outskirts hosted Chirping Cisticola, Black-winged Red Bishop, and Brown Firefinch. The road was a bit better than expected, so we made good progress to Gabela and then onward to Kumbira. We birded at a few good-looking forest-edge patches en route, but the birding was incredibly slow, and so we pressed on toward Kumbira proper. At the village of Conda we turned off and headed along a bumpy track to the forest. This is arguably one of Angola's best-known birding spots due to the large number of endemics that are present here. Shortly before arriving in the area we came to a grinding halt as we picked up on a calling Pulitzer's Longbill, one of the trickier endemics. We enjoyed some good, albeit brief views of this excellent species as it stuck to the thickets, only popping out into the open for short periods. We couldn't believe this excellent start after having feared that this would probably be the bird for which we'd struggle the most. We found a good campsite and unloaded a few things before going on a short walk to explore the surroundings in the late afternoon. This proved a good move, since quite a number of birds were out and about. The country's national bird, Red-crested Turaco, began the proceedings by calling in the distance and would be one of our main targets over the next few days. We did manage to find other species, however, including Pink-footed Puffback, the sought-after Falkenstein's Greenbul, the endemic Hartet's Camaroptera, Violet-backed Starling, the shy Forest Scrub Robin, Collared, Olive, and Olive-bellied Sunbirds, Black-necked Weaver, cute Black-and-white Mannikins, and Black-faced Canary. As the sun went down an African Broadbill began displaying just behind our camp, and we settled in for a good night.
Day 8, 8th June 2018. Birding Kumbira Forest Reserve
After being up early we started to explore the region. We were a bit taken aback to see how degraded the area was, with lots of agriculture strung right throughout the forest, leaving only small, degraded patches of secondary forest remaining. Still we had a great start, finding a wealth of birds in these remaining patches. Yellow-rumped Tinkerbird, Yellow-billed Barbet, Angolan Batis, Pink-footed Puffback, Rufous-vented Paradise Flycatcher, Yellow-whiskered Greenbul, Green Crombec, Buff-throated Apalis, the curious local race of Southern Hyliota, and Superb Sunbird all showed regularly, while some more special birds were the spectacular Yellow-bellied Wattle-eye, Pale-olive Greenbul, and the endemic Gabela Akalat, which showed exceptionally well from almost-within-touching distance. Deeper in the forest we explored a few footpaths, and this proved a good move, as we were enjoying further great birds. A denser patch of the forest produced an unobtrusive Brown-chested Alethe, while noisy Dusky Tits worked the canopy together with African Blue Flycatcher and the snazzy Black-throated Apalis, and some of the edges held African Broadbill, Chestnut Wattle-eye, Little Green Sunbird, and Black-necked Weaver. Red-crested Turaco frustrated us frequently by calling in the distance; but, try as we might, we couldn't get close. After a break over the midday period we resumed birding in the afternoon and struck gold with a large fruiting tree. We worked this area for a while and were rewarded with some great birds, first and foremost Red-crested Turaco. Our persistence paid off as we enjoyed numbers of these elegant birds coming into the large fruiting tree to feed for some time. We also found Blue Malkoha, Klaas's and African Emerald Cuckoos, a surprise Grey-headed Kingfisher, Crowned Hornbill, Hairy-breasted Barbet, a brief Cassin's Honeybird, Yellow-throated Nicator, and Grey-headed Nigrita in the surrounding area while enjoying the turacos. With time moving on we explored one last area before returning to our camp, finding another Gabela Akalat along with Tambourine Dove and a few raptors, namely: African Harrier-Hawk, Brown Snake Eagle, and Lizard Buzzard. We settled in for the evening after a good, highly-successful day and were serenaded by a pair of African Wood Owls after dark.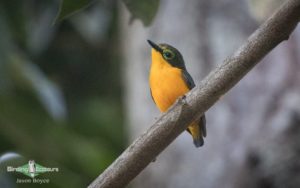 Not as many birds are as striking as the Yellow-bellied Wattle-eye!
Day 9, 9th June 2018. Birding Kumbira Forest Reserve
We had another full day at our disposal and would be targeting our one major remaining target here, Gabela Bushshrike, known as a difficult special. We knew it would be challenging and began the day early with a displaying African Goshawk over our camp. We worked a different area from the previous day and initially began exploring some slightly-more-mature sections of the forest and forest edge. The activity was pretty good, and we enjoyed a wealth of species, although all fairly similar to what we had seen yesterday. A Red-crested Turaco bounded in the treetops, while a skulking Blue Malkoha stuck to the denser tangles and only offered glimpses for us. Then we greatly enjoyed the spectacular Yellow-bellied Wattle-eye once more, while our first major new species arrived in the form of a vocal Blue-headed Crested Flycatcher that eventually showed well, although briefly, as this super-active bird never sat still for long. Not much further along we noticed some strange birds moving about low to the ground, and it took us a little while to realize we were looking at the secretive Brown Illadopsis. Although the birds were also quite active, we enjoyed some good looks at them. The scrubby edges held a few different birds, and here we enjoyed Palm-nut Vulture, Long-crested Eagle, Lizard Buzzard, Petit's Cuckooshrike, a vocal Gorgeous (Perrin's) Bushshrike, Bubbling Cisticola, Landana Firefinch, and Village Weaver, while some flowering plants were alive with sunbirds and we enjoyed Little Green, Collared, Green-headed, Olive-bellied, Purple-banded and Superb Sunbirds. A massive fallen tree blocked the track and forced us to return to some of the areas we had already worked earlier in the day. Following our midday break the afternoon period was significantly quieter, and we battled for birds. With the bushshrike still our primary target we kept on trying but had to be content with adding species such as Trumpeter Hornbill and Fraser's Rufous Thrush, while enjoying repeated views of species such as Blue-spotted Wood Dove, Klaas's Cuckoo, Crowned Hornbill, Hairy-breasted Barbet, Angolan Batis, Rufous-vented Paradise Flycatcher, African Blue Flycatcher, Yellow-throated Nicator, Falkenstein's and Pale-olive Greenbuls, Southern Hyliota, Forest Scrub Robin, Gabela Akalat, Grey-headed Nigrita, and Black-faced Canary. A number of birds frustrated us by calling throughout the afternoon but remaining unseen despite our best efforts, including Grey-striped Francolin, Ross's Turaco, Gabon Coucal, and Green Hylia. With the afternoon all but over we made our way back to camp after a mixed day, sadly missing, and not even hearing, our last remaining special here, Gabela Bushshrike.
Day 10, 10th June 2018. Kumbira Forest to N'dalatando
We had spent our last night in Kumbira Forest, and, after an hour or so of birding around the camp and on the way out, we started our journey to N'dalatando. During this last bit of birding at Kimbira we picked up an African Crake that was, rather curiously, sitting quietly in the middle of the road, along with Red-necked Spurfowl, White-winged Widowbird, Grey Waxbill, and the interesting Landana Firefinch. We also had absolutely beautiful visuals of Gorgeous Bushshrike. The road to our next destination, N'dalatando, was surprisingly good, and we made some good time while also picking up a few waterbirds, like Spur-winged Goose, Marabou Stork, African Darter, African Fish Eagle, African Swamphen, and Lesser Swamp Warbler, along the way. We stopped at Tombingo Forest just before N'dalatando, where we spent the afternoon to see what the forest was like and were quite pleasantly surprised. The forested sections near the road looked mature with good numbers of Baobabs and other taller trees. The bird activity picked up really nicely later in the afternoon, starting with fly-over Piping Hornbills and a vocal White-spotted Flufftail. We also picked up the likes of Black-winged Oriole, African Paradise Flycatcher, Green Crombec, Woodhouse's Antpecker (a true cracker of a bird!), Chestnut Wattle-eye, Red-fronted Parrot, Yellow-crowned Woodpecker, Sooty Flycatcher, Rufous-crowned Eremomela, and Yellow-mantled Weaver. While we were making our way out of the forest we noticed a dark, brown shape flash across the road in front of us, and it landed in a dead tree and popped into a small cavity on the side of the tree. When it came out again we managed to identify it as Naked-faced Barbet, a nice breeding record for the area. White-breasted Nigrita was also found here before we headed into N'dalatando. We checked into a comfortable hotel, where we enjoyed an excellent dinner and some well-earned rest away from our cozy tents.
Day 11, 11th June 2018. N'dalatando to Kinjila Village via Kalandula
Armed with breakfast packs we left the hotel early and headed back to Tombingo Forest for round two. It was a great morning, and there was bird activity everywhere. Both Naked-faced and loads of Bristle-nosed Barbets were coming to a large fruiting tree hanging over the road. They were joined soon enough by Chestnut-winged Starling, Speckled Tinkerbird, and Honeyguide Greenbul, all showing extremely well. Piping and African Pied Hornbills both gave flybys, landed atop tall trees, and proceeded to 'sing' for us. Cassin's Honeybird was one of the trickier species that we managed to connect with this morning. The calls of White-spotted Flufftail were never far away, but no matter what we tried, we were unable to get any visuals. We walked a nice-looking forest trail, and here we had great numbers of stunning butterflies and also managed to find Superb and Green-throated Sunbirds, Green Hylia, and Slender-billed Greenbul, as well as the call of Red-tailed Bristlebill. As we were heading out of the forest we were privileged to have an incredible sighting of a snake that seemed to take up the whole road in front of us. As we stopped to look we found ourselves observing a rare Jameson's Mamba – a first for all of us and another reason that Angola really seems to be a gem of a country to travel to. We stocked up with supplies at the Shoprite in town and then headed for Kalandula Falls. The falls were spectacular, to say the least, but we had certainly expected a little more in terms of facilities and tourism as strangely there was nothing there besides a few kids wanting some money and food. We encountered Angolan Swallow and a couple other aerial feeders, including Little and African Palm Swifts. We stopped at a bridge en route to our final destination for today, Kinjila Village, and picked up Marsh Tchagra, Blue-breasted Bee-eater, Yellow-throated Leaflove, and Yellow-mantled Widowbird. Soon we arrived in Kinjila, where we would spend the next few nights, and decided that we would head straight into a forest patch we had scouted on maps back in South Africa. We had only about one hour of good light left during which to track down our main target, which we fortunately managed to find in no time: White-headed Robin-Chat. This bird needs little introduction and has probably only been seen by a relatively small number of world birders, having been rediscovered to science only in the last few decades and being known from only three sites in the world. It was tricky to photograph, but we had absolutely stunning views of this highly-prized special! Grey-winged Robin-Chat was a brilliant supporting act as well – a great day all around!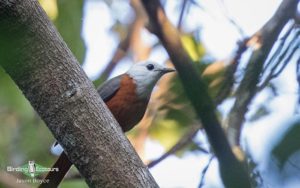 It was a real privilege for all of us to enjoy great views of the rare White-headed Robin-Chat.
Day 12, 12th June 2018. Birding Kalandula and surroundings
Today we birded the greater Kalandula area, focusing on the various miombo patches dotted throughout this area. The morning birding yielded Striped Kingfisher, Lilac-breasted Roller, Meyer's Parrot, Black-crowned Tchagra, White-winged Black Tit, Moustached Grass Warbler, Senegal Coucal, Red-necked Buzzard, Tawny-flanked Prinia, and, amazingly, another sighting of the sought-after Anchieta's Barbet – this time a pair with a young bird that landed right in front of us – what a treat! Ross's and Red-crested Turacos were both calling nearby, but unfortunately we had to be content with Ross's Turaco remaining heard only. Later in the morning we headed back to the Lucala Bridge, where we were greeted by hundreds of Red-throated Cliff Swallows – among them also were the likes of Little Swift and Angolan Swallow as well as White-throated Swallow. But sadly we could not find the White-bibbed Swallows previously reported here. Another section of miombo woodland yielded one of our big targets for the area, Bates's Sunbird – a special species, even if its appearance doesn't allude to this. We also managed to eke out visuals of Miombo Wren-Warbler (another fairly arbitrary-looking bird), Western Violet-backed Sunbird, and Miombo Scrub Robin in the area. While we explored the backwaters of a river not too far from our camp around midday we managed to find a few interesting species, highlights being Shining-blue Kingfisher, Cabanis's Greenbul, Scaly-throated Honeyguide, and a calling Fülleborn's Longclaw that frustratingly remained out of sight. The forest patch where we had found White-headed Robin-Chat provided a few more goodies, this time (other than a calling White-headed Robin-Chat) we picked up Black-throated Wattle-eye and African Paradise Flycatcher, while the star of the afternoon, we all agreed, was the pair of White-spotted Flufftails that showed ever so well; we managed to get great looks at both a male and a female on the swampy forest floor. We ended the afternoon with a massive flock of Sharp-tailed Starlings as well as a couple of Gorgeous Bushshrikes. A night-time search delivered a fantastic African Scops Owl; however, African Barred Owlet remained heard only.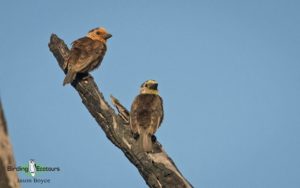 We enjoyed multiple views of the scarce Anchieta's Barbet.
Day 13, 13th June 2018. Kalandula to the northern scarp forests
Today we planned to move to the somewhat-isolated Equatorial Guinea forests in the north of the country near Uíge, where we expected to encounter a wide range of West and Central African species. First, however, we did a bit more birding around our camping area at Kinjila. We went on foot into the miombo woodland surrounding our camp and enjoyed many species, notably Anchieta's Barbet (once again), Western Violet-backed and Copper Sunbirds, Arrow-marked Babbler, Southern Black Flycatcher, Retz's Helmetshrike, Orange-breasted Bushshrike, Lizard Buzzard, Cardinal Woodpecker, and after a long search a day-time African Barred Owlet. We once again didn't manage to locate the Ross's Turacos that were calling nearby; we have no idea why this pair proved so elusive. We did, however, finally manage to lay eyes on Black Scimitarbill – a species that had been giving us the runaround for much of the previous day. Eventually, though, we drew ourselves away and continued to the northern scarp forests of Damengola. During our lunch-time break we fortuitously came across a stunning Thick-billed Cuckoo. We had spectacular views when we were coming from the northeast and could see that the forested ridge lines were incredibly extensive and definitely made us excited as we thought about all the possible species they held. The densely-vegetated hillsides, rolling grasslands, and the forested/wooded stream crossings made the terrible road condition somewhat more bearable. We stopped at a bridge on the way, where we enjoyed Orange-cheeked Waxbill and Swamp Palm Bulbul and also heard Western Bronze-naped Pigeon. Two fly-by Black-casqued Hornbills ended our brilliant day very nicely indeed.
 Day 14, 14th June 2018. Birding Damengola Forest (northern scarp forests)
Today our scouting quattro headed into the Damengola Forest area in the early morning, targeting Braun's Bushshrike among others. Let's just say that Braun's Bushshrike was absolutely spectacular! We very fortunately found a pair rather easily and enjoyed watching them move about in the tangles, occasionally giving their frog-like 'wrrrk' call, in stark contrast to its close relative, Gabela Bushshrike, which we hadn't even heard throughout the trip. While enjoying the bushshrikes we recorded nearly 50 species in the hour and twenty minutes we spent here. Some of the better birds were Red-headed Malimbe, Yellow-mantled Weaver, Bocage's Bushshrike, Guinea and Great Blue Turacos, Honeyguide Greenbul, Vieillot's Black Weaver, calling Afep and Western Bronze-naped Pigeons, and a party of White-chinned Prinias that entertained us for a while too. Slightly further down the track we found Blue Malkoha, Yellow-browed Camaroptera, White-breasted Nigrita, Narrow-tailed Starling, and an awesome fly-by adult Bat Hawk. We had been searching hard for the prized Black-collared Bulbul over the past few days and eventually heard a few calling in the open fields alongside the forest patch. We spent some time here and found no less than four individuals. We also picked up Brown-backed Scrub Robin here. The next forest patch yielded both Brown and Scaly-breasted Illadopsis calling from the depths of the forest, Yellow Longbill (a bogey bird for Jason!), the classy Black Bee-eater, and an absolutely brilliant Chocolate-backed Kingfisher. The forest edge and grassy sections held Yellow-mantled Widowbird, Black-winged Red Bishop, Common Waxbill, Chirping Cisticola, Blue-throated Roller, and Palm-nut Vulture. As far as raptors go, we had African Harrier Hawk and Black Sparrowhawk give some nice views. Last but not least that afternoon we managed to find Little Green and Grey-chinned Sunbirds and finally a single Broad-billed Roller back at our camping area. We arrived with still a bit of daylight left to allow us to search a nearby area for Vermiculated Fishing Owl, which we had heard calling the previous night, but sadly our search was fruitless.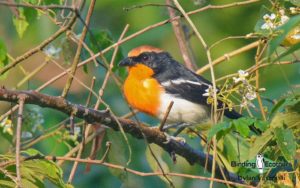 The endemic Braun's Bushshrike showed exceptionally well.
Day 15, 15th June 2018. Another full day exploring the Damengola Forest
We wanted to make sure that we had enough time exploring and scouting the many different birding areas in the north, so we set off for another good day's birding in the scarp forests. The morning started fairly slowly due to some overcast, misty conditions but picked up as time went on. Although we enjoyed a largely similar suite of species as yesterday we also found Banded Prinia and had nice looks at Brown Illadopsis near the Braun's Bushshrike stakeout (where they were still happily clambering around). We birded the area for most of the morning, chasing things like Gabon Coucal (of which we only managed a glimpse here), Afep Pigeon, and Chattering Cisticola. We also enjoyed the likes of Velvet-mantled Drongo, Dusky-blue Flycatcher, and another sighting of the scarce and poorly-known Woodhouse's Antpecker. Then we headed to a forest we had birded yesterday; here we found a few similar species as well as Black-and-white Shrike-flycatcher and the star of the morning, White-collared Oliveback. This species is known from the area with a few records but is a fairly-recent discovery, and we were thrilled to come across them, as here they are about 1000 kilometers outside of their known distribution. During the afternoon birding session we explored another section of forest, where we had lunch and birded some truly beautifully-looking forest, although for the most part the activity was on the slow side. It was nice to continue adding to our ever-growing triplist, recording more excellent birds such as Narrow-tailed Starling, Purple-throated and Petit's Cuckooshrikes, Western Bronze-naped Pigeon, Mottled Spinetail, and Blue-throated Brown and Grey-chinned Sunbirds, as well as Black Crake crossing one of the forest streams.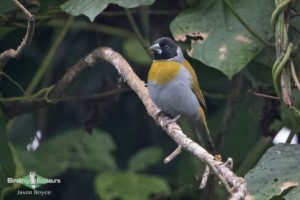 Finding a pair of White-collared Olivebacks was one of the highlights of the northern scarp forests.
Day 16, 16th June 2018. Damengola Forest and south to Quibaxe and Pango Aluquém
A thick bank of mist had rolled in overnight and was a serious hindrance to any birding this morning. Luckily this was during our travel time, and by 8 a.m. the mist started to clear, just as we reached our first birding stop near Quibaxe. The forest was alive with bird song – we picked up a few more White-breasted Nigritas and African Pied Hornbills while the calls of both Tambourine Dove and the endemic Braun's Bushshrike echoed in the valley. We took a walk down one of the village tracks, where we found a few real goodies, including Slender-billed Greenbul, Naked-faced Barbet, Black-winged Oriole, Pink-footed Puffback, Angolan Batis, Olive-bellied and Grey-chinned Sunbirds, Black Bee-eater, and Black-throated Apalis. The slightly-more-open areas yielded a few Red-headed Queleas. On the way back to the car we had a magical half hour of birding that started with an amazing pair of the highly-prized Tit Hylia, which were gleaning in some of the lower bushes in the forest. Black-bellied Seedcracker offered brief views, and we also found Buff-spotted Woodpecker, Blue-headed Crested Flycatcher, and an active pair of Yellow Longbills – all crackers for the trip! African Shrike-flycatcher was the main highlight at our lunch-break site. We continued south and explored a few forest tracks in the dense forest, quite literally in the middle of nowhere. The afternoon's walk was a little slow in terms of birding, but we added Brown-hooded Kingfisher, African Hoopoe, Pale-fronted Nigrita, and a few others previously-mentioned species. We settled in for a great evening meal deep in the heart of the forest.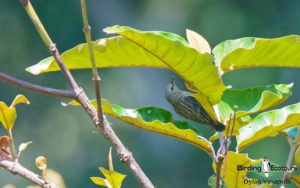 The minuscule Tit Hylia gleaning for insects
Day 17, 17th June 2018. Onward to Kissama National Park
While still in the comfort of our tents deep within primary forest we started to surface to the calls of both Scaly-breasted and Brown Illadopsis. Illadopsis are difficult-to-see species that love the early darkness of the forest floors. We birded a while in the general area of our camp, where we found Falkenstein's Greenbul, among others. We then headed south to try and get to the main road that would lead us to Catete and then south to Muxima and the Kissama National Park. It was quite an adventure getting to the main road on a gorgeous forest track that gradually worsened, but on the way we picked up some great birds. Top of them were Common Buttonquail, Gabon Coucal, Great Blue Turaco, Piping and African Pied Hornbills, Olive bee-eater, Red-breasted and the scarce White-bibbed Swallows, Superb Sunbird, and Black-and-white Shrike-flycatcher. Finally we made it through and then enjoyed a well-earned lunch break near some wetlands, where we added a whole variety of new and already-seen species. These included Rufous-tailed Palm Thrush, Mourning Collared Dove, Striped and Woodland Kingfishers, Western Cattle, Great, and Little Egrets, Purple and Squacco Herons, Banded Martin, Collared Pratincole, Allen's Gallinule, Scarlet-chested and Purple-banded Sunbirds, Village Weaver, and African Fish Eagle. We then descended into what must be the most incredible Baobab forest in Africa – somewhat reminiscent of some parts of Madagascar – a truly breathtaking sight! We started our birding in Kissama National Park with a few awesome Böhm's Spinetails cruising around some of the Baobab trees along the main road. We did well to find a party of the rare, endemic Gabela Helmetshrike early on, and while enjoying them heard the call of Monteiro's Bushshrike echo through the thickets. Sadly our efforts at pinning this endemic bushshrike down were thwarted, and we had to wait until the next morning to try again. Other birds in the area included White-crested Helmetshrike, Swamp Boubou, Orange-breasted Bushshrike, Blue Waxbill, Emerald-spotted Wood Dove, Fork-tailed Drongo, and several of the near-endemic Golden-backed Bishops in their distinctive non-breeding plumage. That night we recorded both Western Barn Owl and Square-tailed Nightjar.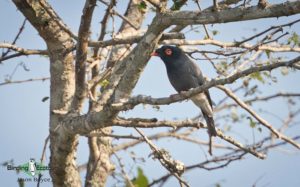 We managed to find the endemic Gabela Helmetshrike in the woodlands of the Kissama National Park.
Day 18, 18th June 2018. Kissama National Park to the Kwanza River
We had an absolute cracker of a morning, picking up all three remaining endemic targets possible in the area in the first few hours of the day within the beautiful Kissama National Park. We birded the southeast of the park, where most of the remaining thicket habitat remains. White-fronted Wattle-eyes were surprisingly common – we heard about four or five different pairs and saw two of these pairs well. Monteiro's Bushshrike proved more difficult, as they were vocal but not very confiding. We had to work fairly hard to get good views and eventually managed it when a single bird stayed within the thicker parts of a large tree. We also were lucky with Grey-striped Francolin, arguably the most tricky-to-see bird, moving about the road edge in front of us early in the day, and enjoyed some good, albeit brief views, and on our way out we watched a whole family crossing over the main tar road that runs through this area. We also added the likes of Mottled Swift, Mosque Swallow, Southern White-crowned Shrike, Southern Yellow-billed Hornbill, Green Wood Hoopoe, and Bearded Woodpecker. Last, before moving on, we also found a male breeding-plumage Golden-backed Bishop, like all widowbirds a fantastic sight when in breeding colors and unfortunately very drab-looking in non-breeding plumage. Moving north toward the Kwanza River we recorded Black-winged Stilt, White-fronted and Three-banded Plovers, Collared Pratincole, Water Thick-knee, and a few Long-legged Pipits at one of our previously-scouted Mangrove Sunbird points. Unfortunately the sunbird was nowhere to be found this morning. We then ventured to the Mussulo Bay peninsula south of Luanda, an IBA that offers excellent waterbirds and shorebirds. We did well to see Greater Flamingo and a host of shorebirds, including Pied Avocet, Eurasian Curlew, Sanderling, Ruddy Turnstone, Kittlitz's Plover, and Whimbrel. We also found a vagrant Franklin's Gull, a first record for the country, which was a nice surprise. One of our last birds of the day came while we were sea watching: A single Cape Gannet was cruising south down the coastline about one hundred meters offshore. We had another comfortable night ahead of us today as we checked into the pleasant Kwanza River Lodge and enjoyed another welcome break from our tents.
Day 19, 19th June 2018. Kwanza River to Benguela via Lobito
This was another day filled with mostly coastal and wetland birding. The morning was overcast, and things seemed a little slow around the Kwanza River. We did manage to find Common Tern as well as what seemed to be a random record of Spectacled Weaver. We also picked up Woodland and Blue-breasted Kingfisher, but unfortunately no visuals of the latter were obtained. We headed south to Lobito, where we birded some salt pans and connected with Lesser Flamingo, Cape Cormorant, Yellow-billed Stork, Grey-headed Gull, Marsh Sandpiper, and Common Greenshank. Further south at the Benguela salt pans we finally found a stunning pair of Chestnut-banded Plovers with young in tow, along with a few Royal Terns. We were quite amazed at how the new species just kept piling themselves onto our trip list – affirming how worthwhile a birding trip to Angola can be. We departed the coast and headed inland until we reached our road-side campsite in the hills south-east of Benguela and were immediately greeted with an amazing pair of Verreaux's Eagles. They soared effortlessly above us for some time, allowing us to get some great pictures and examine them in detail. Rosy-faced Lovebird was a nice addition, while later that evening when we were setting up camp a chorus of Hartlaub's Spurfowl moved around us. There must have been about four coveys in the area; visuals were surprisingly easy, as this species can be quite tricky in the neighboring Namibian escarpment – this species also became our 500th for the trip. A great end to another fantastic day!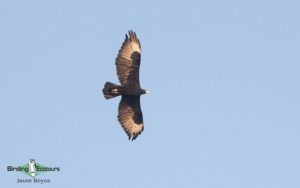 Verreaux's Eagle is always a delight to see.
Day 20, 20th June 2018. Benguela to Lubango and departure
Well, before we knew it, our exciting scouting trip had just about come to an end, as today would mark our last full day. Waking up in these spectacular hills was a great way to start things, and our birding walk around the area was rather good, to say the least. Numerous Hartlaub's Spurfowls were heard calling from all corners, and we were again treated to great views of them. Venturing a bit deeper, following a dry riverbed, we enjoyed species such as Acacia Pied Barbet, Golden-tailed Woodpecker, Pririt Batis, and Carp's Tit before finding one of our remaining targets, Bare-cheeked Babbler. We enjoyed some good looks at these smart birds before pressing on. A surprise Orange River Francolin started calling, and we headed off in search of this bird. After quite a walk we eventually pinpointed the bird, but it was extremely shy and only gave us brief views as it clambered around a small grass patch. We waited a while longer but were only rewarded with more brief views. We eventually gave up and back-tracked to our camp, enjoying the likes of a feisty Pearl-spotted Owlet, Green Wood Hoopoe, some interesting-looking Damara x Southern Red-billed Hornbills hybrids, Rüppell's Parrot, Rosy-faced Lovebird, Bokmakierie, Long-billed Crombec, Grey-backed Camaroptera, Barred Wren-Warbler, and Green-winged Pytilia. We packed up camp and began the drive south to Lubango, where we had begun the tour about three weeks ago. The drive went smoothly, and stops were made for species such as Western Banded Snake Eagle, Booted Eagle, and both Mottled and Böhm's Spinetails. After arriving in Lubango the afternoon we set up our camp before heading to the spectacular Tundavala Gap one last time. We slowly worked our way around, reconnecting with some of the area's specials once more. Bradfield's Swift wheeled about in numbers overhead, while dainty Angolan Waxbills flitted between bushes alongside Ludwig's Double-collared Sunbirds and Wailing Cisticolas. The rocky areas held Short-toed Rock Thrush, and a quiet Angolan Cave Chat casually moved about. We tried our luck on the lower slopes but had to endure quite a strong wind and didn't see much besides Red-backed Mousebird, Yellow-fronted Tinkerbird, and Lanner Falcon, before retiring to our campsite in the late afternoon. We settled in for our last group dinner before taking Paul to the airport in the evening, for his flight back home.
Together with Bruce we would depart early the following morning and begin the long three-day drive back to Johannesburg, South Africa, after an incredibly successful scouting tour to this fantastic birding country. We look forward to running a tour here in the future to showcase the immense potential of this overlooked country!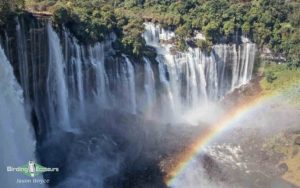 The spectacular Kalandula Falls are one of many scenic attractions Angola has to offer.
Please see the downloadable PDF above with the full species lists included.