Go to Namibia, Okavango & Victoria Falls bird tour page | Namibia bird tours | African trip reports |  All our birding tours
DOWNLOAD TRIP REPORT
2 – 19 NOVEMBER 2019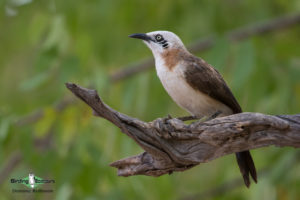 Bare-cheeked Babbler is a striking species frequently encountered on this tour.
Overview
Our Namibia, Botswana and Victoria Falls set-departure tour is always a popular one. We cover a large distance from west to east, which means we get to enjoy a broad range of habitats; consequently, this tour usually yields a high bird list. Besides the large numbers of special birds the tour also normally boasts good numbers of large and charismatic mammals and some of the smaller, lesser-known species too. These animals are particularly evident when we visit Etosha National Park, one of Africa's great wildlife refuges. We also visit one of the Seven Natural Wonders of the World when we visit Victoria Falls in Zimbabwe, which always leaves one in awe of its size and power. The Namib Desert, the world's oldest desert, offers something entirely different with its huge, rolling dunes and specially adapted species On this 2019 tour we saw an impressive 403 bird species (plus an additional four species heard only) including many specials, such as Orange River Francolin, White-backed Night Heron, Rufous-bellied Heron, Slaty Egret, Bank, Crowned, and Cape Cormorants, Secretarybird, African Cuckoo-Hawk, Western Banded Snake Eagle, Verreaux's Eagle, Rüppell's Korhaan, African Finfoot, Allen's Gallinule, Wattled Crane, African Oystercatcher, Chestnut-banded Plover, Lesser Jacana, Double-banded Courser, Rock Pratincole, African Skimmer, Damara Tern, Namaqua and Double-banded Sandgrouse, Schalow's Turaco, Pel's Fishing Owl, Pennant-winged Nightjar, Bradfield's Swift, Violet Wood Hoopoe, Monteiro's Hornbill, Miombo Pied Barbet, Rüppell's Parrot, White-tailed Shrike, Carp's Tit, Cape Penduline Tit, Gray's and Dune Larks, Bare-cheeked Babbler, Angolan Cave Chat, Rufous-tailed Palm Thrush, and Brown Firefinch.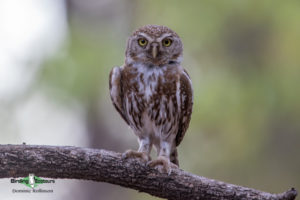 The feisty Pearl-spotted Owlet was seen on a number of occasions on this tour.
Over the 18-day trip we also recorded 44 species of mammals, with some of the highlights including African Elephant, Black and White Rhinoceroses, African Buffalo, Hippopotamus, Lion, African Wild Cat, Cape Fox, Spotted Hyaena, Kaokoland Slender Mongoose, Hartmann's Mountain Zebra, Sitatunga, Roan and Sable Antelopes, Kirk's (Damara) Dik-dik, Southern Lechwe, Common Eland, and Greater Kudu.
Detailed Report
Day 1, 2nd November 2019. Arrival and Walvis Bay birding
As some guests had arrived the previous day we could head out straight after breakfast and let the birding begin. We spent the morning birding the Walvis Bay Lagoon and nearby salt works, which is always a great place to spend a few hours. The birding started well with good sightings of the cute Damara Tern along with other Tern species such as Caspian, Sandwich, Greater Crested, and Common. Other waterbirds seen in the area included Black-necked Grebe, Cape Teal, thousands of both Greater and Lesser Flamingos, and Great White Pelican. Some of the most exciting birding to be had at the salt works is to spend time working through the thousands of waders on display. By doing this we added Whimbrel, Eurasian Curlew, Bar-tailed Godwit, Grey, Common Ringed, White-fronted, and Chestnut-banded Plovers, Sanderling, Little Stint, Ruff, Ruddy Turnstone, Marsh and Curlew Sandpipers, and Common Greenshank.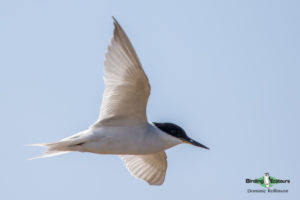 Damara Tern showed well at the Walvis Bay salt works.
After fetching the last few clients in the early afternoon we headed inland to Rooibank to search for Dune Lark, Namibia's only endemic bird species. It didn't take too long until a Dune Lark popped up and gave us good views as it scurried in between the small, vegetated sand dunes. Other birds in the area included Cape Sparrow, Namaqua Dove, Dusky Sunbird, Southern Masked Weaver, and a distant calling Bokmakierie, which unfortunately would not show itself. When we got back to our accommodation in the late afternoon we had good looks at Orange River White-eye in the garden before enjoying a delicious seafood dinner.
Day 2, 3rd November 2019. Walvis Bay boat cruise and birding
This morning was set aside for a boat cruise in the Walvis Bay Lagoon, which always proves good fun and has some great birds too. It did not take long until we had Great White Pelicans landing on the boat, looking for an easy meal and allowing close-up views of these impressive birds. We visited the huge, loud, and smelly Cape Fur Seal colony, which was an assault on the senses but gave us the opportunity to watch the seals play around in the shallows. Unfortunately we could not find any Heaviside's Dolphins, but we did come across a number of good bird species such as White-chinned Petrel, Sooty Shearwater, more Damara Terns, and Cape Cormorant.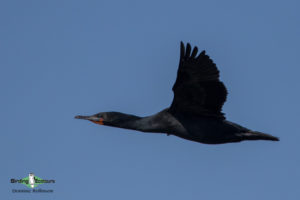 Cape Cormorant was common on our boat cruise around Walvis Bay.
After a quick bite to eat we headed into the Namib Desert to target a few desert specials. Both Gray's Lark and Tractrac Chat did not prove difficult to find, and with the extra time available we went to look at the weird desert-adapted plant Welwitschia mirabilis, of which some individuals are suspected of being over 2000 years old! Later in the afternoon we headed back to the Walvis Bay salt works so the rest of the group (who had not joined us yesterday morning) could become acquainted with the waders and waterbirds we had seen previously.
Day 3, 4th November 2019. Walvis Bay to Damaraland, Spitzkoppe birding en route
With breakfast and luggage packed early we made a pre-dawn start into the desert in the hope of getting to the Spitzkoppe area before the heat had picked up too much. En route we had good views of one of our targets, a pair of Rüppell's Korhaans, which posed nicely in the morning light, with another individual seen closer to Spitzkoppe that allowed even better views. We enjoyed breakfast at the base of the impressive Spitzkoppe domes, which are always a great backdrop to some desert birding. We searched high and low for Herero Chat; however, unfortunately the birds were not inhabiting their normally reliable haunts. But we managed to find Black-chested Snake Eagle, Pale Chanting Goshawk, Pririt Batis, Chestnut-vented Warbler, Black-backed Puffback, Sabota Lark, Mountain Wheatear, and Yellow-bellied Eremomela as bycatch. We still had a long, bumpy drive ahead of us today and so had to hit the road before it got too late. The temperatures today were incredibly hot, and this affected our birding as we unfortunately missed Benguela Long-billed Lark, which is normally reliable north of Uis. Shortly before arriving at our accommodation for the next two nights we managed a few new birds in the form of Double-banded Sandgrouse, Pale-winged Starling, Kalahari Scrub Robin, Swallow-tailed Bee-eater, Monteiro's and Southern Yellow-billed Hornbills, Grey Go-away-bird, and Great Sparrow. During list time in the evening we were interrupted by a Freckled Nightjar that flew down to drink from the small pond below the restaurant before we enjoyed another great meal.
Day 4, 5th November 2019. Damaraland birding
The morning was spent birding the various 'koppies' (small conical-shaped hills) around the lodge in the hope of finding more Namibian near-endemics. The birding was quite slow to start with but soon picked up, and we quickly added African Hawk-Eagle, Olive Bee-eater, Damara Red-billed Hornbill, White-tailed Shrike, and Short-toed Rock Thrush. The best we could do was to hear a distant Rockrunner, but unfortunately we could not find the bird. After a scrumptious breakfast we went for a walk along a nearby dry river bed, which was a hive of activity. Some of our highlights included Red-billed Spurfowl, Verreaux's Eagle, Pearl-spotted Owlet, Red-faced Mousebird, Rüppell's Parrot, Pearl-breasted Swallow, White-browed Sparrow-Weaver, Red-headed Finch, Black-throated Canary, and Cinnamon-breasted and Lark-like Buntings.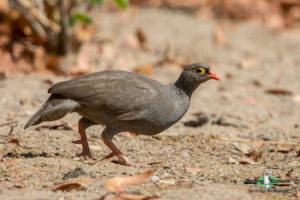 Red-billed Spurfowl is loud and conspicuous throughout most of northern Namibia.
In the afternoon after the heat had died down a bit we went for a walk along another dry river bed a little farther from the lodge, which again proved really productive as we managed good sightings of Violet Wood Hoopoe, Bearded Woodpecker, Pearl-spotted Owlet, Southern White-crowned Shrike, Common Scimitarbill, and Cape Starling. After another fantastic dinner we went for a night drive, which yielded great views of Rufous-cheeked Nightjar, Southern White-faced and African Scops Owls, Common Genet, and a Common Duiker that we tried our best to turn into a fox or an Aardvark, but in the end we had to settle for a duiker!
Day 5, 6th November 2019. Damaraland to Kunene River Lodge
We had another shot this morning at finding Hartlaub's Spurfowl and Rockrunner; however, we had to be content with only hearing Rockrunner despite coming excruciatingly close to a number of birds. We did encounter a few other birds in the general area, including Familiar Chat, Great Sparrow, Yellow-bellied Eremomela, and Olive Bee-eater. After breakfast we packed the vehicle and headed north to Kunene River Lodge, which is right on the border with Angola. The drive was relatively quiet, but we did add the only Ashy Tit of the trip as well as Tawny Eagle. After arriving at Kunene River Lodge in the early afternoon we retreated to the air-conditioned rooms for a while before heading out later in the afternoon to see what we could find around camp. The afternoon's birding proved really productive, and we quickly added Rufous-tailed Palm Thrush, Holub's Golden Weaver, Bare-cheeked Babbler, Red-necked Spurfowl, Olive Bee-eater, Rosy-faced Lovebird, Meves's Starling, Yellow-billed Oxpecker, Red-billed Firefinch, African Reed Warbler, and a very cooperative Pearl-spotted Owlet. We enjoyed a great meal overlooking the Kunene River into Angola while discussing the plan for the next morning, when we were to target Angolan Cave Chat in the Zebra Mountains.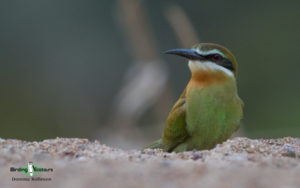 Olive Bee-eater was one of the seven bee-eater species seen on this tour.
Day 6, 7th November 2019. Zebra Mountains and Kunene birding
To ensure we were in the Zebra Mountains by sunrise a really early departure this morning was necessary. The nocturnal drive meant the front vehicle got lucky with sightings of Springhare and Cape Fox. Once we had negotiated the tricky drive we made our way up a rocky ridge and sat and waited. Almost immediately as we sat down we had distant views of an Angolan Cave Chat, and then we sat patiently as the bird edged its way toward us and were eventually rewarded with fantastic views of a bird which was only discovered in Namibia as recently as 2012! There was some great birding in the general area too as we added White-bellied Sunbird, Carp's Tit, African Grey Hornbill, White-tailed Shrike, Groundscraper Thrush, and White-crested Helmetshrike. On the drive back we managed good views of Dark Chanting Goshawk.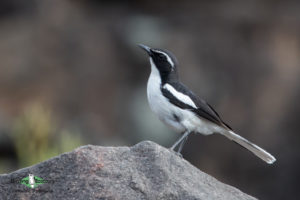 Angolan Cave Chat was seen well in the Zebra Mountains.
Back at the lodge we enjoyed a relaxing lunch while being distracted by Jacobin Cuckoo, Ashy Flycatcher, and Rufous-tailed Palm Thrush, and after some downtime we headed out again for an afternoon walk. This walk along the river was particularly productive, and we soon added Red-billed Buffalo Weaver, Brubru, African Hoopoe, Acacia Pied Barbet, Mourning Collared Dove, Scarlet-chested Sunbird, Rattling Cisticola, and Bennett's and Cardinal Woodpeckers. We rushed back to camp to do an afternoon/sunset boat cruise up the Kunene River, which was very relaxing after a long day's birding but of course the birding did not stop here, and we soon added Lesser Swamp Warbler, Malachite and Grey-headed Kingfishers, Striated Heron, African Pied Wagtail, Wire-tailed Swallow, Black Crake, Water Thick-knee, Black Cuckoo, and Olive Bee-eater.
Day 7, 8th November 2019. Kunene River Lodge to Hobatere Lodge
We spent the morning birding around camp and added a few new birds such as White-browed Coucal, Golden-tailed Woodpecker, Swamp Boubou, and the highlight of the morning, a confiding group of Cinderella Waxbills. After breakfast it was time to pack the vehicle and head south to Hobatere Lodge for the night. The drive was uneventful, and we arrived at Hobatere in the midafternoon with enough time to take a late afternoon drive and walk around the property. Some of the highlights included African Cuckoo, Tawny Eagle, Pearl-spotted Owlet, and thousands of Double-banded Sandgrouse coming to drink from the waterhole. Later that evening some of the guests did a night drive with an African Wild Cat being the highlight.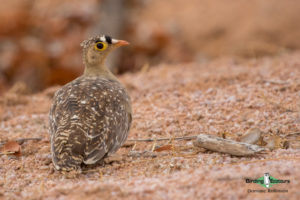 One of the thousands of Double-banded Sandgrouse coming to drink from the waterhole in the evening.
Day 8, 9th November 2019. Hobatere Lodge to Etosha National Park
Orange River Francolin (probably soon to be split as Kunene Francolin) was the target for the morning, and it did not take much effort until we found a single bird on a small 'koppie', providing us with good views. With the target bird in the bag (so to speak) we left Hobatere and made our way southeast to Etosha National Park. En route we managed to find a single Augur Buzzard, a bird we were starting to worry that we might have missed it! We arrived in Etosha in the early afternoon with enough time for a few hours of birding and wildlife viewing in the park. Highlights of the afternoon drive included Gabar Goshawk, Red-crested and Northern Black Korhaans, Monteiro's Hornbill, Crimson-breasted Shrike, Cape Penduline Tit, Spike-heeled, Eastern Clapper, and Stark's Larks, Grey-backed Sparrow-Lark, Namaqua Sandgrouse, Sociable Weaver, and Marico Flycatcher. We also managed a sighting of Black Rhinoceros coming to drink at the Okaukuejo waterhole.
Day 9, 10th November 2019. Etosha National Park birding and wildlife viewing
We spent the morning in an open-top safari vehicle, which is always a great way to enjoy the park. The birding was good and included Common Ostrich, Lesser Spotted Eagle, Kori Bustard, Banded Martin, Pink-billed Lark, Chestnut-backed Sparrow-Lark, Desert Cisticola, Kalahari Scrub Robin, Chat Flycatcher, and Yellow Canary. Some of our mammal sightings included Black-backed Jackal, Banded Mongoose, Spotted Hyaena, African Elephant, Giraffe, Greater Kudu, Gemsbok, and Kirk's (Damara) Dik-dik. In the afternoon we birded around the lodge and added Chestnut Weaver, Green-winged Pytilia, Buffy Pipit, and Spotted Thick-knee.
Day 10, 11th November 2019. Etosha National Park to Mokuti Lodge
Today we were moving from our lodge in central Etosha to Mokuti Lodge on the eastern edge of Etosha, which meant quite a long drive through the park. But constant bird and mammal sightings made the time pass quickly. Some of our better sightings throughout the drive included Secretarybird, Lappet-faced Vulture, Bateleur, Martial Eagle, Caspian Plover, Double-banded Courser, Red-necked Falcon, Rufous-naped Lark, South African Cliff Swallow, Icterine Warbler, Rufous-eared Warbler, and Burnt-necked Eremomela. Driving through the more open areas we came across White Rhinoceros and good numbers of Red Hartebeests. We had a couple sightings of Lion throughout the day, including a large female on a zebra kill with good numbers of White-backed Vultures around.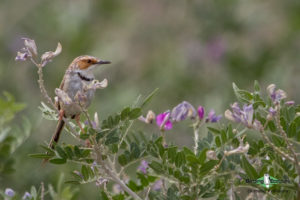 Rufous-eared Warbler showed well in Etosha National Park.
Day 11, 12th November 2019. Mokuti Lodge to the Caprivi Strip
Having moved farther east yesterday and into the taller woodlands on the eastern edge of Etosha meant that we woke up to a different mix of bird species, and the morning walk around the lodge produced a number of new birds, such as Black-faced Babbler, White-browed Scrub Robin, Crested Francolin, Violet-backed Starling, and Marico Sunbird. We had another long drive ahead of us today and so set off fairly early as it had not taken long to find our main target bird, Black-faced Babbler. During the drive east we found our first Rollers, in the form of Purple and Lilac-breasted as well as a large Swift flock near Grootfontein, which contained Bradfield's, Common, Alpine, and White-rumped. We stopped at Rundu sewage works for lunch, and it was alive with waterbirds including Hottentot Teal, Southern Pochard, Squacco and Black Herons, African Openbill, calling African Rail, Baillon's Crake, African Swamphen, Red-knobbed Coot, and Pied Kingfisher. We arrived at our accommodation in the Mahango area late in the afternoon but still had some time to wander around camp, where we found Woodland Kingfisher, roosting Southern White-faced Owl, Emerald-spotted Wood Dove, and Meyer's Parrot.
Day 12, 13th November 2019. Birding the Mahango area
We had the full day to bird this incredibly biodiverse area today and made sure that we were up at sunrise to take full advantage of this. Birding around camp in the morning was incredibly rewarding with African Cuckoo-Hawk, Wahlberg's Eagle, African Green Pigeon, Coppery-tailed Coucal, White-fronted and Southern Carmine Bee-eaters, Yellow-fronted Tinkerbird, Black-collared Barbet, Hartlaub's Babbler, White-breasted and Black Cuckooshrikes, Magpie Shrike, Mosque Swallow, and Collared Sunbird all being seen. Later in the morning we headed to Mahango Game Reserve, where we spent a few hours enjoying the birds and animals attracted to the floodplain. Sable and Roan Antelopes and Southern Lechwe soon bolstered our mammal list, while new birds included Wattled Crane, Marabou Stork, Glossy Ibis, African Spoonbill, Rufous-bellied Heron, White-headed Vulture, Long-toed Lapwing, Broad-billed Roller, Kalahari Scrub Robin, and Shaft-tailed Whydah.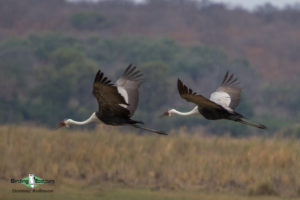 A number of Wattled Cranes were seen on the floodplain in Mahango Game Reserve.
Later in the afternoon we headed into the broad-leafed woodlands west of Divundu to search for a few woodland specials. Here we managed to find Yellow-fronted Canary, Wattled Starling, Orange-breasted Bushshrike and Southern Black Tit before we had to make a hasty retreat with a big storm fast approaching. We did stop briefly on the way back to find a few Rock Pratincoles near Divundu. Later that evening we had good views of African Wood Owl around camp.
Day 13, 14th November 2019. Transfer to the Okavango Panhandle
Today we made the short transfer into Botswana to the Okavango Panhandle. We left camp (after adding Levaillant's and Klaas's Cuckoo and African Golden Oriole) and again made our way through Mahango Game Reserve, this time adding Saddle-billed Stork, African Harrier-Hawk, Crested Barbet, Fawn-colored Lark, Southern Pied Babbler, Bradfield's Hornbill, and Tsessebe. As usual the border crossing was quick and easy, allowing us to do some birding in the afternoon, once having settled into our accommodation at Drotsky's Cabins. We enjoyed sundowners on the deck while watching birds flying back and forth over the massive swamps. Some of the better birds seen included Wattled Crane, many Hamerkops, African Marsh Harrier, Thick-billed Weaver, Southern Brown-throated Weaver, Arrow-marked Babbler, and Swamp Boubou.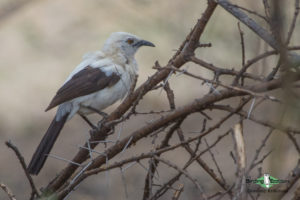 Southern Pied Babbler was seen in Mahango Game Reserve.
Day 14, 15th November 2019. Okavango Panhandle boat cruise and birding
As usual today would prove to be one of the highlights of the tour as we spent a large proportion of the day on a boat exploring the many waterways of the Okavango. Our main target for the day was Pel's Fishing Owl, which thankfully did not take too long to find thanks to the sharp eyes of our guide Otto. We were able to watch a single bird close to our boat at its day roost, which is always special to see. Other top birds seen this morning included African Skimmer, Long-toed and African Wattled Lapwings, Collared Pratincole, Goliath Heron, White-backed and Black-crowned Night Herons, Greater Swamp Warbler, Chirping Cisticola, Hadada Ibis, Western Osprey, African Fish Eagle, Lanner Falcon, Malachite, Giant, and Pied Kingfishers, African Stonechat, and Fan-tailed Widowbird. After the boat cruise we had a walk around camp and found African Barred Owlet, Retz's Helmetshrike, Brown-hooded Kingfisher, Green Wood Hoopoe, Southern Yellow White-eye, Brown Twinspot, Brown-hooded Kingfisher, Broad-billed Roller, and Terrestrial Brownbul. In the late afternoon we went for another boat cruise, but this time we headed south from Drotsky's Cabins, which resulted in a slightly different mix of species. Additional to this morning we found African Pygmy Goose, Slaty Egret, Western Banded Snake Eagle, Allen's Gallinule, African Snipe, and Grey-rumped Swallow.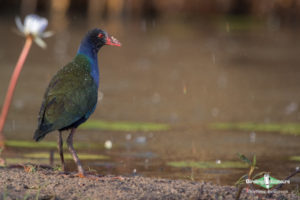 Allen's Gallinule showed well during a brief downpour on our afternoon boat cruise.
 Day 15, 16th November 2019. Okavango Panhandle to Katima Mulilo
We had a brief walk in the woodlands behind Drotsky's Cabins this morning, which did not add much besides a juvenile Greater Honeyguide. After this it was time to head back into Namibia, and we made our way east through the Caprivi Strip. The long drive east did not produce much of interest, and we arrived at our accommodation at Caprivi Houseboat Safaris in Katima Mulilo with some time to bird during the afternoon. A quick walk around camp produced the beautiful Schalow's Turaco as well as Grey Tit-Flycatcher, Purple-banded Sunbird, Long-tailed Paradise Whydah, and Jameson's Firefinch. Later that afternoon we did another boat cruise, this time along the Zambezi River, and were rewarded with great sightings of African Finfoot, Purple Heron, African Openbill, White-crowned Lapwing, Half-collared Kingfisher, Trumpeter Hornbill, Little Bittern, and Tropical Boubou. After dinner we headed out with the lodge owner, Curt, who took us to a spot where he had seen nightjars the last few nights. Thanks to Curt's brilliant eyes we managed to find Square-tailed, Fiery-necked, and, most importantly, the spectacular Pennant-winged Nightjar. In the same area we also found Western Barn Owl.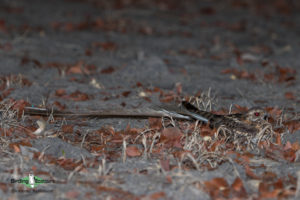 Bird of the trip for many: the male Pennant-winged Nightjar seen in Katima Mulilo.
Day 16, 17th November 2019. Katima Mulilo to Livingstone
We only had the morning to bird this incredibly bird-rich area, so we got up early to try to find as much as possible. We went to a pan which had Lesser Jacana on it, and it did not take long for a bird to pop out, with African Pygmy Goose, Rufous-bellied Heron, Long-toed Lapwing, and Luapula Cisticola all showing well nearby. In the surrounding woodlands we recorded Western Banded Snake Eagle, Red-footed Falcon, Grey-headed Bushshrike, Yellow-throated Bush Sparrow (Petronia), Striped Kingfisher, Kurrichane Thrush, Grey Penduline Tit, and Amethyst Sunbird. Just as we were leaving our accommodation we had good looks at a male Copper Sunbird and then made our way nearby to the Namibia-Zambia border post. The border unfortunately took a while to negotiate, but eventually we were in Zambia and undertook the long and very slow drive to Livingstone. After a long day's travel and settling into our accommodation we enjoyed a great meal and a well-deserved beer as we looked out over the Zambezi into Zimbabwe.
Day 17, 18th November 2019. Victoria Falls and Livingstone birding
Today was a day we were all looking forward to as we would make our way into Zimbabwe and to Victoria Falls. However, first things first, we had some birding to do in the broad-leaved woodlands close to the lodge. The morning's birding turned out to be highly successful as we added Cut-throat Finch, Racket-tailed Roller, Neddicky, Stierling's Wren-Warbler, Pale Flycatcher, Miombo Rock Thrush, Eurasian Hobby, Lizard Buzzard, and White-winged Widowbird, with the highlight being Miombo Pied Barbet here at its southern extent. Thankfully the border crossing was quick and easy, and then we spent the next few hours walking around and enjoying the impressive falls from many different angles and vantage points. The local name 'Mosi-oa-Tunya', meaning 'the smoke that thunders', is certainly appropriate, with the noise at times deafening and the smoke (mist) wetting us all. While we were here, we certainly did not ignore the many birds in the area and soon recorded Bearded Scrub Robin, Red-faced Cisticola, African Paradise Flycatcher, Spectacled Weaver, Red-winged Starling, Rock Pratincole, and African Black Swift. Our final afternoon's birding was spent wandering around camp, and it still produced the goods with Olive Woodpecker, Red-chested Cuckoo, Collared Palm Thrush, and Village Weaver all added to the list. We then enjoyed our last dinner of the trip and reminisced about the fun and sightings from the last couple of weeks.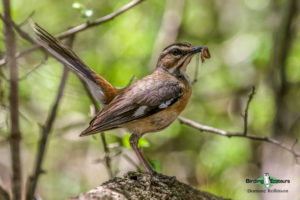 The attractive Bearded Scrub Robin was seen in the woodlands near Victoria Falls.
Day 18, 19th November 2019. Livingstone birding and departure
On the final morning we again birded around camp, where we added Bronze Mannikin and Natal Spurfowl, with a group of Southern Ground Hornbills on the other side of the Zambezi being a last-minute bonus. However, the fun was not quite over, because just as we were leaving camp for the Livingstone airport we had a very close encounter with a medium-sized Black Mamba, which certainly gave us a little fright! We then safely hopped back into the vehicle and concluded a really fun and highly successful 18 days in the region, with 403 bird species seen and lots of fond memories to look back to.
Please see the downloadable PDF above with the full species lists included.