Go to Complete Uganda bird tour page | Uganda bird tours | African trip reports |  All our birding tours
DOWNLOAD TRIP REPORT
1 – 14 August 2019 
By Jason Boyce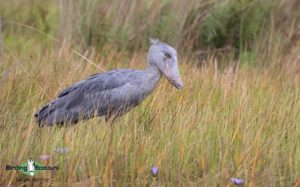 Yes, I know, it's incredible! Shoebill from Mabamba Swamp, Uganda.
TOUR ITINERARY                                                                                       Overnight
Day 1 – Introduction to Uganda's birding, Entebbe                                       Entebbe
Day 2 – Mabamba Swamp and Lake Mburo National Park                          Lake Mburo
Day 3 – Lake Mburo National Park                                                                   Lake Mburo
Day 4 – Mgahinga Gorilla National Park                                                          Kisoro
Day 5 – Mgahinga Gorilla National Park                                                          Kisoro
Day 6 – Transfer to Bwindi Impenetrable Forest National Park, Ruhija   Ruhija
Day 7 – Bwindi Impenetrable Forest National Park, Ruhija                         Ruhija
Day 8 – Bwindi Impenetrable Forest National Park, Buhoma                      Buhoma
Day 9 – Bwindi Impenetrable Forest National Park, Buhoma                      Buhoma
Day 10 – Bwindi Impenetrable Forest National Park, Buhoma                    Buhoma
Day 11 – Transfer to Queen Elizabeth National Park                                       Mweya
Day 12 – Queen Elizabeth National Park to Kibale National Park                Kibale
Day 13 – Kibale National Park                                                                              Kibale
Day 14 – Kibale to Masindi                                                                                   Masindi
Day 15 – Masindi, Budongo Forest                                                                     Masindi
Day 16 – Masindi to Murchison Falls National Park                                      Murchison Falls
Day 17 – Murchison Falls National Park                                                           Murchison Falls
Day 18 – Transfer to Entebbe                                                                             Entebbe
Day 19 – International Flights
 Overview
 Interestingly enough this was one of the "birdier" Uganda tours that I have been on. Birds were generally in good voice, and fair numbers of birds were seen at most of our hotspots. Cuckoos were a little less vocal, but widowbirds, bishops, and weavers were in full breeding plumage and displaying all over the place. There were really good numbers of waxbills, cisticolas, and other agricultural and savanna species throughout the trip.
The south-western forest areas produced almost all of the usual suspects, including really great visuals of Rwenzori Turaco at Mgahinga, Grauer's Broadbill on the Mubwindi Swamp walk in Ruhija, and the kivuensis subspecies of Abyssinian Ground Thrush on the main Buhoma trail. The savanna parks were good to us too, and we managed to find a group of Lions in Ishasha and had a highly successful boat trip on the Kazinga Channel. Murchison Falls was superb and produced Abyssinian Ground Hornbill and Black-bellied Bustard, and luck was certainly on our side as we managed to witness a Lioness kill a male Uganda Kob. Kibale was full of great birds such as Narina Trogon and three separate individuals of the enigmatic Green-breasted Pitta!
And of course not much more can be said about the iconic Shoebill, which was found at Mabamba Swamp, as well as both Mountain Gorilla and Eastern Chimpanzee! It certainly was a bucket-list trip for all who joined this magnificent set departure.
Detailed Report
 Day 1, 1st August 2019. An introduction, Entebbe
The first morning of our tour had arrived. We started things with some birding around Entebbe; the gardens of the hotel as well as the Entebbe Botanical Garden were both really productive. The hotel gardens produced Black-headed Gonolek, Eastern Plantain-eater (right alongside the breakfast veranda), Red-chested and Scarlet-chested Sunbirds, Village Weaver, Brimstone Canary, and Bronze Mannikin, as well as a pair of African Hobbies. A small flock of Meyer's Parrots was also a treat – first seen perched on a tree on the hillside and later seen cruising by at high speed, screeching away.
The botanical garden is beautiful and never ceases to produce really enjoyable sightings. We began on the shoreline in search of the tricky Orange Weaver. We picked up Yellow-billed Kites, Hooded Vulture, Black-and-white-casqued Hornbill, Olive Sunbird, Yellow-throated Leaflove, Hadada Ibis, and Grey-capped Warbler even before we made it to the shoreline. The species on the shores of Lake Victoria included Pied Kingfisher, Reed Cormorant, Black Crake, Winding Cisticola, Swamp Flycatcher, Olive Bee-eater, African Openbill, a pair of African Fish Eagles, and a single Common Sandpiper. The amazing Great Blue Turaco made its presence felt with its incredibly loud call, and not long after that we saw two of them clambering through some foliage. Yellow-throated Longclaw displayed, while both Tambourine Dove and African Green Pigeon put in fly-by appearances. With some persistence we also picked up both Orange and Golden-backed Weavers. Other species that morning included Klaas's Cuckoo, Brown-throated Wattle-eye, Green Crombec, Northern Yellow White-eye, and Snowy-crowned Robin-Chat. Crowned Hornbill was also great, it would be our first of many on the tour.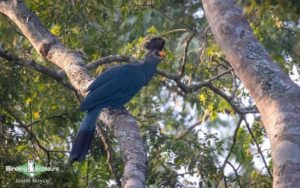 Some say it's just a large, blue, winged dinosaur, but Great Blue Turaco is both bizarre and magnificent!
Our afternoon session was also enjoyable; we found Striated Heron, Common Sandpiper, White-breasted Cormorant, African Pygmy Kingfisher, Spur-winged Lapwing, and African Hobby perched up high. Gathering some local information we managed to find a roosting Bat Hawk, which we also saw flying around on the lodge grounds after dusk. We enjoyed our first dinner together as we chatted about the exciting tour itinerary that lay before us.
Day 2, 2nd August 2019. Mabamba Swamp and drive to Lake Mburo National Park
Today was the day for which many from our group had been waiting for a long time, featuring a trip to Mabamba Swamp to locate the magical Shoebill. Our trip across to the swamp produced African Darter, Grey-backed Fiscal, Lizard Buzzard, and Black-headed Heron. Arriving at the swamp we set off straight away and headed down one of the channels. Long-toed Lapwing, Malachite Kingfisher, Swamp Flycatcher, and Northern Brown-throated Weaver were among the first species we picked up for the day. It took some time, but we managed to find the "bucket-list", must-see Shoebill! The bird was rather deep in the swamp but was sitting very nicely out in the open for all to see. It moved slowly and got itself into position to watch a small, quiet patch of open water. We sat with the bird for a while as it stood motionless, waiting for its favorite meal, the lungfish, to appear. In this same area we picked up African Swamphen, Blue-breasted Bee-eater, Yellow-billed Duck, African Marsh Harrier, Cape Wagtail, and a couple of Rufous-bellied Herons, the latter being fairly uncommon at the site. A Blue Swallow flashed by overhead and unfortunately didn't hang around for prolonged views. A majestic Saddle-billed Stork, however, was spotted moving slowly through an open section of swamp; we took our time watching this male bird trying to scrounge up some food. A bit later we headed to a massive colony of Weyns's Weaver; many males in full breeding plumage were very actively collecting nesting material. Heading in the wooden canoes into the papyrus of Mabamba Swamp is a real treat and something I'm sure all will remember during their birding careers. We missed Papyrus Gonolek in the swamp, so we tried another known spot for it a little later toward Lake Mburo, here we were successful. Brief views of this stunning bird were more than satisfying. Striped Kingfisher and a few Angolan Swallows were also really nice to get close-up looks at.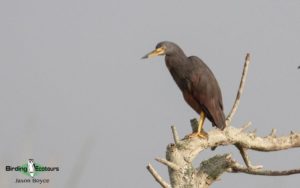 A fairly uncommon species, Rufous-bellied Heron.
Before arriving at our accommodation for the next two nights we did some birding on the access road. A small group of Wattled Starlings was trumped by seeing much larger groups later on. Blue-naped Mousebirds were everywhere, while a pair of Nubian Woodpeckers put in a short display. A Red-chested Cuckoo also showed surprisingly well. Other species in this dry woodland included Red-cheeked Cordon-bleu, Crested Francolin, Red-necked Spurfowl, Woodland Kingfisher, and Yellow-billed Oxpecker. It was great to once again find Brown-chested Lapwing in the same area as in the previous few years.  Rattling and Trilling Cisticolas were very vocal near the entrance to the park. We arrived safely at the lodge after a successful day. Before we settled in for a drink and a buffet-style dinner we added a few more species to the day list, including: Red-headed Lovebird, Yellow-throated Leaflove, Red-headed Weaver, and Black Cuckooshrike.
Day 3, 3rd August 2019. Lake Mburo National Park
We opted to have an early breakfast this morning and head straight into the park; a whole new suite of bird species awaited us. Our first new species included Senegal Lapwing and Helmeted Guineafowl, both in good numbers on the open, grassy plains. A small group of White-rumped Swifts was cruising overhead near the entrance gate. It was fantastic to find a Grey-headed Kingfisher perched at eye level in a small acacia bush. The beauty of this classy bird somehow leaves you awestruck. The open sections of the park delivered Sooty Chat, Plain-backed Pipit, a few more Senegal Lapwings, and Black-winged Kite. It was really great to get a close-up visual of a Pearl-spotted Owlet that was first heard calling in the nearby woodland. Here we also picked up Common Scimitarbill and a single Green-backed Woodpecker. After lunch and a quick rest we headed back into the park for our boat trip on Lake Mburo. This boat trip has become very well known for the magical African Finfoot. After only a short time we had already picked up Holub's Golden Weaver, Little Egret, Squacco and Striated Herons, Lesser Striped Swallow, White-headed Saw-wing, and many Pied and Malachite Kingfishers. A few shorebirds were hanging around the edges of the lake, Common, Wood, and Green Sandpipers. It took some time, but once again amazing views of both male and female African Finfoot were had. It was a jam-packed day today, as we also had a night drive booked, which was good and produced both Thick-tailed Greater and Northern Lesser Galagos, Bushbuck, and Common Genet. Frustratingly we only had glimpses of Verreaux's Eagle-Owl and only managed to hear African Scops Owl despite being right below the tree from which it was calling. Nevertheless it was a truly successful day for us!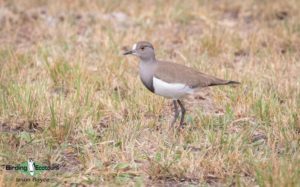 One of many Senegal Lapwings that we found on the grassy plains of Lake Mburo National Park.

Day 4, 4th August 2019. Lake Mburo National Park to Kisoro
The Rwakobo Rock lodge is situated atop a small "koppie" that allows for really great views across the landscape in all directions. We took a walk that morning before breakfast and picked up the likes of Brown-backed Scrub Robin, Speckled and Blue-naped Mousebirds, Double-toothed Barbet, African Golden Oriole, and Lesser Honeyguide. Troops of Tantalus Monkeys patrolled the perimeter of the lodge, while other mammal species like Impala and Bushbuck were occasionally seen from the breakfast table. After having checked out we started the long trip to the "volcano-land" of Kisoro and Mgahinga National Park. The drive produced Green-winged Pytilia, the vocal Trilling Cisticola, Orange-breasted Bushshrike, Brimstone Canary, Tawny-flanked Prinia, and Black-crowned Tchagra. A few stops en route yielded Papyrus Gonolek, African Stonechat, White-winged Swamp Warbler, and African Openbill.
The roads had been improved in a few areas in the southwest, so the drive did not take as long as it used to. After arriving in Kisoro we had time to take a walk around the grounds of our guest house. Here we picked up Bronzy Sunbird, Black-headed and Baglafecht Weavers, Grey-capped Warbler, Grey-headed Nigrita, Black Saw-wing, Black Sparrowhawk, and an amazing surprise sighting of White-collared Oliveback!
Day 5, 5th August 2019. Mgahinga National Park
The Mgahinga Gorilla National Park is one of the most incredibly scenic reserves that we visit on this tour. Both the flora and fauna on the walk up toward Mount Sabyinyo are fantastic. We arrived at the reserve, completed the formalities quickly, and soon we had picked up the likes of White-starred Robin, Olive-breasted and Yellow-whiskered Greenbuls, and Rwenzori Double-collared Sunbird, as well as a whole party of Kandt's Waxbills. We started our walk up the hillside and encountered Dusky Turtle Dove on the path in front of us. Regal Sunbird and Western Tinkerbird put in appearances throughout the day, but African Paradise Flycatcher only showed once near the start of the walk. Our first apalis of the trip was Mountain Masked Apalis; we picked up a pair of them calling in the thick bushes and with some patience managed to get some really nice views of both birds. One of our main targets today was the sought-after Rwenzori Turaco; we heard its call in the morning and enjoyed great looks of one individual on the way down from the gorge.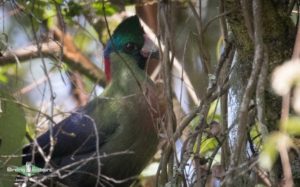 This is certainly an incredibly sought-after species, the Rwenzori Turaco, which was seen in Mgahinga Gorilla National Park.
An amazing reptile sighting was that of a Great Lakes Bush Viper (Atheris nitschei) that – with an amazing stroke of luck for us – crossed the path in front of us. These snakes are venomous and incredibly difficult to spot in the dense foliage. I recorded the trek as almost 10 kilometers (6 miles) with a good 550 meters (1804 feet) gain in elevation, and our group was certainly a few lifers richer!
Day 6, 6th August 2019. Transfer to Bwindi Impenetrable Forest National Park –Ruhija
This morning we enjoyed a hearty breakfast and left to bird the Echuya Forest en route to Bwindi. The forest was alive with bird song, but our first highlight was a raptor, which was probably an immature Ayres's Hawk-Eagle. We walked slowly, watching and listening, and managed to pick up a single Sharpe's Starling atop a tree near the road, Mountain Oriole, White-eyed Slaty Flycatcher, and Regal and Northern Double-collared Sunbirds. Black-faced Prinia was heard calling in the forest below us but never gave any views. White-browed Crombec and Thick-billed Seedeater did, however, show for us. Mountain Illadopsis showed very nicely right alongside the road, their distinctive little calls ringing from small bushes. A few Mountain Sooty Boubous and Mountain Orioles were calling, and we managed to see one individual of each species. Both Black Saw-wing and Cinnamon-chested Bee-eaters were hawking a few insects from the forested skies.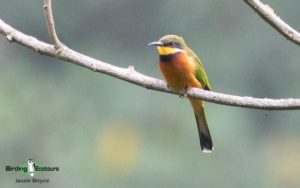 Another absolutely stunning species, Cinnamon-chested Bee-eater.
We left the Echuya Forest and tried one of the local sites around Lake Bunyonyi for Papyrus Yellow Warbler, but unfortunately we came up empty-handed. We began the journey to the eastern section of Bwindi Impenetrable Forest National Park. We entered Bwindi and spent time birding the Ruhija area that afternoon – a walk on one of the nearby trails produced Grey-throated Barbet, Rwenzori, Mountain Masked, and Chestnut-throated Apalises, Tullberg's Woodpecker, Lühder's Bushshrike, and Black-billed Turaco. Just before we wanted to head back to the lodge we got lucky with a visual of Grauer's Warbler as it was moving through some vines. The bird was quiet, so picking it up was a spot of much needed luck.  We headed back to the lodge and prepared for our long walk to the Mubwindi Swamp tomorrow.
Day 7, 7th August 2019. Magical Ruhija birding
It was time for the famous walk to Mubwindi Swamp. This walk is well known for possibly yielding Grauer's Broadbill and Grauer's Swamp Warbler and for the grueling uphill trek back to Ruhija from the swamp. Our enthusiastic group set off with high expectations. Mountain Illadopsis greeted us not long after we had started our walk, and soon after that we picked up the beautiful Blue-headed Sunbird. The soft calls of Dusky Crimsonwing came ringing from the undergrowth alongside the trail, but the birds did not even give us a flash of movement. Mackinnon's Shrike and Yellow-eyed Black Flycatcher were also seen. Black-billed Turaco really gave us the runaround, but we managed to see a few very well on the way back. The "one that got away" today would have to go to Grey-chested Babbler. The bird was calling quite a lot, but getting any sort of visual in the thick undergrowth seemed impossible. Before long we had made our way down to the lower levels of the walk and picked up no less than four Grauer's Broadbills! The adult pair had successfully raised two young, and they were moving around as a family group. We spent time with them, watching them flit from tree to tree and observing their feeding habits. A few other great birds that we got to see on the way to the swamp included the Albertine Rift endemic Archer's Ground Robin, Black-throated Apalis, Dusky Tit, and Crowned Hornbill.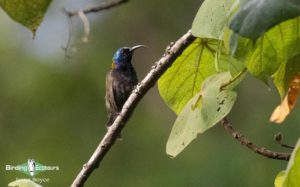 The Albertine Rift endemic Blue-headed Sunbird was more common than usual. We encountered four or five individuals on the hike to Mubwindi Swamp.
Arriving at the swamp we immediately encountered both Grauer's Swamp Warbler and Carruthers's Cisticola. Western Citril and Cape Wagtail were flitting around, while Red-chested Flufftail was calling from the reedbed. We managed to sneak a view of a pair of African Rails moving in one of the small clearings in the reeds. The warbler did give us a bit of a runaround, but we tried another spot and had some good visuals. A drive on the main road through the forest paid off when we managed to find a pair of Handsome Francolins feeding on the roadside. Getting another one of the Albertine Rift endemics was the best way to finish the day.
Day 8, 8th August 2019. Transfer to Buhoma, birding "The Neck"
Knowing that we didn't have many more opportunities to pick up Montane Nightjar we made an effort to leave an hour before sunrise this morning. With overcast conditions things were rather quiet for the first forty-five minutes. We saw a few Northern Lesser Galagos and then a little later picked up a Spotted Eagle-Owl in one of the agricultural areas. Not long after that we were rewarded for our persistence with a couple of Montane Nightjars, formerly known as Rwenzori Nightjar. We stayed for the dawn chorus of bird songs and watched the sun rise behind some clouds. African Goshawk was seen up high and was also calling. A couple of Black-and-white-casqued Hornbills gave a flyby, and Grey-throated Barbet was perched on a large dead snag.
We enjoyed a really great breakfast and started our journey to Buhoma on the western side of Bwindi. A forest edge spot produced Yellow Bishop, Brown-crowned Tchagra, African Olive Pigeon, African Stonechat, Copper Sunbird, and Augur Buzzard. "The Neck" is a small section of forest that one needs to travel through in order to get to Buhoma; we birded here and picked up Blue-throated Brown Sunbird, White-breasted Nigrita, Olive-green Camaroptera, Pink-footed Puffback, Blue Malkoha, Petit's Cuckooshrike, and Hairy-breasted Barbet before the rains came down and halted our progress. So we journeyed on to our next exciting accommodation. We arrived and were met with many smiles and friendly faces at the lodge, and after a short briefing, check in, and lunch we were back in the field. A walk along the first section of the Buhoma trail was incredibly productive as usual. Here we picked up (among other beauties) three bushshrike species! Many-colored Bushshrike was the first to show, then we picked up Bocages and Lühder's Bushshrikes. Our sharp-eyed local guide found a pair of African Wood Owls roosting right above us in the tree in which the Many-colored Bushshrike was moving around, a great sighting! We also loved seeing Equatorial Akalat, Grey-winged Robin-Chat, Grey-throated Tit-Flycatcher, Pink-footed Puffback, White-tailed Blue Flycatcher, Grey-headed Nigrita, Tambourine Dove, and a single White-tailed Ant Thrush.
Day 9, 9th August 2019. Gorilla trekking and birding Buhoma
Three members of our group were fortunate enough to trek through the amazing forests of Bwindi to a group of Mountain Gorillas. The trio had a fantastic time and came back full of interesting stories, Bar-tailed Trogon sightings, and of course many pictures of these amazing primates. Some of the group opted not to trek for the gorillas and birded the Buhoma forested trails instead, which must be some of the best birding trails in Uganda. Forest edge and secondary growth lead into fully mature primary forest, which makes for some amazing birding. The calls of Scaly-breasted Illadopsis and Yellow-throated Tinkerbird rang through the forest. African Shrike-flycatcher, Red-tailed Greenbul, and a few Red-headed Malimbes were spotted a little further along the trail. We thoroughly enjoyed watching Red-throated Alethe come out onto the path into the open for a while. Then we made our way to a site for Abyssinian Ground Thrush (kivuensis subspecies) and managed to get amazing looks of it singing. The tricky Neumann's Warbler was seen well after spending time tracking it down in the undergrowth.
We walked to the lower waterfall in a stunning part of the forest. Here we found Bar-tailed Trogon, Ansorge's and Little Grey Greenbuls, Grey Cuckooshrike, the strange Grey-headed Sunbird, Sooty Flycatcher, Little Green Sunbird, Equatorial Akalat, Dusky Tit, and Dusky-blue Flycatcher. Both Dusky Long-tailed and Barred Long-tailed Cuckoos were vocal and showed to a greater or lesser degree. Throughout the morning the forest was alive with activity; also heard calling this morning were African Broadbill, Plain Greenbul, Red-tailed Bristlebill, and Buff-spotted Woodpecker. Velvet-mantled Drongo, Petit's Cuckooshrike, and Kakamega Greenbul showed really well, and we also managed visuals of Black-faced Rufous Warbler, Black Bee-eater, Western Bronze-naped Pigeon, and a large party of charismatic White-headed Wood Hoopoes on the way back. Some more rain in the afternoon luckily came down pretty late in the day, and we didn't lose too much birding time.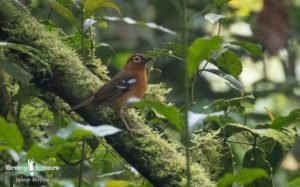 Abyssinian Ground Thrush, one of the more elusive birds in the Buhoma forest. It is fairly often heard but very seldom seen well, but it's safe to say that we had a great sighting!

Day 10, 10th August 2019. Birding the Buhoma area       
The sun had risen on another glorious day in Bwindi Impenetrable Forest National Park. We made our way back onto the main Buhoma forest trail, where we saw Mountain Wagtail on the path in front of us. Blue-throated Brown Sunbird and Petit's Cuckooshrike were flitting above us, while a flock of Narrow-tailed Starlings came cruising overhead. We spotted a Lemon Dove in the canopy of one of the trees nearby too, a shy forest dove that is not all that common in the forests of Uganda. Yellow-spotted Barbet was calling, but we couldn't get any visuals. We did, however, get really nice views (after some hard work) of two African Broadbills and a single Willard's Sooty Boubou. Waller's Starling also showed well in a large flock. But before we knew it the skies had turned black, and the rains cut our day short. Totally drenched we made it back to Buhoma, grabbed a shower, and had a good rest that afternoon.
Day 11, 11th August 2019. Transfer to Queen Elizabeth National Park, Mweya
We left Buhoma really early this morning and enjoyed a flurry of birding activity in the Ishasha sector of Queen Elizabeth National Park. White-headed Barbet, Arrow-marked Babbler, and Village Indigobird were the first species we picked up just before entering the park. The rank grasslands delivered the likes of Moustached Grass Warbler, Southern Red Bishop, White-winged and Red-collared Widowbirds, and a few cisticolas including Croaking, Stout and Red-faced Cisticolas. Eagles were showing well, with both Brown Snake Eagle and Western Banded Snake Eagle putting in appearances. We arrived at the Mweya peninsula for a private boat cruise on the Kazinga Channel. A small boat that is low in the water worked really well, and we were able to enjoy a particularly large flock of one of the birds of the afternoon, African Skimmer. A single Gull-billed Tern was also present, while small numbers of shorebirds were dotted along the shoreline. The shorebirds, presumably early passage migrants, included Common Greenshank, Marsh and Common Sandpipers, Curlew Sandpiper, Three-banded and Kittlitz's Plovers, Ruddy Turnstone, and a real surprising single Sanderling! The surprises kept coming, and we also managed to find Greater Painted-snipe on the shoreline. The stunning Red-throated Bee-eater was also present, and we managed to get a few pictures. We also found the likes of Black Crake, Yellow-billed Stork, Hamerkop, Malachite Kingfisher, African Spoonbill, and Pink-backed and Great White Pelicans. Verreaux's Eagle-Owl was another really good find, a bird sitting on an open branch underneath the canopy of a thorn tree. We arrived at the lodge just after sunset and settled in for the night.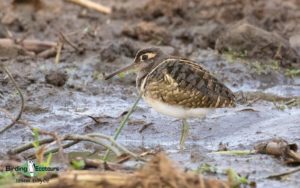 This was certainly unexpected: Greater Painted-snipe.
Day 12, 12th August 2019. Queen Elizabeth National Park to Kibale Forest
This morning we had a successful game drive into the northern sector of Queen Elizabeth National Park. The area had had some good rains and was looking lush and green. An adult Dwarf Bittern was spotted on top of a large bush, a bird that is often found after good rain or in floodplain areas. Here we also picked up Quailfinch, Collared Pratincole, and Senegal, Crowned, and African Wattled Lapwings. White-backed Vultures took to the skies fairly early that morning, while White-browed Coucals were chasing each other between the thickets. A couple of Lions were seen lazing in the short grassy plains to the east – a sighting of these amazing cats was welcome. We stopped in the east of the park at a small salt pan, where we managed to scope Black-winged Stilt, Ruff, and Little Stint. We headed back to the lodge to grab a warm lunch and check out. It was great watching good numbers of White-rumped Swifts shooting in and out from under the eaves of the lodge's dining hall. A duo of Woolly-necked Storks, Booted Eagle, and a single Common Kestrel kept us entertained on our drive to the famous Kibale National Park.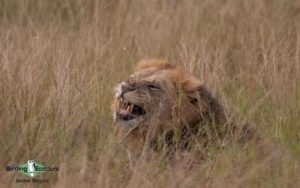 Lion in Queen Elizabeth National Park.
On the way to our accommodation we enjoyed some roadside birding with the likes of Chestnut Wattle-eye, male and female African Shrike-flycatcher, Red-headed Malimbe, and three Yellow-crested Woodpeckers. Alpine Swifts were also seen cruising fairly high overhead. Red-tailed Monkey, Grey-cheeked Mangabey, and many Olive Baboons were always nearby. Chestnut-winged Starling and Black Bee-eater rounded off a superb afternoon of enjoying what Kibale has to offer.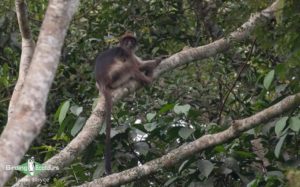 It's not often that one finds Ashy Red Colobus and get such good looks. This year they were hanging around the Kibale National Park headquarters, and obviously we jumped at the opportunity to spend some time watching them!

Day 13, 13th August 2019. Kibale Forest, Chimps. and Green-breasted Pitta
This was one of the earliest mornings of our tour; we grabbed breakfast and headed into the famous Kibale National Park to try and locate Green-breasted Pitta, a fairly large pitta that normally starts to call about twenty minutes before sunrise. Sure enough, we picked up a bird calling and soon after that another two were calling in a similar area. It took a little bit of time to locate one, but before long we had great looks at the first bird moving along the forest floor. A second bird was located by a member of our party, and we saw this bird display ten meters (33 feet) off the ground before it too flew off.
During our pitta foray a number of species were calling round us: Scaly-breasted Illadopsis (of which we had great looks), Red-chested and Dusky Long-tailed Cuckoos, Tambourine Dove, Brown-chested Alethe, and Fraser's Rufous Thrush. We also managed to locate a calling Narina Trogon as well as Velvet-mantled Drongo. The muddy track through the forest attracted a few species to the verges, Red-tailed Ant Thrush and Red-capped Robin-Chat both giving super views. As if we had not already had an amazing morning we moved toward a large fig tree where we could hear some activity. About six Eastern Chimpanzees were happily moving about in the large canopy, feasting on the fruits of the tree. They were joined by a few avian species, including African Green Pigeon and Purple-headed Starling. There is always something going on in the beautiful Kibale forest, both sights and sounds are really enjoyable. Yellow-mantled Weaver, both male and female, showed well when we arrived back at the office area. In the afternoon we spent some time trying to get visuals of White-spotted Flufftail and Red-chested Owlet. We didn't manage to find the owlet but did manage to see the incredibly elusive White-spotted Flufftail.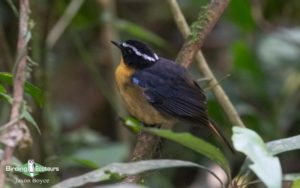 A tinge of the blue shoulder is visible on this Blue-shouldered Robin-Chat.
Day 14, 14th August 2019. Transfer from Kibale National Park to Masindi
Today we transferred north to Masindi for the Murchison Falls and Budongo Forest extension. All four tour participants were joining the extension, and everyone was pretty excited, looking forward to what the north could offer us. Except for a few bad roads we enjoyed a good trip to the north, but not before we took a walk around the Kibale Homestay trail in the morning. The trail gave us a few good species; Thick-billed Weaver, African Blue Flycatcher, White-throated Bee-eater, White-chinned Prinia, Black Bishop, and a nice sighting of Green Hylia were all welcome.
In addition to a Rolex (not the watch, but the traditional Ugandan wrapped omelet) we also picked up White-winged, Red-collared, and Fan-tailed Widowbirds, Compact Weaver, and a pair of Ross's Turacos. Swifts and swallows were around in good numbers; Barn Swallow, Angolan Swallow, and African Palm Swift took their places in the skies. Of course today was mostly a travel day, and everyone was pretty tired by the time we arrived at the hotel, so some good rest was in order.
Day 15, 15th August 2019. Budongo Forest
The Budongo Forest is the last forest we visit on this tour and it holds a great number of new species for our trip. Before arriving at the forest itself we birded some agriculture and picked up Singing and Whistling Cisticolas, Cabanis's Bunting, Copper Sunbird, Brown Twinspot, and African Yellow Warbler in full song. A couple of White-headed Saw-wings were perched up high. It wasn't long before we picked up Spotted Greenbul and had a good sighting of Fraser's Rufous Thrush as well as a pair of Fraser's Forest Flycatchers. Ituri Batis was one of our big targets, and we actually managed to get decent scope views of one. Chestnut-capped Flycatcher and Rufous-crowned Eremomela (two more Budongo specials) followed soon after. It was great watching the former move around and glean insects from the leaves as well as watching a few members of the latter preening away. Western Nicator and Western Oriole added a splash of yellow to the forest canopy. Kingfishers also played their part; first, Chocolate-backed Kingfisher showed pretty well and later we enjoyed incredible visuals of African Dwarf Kingfisher. Nahan's Partridge, Fire-crested Alethe, and White-spotted Flufftail were all present, but unfortunately we could not manage visuals. Many Asian countries are very well known for enormous, colorful hornbills, but Africa has a few beauties too, and we picked up another one here in the Budongo forest, namely White-thighed Hornbill, which breeds here in the forest and occasionally makes a nest along the Royal Mile stretch.
Day 16, 16th August 2019. Masindi to Murchison Falls via the western escarpment
We headed out around sunrise and started birding in the section of Budongo that one passes through to get to the escarpment. Other than a few Crowned Hornbills and a calling Forest Robin the most notable sighting was that of Crowned Eagle! A single bird was spotted perched fairly high but in the open. What a magnificent, powerful bird! Forest edge habitats produced Black-crowned Waxbill, Black-crowned Tchagra, and Pin-tailed Whydah. It was amazing to see the species change as the habitat and vegetation also changed. Black-rumped Waxbill, Lesser Blue-eared Starling, Cinnamon-breasted Bunting, and the dapper-looking Silverbird were all on the cards in quick succession, and White-shouldered Black Tit, Foxy Cisticola, and Beautiful Sunbird sightings soon followed. We couldn't track down a Western Black-headed Batis that was calling incessantly, but we did manage to see Black-faced Waxbill.
We proceeded toward Lake Albert, where we arrived at our safari lodge for lunch. After lunch and a quick rest in the heat of the day we birded some of the habitat on the shores of the Nile River. A pair of Red-winged Grey Warblers were a nice find right away, and then Purple-banded Sunbird and Buff-bellied Warbler gave some visuals. A local site for Spotted Palm Thrush produced the goods; two birds were hanging around in the thickets and gave some good views after some hard work. Black-billed Wood Dove also put in a good showing. A short drive that evening after dinner produced two Slender-tailed Nightjars, both of which were sitting on the dirt road just after 9 p.m.
Day 17, 17th August 2019. Murchison Falls National Park
I'm sure that many of us have experienced one of those days that is simply unbelievable, and today was one of those days! It would be our final full day's birding, and our group decided to make it count. An early breakfast was followed by a ferry crossing to the north side of the Nile, which produced a magnificent fly-by Goliath Heron. A family group of Speckle-fronted Weavers as well as a few very active Silverbirds provided some early excitement. We did not make it very far in the first hour, as we were kept busy by a host of new trip species: Brown-backed Woodpecker, Pale Flycatcher, Black-winged Red Bishop, Northern Crombec, and a spectacular sighting of two White-crested Turacos. Vultures were active fairly early, and we picked up Hooded, White-backed, Rüppell's, and White-headed Vultures all in quick succession. Heuglin's Francolin, Spotted Thick-knee, and Wing-snapping Cisticola were seen really close to the vehicle. A pair of Black-bellied Bustards gave the most enjoyable sighting! They flew in from behind us, the black-and-white flashes in the wings taking center stage, and then they proceeded to land alongside us. Mammals included Uganda Kob, Oribi, Giraffe, Hartebeest, African Buffalo, African Elephant, Side-striped Jackal, and Common Warthog. Three Abyssinian Ground Hornbills weren't far off the road, giving us time to watch them look for food in the open savanna. Northern Carmine Bee-eater is a stunning bird, and once we reached the west near the peninsula area they were fairly common. We added another mammal species to our day list when we were treated to another amazing Lion sighting. However, this was no normal sighting; a couple of vehicles were on site before us and let us know that this lioness was on the hunt. We waited a little while trying to keep track of the lioness in the long grass, but before we knew it she had pounced and Murchison Falls National Park had one less Uganda Kob!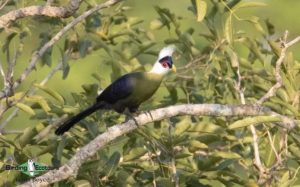 One of my personal favorite sightings of the tour was White-crested Turaco in Murchison Falls National Park.
A rest and a hot lunch were welcome after a morning that produced 30 odd new species for our trip. We then headed back to the boat launch, from where our boat cruise to see Murchison Falls departed. We spent a lot of the time searching the dense foliage along the banks of the Nile for White-backed Night Heron when our skipper exclaimed "There is the heron"! A great sighting, and that of a bird which had not been seen at its regular spot in Lake Mburo. African Finfoot and a pair of Rock Pratincoles were two other avian highlights. The boat headed east to the falls, which are of course spectacular in their own right. Murchison Falls is situated between Lake Kyoga in the east and Lake Albert in the west. Here the Nile forces its way through a seven-meter/23-feet-wide gap and then plunges over 40 meters/130 feet.
Our day was far from over, though. Further birding in the park produced a family of Brown Babblers, a few Fawn-breasted Waxbills, and an amazing sighting of Red-winged Pytilia! We managed to find an area where nightjars are known to be active around dusk. Black-shouldered Nightjar was heard calling, and then suddenly both a female and a cracking male Pennant-winged Nightjar were cruising around above us. It was still light enough to get a really awesome silhouette of the male with long pennants. Greyish Eagle-Owl also showed really nicely before we arrived back at the lodge. What a day!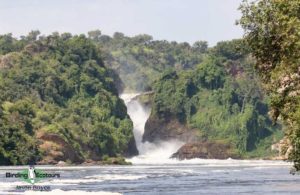 The majestic Murchison Falls from afar.
Day 18, 18th August 2019. Transfer to Entebbe
Despite having a fairly long drive back to Entebbe our final full day of the tour was enjoyable. Sightings of Abyssinian Ground Hornbill and Red-tailed Ant Thrush were welcome. The agricultural areas once again produced a few nice species: Purple-banded Sunbird, Marsh Tchagra, and Black-and-white Mannikin, as well as an awesome sighting of a single Cuckoo-finch.
After lunch we stopped at one of the large marshlands, where we picked up both Fan-tailed Widowbird and the similar Marsh Widowbird. Once safely back in Entebbe we added sightings of African Goshawk and Western Barn Owl.
Day 19, 19th August 2019. Departure
Today our wonderful tour came to an end with our international departures. All of us had thoroughly enjoyed a very successful Ugandan birding adventure!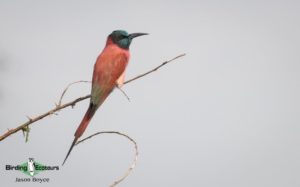 Uganda has bee-eaters and more bee-eaters! Pictured here is Northern Carmine Bee-eater at Murchison Falls National Park.

Please see the downloadable PDF above with the full species lists included.