Go to Western Cape bird tour page | South African bird tours | African trip reports |  All our birding tours
DOWNLOAD TRIP REPORT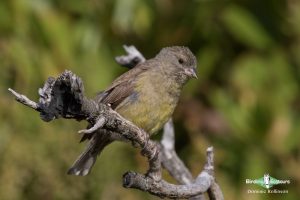 The endemic Cape Siskin put on a show for us at Rooi Els.
Overview
This short Cape tour was designed to provide a snapshot of what the beautiful Cape has to offer. The Cape has an incredibly high level of avian endemism (mostly due to the unique Fynbos vegetation found here), and it was many of these endemics that we spent our time searching for. This tour also has a lot more to offer than just the birding; the food and accommodation are top class, the scenery is at times breathtaking, and the weather is mostly perfect.
During this eight-day tour we managed an impressive bird list of 222 species (plus an additional 11 species heard only), including many South African endemics and near-endemics, such as African Penguin, Cape Gannet, Bank, Cape, and Crowned Cormorants, Jackal Buzzard, Grey-winged Francolin, Cape Spurfowl, Blue Crane, Ludwig's Bustard, Southern Black Korhaan, Large-billed, Cape Long-billed, and Karoo Larks, Cape Rock Thrush, Karoo, Sickle-winged, Tractrac, and Ant-eating Chats, Cape Rockjumper, Ground Woodpecker, Cape Grassbird, Cape Penduline Tit, Karoo Eremomela, Cinnamon-breasted, Namaqua, and Rufous-eared Warblers, Fairy Flycatcher, Pririt Batis, Cape Sugarbird, Orange-breasted and Southern Double-collared Sunbirds, Swee Waxbill, Forest Canary, and Cape Siskin.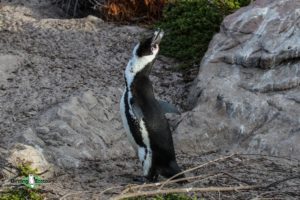 African Penguins were seen at their breeding colony at Stony Point.
During our travels we also came across a few interesting mammal species, with the highlights being Bontebok, Gemsbok, Common Eland, Cape Grey Mongoose, and Cape Porcupine.
Detailed Report 
Day 1, 7th October 2018. Arrival in Simonstown
With most clients only arriving later in the day we did not do a great deal of birding today. However, we did manage to visit Boulders Beach in Simonstown, where recorded a number of coastal species such as African Penguin, African Oystercatcher, Greater Crested Tern, Crowned and Cape Cormorants, and Hartlaub's Gull. In the vegetated patches we also found Speckled Mousebird, Cape Bulbul, Karoo Prinia, Cape White-eye, and Cape Robin-Chat. Later in the afternoon we headed to some nearby wetlands, which had some good birding. Here we found Malachite Kingfisher, Red-knobbed Coot, Reed (Long-tailed) Cormorant, Fiscal Flycatcher, Malachite Sunbird, Southern Masked and Cape Weavers, and a few impressive male Pin-tailed Whydahs. When we arrived back at our accommodation in Simonstown we picked out a distant Brown Skua over False Bay. In the evening we enjoyed a great meal with the anticipation of a full week's birding around the Cape ahead of us!
Day 2, 8th October 2018. Day trip to the Betty's Bay area
We were on the road before sunrise this morning to ensure we could be at our first birding spot in the glorious early-morning light. We arrived at Rooi Els in good time and soon began our hunt for the elusive Cape endemic, Cape Rockjumper. While searching for rockjumpers we came across a number of other good birds along our walk, including Cape Bunting, Cape Spurfowl, African Black Swift, Jackal Buzzard, Rock Kestrel, Cape Grassbird, Neddicky (Piping Cisticola), Grey-backed Cisticola, Victorin's Warbler (heard only), Cape Rock Thrush, Cape Sugarbird, Orange-breasted and Southern Double-collared Sunbirds, and Cape Siskin. It took a while, but eventually a pair of Cape Rockjumpers showed well, and soon after that a Ground Woodpecker showed itself too (well spotted, Rudolf!). Unfortunately a calling Sentinel Rock Thrush, higher up the slope would not play along! A quick seawatch had a few White-chinned Petrels and Cape Gannets but not too much else unfortunately.
We then moved around the corner to Harold Porter National Botanical Garden in Betty's Bay, where we wandered around the beautifully kept, indigenous garden. Highlights here included Cape Batis, African Paradise Flycatcher, Blue-mantled Crested Flycatcher (heard only unfortunately), Sombre Greenbul, Black Saw-wing, Olive Thrush, African Dusky Flycatcher, Yellow Bishop, Brimstone and Cape Canaries, and a magnificent pair of soaring Verreaux's Eagles, which gave us prolonged views.
For our lunch stop we enjoyed another fantastic meal at the Stony Point penguin colony (one of only two mainland African Penguin colonies), where we saw many comical African Penguins, a few African Oystercatchers feeding on the rocks, and good views of a large colony of breeding Bank, Crowned, Cape, and White-breasted Cormorants nearby.
In the early afternoon we made our way back toward Simonstown but made sure that we had enough time left for a visit to Strandfontein Sewage Works, which is surely one of the top birding spots around Cape Town. Soon after arriving we were inundated with new birds, thousands of Greater Flamingos (with smaller numbers of Lesser Flamingos), a wide range of waterfowl species (Spur-winged and Egyptian Geese, South African Shelduck, Yellow-billed and Maccoa Ducks, Cape Shoveler, Cape, Hottentot, and Red-billed Teals, and Southern Pochard) and a few common Palearctic shorebirds. Other species which took a bit more work to find included Black-necked (Eared) Grebe, White Stork, Spotted Thick-knee, Grey-headed Gull, Purple Heron, Whiskered Tern, Intermediate Egret, and Glossy Ibis. In the surrounding scrub and reedbeds we found Black-winged Kite, Little Rush and Lesser Swamp Warblers, Cape Longclaw, and Cape Weaver.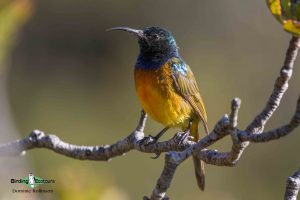 The beautiful Orange-breasted Sunbird is common in mountain fynbos of the Cape.
Day 3, 9th October 2018. Cape Peninsula birding
Unfortunately due to strong winds and swells our pelagic trip was called off today. However, that meant that we had more time to bird the Cape Peninsula and target a few species which generally require a bit more effort to find.
Our first stop for the day was the Zeekoevlei wetland, where we managed to find Black Crake, Black-crowned Night and Purple Herons, African Spoonbill, and African Darter. Afterwards we drove around the corner to Rondevlei Nature Reserve, where we spent a few hours exploring the wetland from the various well-positioned hides. Rondevlei has a different mix of wetland bird species from Strandfontein Sewage Works, and hence we managed to add a number of new birds to our trip list, including Great Crested Grebe, African Swamphen, Little Bittern (fleeting glimpses), African Marsh Harrier, African Reed Warbler, Greater Striped Swallow, and Red-faced Mousebird.
Next was the world-famous Kirstenbosch National Botanical Garden for a very different mix of species. We spent a good couple of hours walking around these beautiful gardens, with Table Mountain as a backdrop, and managed to find some great birds.  Highlights of our time here were Lemon Dove, Cape Batis, Bar-throated Apalis, Cape Bulbul, Swee Waxbill, Forest, Brimstone, and Cape Canaries, and a really vocal Klaas's Cuckoo, which annoyingly would just not show itself. The resident Spotted Eagle-Owls also showed really well for us and posed for photographs.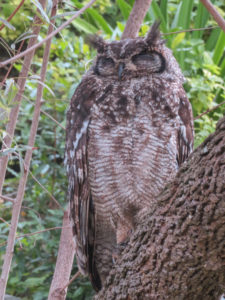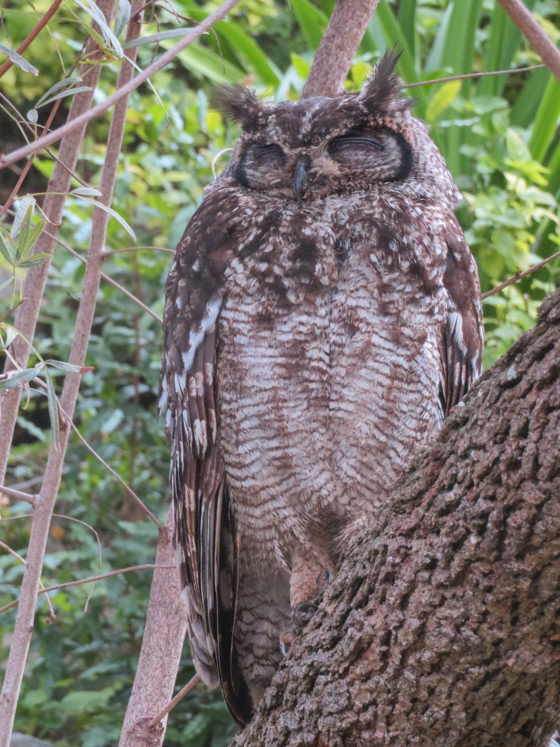 The resident Spotted Eagle-Owl showed well at Kirstenbosch National Botanical Garden (photo Rudolf Koes).
Day 4, 10th October 2018. West coast birding
This morning we headed out early to bird some wetlands not far from Simonstown before coming back for breakfast at the guest house. The early morning's birding did not produce too much but did get us our first Southern Boubou of the trip.
After breakfast we packed the vehicle and headed north to the west coast, where we were to spend the day birding. En route to West Coast National Park we birded some farmlands and strandveld vegetation just outside the park and had a really productive couple of hours there. Some of the highlights from our time here included Blue Crane, Martial Eagle, Jackal Buzzard, Lanner Falcon, Southern Black Korhaan, White-backed Mousebird, African Hoopoe, European Bee-eater, Greater Honeyguide, Pearl-breasted Swallow, Cardinal Woodpecker, Bokmakierie, Red-capped Lark, Pied Starling, African Stonechat, Capped Wheatear, and Karoo Scrub Robin. A quick stop at a patch of nearby grassland had us adding Large-billed Lark, Cape Longclaw, and Cloud Cisticola.
Once in the West Coast National Park we headed to Abrahamskraal bird hide, which overlooks the only freshwater in the park. Here we found Yellow Canary, Cape Weaver, African Swamphen, Black Crake, and White-throated Swallow, and, just as we were leaving, we had amazing views of an incredibly confiding African Rail.  Later in the afternoon we stopped at Seeberg hide, which overlooks some mudflats within the huge Langebaan Lagoon. Here we found an assortment of shorebirds, including Whimbrel, Eurasian Curlew, Grey, Common Ringed, Kittlitz's, White-fronted, and Three-banded Plovers, Ruddy Turnstone, and Common Greenshank. The tern roost had large numbers of Greater Crested, Caspian, and Sandwich Terns and a single Common Tern. Other good birds seen throughout the park included Cape Penduline Tit, Chestnut-vented Warbler, Grey-winged Francolin, and great sightings of at least two Black Harriers!
Day 5, 11th October 2018. West Coast to Tankwa Karoo
For those who were keen to join we left on a predawn mission to look for displaying Cape Clapper Larks. Unfortunately, there were none calling in the area, and so we headed back for an early breakfast at the guest house before making our way farther north up the west coast. En route to the farmlands of Vredenburg we stopped around Langebaan, where we found a number of displaying Cape Clapper Larks as well as Cape Long-billed and Karoo Larks and Southern Black Korhaan. The farmlands proved really productive with sightings of Blue Crane (dozens!), Spotted Thick-knee, Capped Wheatear, Namaqua Dove, Grey Tit, Banded Martin, and Sickle-winged Chat, with sighting of the day going to a distant Ludwig's Bustard.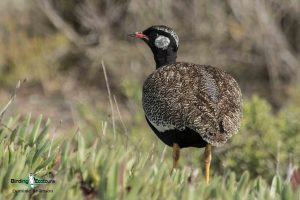 Southern Black Korhaan was seen on the west coast.
After leaving the farmlands we stopped briefly at a salt works in Velddrif, where we added Chestnut-banded Plover (many), Red-necked Phalarope, and Pied Kingfisher before we headed inland toward the Tankwa Karoo. Before crossing the mountains into the Tankwa Karoo Betty brought the car to a halt, as she had spotted a Secretarybird that provided us all with fantastic views of one of the weirder-looking birds on the planet. We also found another new bird en route in form of Grey-backed Sparrow-Lark. Before dinner some of us managed to hear the distant call of a Rufous-cheeked Nightjar; unfortunately the bird could not be seen!
Day 6, 12th October 2018. Tankwa Karoo birding
Today we had the full day to bird the vast open plains of the Tankwa Karoo; always an exciting prospect when you understand just how many special birds are on offer here! First thing in the morning we headed into the plains, where we soon found Karoo Eremomela, Rufous-eared Warbler, Karoo and Tractrac Chats, Karoo Korhaan (heard only), and Spike-heeled Lark. Before breakfast we thought we would give a nearby gorge a try for Cinnamon-breasted Warbler. Alfonso produced the goods soon after we jumped out the car, as he had spotted a pair of warblers working their way along the scree slope. This was definitely the shortest time I've ever spent looking for this species, which can give you the runaround for hours. Other good birds seen here included Fairy Flycatcher, African Reed Warbler, White-throated Canary, Layard's Warbler, Mountain Wheatear, and Dusky Sunbird. Around our accommodation we found a very obliging pair of Nicholson's Pipits (a recent Long-billed Pipit split). The morning couldn't have started much better!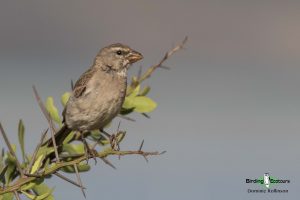 White-throated Canary was common in the Tankwa Karoo.
After a hearty breakfast we headed north into the plains toward the Tankwa Karoo National Park. Birding was a little slower during the heat of the day, but we did accumulate a number of new birds throughout the afternoon, including Pale Chanting Goshawk and Greater Kestrel perched up on electricity pylons, Pririt Batis, Acacia Pied Barbet, Yellow-bellied Eremomela, Namaqua Warbler in dry riverbeds, and Ant-eating Chat and Lark-like Bunting in the open plains. In the Tankwa Karoo National Park we came across a number of larger game species including Gemsbok, Springbok, and Steenbok.
In the late afternoon we tried a large reedbed for views of Red-chested Flufftail; however, we had to be content with just hearing them for now! In the evening we went for a night drive, but unfortunately the wind was blowing strong and the best we could do was to hear distant Freckled Nightjars and Western Barn Owl.
Day 7, 13th October 2018. Tankwa Karoo to Cape Town
This morning we headed back to the reedbeds to have another crack at Red-chested Flufftail. As we arrived at the site we flushed a couple of African Snipes and then began the vigil of waiting for the flufftails to show themselves. After a long wait a couple of us managed brief views of a single male Red-chested Flufftail as it briefly crossed the path.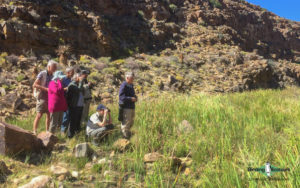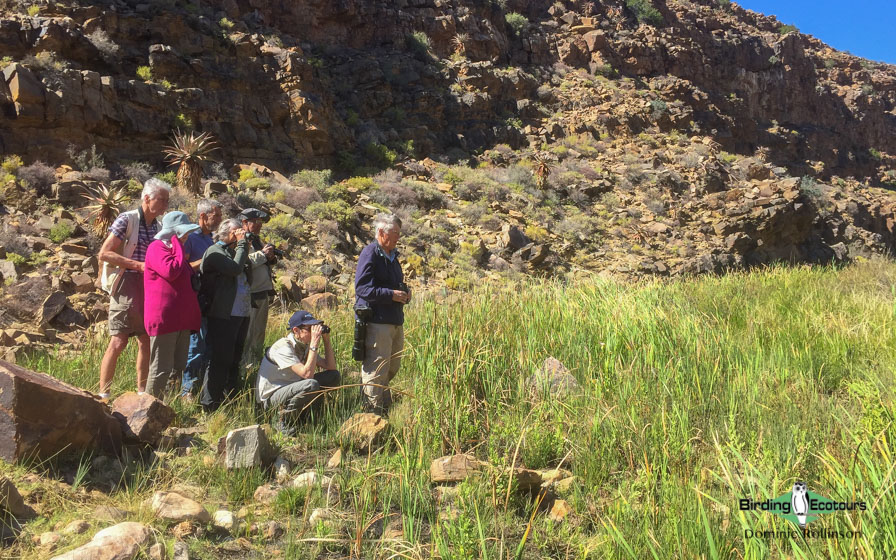 Waiting for a flufftail!
On our way out of the Tankwa Karoo we had great sightings of a single Verreaux's Eagle as it flew by low over the road. The Tankwa Karoo is notoriously tough-going on cars and tires, and up until now I had been fortunate, after dozens of trips, to never have a flat tire. Unfortunately it seemed my luck had run out today; we had three flat tires while making our way back through the Tankwa Karoo, which cut into our birding time. Thankfully at one of the tire-change stops a Black-headed Canary decided to show itself and at the next a Diederik Cuckoo; however, it did mean that we had run out of time (and tires) to look for Protea Canary on our way home.
Once we had made it back to Cape Town we did some forest birding in the late afternoon to look for anything we had missed during our time around Kirstenbosch. We added a few new birds in form of African Goshawk, Common Chaffinch and African Olive Pigeon. Later in the evening, after our final dinner of the trip, we headed out once more to search for African Wood Owl and were rewarded with good views of a confiding pair.
Day 8, 14th October 2018. Departure
After a fantastic week of birding around the Cape unfortunately the tour came to an end this morning. As we were packing the vehicle an African Harrier-Hawk flew by briefly before we headed to the airport, where some of us would be carrying on to join our 18-day Subtropical South Africa tour starting in Durban later that afternoon.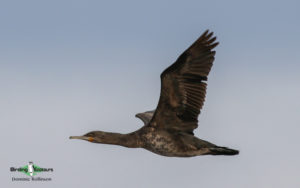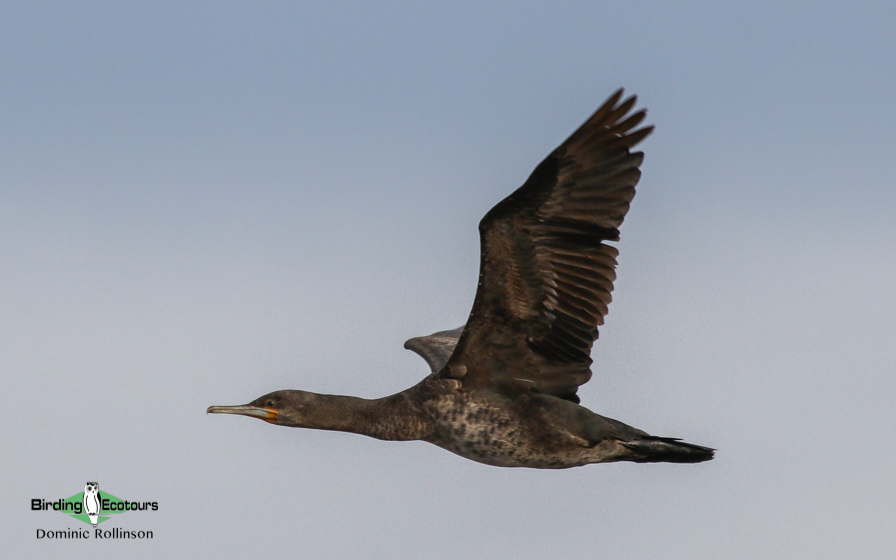 Cormorants, such as this Cape Cormorant, were seen well at Stony Point.
 Please see the downloadable PDF above with the full species lists included.