Posted on 15 December 2020.
Southern Spain is the western focal point for the spring passage bird migration in Europe, and it will come as no surprise that spring is the best time to visit this wonderful area. The spring season is typically split into three parts with an early, mid, and late season seeing a different range of species arrive in the area. As this occurs over a three-to-four-month period it is naturally difficult to cover all the parts of the spring season in one trip. However, one can find each part of the spring season rewarding and we have broken down what to look out for in each part of the season.
The migrant birds that arrive in Europe in the spring, start their journey from their wintering grounds in sub-Saharan Africa, in countries like The Gambia, Ghana, and even as far as South Africa. After a long journey, including crossing the Sahara Desert, they reach the northern coast of Morocco. From here they cross the eight-mile (14 kilometer) Strait of Gibraltar, into mainland Europe. Key migration spots in southern Spain include Cazalla, Playa de los Lances, Punta Carnero, and the Marismas de Barbate. The British Overseas Territory of Gibraltar is also a wonderful spot to watch migrating birds of prey and find migrating passerines, shorebirds (waders), and seabirds.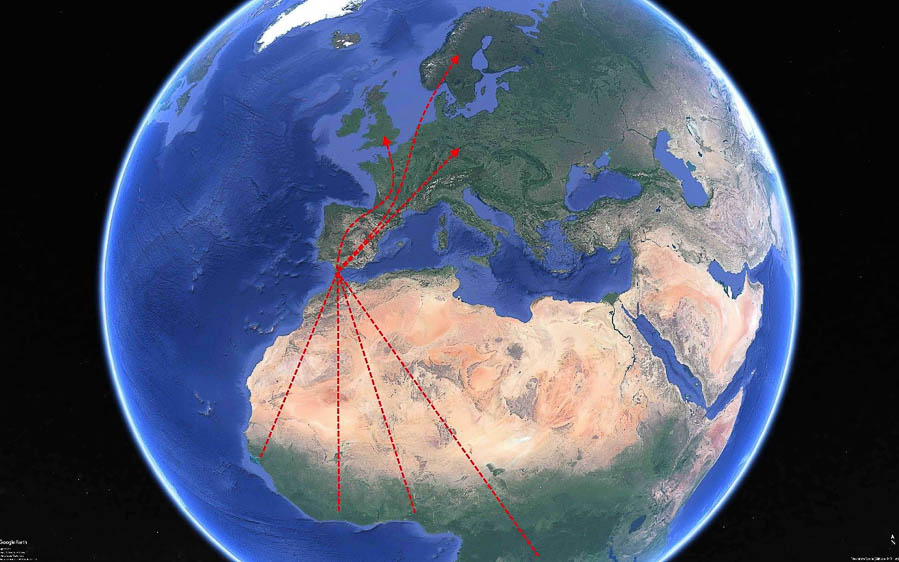 The northward spring migration through southern Spain sees migrants spread out across western and northern Europe after spending the winter in sub-Saharan Africa (Google Earth).
Early Spring Birding in Southern Spain – Typically early-February to mid-March
This is the period when we see the first northbound spring migrants usually beginning to arrive in southern Spain, although they can sometimes even arrive as early as late-December! Species which typically arrive from sub-Saharan Africa in this period include Great Spotted Cuckoo, White Stork, Alpine Swift, Pallid Swift, Western Subalpine Warbler, and Black Kite. Due to Spain's mild climate during winter, many species choose this part of Europe as an overwintering area and during this period, lingering winter birds including Black-crowned Night Heron, Black Stork, Hen Harrier, Merlin, Common Buzzard, Western Osprey, Black-winged Kite, Cinereous Vulture, Common Crane, Eurasian Wryneck, Alpine Accentor, Ring Ouzel, Black Redstart, and Common Chiffchaff can be observed.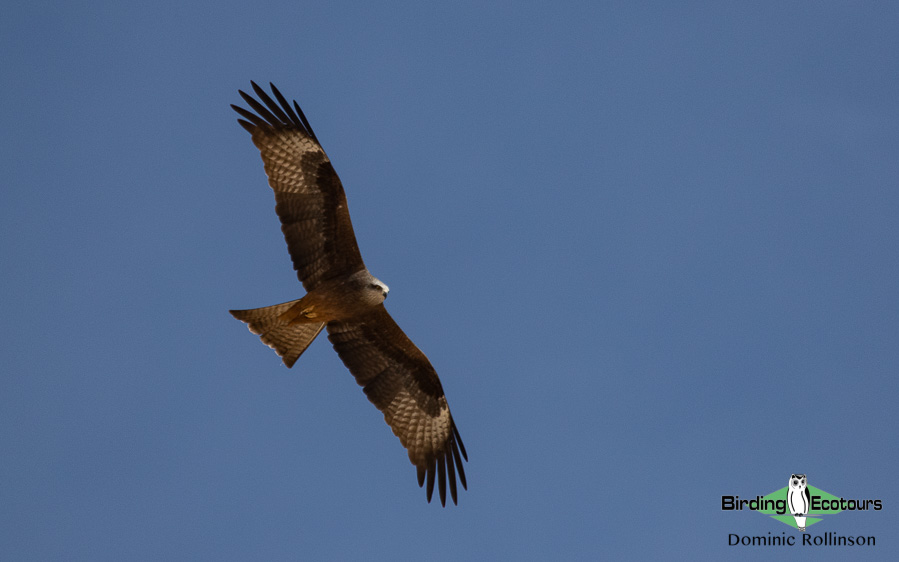 Black Kite is one of the many migrants which arrive from Africa.
Mid Spring Birding in Southern Spain – Typically mid-March to late-April
This period is generally the peak of the northbound migration across the Strait of Gibraltar. The number of species moving at this time of year is vast and it is during this period that literally anything could turn up. The biggest and most visible spectacle at this time of year is the bird of prey migration and this period is the peak time for Black Kite, Egyptian Vulture, Griffon Vulture, Short-toed Snake Eagle, Montagu's Harrier, Booted Eagle, and Lesser Kestrel, with the occasional sighting of Eleonora's Falcon.
This is also an important period for migrating wetland species with Collared Pratincole, Purple Heron, Squacco Heron, Little Bittern, Gull-billed Tern, Caspian Tern, and Whiskered Tern all arriving now, some of these species continue further north and west, though some remain to breed in Spain. Migrant passerines are also well represented with the arrival of Greater Short-toed Lark, Western Black-eared Wheatear, Spectacled Warbler, Iberian Chiffchaff, European Pied Flycatcher, Western Orphean Warbler, Savi's Warbler, Great Reed Warbler, Woodchat Shrike, and many others.
Finally, some of the region's most striking species also arrive in this period with Common Cuckoo, European Bee-eater, European Roller, Eurasian Hoopoe, Eurasian Scops Owl, and Red-necked Nightjar all arriving and present in the right habitat.
This is an incredibly exciting time to be birding in this part of Spain and it is our favorite time of the year to explore this beautiful region. The volume of birds passing through the key birdwatching sites is really impressive.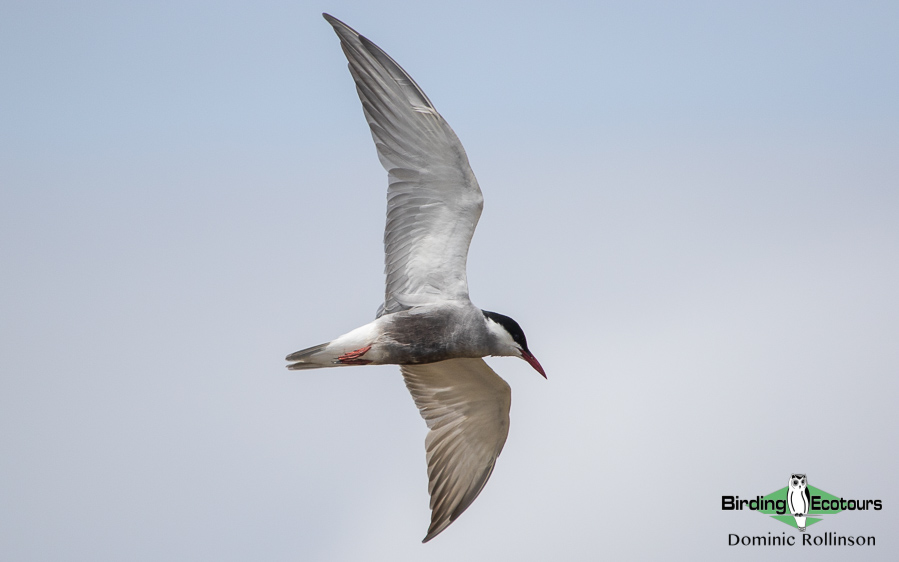 Whiskered Tern is one of the many species to migrate to the wetlands of southern Spain in spring.
Late Spring Birding in Southern Spain – Typically early-May to late-May
The migration begins to wind down as the en masse movement slows and birds begin to settle in for the breeding season. That said, this period still holds a lot of interest with some exciting species arriving now. Early in May sees the peak passage of the European Honey Buzzard migration and these are joined by the huge Griffon Vulture. Those with a keen eye might possibly spot the Critically Endangered (BirdLife International) Rüppell's Vulture in with the larger Griffon Vultures.
Other species of note during this period include Eurasian Golden Oriole, White-rumped Swift, Tawny Pipit, Rufous-tailed Scrub Robin, Melodious Warbler, and Western Olivaceous Warbler.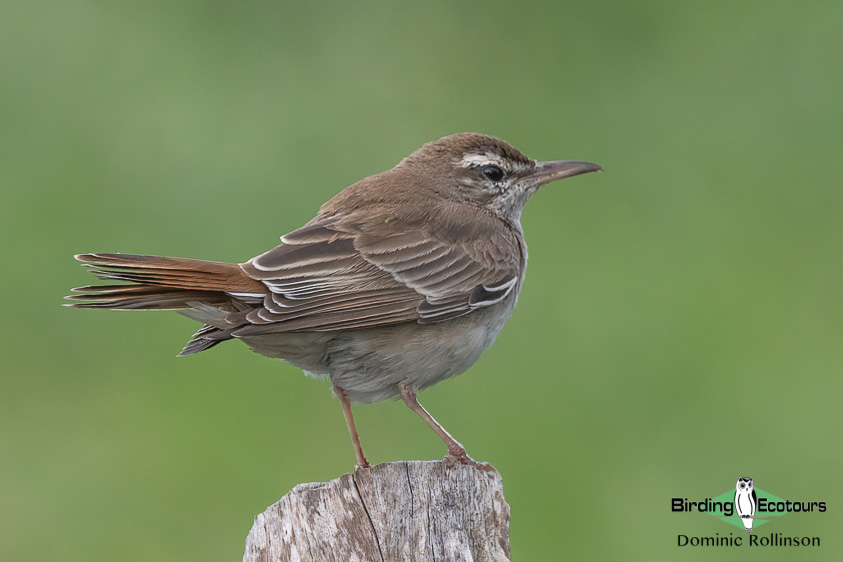 Rufous-tailed Scrub Robin is a graceful late spring migrant to the area.
Birding in Southern Spain – Interesting Resident Birds
While the migration is certainly a fantastic spectacle, it is worth remembering that southern Spain has a great number of amazing resident species too. Thanks to the vast array of habitats, the area can support species all year round, such as Griffon Vulture, Black Wheatear, Blue Rock Thrush, Rock Bunting, Cirl Bunting, Zitting Cisticola, Corn Bunting, Common Kingfisher, Sardinian Warbler, and European Crested Tit, while a number of migratory species are now resident year-round including White Stork, Black-winged Kite, and Squacco Heron.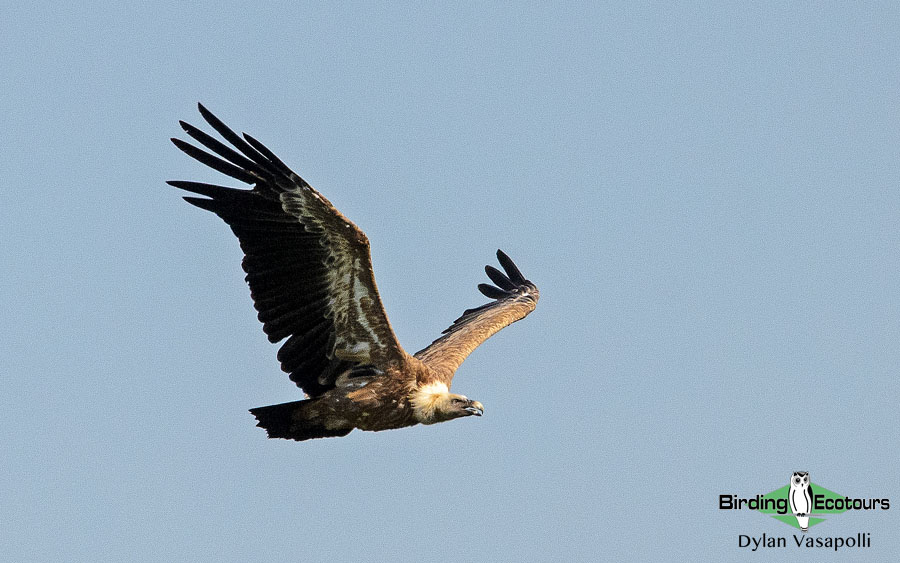 The huge Griffon Vulture is one of many exciting resident species in southern Spain.
Whichever period of spring you decide to visit Spain, you can be guaranteed superb birding. We have scheduled our Spain: Spring Birding Extravaganza tour to sit right across the peak period of migration to maximize the number of species we can see.
As a follow up to this blog we will be telling you about some of the best birding areas in Spain. These will not just be the more typical and well-known sites (including Doñana National Park, Brazo del Este, Sierra de Grazalema, and La Janda), but also some hidden gems that make great places to visit throughout the year.