Birding Ecotours Banner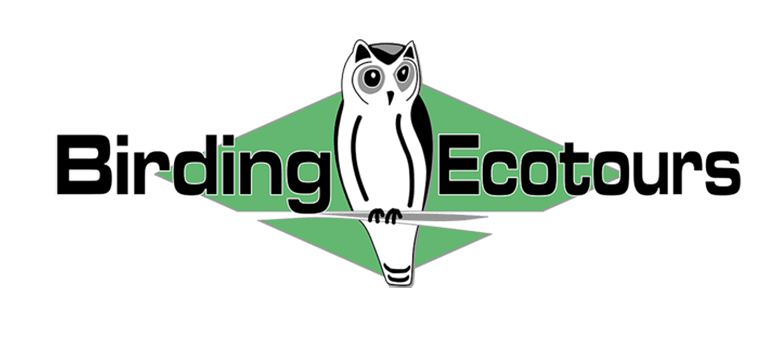 Small group and custom-made birding adventures worldwide
BIRDING TOURS WORLDWIDE
Welcome to Birding Ecotours! Here we will present to you some of the world's most spectacular birding tours around the world. Our trips are for small groups of only 6-8 participants. Quality is of paramount importance to us; we prefer to use superior accommodation (where available at the top birding sites) and vehicles. Despite our focus on small groups and the fact that we err on the side of superior quality, our prices are competitive. It is Birding Ecotours' company policy to contribute a minimum of 10 % of profits to conservation and local communities. We are passionate about birding and also about leaving a legacy – by genuinely helping people and conserving birds – for generations to come.
We like to do things differently. For example, we offer some unique tours in addition to our standard birdwatching tours, including Owls of the World® tours, tough mammal tours (fancy an Aardvark or a Black-footed Cat?), and more. Since 2003, we have been innovating some of the most wonderful bird and wildlife tours available.
What is one of our typical birding tours like?
Our main focus is, of course, on finding the important birds (especially the endemics and specials). Our trip lists are very important to us (we do really encourage you to look at our trip reports – which contain bird and mammal lists – and compare them with those of other companies). However, we understand that birding tours can be tiring, so we as a company prefer to add a day or two and actually have folks enjoy the birding tour – this allows us to accumulate a big bird list (including backup time for finding the most important birds), but it also gives us time to enjoy the bird sightings, as well as to stop for each species of mammal (plus other interesting things we may encounter along the way) rather than to be forced to tell our guests "sorry, we have no time to stop for anything without feathers" – that can be frustrating. Hence, we tend to add a couple of days so we can get the best bird lists in the industry, but without as much of a huge rush as some other companies' bird tours. As just one example, we must have the most comprehensive eastern South Africa birding tour out there (by the way, so many mammals are also seen on this trip, incidentally to the birding).
We also run a good number of Birding Photo Tours, which need a different approach from typical birding tours – more space in the vehicles for camera gear, the correct tour pace to get photos, making sure the vehicle is at the right angle, and constantly thinking about lighting (although these things are important even on a standard birding tour, they are even more vital on a photographic birding/wildlife vacation). We also operate various other kinds of tours such as birding and wildlife cruise holidays, pelagic trips and 1-day birding tours. Our main focus, of course, is on birding tours!
One of the things we pride ourselves in the most, though, is our enthusiasm which means we get back to you with excitement from the minute you contact us. We tend to struggle to contain our enthusiasm and excitement, so when you e-mail us, you'll doubtless find that we get back to you fast with detailed information. It's our contagious enthusiasm for birding (and for the natural world as a whole) and for people, that spurs us on to give outstanding service.
Where can you find us?
We take beginner, intermediate, and advanced birders on birding tours to many countries, which include Angola, Argentina, Australia, Austria, Bhutan, Bolivia, Botswana, Brazil, Bulgaria, Cameroon, Canada, Chile, China, Colombia, Comoros, Costa Rica, Cuba, Ecuador, Ethiopia, Finland, Fiji, France, Gabon, Ghana, Greece, Guatemala, Guyana, Hungary, Iceland, India, Indonesia, Israel, Jamaica, Japan, Kenya, Madagascar, Malawi, Malaysia, Mongolia, Morocco, Mozambique, Namibia, Nepal, New Caledonia, New Zealand, Panama, Papua New Guinea, Poland, Peru, Romania, Samoa, São Tomé and Príncipe, South Africa, Spain, Sri Lanka, Sweden, Taiwan, Tanzania, Thailand, Trinidad and Tobago, Turkey, the United Kingdom, the USA, Uganda, Vietnam, Zambia, and Zimbabwe, and we can arrange cruises to the Arctic and Antarctica!
Custom and Anytime Birding Tours anywhere in the world
We can run any of our birdwatching tour itineraries any time by request. Or you can send us a wish list and we'll design a custom birding tour for you. We actually get extremely excited about arranging bespoke birding tours around a wish-list.
MONTHLY VIDEO
Yellow-footed Flycatcher is a scarce West African species that is very rare in Uganda. Here it is only very occasionally seen in the dense lowland forests of the Semuliki valley. Dylan and his group were incredibly lucky to find this rare species on one of his trips to the Semuliki valley!
WHAT PEOPLE SAY ABOUT US
Dylan Vasapolli is extremely knowledgeable about birding and photography, but it's his enthusiasm for the subject that is wonderful to experience. He has been birding for many years, and still, he has such a love for birding and the environment, which is very infectious. I was extremely lucky to have him as my guide.
Alma - On Dylan and South Africa
We just returned from our trip to Thailand. It was wonderful. Thank you very much for arranging our tour with Andy Walker. He was the best guide we ever had. He is knowledgeable,easy going, hard working, and has all the qualities that people expect from a guide. We really enjoyed birding with him. We would be happy to go birding with him any time and would highly recommend him as a guide to any of our friends. Thanks again for giving us the opportunity to have him as our guide.
Ahmad and Sue - On Andy and Thailand
What do you most need in a guide and a tour company? Some would say trustworthy arrangements that yet stay flexible to the needs of the individual birder, some would say someone who can find you the target birds and others might say an all-rounder who combines birding knowledge, great communications skills and organisational ability. Birding Ecotours and its owner/operator Chris Lotz tick all the boxes! I've birded with Chris and travelled with the company and asked them to arrange tours for others, and Chris has come up trumps every time. I value my own integrity too much to give endorsements unless I have personal experience that truly warrants it. I recommend Chris Lotz and Birding Ecotours!
Bo - On Chris and Birding Ecotours
Our birding trip to Ethiopia was fantastic. The country is so rich in history and interesting people and customs. The birding was great! Needless to say Dominic is an expert birder. He is a warm and gracious person and we all really enjoyed his company. Our Ethiopian driver and guide, Tesfaw, was also very good. He was an experienced guide and driver. His contacts were good as were his day to day decisions. He kept our group on time and on schedule but was also flexible to our requests and needs. We rate our trip excellent (A,10/10). Thank you for all your work in arranging the trip. We appreciate all your prompt correspondences. We certainly will be using Birding Ecotours in the future. We hope to meet you in person some day.
Laurie and Steve - On Dominic and Ethiopia
I've just returned from our custom tour with Eduardo and I want to tell you – he is a jewel! Very knowledgeable, approachable, friendly and seems to enjoy birding and helping other birders find and appreciate the birds. His guiding, listening and decorum were beyond reproach. He could many times describe where the target bird was, rather than just pointing and scaring it away. A true gentleman and very helpful when I needed help or clarification. It would be a pleasure to go again with him. He was able to find 26 lifers for me when I expected at the most 19. Now my world list total is 7466 and counting!
Kay - On Eduardo
Maine is beautiful, whether you're on the shore or inland, and this tour showed us the best of both. Experiencing the variety of habitats with a knowledgeable guide and great companions was just what we needed after a year of not travelling. Jacob was a great leader for our group, making sure we saw the birds we wanted, but also on the look-out for mammals or letting us slow down to enjoy the wildflowers.
Tracy - On Jacob and Maine, USA
I would definitely recommend Birding Ecotours! Before the trip, we had prompt responses to our enquiries and we were fast assigned to a guide, Dominic Rollinson. We had such a great time with Dom on our day out in the Cape Peninsula. He was flexible with the schedule, itinerary, and with our photographic demands. He adjusted the trip so that we did everything at a slower pace, to be able to take pictures of literally every bird we saw. He knew how to position the car to get a better light on the subject, when that was the case. He's very patient and pleasant to be with, and he shared with us some tips on where to go during the next days.
Olivia - On Dom and Cape Day Tours
Andy Walker is a truly exceptional guide. His ready knowledge of both the local and worldwide birds is phenomenal.
Andy is a very kind, helpful guide who repeatedly went out of his way to help all of us on the tour. I would bird again
with him and, in fact, that's just what I'm doing right now, as I'm in Manokwari, W. Papua for the start of another tour
with him. Andy has my highest recommendation.
Charles - On Andy and Sulawesi and Halmahera
Andy Walker is one of the best, good-natured birding guides who has served me on 42 guided tours. He makes
certain that everyone in the group has seen each bird and keeps at it until that happens. The two Indonesian tours I took with Andy immediately before this one was excellent and I was able to meet my goals of seeing the last three bird families of all 248 (eBird/Clements list) and to see half of all bird species. Andy has my highest recommendation to other birders – he will serve you well!
Charles - On Andy