Subtropical South Africa Birding Tour: Comprehensive Eastern South Africa
Go to: South Africa Birding Tours | Birding Tours in Africa | All our birding tours
Download Itinerary
Subtropical South Africa Birding Tour: Comprehensive Eastern South Africa
October 2024 / 2025
This is a premium tour with open safari vehicles in Kruger and enough time to stop for mammals while accumulating a large bird list
This subtropical (eastern) South Africa birding tour provides a representative sample of the very best that African birding can offer. Large numbers of species will be seen (the typical bird list for this adventure is in the range of 400 – 450 species for our October departures when migrants are present). Among these many birds, we encounter a lot of South African endemics such as the numerous localized denizens of the scenically spectacular Drakensberg Escarpment (the imposing "Barrier of Spears" as locals call it). Apart from yielding hundreds of bird species, this dream African experience also provides the possibility of seeing Lion, Cheetah, Leopard, African Elephant, White and Black Rhinoceros, Hippopotamus, Giraffe, Burchell's Zebra, multiple antelope species, Nile Crocodile, and many other large (and small) animal species, with breathtaking scenery as a backdrop. We also often get feedback that the accommodation on this tour is great and indeed South Africa has an unsurpassed infrastructure of brilliant value B&Bs/lodges as well as good roads, compared to anywhere else in Africa.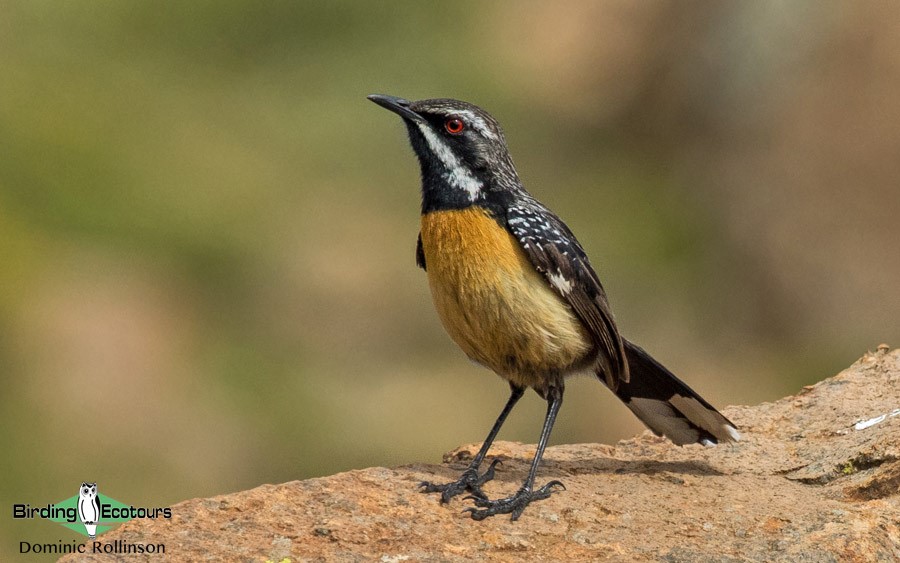 The stunning Drakensberg Rockjumper occurs only in southern Africa and is one of the most-wanted specials of this tour!
We start this birding safari with an arrival in Durban on the east coast of South Africa, bounded by the warm Indian Ocean. Durban must be one of the "birdiest" cities on earth, and here we spend time looking for subtropical coastal species. We then head inland to the KwaZulu-Natal midlands and the foothills of the spectacular Drakensberg area of the Great Escarpment, where temperate forest and high-altitude grassland birds abound. The rare Cape Parrot is one of the targets (which, interestingly, cannot be found on our Cape birding tour despite its name), as are the beautiful Green Twinspot, two dapper ground thrush species (Spotted and Orange Ground Thrushes), the dazzling Narina Trogon, the impressively beautiful Green Twinspot, and, last but not least, the Vulnerable, declining Blue Swallow (what a truly spectacular-looking hirundine!). We then ascend the heights of the Drakensberg into Lesotho via Sani Pass, an amazing road that gives access from the base of the escarpment right up to the high plateau at 10,000 feet (over 3,000 meters), with different endemics appearing as elevation increases – near the base are birds such as Bush Blackcap, then as one ascends Gurney's Sugarbird, Ground Woodpecker, Sentinel Rock Thrush, and the shining, metallic Malachite Sunbird appear, followed eventually by high-plateau species including Drakensberg Rockjumper, Drakensberg Siskin, and Bearded Vulture (which we often see across the border in the tiny kingdom of Lesotho).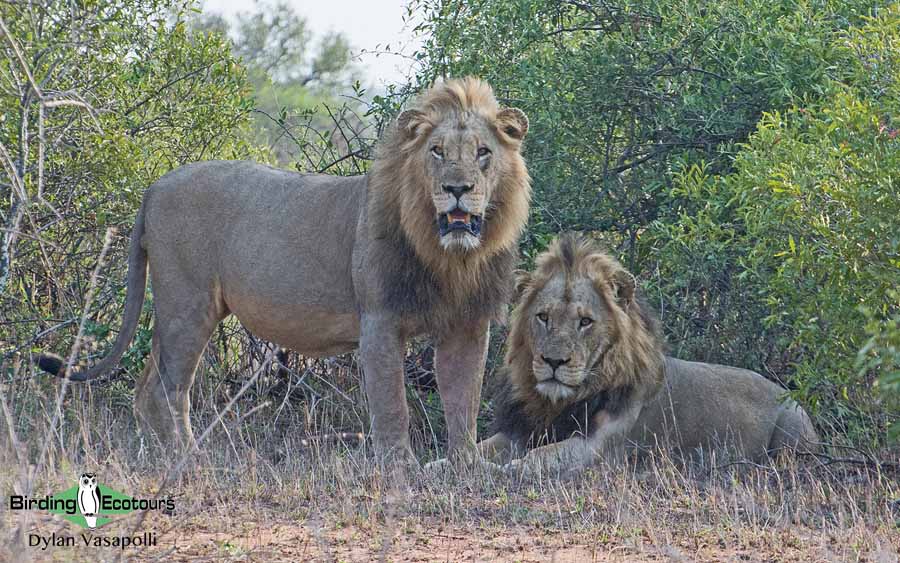 Majestic Lions, one of Africa's most iconic mammals, should be seen on this tour!
Zululand, probably the most bird-diverse corner of South Africa, is next on our agenda, and not only does it have a great many species, but there are several very localized ones, basically only occurring here and in southern Mozambique – e.g. Pink-throated Twinspot, Lemon-breasted Canary and Neergaard's Sunbird. This also is big mammal country and one of the world's strongholds for Black and White Rhinoceros, is very good for Leopard, and also hosts a variety of mammals not likely to be seen in Kruger – including Samango Monkey, Nyala, the absolutely tiny Suni antelope, etc.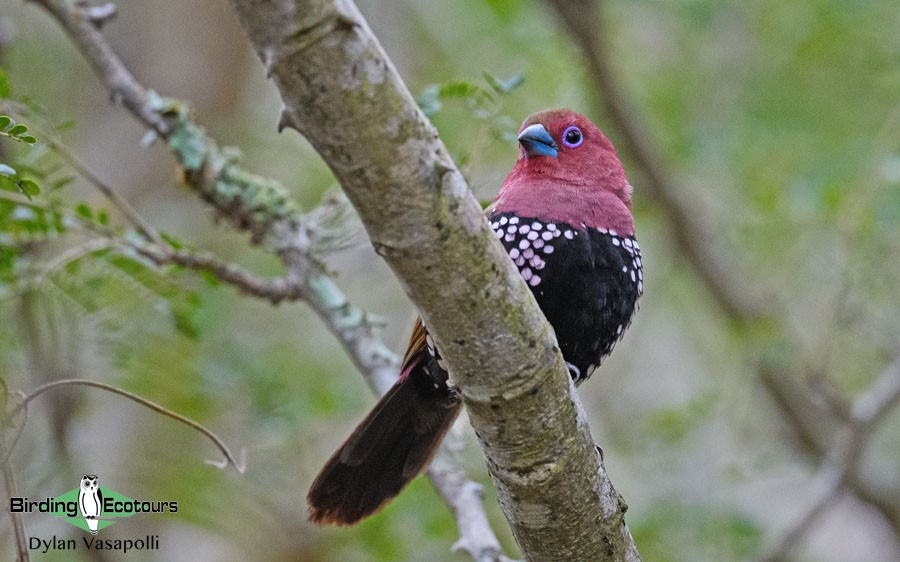 Pink-throated Twinspot is one of the specials of the Zululand region.
We then ascend to the legendary (among birders seeking endemics) Wakkerstroom highlands, and eventually we reach the Kruger National Park, one of the world's greatest game parks, which is not only teaming with African megafauna but also has a brilliant bird list of over 500 species, many of them large and spectacular (e.g. a bunch of stork, raptor and owl species not to mention bustards and Secretarybird) or brightly-colored (e.g. all the barbets, bee-eaters, rollers, hoopoes and kingfishers): African birding is a feast for the eyes.
Before flying home out of Johannesburg, we sample an area which gives access to some Kalahari-type birds, meaning we usually add a disproportionally large number of species to our already large bird list right at the end of the trip – these include such beauties as the shockingly brightly-colored Crimson-breasted Shrike, the very striking Southern Pied Babbler, Violet-eared Waxbill, Black-cheeked Waxbill, Kalahari Scrub Robin, the amazingly beautiful Long-tailed Paradise Whydah, and a plethora of others.
We have specially crafted this unusually comprehensive birding tour of mega-diverse (from both a bird and mammal point of view) Eastern South Africa, allowing us sufficient time to adequately cover and explore all the key areas, without compromising on rushed visits which lack the time required to both find and enjoy the birds on offer. To further add to the experience, this tour uses open-top safari vehicles for the two full days in the Kruger National Park which ensures guests make the most of their time in the African bush. As always, we also err on the side of superior accommodation, and we therefore call this a "premium" tour yet the overall price is still reasonable mainly because South Africa is arguably the best value country on the entire continent.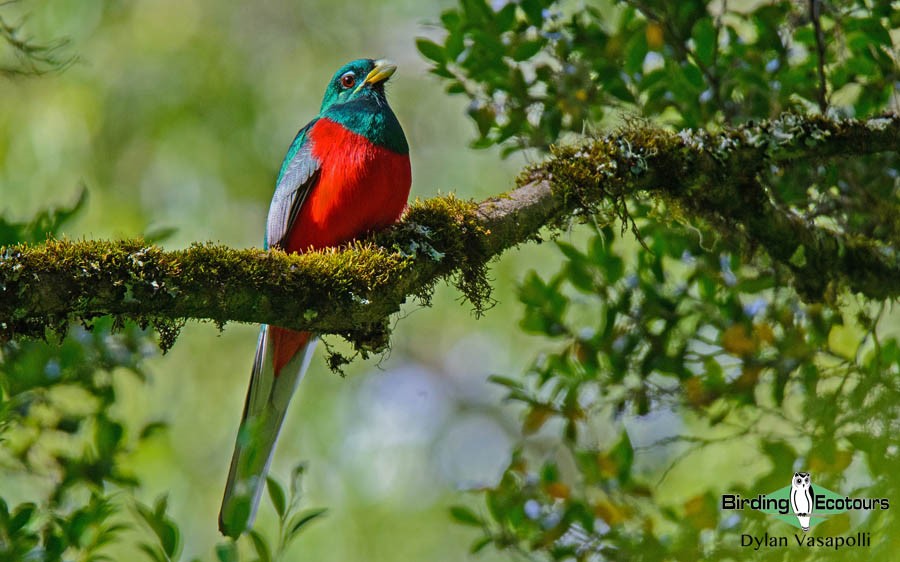 We have a number of chances to see the stunning Narina Trogon on this tour!
Our October subtropical South Africa tour each year can be combined with our preceding Best of Cape Town and Beyond – endemics, seabirds and more if you want to see a good proportion of South Africa's birds (the Cape Town area is very different from eastern South Africa and complements it very nicely, with a different suite of endemics and other birds!). This trip can also be combined with our Namibia, Okavango and Victoria Falls Birding Adventure afterwards, which in turn can be combined with our Zimbabwe and Mozambique Birding Tour; if you combine all these trips you'll definitely experience a stunning southern African mega tour that will leave you with an impressive bird list (not to mention mammals and other fauna and flora). While this subtropical South Africa trip is one of the best ones for seeing big and small African mammals (although we still markedly focus on birds, of course, but do build in enough time to stop for each mammal species we encounter as well), if you want more time in one of the world's greatest game parks, then we should also mention an alternative, our Kruger National Park and Escarpment birding (and mammal) tour.
Itinerary (18 days/17 nights)
Day 1. Arrival in Durban and transfer to Pennington on the south coast
Your international flight (or local flight if you are joining us from our preceding Best of Cape Town and Beyond Birding Tour) arrives in Durban (King Shaka International Airport), and we transfer out of the city to a small coastal village. We kindly ask for your flight to arrive around midday (or we can book an extra night for you in Durban before the tour starts). For those joining both our Western Cape and Subtropical (Eastern) South Africa birding tours, the Birding Ecotours office will advise/help book you onto the exact domestic flight required to join these tours, so that the group can travel together.
Following your arrival, the group will have lunch locally, before undertaking a short transfer south of the city, to the small coastal village of Pennington. Here we are conveniently based right next door to the excellent Umdoni Park, which will give us a great introduction to the common birds of the area, while also providing us access to excellent coastal forest, where we can begin searching for some sought-after species. We will likely have the afternoon available to explore the trails at Umdoni Park, covering a mix of coastal forest and open woodland. Some of the more conspicuous species we're likely to find include the gaudy Purple-crested Turaco and the bright Red-capped Robin-Chat, while we're likely to come across a number of barbets, flycatchers, sunbirds (including the tiny Collared Sunbird) and weavers.
Overnight: Botha House, Pennington
Day 2. Pennington to Underberg, birding en route
We have the morning available to further explore the stunning subtropical coastal forests of Umdoni Park. As we will likely already have become acquainted with many of the more common species of the area, we can now focus on some of the more sought-after species occurring here, such as Crowned Eagle (Africa's heaviest and most powerful eagle, which sometimes breeds in the park), the incredibly beautiful South African endemic Knysna Turaco, the equally dazzling Narina Trogon, the personality-filled Green Malkoha, the localized Brown Scrub Robin and the jewel-like Green Twinspot.
We will then spend the remainder of the day gradually heading deeper inland, ultimately arriving at our base in the Underberg district, set in the Drakensberg foothills, in the late afternoon. There are a variety of routes we can take to reach Underberg, however, our first stop will likely be for some forest birding where we target a range of localized specials. We will also be sure to dedicate some time today to finding the stunning Blue Swallow (the swallows have become rare in South Africa, and, depending on their recent whereabouts, we may only be able to try for them on Day 4). The dense temperate evergreen Ingeli or Xumeni Forests will also likely feature as a stop today, and here we will be able to sample our first patch of Afro-montane (mountain) forest. While these forests can be quiet at times, persistence and patience are well rewarded, and we stand excellent chances at finding some top specials, including the likes of Bush Blackcap, Orange Ground Thrush, White-starred Robin, Olive Bushshrike, Yellow-throated Woodland Warbler, Barratt's Warbler, Swee Waxbill and Forest Canary, all of which are regular here. While Cape Parrots do occur here, they are scarce and best sought on Day 4 of this itinerary. The forest surrounds are not to be excluded, and host further excellent birding, with species such as Grey Crowned Crane, Red-chested Flufftail, African Yellow Warbler, Wailing Cisticola and the spectacular Long-tailed Widowbird all possible. Eventually we will arrive at our comfortable base in the Underberg region, where we will begin preparing for one of the most anticipated, and arguably best days of the trip tomorrow, as we bird the famous Sani Pass!
Overnight: Sani Valley Lodge, Himeville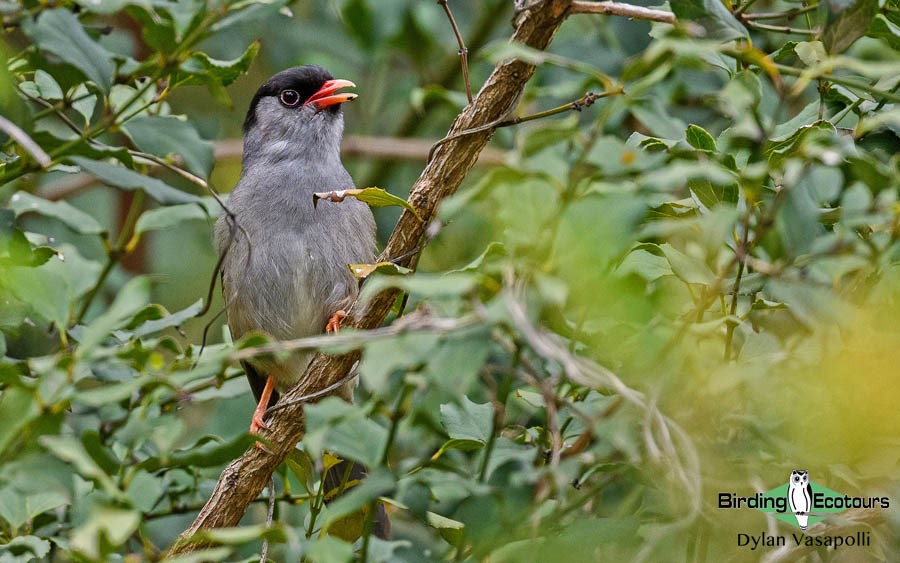 The secretive Bush Blackcap occurs in the foothills of the Drakensberg Mountains!
Day 3. Birding day trip up the Sani Pass and into Lesotho
This is one of the most spectacular birding adventures one can embark on. We spend a full day, taking along picnic breakfasts and lunches, ascending the Sani Pass and travelling into Lesotho (passports required), which gives amazing access to most of the Drakensberg endemics within the space of a single day. The "barrier of spears" (as the Drakensberg is known to locals) is impressive, to say the least, and the scenery today is amazing as we gradually ascend from the foothills up to the plateau. The birdlife changes as altitude increases with Red-necked Spurfowl, Brown-backed Honeybird, Drakensberg Prinia, Bush Blackcap (if we missed it the previous day) and Cape Grassbird occurring in the lower thickets (consisting largely of ouhout or "old wood", a bush species that looks older than it is because of its gnarled bark). Moving into the higher 'Protea belt', these are replaced by Malachite Sunbird and Gurney's Sugarbird, with a supporting cast of Grey-winged Francolin, Ground Woodpecker, Cape Rock Thrush, Buff-streaked Chat, Yellow Bishop, and if we're lucky, the scarce Fan-tailed Grassbird (Broad-tailed Warbler) and the enigmatic Short-tailed Pipit (occurring on grassy slopes). As we reach the top of the pass and the high-altitude plateau, these birds are eventually replaced by the stunning and charismatic Drakensberg Rockjumper (arguably the most emblematic bird of the pass), Sentinel Rock Thrush, Mountain and African Rock Pipits and Drakensberg Siskin. At the top of the plateau we cross the border into the mountain kingdom of Lesotho, and will briefly explore the plains that run across this rugged landscape, where we will search for Southern Bald Ibis, and some species more typical of the Karoo region further to the west, such as Large-billed Lark, Sickle-winged Chat, Grey Tit, Layard's Warbler (Tit-babbler), Fairy Flycatcher, Karoo Prinia and Karoo Scrub Robin. Occasionally a pair of Bearded Vulture nest nearby, and we hope to see this glorious bird up on the plateau. After a long day we eventually descend the mountain for a well-deserved dinner (and a toast to all the endemics).
Overnight: Sani Valley Lodge, Himeville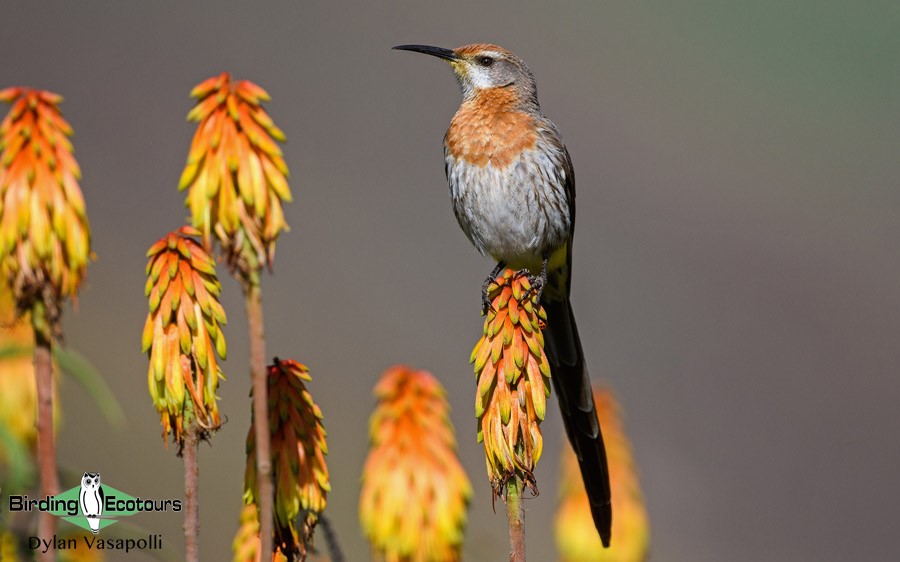 Gurney's Sugarbird is one of many highly sought-after birds occurring in the Drakensberg!
Day 4. Birding the Underberg area, and transfer to Eshowe
We have the morning available to bird the greater Underberg region, which will likely see us visiting a variety of grassland, wetland and forest sites. The rare Wattled Crane will be one of our main targets, as they breed locally within the area, but they are nomadic and difficult to find, and we will need some luck to come across this prized bird. Cape Parrot also occur in some of the montane forest patches in the area and will be another key target for the morning. If required, we can also dedicate some time today to finding Blue Swallow. This region is a very birdy area and we're likely to come across a great many species across the morning ranging from more widespread birds such as Levaillant's Cisticola, Cape Weaver and Common Waxbill, to more difficult species such as Long-crested Eagle, Denham's Bustard and Pale-crowned Cisticola. We also have further chances for a similar suite of species to those occurring in the Ingeli or Xumeni Forests (Day 2), should we have missed any of those targets. After a fulfilling morning, we will begin our drive northwards to the small village of Eshowe, where we will likely arrive in the afternoon, with an entire new suite of special birds awaiting us.
Overnight: Birds of Paradise B&B, Eshowe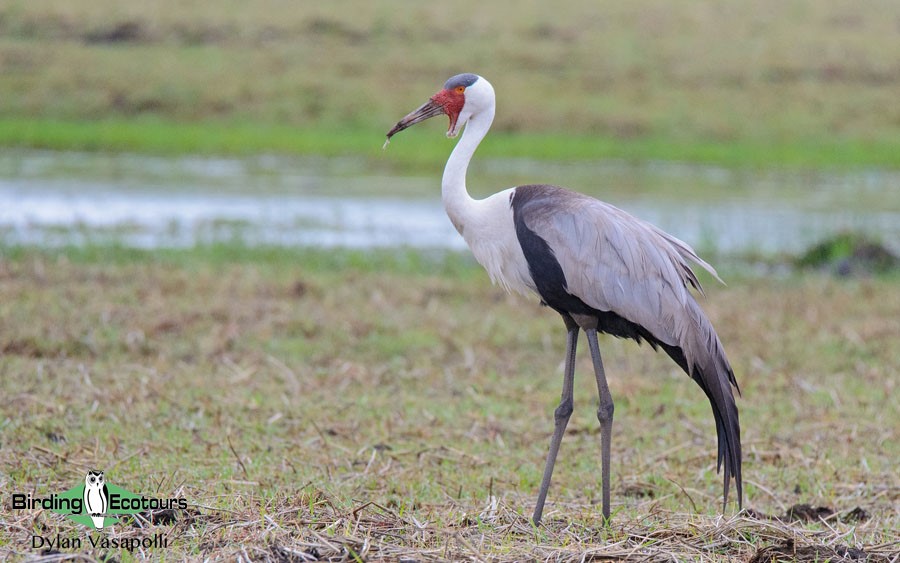 Wattled Crane is a rare species in South Africa, and will be a major target on this tour!
Day 5. Birding Eshowe and surrounds
We have a full day to explore a number of sites within Eshowe, and some lying a bit further afield, which will likely include the Dlinza Forest Aerial Boardwalk, Entumeni Forest, Ongoye Forest, and the coastal town of Mtunzini. Our day will likely start off at the Dlinza Forest, located right in the heart of Eshowe, where the secretive and highly sought-after Spotted Ground Thrush will be one of the main targets. While slowly walking the forest trails, listening for the tell-tale call of the thrushes, we are sure to come across many other birds, and in particular we'll keep an eye out for Green Malkoha, Lemon and Tambourine Doves, Scaly-throated Honeyguide, Grey Cuckooshrike, Common Square-tailed Drongo, Chorister Robin-Chat, Dark-backed Weaver and the prized Green Twinspot. The forest also features a canopy walkway and tower, and we'll be sure to spend time up here, as it is a great area to see the rare Eastern Bronze-naped Pigeon (although we will need some luck to see this bird), while more regular birds seen above the forest include African Goshawk, Trumpeter Hornbill, Crowned Hornbill, White-eared Barbet and Black-bellied Starling.
Entumeni Forest acts as a wonderful backup to many of these species, while also holding a small population of the highly prized African Broadbill, although as ever, some luck is needed. Ongoye Forest is a bit further afield and preserves the only southern African population of Green Barbet (with the nearest population found roughly ~1000miles/1600kilometres further north in Malawi and northern Mozambique) – this localized population being of particular interest as it's a separate subspecies, at times split into a full species restricted to a single forest here at Ongoye! A similar suite of forest birds occurs here as in Dlinza Forest, along with the star of the show, Green Barbet.
The coastal town of Mtunzini presents us with a different, coastal, habitat set, and along with it, a different assemblage of bird species. While our core target here will be the vegetarian Palm-nut Vulture, we're also likely to find a wide array of other species such as Woolly-necked Stork, Black-throated Wattle-eye, Rufous-winged Cisticola, Purple-banded Sunbird and Yellow-throated Longclaw, amongst many others.
Overnight: Birds of Paradise B&B, Eshowe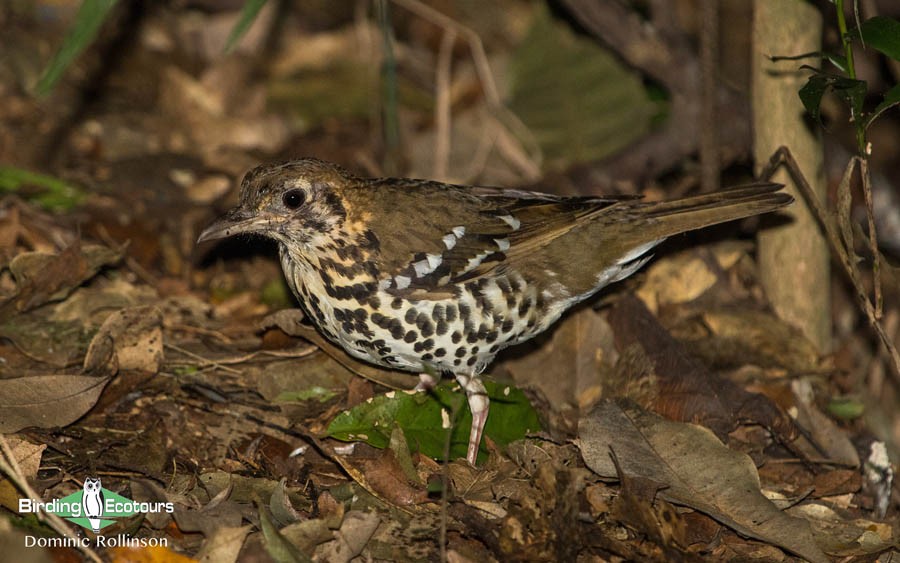 The scarce Spotted Ground Thrush is a big target while we're based in Eshowe.
Day 6. Birding around Eshowe and transfer to St Lucia
We have the full morning available to continue birding this area, searching for any of the species we may still need, as mentioned under Day 5 above. We have a short transfer (roughly two hours) to reach our next destination – the lovely coastal village of St Lucia, where we will be based for two nights, and we will likely arrive in the early afternoon. St. Lucia is a wild place, where hippos can still roam the streets at night and Thick-tailed Galagos (Bush Babies) cry from the tree-lined main street at night. This village is completely surrounded by a World Heritage Site, the Isimangaliso Wetland Park, and is a truly phenomenal birding area. Our afternoon will likely see us investigating the estuary and the surrounding coast. Although tidal to some degree, the estuary is largely cut off from direct access to the ocean and as such doesn't fluctuate heavily. During low-water periods, a number of shorebirds/waders occur here and we'll be on the lookout for species such as Grey, Common Ringed and White-fronted Plovers, Eurasian Whimbrel, Ruddy Turnstone, Terek, Curlew and Marsh Sandpipers, Common Greenshank and Little Stint. Occasionally rarer species turn up, such as Bar-tailed Godwit, and Greater and Lesser Sand Plovers. There is often a large tern roost present here, and one of our main targets will be the scarce Lesser Crested Tern, while more common species include Greater Crested (Swift), Sandwich, Caspian, Common and Little Terns. The estuary area also supports an array of other waterbirds, and we're likely to see the impressive Goliath Heron here, with a supporting cast including Grey Heron and Great and Little Egrets, while Yellow-billed Stork is regular along with Pink-backed Pelican. The impressive Saddle-billed Stork can also be seen, but is easier to find in the Kruger National Park later in the tour. Vocal African Fish Eagles are never far away, with a number of pairs breeding in the area. The reedbeds host colonies of the prized Southern Brown-throated and Eastern Golden (Yellow) Weavers. The estuary is also home to Nile Crocodiles, and quite a few pods of Hippopotamuses, some of which call the St Lucia village home, and can even be seen in the evenings walking around the town grazing on lawns!
Overnight: St Lucia Wetlands Guest House, St Lucia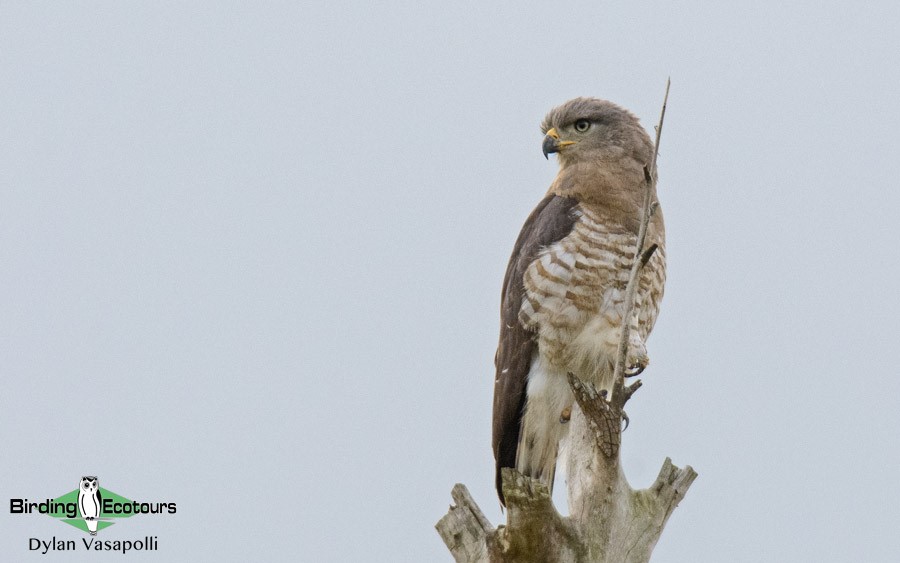 Southern Banded Snake Eagle is one of the localized, scarce species we'll keep an eye out for around St Lucia.
Day 7. Birding the UNESCO World Heritage Site, Isimangaliso Wetland Park
We will spend the day exploring the wonderful Isimangaliso Wetland Park, which is a UNESCO World Heritage Site, and will likely spend time in both the Eastern and Western Shores section of the park. While primarily consisting of coastal grassland, patches of coastal forest occur as well, and host a fine array of unique and special birds which we'll spend time trying to find. These include the sought-after Southern Banded Snake Eagle, the glorious Livingstone's Turaco, Narina Trogon, Woodward's Batis, the spectacular (but difficult-to-see) Gorgeous Bushshrike, Brown Scrub Robin, Eastern Nicator, localized Rudd's Apalis and Grey Waxbill, among others. We won't ignore the more open areas, as they do also host some great birds and birding; some of the species we'll be sure to keep an eye out for include Black-bellied Bustard, Senegal Lapwing, Collared Pratincole, Croaking Cisticola, Lemon-breasted Canary, and with some luck, Rosy-throated Longclaw. A number of raptors hunt over these open areas, and it's a great place to see a wide range of these species. These open areas also support good numbers of Swamp Nightjar, and with some birding in strategic areas after dark, we stand a good chance of finding this prized bird.
Not to be forgotten, this park also supports a wide array of mammals, and we may see such charismatic species as African Elephant, African Buffalo and Giraffe, along with antelope such as Waterbuck, Impala and the dainty Red Duiker. This is also a great area to see the scarce Blue (Samango) Monkey, while species such as Leopard and White Rhinoceros will require a bit more luck to find. This is a very birdy park, and we're sure to rack up a high list of birds for the day.
Overnight: St Lucia Wetlands Guest House, St Lucia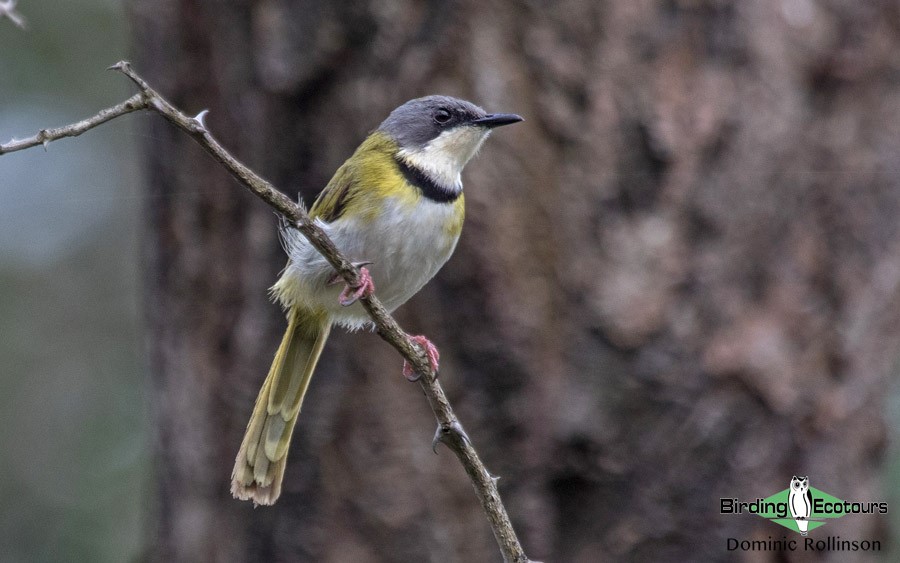 Rudd's Apalis is another Zululand specialty we should get whilst traversing the region!
Day 8. Birding St Lucia and transfer to Hluhluwe
We have the morning available to bird around the village, and in particular, along the lovely iGwalagwala Trail, which passes through some excellent coastal forest. Although we should have seen many of these specials the previous day, it serves as an excellent backup for species we could have missed, including some very localized birds like Livingstone's Turaco, Woodward's Batis, Brown Scrub Robin, Rudd's Apalis and Grey Waxbill, while also offering chances for species such as Buff-spotted Flufftail (with some luck and patience), Green Malkoha, Blue-mantled Crested Flycatcher, Yellow-bellied Greenbul, Terrestrial Brownbul and others. Strange-looking Crested Guineafowl are a common sight around the village as well and are sure to keep us entertained.
We have another short transfer (also roughly two hours) to get to the Hluhluwe area, where we'll be based for two days, as we explore the mega-diverse but compact Mkhuze Game Reserve and surrounds. This is arguably one of the finest birding sites in southern Africa and certainly has a legendary status. We'll likely arrive at our comfortable lodge in the early afternoon, and may explore some of the surrounding open areas, such as Mpempe Pan or the Nibela Peninsula this afternoon still. The birding here can be excellent, and some of the species we're likely to see include Black-winged and Senegal Lapwings (sometimes offering great comparative views of these similar birds, both of them scarce and local), Collared Pratincole, Grey-rumped Swallow, all three locally occurring Longclaws (Cape, Yellow-throated and Rosy-throated), and the highly range-restricted Lemon-breasted Canary. A wide array of ducks, geese, herons, egrets and other waterbirds can also be seen here.
Our lodge itself also hosts some excellent birding and we're likely to become acquainted with a number of sand forest specials here (sand forest is a delightful, localized habitat typical of Zululand and southern Mozambique, and contains some top birds). The highly sought-after Pink-throated Twinspot occurs commonly around the lodge and will be one of our main targets here. A number of other sought-after birds, which we may not yet have seen, are possible here as well, including Green Malkoha, Red-fronted Tinkerbird, Rudd's Apalis, Eastern Nicator, Bearded Scrub Robin, White-throated Robin-Chat and Purple-banded Sunbird. More widespread species found here include a wide array of cuckoos, including African Emerald-, Klaas's, Red-chested and Black, Striped Kingfisher, Orange-breasted Bushshrike, Black-crowned Tchagra, Black Cuckooshrike, Southern Black Tit, Violet-backed Starling, Pale Flycatcher, Scarlet-chested Sunbird and Golden-breasted Bunting, amongst others. Noisy Thick-tailed Greater Galagos (Bushbaby) wake up in the evenings, and can often be seen around the lodge. We'll enjoy a good evening meal, in preparation for another excellent day in the heart of Zululand.
Overnight: Umkhumbi Lodge, Hluhluwe
Day 9. Birding Mkhuze Game Reserve and surrounds
We will undertake a day trip into the nearby Mkhuze Game Reserve (armed with picnic breakfast and lunch). This tiny reserve is one of the premier birding sites in the country. One is only allowed out of the van in designated areas (because of the presence of dangerous African megafauna), and so we will focus our birding on the excellent hides (and walkways to them), picnic sites and around the rest camp, where we are free to get out and walk around. This incredible reserve has a wide array of habitats, ranging from bushveld through to sand forest, and open wetlands, and we'll explore all of these habitats during our day. The sand forest is home to our main targets, which will include the likes of Pink-throated Twinspot (if not seen previously), Neergaard's Sunbird and Gorgeous Bushshrike, among other prized birds such as Rudd's Apalis, African Pygmy Kingfisher, Red-fronted Tinkerbird, the diminutive Grey Penduline Tit, Eastern Nicator, the attractive Stierling's Wren-Warbler and Dusky Indigobird. The large Nsumo Pan also offers excellent birding, supporting a wide array of waterbirds, and depending on the water levels at the time, the pan supports one of the only breeding colonies of Pink-backed Pelicans in South Africa. Other species to be found here include the likes of the sought-after African Pygmy Goose and African Openbill while more regular birds include White-faced Whistling Duck, Black Crake, Water Thick-knee, African Jacana, Whiskered Tern, African Spoonbill, Squacco and Black Herons and Pied Kingfisher. The trees on the edge of the pan support the dazzling Broad-billed Roller, along with an array of woodpeckers, kingfishers, barbets, honeyguides, bushshrikes, flycatchers, robins, sunbirds and weavers. Pel's Fishing Owl do occur in the area, but are nomadic and very rarely seen, and are more reliable on our tour to the Okavango Delta in Botswana/northern Namibia.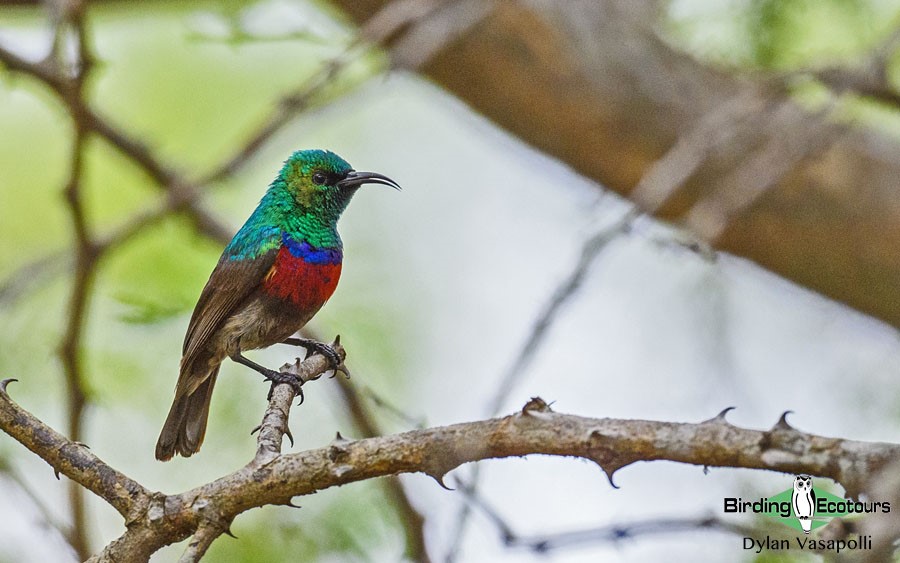 The rare Neergaard's Sunbird is one of the top targets of Mkhuze, and indeed the tour!
The park will also allow us to increase our raptor list, being an excellent area for some of the more iconic bushveld species such as Bateleur and Martial Eagle, while White-backed Vultures are never far away. The bushveld areas are not to be ignored, and are home to species such as Common Scimitarbill, Southern Yellow-billed Hornbill, Lilac-breasted Roller, Chinspot Batis, Brubru, Sabota Lark, Long-billed Crombec, Burnt-necked Eremomela, Red-billed Oxpecker (often catching a ride on large mammals), Kurrichane Thrush, Blue Waxbill and Green-winged Pytilia, among others.
In addition to all these excellent birds, Mkhuze also offers a wide selection of mammals including the full complement of big game species. While mammals such as Lion, Cheetah, African Wild Dog, Leopard, African Elephant and Black and White Rhinoceros occur, they are scarce and we'll need some luck to find these. More commonly seen species include an array of antelope, including the spectacular Nyala, along with Greater Kudu and the ever-charismatic Plains Zebra. The diminutive Suni antelope can also be seen in the sand forest.
This is sure to be an excellent day, with a high number of birds and mammals seen. We'll return to our comfortable lodge for a well-deserved dinner later in the afternoon.
Overnight: Umkhumbi Lodge, Hluhluwe
Day 10. Birding Hluhluwe and transfer to Wakkerstroom
We have the morning available to bird the excellent grounds of our lodge, or some other nearby areas, such as False Bay Nature Reserve, should any target species still be outstanding – these may include the likes of the difficult African Broadbill and Neergaard's Sunbird. We'll then begin the fairly long drive (4 hours+), to get to our next destination, Wakkerstroom, set in the montane grassland belt at high altitude. This is another one of the premier birding destinations in the country, and is a must for any world birder, as it hosts a number of prized endemic birds. Wakkerstroom is a lovely, quaint and charmingly small village located along the Drakensberg escarpment, and as such is fairly high in elevation (only just below 6500ft/2000m). We will likely only arrive in the afternoon and may begin exploring the area slightly lower in elevation located to the east of the town. Here, a number of species not regularly seen in the immediate vicinity of the town can be seen and include the likes of the curious southern African race of White-bellied Bustard (known locally as Barrow's Korhaan, split by some authorities), and Cloud Cisticola. We're also sure to get our eye in on some of the other more widespread grassland species occurring in the area, such as Swainson's Spurfowl, Cape Crow, Spike-heeled and Red-capped Larks, South African Cliff Swallow, Banded Martin, Cape Grassbird, Pied Starling, Ant-eating Chat, Capped Wheatear, Red-collared Widowbird, Cape Longclaw and Cape Canary, amongst others.
Overnight: Wetlands Country House & Sheds, Wakkerstroom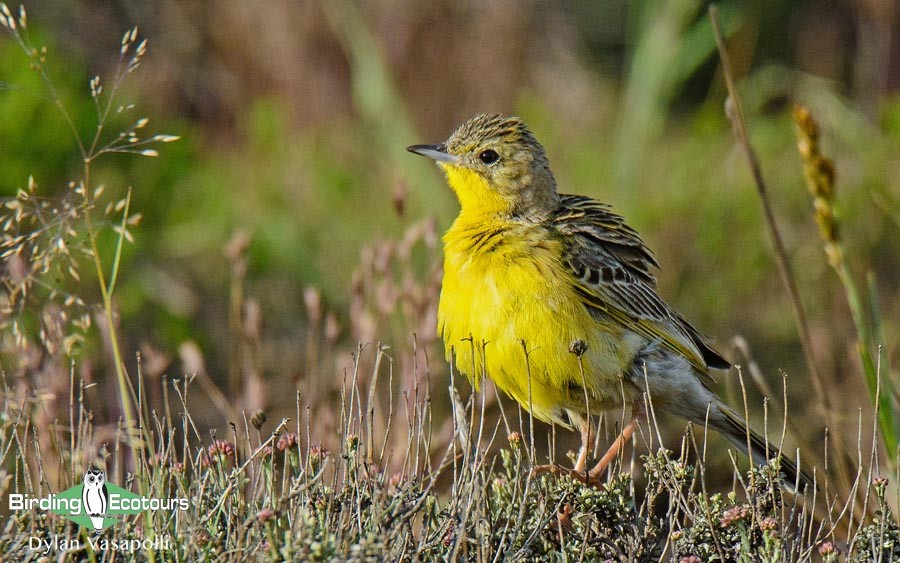 The highly sought-after endemic Yellow-breasted Pipit can be seen around Wakkerstroom!
Day 11. Birding the Wakkerstroom area
We will have a full day of birding the upland grasslands and wetlands surrounding Wakkerstroom, and we usually make use of a local guide. Our day will center around the three 'big' targets of the Wakkerstroom area – Rudd's and Botha's Larks and Yellow-breasted Pipit. These endemic species are all rare and localized, with the grasslands around Wakkerstroom proving one of the few and only reliable locations to find these prized species. The entire area is particularly species-rich with many of the following likely: Red-winged and Grey-winged Francolins, Southern Bald Ibis, Denham's Bustard, Blue Korhaan, Eastern Long-billed, Pink-billed and Eastern Clapper Larks, Pale-crowned and Wing-snapping Cisticolas, Nicholson's Pipit and Cape Bunting. The wetlands in the area are home to a number of birds, and amongst others we will search for White-backed and Maccoa Ducks, African Rail, Red-chested Flufftail (with some patience), African Snipe and Little Bittern. Aside from these, many other more widespread grassland species feature here, from Blue and Grey Crowned Cranes, to a variety of raptors, cisticolas, larks, widowbirds, weavers and more. Areas of woodland line some of the ravines and valleys, and these provide us with further species such as Red-throated Wryneck, Bokmakierie, Lazy Cisticola, Drakensberg Prinia, along with Bush Blackcap and Barratt's Warbler in the wooded areas. We will also be sure to keep our eyes to the sky for raptors such as the tricky Rufous-breasted Sparrowhawk, along with Black Sparrowhawk, and African Marsh and Black Harriers. This is also a great area for aerial feeders (swifts, swallows and martins), and we'll also keep an eye out for the tricky Horus Swift, along with Alpine and African Black Swifts.
While few of Africa's larger mammals are found here, this area is a great place to find smaller mammal species such as the charming Meerkat as well as Yellow Mongoose and Common Duiker. After dark, we can also try for Marsh Owl, and if we're lucky, the rare African Grass Owl.
Overnight: Wetlands Country House & Sheds, Wakkerstroom
Day 12. Birding Wakkerstroom, and transfer to the Kruger National Park
We have the morning available to try for any highland birds we may still be missing, before having to gather our things and set off to our next destination. We have arguably the longest drive of the trip today (roughly 6 hours), but the reward is that we'll eventually arrive in one of Africa's greatest game parks – the Kruger National Park. We will spend three nights in this great park attempting to find as many of the birds and mammals mentioned below as possible, along with enjoying a great safari experience. The mammal and bird diversity here is nothing short of staggering. African Elephant, Hippopotamus, Lion, Leopard, Cheetah, African Wild Dog (now extremely rare but regularly sighted in the park), both White and Black Rhinoceros, Giraffe, and a stack of antelopes and smaller mammals will all be sought. Nile Crocodile is quite common in many of the park's waterbodies. The park is absolutely full of birds as well, including a mega-diversity of raptors (ranging from the tiny Little Sparrowhawk to the massive Lappet-faced Vulture, and a great many in between), an array of storks, the most admired being Saddle-billed Stork, while on the other end of the spectrum 'the undertaker' Marabou Stork, and other large birds such as Southern Ground Hornbill. Indeed, the raptors and other large birds thrive here, as there is such a vast amount of conserved and wild land, allowing them to breed largely away from human disturbance – making this a stronghold for these species in South Africa. A great many other species occur, and include a number of francolins, cuckoos, hornbills, rollers, mousebirds, kingfishers, bee-eaters, woodpeckers, bushshrikes, flycatchers, robin-chats, starlings, waxbills, firefinches, canaries and buntings. The diversity of birds and mammals in the park has to be seen to be believed, and we will accumulate a long list of species during our stay in the park.
Overnight: Skukuza Rest Camp or similar, Kruger National Park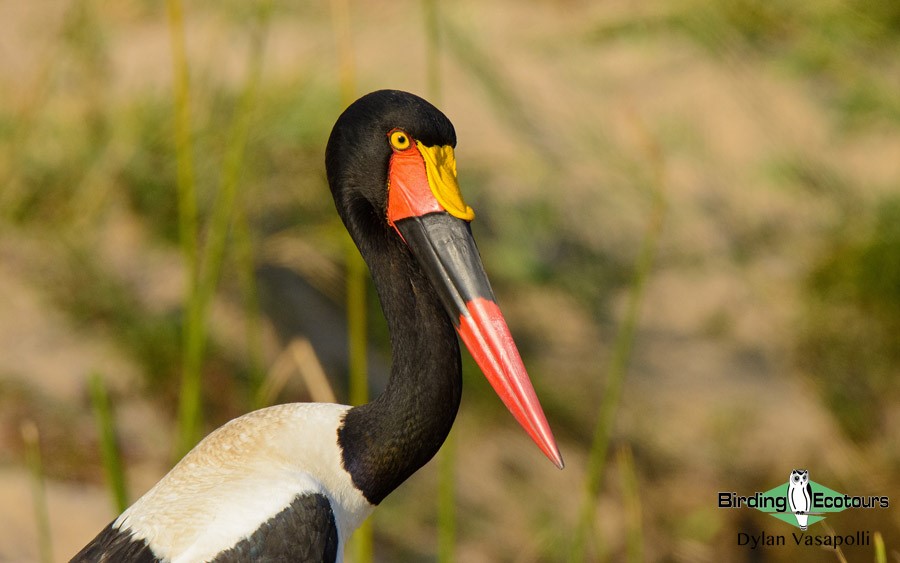 Kruger is home to a vast array of birds as well, including the Saddle-billed Stork!
Days 13 – 14. Birding the Kruger National Park
Making use of open-top safari vehicles, ideal for bird and game viewing in Kruger, we have two full days to explore the southern areas of this iconic park. Our exact routes may vary depending on which rest camp(s) we stay at, but we stand good chances at finding most of the above-mentioned (Day 12) species. We will also have the opportunity to undertake optional night drives (at your own cost), which can produce some of the scarcer nocturnal birds, such as Bronze-winged Courser and Verreaux's Eagle-Owl, and mammals such as African Civet, South African Large-spotted Genet and perhaps even Serval.
Overnight: Skukuza Rest Camp or similar, Kruger National Park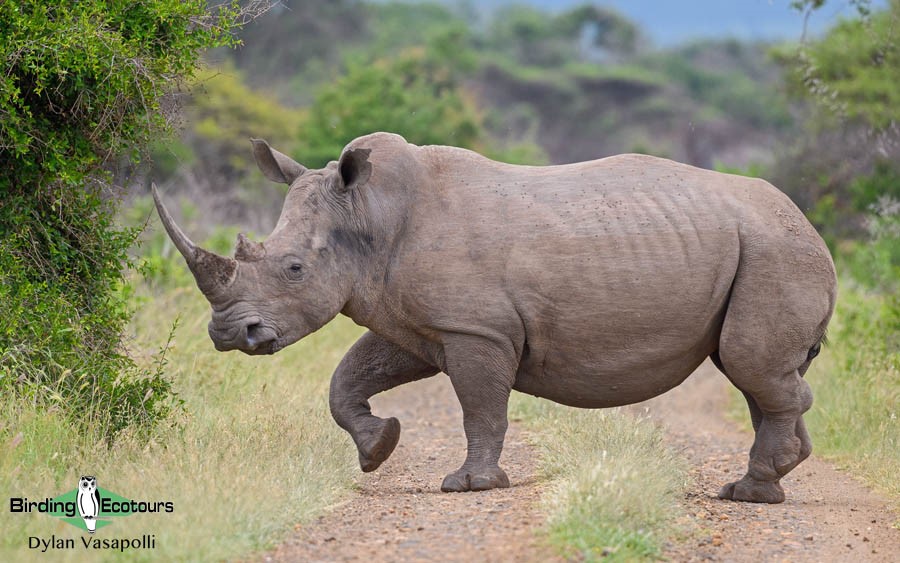 Whilst in Kruger, mammals, such as this White Rhinoceros, are major targets!
 Day 15. Birding Kruger, with a transfer to Dullstroom
We have our final morning available to spend within Kruger, before having to exit this wonderful area, and continue onto our next destination, that being Dullstroom, located in the highlands of the northern Drakensberg escarpment. The drive will likely be around 3 hours and should see us arriving with time to spare in the afternoon, where we'll check into our very comfortable lodge and acquaint ourselves with the area and some of its birds. Dullstroom is a small, charming village which plays host to a number of specials which we'll be targeting during our time here. Foremost amongst these is the rare Cape Eagle-Owl, which we will attempt to track down this evening.
Overnight: Linger Longer Country Retreat, Dullstroom
Day 16. Birding Dullstroom, and transfer to Rust de Winter
We have the morning available for some final birding around Dullstroom and surrounds. We usually focus our efforts on the nearby Verloren Vallei Nature Reserve, which hosts some of the most pristine montane grassland in the area. While we should have seen many of the species occurring here previously on the trip in the other highland areas (Wakkerstroom and Sani Pass), this stunning area offers us an excellent backup for a number of scarce and prized birds, such as Wattled Crane, Secretarybird, Denham's Bustard, Red-winged Francolin, Southern Bald Ibis, Black-winged Lapwing, Gurney's Sugarbird, Eastern Long-billed Lark and Yellow-breasted Pipit.
We will eventually make our way onwards to our final destination, Rust de Winter, and have a relatively lengthy transfer (roughly 4 hours) to get here. We will likely take an 'off-the-beaten-path' route to get here, visiting some of the superb mixed broad-leafed woodlands north-east of Pretoria, which support some localized and scarce species. Here we can search for Shelley's Francolin, Melodious and Fawn-colored Larks, Green-capped Eremomela, Short-toed Rock Thrush, Tinkling Cisticola, Bushveld Pipit and Red-headed Weaver. If conditions are right, we may also be able to find the incredibly difficult White-backed Night Heron and Half-collared Kingfisher. We will eventually arrive at our comfortable lodge located in the Rust de Winter district in the late afternoon.
Overnight: Zenzele River Lodge, Rust de Winter
Day 17. Birding Zaagkuilsdrift, Kgomo-Kgomo and Rust de Winter
We will spend the last full day of the tour birding the rich "acacia"-dominated savannas and other habitats of the area. We usually focus our efforts on the superb Zaagkuilsdrift Road, which offers a great transect through this habitat, and puts us in an excellent position to find some of the many more typical Kalahari edge type species that occur here. The road continues on for a while through bird-rich savannah before arriving at a floodplain, which also hosts some excellent species, but birding here is very much dependent on the conditions (usually dry on our October tours). This is another of the country's premier birding sites, with a huge diversity of birds, and we're sure to build up an extensive list of species. Some of the Kalahari-type birds we'll try for include Northern Black Korhaan, Crimson-breasted Shrike, Southern Pied Babbler, Kalahari Scrub Robin, Barred Wren-Warbler, Chestnut-vented Warbler (Tit-babbler), Cape Penduline Tit, Burnt-necked Eremomela, Marico Flycatcher, Violet-eared and Black-faced Waxbills, Great Sparrow, Cut-throat Finch, Scaly-feathered Weaver (Finch), White-browed Sparrow-Weaver, Shaft-tailed Whydah and Yellow Canary. These are just a few of the many birds occurring in the thornveld, and the usually dry (at this time of the year) and open lands around the floodplain can support interesting birds such as Temminck's Courser and Caspian Plover.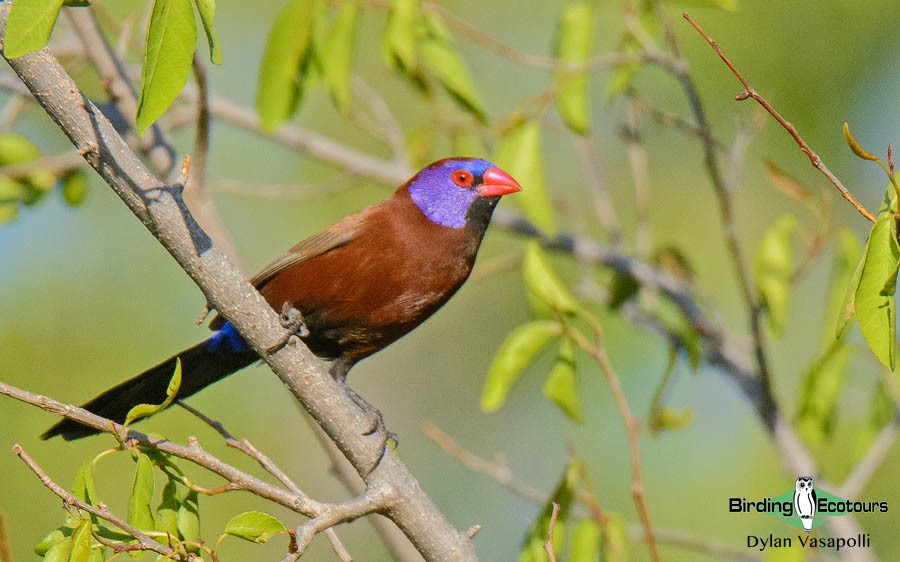 The stunning Violet-eared Waxbill is one of the specials of the Zaagkuildrift area!
The nearby Rust de Winter area supports a similar suite of birds to those mentioned above. This is also a great area to get to grips with owls, and some dedicated nocturnal searching may produce the likes of Western Barn, Southern White-faced and African Scops Owls, while the larger Spotted and Verreaux's Eagle-Owls do occur in the area as well. The dainty and partly diurnal Pearl-spotted Owlet is ever-present too, sometimes surrounded by a host of passerines mobbing it (which is useful to us as it means we can accumulate a lot of bird species fast!). We'll eventually settle in for our last dinner together, reminiscing about all the excellent birds we've experienced over the course of this tour.
Overnight: Zenzele River Lodge, Rust de Winter
Day 18. Transfer to Johannesburg and departure
We have the morning available to bird and explore the surrounds at our leisure, and being no more than 2 hours away from the main Johannesburg Airport (OR Tambo International Airport), we do not have very far to travel today. The tour will conclude at the airport later in the day.
We kindly ask that you book your international flight to depart after 3 p.m. today.
Please note that the itinerary cannot be guaranteed as it is only a rough guide and can be changed (usually slightly) due to factors such as availability of accommodation, updated information on the state of accommodation, roads, or birding sites, the discretion of the guides and other factors. In addition, we sometimes have to use a different international guide from the one advertised due to tour scheduling.
Download Itinerary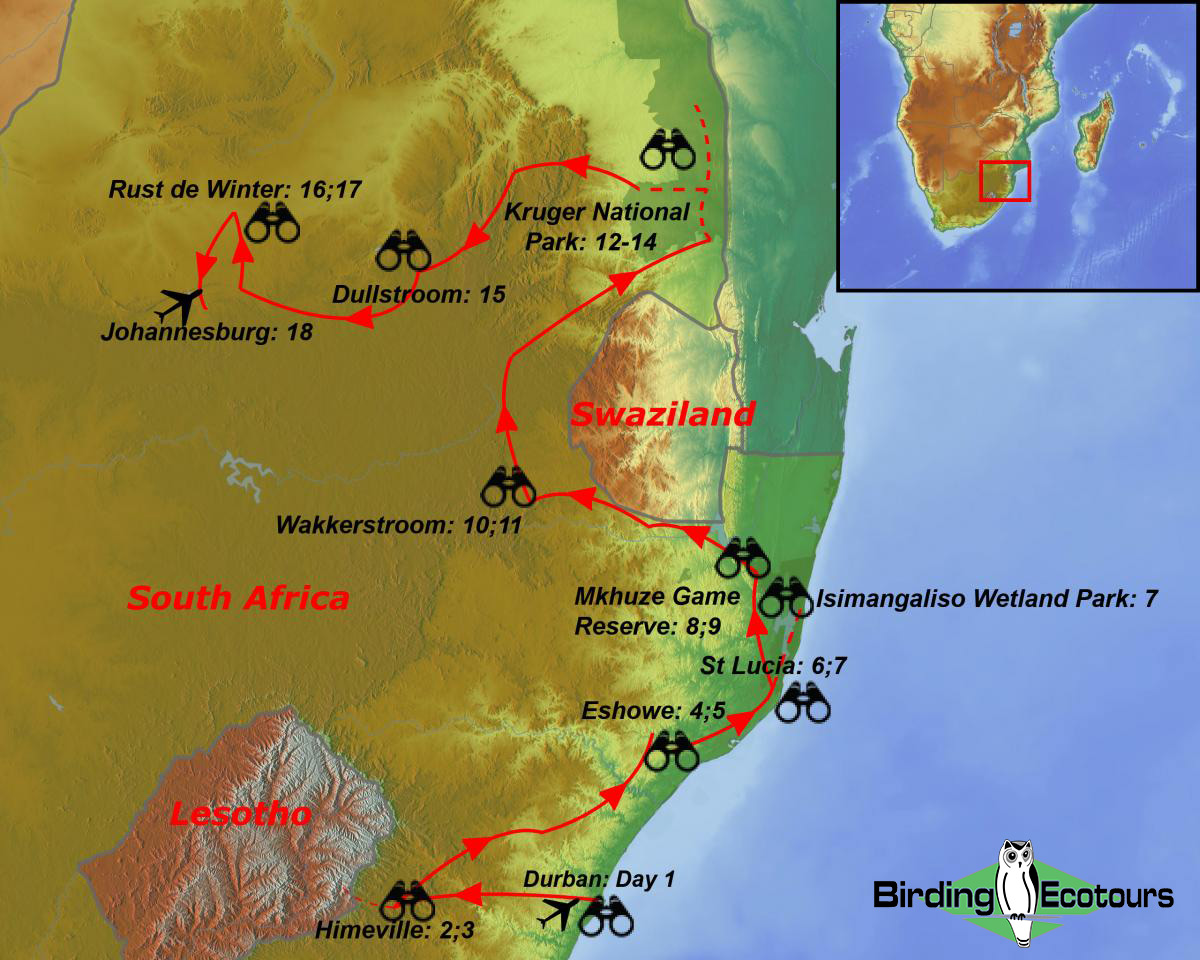 Subtropical South Africa Trip Report
14 – 31 October 2019
DOWNLOAD TRIP REPORT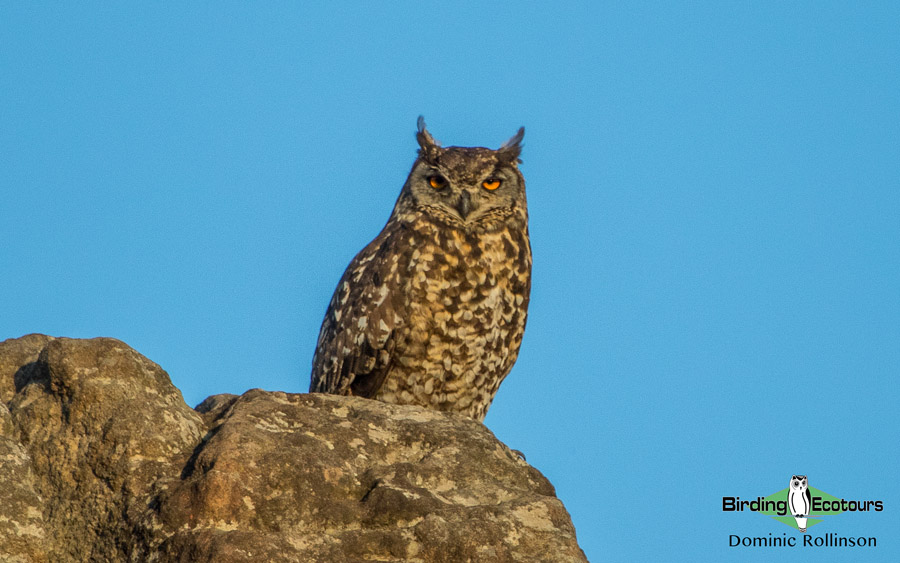 Cape Eagle-Owl was an unexpected sighting in the Drakensberg Mountains.
Overview
This set-departure Subtropical South Africa tour is a comprehensive tour of eastern South Africa that visits a number of South Africa's major game reserves and includes a broad diversity of habitats. Due to the diversity of habitats visited it often results in an impressive bird and mammal list. The tour starts in the coastal city of Durban, then heads inland to the Drakensberg Mountains, down into the lowlands of Zululand, and then through the highveld areas to the Kruger National Park, finally ending in the drier woodlands north of Johannesburg.
During this 18-day tour we managed an impressive bird list of 463 species seen (plus 6 species heard only), including many South African endemics and near-endemics such as Cape Gannet, Southern Bald Ibis, Jackal Buzzard, Grey-winged Francolin, Blue Crane, Blue Korhaan, Northern Black Korhaan, Rudd's, Botha's, Eastern Long-billed, and Large-billed Larks, Bush Blackcap, Cape Parrot, Cape and Sentinel Rock Thrushes, Buff-streaked, Sickle-winged, and Ant-eating Chats, Drakensberg Rockjumper, Ground Woodpecker, Cape Grassbird, Cloud Cisticola, Cape Penduline Tit, Karoo and Kalahari Scrub Robins, Chorister Robin-Chat, Fairy Flycatcher, African Rock, Yellow-breasted, and Mountain Pipits, Layard's and Barratt's Warblers, Grey Tit, Gurney's Sugarbird, Neergaard's, Greater Double-collared, and Southern Double-collared Sunbirds, Swee Waxbill, Forest Canary, Pink-throated Twinspot, and Drakensberg Siskin.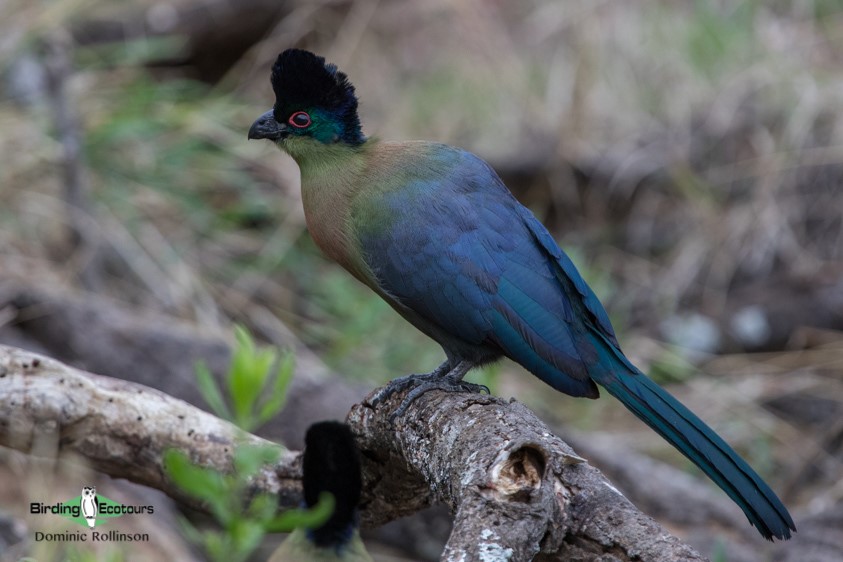 The loud and colorful Purple-crested Turaco showed well in Mkhuze Game Reserve.
As always we paid special attention to the mammals on this tour, which resulted in a large selection of charismatic African wildlife and also a number of smaller and less-common-seen species. Some of the mammal highlights of this trip included Lion, Leopard, Serval, Spotted Hyena, Side-striped Jackal, African Clawless Otter, African Elephant, White Rhinoceros, African Buffalo, Sable Antelope, Nyala, Blesbok, Mountain Reedbuck, Oribi, and Thick-tailed Greater Galago.
Detailed Report
 Day 1, 14th October 2019. Arrival in Durban and Umhlanga birding
We arrived around mid-afternoon at our accommodation in the Umhlanga area, just north of Durban, and after quickly unpacking our bags we made our way to the nearby Umhlanga Nature Reserve for our first taste of Durban birding. This is a great little spot; some time spent in the wetland and coastal forest patches here can soon amount to an impressive bird list. Some of the highlights from this afternoon included Little Bee-eater, Common Square-tailed Drongo, Rufous-winged Cisticola, Black-bellied Starling, Grey Sunbird, and Eastern (African) Golden Weaver. There was a strong onshore wind blowing, which meant that a number of seabirds had moved close to the coast; a quick seawatch produced Shy Albatross, White-chinned Petrel, Cape Gannet, Grey-headed Gull, and Sandwich Tern. We enjoyed our first dinner of the trip overlooking a large wetland, listening to the cacophony of calling frogs.
Day 2, 15th October 2019. Umhlanga birding and transfer to the Drakensberg
As we were still after a number of specials in the area we decided to head back to Umhlanga Nature Reserve, which worked out well with good sightings of Burchell's Coucal, Black-throated Wattle-eye, Cardinal and Golden-tailed Woodpeckers, Southern Boubou, African Paradise Flycatcher, Sombre Greenbul, Red-capped Robin-Chat, and Dark-capped Weaver, with the highlight of the morning being a small group of Red-headed Queleas among Southern Red Bishop flocks. As we were loading the vehicle we had brief fly-over views of some of the feral population of Rose-ringed Parakeets.
After a quick breakfast at the guest house we hit the road and made our way inland toward the impressive Drakensberg, with a full day of birding en route. Our first stop was in the KwaZulu-Natal midlands for Blue Swallow. This Vulnerable (IUCN) swallow is restricted to montane grasslands, where it breeds in sink holes, and it is in trouble in South Africa due to habitat loss. Thankfully it played along today, and we had good but brief sightings of a single bird among the similar Black Saw-wings at our stakeout. We also found some other great birds in the general area, including Crowned Eagle, Long-billed Pipit, Cape Crow, Wailing Cisticola, Drakensberg Prinia, Pied Starling, and Cape Longclaw. After finding the Blue Swallow we headed through the Umkomaas valley, which offered more great birding with Lesser Honeyguide, Blue-mantled Crested Flycatcher, Olive Bushshrike, Southern Tchagra (heard only), Black-headed Oriole, African Firefinch, and Amethyst Sunbird all seen on the drive.
Once we had left the valley we birded the Xumeni Forest for a couple of hours before making our way higher into the Drakensberg. The forest proved productive, and we had brief views of Orange Ground Thrush, Narina Trogon, African Olive Pigeon, and White-starred Robin. After a lot of work we eventually saw enough of the notoriously skulking Barratt's Warbler.
After a long productive day of birding we finally arrived at our accommodation for the evening, with a few good birds seen around Underberg en route, including Grey Crowned Crane, African Black Duck, Long-crested Eagle, and Long-tailed Widowbird.
Day 3, 16th October 2019. Sani Pass birding
Today proved to be one of the highlights of the trip as we made our way up the famous Sani Pass and into the kingdom of Lesotho with our knowledgeable local guides Stuart and Aldo. We left our accommodation early and made our way toward the Sani Pass. Before even reaching the pass we had already encountered a number of our targets, including Red-winged Francolin, Brown-backed Honeybird, Buff-streaked Chat, Bokmakierie, Red-throated Wryneck, Olive Woodpecker, African Yellow Warbler, Swee Waxbill, Cape Weaver, Greater Double-collared Sunbird, and Wing-snapping Cisticola. As we headed up the lower slopes of the pass we added new birds such as Black Stork, Ground Woodpecker, and Cape Rock Thrush. As we gained in altitude the species changed, and we had our first looks at Drakensberg Rockjumper, Karoo Prinia, Fairy Flycatcher, Cape Vulture, Drakensberg Siskin, African Rock Pipit, Sentinel Rock Thrush, and Grey Tit. Once we had crossed the border post into Lesotho we started birding the plateau, and new birds kept coming with Large-billed Lark, Sickle-winged Chat, Mountain Pipit, Layard's Warbler, and Yellow Canary all putting in an appearance. Farther into Lesotho we found Karoo Scrub Robin and a Bearded Vulture on the nest.
After we had found all our targets on the Sani Pass we headed down a little earlier than anticipated, and Stuart and Aldo took us to a Western Barn Owl roost and a nearby Spotted Eagle-Owl roost. En route back to our accommodation we had great views of a pair of Secretarybirds, with the day being capped off perfectly with an obliging Cape Eagle-Owl showing beautifully in the late afternoon light (see image on the title page).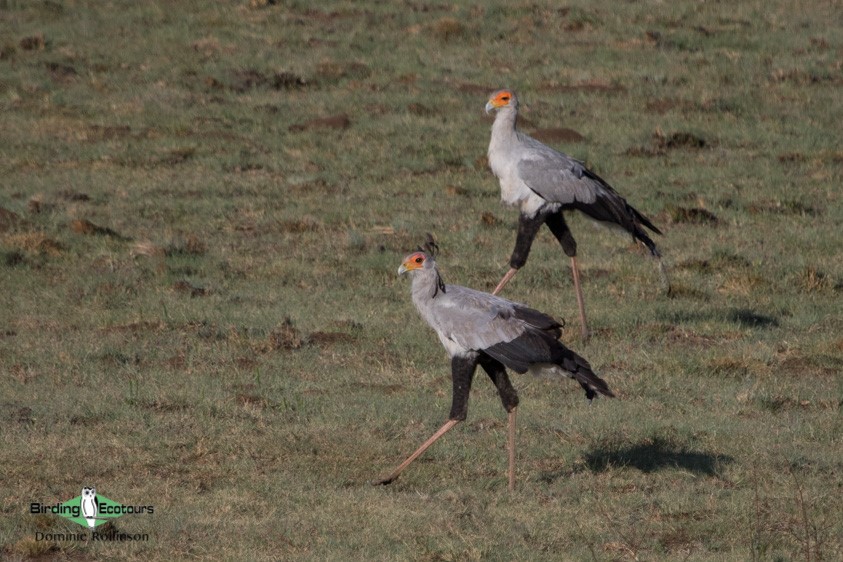 This pair of Secretarybirds were seen in the grasslands below the Sani Pass.  
Day 4, 17th October 2019. Drakensberg to Eshowe
We had a lot to get through today and so decided to leave our accommodation early and head to a nearby wetland, where we hoped to get views of Wattled Crane. Unfortunately, the best we could do was to hear the calls of a bird in a nearby valley, but it would not show for us. In the general area we did manage to find a large flock of Quailfinch as well as South African Cliff Swallow and a calling Red-necked Spurfowl.
Next we headed to the nearby Marutswa Forest, where we found our target species, Cape Parrot, as we arrived at the stakeout. We had breakfast here while enjoying views of Orange Ground Thrush, Bush Blackcap, Knysna Turaco, Forest Canary, Cape Batis, and Olive Bushshrike.
From the foothills of the Drakensberg we still had a good drive ahead of us to the lowlands of Zululand, so we didn't spend too much time at Marutswa before moving on. As we made our way through the KwaZulu-Natal midlands we kept an eye out for Wattled Crane but could only come up with Grey Crowned Crane, Secretarybird, and Jackal Buzzard as well as smaller birds such as African Yellow Warbler, Plain-backed Pipit, and Golden-breasted Bunting. A brief stop closer to Eshowe produced a low flock of African Black and Alpine Swifts.
After arriving in Eshowe we quickly unpacked the vehicle before heading out to Dlinza Forest for the afternoon in the hope of finding Spotted Ground Thrush and other forest specials. We had no luck with the thrush; however, we did find Lemon Dove, Chorister Robin-Chat, African Goshawk (heard only), Terrestrial Brownbul, White-eared Barbet, and many noisy Trumpeter Hornbills. The bird of the afternoon was a pair of obliging Green Twinspots, which we watched as they came to feed.
Day 5, 18th October 2019. Eshowe birding
This morning we headed out to Dlinza Forest again in the hope of finding Eastern Bronze-naped Pigeon and Spotted Ground Thrush. Unfortunately we had no luck with either, and the forest was remarkably quiet. We did, however, see Crowned Hornbill, Yellow-rumped Tinkerbird, African Emerald Cuckoo, Olive Sunbird, Ashy Flycatcher, and Scaly-throated Honeyguide and had much better views of Narina Trogon.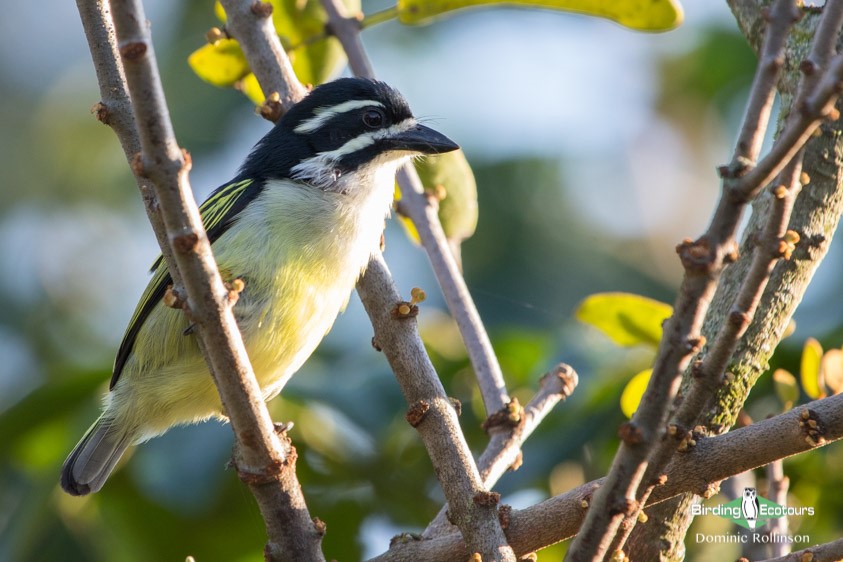 Yellow-rumped Tinkerbird posed nicely in Dlinza Forest.
We then headed to another nearby forest, Entumeni Forest, where our luck improved drastically. In the grasslands and scrub outside the forest we added Fan-tailed Grassbird, Red-fronted Tinkerbird, Martial Eagle, Common House Martin, Lazy Cisticola, African Firefinch, Red-backed Mannikin, and Red-collared Widowbird. In the forest itself the birding was great, and we managed to find many of our targets, including Eastern Bronze-naped Pigeon, Green Malkoha, Yellow-throated Woodland Warbler, and Grey Cuckooshrike. We also managed good views of Blue-mantled Crested Flycatcher, Green Wood Hoopoe, Red-capped Robin-Chat, and Southern Double-collared Sunbird. On our way back to Eshowe we had improved views of a pair of Crowned Eagles.
In the afternoon we headed to yet another forest, this time Ongoye Forest, which is the only forest in which the endemic woodwardi subspecies of Green Barbet occurs. This forest is nestled up in the hills above Eshowe, surrounded by beautiful, pristine grassland, and really is one of the more scenic forests in South Africa. It did not take long for us to find Green Barbet along with other forest specials such as Yellow-streaked Greenbul and Brown Scrub Robin. On the way back to the lodge we birded the grassland and bushveld valleys, which were incredibly productive and produced Striped Pipit, Orange-breasted Bushshrike, Yellow-breasted Apalis, Little Bee-eater, Red-faced Mousebird, Black Sparrowhawk, and Diederik Cuckoo.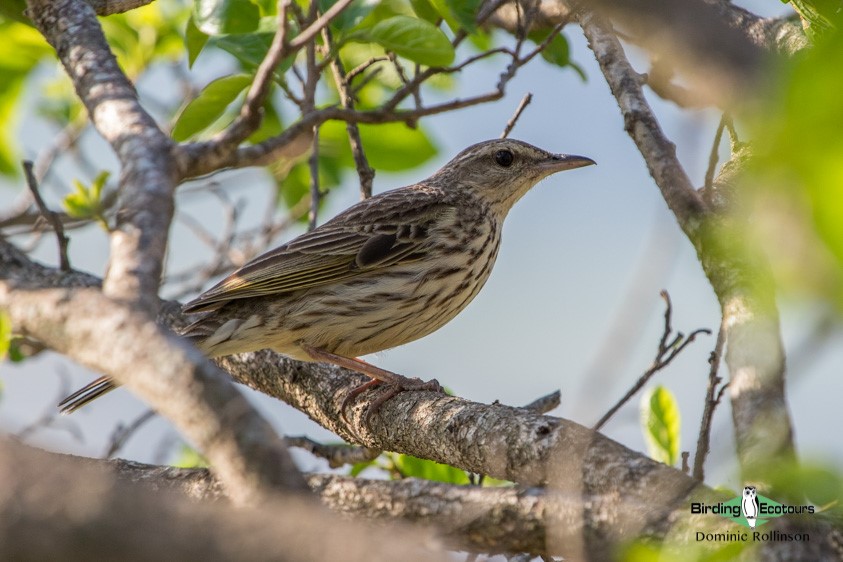 Striped Pipit was seen in the grasslands around Ongoye Forest.
Day 6, 19th October 2019. Eshowe to St Lucia
Today we had our final shot at Spotted Ground Thrush in Dlinza Forest, and thankfully it did not take long until Rosie spotted movement in the shadows and we eventually all managed views of a single foraging bird.
Breakfast tasted that much better with the thrush in the bag, and soon afterwards we made our way to the coast and farther north into Zululand toward St Lucia. En route we stopped at a small farm dam, which produced Collared Pratincole, White-backed Duck, African Pygmy Goose, and Rufous-winged Cisticola. We also stopped in Mtunzini to look for Palm-nut Vulture, which took longer than normal. However, we did eventually obtain good scope views and had a brief African Cuckoo-Hawk flyby while we were enjoying lunch.
Soon after arriving in St Lucia we headed to the estuary mouth to search for a few waders and other coastal species. The estuary mouth was a little quieter than expected, but it did hold a few Chestnut-banded Plovers, Greater Sand Plover, African Oystercatcher, Sanderling, and Marsh Sandpiper as well as a number of other common Palearctic waders. A relatively small tern roost contained Caspian, Sandwich, Little, and Greater Crested Terns as well as a few Grey-headed Gulls. Other waterbirds present here included Goliath and Purple Herons and Yellow-billed Stork. On our way back to our accommodation we had good views of the comical-looking Crested Guineafowl.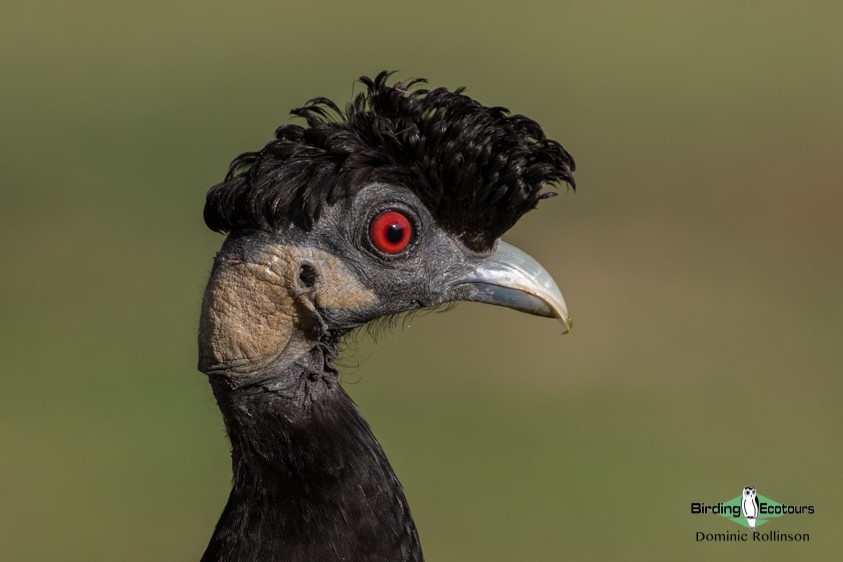 Crested Guineafowl was common and confiding in St Lucia.
Day 7, 20th October 2019. St Lucia birding
As usual we were up early and headed to the eastern shores section of iSimangaliso Wetland Park, where we spent most of the morning driving the area and stopping at a few viewing points and hides. Highlights of the morning included Palm-nut Vulture, Livingstone's Turaco, Rudd's Apalis, Woodward's Batis, Eastern Nicator, Red-breasted Swallow, Croaking and Pale-crowned (heard only) Cisticolas, Greater Honeyguide, and many Black-bellied Starlings. We also had some good mammal sightings in the park, such as White Rhinoceros, African Buffalo, Side-striped Jackal, Banded Mongoose, Bushbuck, Natal Red Duiker, Greater Kudu, and Giraffe. On our way back into town we had brief views of Southern Brown-throated Weaver among many Eastern (African) Golden Weavers.
Much of the afternoon was spent in the western shores section looking for Southern Banded Snake Eagle. However, we unfortunately didn't have any luck here, but we did find both Brown and Black-chested Snake Eagles.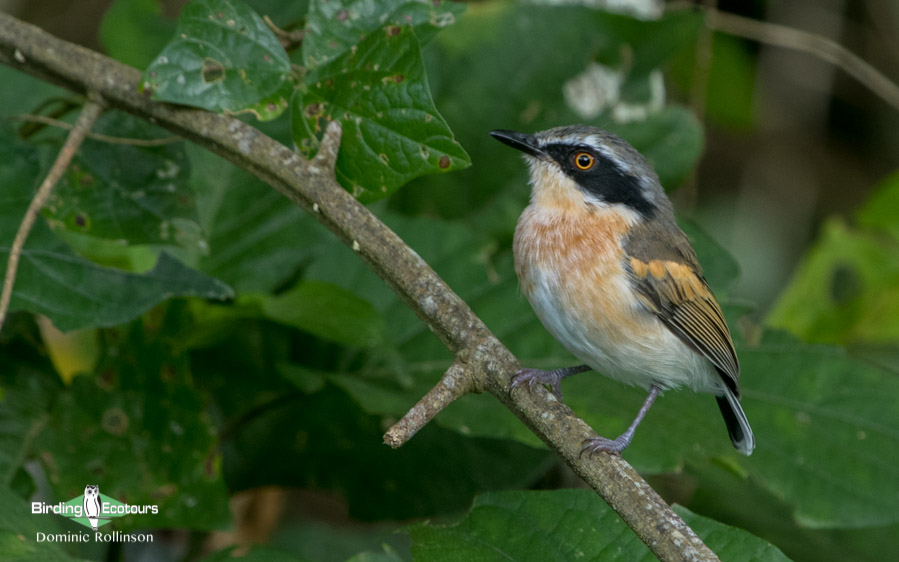 Woodward's Batis was seen well in St Lucia.
Day 8, 21st October 2019. St Lucia to Mkhuze Game Reserve
The early morning before breakfast was spent birding a trail around town, which produced many of the birds seen yesterday as well as African Green Pigeon and Grey Waxbill. After breakfast we packed our bags and decided to give Southern Banded Snake Eagle another shot. Thankfully it did not take too long to find the bird, and we could then be on our way again, heading north toward Mkhuze Game Reserve.
We stopped for lunch just south of Hluhluwe and had some good birding here, including Burnt-necked Eremomela, Long-billed Crombec, and African Hoopoe. After lunch we continued north and birded the floodplain of Lake St Lucia, which didn't have too much of interest but did give us a few African Wattled and Senegal Lapwings.
Soon we entered Mkhuze Game Reserve, where we spent the rest of the afternoon settling into our accommodation and birding the general area. We added White-crested Helmetshrike, Pale Flycatcher, Little Sparrowhawk, Chinspot Batis, White-browed Scrub Robin, Wahlberg's Eagle, and Grey Penduline Tit and improving our views of African Cuckoo-Hawk. In the evening while we were enjoying our braai (barbeque) we were interrupted by a fly-by Fiery-necked Nightjar and a particularly bold Greater Thick-tailed Galago.
Day 9, 22nd October 2019. Mkhuze Game Reserve birding
We had the whole day to enjoy the birds and other wildlife in the reserve and started the day by heading into the sand forest to bird around Kumasinga Hide. Almost immediately we found our major target in the form of a male Neergaard's Sunbird, which was feeding in a flowering tree among many Purple-banded Sunbirds. Right after the sunbirds we found an obliging pair of Pink-throated Twinspots, which was another big target in the sand forest. In the area we also found Crested Guineafowl, Crested Francolin, Stierling's Wren-Warbler, Bearded Scrub Robin, Emerald-spotted Wood Dove, and Grey-headed Bushshrike.
Throughout the rest of the day we visited many of the park's impressive hides, waterholes, and pans and ended with an impressive day list which included Pink-backed Pelican, Gorgeous Bushshrike, Brown-crowned Tchagra, Brubru, Black Cuckooshrike, Eastern Nicator, Rudd's Apalis, Red-billed Oxpecker, Green-winged Pytilia, Marico Sunbird, Acacia Pied Barbet, and many others.
In the evening we did a night drive, where we added Bronze-winged Courser and African Scops Owl as well as a few more Senegal Lapwings.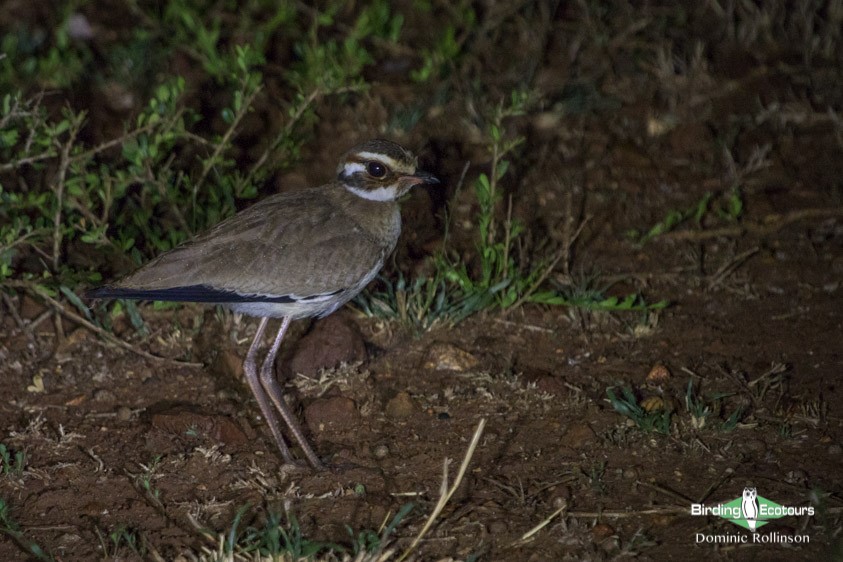 Bronze-winged Courser was seen well on our night drive at Mkhuze Game Reserve.
Day 10, 23rd October 2019. Mkhuze Game Reserve to Wakkerstroom
We started the morning with an early drive around the reserve and were rewarded with an amazing sighting of an adult female Leopard and her two sub-adult offspring, which showed briefly before disappearing into the thick bush. We also found Yellow-throated Bush Sparrow (Petronia), Grey Tit-Flycatcher, White-backed Vulture, Common Scimitarbill, Southern Yellow-billed Hornbill, and Cape Starling.
With a lengthy drive ahead of us we left around mid-morning and made our way northwest to Wakkerstroom. Most people are unlikely to ever have heard of this small town in the Mpumalanga province of South Africa; however, it has an almost legendary status among South African birders, as it has some of the best highveld grassland birding in the country and harbors a number of rare endemics. Just before reaching Wakkerstroom we found Southern Bald Ibis and Spike-heeled Lark.
Once we had checked into our accommodation we headed to the wetland in town, which eventually produced glimpses of Red-chested Flufftail as well as African Snipe, African Swamphen, Cape Weaver, African Reed Warbler, calling African Rail, and Cape Shoveler. Back at our accommodation some of us managed views of African Clawless Otter and Mountain Reedbuck. We ended the day with a brief owling mission, which produced the goods with fantastic views of African Grass Owl.
Day 11, 24th October 2019. Wakkerstroom birding
We had a full day of grassland birding ahead of us today. First we made our way to the Botha's Lark stakeout with our local guide Sufiso, who had up-to-date information on where to find most of the special birds in the area. En route to our first stop we found a large flock of Blue Cranes as well as Swainson's Spurfowl, Long-tailed Widowbird, and a Secretarybird on the nest. Botha's Lark took a while to show, but eventually we had excellent scope views. While we waited for the lark to show we added Capped Wheatear, Sand Martin, Cape Longclaw, Lanner Falcon, Cape Crow, and many Red-capped Larks.
Next on the agenda was Fickland Pan to target Rudd's Lark. En route we saw Eastern Clapper Lark and Cloud Cisticola. Once having arrived at Fickland Pan it did not take too long before Rudd's Lark showed well. We were all amazed at its ability to disappear into the grass and not show again. In the nearby area we found South African Shelduck, Ant-eating Chat, Common Quail, Pied Starling, Banded Martin, and Pale-crowned Cisticola.
We went back to our accommodation for lunch and then headed out for the afternoon's birding. It did not take long until we found White-bellied Bustard, which was another of our targets, and then we also came across yet another pair of Secretarybirds. With the light fading we decided to have another try for Blue Korhaan, which we had failed to find earlier. After much searching we eventually had good views of at least three birds in some nearby fields. A great way to end another successful day of birding!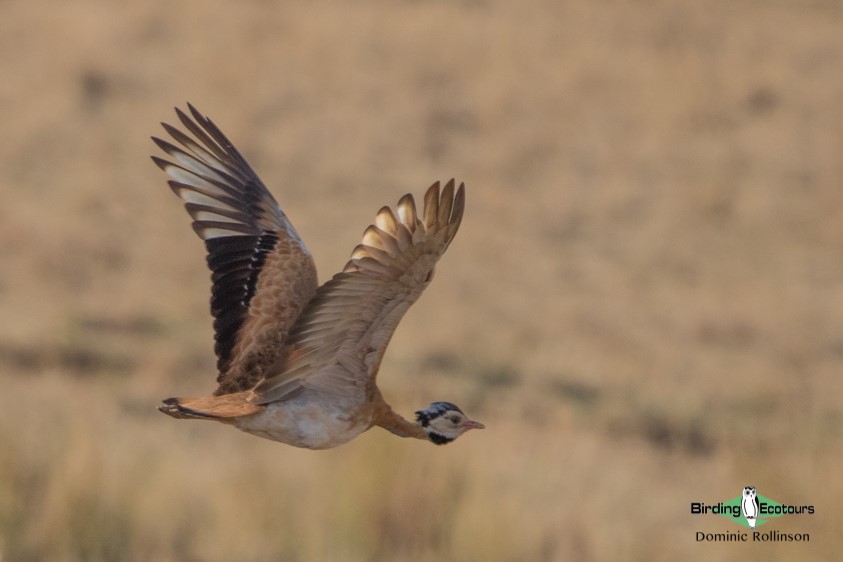 White-bellied Bustard was seen in the drier grasslands near Wakkerstroom.
Day 12, 25th October 2019. Wakkerstroom to Kruger National Park
Today was mostly a travel day. However, as we had yet to search for Yellow-breasted Pipit around Wakkerstroom, we decided this would be our major target for the morning. It took a bit of work, but eventually we had really close views of a displaying bird and also found Mountain Wheatear, Sentinel Rock Thrush, Buff-streaked Chat, and Eastern Long-billed Lark. We stopped at the wetland in town on our way out and found African Rail, Little Bittern, African Marsh Harrier, and Intermediate Egret. The long drive to Kruger National Park did not produce much of interest besides Karoo Thrush at our lunch spot.
As we arrived at the entrance gate to Kruger National Park we saw a flurry of new birds, including Red-headed Weaver, Brown-headed Parrot, and Yellow-fronted Tinkerbird.
Day 13, 26th October 2019. Kruger National Park birding
We spent the whole day on the back of an open-top safari vehicle all to ourselves, which made visibility and finding birds even easier. We were based at Pretoriuskop Rest Camp, which had recently seen much of the surrounding bush burned by a runaway fire. But we still managed to find some great birds and other wildlife. Highlights from our morning drive included Flappet Lark, Bushveld Pipit, Yellow-bellied Eremomela, Magpie and Southern White-crowned Shrikes, Southern Red-billed and African Grey Hornbills, Greater Blue-eared and Burchell's Starlings, Cardinal Woodpecker, Natal Spurfowl, Hooded Vulture, Bateleur, Tawny Eagle, and Striped Kingfisher as well as a huge male Sable Antelope. We also had views of a number of African Elephants which occur in large numbers in the park.
The afternoon drive was a not as productive; however, we still found Spotted Eagle-Owl, Red-faced Cisticola, Grey Go-away-bird, Bushveld Pipit, Jameson's Firefinch, Little Bee-eater, and Mocking Cliff Chat and had great views of a Klipspringer silhouetted against the dramatic sky.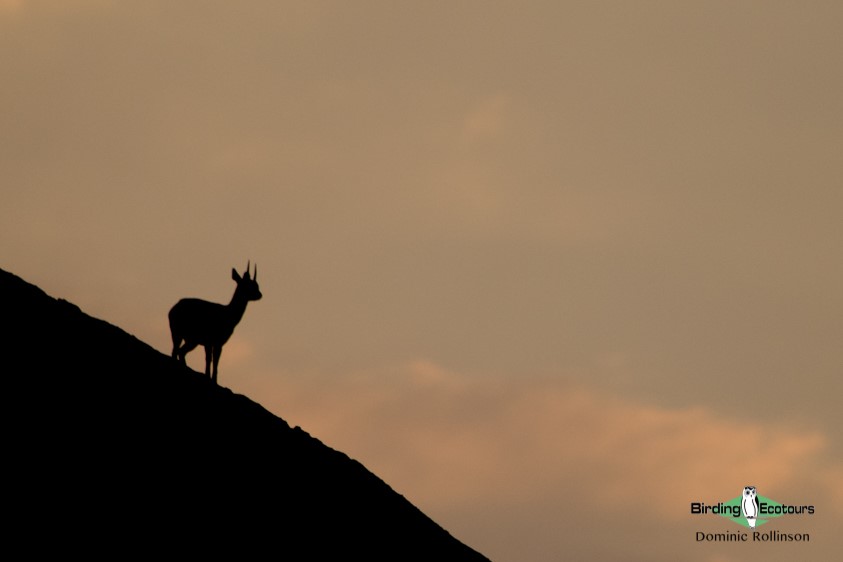 Klipspringer was seen in the granite 'koppies' around Pretoriuskop Rest Camp.
Day 14, 27th October 2019. Kruger National Park birding
With the morning starting fairly cool with some decent cloud cover we made our way north through the park towards Satara Rest Camp, where we were staying for our final night in Kruger. Soon after leaving Pretoriuskop we had point-blank views of a Red-crested Korhaan, giving its high-pitched, deafening call, as well as of the slightly larger Black-bellied Bustard. We had breakfast at Skukuza Rest Camp, where we managed to find White-browed and White-throated Robin-Chats, Saddle-billed Stork, Red-billed Buffalo Weaver, Golden-breasted Bunting, and African Firefinch.
Soon after leaving Skukuza we were lucky enough to find a pair of roosting Southern White-faced Owls as well as a Leopard sleeping in a huge tree along the river. The afternoon drive to Satara did not add too much more of interest besides Purple Roller, Arrow-marked Babbler, Namaqua Dove, and Groundscraper Thrush.
With the really hot temperatures we decided to take it easy for a little while before heading out for our afternoon drive from Skukuza Rest Camp. With the temperatures having dropped (slightly) later there was a bit more activity on our drive, and we managed sightings of a pride of Lions as well as White-headed Vulture, Chestnut-backed Sparrow-Lark, Pearl-spotted Owlet, and Lesser Spotted Eagle. A couple of Spotted Hyaenas were also seen on our afternoon drive.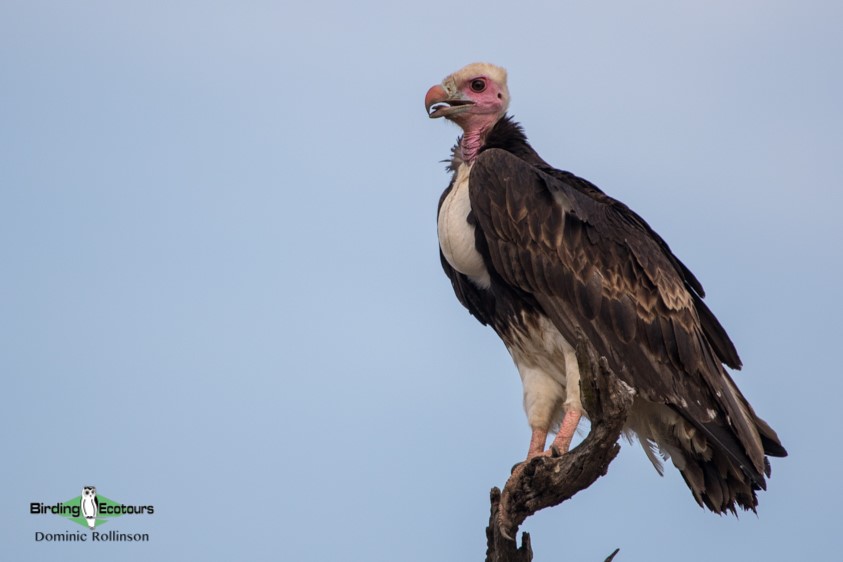 White-headed Vulture, perhaps the most attractive of southern Africa's vultures.
Day 15, 28th October 2019. Kruger National Park to Dullstroom
The day couldn't have started much better when as we left camp we were greeted by three huge male Lions making their way south. Really impressive to see up close! Not long after this we had good views of a lone Leopard before it hid in a culvert under the road. Next we concentrated on some of our bird targets and soon found Common Ostrich, Southern Ground Hornbill, Kori Bustard, Desert Cisticola, and Kurrichane Thrush.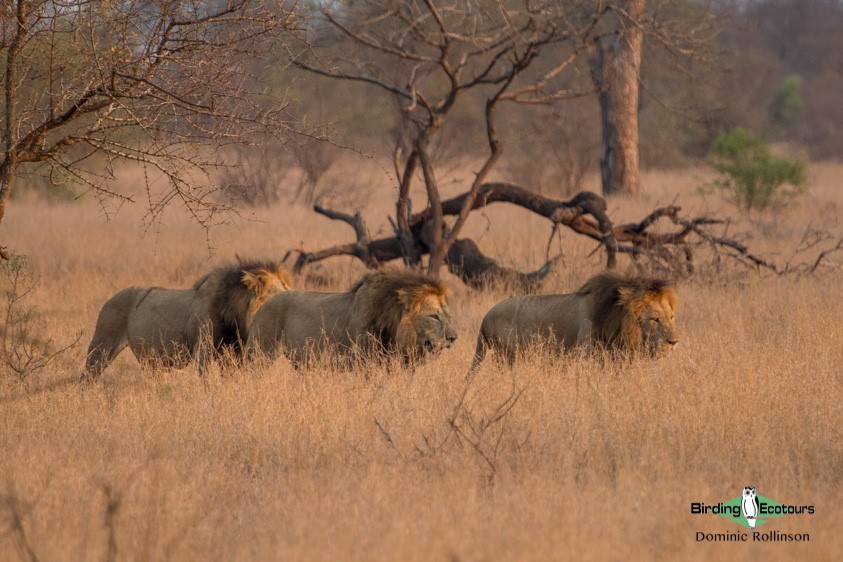 The group of three male Lions seen in Kruger National Park.
It was another scorcher today, so we left camp early after enjoying a good breakfast and made our way out of the park. On our way we stopped at a waterhole which had a large herd of African Buffalo as well as a few Yellow-billed Oxpeckers. Careful scanning through the flocks of aerial feeders produced Grey-rumped and Mosque Swallows too.
Once out of the park we made our way south toward Dullstroom, where we were staying for the night. En route we stopped at the Blyde River Canyon to look for Taita Falcon; however, they were unfortunately not around.
We arrived in Dullstroom in the late afternoon and decided headed out to try to find a few more targets. It took some effort, but eventually we had good scope views of Wattled Crane alongside a dam and found Red-winged Francolin, Cape Longclaw, and African Wattled Lapwing in the surrounding grasslands as well.
In the evening before heading for dinner some of the group managed good views of African Wood Owl.
Day 16, 29th October 2019. Dullstroom to Zaagkuilsdrift
We birded for a few hours around Dullstroom this morning in the hope of finishing our remaining targets in the area. Gurney's Sugarbirds were most obliging as we arrived at the stakeout spot, and we managed a number of Denham's Bustards and Blue Cranes in the area too as well as a Marsh Owl hunting over a wetland in the early-morning light. Perhaps the highlight of the morning was watching a Serval hunting in the same wetland as it walked through the tall grass without paying much attention to us. Close to our accommodation we had good views of Pale-crowned Cisticola, Yellow-breasted and Long-billed Pipit, African Olive Pigeon, Jackal Buzzard, Streaky-headed Seedeater, and Olive Thrush.
After breakfast in Dullstroom we headed west towards Zaagkuilsdrift, where we would be doing some dry-country birding with a very different mix of species. En route we stopped for lunch in Mabusa Nature Reserve, which produced Buffy Pipit, Shelley's Francolin, Red-headed Weaver, and Green-capped Eremomela. Nearby we also had brief views of Oribi, a rare, grassland-restricted antelope.
After lunch we continued west to our accommodation in the Zaagkuilsdrift area, where we soon added new birds in the form of White-browed Sparrow-Weaver, Chestnut-vented Warbler, and Northern Black Korhaan.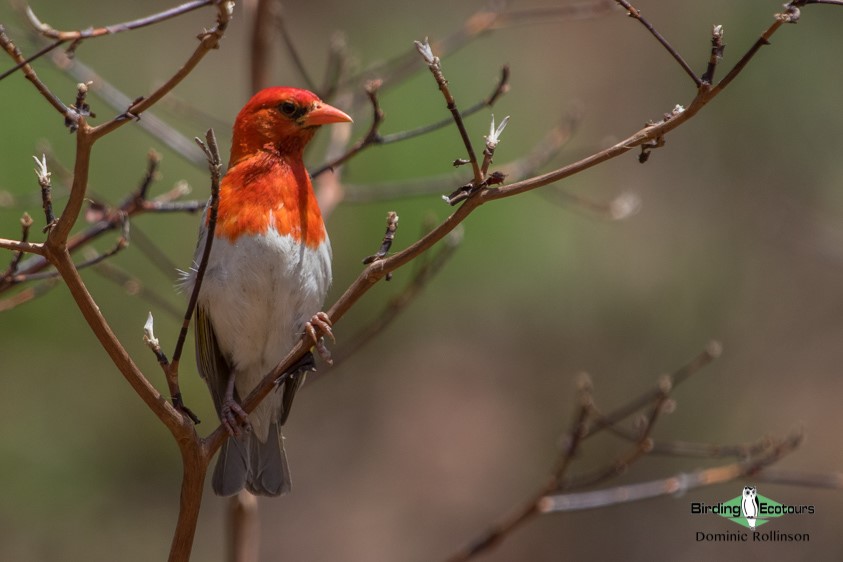 The stunning male Red-headed Weaver was seen at its nest in Mabusa Nature Reserve.
Day 17, 30th October 2019. Zaagkuilsdrift birding
Today was our last full day of the tour, and with lots of birds to still find we headed out early before breakfast and birded the woodlands and Kgomo-Kgomo floodplain. Soon after we left our accommodation we came across a bird party, which included Barred Wren-Warbler, Violet-eared Waxbill, Crimson-breasted Shrike, Cape Penduline Tit, Marico Flycatcher, and Southern Pied Babbler. Around Kgomo-Kgomo we found more new birds in the form of Great Spotted Cuckoo, Pearl-breasted Swallow, Red-headed Finch, Black-chested Prinia, Black-throated Canary, Kalahari Scrub Robin, Scaly-feathered Weaver, and Shaft-tailed Whydah.
Breakfast back at our accommodation was interrupted briefly by Levaillant's Cuckoo and Karoo Thrush.
The final afternoon was spent birding the general area, looking for anything we were still missing. We did find some more good birds, such as Capped Wheatear, Marico Sunbird, Burnt-necked Eremomela, Wattled Starling, and Red-breasted Swallow.
Day 18, 31st October 2019. Zaagkuilsdrift birding and departure
With flights in the early afternoon we had most of the morning to bird the area before heading south to Johannesburg. Despite this being the final morning we still managed to add a number of new birds. Grey-backed Camaroptera finally showed itself in the surrounding bushveld, and Kgomo-Kgomo floodplain gave us more birds new to the list, such as Yellow-crowned Bishop, Cut-throat Finch, and Great Sparrow.
We finally had to leave Zaagkuilsdrift and head to the airport, but our luck had not yet run out, as we managed to add Black-faced Waxbill and Greater Kestrel while we were driving out of the area. Thankfully the trip to the airport was uneventful, and it ended a great 18 days around South Africa with many highlights to remember fondly. Thanks to all tour participants for making this a fun and highly successful tour. Looking forward to the next one!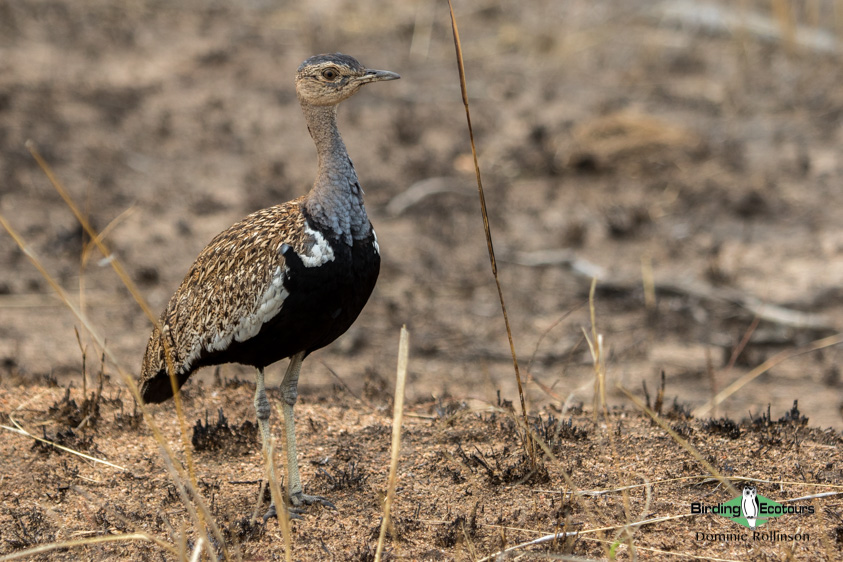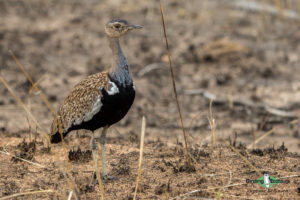 This male Red-crested Korhaan showed really well in Kruger National Park.
Please see the downloadable PDF above with the full species lists included. This is a sample trip report. Please email us ([email protected]) for more trip reports from this destination.
SOUTH AFRICA: GENERAL INFORMATION
OUR SOUTH AFRICAN BIRDING TOURS
We currently (at the time of updating this general information document, i.e. 16 March 2022) have six exciting set departure South African birding tours. These cover all of the country's important birding regions, provide opportunities for you to see most of the country's many endemics and specials, plus lots of mammals, spectacular scenery, and more. Our South African birding tours are as follows:
We also offer a number of South African birding day tours, if you only have a day or two to spare around one of the major cities, such as Johannesburg or Cape Town.
PASSPORT AND VISA
Your passport must be valid for a period of at least six months after the date of your arrival in South Africa. Please make sure that there is at least one full empty page available in your passport. Please make sure that you also bring a photocopy of your passport, to be kept in a different location from your passport, in case of loss. Visas are generally not required but please check for your nationality.
TRAVEL INSURANCE
We require (see Birding Tours Terms and Conditions – Birding Ecotours) that you purchase trip cancellation insurance in case you have to cancel due to illness just prior to the tour departure date, to protect yourself against accidents, medical, illness, loss of valuables, luggage etc. and travel interruptions or delays of all kinds. Allianz Travel and Generali Global Assistance are two options to consider.
HEALTH/MALARIA
Please carefully read the Center for Disease Control (CDC) information for travelers to South Africa (or your government's equivalent health travel advice for South Africa). Below we have mentioned a couple of specific items but first and foremost kindly be advised by the updated information at the above link.
No vaccinations are required for South Africa however it is recommended that you are up to date with Hepatitis A and B, tetanus and polio. Please keep in mind that if you have not had any of these, one should make sure that you have been inoculated at least 6 weeks prior to your trip to take full effect
Malaria
We strongly recommend anti-malaria drugs for the Zululand and Kruger National Park portions of the subtropical South Africa tour and some other eastern South Africa tours of ours – when we'll be in malaria areas. Any one of the following three drugs are highly affective (albeit not 100 %, due to resistant strains of malaria) as malaria preventative measures:
MalaroneÒ (atovaquone/proguanil),
Doxycyxline, and
LariumÒ (mefloquine).
Mosquito repellant, long trousers/jeans and long-sleeved shirts, particularly at night when malaria (Anopheles) mosquitos bite, are advised, in addition to the drugs.
In the unlikely event that one still contracts malaria after taking anti-malaria drugs and other precautions, the disease can still be easily treated if diagnosed soon after symptoms develop: suspect malaria if flu-like symptoms develop within a few months of visiting South Africa. If it is malaria, it can be treated with an alternative to the prophylactic that you chose.
There is no malaria in the Western or Northern Cape Provinces so our Cape trips do not pose a malaria issue.
MEDICAL CONDITIONS
Please make sure that you are covered with medical insurance in case of an emergency while on these trips. Without insurance the cost of medical care can be extremely high. Please notify us at the time of registering for the tour of any medical conditions you think we should know about (including allergies, heart conditions, epilepsy, etc.). This will greatly help us to cater to your needs.
WATER / FOOD
South Africa is one of the few countries in Africa where it is safe to drink the water in the major cities, eat unpeeled fresh vegetables and salads. However, we provide unlimited bottled water in the tour vehicles, and you are welcome to take water from the vehicle for evenings when not provided in the hotel rooms. More expensive bottled water at restaurants is excluded from the tour cost and is for your account, but (again) you can take water from our tour vehicle whenever you want.
CURRENCY AND MONEY
South Africa uses rands (ZAR or simply R) with notes representing R200, R100, R50, R20 and R10 and coins representing R5, R2, R1, 50 cents, 20 cents and 10 cents.
Visa and Mastercard are widely accepted and to a lesser extent American Express, including for drawing cash from ATMs. Note: US and Canadian dollars, pound sterling and euros cannot be used for purchases. We will be able to exchange or draw money at the airport upon our arrival, and regularly during the tours.
PELAGIC TRIP PREPARATION
This applies to our Cape Town pelagic trips. Please note that by request we also arrange one-day pelagic trips in Mozambique, Namibia, Australia, New Zealand, the USA, etc., and these notes generally apply for those as well.  A pelagic trip is run over the course of one day (or sometimes a half day) and involves heading out into the open ocean in search of various species only occurring out at sea. While this is a truly spectacular adventure, one must remember that we are always at the mercy of the ever-changing sea conditions.
The vessel will depart from the specified port around sunrise and venture out into the ocean for usually a maximum distance of 30 nautical miles (55 kilometers) from land. Off southern Africa this is usually the 'drop zone', where deep water is present and many fishing vessels operate. On a pelagic trip we strive to try and find a fishing vessel, whether it be a trawler or a longliner, as they attract huge masses of birds. We spend quite a large part of the day out at sea (depending on weather and sea conditions) and return to our port of departure in the afternoon (usually any time between 2:00 and 4:00 p.m.). We provide a light lunch on board with various snacks, eats, and drinks, although if you should want anything specific, we recommend that you bring it yourself.
A pelagic trip is booked over two consecutive days (usually a weekend). The first day is used as the primary day, but should the previous day's weather forecast indicate that sea and/or weather conditions will prove more adverse on the first day, yet better on the second day, the pelagic trip will go ahead on the second day. However, it is possible that the trip may not go ahead at all due to adverse conditions over the entire two-day period. This is, unfortunately, not something we can predict and reliably confirm far in advance, and we are at the mercy of the weather/sea conditions and the word from our very experienced skippers, who ultimately give the final approval. Your safety on board the vessel is of paramount importance to us, and should the conditions of the sea prove to be too dangerous, the vessel will not go out. The pelagic trip is confirmed by the skipper, either way, a few days before it is due to depart. We will keep you informed about the decision.
What you will require:
Most important is a waterproof layer of clothing. There is often wind out at sea, and it blowing off the swells creates some spray. It is very easy to get wet on board, especially while heading out to the trawling grounds and returning back to port.
Layered and warm clothing. No matter the conditions predicted, whether it be sun or cloud, it can get cold out at sea, and bringing warm clothing is advised. It is also recommended to bring layered clothing, so that you can remove/add on as the conditions change. Sometimes it gets hot, so one needs to be prepared for this too (hence the need for layers).
Applying sun lotion or anti-sunburn cream is recommended, no matter the conditions. It is very easy to get badly burnt out at sea, whether it be a sunny or cloudy day. Sunglasses are also vital.
It is recommended to bring a hat that can be fastened to your head to prevent it from being blown away. Sunglasses are also recommended, as the glare from the ocean can be very bad at times, but note that it is very easy to lose a pair of sunglasses, and they will invariably pick up some spray from the ocean.
Due to the nature of the pelagic trip, water/spray invariably gets on board the vessel, and it is very easy to get your feet completely wet. Either waterproof hiking boots, or sturdy Teva-type sandals that can be fastened to your feet are recommended.
Anti-seasickness medication. Not everyone is affected by seasickness, but it is a very unpleasant experience should you get seasick. Various tablets, such as Stugeron, are recommended. Should you be prone to seasickness, it might be worth consulting your local pharmacist for stronger medication. Some seasickness pills make one very drowsy, so do consult a doctor and ask her/him as many questions as possible, before deciding.
Binoculars and cameras are recommended (as in any birding excursion), but again please note that they can very easily get wet and could get damaged as a result. A covering over your camera is advised.
Further information on pelagic birding can be found here.
WEATHER
South Africa is a land of great physical contrasts, from mountains and forests to grasslands and semi-deserts. October, when many of our tours run, is spring so we can get elements of winter or summer weather – with luck the weather will be mild throughout!  It is usually mild to warm or even hot at this time of the year and maximum temperatures can vary from about 68–86 oF (20–30 oC). Nights should be mild but there is a very small chance of temperatures slightly below freezing (32 oF) especially while at elevation in the Drakensberg (e.g. Dullstroom and Lesotho) – snow is even possible. So please be prepared for ALL weather possibilities, from a little below freezing to quite hot. Spring is unpredictable.
The Cape has winter rain – so we should miss rain there as we will be there in spring however rain can sometimes continue into spring too! Subtropical South Africa has summer thunderstorms, so we may experience these but often the rains only start in November or December – October is the end of the dry season over most of South Africa, except the Cape! But please be prepared for rain, even though there is not likely to be much.
The Cape pelagic trip can be cold and wet, or warm and very sunny, so be prepared with layers of clothing, waterproofing, as well as sunglasses and sunblock/sunscreen (reflection off the sea can burn eyes and skin severely).
Please note that on our 2018 tour we had at least one Canadian person finding it colder than expected in the Cape (in October, so spring) – there was late "winter-type" weather this year. Accommodations are often not heated like they are in North America, Europe, etc. Kindly be prepared for all kinds of weather, from cold to hot.
ELECTRICITY
The standard voltage in South Africa is 220–240 V. If you intend to recharge video batteries etc. in your hotel room you will need an international adapter (South Africa mostly uses Type D – 3 round prongs in a triangular pattern, but also uses Types M and N, see here for further details and photos). Lighting tends to be low wattage, so you might like to bring a good quality torch/flashlight if you like reading in bed! A good torch will also be useful if you fancy joining us for a night walk or drive. If you intend to do any trips, you'd be advised to bring at least one good torch preferably with a good beam.  All the places we will stay at will have electrical outlets for chargers and laptops.
Note: Please check all equipment that you plan on charging to see if it is 110/120 to 220/240 V compatible. If that is the case, you only need an adaptor to plug US plugs into. If your equipment is only listed as 110-120 V then you will need a converter to convert the electric current to 220–240 V.
LENGTH OF DRIVES
There are a couple of days in which there are long drives – say 5 hours, without stops, however most days involve far less traveling. In the Kruger National Park, it is illegal to alight from one's vehicle because of the presence of large, dangerous animals such as lions and elephants, so we are restricted to the vehicle except at picnic areas and rest camps. In the Kruger National Park and Mkhuze Game Reserve, we do thus spend most of the day in the vehicle, but we also spend time doing birding walks around the rest camps (and picnic areas).
Some roads can be dusty so please consider bringing a scarf or other measures in case you're birding along an unpaved road and a car goes past putting up dust. Dust is a particular issue on our Cape Town and Beyond birding tour, when birding in the Tankwa Karoo.
WHAT TO BRING

Clothing
Casual and informal dress is fine in the hotels. Loose lightweight field clothing works best, with a warm fleece or jacket for cooler weather. Shorts and T-shirts are fine – it's what the locals wear! You will also need to bring some warmer clothing, certainly a minimum of a warm fleece and a rain jacket. Rain is always a possibility, so an umbrella and or rain gear is always useful to have. Early mornings can feel a bit chilly in some areas so come prepared, especially in the Drakensberg/Lesotho/Dullstroom which is at relatively high altitudes.
Sunglasses, sunhat and sunscreen (rated SPF 30 or higher) are essential. A pair of trousers or a long skirt, and a long-sleeved shirt should be included to help protect against forest vegetation and the sun. Swimwear can be brought as there are swimming pools at some of the lodges.
We would recommend lightweight walking boots for when out on foot. You might like to consider sandals/tevas for use in the safari vehicles and for walking between your room and restaurant in the hotels and lodges.
Do not forget – BINOCULARS, prescription drugs (also bring the generic names for these drugs), toiletries, prescription glasses (and a spare pair), insect repellant, camera, flashlight, batteries (for electronic equipment and chargers for the re-chargeable batteries), converter plug set, if needed (the electricity supply is 220 V, 50 Hz) and plug adaptors, alarm clock, mosquito repellant, money pouch, field guide(s),  soft-sided duffle style luggage is recommended (hard-sided luggage is not always ideal), daypack/backpack, and your favorite road snacks!
Key documents and cash – Passports, your travel or health insurance cards (you can send us copies to file in case of emergency), credit cards – Visa and Mastercard are best in South Africa – see above, US dollars, euro or pounds can be exchanged into rands if you prefer not to simply draw from ATMs, cash for drinks, gifts, tips, items of a personal nature etc.
LUGGAGE
Due to restricted space in the vehicles, please pack as lightly as possible. A medium-sized, soft-sided duffle bag (not the hard-sided cases) works best for packing in the vehicles. This allows us to better fit the bags. Please bring a daypack to keep items that you wish to use or need on a daily basis.
'In the fall of 2011 my wife and I did a 28 day bird watching tour of South Africa with Birding Ecotours. Birding Ecotours was recommended by our Canadian agent, Tours of Exploration. Both of our driver/guides were excellent and our group of 5 saw well over 500 species of birds and over 60 species of animals as well as a large number of amazing endemic plants. The tours were well planned and run and came off without a hitch. The guides were very patient and accommodating and allowed us to change the schedule when we were in areas of great interest. Along with showing us the amazing natural history of South Africa our guides also explained the cultural history which made the trip special. We hope that we will have the opportunity to will travel with Birding Ecotours again in the near future.'
Otto