Updated on 3 May 2021 (previously updated on 9 January 2020)
The purposes of this article are 1) to provide the most up-to-date information on the endemic birds of South Africa (based on the 2021 update of the country's official bird-list), and 2) to photographically showcase some of these birds that require a trip to Africa's southernmost country to be seen.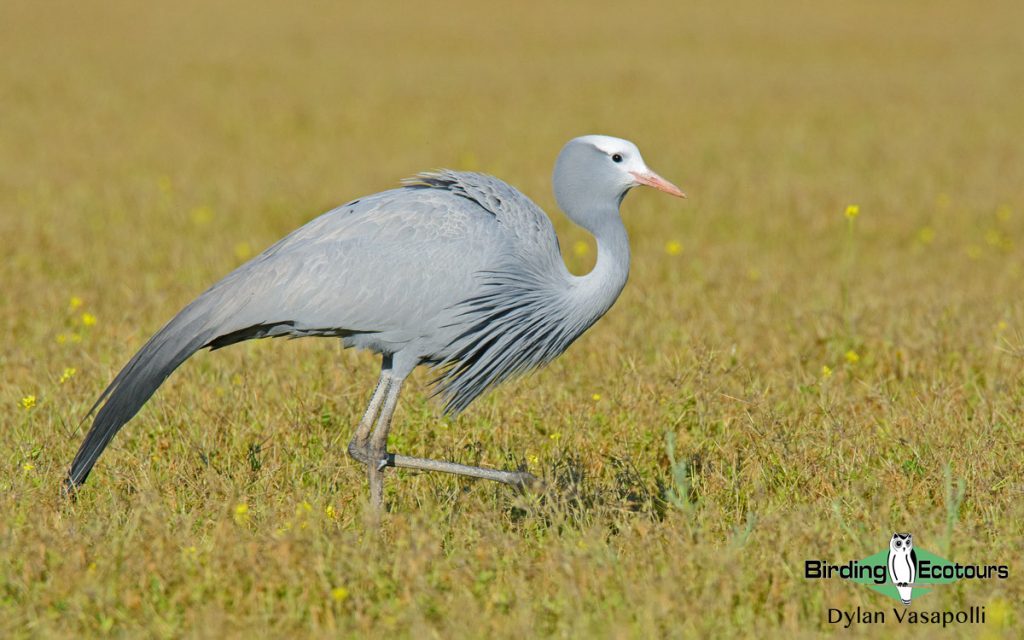 The majestic Blue Crane; South Africa's national bird, is a near-endemic with an isolated population in Etosha National Park in northern Namibia
South Africa has a remarkable total of 69 bird species which are confined to its borders, or nearly so. The tiny nations of Lesotho and Eswatini (Swaziland), both of which are virtually surrounded by South Africa (bizarrely), do kind of make things a bit complicated, though. This is because a remarkable 20 of the 69 South African "endemics" actually occur in all three countries (South Africa, Eswatini and Lesotho). Only 18 bird species are absolutely strictly confined to South Africa. Most of the remaining 30 species on the list are "near-endemics", with 70 % or more of their range or population within the boundaries of South Africa with less than 30 % of their range in countries to the north. One other species (South African Cliff Swallow) is a "breeding near-endemic" with most of its breeding population in South Africa (its breeding range seems to be increasing through Namibia and Zimbabwe because it breeds on artificial structures, especially bridges). We once wondered whether the Critically Endangered, super-skulking White-winged Flufftail had its entire non-breeding range in South Africa (it has for a long time been known to breed in Ethiopia), but recently it has been found to breed in South Africa too.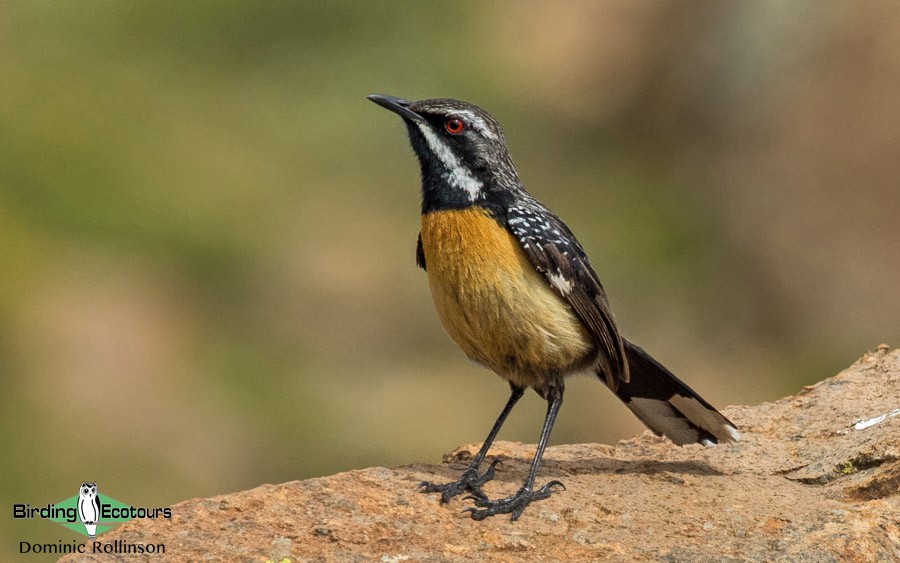 Drakensberg Rockjumper: This species abounds in Lesotho and high in the greater Drakensberg Escarpment of South Africa.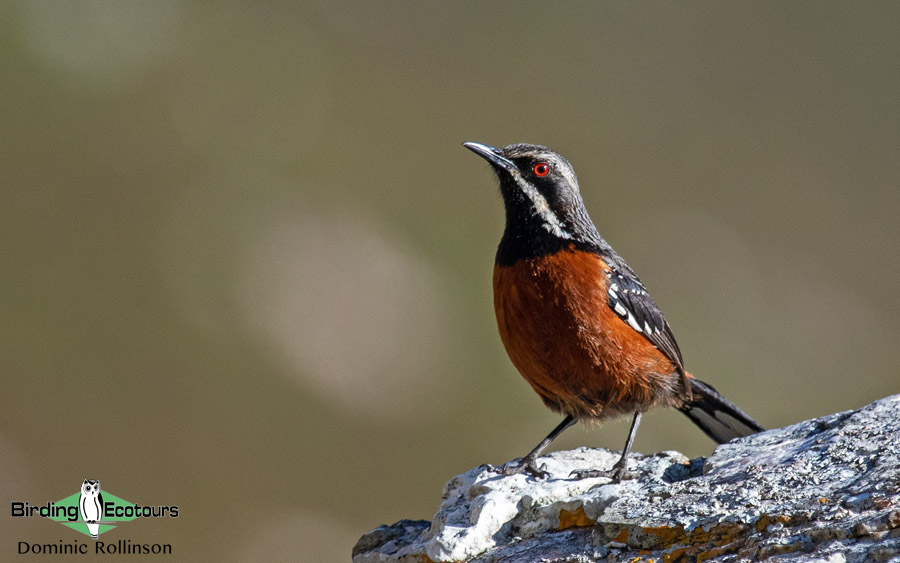 Cape Rockjumper is endemic to Cape Fold Mountains and is trickier to find than Drakensberg Rockjumper (both are very localized birds but Drakensberg is common and conspicuous once in its tiny global range).
Below, courtesy of BirdLife South Africa (BLSA), are comprehensive lists showing all 69 South African avian endemics and near-endemics – along with Global IUCN Red Data statuses of those endemic species that are threatened with extinction (disturbingly, there are a lot of those!). This South African endemics list is a subset of the Official Birdlife South Africa country bird list, which is updated annually and can be downloaded from the BLSA link shown above. As of 3 May 2021 (this number increases annually with the addition of new rarities pitching up, along with the occasional split), South Africa boasts 865 bird species, or in fact 873 species if Marion Island and Prince Edward Island are included – these sub-Antarctic islands are politically part of South Africa, although they are almost 1000 nautical miles (about 2000 kilometers) from the South African mainland.
The 18 true endemic birds of South Africa (12 of them threatened with extinction!):
Fynbos Buttonquail (Turnix hottentottus) Endangered
Southern Black Korhaan (Afrotis afra) Vulnerable
Cape Parrot (Poicephalus robustus) Vulnerable
Knysna Woodpecker (Campethera notata) Near-threatened
Red Lark (Calendulauda burra) Vulnerable
Agulhas Long-billed Lark (Certhilauda brevirostris) Near-threatened
Cape Long-billed Lark (Certhilauda curvirostris)
Botha's Lark (Spizocorys fringillaris) Endangered
Rudd's Lark (Heteromirafra ruddi) Endangered
Cape Bulbul (Pycnonotus capensis)
Cape Rockjumper (Chaetops frenatus) Near-threatened
Knysna Warbler (Bradypterus sylvaticus) Vulnerable
Victorin's Warbler (Cryptillas victorini)
Yellow-breasted Pipit (Anthus chloris) Vulnerable
Cape Sugarbird  (Promerops cafer)
Orange-breasted Sunbird (Anthobaphes violacea)
Protea Canary (Seedeater) (Crithagra leucoptera) Near-threatened
Cape Siskin (Crithagra totta)
The 20 bird species endemic to the region south of the Limpopo River: South Africa and the two tiny countries virtually within South Africa's borders i.e. Lesotho and Eswatini/Swaziland (eight of them threatened with extinction!):
Bush Blackcap (Sylvia nigricapillus) Vulnerable
Southern Bald Ibis (Geronticus calvus) Vulnerable
Forest Buzzard (Buteo trizonatus) Near-threatened
Grey-winged Francolin (Scleroptila afra)
Blue Korhaan (Eupodotis caerulescens) Near-threatened
Knysna Turaco   (Tauraco corythaix)
Ground Woodpecker (Geocolaptes olivaceus) Near-threatened
Eastern Long-billed Lark (Certhilauda semitorquata)
Drakensberg Rockjumper (Chaetops aurantius) Near-threatened
Cape Rock Thrush (Monticola rupestris)
Sentinel Rock Thrush (Monticola explorator) Near-threatened
Buff-streaked Chat (Campicoloides bifasciatus)
Chorister Robin-Chat (Cossypha dichroa)
Drakensberg Prinia (Prinia hypoxantha)
African Rock Pipit (Anthus crenatus)
Mountain Pipit (Anthus hoeschi) Near-threatened
Pied Starling (Lamprotornis bicolor)
Greater Double-collared Sunbird (Cinnyris afer)
Forest Canary (Crithagra scotops)
Drakensberg Siskin (Crithagra symonsi)
The 30 bird species that are near-endemic* to South Africa, *i.e. with at least 70 % of their ranges or populations in South Africa and not more than 30 % of their ranges or populations in Mozambique, Zimbabwe, Botswana and/or Namibia (three of them threatened with extinction):
Jackal Buzzard (Buteo rufofuscus)
Black Harrier (Circus maurus) Endangered
Cape Spurfowl (Pternistis capensis)
Cape Clapper Lark (Mirafra apiata)
Melodious Lark (Mirafra cheniana)
Karoo Lark (Calendulauda albescens)
Large-billed Lark (Galerida magnirostris)
Sclater's Lark (Spizocorys sclateri) Near-threatened
Black-eared Sparrow-Lark (Eremopterix australis)
Grey Tit (Melaniparus afer)
Karoo Thrush (Turdus smithi)
Sickle-winged Chat (Emarginata sinuata)
Brown Scrub Robin (Cercotrichas signata)
Karoo Eremomela (Eremomela gregalis)
Barratt's Warbler (Bradypterus barratti)
Cape Grassbird (Sphenoeacus afer)
Cinnamon-breasted Warbler (Euryptila subcinnamomea)
Fairy Flycatcher (Stenostira scita)
Layard's Warbler (Tit-Babbler) (Curruca layardi)
Cloud Cisticola (Cisticola textrix)
Karoo Prinia (Prinia maculosa)
Namaqua Warbler (Phragmacia substriata)
Fiscal Flycatcher (Melaenornis silens)
Cape White-eye (Zosterops virens)
Southern Tchagra (Tchagra Tchagra)
Gurney's Sugarbird (Promerops gurneyi) Near-threatened
Southern Double-collared Sunbird (Cinnyris chalybeus)
Cape Weaver (Ploceus capensis)
Swee Waxbill (Coccopygia melanotis)
Black-headed Canary (Serinus alario)
South Africa's one breeding near-endemic:
South African Cliff Swallow (Petrochelidon spilodera)
Which birding tours to join, to see South Africa's endemic birds:
Over 60 of the 69 endemics and near-endemics, including South Africa's national bird (Blue Crane) and both rockjumper species, can be seen given 25 days in South Africa if you combine the subtropical South Africa birding tour and the 8-day Cape birding tour shown at Birding Tours South Africa. Most of the remainder can be found on the Cape, Namaqualand and Kalahari bird tour shown at the same link above, or, alternatively, on a 4-6 day trip to the Northern Cape (a summary of this trip is at South Africa 1-5-day tours). We also arrange tailor-made trips in which many good folks want to clean up on endemics and other species they may have missed on previous birdwatching holidays to South Africa.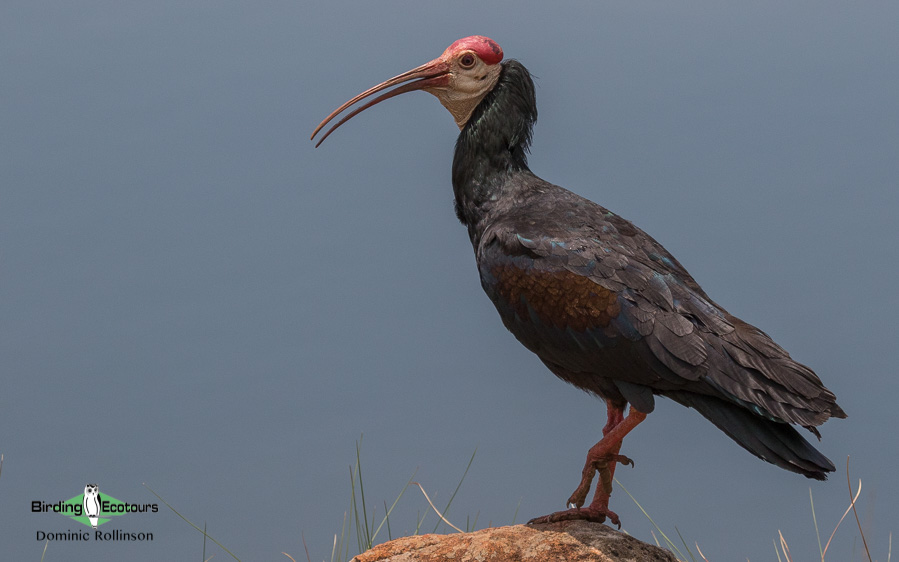 Southern Bald Ibis is endemic to South Africa and the two countries essentially contained within its borders.
Most South African avian endemics lurk in one of two places, 1) the Cape: the fynbos and Karoo – the toughest fynbos endemic is Fynbos (Hottentot) Buttonquail and 2) the Drakensberg Escarpment. But there are a good number of endemics elsewhere too. There are also some species that have, say, 50 % of their range in South Africa, with the other half in Mozambique (for example), and the birding tour itineraries on our website are (of course) designed not to miss those either when you visit South Africa. In fact, while the bulk of the endemics are seen on our tours, given 25 days in South Africa, we hope to see a stack of non-endemics as well, and a bird-list of up to 550 species (which include an absolutely brilliant set of pelagic seabirds) can sometimes be seen on the 25-day Cape/subtropical South Africa combo. And we never ignore the big and small African mammals. We like to see everything – including as many of the endemics as possible, but we certainly also never ignore all the other wildlife. That's our general philosophy as a company, to make sure we find the endemic birds and other strategic specials, but to also build in enough time so we can stop for African megafauna and everything else.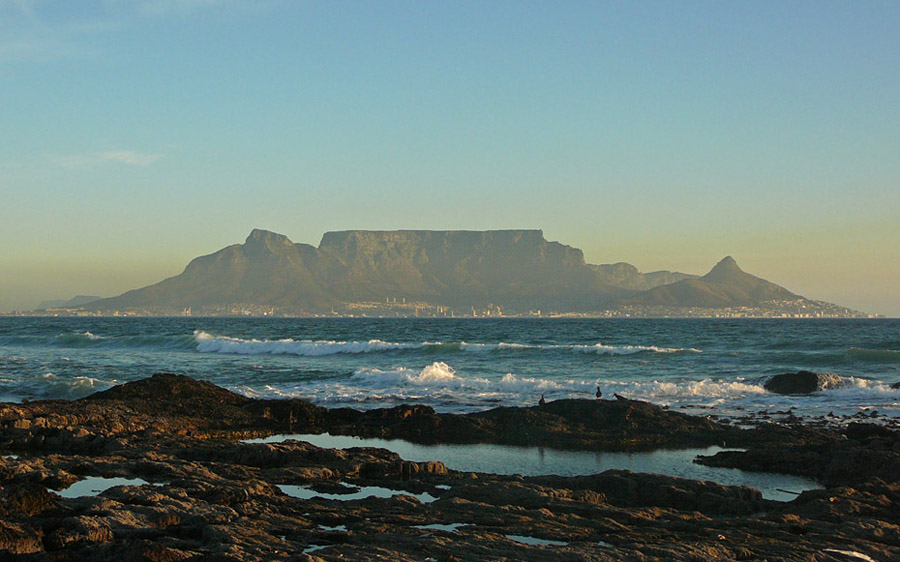 The Fairest Cape, from the North Peninsula (Cape Town and Table Mountain; above) to the South Peninsula, is the richest endemic region on the entire African mainland! (Martin Benadie).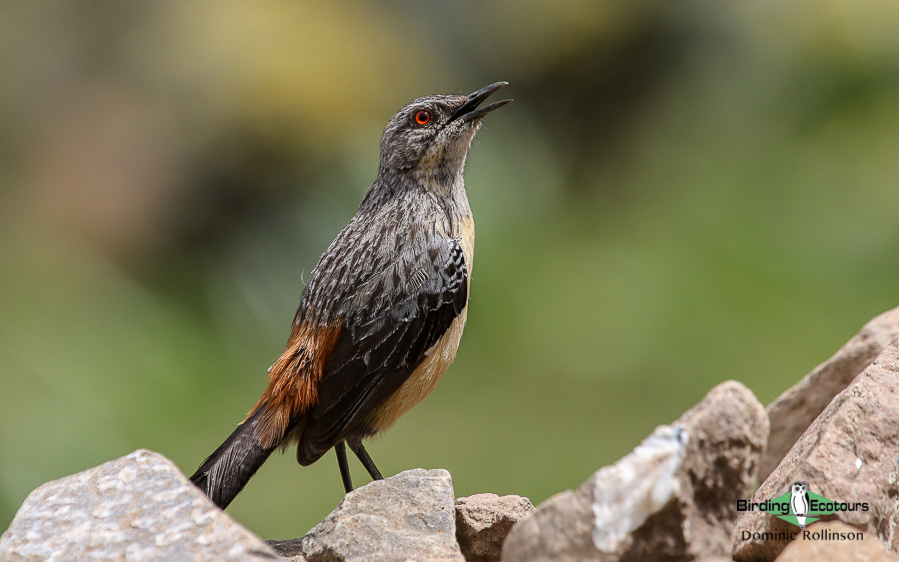 Another Drakensberg Rockjumper (this one a female), often seen on the subtropical (eastern) South African birding tour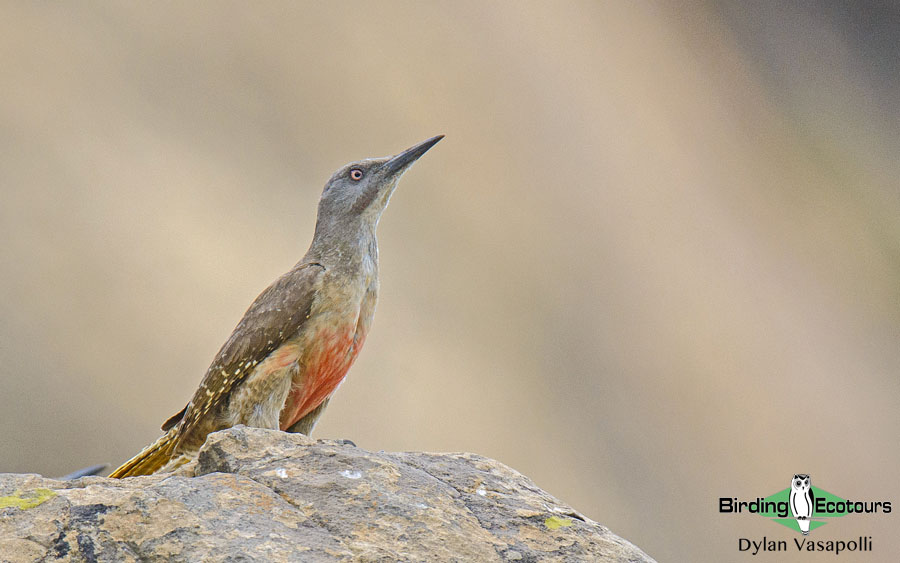 Ground Woodpecker, one of the most remarkable endemics; it's just so very unusual for a woodpecker!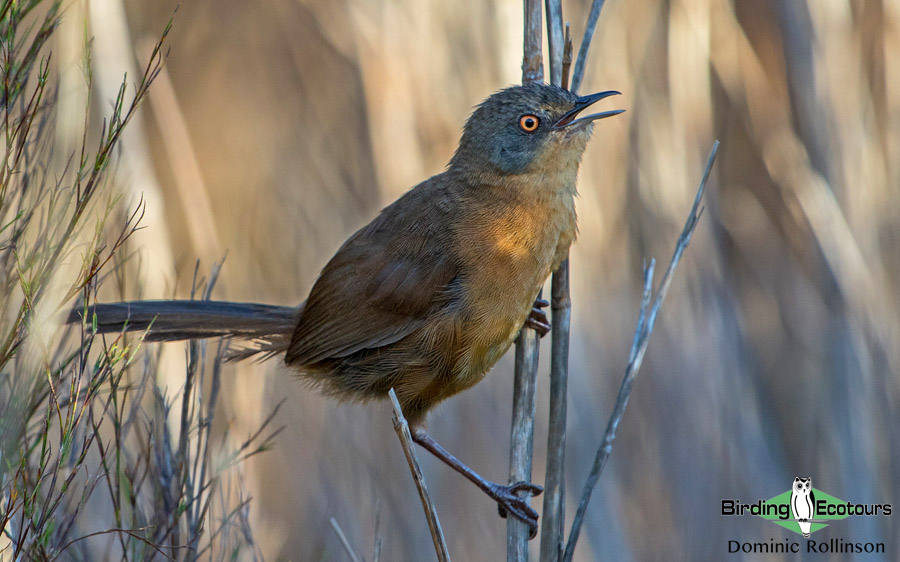 Victorin's Warbler, a Cape fynbos endemic.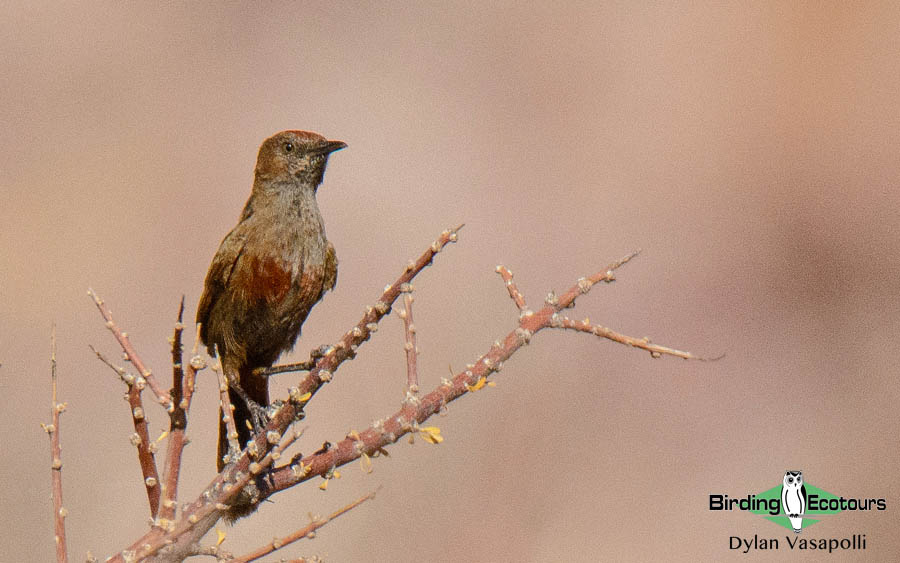 Cinnamon-breasted Warbler manages to skulk and often remain elusive in rock crevices in semi-desert. It's quite a scarce bird restricted to Namibia and South Africa.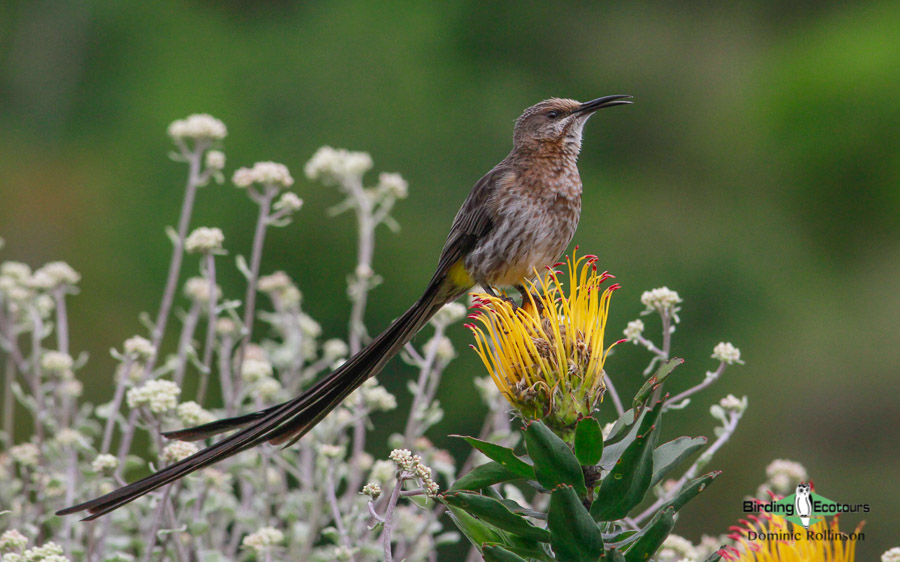 Another Cape fynbos (Cape Floral Kingdom) endemic, Cape Sugarbird, sitting atop a Pincushion Protea.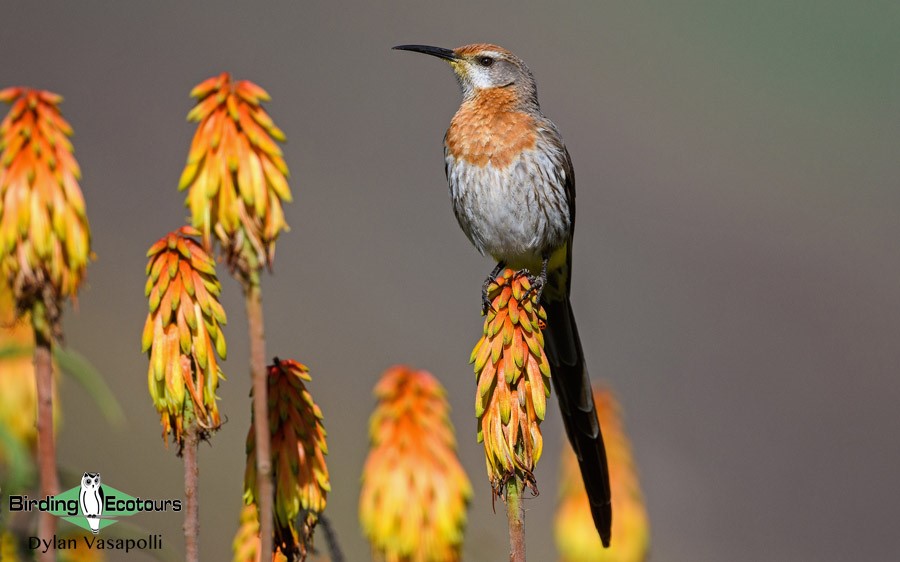 And the Drakensberg equivalent, Gurney's Sugarbird.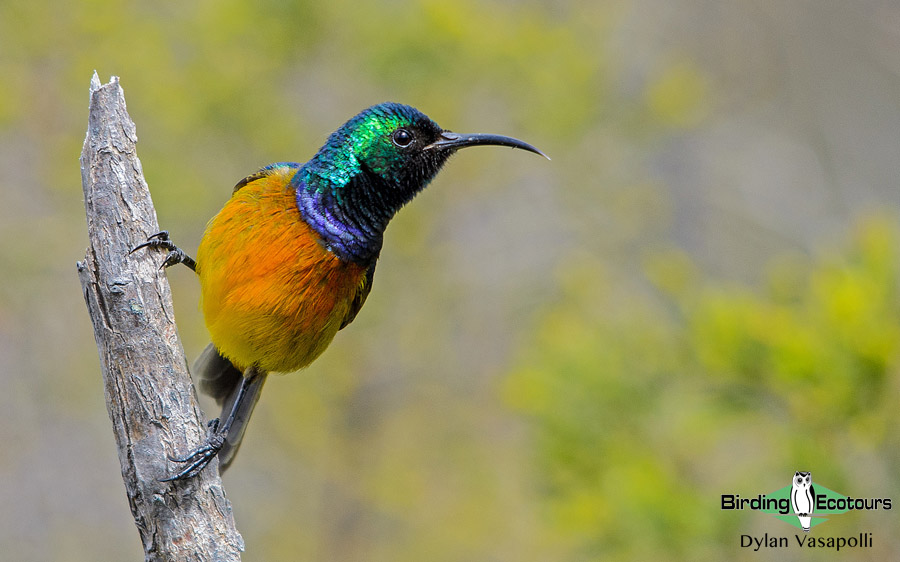 Orange-breasted Sunbird is a dazzling Cape endemic.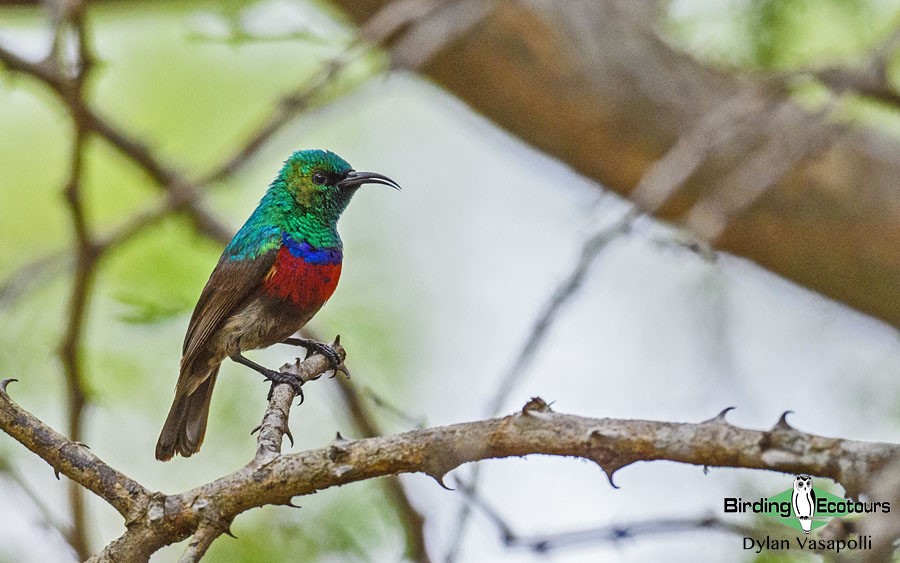 Neergaard's Sunbird is another dazzling sunbird, but this one is restricted not to fynbos mountains, but to steaming coastal lowlands in Zululand (South Africa) and southern Mozambique.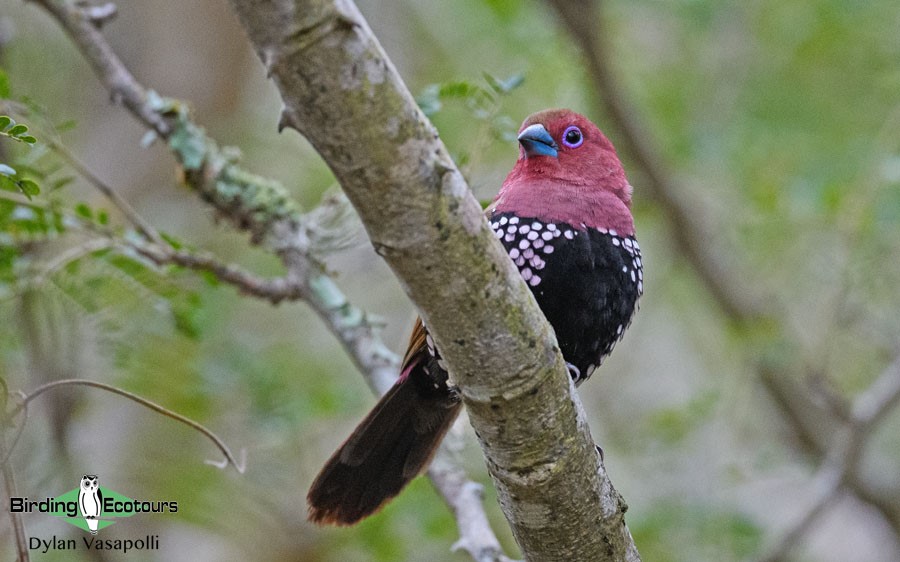 Pink-throated Twinspot has a very similar distribution to the previous species (Neergaard's Sunbird).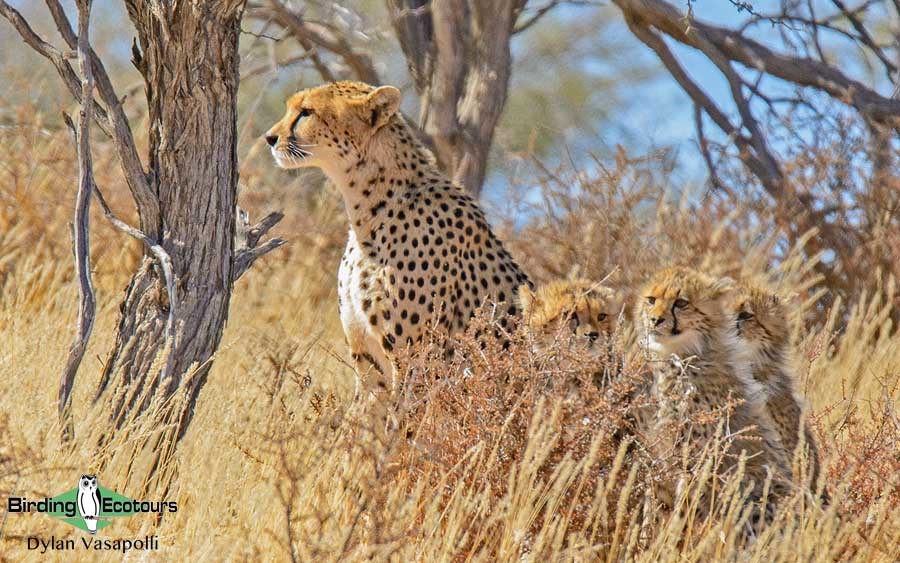 Cheetah: South Africa is a spectacularly biodiverse country so it's not only about endemic birds even though these are a major attraction!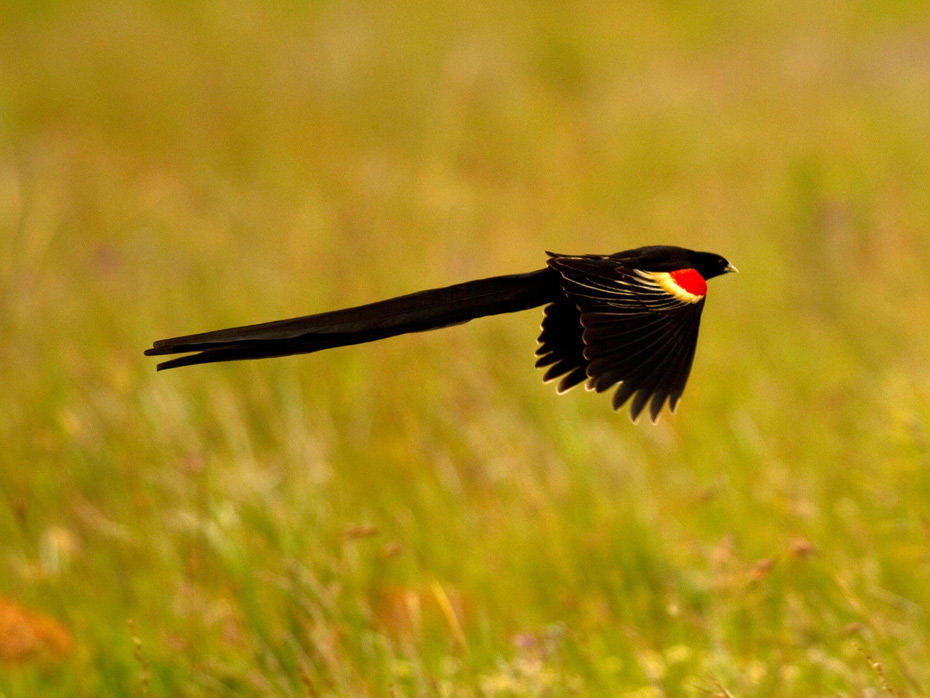 And bird-wise, South Africa of course has a stack of spectacular yet non-endemic birds to keep tour participants entertained at all times – this is a Long-tailed Widowbird which is sometimes the first bird visitors see when arriving at Johannesburg Airport (John Caddick).