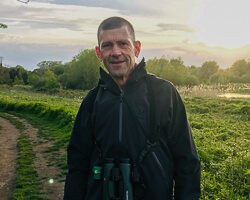 Chris Lotz
CEO and Owner of Birding Ecotours
Colloquially referred to as 'boss man' by some fellow staff members, Chris is exactly that, the CEO and founder of Birding Ecotours.
Underneath Chris's unassuming, friendly persona lies a deep, burning, lifelong passion for birds and bird conservation. The urge to share this passion with fellow birders from across the globe saw the start of what is now considered by some as one of the best global bird tour operators there is today, Birding Ecotours.
Since childhood, Chris has been an incredibly enthusiastic birder and particularly loves tracking down owls and other more difficult-to-find birds. Through wonderful family holidays, he birded southern Africa intensively while growing up. His ever-growing passion for birds led him to formally study ornithology, eventually completing a doctorate on African sunbirds at the University of Cape Town. He then lectured at the University of Natal in Durban, before heading to the USA to do a 2.5-year post-doc at the University of Wyoming on hummingbirds.
While in Wyoming, Chris came to the realization that the world of academics and lecturing, albeit a rewarding career, in fact got in the way of actual birding, so he founded Birding Ecotours. The goal of this decision was to allow him to travel the globe and all its seven continents extensively, in his ongoing avian pursuit. Not only has the establishment of the company allowed him to travel but it has also allowed him to make a difference when it comes to bird conservation, with 10% of the company's annual profits going toward conservation and disadvantaged local communities. As Chris always says: "If I am not helping other people less fortunate than myself, and also helping to do my part to slow the extinction of species caused by humans, then what is the point of me being on this planet?"
From the beginning of 2017, Chris spent three years founding and heading up the American office of Birding Ecotours from the warbler capital of the world, Ohio (specifically Columbus). This task is now in the capable hands of born and bred Ohioan, Jacob Roelaf. Since January 2020, Chris and his wonderful wife Megan have been based in the best birding county in Britain, Norfolk, at the UK office of Birding Ecotours.
Chris has received two "Owl Awards" from BirdLife South Africa, to recognize his contributions to 1) avitourism in South Africa and BirdLife South Africa's work, as he has served as the chairperson of South Africa's official bird list since 2010.

Join Chris Lotz on the following upcoming tours:
Read Chris Lotz's feedback from clients:
What do you most need in a guide and a tour company? Some would say trustworthy arrangements that yet stay flexible to the needs of the individual birder, some would say someone who can find you the target birds and others might say an all-rounder who combines birding knowledge, great communications skills and organisational ability. Birding Ecotours and its owner/operator Chris Lotz tick all the boxes! I've birded with Chris and travelled with the company and asked them to arrange tours for others, and Chris has come up trumps every time. I value my own integrity too much to give endorsements unless I have personal experience that truly warrants it. I recommend Chris Lotz and Birding Ecotours!
Bo - On Chris and Birding Ecotours
Birding Ecotours company and SA office staff I can highly recommend booking a trip through Birding Ecotours South Africa. The Birding Ecotours staff is professional, the e-mail responses fast and all questions receive detail replies. Chris Lotz of Birding Ecotours forwarded excellent advice to me on how to start world birding, which countries to visit in order to find a high number of birds over a short period and which bird book(s) to use for a country. Birding Ecotours' newsletters provide further information on upcoming trips, details on areas (e.g. East African birding), on target birds per trip, as well as regarding birding books available for countries or areas. Trip reports (forwarded upon request) allow one to mentally prepare regarding number of possible birds, endemics per country and difficulty or travel time of a trip. The Birding Ecotours' Facebook postings include snippets from current trips with photos as well as spaces available on future trips. The single supplement for Birding Ecotours' trips is in most cases lower than other tour companies, which makes for safe as well as affordable travelling.
Lisl - On Birding Ecotours
I have birded with Birding Ecotours since 2004. As I stated in my first web trip report of Southern South Africa that I thought you were one of the most competent guides I had ever birded with and that Birding Ecotours was an extremely professional organization in every way. In 2013, after birding with you a dozen times in 8 countries (and more this April and June) my opinions are now cast in concrete. Your ear and ability to co-ordinate the sounds with species is unsurpassed. You are decisive and a lot of fun to travel with which, in my opinion, are qualities essential in a top guide. You and Nadia organize trips meticulously and show truly sound judgment in your choices of routes, lodging and transportation arrangements. As you know, I ask a lot of questions and have always received thoughtful and timely answers. I have never been left feeling neglected in any way. I've been asked many time by birding friends all over the world for recommendations, and Birding Ecotours is always my first choice in Africa. I don't doubt that our coming trips to Asia and the Caribbean will be equally productive and fun.
Jay - On Birding Ecotours
I joined a custom trip, followed by an African Bird Club conservation tour, with Chris Lotz of Birding Ecotours, in November 2012. I sent Chris a wish-list and he was very quick to reply with a detailed itinerary based on the list I sent him. I got 42 lifers on this trip, which actually exceeded my expectations: with a world list of over 7000 species, it is tough for me to see new birds anywhere. Both the custom trip and the conservation trip were extremely well-organised, and the Birding Ecotours guides were superb. The African Bird Club will be doing more trips with Birding Ecotours.
Keith - On Chris
My brother John and I joined Chris on a tour of KwaZulu-Natal. As scientists, we were difficult customers, constantly being distracted by plants and rocks instead of birds. Chris tolerated these diversions with unflappable grace. And when our attentions were finally engaged fully in the bird watching we could not have asked for a better guide who knew the calls, where to look for tricky sightings, and had all the necessary local contacts to help us find the truly strange and wonderful. My favorite example of the strange and wonderful category was the African Broadbill which was displaying, but in the midst of impenetrable vegetation. Despite this, Chris and the guide managed to get us amazing views in the spotting scope. It was my most memorable bird of the trip. He accompanied us just across the border into Swaziland, past guards with guns (because we wanted to say we'd been there), and to a truly dodgy neighborhood in Durban to look at a rock outcrop, and never once complained – at least not out loud. We've been on several other international birding trips, and Chris is still our standard of comparison to all our other guides. And he's still number one. We will be doing a pelagic trip off South Africa in the not too distant future, and will plan it so Chris can lead us there.
Will - On Chris and South Africa