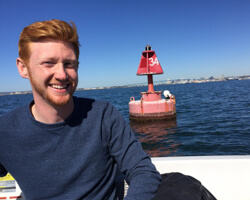 Jacob Roalef
Tour Leader and USA Office Manager
Jacob Roalef has spent his whole life living in the greater Dayton, Ohio, area. From a young age he has been fascinated with the outdoors and the creatures that inhabit it. First it was insects, and he spent a large amount of time in the backyard and at local parks "bug hunting". He quickly grew to appreciate and love all animals, researching everything he could as he got older. This love of animals drove him to attend Kent State University in north-eastern Ohio, where he earned his B.S. in Zoology. It was during his time in college when Jacob discovered his love for birds and birding. As soon as he saw his first bird through binoculars he was hooked for life and hasn't looked back since.
His passion for birds quickly escalated into an obsession as he was spending much more time studying field guides rather than textbooks. Every moment he wasn't in class he was out in the field, hunting down his next new bird. Jacob is a quick learner, and after only five months he was leading folks around and explaining birds to them. During his first year of birding Jacob quickly zipped around the state of Ohio, recording 310 species. At the time he was the youngest person ever to see 300 species in Ohio. He didn't slow down during his second year. Instead he turned his attention to the rest of the United States, where he saw over 600 species in the lower 48 states. He has birded extensively all over the USA, including Texas, Arizona, California, Maine, Ohio, North Carolina, and Florida. Since then he has done another Ohio big year, recording over 300 species again, one of only seven people to ever complete that feat more than once.
Jacob has an incredible drive to find all his targets but does it with a relaxed, stress-free vibe. He is always looking to have a fun time, and his great smile and goofy spirit are sure to make birding and traveling with Jacob a great time!
When he is not birding or studying he enjoys spending time watching sports (all sports, but especially tennis and basketball), relaxing with his family and girlfriend, and exploring other aspects of the natural world like plants and insects.

Join Jacob Roalef on the following upcoming tours:
Read Jacob Roalef's feedback from clients:
The Southeast Arizona tour is in the perfect area to see the maximum number of species and rarities. This tour has the perfect guide, Jacob Roalef, who works diligently to make sure that each participant sees all the birds he finds. This tour has the perfect number of participants to have fun, share knowledge and get to know each other. I would highly recommend this tour! Jacob was an outstanding guide and I can't say enough good things about him!. First, he knew the birds and could identify them by ear and sight. He made sure that each of us saw the bird(s) he had heard, seen or scoped. He also provided information about field marks, habitat, behavior and other interesting facts about the birds. Additionally, he knew a lot about the environment and gave us good context for the area that our tour covered. He was very diligent in finding the rarities, and then persistent until we saw them. Jacob also was very perceptive about each individual on the tour and gave equal attention to each of us based on our skill level in birding and our personal quirks. He is fun and funny, patient and well-organized and a safe and good driver. I innocently asked if there had ever been a flat tire on ones of his tours and that jinxed us because we indeed had one at 7,800 feet after a rain. Jacob was cool, calm and collected and what could have been a disaster ended with hilarity and a Band-tailed Pigeon. He facilitated and contributed to the camaraderie and banter that our group shared. I hope to go on another tour that Jacob guides.
Sue - On Jacob and Southeast Arizona
Maine is beautiful, whether you're on the shore or inland, and this tour showed us the best of both. Experiencing the variety of habitats with a knowledgeable guide and great companions was just what we needed after a year of not travelling. Jacob was a great leader for our group, making sure we saw the birds we wanted, but also on the look-out for mammals or letting us slow down to enjoy the wildflowers.
Tracy - On Jacob and Maine, USA
Jacob is an excellent birder and has great people skills. Both are needed in a good guide. He knew his stuff and put up with all the joking but was serious when it came to the birds. Would definitely tour with him again.
Debra - On Jacob
I loved all properties on the Costa Rica Escape tour in January 2019 – small family run establishments in lovely grounds. Accommodation at Savegre was very good and the best in the area. We had a 12-seater van for one couple along with our guide Eduardo and driver Ricardo, who drove excellently and we felt safe. Our guide Eduardo, is funny and friendly, and has an amazing knowledge of all wildlife. He is great company! Highlights of the tour included Resplendent Quetzal, Snowcap and the structure of the tour.
Karen - On Eduardo and Costa Rica
Jacob was patient, funny, talked to all the participants, and made sure all members got on the birds. Jacob gave me good looks at and information on two life birds, Glaucous and Iceland Gulls. He was also an excellent driver, especially on the last day when we drove from Grand Marais in a snowstorm.
Lynn - On Jacob and USA
We would recommend this trip to anyone interested in Alaska birding. Jacob was very knowledgeable and helpful.
He took his time with us Ohio people that had never seen many of the birds there. The sites and road trips were well
chosen and worthwhile.
Jacob was well prepared and extremely knowledgeable about the birds and the locations where they could be found.
His exceptional eyesight and hearing were great aids to us, since we could not hear some of the birds due to our poor
hearing. He took a lot of time to point out birds so that everyone in the party had plenty of chances to view them.
David and Joyce - On Jacob and Alaska
Every aspect of this tour was great. First of all, you must have cornered the market on great young tour guides, because Jacob was wonderful. Obviously an excellent birder, he was patient with us over 70 crowd members (we teased him about nobody over 70 ever again), enthusiastic and had a great sense of humor. He is very easy to be around, making all feel comfortable. Of course, the pelagic trip was, for us, the high point. We would suggest that you make the trip to Vinalhaven a regular part of the tour, and add Captain John Drury a must. He was a real character, and took special pains to make sure we saw all that we could see...even the Red-billed Tropicbird. And the trip up Mt. Washington was so very interesting, with all the vegetation changes as the altitude changed. AND we got the Bicknell's Thrush! Maine, from the mountains to the sparkling waters perfectly describes this tour, as it encompassed a wide variety of habitat and birds. Definitely a must if you want to see some hard-to-get species.
Joyce and Bill - On Jacob and Maine
The Alaska trip was a definite highlight of the year 2022 for us. It was a great way to see Alaska for us as first timers
there. Jacob, our tour guide, can not be more professional, personable, and accommodating. We felt very safe and
well taken care of with him throughout the trip. Jacob is a very accomplished birder, but also wise beyond his years in
managing the business side of the tours. We saw many species thanks to Jacob's skill at identifying birds based on
sound and sight, and truly enjoyed learning and sharing his passion about birding. The trip was well planned, with
many different terrain and scenery. We got to experience the beautiful Old Dinali highway, which seems like a perfect
hidden gem. The lodging and food was modest but comfortable. Being neighbors of nesting swallows and falling
asleep to their murmurs was so peaceful. Seeing nests with babies were also highlights. The whole trip was very
relaxing with little amount of exertion beside about 3 miles of daily walking, making the trip very accessible to most.
We are quite inexperienced birders but did not feel that the trip was too advanced, instead feeling inspired to do more
birding in the future. Thank you for an unforgettable experience.
Li - On Jacob and Alaska
I would highly recommend this tour to anyone that is interested in seeing Hawaii's native birds on these beautiful islands. One of my favorites was the endangered Akiapolaau, referred to as Aki by our guides, which we saw in a restricted area by permit on the island of Hawaii. The Hawaiian name means "hammerhead," because the Aki uses the shorter, lower half of it's mandible to drill into tree trunks like a woodpecker for sap or insects, while the extended, curved upper half operates like a hook to extract the food. During our day spent exploring the restricted area for Hawaii's endemic birds, three non-endemic (two males and one female) Kalij Pheasants walked across the path right in front of me. I also loved the fantastic coastal views where we observed Red-tailed, White-tailed, and Red-billed Tropicbirds, Red-Footed and Brown Boobies, and Great Frigatebirds, as well as spouting and breaching Humpback whales. I also enjoyed the opportunity to see Laysan Albatross nesting and walking around an upscale neighborhood, and Bristle-thighed Curlews perched in the cemetery from the golf course.
Our guides, Jacob and Mandy, were a great team! This was my second tour with Jacob and I was very impressed with his knowledge of the endemic birds of Hawaii. He is very personable and his birding skills are excellent. Mandy is also very personable and an excellent birder. She shared her extensive knowledge of Hawaii, the endemic birds, their habitat and the dangers they are facing.
Diane - On Jacob and Hawaii
Jacob and Mandy were an excellent team who guided us through the mountains, forests and shores, as well and urban areas of Oahu, Kauai and Hawaii. Both guides knew their birds well. Mandy, our local guide, was very swift to identify calls and knows the habitats of many endangered endemic birds. She also knows individual birds and their histories. Both guides made sure we all saw the birds we were looking for each trip. The scopes came out quickly and there was often enough time to snap a cell phone photo through the scope. Jacob has an amazing grasp of names and places and did an excellent job of compiling our E bird lists. They tour guides informed us each night before of the coming schedule which was very helpful. They worked seamlessly together and we benefited from their camaraderie. Hotel, food, transportation, side trips – all were excellent. This was a once-in-a-lifetime trip for me. I am grateful to all involved for providing such an exceptional tour.
Janice - On Jacob and Hawaii
Jacob was extremely well informed, considerate of the personal needs of each participant, and resourceful at finding and showing participants target birds. The trip was well-paced, kept on schedule, and went well. Not a moment was wasted. The places we stayed were excellent and close to the areas where we birded. We saw an incredible number and variety of warblers, went out at night to see a woodcock and a whip-or-will, and were introduced to every aspect of an exciting birding environment. I highly recommend this trip.
John - On Jacob