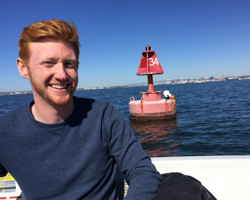 Tour Leader and USA Office Manager
Jacob Roalef has spent his whole life living in the greater Dayton, Ohio, area. From a young age he has been fascinated with the outdoors and the creatures that inhabit it. First it was insects, and he spent a large amount of time in the backyard and at local parks "bug hunting". He quickly grew to appreciate and love all animals, researching everything he could as he got older. This love of animals drove him to attend Kent State University in north-eastern Ohio, where he earned his B.S. in Zoology. It was during his time in college when Jacob discovered his love for birds and birding. As soon as he saw his first bird through binoculars he was hooked for life and hasn't looked back since.
His passion for birds quickly escalated into an obsession as he was spending much more time studying field guides rather than textbooks. Every moment he wasn't in class he was out in the field, hunting down his next new bird. Jacob is a quick learner, and after only five months he was leading folks around and explaining birds to them. During his first year of birding Jacob quickly zipped around the state of Ohio, recording 310 species. At the time he was the youngest person ever to see 300 species in Ohio. He didn't slow down during his second year. Instead he turned his attention to the rest of the United States, where he saw over 600 species in the lower 48 states. He has birded extensively all over the USA, including Texas, Arizona, California, Maine, Ohio, North Carolina, and Florida. Since then he has done another Ohio big year, recording over 300 species again, one of only seven people to ever complete that feat more than once.
Jacob has an incredible drive to find all his targets but does it with a relaxed, stress-free vibe. He is always looking to have a fun time, and his great smile and goofy spirit are sure to make birding and traveling with Jacob a great time!
When he is not birding or studying he enjoys spending time watching sports (all sports, but especially tennis and basketball), relaxing with his family and girlfriend, and exploring other aspects of the natural world like plants and insects.

Join Jacob on the following upcoming tours:
Read Jacob's feedback from clients:
"Jacob was an outstanding guide and I can't say enough good things about him!. First, he knew the birds and could identify them by ear and sight. He made sure that each of us saw the bird(s) he had heard, seen or scoped. He also provided information about field marks, habitat, behavior and other interesting facts about the birds. Additionally, he knew a lot about the environment and gave us good context for the area that our tour covered. He was very diligent in finding the "rarities," and then persistent until we saw them. Jacob also was very perceptive about each individual on the tour and gave equal attention to each of us based on our skill level in birding and our personal quirks. He is fun and funny, patient and well-organized and a safe and good driver. I innocently asked if there had ever been a flat tire on ones of his tours and that jinxed us because we indeed had one at 7,800 feet after a rain. Jacob was cool, calm and collected and what could have been a disaster ended with hilarity and a Band-tailed Pigeon. He facilitated and contributed to the camaraderie and banter that our group shared. I hope to go on another tour that Jacob guides."

Sue
"Jacob was personable and knowledgeable, and it was obvious he was keeping up with local birding reports to make sure we had the best opportunities to see our target birds. He was also great at making sure everyone saw the birds, pointing out field marks and helping to distinguish between different species (just what you need on a 10 sparrow day!). For those who wanted in-depth information, he was ready, and for those who just wanted to enjoy, he let us experience things at our own level."

Tracy
"Jacob is an excellent birder and has great people skills. Both are needed in a good guide. He knew his stuff and put up with all the joking but was serious when it came to the birds. Would definingly tour with him again."

Debra
"Our guides, Jacob and Mandy, were a great team! This was my second tour with Jacob and I was very impressed with his knowledge of the endemic birds of Hawaii. He is very personable and his birding skills are excellent. Mandy is also very personable and an excellent birder. She shared her extensive knowledge of Hawaii, the endemic birds, their habitat and the dangers they are facing."

Diane
"Our guides, Jacob and Mandy, were a great team! This was my second tour with Jacob and I was very impressed with his knowledge of the endemic birds of Hawaii. He is very personable and his birding skills are excellent. Mandy is also very personable and an excellent birder. She shared her extensive knowledge of Hawaii, the endemic birds, their habitat and the dangers they are facing."

Karen