Birding Tour USA: Ohio – Eastern Warblers and Spring Migration Spectacular
Go to: USA Birding Tours | Birding Tours in North America | All our birding tours
Download Itinerary
Ohio – Eastern Warblers and Spring Migration Spectacular
May 2023
On this tour we have a realistic chance of finding every single eastern wood warbler (37 species, most of them dazzlingly colorful!), plus so many other migrants and residents. We find most of these warblers within Ohio, but we also make brief forays to Michigan (for Kirtland's Warbler) and to West Virginia (for Swainson's Warbler). These New World warblers are arguably America's most iconic and beautiful birds (and one of the big reasons for world birders to visit the USA), and this is the best tour to see them on, often feeding at eye-level to fuel their migration. The birds are also in bright, freshly molted spring plumage and are looking their snazzy best at this time of year.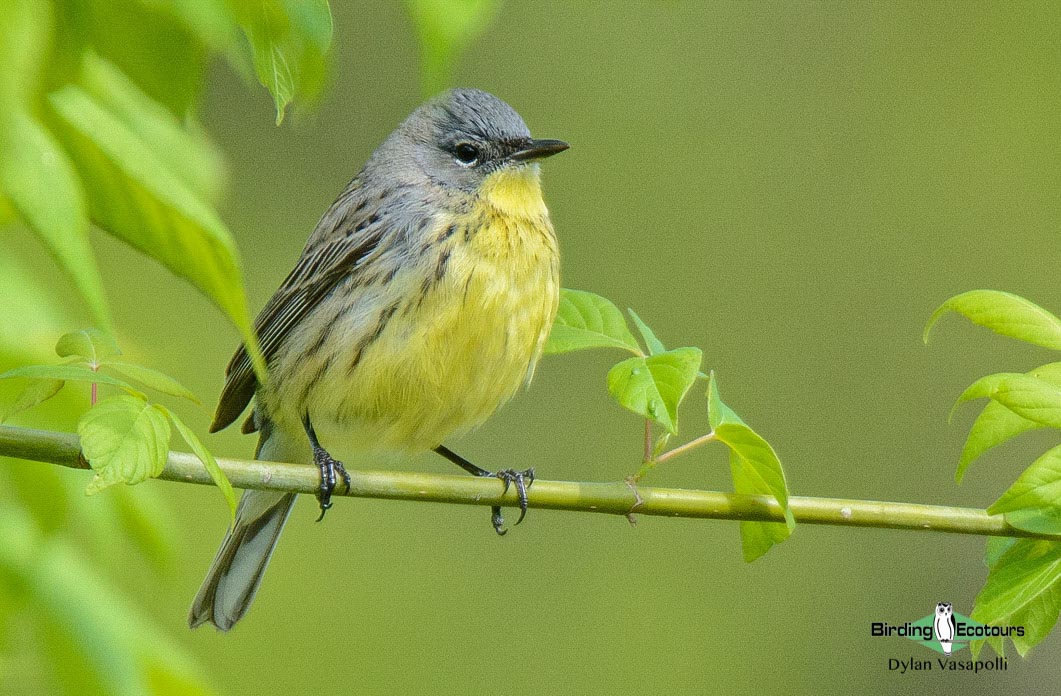 Kirtland's Warbler will be searched for in Michigan.
Ohio is a surprisingly underrated birding state, full of diverse habitats and migrant traps. The northern and southern portions of Ohio are quite different, each providing unique birding opportunities and species to enjoy. The southern portion hosts some incredible prairies as well as vast, beautiful old-growth forests in the foothills of the Appalachian Mountains. It is also the northernmost extent of several breeding birds who use these amazing habitats in the spring and summer to the fullest. These include Prairie Warbler, Worm-eating Warbler, Kentucky Warbler, Blue Grosbeak, and Yellow-breasted Chat, to name just a few.

We will search for Swainson's Warbler in West Virginia.
Northern Ohio is bordered by the great Lake Erie, creating expansive freshwater marshes. The birding in this area has been made famous (and rightfully so!), by the Biggest Week in American Birding Festival hosted by our friends at the Black Swamp Bird Observatory. The lake is like a freshwater ocean, creating a similar obstacle for migrating birds, as they migrate along its shores before making the risky water crossing at its narrowest point. Luckily, the shorelines are full of fantastic state nature preserves, parks and refuges, with great birding trails, like the world-famous Magee Marsh Wildlife Area, which are every bit as good as birding Point Pelee National Park in Canada, located just across the lake. As birds migrate north and encounter the huge body of water, they put down into the trees along the shore to rest and feed before attempting to cross the unknown. This creates a massive build-up of birds, with one mission, to fuel up before crossing the lake. Many of them take the shortest water crossing to Point Pelee, where they arrive tired and hungry; you can enjoy these incoming migrants on our custom tours here. The sheer number of warblers, thrushes, vireos, orioles, tanagers, flycatchers, and more, present birders with crippling, eye-level views within 10-20 feet (especially when weather conditions mean their insect food is near the ground). This phenomenon in northern Ohio is unlike any other in the United States.
Each spring, at least 35 out of the 37 eastern warblers pass through Ohio, but to see the remaining two we will have to dip into a couple of surrounding states. Unlike the smaller foothills in Ohio, West Virginia is home to large mountains and deep gorges of the Appalachians. The 70,000 plus acres of the New River Gorge are full of largely undisturbed forests and rhododendron plants in the highlands. It is here that Swainson's Warblers prefer to breed and make their homes. These birds do not quite make it into the rolling hills of Ohio. For the other missing warbler, we travel north into the beautiful Jack Pine forests of Michigan. This unique habitat is home to the endangered and highly sought-out Kirtland's Warbler. This species might make a single appearance in Ohio per year as they migrate north, but it is a rare sighting, and nothing compared to observing multiple birds singing on their extremely habitat-specific breeding grounds.
This tour highlights and targets the 37 species of wood warblers in the eastern United States by showcasing a wide array of habitats in Ohio and the true spectacle of spring migration in this fantastic birding state. We will begin in Detroit, Michigan, with a few stops along the Lake Erie shores. From here we will work our way south to provide us with ample opportunities to see the southern breeding specialties, eventually dipping into West Virginia. After that we go back north for a few days of migration at Magee Marsh with stops in Chillicothe and Columbus along the way. After some time with the jaw-dropping warbler views from the Toledo area we will head north to Grayling, Michigan, for hopefully the 37th and final warbler of the tour. Then it's back to Detroit to wrap up two full weeks of bird-packed adventure. When it's all said and done, you should expect to have seen 180+ species, although we'll most likely be pushing close to 200 eastern US birds!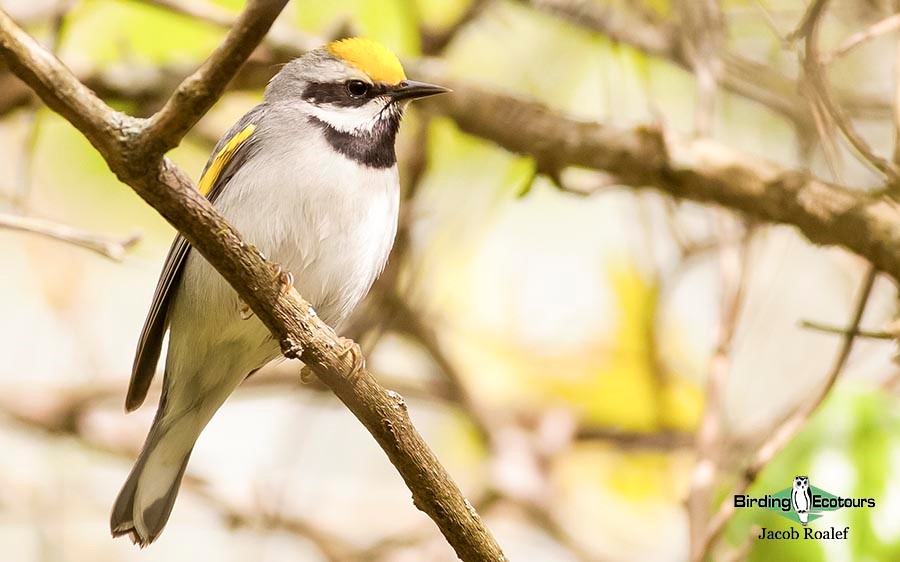 The brilliant Golden-winged Warbler, a true highlight of the trip.
It's not all about warblers and other passerine migrants though. The north of Ohio also has some fantastic shorebird habitat, which supports tremendous numbers of birds on their journey to their breeding grounds in Canada. These beautiful birds are normally molting into their dapper breeding plumages and include Stilt Sandpiper, Short-billed Dowitcher, Wilson's Phalarope, and upwards of 15 others.
Itinerary (14 days/13 nights)
Day 1. Detroit and Pointe Mouillee
After arrival at Detroit Metropolitan Wayne County Airport (DTW) in Michigan, your Birding Ecotours guide will meet you and we plan to make a quick stop at Pointe Mouillee en route to our hotel in Oregon, Ohio, 40 minutes (traffic permitting!) from DTW. Here, we will hopefully find our first warbler (or two, or three!) of the trip to get things started! Please arrive at the airport by no later than 4 pm to give us enough time for some birding, however the earlier in the afternoon the better. After arrival at our hotel, where a room will be reserved in your name, we will get dinner and talk about the next day's mega-exciting birding plans.
Overnight: Oregon, Ohio
Day 2. Maumee Bay and Magee Marsh, then southwards
Located on Lake Erie's southwestern shore just outside of Toledo, Maumee Bay State Park and Magee Marsh are unbelievable migrant traps all spring long. As birds make their tireless flight to breeding grounds in Canada, they see the water of Lake Erie and put down in the small patches of trees along the shoreline. Both areas have fantastic boardwalks right through the middle of these woods, providing some easy walking and birding. It is here that we will target some of the earlier migrating warblers such as Nashville Warbler, Palm Warbler, Black-throated Green Warbler, Yellow-rumped (Myrtle) Warbler, and others that are potentially on the move already. The entrance drive to the Magee boardwalk is through beautiful and extensive marsh habitat which should be packed with American Yellow Warblers and large shorebirds. Stopping at Magee Marsh for a large part of the day should score us many fantastic bird species and allow everyone to get familiar with this national attraction, before we visit it again later in the week for the next few waves of migrants. Toward the end of the day we will start making our way to southern Ohio.
Overnight: Dayton, Ohio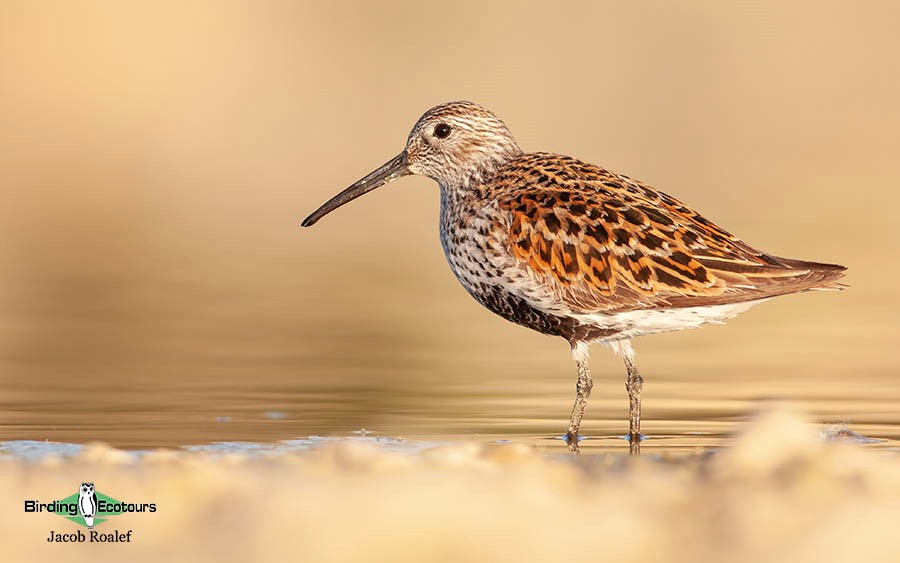 The striking breeding plumage of a Dunlin.
Day 3. Dayton
Dayton is not only the famous home of the Wright brothers and the Huffman Prairie Flying Field, but is also a great birding destination and certainly has its fair share of hidden-gems, small migrant traps and beautiful, expansive natural areas. Located in southwestern Ohio, this region plays host to the breeding grounds of a few species that rarely make it any further north, such as Blue Grosbeak. We will spend the day targeting these more southernly species. Our first stop will be the migrant trap of Hills and Dales, a small 60-plus-acre park sandwiched between houses and a golf course. This small forest can be loaded with fresh migrants, singing away in the morning sun, such as the quizzical Blue-headed Vireo and the stunning Baltimore Oriole. From here we will move to Woodman Fen, an even smaller migrant trap of only 37 acres, surrounded by houses, causing all the birds in the area to flock here, with vocal Least Flycatchers and energetic Ruby-throated Hummingbirds both likely. To round off the day we move to the Twin Valley area in southwest Dayton, a large stretch of land that encompasses both Germantown and Twin Creek Metroparks. The large ravines of spectacular old-growth forest provide ideal habitat for breeding Kentucky Warbler and Louisiana Waterthrush. These areas also have fantastic pockets of prairies and meadows, which hold the ever-sneaky Henslow's Sparrow and the buzzy song of Prairie Warblers. We finish by moving into some old pine, cedar, and spruce stands to find Pine Warbler and Eastern Towhee. After scoring on several special southern warblers, we will make the drive to Shawnee State Park Lodge.
Overnight: Shawnee State Park Lodge, Ohio
Days 4. Shawnee State Park/Shawnee State Forest
We will be up and out of the door before dawn to visit this 60,000 plus acres of old-growth forest. As we navigate our way up the curvy roads before dawn, we should see plenty of eye shine of Eastern Whip-poor-will in the road. The morning chorus here can be absolutely deafening with loads of migrating birds echoing through the slopes and ravines. We will start on higher grounds, as migrants typically land at the tops of canyons for a rest. As with most migration it can be hit or miss depending on the winds, but we should be able to score a bright Blackburnian Warbler glowing in the morning sun and see loads of Black-and-white Warblers scooting up trunks. After things slow down on the mountain tops, we will move back down into the ravines alongside creeks and streams. Here we will see loads of Yellow-throated Warblers and Northern Parulas. Next, we will move into areas with precipitous drops to find a true southern special, Worm-eating Warbler. These mid-to-high elevations also provide us with excellent opportunities to see the jaw-dropping blue of Cerulean Warbler up close and personal. This huge forest is filled with the skulking Ovenbird and Hooded Warbler as their songs echo throughout the entire area. In the evening we will head out to a small creek in Adams County to listen for Barred Owl and Eastern Screech Owl. This is also the only place in the entire state of Ohio where Chuck-will's-widow breeds. Then we'll head back to the lodge for a good night's sleep after an action-packed day.
Overnight: Shawnee State Park Lodge, Ohio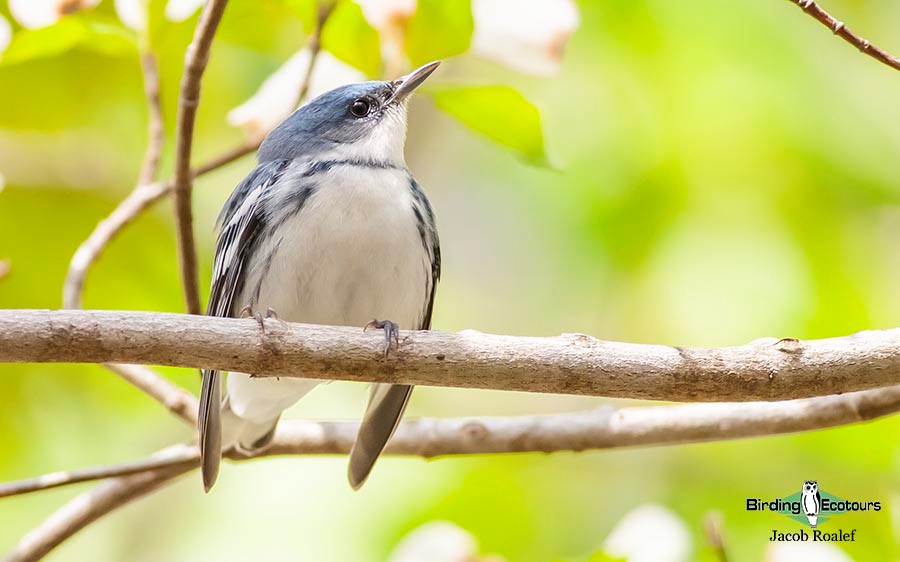 Shawnee hosts one of the world's best breeding areas for Cerulean Warbler.
Day 5. Shawnee to New River Gorge in West Virginia
We will spend one more morning up at the top of the mountains, listening to the dawn chorus and searching for new migrants. Anything can show up in these trees, including over 20 different species of warbler, so hopefully we will be able to dig up something new that we didn't get the previous day, such as Tennessee Warbler or Scarlet Tanager. After a nice, relaxing morning of enjoying the new migrants we will make the trek down to West Virginia. We should arrive at the New River Gorge area with plenty of time to explore and hopefully pick up the beautiful evening song of Wood Thrush and the contrasting black-and-orange American Redstart before heading to the hotel for the evening.
Overnight: Beckley, West Virginia
Day 6. Swainson's Warbler, transfer to Chillicothe back in Ohio
We will start the day in the rhododendron-filled forests of the New River Gorge valley as we visit several trailheads in the area, scouring and listening for our top target, Swainson's Warbler, in its preferred habitat. These birds can be very secretive, so we want to give ourselves as many opportunities as possible to get everyone good looks. After a nice morning and afternoon of birding in these dense forest regions we will make our way back to Ohio. We will spend the evening birding at a nice grassland habitat called Junction Earthworks. Here we hope to see several grassland birds like Grasshopper Sparrow and Savannah Sparrow as well as having the potential for Mississippi Kite, rare in Ohio.
Overnight: Chillicothe, Ohio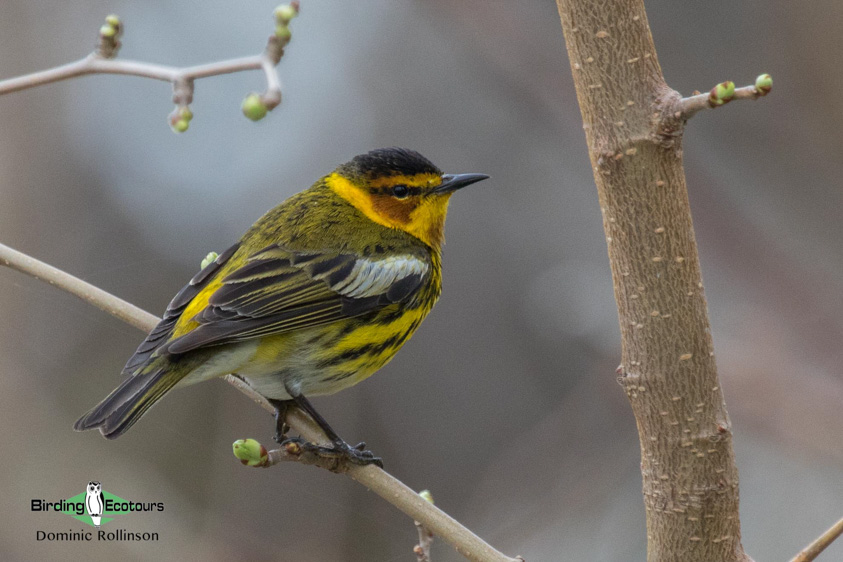 The strikingly beautiful Cape May Warbler will surely stop you in your tracks.
Day 7. Columbus Metroparks
Columbus offers a wide array of high-quality habitats perfect for birds, including wetlands, grasslands, and deep forests. As we spend the day exploring these areas, we will also be on the lookout for any reports of warblers and other top targets we have yet to find. Golden-winged Warbler will likely be at the top of the list, as well as species like Connecticut Warbler and Mourning Warbler. We will let our needs dictate our goals and destinations for this day but expect to spend some time in expansive wetlands looking for Marsh Wren, Sedge Wren, Virginia Rail, Sora, American Bittern, Least Bittern, and other secretive marsh species. Columbus also holds a few high-quality marshy areas that contain populations of the brilliant Prothonotary Warbler. After this we will make our way back to Magee Marsh to meet up with thousands of others and witness the true spectacle of spring migration in Ohio.
Overnight: Maumee Bay Lodge, Ohio
Days 8 – 11. Famous Magee Marsh and northwest Ohio
Back to the wonder of Magee Marsh and the countless number of other parks along the Lake Erie shoreline! Over the next four days we will experience the true greatness and fascination of spring migration in Ohio. Spending most mornings at the Magee Marsh boardwalk, we will be treated to eye-level looks at a great diversity of warblers and migrants as they drip from the trees like rain droplets. This will also give us a chance to see how drastically things can change from one day to the next with different waves of birds moving through. One day may be dominated by Chestnut-sided Warbler and Black-throated Blue Warbler and the next by Bay-breasted Warbler and Cape May Warbler, with little to none left of the previous day. Expect to experience things like Magnolia Warbler bouncing in trees right above your head and Northern Waterthrush foraging on the marshy leaf litter under the boardwalk. Like in Columbus we will take special interest in targeting any warbler or other migrant we still need for the trip, especially some of the later migrants like Wilson's Warbler and Canada Warbler.
There is great diversity of habitats here which provide for all species of birds from warblers to shorebirds. We usually see breeding-plumage Dunlin and American Golden Plover in great numbers at the brand-new and fantastic Howard Marsh. This is a site specially managed with birds in mind, as the water levels are controlled to aid shorebirds on migration. We will also explore some unique areas to the west in Toledo like the pine and oak savanna at Oak Openings Preserve. It is here we will find one of Ohio's breeding populations of the colorful Lark Sparrow as well as plenty of singing Blue-winged Warblers and noisy Red-headed Woodpeckers foraging in stands of dead trees. At the end of day 11 we will start our journey north to Michigan for the final and most-desired warbler.
Overnight: Maumee Bay Lodge, Ohio; days 7 – 10, Saginaw, Michigan; day 11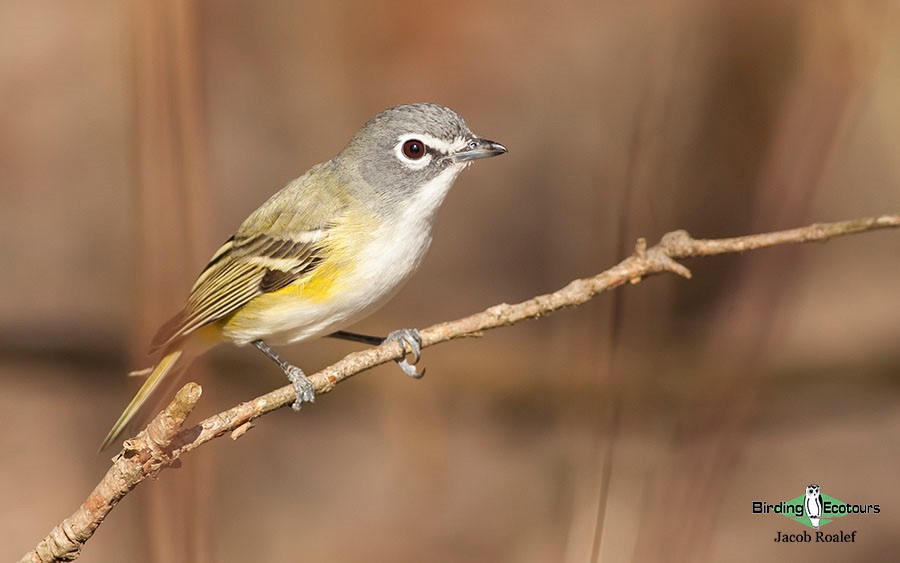 Don't forget the beauty of other birds on tour like this Blue-headed Vireo.
Day 12. Kirtland's Warbler, across the state line into Michigan
Kirtland's Warbler should be our final warbler target for the tour (unless we were lucky enough to encounter one migrating through northwest Ohio!). These large warblers are known for their specialized habitat needs of large patches of young, dense Jack Pine forests for successful breeding. Nowhere exists greater expanses of this unique habitat type than at Grayling State Forest Area in Grayling, Michigan. We will spend our time exploring this massive area, finding multiple Kirtland's Warblers on breeding territory and spending lots of time with these extra-special birds. We also expect to add a few other species to our growing bird list.
Overnight: Grayling, Michigan
Day 13. Coastal Michigan and back south
In the morning we will drive back through the Jack Pines to find a few more Kirtland's Warblers and watch them sing and stake their territory. From there we will head over to the east coast of Michigan along the mighty Lake Michigan. Here we will hope to see another species on their breeding grounds, Piping Plover. These little shorebirds are typically sporting many leg bands of a large variety of colors for individual identification. As we work our way down the coast, we can hopefully see a few birds we may have missed earlier during the tour, anything we can find to boost our trip list by a few. We may also spend the day chasing any rare warbler reports in the area, if we missed them earlier in the trip.
Overnight: Detroit, Michigan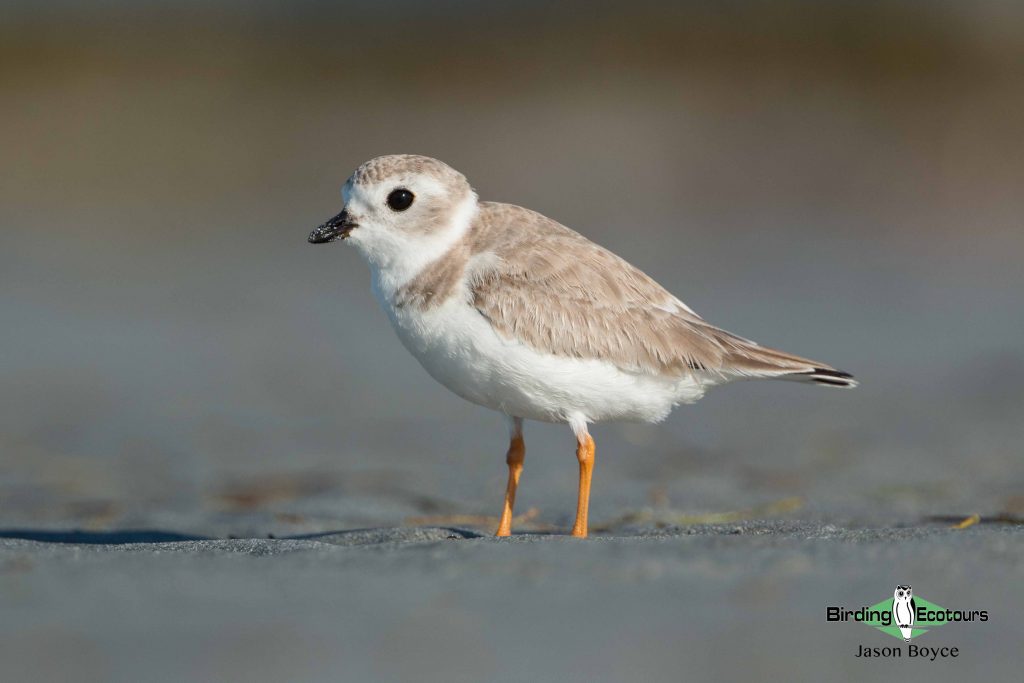 A special shorebird, Piping Plover, normally seen with colored leg bands to identify individual birds.
Day 14. Pointe Mouillee to Detroit airport
During our final day we will spend the morning exploring the first park we visited on the tour, Pointe Mouillee. This is where we would've seen our first warbler of the trip, and now we will likely see our very last eastern warbler of the trip here as well — a fitting end to the tour, before we make our way back to the Detroit airport for departure home.
Please note that the itinerary cannot be guaranteed as it is only a rough guide and can be changed (usually slightly) due to factors such as availability of accommodation, updated information on the state of accommodation, roads, or birding sites, the discretion of the guides and other factors. In addition, we sometimes have to use a different international guide from the one advertised due to tour scheduling.
Download Itinerary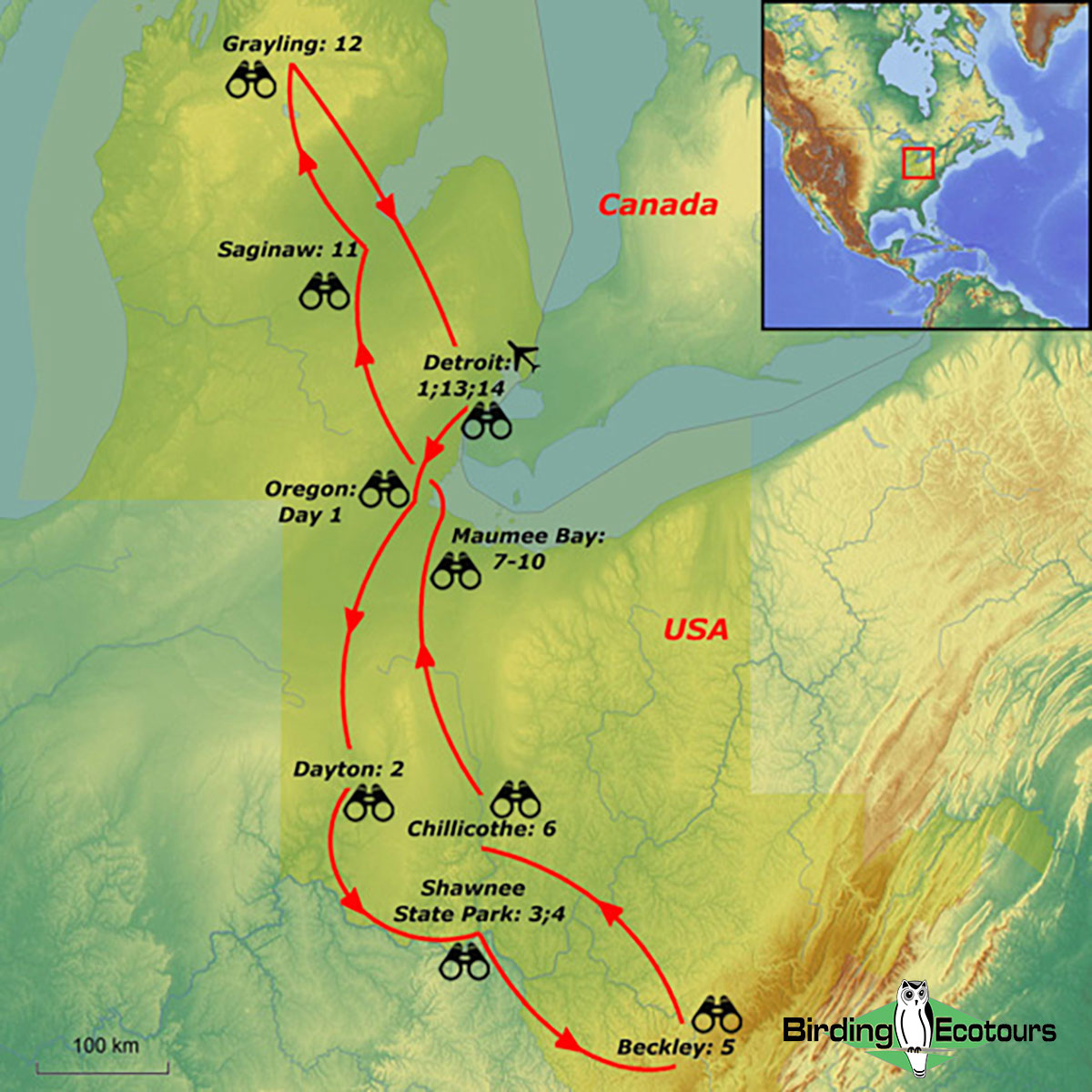 USA: Ohio – Eastern Warblers and Spring Migration Spectacular
 Tour-specific Information
PASSPORT AND VISA
For US citizens, no visas or passports are required. You will however need to bring along a government issued ID as they are sometimes required for hotels.
Non-United States citizens will require a valid passport to enter the country, and some may require a tourist visa. Please consult with your local US embassy for more details and information. You may need to show your ID/passport at various hotels on this tour.
TRAVEL INSURANCE
We strongly encourage you to purchase trip cancellation or interruption insurance in case you have to cancel due to illness or for any other reason, as tour payments are non-refundable as per our terms and conditions. We advise you to get a plan which covers all your medical care and evacuation back to your country of residence, repatriation, and trip cancellation due to illness just prior, or for any other reason.
HEALTH
Ohio does not pose any major health risks. Longer drives in the vehicle will be broken up with birding and restroom stops. Temperatures in May are typically pleasant but can be chilly in the mornings and warm during the day, please see 'Weather/Climate' below for more details. Water will be available throughout the tour, please feel free to bring your own reusable bottle to refill throughout the tour as the drinking water here is safe. Ticks and other insects may be present but typically they do not arrive until summer and can be combatted with bug spray (DEET) and appropriate clothing (long-sleeved shirts and trousers).
MEDICAL CONDITIONS
Please make sure that you are covered by medical insurance in case of an emergency while on this trip. Without insurance the cost of medical care can be extremely high. Please notify us at the time of registering for this tour of any medical conditions you think we should know about (including allergies, heart conditions, epilepsy, etc.). This will greatly help us to cater to your needs and update emergency services if required.
WEATHER/CLIMATE
The weather in Ohio in the spring is unpredictable and can vary drastically from 30 °F (0 °C) in the morning (even snow, rarely) to up to 80 °F (27 °C) on warm sunny days. Rain, wind, fog, and sunshine are all possible and sometimes all can occur in one day! Layers are the key to Ohio weather and shedding layers as the day progresses is a normal occurrence.
ACCOMMODATIONS
We will be staying at comfortable hotels throughout the tour.
COMMUNICATIONS
Our hotels should have decent access to Wi-Fi throughout the trip and phone service is typically fine throughout Ohio with the potential for some spotty coverage while out in the field, particularly when closer to the Canadian border.
PHYSICAL REQUIREMENTS AND PACE OF TOUR
Most days begin early (7 am or earlier for breakfast) to get out in time for the chorus of new migrant arrivals. We will then be birding up until dinner with some potential evening excursions, so the days can add up and be long and tiring. There will be options however to take certain mornings or afternoons off, if needed.
Ohio is typically flat with nice trails, and a lot of birding can be done close to the vehicle, however due to the long days of birding, the total amount of walking can add up in a day. Of course, there is the option to stay with the vehicle at times and bird from there which should also yield nice species. There are a few longer drives when going between northern and southern Ohio and then up to Michigan. These will be broken up with birding and restroom stops.
WHAT TO BRING
Please kindly read the general list of what to bring on a birding tour, here.
Layers and waterproof gear are always a good idea when preparing for a wide variety of possible weather conditions, and we consider them essential on this tour. We also do recommend bringing Dramamine or other motion sickness medications if you need them as there are long drives in the vehicle. Also, please bring along a face mask (or a few) to ensure we are able to follow local guidelines during the Covid-19 pandemic as they will be required in certain areas.
Do not forget – Binoculars, prescription drugs (also bring the generic names for these drugs), toiletries, prescription glasses (and a spare pair), sunglasses, camera, batteries (for electronic equipment and chargers for re-chargeable batteries if required), alarm clock, money pouch, field guide(s), daypack.
Key Documents and Cash – Passports, your travel or health insurance cards, photocopies of which can be carried by the tour leader in case of emergency, Covid-19 vaccine card (or photo/copy), credit cards (see info above). US dollars for drinks, gifts, tips, items of a personal nature, etc., which are not included in the tour cost.
LUGGAGE
There should be enough space for each participant to bring one medium-sized suitcase as well as a personal bag to keep at their seat with them. Please do be mindful with large cameras or tripods, if you choose to bring these along.

Download Ohio: Eastern Warblers and Spring Migration Spectacular Information
'Jacob was extremely well informed, considerate of the personal needs of each participant, and resourceful at finding and showing participants target birds. The trip was well-paced, kept on schedule, and went well. Not a moment was wasted. The places we stayed were excellent and close to the areas where we birded. We saw an incredible number and variety of warblers, went out at night to see a woodcock and a whip-or-will, and were introduced to every aspect of an exciting birding environment. I highly recommend this trip.'
John