Birding Tour Costa Rica Escape
Go to: Costa Rica Birding Tours | Birding Tours in the Neotropics | All our birding tours
Download Itinerary
Costa Rica Escape Tour
January 2024
We believe this expertly tailored Costa Rica birding tour is the perfect excuse to leave behind the daily stress of modern-day living to do some great birding in one of the most fantastic birdwatching destinations in all of the neotropics.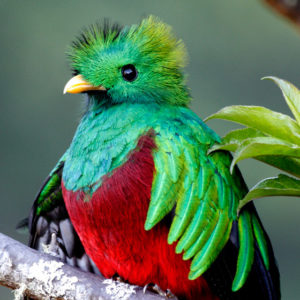 Resplendent Quetzal is one of the main targets on this trip (photo Kevin Easley).
Costa Rica offers perhaps the best birding in Central America, not only in terms of birds (the country holds 933 species) but also in terms of accommodation and tourist infrastructure. During this short tour we are staying at some of the most comfortable hotels available, perfect for birders and nature-lovers alike. If you do not have time to join our more comprehensive Costa Rica Premium Tour but still want to see beautiful and charismatic neotropical bird species, then this Costa Rica Escape Tour could be perfect for you. The tour is suited for both first-time birders to the neotropics and those more experienced birders trying to get a high number of species in the shortest amount of time. Not only does this tour offer an impressive species list but it also offers you the opportunity to see a number of neotropical dream birds such as Keel-billed Toucan, Resplendent Quetzal and a plethora of gorgeous hummingbird species.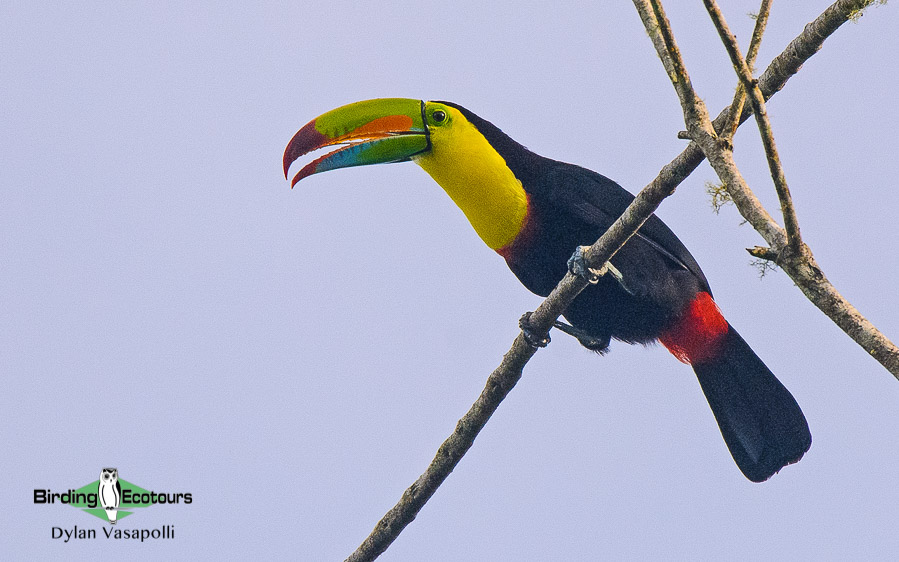 The large and brightly colored Keel-billed Toucan is always a popular sight.
Itinerary (9 days/8 nights) 
Day 1. Arrival at San José and transfer to Hotel Bougainvillea
You will arrive at the San José Airport to be met by your tour leader, and be transferred to the hotel. If time permits, we may do some birding around the beautiful grounds of the hotel, looking for Rufous-backed Wren, Hoffmann's Woodpecker, Finsch's Parakeet, Squirrel Cuckoo, Baltimore Oriole, Cinnamon-bellied Saltator, American Yellow Warbler, Lesson's Motmot, White-winged Dove, Rufous-tailed Hummingbird, Clay-colored Thrush, Yellow-bellied Sapsucker, Melodious Blackbird, Great-tailed Grackle, and with some luck, White-eared Ground Sparrow.
Overnight: Hotel Bougainvillea, San José
Day 2. La Paz Waterfalls, Cinchona Feeders, and transfer to La Quinta
We will spend some time birding the hotel grounds before breakfast to add any additional species to yesterday afternoon's birding. After breakfast, we will leave the hotel and head to La Paz Waterfalls. Here we should get species such as Mountain Wren, Slaty Antwren, Slaty-backed Nightingale-Thrush, Large-footed Finch, and a number of hummingbirds such Violet Sabrewing, Green Hermit, Green-crowned Brilliant, the endemic Coppery-headed Emerald and with some luck Purple-crowned Fairy. We will of course spend some time admiring the impressive waterfalls of the area too!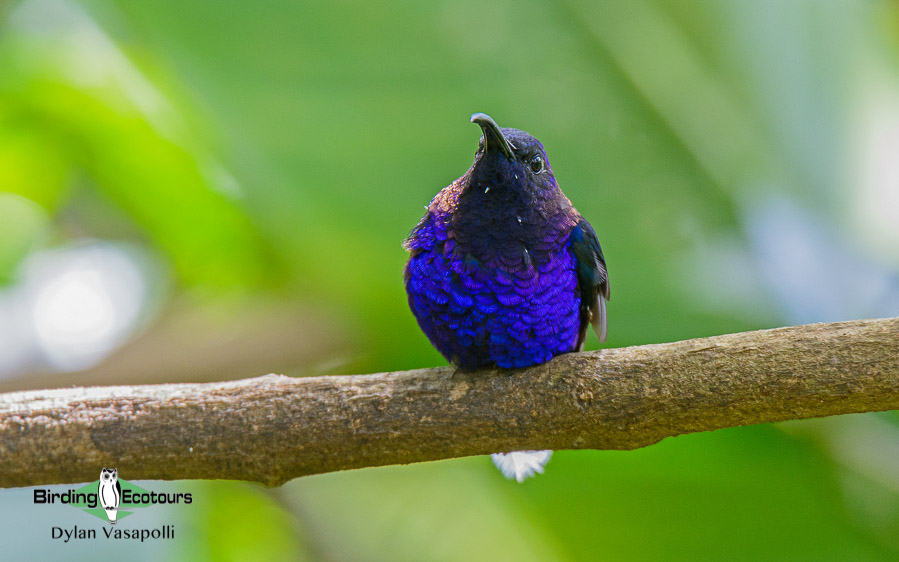 We may find Violet Sabrewing at La Paz Waterfalls.
After lunch, we will visit the Cinchona feeders, where we can spend time watching and photographing birds such as Red-headed Barbet, Prong-billed Barbet, Blue-throated Toucanet, Silver-throated, Scarlet-rumped, Crimson-collared, Blue-grey, and Palm Tanagers, and with luck Black Guan and Buff-fronted Quail-Dove. After some great time at the feeders, we will transfer to Sarapiquí where we will look for iconic Caribbean foothills species such as Yellow-throated Toucan, Montezuma Oropendola, White-crowned Parrot, and Grey-headed Chachalaca.
Overnight: La Quinta Sarapiquí Country Inn, Sarapiquí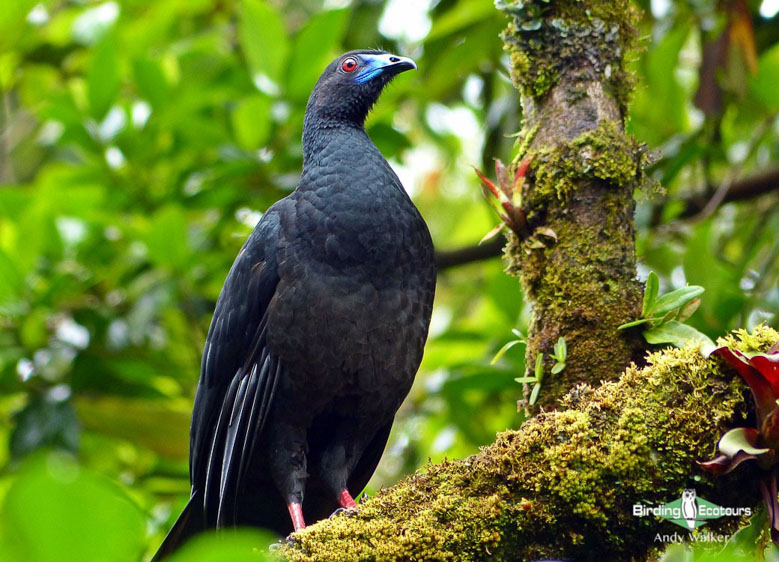 Black Guan can be seen at the Cinchona feeders.
Day 3. La Selva Biological Station
We will have an early start to explore the famous La Selva Biological Station, where we have the chance to find Short-billed and Scaled Pigeons, Brown-hooded Parrot, Great Green Macaw, Snowy Cotinga, White-ringed Flycatcher, Fasciated Antshrike, White-collared Manakin, Crested Guan, Great Antshrike, Red-lored Amazon, and Chestnut-headed and Montezuma Oropendola. In addition, we'll look for Semiplumbeous Hawk, Chestnut-sided and Buff-rumped Warblers, Great Tinamou, Vermiculated Screech Owl, Great Curassow, Northern Barred Woodcreeper, Rufous-winged, Pale-billed, Chestnut-colored, and Black-cheeked Woodpeckers, Keel-billed Toucan, and perhaps even the secretive Slaty-breasted Tinamou.
Overnight: La Quinta Sarapiquí Country Inn, Sarapiquí
Day 4. Cope Wildlife Reserve and Puerto Viejo
We will have a full morning visiting the famous Cope Wildlife Reserve where we will have excellent opportunities to photograph birds visiting its amazing feeders. Some of the species regularly visiting the feeders might include Bronze-tailed Plumeleteer, Crowned Woodnymph, White-necked Jacobin, Stripe-throated Hermit, White-tipped Sicklebill, Green Hermit, Montezuma and Chestnut-headed Oropendolas, Orange-chinned Parakeet, Black-cheeked Woodpecker, Red-legged, Shining and Green Honeycreepers, and Crimson-collared Tanager. We will also explore some nocturnal bird territories near the reserve to look for potential roosting trees for Crested Owl, Spectacled Owl, and Black-and-white Owl, as well as Great Potoo. The open fields are good for Tropical Mockingbird and Yellow Tyrannulet. We will also have good chances to enjoy some other iconic Costa Rican wildlife including frogs, lizards, and mammals.
Late in the afternoon, we will explore some areas around Puerto Viejo where Great Green Macaw is reliable and other birds such as Slaty Spinetail, Long-tailed Tyrant, Yellow Tyrannulet, Olive-throated Parakeet, Morelet's and Variable Seedeaters, and Thick-billed Seed Finch may be seen.
Overnight: La Quinta Sarapiquí Country Inn, Sarapiquí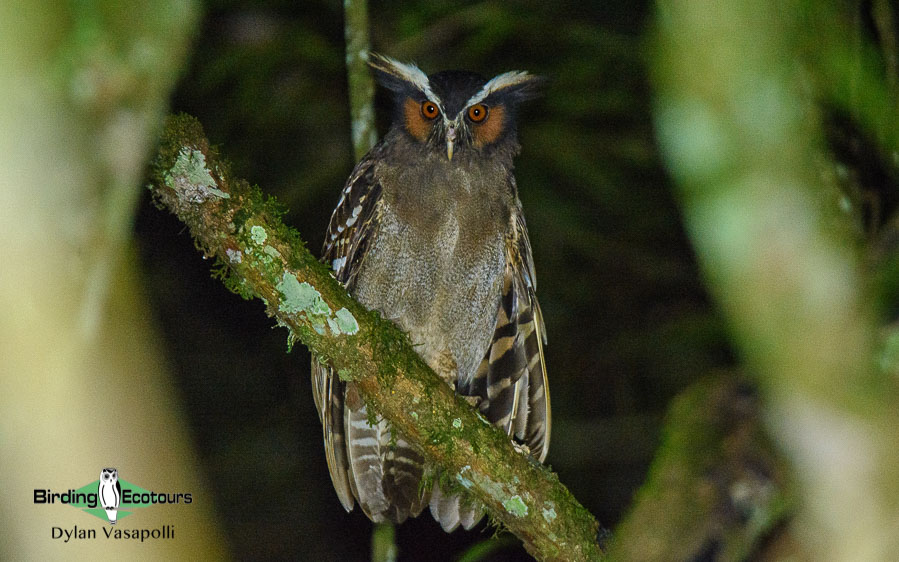 Crested Owl is one of a number of owl species we hope to encounter on this tour.
Day 5. Puerto Viejo and transfer to San Gerardo de Dota
Today we will leave Sarapiquí and make our way to Sa Gerardo de Dota and will break the long drive with a pleasant birding stop along the Sarapiquí River where, with luck, we might find Scarlet Macaw and King Vulture. We also have chances for Mangrove and Southern Rough-winged Swallows, Grey-breasted Martin, Prothonotary Warbler, Wedge-billed Woodcreeper, and Bare-throated Tiger Heron. We will then continue our drive to San Gerardo de Dota and, if time permits, enjoy some birding around Cerro de la Muerte, before reaching the lovely Savegre Lodge.
Overnight: Savegre Hotel Natural Reserve and Spa, San Gerardo de Dota
Day 6. Los Quetzales National Park and Paraiso Los Quetzales Lodge
Today we will drive to the high elevations of Los Quetzales National Park. Once on the high grounds of the park we will focus on the range-restricted Volcano Junco and Timberline Wren. Other species are likely to include Large-footed Finch, Volcano Hummingbird, Black-capped Flycatcher and Red-tailed Hawk. We will then explore the lower areas in search of Black-eared Warbler, the shy Peg-billed Finch, and with luck, Barred Parakeet.
After birding the national park we will visit Paraiso Los Quetzales Lodge where we will enjoy the hummingbird feeders, likely getting views of Fiery-throated, Talamanca, and Volcano Hummingbirds, Grey-tailed Mountaingem and Lesser Violetear. The lodge is also a good place to look for the Mountain Thrush, Ruddy-capped Nightingale-Thrush, Black-billed Nightingale-Thrush, Black-and-yellow Phainoptila, and with luck, Golden-browed Chlorophonia.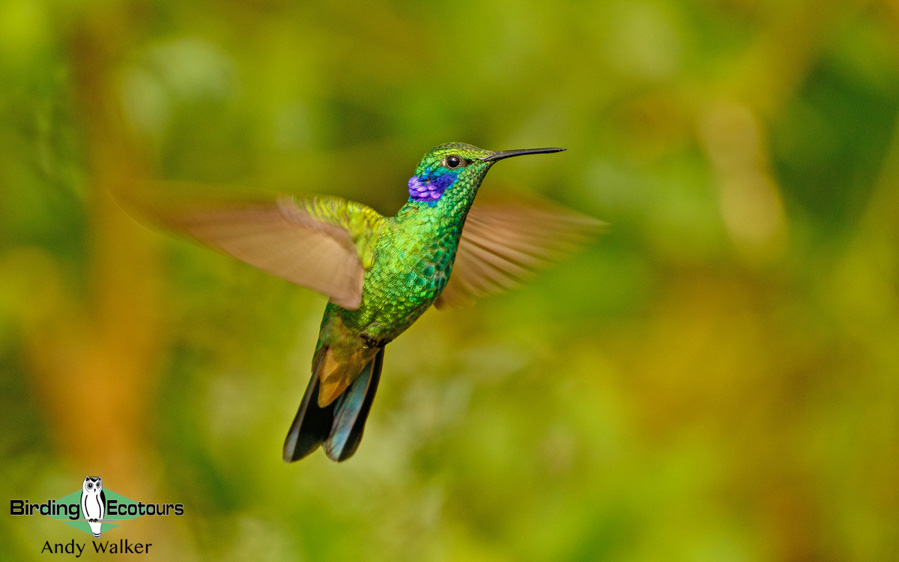 Lesser Violetear is one of the many hummingbird species we hope to see at the feeders at Paraiso Los Quetzales Lodge.
After lunch, we will explore the surroundings of the Cerro de La Muerte and spend the afternoon enjoying some coffee and hummingbirds at Miriam's Restaurant where we should find Acorn and Hairy Woodpeckers, Sooty-capped Bush Tanager, Golden-browed Chlorophonia, Flame-colored Tanager, Large-footed Finch, Sooty Thrush and perhaps Blue-throated Toucanet. We will leave for our lodge before dusk and try for Dusky Nightjar en route.
Overnight: Savegre Hotel Natural Reserve and Spa, San Gerardo de Dota
Day 7. Savegre Lodge birding
Today we will have an early start to look for Resplendent Quetzal, perhaps the most-wanted bird in Central America. We will visit the most reliable spot in the valley to secure this special sighting. After breakfast, we will spend the morning exploring the lush mountain forest above the lodge, looking for Spotted Wood Quail, Ruddy Treerunner, Spangle-cheeked Tanager, Collared Whitestart, Black-capped Flycatcher, Buffy Tuftedcheek, Ruddy-capped Nightingale-Thrush, Silvery-fronted Tapaculo, and Flame-throated Warbler. Mixed flocks might hold North American migratory warblers such as Chestnut-sided, Black-throated Green, Black-and-white, and Wilson's Warblers. In addition, we could find Sooty-capped Bush Tanager, Yellowish Flycatcher, Yellow-winged Vireo, Rufous-browed Peppershrike, and Black-faced Solitaire. We will spend the afternoon enjoying some easy birding around the lodge where we will keep an eye out for Finsch's Parakeet, Long-tailed Silky-flycatcher, Slaty Flowerpiercer, Flame-colored Tanager, Acorn Woodpecker, Red-tailed Hawk, and Stripe-tailed and Scintillant Hummingbirds.
Overnight: Savegre Hotel Natural Reserve and Spa, San Gerardo de Dota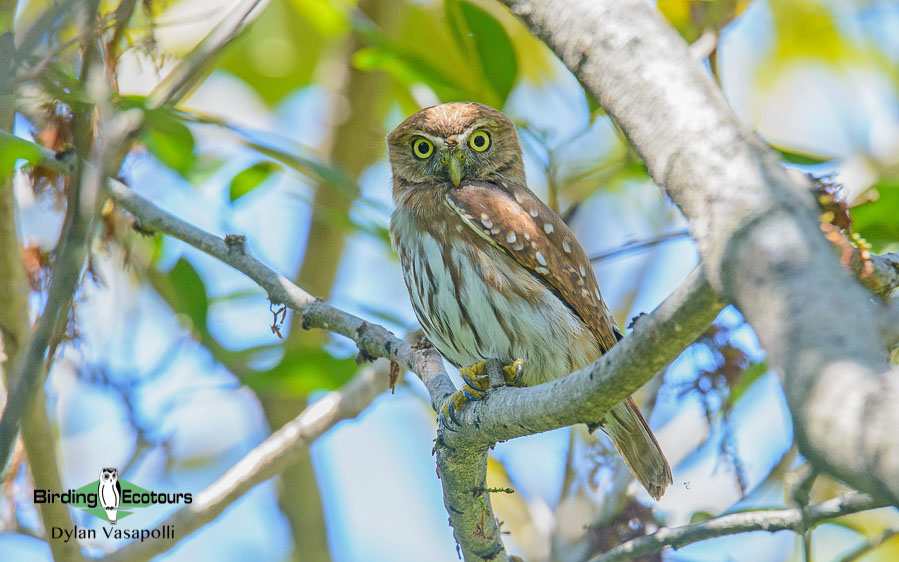 The fierce Ferruginous Pygmy Owl may be seen in San Jose.
Day 8. Birding Savegre and transfer back to San Jose
We will spend an extra morning around Savegre in case we need another chance to look for the Resplendent Quetzal, if we missed it on the previous day. We can explore the waterfalls road to look for Yellowish Flycatcher, Dark and Ochraceous Pewees, Black-faced Solitaire, and with some luck, American Dipper. After lunch we will be transferred to San Jose's Hotel Robledal where it is possible to find Ferruginous Pygmy Owl and Jamaican Fruit-eating Bats in the hotel grounds.
Overnight Hotel Robledal, San Jose
Day 9. Transfer to the airport and departure
You will be transferred to San Jose Airport at a convenient time to connect with your international flight
Please note that the itinerary cannot be guaranteed as it is only a rough guide and can be changed (usually slightly) due to factors such as availability of accommodation, updated information on the state of accommodation, roads, or birding sites, the discretion of the guides and other factors. In addition, we sometimes have to use a different international guide from the one advertised due to tour scheduling.
Download Itinerary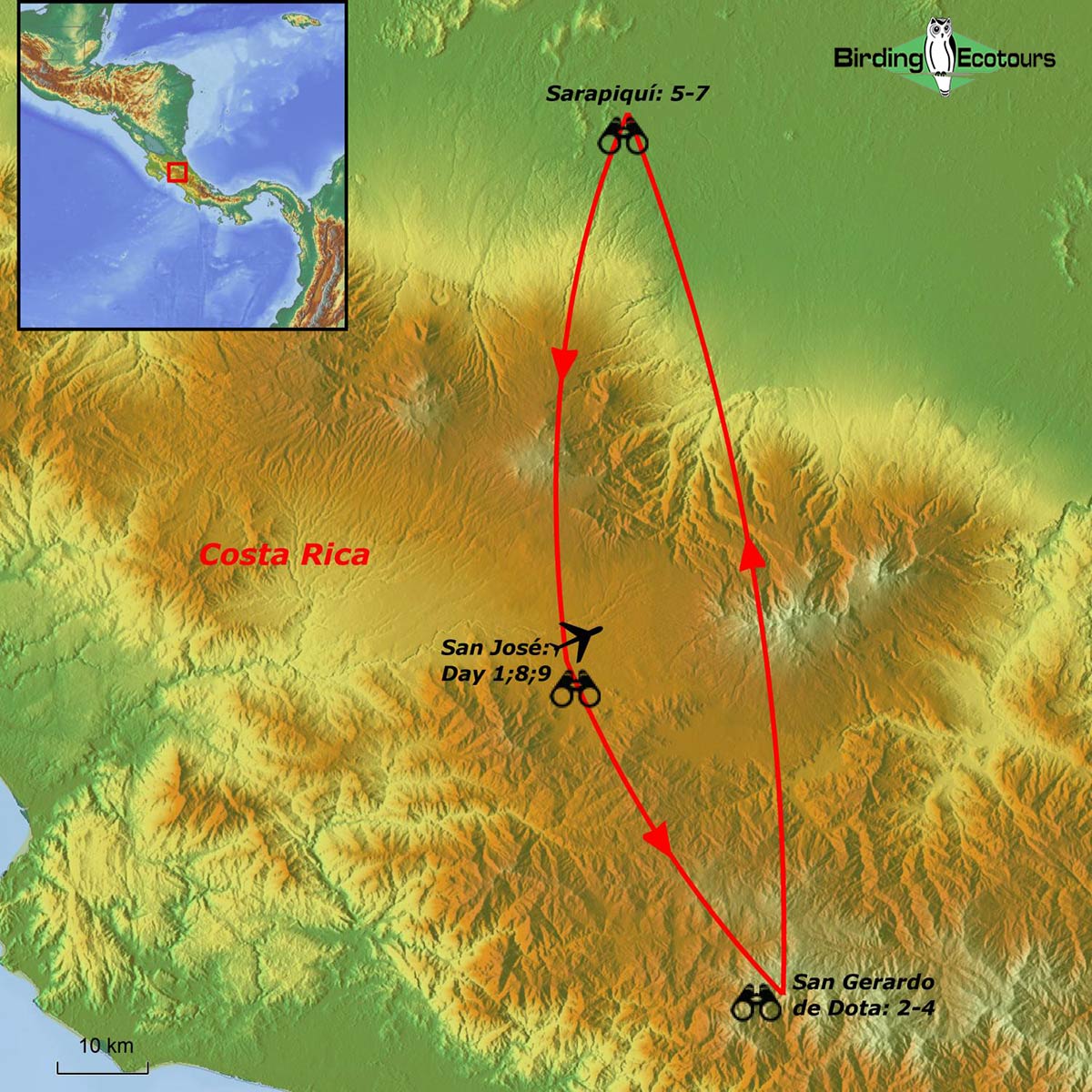 Costa Rica Escape Set-departure Trip Report, January 2019
3 – 11 JANUARY 2019 
DOWNLOAD TRIP REPORT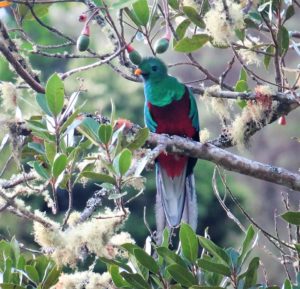 Resplendent Quetzal (photo Tracy Marr)

Overview
This Costa Rica Escape 2019 trip was our first tour of the year, starting only three days after the arrival of the New Year. It was an incredible trip, which allowed us to see the best of the country in just a week. Costa Rica is perhaps the easiest country to bird in the tropical Americas, and most of the Neotropical families are well represented.
With great roads and tourist and service facilities infrastructure the country, and this trip in particular, is the best choice for those who come to the tropics for the first time.
Our adventure started in San José, the capital of Costa Rica, and we managed to explore different habitats and ecosystems, ranging from the Caribbean foothills to the cloudforest mountains of Savegre in central Costa Rica to end at the Pacific slope at Carara National Park and the Río Tárcoles.  Of the 934 species of birds that occur in Costa Rica we managed to record more than a third in a week only! We recorded 320 species as well as an additional three species that were heard only.
Our trip list included sightings of  amazing species such as Resplendent Quetzal, Boat-billed Heron, American Pygmy Kingfisher, Violet Sabrewing, Black Guan, Spotted Wood Quail, Streak-chested Antpitta, Silvery-fronted Tapaculo, Great Potoo, Spectacled and Crested Owls, Flame-throated Warbler, Long-tailed Silky-flycatcher, Fiery-billed Aracari, Spot-fronted Swift, Prong-billed Barbet, American Dipper, White-crested Coquette, Black-crested Coquette, Black-and-yellow Tanager, Spangle-cheeked Tanager, and White-eared Ground Sparrow. In addition we managed to see two country endemics that occur on the mainland, Coppery-headed Emerald and Mangrove Hummingbird, and we saw 41 birds that are shared only by Costa Rica and Panama. A nice selection of North American migratory warblers was also found, such as Chestnut-sided, Black-and-white, Golden-winged, Bay-breasted, Prothonotary, Black-throated Green, and Wilson Warblers, and 35 species of hummingbirds.
It was a memorable trip, with some participants visiting the tropics for the first time, a nice group of clients, great weather, excellent food, amazing wildlife, and friendly people all over the country. We hope that you can join us on our Costa Rica Escape 2020 tour. 
Detailed Report
Day 1, 3rd January 2019. Arrival
We arrived at Juan Santamaría International Airport in Alajuela, a town located 20 kilometers from San José city, and then transferred to our hotel. 
Day 2, 4th January 2019. Freddo Fresas, La Paz Waterfall, Cinchona, Virgen del Socorro
We had arranged to leave the hotel at 7:00 a.m. after breakfast, but since we were excited and full of adrenaline we met before breakfast already and spent a few hours exploring the hotel grounds, looking for new birds. We met just after dawn to find our first species, including Great-tailed Grackle, Rufous-backed Wren, Clay-colored Thrush, Inca Dove, Hoffman's Woodpecker, Great Kiskadee, Spot-breasted Oriole, Baltimore Oriole, Melodious Blackbird, American Yellow Warbler, Summer Tanager, and Greyish Saltator. There is nothing better than traveling with birders who set foot for the first time in the Neotropics and everything turns out to be new, even Rufous-collared Sparrow. The group was happy and excited, and things could not have turned out any better when the owner of the hotel pointed out a Ferruginous Pygmy Owl in the hotel gardens, which posed well for everybody. Then we had a tasty breakfast and left the hotel to start our trip.
We climbed to an elevation of 1200 meters (3900 feet) to the Freddo Fresas restaurant feeders.  As soon as we arrived the group was completely amazed to see the impressive Violet Sabrewing coming to the feeders. Other species here included Mountain Elaenia, Clay-colored Thrush, Blue-grey Tanager, Scarlet-rumped Tanager, Bananaquit, Slaty Flowerpiercer, and a glimpse of the elusive White-eared Ground Sparrow.
Later we continued to the La Paz Waterfall center, where the feeders where brimming with Violet Sabrewing, Black-bellied Hummingbird, Purple-throated Mountaingem, and the endemic Coppery-headed Emerald. It was nice to study males versus females, learn the differences, and get used to them. The forest trails leading to the waterfall were very birdy, allowing us views of Slaty-backed Nightingale-Thrush, Northern Tufted Flycatcher, Spangle-cheeked Tanager, Ochraceous Wren, Slate-throated Whitestart, Tennessee Warbler, Prong-billed Barbet, and Sooty-faced Finch.
We had a nice lunch and then decided to walk the trail all the way down to the base of the waterfall, hoping for American Dipper, which sadly we could not find here. But on the way we had good views of Torrent Tyrannulet, Slaty Antwren, Spotted Barbtail, and Red-faced Spinetail. The trail-and-steps system that leads down to the waterfall was very productive and allowed good views of the waterfall, but perhaps weekends should be avoided since the place can be crowded. Some participants managed to get views of Purple-crowned Fairy when we were leaving the restaurant area.
Then we hit the road again toward the Cinchona and Virgen del Socorro areas. On the way we stopped the vehicle to get scope views of White-crowned Parrots and a nice Bat Falcon. We also were excited about the first flocks of oropendolas, since we did not know yet how much closer we would come to them over the next two days.
At the Cinchona feeders we had great views of Silver-throated Tanager, Scarlet-rumped Tanager, and Buff-throated Saltator, when suddenly a Black Guan showed fabulously for the enjoyment of our group.
Daylight was vanishing, but we still wanted to visit one more place, the Virgen del Socorro bridge, only to get thrilled there with views of two American Dippers. Other birds here included our first Chestnut-sided Warbler, Bay Wren, and Zeledon's Antbird. We also were lucky enough to spot a single White-nosed Coati before we got back to the vehicle.
We continued our drive to our comfortable accommodation at Quinta Sarapiquí, where we arrived before dinner and had a rest in anticipation of the big day that was about to come, visiting the famous La Selva Biological Station. Indeed, this had been a great day!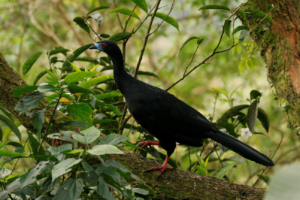 Black Guan (photo Deborah Hurlbert)

Day 3, 5th January 2019. La Selva Biological Station
La Selva Biological Station is one of tropical America's most important ecological research facilities. It is also one of Costa Rica's most renowned birding destinations. Since its creation in 1968 more than 3,100 scientific papers have been published based on research conducted within the forests of La Selva Biological Station. The station is located on 4,050 acres of lowland forest bordering Braulio Carrillo National Park, and it creates an important corridor from the lowlands to the high mountain peaks.
We arrived at La Selva at first light. Just at the entrance by the parking lot we had good views of Great Antshrike, Fasciated Antshrike, Scaled Pigeon, Short-billed Pigeon, Brown-hooded Parrot, Boat-billed Flycatcher, Montezuma Oropendola, Chestnut-headed Oropendola, Black-cheeked Woodpecker, Northern Barred Woodcreeper, Cinnamon Woodpecker, Chestnut-sided Warbler, Red-lored Amazon, Stripe-throated Hermit, Common Tody-Flycatcher, Grey-breasted Martin, and Keel-billed Toucan. We also had scope views of a female Snowy Cotinga.
We started walking and exploring the trails, including the ones located at the other side of a suspended bridge over the Puerto Viejo River. We also had perfect weather and were excited with sightings of species such as Black-throated Trogon, White-ringed Flycatcher, Rufous-winged Woodpecker, Collared Aracari, Wedge-billed Woodcreeper, Yellow-throated Toucan, Green Kingfisher, Grey-headed Chachalaca, Semiplumbeous Hawk, Masked Tityra, Black-crowned Tityra, Golden-hooded Tanager, Plain-colored Tanager, Red-throated Ant Tanager, White-whiskered Puffbird, White-fronted Nunbird, and Black-cowled Oriole.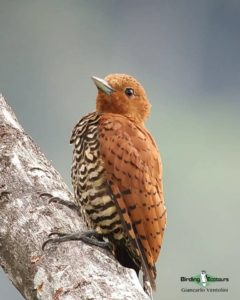 Cinnamon Woodpecker
One of the greatest moments of the tour came when we decided to look for a potential roosting tree for Vermiculated Screech Owl. Kevin and I walked into the forest, tracking down the owl's call, while the group remained behind on the main trail.  Suddenly before we localized the owl the very bird and a pair of Great Tinamous walked in front of the group. When we noticed them and turned back to tell the group they had already observed this shy species, but they did not tell us because we had asked them to remain quiet while we were trying for the owl. This was an incredible moment and quite funny for the whole group. However, we continued looking for the owl, just to find not only the Vermiculated Screech Owl but also a Crested Owl, both roosting at daytime in the same area. Incredible!
Another truly nice moment was watching a pair of Great Green Macaws flying low above the canopy forest, but only a few members of the group managed to see them perched. Another top moment was getting full views of Chestnut-colored Woodpecker, one of our main targets at La Selva.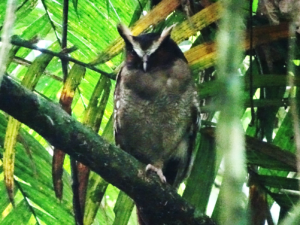 Crested Owl (photo Eduardo Ormaeche)
After a good morning and before we left the research station during the midday heat we had a cup of coffee in the main dining room of the research station, where surprisingly we found a Grey-chested Dove that was imprisoned in the dining room. After we had watched it well we set it free. Then we went back to our hotel to enjoy a good lunch, and in the afternoon we returned to La Selva. The activity was slower than it had been in the morning, but we had incredible views of Rufous and Broad-billed Motmots, Black-throated Trogon, Crested Guan, Blue-chested Hummingbird, and Buff-rumped Warbler. Later we tried to see a Slaty-breasted Tinamou calling very close, but it did not come for us, and then we had strong rain. La Selva also provided good views of Collared Peccaries and Mantled Howler Monkeys. But it was getting late, so we returned to the lodge.
Day 4, 6th January 2019. San José River, Cope Wildlife, El Tapir, transfer to Savegre
Probably one of the longest days of the trip started by visiting the Río San José. Here early in the morning we had good views of Fasciated Tiger Heron and the uncommon Spot-fronted Swift flying among a flock of Grey-rumped Swifts. We also had probably one of our best sightings of Cinnamon Woodpecker here.
Then we drove to the Cope Wildlife Reserve, which is a local private home of a family involved with ecotourism, and they have excellent feeder settings. During the next hour or so we were delighted with enjoying close-up views of Montezuma Oropendola and Chestnut-headed Oropendola on the feeders, Green Honeycreepers, dozens of Red-legged Honeycreepers, Silver-throated Tanager, Crimson-collared Tanager, Black-cheeked Woodpecker, Baltimore Oriole, and Melodious Blackbird. We saw a fascinating Brown-throated Three-toed Sloth with his offspring, and after that we took a drive to explore the vicinity of this private reserve, during which, with the help of a local guide, we managed to find another Crested Owl roosting.  In addition we found a pair of Spectacled Owls and a Great Potoo, all roosting at daytime, and a Pale-billed Woodpecker in its nest.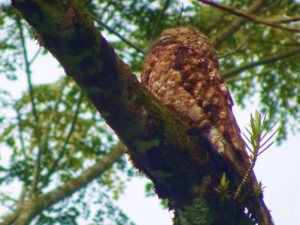 Great Potoo (photo Eduardo Ormaeche)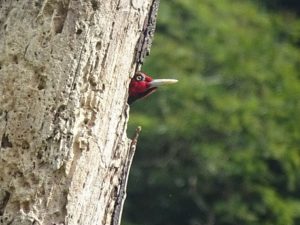 Pale-billed Woodpecker (photo Eduardo Ormaeche)
After great birding in the Cope Wildlife Reserve we visited the well-known hummingbird hotspot El Tapir (old butterfly garden). Here we enjoyed Black-crested Coquette, Violet-headed Hummingbird, Crowned Woodnymph, Rufous-tailed Hummingbird, and Wire-crested Thorntail, but despite all our efforts we could not find the Snowcap, which apparently is scarce and shy close to the very aggressive Rufous-tailed Hummingbird. We also saw Black-and-yellow Tanager and had a brief view of a juvenile male Three-wattled Bellbird.
Then we hit the road and headed to San Gerardo de Dota in the Cordillera de Talamanca. Two full days of birding in pristine cloudforest were about to come our way, and we could not have been more excited. We arrived at Savegre Lodge at dusk just in time to drop our luggage and enjoy a delicious dinner. 
Day 5, 7th January 2019. Savegre Lodge
Today we left the hotel before dawn and enjoyed an incredible night sky. We went to look for Resplendent Quetzal, probably one of the most-wanted species in the tropical Americas. We arrived at a place where we knew that it was showing regularly, but we had to wait for some time. In the meantime we had views of several Black Guans and of our first Mountain Thrush. There were quite a few people from other lodges who gathered in this specific spot, when suddenly a full adult male made an appearance and perched not far from the road on its favorite tree. We spent a good time enjoying it; it was amazing!
We returned to the lodge to have breakfast and enjoyed some of the birds that occur around the garden, such as Long-tailed Silky-flycatcher, Flame-colored Tanager, Talamanca Hummingbird, and Acorn Woodpecker, and we had a glimpse of Western Osprey. Some people may ask why there is an osprey in the mountains. Well, the local people who live in the Central Valley near Savegre have built several trout farms, and that is probably why our friend was flying around. By 8:30 a.m. we took one of the hotel's old jeeps, which transported us above the Savegre Lodge. The great forest above the lodge is good for birding and holds a few excellent species, so we started with nothing less than a family covey of Spotted Wood Quail followed by Ruddy Pigeon, Grey-breasted Wood Wren, Flame-throated Warbler, Black-throated Green Warbler, Collared Whitestart, Philadelphia Vireo, Ruddy Treerunner, Black-capped Flycatcher, Spangle-cheeked Tanager, Black-and-white Warbler, Ruddy-capped Nightingale-Thrush, and the skulking Silvery-fronted Tapaculo, which was the first tapaculo for almost the whole group (however, just wait and come to northern Ecuador or northern Peru with us!). Some of the participants also managed to get good views of the elusive Black-faced Solitaire. It was a great hike, and we managed to walk all the way back to the main road near the lodge.
We had a break after lunch and then headed back to the road to visit Miriam's feeders above Savegre. The feeders were brimming with activity, and we did extremely well with species such as White-throated Mountaingem, Talamanca Hummingbird, Volcano Hummingbird, and even Fiery-throated Hummingbird. The fruit feeders attracted Acorn Woodpecker, Hairy Woodpecker, Flame-colored Tanager, Large-footed Finch, and Yellow-thighed Finch. Just before the end of our visit here a Blue-throated Toucanet materialized to fill Tracy's heart with joy!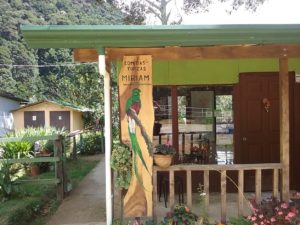 Miriam's feeders (photo Eduardo Ormaeche)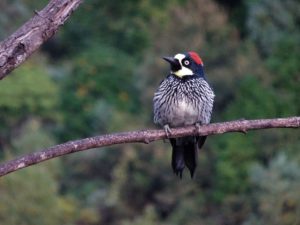 Acorn Woodpecker (photo Eduardo Ormaeche)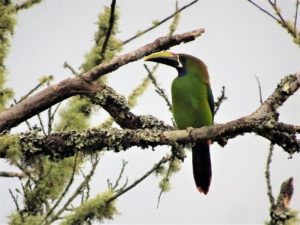 Blue-throated Toucanet (photo Eduardo Ormaeche)
After enjoying the feeders we climbed up to higher elevations, where just at sunset we found another one of our targets, the range-restricted Black-cheeked Warbler. We then waited until dusk to look for Dusky Nightjar, which was very responsive after dusk, but we could not see it until we started driving back to Savegre Lodge. But when we arrived at the lodge we had splendid views of one individual hawking for moths at a street light. 
Day 6, 8th January 2019. Los Quetzales National Park, Bosque de Tolomuco, Villa Lapas
The next day we left the lodge toward Los Quetzales National Park, the highest elevation of the tour at 3000 meters (9840 feet). Along the drive we managed to see Black-billed Nightingale-Thrush. We reached the top and were amazed by the remains of paramo and the pristine habitat; it was stunning scenery. As soon as we arrived we started to look for our two main targets, the range-restricted Volcano Junco and Timberline Wren. Fortunately it did not take long to have great views of both targets; so with no other target birds to look for we started our drive to the Pacific slope.
We kept driving along the main road until we reached Bosque de Tolomuco and a nice B&B property, which provided great hummingbird and tanager feeders. We had a good start with our first White-tailed Emerald and Snowy-bellied Hummingbird; however, our main target was the stunning White-crested Coquette, which can be seen at this property. It did not take long to admire our first White-crested Coquette females, but there was no trace of the male yet. We also had time to check the tanager feeders, where we saw more Silver-throated Tanagers, Blue-grey Tanager, Palm Tanager, and Golden-hooded Tanager. We also found Rose-breasted Grosbeak, Scarlet-rumped Tanager, Elegant Euphonia, and Red-crowned Woodpecker. Fortunately the group was together when the spectacular male White- crested Coquette showed up for a minute only, not to come back again.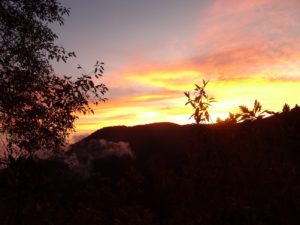 Sunset at Savegre (photo Eduardo Ormaeche)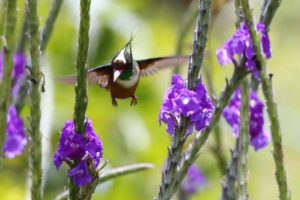 White-crested Coquette (photo Deborah Hurlbert)
When we continued our drive toward Villa Lapas we found a nice birding stop at the coast, with several Wood Storks, Roseate Spoonbill, Great Egret, and Tricolored Heron, and our first view of the splendid Scarlet Macaw flying along the shore was a real treat. We also saw Northern Crested Caracara and Yellow-headed Caracara, a nice Scissor-tailed Flycatcher, and Grey-crowned Yellowthroat. At our comfortable hotel we still had time to get ready before dinner. Central American Agouti was seen around the garden, and Pauraque showed well for everybody after dinner. 
Day 7, 9th January 2019. Carara National Park
We started the day with getting incredible views of the localized Fiery-billed Aracari in the hotel grounds and then drove to Carara National Park, where we spent the whole morning birding and exploring the main trails. Carara National Park is one of the most famous birding destinations in Costa Rica. The park is located at the northernmost site of the South Pacific Slope on the southern bank of the Río Tárcoles, the river that forms the boundary between the North- and South-Pacific regions. Since it is situated in the transition zone between tropical dry forest and tropical wet forest, Carara offers a unique and extremely diverse ecosystem, protecting 11,600 acres of land.
Here we found species such as Long-billed Gnatwren, Dot-winged Antwren, Black-hooded Antshrike, Black-striped Woodcreeper, Chestnut-backed Antbird, Tawny-crowned Greenlet, Riverside Wren, Black-faced Antthrush, and Rufous Piha, and we had fantastic views of Streak-chested Antpitta. We tried hard for Orange-collared Manakin, but only a few participants managed to see the only elusive individual we found. In the parking lot a group of Central American Spider Monkeys and King Vulture where photographed by Debbie while she was waiting for the group.
We came back to the park in the afternoon and managed to see a nice selection of birds taking a bath in a forest stream, with super views of a single male Blue-crowned Manakin, at least five different Red-capped Manakins and one female as well, Northern Schiffornis, Ochre-bellied Flycatcher, White-shouldered Tanager, and Blue-throated Sapphire. Toward evening we returned to the hotel for a nice dinner, another satisfying checklist session, and a few free drinks that were very welcome after a long and hot day. 
Day 8, 10th January 2019. Tárcoles River and transfer to San José
Our last day of the trip started with crossing the famous crocodile bridge on foot, from where we saw several American Crocodiles and also Black-necked Stilt, Black-bellied Whistling Duck, Neotropic Cormorant, Great Egret, Snowy Egret, and Cabanis's Wren and had a wonderful view of Turquoise-browed Motmot.
We drove to the dock to get our boat to explore the mangroves of the Tárcoles River. We had a great time, enjoying Magnificent Frigatebirds, American White Ibis, Bare-throated Tiger Heron, Northern Jacana, Green Kingfisher, the elusive American Pygmy Kingfisher, Panamanian Flycatcher, Northern Scrub Flycatcher, Scaly-breasted Hummingbird, and good views of the endemic Mangrove Hummingbird. We also had good views of Yellow-crowned Night Heron, Mangrove Swallow, and Crab-eating Raccoon. Along the river we saw more American Crocodiles, Common Basilisk, and Common Spiny-tailed Iguanas but also Whimbrel, Spotted Sandpiper and Least Sandpiper. We had scope views of a large group of Brown Pelicans, Royal Tern, and juvenile Laughing Gulls.
After this great boat trip we returned to the Villa Lapas hotel to collect our luggage and get lunch and then started the drive back to Alajuela.
During the drive back we made a couple of selective stops while passing through some deciduous habitats, where we had nice views of Black-headed Trogon, Cinnamon Hummingbird, Tropical Gnatcatcher, White-lored Gnatcatcher, Lesser Greenlet, Scrub Euphonia, and Stripe-headed Sparrow. We went back to the hotel to have our last meal together and share laughs and a couple of drinks to celebrate a very good birding week in Costa Rica. Costa Rica Pura Vida! 
Day 9. Departure
Our international flights left today from Juan Santamaría International Airport.
Please see the downloadable PDF above for the full species lists. This is a sample trip report. Please email us ([email protected]) for more trip reports from this destination.
COSTA RICA ESCAPE TOUR-SPECIFIC INFORMATION
PLEASE CLICK HERE FOR GENERAL INFORMATION PERTAINING TO ALL OUR COSTA RICA TOURS
Our Costa Rica Escape tour is a great, nine-day trip across one of the most exciting destinations in the neotropics. Our tour will start in San José and will take you to explore the Caribbean foothills in the north where we will have the chance to explore La Selva Biological Station and other famous birding sites. Here we hope to see iconic species such as Snowy Cotinga, Montezuma Oropendola, Keel-billed Toucan, Collared Aracari and Great Green Macaw. There are excellent chances for other wildlife sightings too, with Brown-throated Sloth, Honduran White Bat and Strawberry Poison-dart Frog, all possible. The birding is generally easy-going with ample opportunities to relax and enjoy bird feeding stations. We will spend quality time walking along exciting forest trails. Another part of our tour will take us to the San Gerardo de Dota to explore the cloudforest mountains looking for the incredible Resplendent Quetzal and other specials such as Wrenthrush, Dark Pewee, Spotted Wood Quail, Long-tailed Silky-flycatcher, and Blue-throated Toucanet, while staying at the comfortable Savegre Lodge as our base for three nights.
ARRIVAL INFORMATION
Please e-mail us ([email protected], or contact us in a different way, if preferred) before you book any flights, as the information shown here is just an initial guide. Our tour will start in the city of San José, at San José's de Costa Rica Juan Santa María International Airport (SJO) which can be reached by flights from most major airports from the US, Europe and Panama City (Panama). You may wish to consult your travel agent to book your most convenient flight, although please contact us if you need any guidance. Your tour leader will be waiting for you at San José Airport with the Birding Ecotours logo displayed and will then transfer you to your nearby hotel. Please be aware that most international flights arrive in San José around midday. We don't have any birding activities planned for the first afternoon but we can enjoy birding around the hotel grounds where we can get a nice set of birds. In case you arrive on an early flight, you will be transferred to the hotel but may have to wait until check-in is available (normally in the early afternoon, although you can easily pass the time wandering around the hotel grounds). For an early check-in, you might be charged extra directly by the hotel; this cost is not included in the Birding Ecotours tour price.
Please remember to keep your luggage tags, as they are required to exit the terminal at the San José Airport.
When filling out the customs declaration form, please use the hotel address below:
Hotel Bounganvillea Santo Tomás, Heredia, Santo Domingo, 40302, Costa Rica
DEPARTURE INFORMATION
Our tour will end in the city of San José after a wonderful nine days in Costa Rica. On the final morning you will be transferred to the San José Airport (SJO) from where you can catch your connecting flight.
DOMESTIC FLIGHT INFORMATION
There are not domestic flights needed on this birding tour.
PHYSICAL REQUIREMENTS AND PACE
We grade this trip as easy, with most of the birding consisting of walking along roads, although some of them lead up and down hills. We will explore some forest trails in the cloudforest and Caribbean slope which have gentle undulations, and there may be muddy sections after rain. Nevertheless, Costa Rica does not require long, hard mountain walks as do some other Birding Ecotours destinations like Peru, Guatemala, or Ecuador. We will spend quality time sitting and enjoying hummingbird feeders and birding the lodge grounds at a number of destinations on this tour.
Keep in mind that (as is usual on most birding trips) we need to be awake very early in the mornings, and pre-dawn starts are required each day. We normally spend the whole morning birding in the field, before returning to the lodge for lunch, after which we often enjoy some downtime and then continue our birding in the late afternoon. Your guide will sometimes invite you to look for owls at night, however this is an optional activity that you can skip if you feel tired. Some people prefer to rest, skipping birding in the afternoon; this can be done at those lodges where we are staying more than one night. When we make birding stops while traveling from location to location, those who feel tired do not have to follow the group and can remain and rest in the vehicle.
We think this trip may be difficult for people with back, walking, and balance problems or for those who are not used to a birding trip with early morning starts.
ATM MACHINES
ATM machines are only available at San José Airport and we suggest drawing US dollars here (for personal expenses such as bar bills, laundry, phone calls, etc). We recommend drawing all the cash (US dollars) you expect to need on the tour at the airport, as ATM machines are not easily accessible elsewhere on the tour itinerary. Please note that although most destinations will accept credit cards, some of the more remote locations may not offer these facilities.
ALTITUDE
We will reach the highest elevation of the tour at Los Quetzales National Park at 10,170 feet (3,190 meters) above sea level. Please ask your doctor if you have any medical conditions that might be aggravated by high elevations. However, we will likely only spend 1-2 hours at this elevation, as we are only looking for two special targets here; Volcano Junco and Timberline Wren. Normally we find these birds fairly quickly and we have not had any problems with altitude sickness in the past.
WEATHER
We ask you to be ready for all kinds of weather during this trip. Areas such as Sarapiqui, El Tapir, Cope Wildlife Reserve and La Selva Biological Station in the Caribbean foothills are hot and humid with temperatures reaching 30°C (86°F). We suggest packing clothes in which you feel most comfortable for this kind of weather. We highly recommend using sunscreen and a light-colored hat or cap. We might also get some rain during our visit in the Caribbean tropical forest!
The weather in the cloudforest of San Gerardo de Dora, Savegre Lodge, Irazú Volcano and the Quetzales National Park can be sunny and humid around midday but cold in the early morning and night, with temperatures dropping to 8°C (46°F).
Please check here for a list of what we recommend bringing.
LAUNDRY
Laundry services are available at Hotel Boungavillea, Savegre Lodge and La Quinta Sarapiquí Country Inn. Laundry fees are not included in the tour price.
ACCOMMODATION
Accommodation is of a very good standard during the tour with rooms including en suite bathrooms, hot showers and air conditioning (in warmer areas only).
TRANSPORT
We will have a private van for the whole tour with plenty of room for everybody. We will require 4×4 vehicle transfers to reach a couple of birding spots above Savegre Lodge. The drive should only take a few minutes but participants should be fit enough to climb in and out of the 4×4 vehicles.

Costa Rica General Information
'The Costa Rica Escape tour was my second trip with Birding Ecotours, after Brazil. It was a great winter break and also a teaser trip to the country, leaving us wanting to see more. Any trip with a Resplendent Quetzal has to be a good one, but the variety of birds we saw at the various stops was amazing. One of the highlight memories for me was when Eduardo and the local guide were off the trail, listening for an owl, and a Great Tinamou walked right up to their feet without them realizing it. As a guide, Eduardo is professional, knowledgeable and personable. I'm already planning my third trip with the company!'
Tracy