Birding Tour USA: California – Southern California Specials
Go to: Northern California Tour | USA Birding Tours | Birding Tours in North America | Tours by destination - List
Download Itinerary
Southern California Specials
December 2023
From the coast to the mountains and desert, the habitats of southern California are home to many of the Pacific Coast's specials.  We'll begin in San Diego in search of species such as Heermann's Gull, Wandering Tattler, and Black Turnstone.  Then, moving inland to the foothills and mountains, our targets will be species with California in their name: California Quail, California Gnatcatcher, California Thrasher, and California Towhee.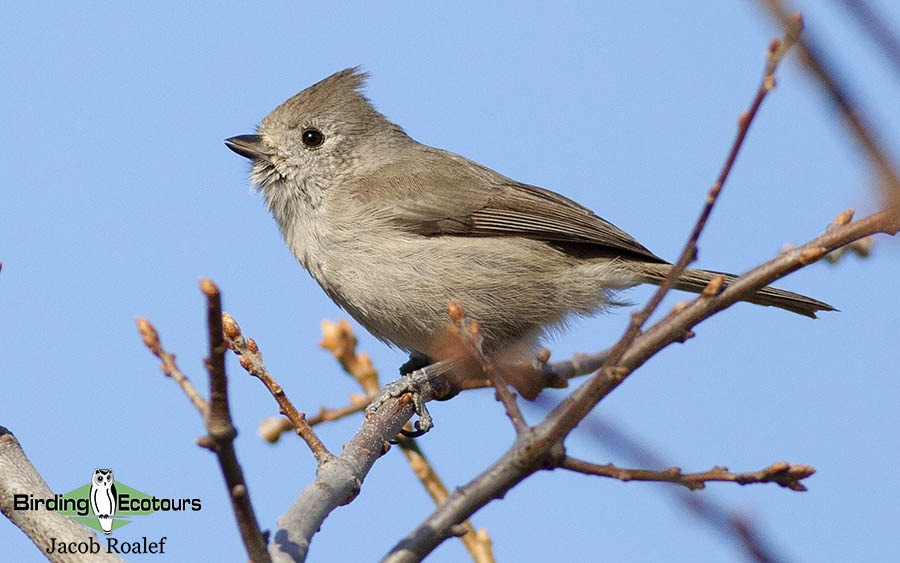 Oak Titmouse is one of the many California specials we'll be searching for on this tour.
We'll also be on the lookout for Nuttall's Woodpecker, Wrentit, Oak Titmouse, Bell's Sparrow, Lawrence's Goldfinch, and Tricolored Blackbird. Continuing to the desert and the Salton Sea, other birds that we'll be searching for include the elusive LeConte's Thrasher, Ruddy Ground Dove, Burrowing Owl, Costa's Hummingbird, Abert's Towhee, and hopefully, Yellow-footed Gull.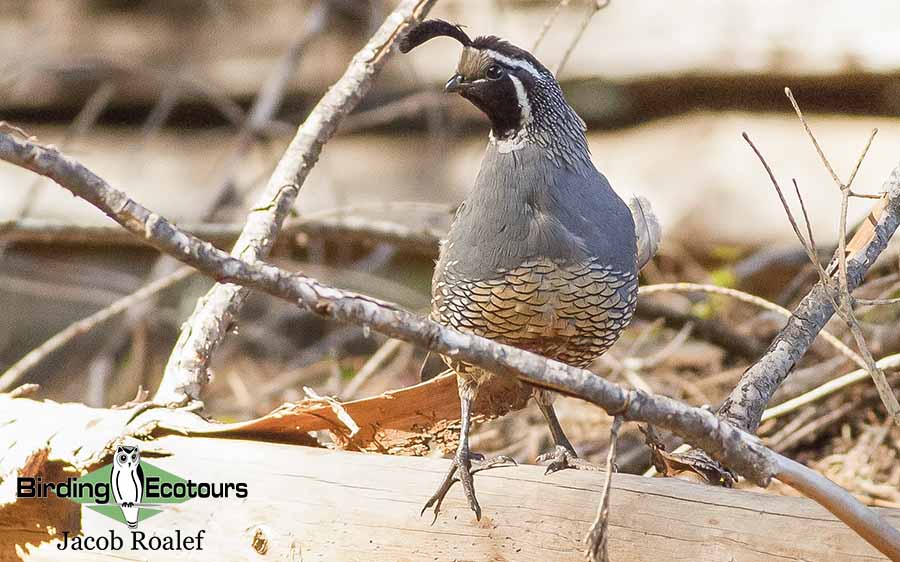 California Quail – yet another California special.
Itinerary (9 days/8 nights)
Day 1. Local San Diego Hotspots
We plan to arrive at San Diego International Airport by late afternoon or early evening. We will bird some nearby areas such as the San Diego River Flood Control Channel, Famosa Slough, and Mission Bay, as time permits.
Overnight: San Diego
Day 2. Tijuana Slough, La Jolla, and Torrey Pines State Park
We'll concentrate on the coastal areas around San Diego. Stops will include Tijuana Slough, where one of our targets is Ridgway's Rail, the estuary of the Tijuana River for 'Large-billed' Savannah Sparrow and possibly Pacific Golden Plover, and the south end of San Diego Bay where we might find a Eurasian Wigeon or Reddish Egret. Later in the day we'll continue north along the coast to La Jolla Cove for Black Turnstone, Wandering Tattler, and possibly Surfbird. If time permits, we'll proceed to Torrey Pines State Park and look for California Gnatcatcher.
Overnight: San Diego
Day 3. Lake Hodges and Mission Gorge
Moving inland, we'll bird in the foothills, stopping at locations such as Lake Hodges and Mission Gorge. We should be seeing many of the 'California' birds by this point of the tour: California Gnatcatcher, California Towhee, California Thrasher, California Quail, and California Gull. Bell's Sparrow, Wrentit, Nuttall's Woodpecker, and Oak Titmouse are several other California specials that we will search for.
Overnight: San Diego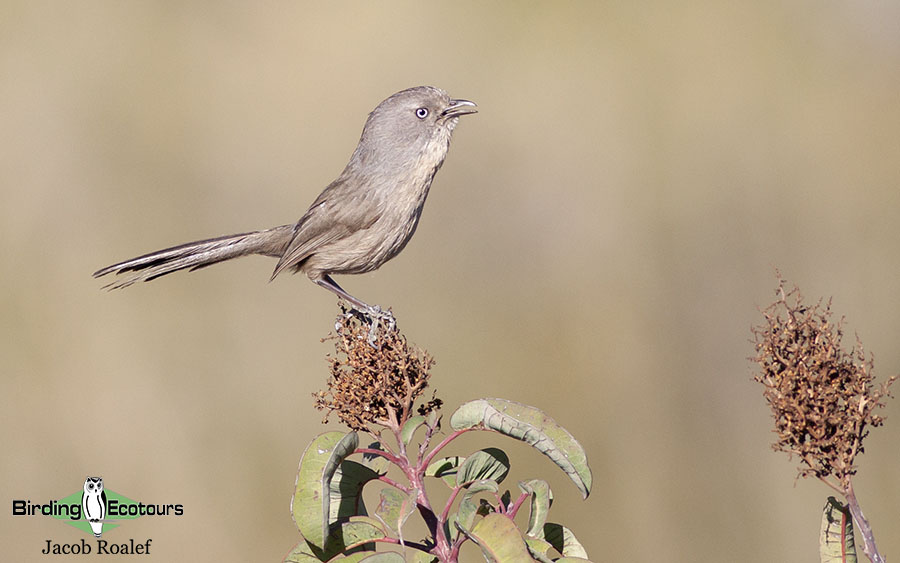 The cute and range-restricted Wrentit.
Day 4. The Salton Sea
Today we'll make the drive from San Diego to the Salton Sea. Along the way, we'll be passing over the mountains, where we'll stop to bird the higher elevation chaparral habitat. Fox Sparrow and Lawrence's Goldfinch are likely additions to the trip list. We'll attempt to be at the world-famous Salton Sea for the spectacular sight as the sun sets behind the mountains.
Overnight: Calipatria
Day 5. The Salton Sea
The Salton Sea and surrounding areas offer incredible birding, and we'll take the entire day to explore the many possibilities. Desert birding will be the focus early in the day. Many birds along the coast are locally replaced inland by their desert counterparts.
Instead of California Quail, Nuttall's Woodpecker, California Gnatcatcher, and California Thrasher, our targets will be Gambel's Quail, Ladder-backed Woodpecker, Black-tailed Gnatcatcher, and Crissal Thrasher, among others. Ruddy Ground Dove is a good possibility. We'll be looking for longspurs, Mountain Plover, Long-billed Curlew, and Burrowing Owl in the agricultural fields that are near the southern portion of the Salton Sea.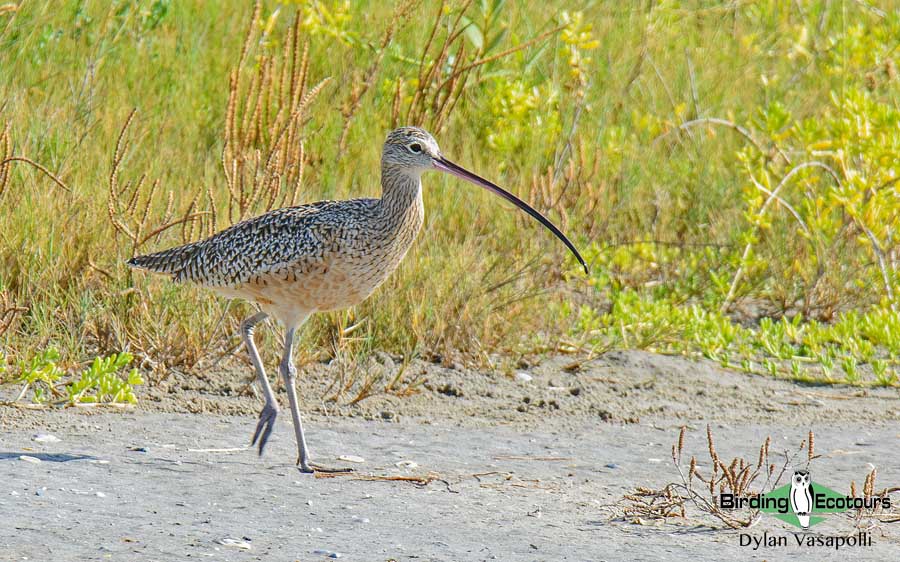 Look at that bill! Long-billed Curlew may be seen near the Salton Sea.
Heading back to the Salton Sea itself, shorebirds and other aquatic species will round out our list for the day. Yellow-footed Gulls, while common in the summer, are rare at this time of year, but we'll definitely be looking for this local special.
Overnight: Calipatria
Day 6. Anza-Borrego Desert
Much of the day will be spent in the Anza-Borrego Desert. We'll stop at Clark's Dry Lake to look for LeConte's Thrasher, where we also hope to see Black-throated and Brewer's Sparrows. American Barn and Long-eared Owls often roost at the Tamarisk Grove Campground. Costa's Hummingbird, Rock Wren, and Verdin are just a few of the other species we may see.
Overnight: Calipatria
Day 7. Through the Mountains to San Diego
We'll drive west today and visit the higher elevation habitats of the Laguna and Cuyamaca Mountains. In the mountaintop pine forests we should see Acorn Woodpecker, Steller's Jay, and Pygmy Nuthatch. We'll also return to some nice chaparral habitat. This is the home of Mountain Quail, a species that can be very difficult to observe. Spending some extra time in this region will increase our chances of finding this elusive bird.
Overnight: San Diego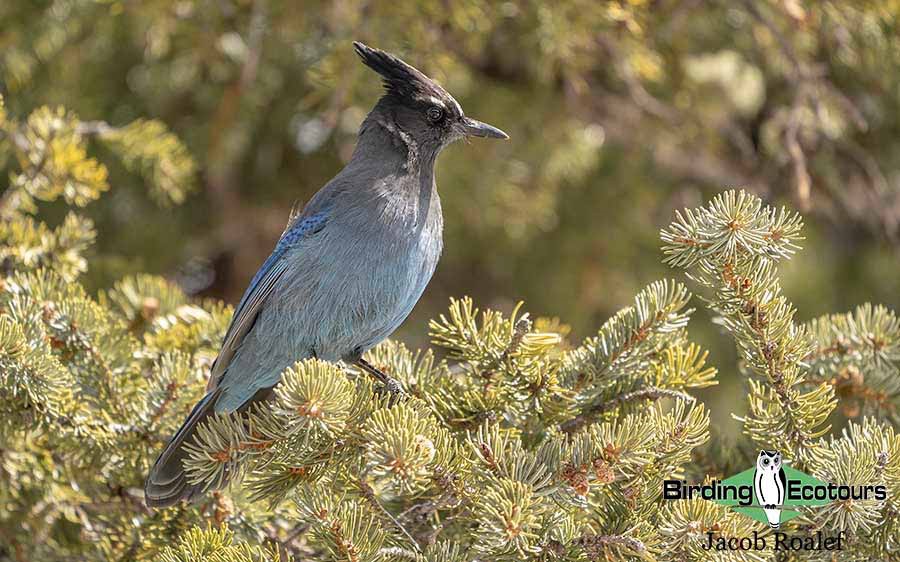 Steller's Jay is a high-elevation special that we will be looking for on this tour.
Day 8. More Local San Diego Hotspots
This will be an 'open' day to look for anything that may have eluded us so far. We may want to have an early start in the chaparral to try for Mountain Quail or Lawrence's Goldfinch, or maybe we'll visit a rocky coastal area to look for Surfbird and Black Oystercatcher. There is also always the chance for a hotline bird or two for us to pursue.
Overnight: San Diego
Day 9. Heading Home
If time permits, we will do some morning birding before heading to the San Diego International Airport to catch our departing flights, which will mark the end a wonderful nine days of birding in southern California.
Please note that the itinerary cannot be guaranteed as it is only a rough guide and can be changed (usually slightly) due to factors such as availability of accommodation, updated information on the state of accommodation, roads, or birding sites, the discretion of the guides and other factors. In addition, we sometimes have to use a different international guide from the one advertised due to tour scheduling.
Download Itinerary