Birding Tour USA: Comprehensive Southeast Arizona – The Desert and Sky Islands
Go to: Northern Arizona Birding Tour | USA Birding Tours | Birding Tours in North America | All our birding tours
Download Itinerary
Comprehensive Southeast Arizona – The Desert and Sky Islands
August 2023
Southeast Arizona is a land of stark contrasts and spectacular scenery. In the lowlands, granite outcrops, towering Saguaro cacti, and sandy washes typify the Sonoran Desert, a landscape featured in so many 'Western' movies. The fabled Sonoran Desert is the home of such iconic species as Greater Roadrunner and Gambel's Quail. Rising from the desert, isolated mountain ranges, clad in beautiful Madrean pine-oak woodland, provide a habitat found nowhere else in the United States. At remarkably cool (compared to the very hot desert plains below) higher elevations on these sky islands, pine forests can also sometimes be found. These forested mountain islands, with provocative names such as the Huachucas and Chiricahuas, are the northernmost outposts for a long list of primarily Mexican species such as Elegant Trogon and Mexican Chickadee. The canyons surrounding these mountains carry ephemeral streams to the parched lowlands below, creating ribbon-like groves of cottonwood that act as a conduit for even more tropical birds to enter south-eastern Arizona, such as Thick-billed Kingbird and Violet-crowned Hummingbird. Together, these contrasting habitats make southeast Arizona one of the most exciting regions to bird in North America, with more bird species than any other land-locked area of comparable size in the United States. With incredible birding areas like Cave Creek Canyon and the Ramsey Canyon Preserve and Nature Conservancy, it is no wonder why only California, Texas, and Florida have state lists longer than this relatively small region! The Arizona bird list boasts over 570 species! Of these species, 36 are only occasional anywhere else within the United States, making Arizona a must for North American birders.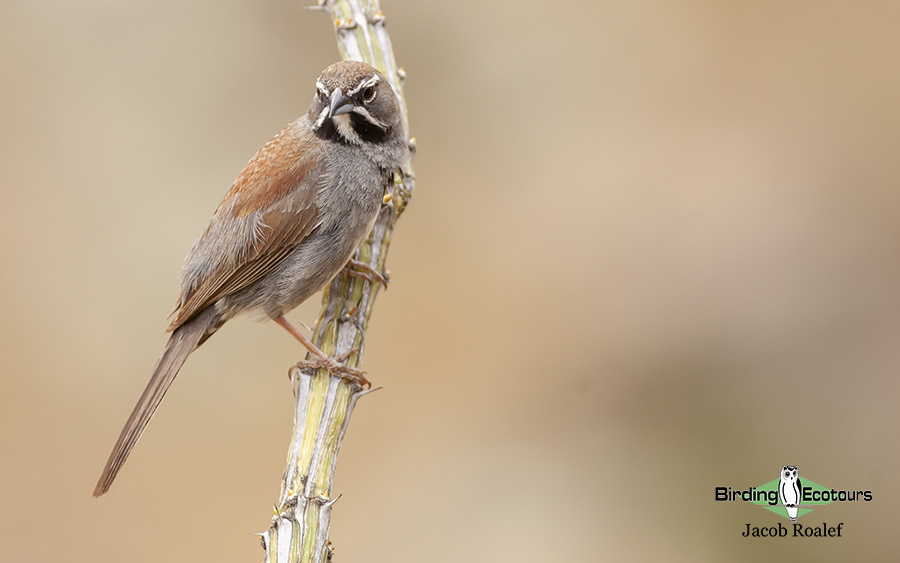 The striking Five-striped Sparrow is one of many specialties of southeast Arizona.
We begin this tour in the city of Tucson, where we explore the Sonoran Desert via Saguaro National Park, as well as travel up the impressive peak of Mt. Lemmon. In the southeast corner of the state, the Santa Ritas will provide us with our first true taste of birding the Madrean sky islands, with specialties such as Elegant Trogon. Further east we will punctuate our time spent in the upper elevation of the Huachucas with vigils at lowland hummingbird feeders for Violet-crowned Hummingbird and Lucifer Sheartail (Hummingbird). Heading even further east, we straddle the border with New Mexico and explore the Chiricahuas, which hosts more specialties like Mexican Chickadee and Olive Warbler.
If you combine this tour with our northern Arizona and Grand Canyon tour, you'll be able to have the most comprehensive Arizona birding tour on offer and you'll also be able to see a host of typical western species. It should also be noted that we run our southeast Arizona birding tour dates so you can combine it with the famous Southeast Arizona Birding Festival operated by the Tucson Audubon Society.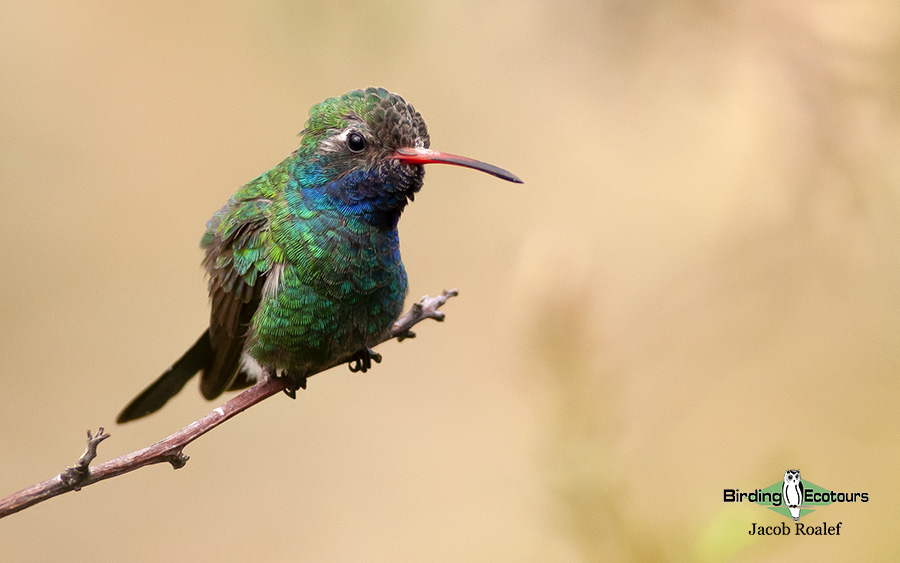 Broad-billed Hummingbird is only one of the many hummingbirds on display.
Itinerary (10 days/9 nights)
Day 1. Arrival in Tucson and initial birding
After arrival at the Tucson International Airport, participants will transfer to the hotel to get checked in. From here, we will head out for our first dinner and a chance to get to know each other better. Following dinner, those who choose to, can go out exploring for several nocturnal species like Lesser Nighthawk, Elf Owl and maybe even a Common Poorwill. Then it is back to the hotel for the night.
Overnight: Tucson
Day 2. Birding Mt. Lemmon to Madera Canyon
We will start the morning heading up to the tallest peak in the Santa Catalina Mountains, Mt. Lemmon, which stands at an impressive 9,159 feet (2,792 m). We have several stops planned along the way as we reach different habitat types with the ascending elevation. First stop, a quick scan through a huge Saguaro forest looking for Gilded Flicker, Black-tailed Gnatcatcher and Brown-crested Flycatcher. Further up, we will reach Rose Canyon Lake to search for several great birds including Common Black Hawk, Yellow-eyed Junco, and Pygmy Nuthatch. Higher and higher we go until we reach the pines near the top for high altitude species such as Broad-tailed Hummingbird, Hermit Warbler, Cordilleran Flycatcher, and the special Red-faced Warbler. After lunch and a bit more birding, we will start our descent of the mountains and continue south for our next session of birding in the sky islands.
We will stop in the town of Green Valley for dinner before heading back out for a relaxing evening watching the feeders at the Santa Rita Lodge in Madera Canyon. They regularly attract fantastic birds including Hepatic Tanager, Arizona Woodpecker, and Rivoli's Hummingbird. In the past, the feeders have hosted several amazing rarities and perhaps one might be hanging around! As the sun sets, we will travel up to the top of the canyon and try for Mexican Whip-poor-will, Northern Pygmy Owl, and Whiskered Screech Owl. Then it is back to the hotel and time for bed.
Overnight: Green Valley
Day 3. Santa Rita Mountains birding
Today we will explore the canyons of the Santa Rita Mountains. Recent reports may dictate where we visit first, however there are loads of amazing birding areas here such as Box, Florida, and Madera Canyons. The past several years Box Canyon has hosted one or two breeding pairs of the rare Five-striped Sparrow. With any luck we will be able to score at least one of these along with Varied Bunting and Golden Eagle. Then we will visit Florida Canyon, the most reliable location for the special Black-capped Gnatcatcher, plus other great species like Northern Beardless Tyrannulet. Of course, we cannot forget about exploring Madera Canyon itself where we will spend more time searching the riparian areas for Elegant Trogon, Sulphur-bellied Flycatcher, Painted Redstart and more! Another evening brings another chance at nocturnal species if we were unsuccessful the previous night.
Overnight: Green Valley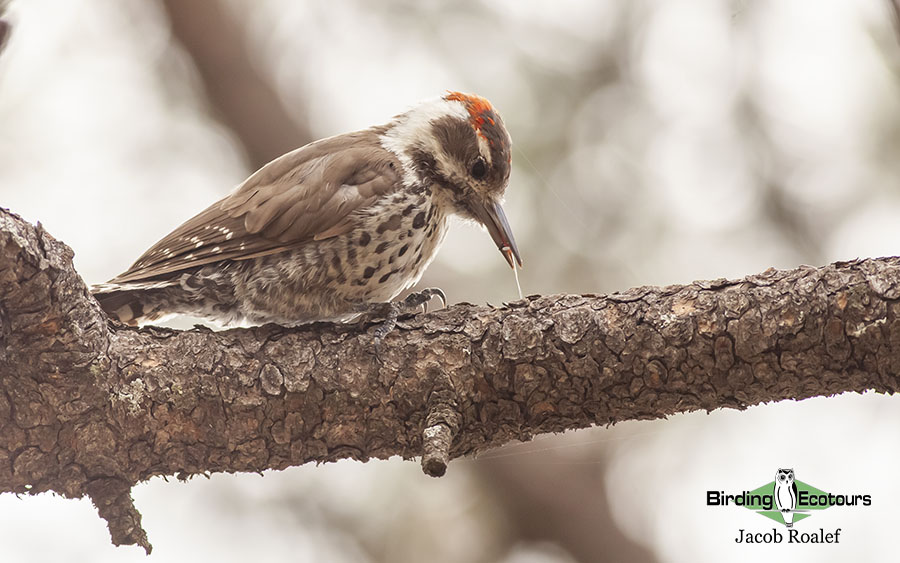 The Arizona Woodpecker is one of the many specialty birds of the region.
Day 4. California Gulch and more Santa Rita Mountains
Today starts off with some more morning birding in the Santa Rita Mountains targeting any species or locations we may have missed the previous day. Around midmorning, we are scheduled to make the journey to California Gulch. Until recently, this area was the only reliable and known spot to see the rare Five-striped Sparrow, of which it is estimated only 50 territorial males come to the US each year. Recently, a few more pairs have been discovered in easier-to-access locations, as the growing trend of southern breeding specialties shifting northwards continues. The other main attraction of California Gulch is the chance for Buff-collared Nightjar in the evening, as darkness engulfs the landscape. Our drive back out of this area will be a long one, but if the skies are clear we will be in for an amazing cosmic display as well as the chance for Common Poorwill on the roadsides. If we manage to get lucky and locate these species elsewhere, we will spend the day exploring the canyons of the Santa Ritas and save ourselves the long journey to the gulch.
Overnight: Green Valley
Day 5. Tubac/Tumacacori and transfer to Sierra Vista
The morning will begin with some enjoyable birding in the lowland riparian areas along the Santa Cruz river in Tubac and Tumacacori, before it gets too hot.  Many fantastic species can be found here including a few nesting pairs of Rose-throated Becard in recent years, as well as Summer Tanager, Grey Hawk and Cassin's Kingbird. We will continue our journey towards Sierra Vista with a few more stops along the way like at the relaxing Paton Center for various hummingbirds and the world-famous Patagonia Rest Area to search for specialties including Violet-crowned Hummingbird and Thick-billed Kingbird. We will also stop at Patagonia Lake State Park and the Sonoita Creek State Natural Area for a few water birds like Neotropic Cormorant and Mexican Duck, uncommon in the standard arid habitats surrounding it. Finally, we will arrive in the Huachuca Mountains where we will spend the remainder of the evening at the Ash Canyon Bird Sanctuary feeders, a favorite hangout of the Lucifer Sheartail (Hummingbird).
Overnight: Sierra Vista
Days 6-7. Birding the Huachuca Mountains
Straddling the border with Mexico, the Huachuca Mountains are the second of the Madrean sky islands on our itinerary, offering a slightly different set of specialties from the Santa Ritas, such as the semi-colonial Buff-breasted Flycatcher and the charismatic Spotted Owl. A series of canyon outlets on the eastern flank of these mountains, such as Carr, Ramsey, Hunter, and Miller Canyons, provide access to the pine-oak woodlands where these species occur. Occasionally rarities such as White-eared Hummingbird or Rufous-capped Warbler appear and we will adjust our plans accordingly to target these birds. In addition to the amazing canyon birding, the Sierra Vista area hosts several fantastic grassland habitats for us to explore, like Las Cienegas National Conservation Area and the San Pedro Riparian National Conservation Area. As the scrublands begin to bloom with the rain, the fantastic Cassin's and Botteri's Sparrows begin singing and establishing territories. The grasslands are also full of other great wildlife such as Burrowing Owl, Pronghorn Antelope and Black-tailed Prairie Dog. We will have two amazing days to explore this region that are sure to be filled to the brim with birds and fun!
Overnight: Sierra Vista
Day 8. Birding Portal and the Chiricahua Mountains
We will be up early this morning as we leave the Huachucas behind and head towards the final range of the sky islands. The Chiricahua Mountains, which means "Big Mountain" in Opata, rise spectacularly out of the surrounding desert as the single-largest mountain mass south of the Gila River in Arizona, while also boasting the most diverse land-locked plant and animal community in the United States. Starting in the lower-elevation desert valley around dawn, we explore the area around Big Thicket while we straddle the border with New Mexico searching for the ridiculously curve-billed Crissal Thrasher. As the day heats up, we retreat to the cooler forests along the South Fork Cave Creek Trail – a trail renowned for its breeding population of Elegant Trogon, the star of any birding trip to Arizona. More common specialties such as Bridled Titmouse, Mexican Jay, and Painted Redstart also occur here. Near the top, the Chiricahua Mountains claim the only accessible population of Mexican Chickadee on public lands in the United States, so we make a special effort to see them on this itinerary. The higher elevations also give us a nice opportunity for other great species such as Olive Warbler, Red Crossbill and Steller's Jay. In the afternoon, we will drive up to the Paradise Road junction around East Turkey Creek in search of the above species. A little further along this road the old mining town of Paradise hosts excellent feeders, which attract the localized Juniper Titmouse.
Overnight: Portal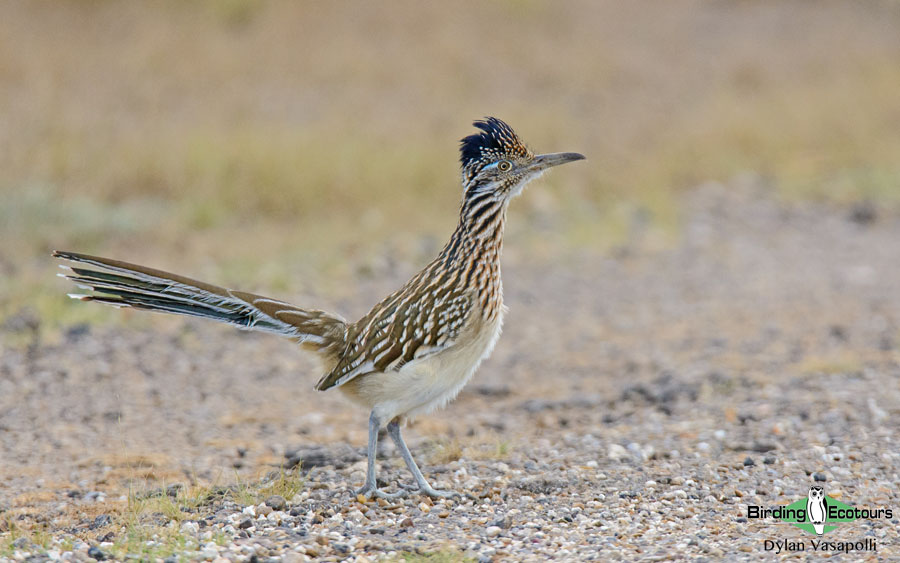 The charismatic Greater Roadrunner!
Day 9. Portal to Tucson
The next morning will be spent exploring the Chiricahuas a bit further in search of species missed the day before while also enjoying the incredibly scenic views these mountains have to offer. Driving the canyon roads early in the morning yields a good chance for a wandering Montezuma Quail to make an appearance. Another visit to local feeders is sure to produce the stellar Blue-throated Mountaingem, yet another hummingbird specialty of this region.
After a successful few days birding in the Chiricahua Mountains, we will say goodbye to the sky islands and start our journey back to Tucson, stopping at a few places along the way. First stop is Lake Cochise in Willcox, a true water oasis in the middle of the desert, stocked with plenty of thankful shorebirds and waterfowl. American Avocet, Wilson's Phalarope and Cinnamon Teal are a few of the potential species here. After an enjoyable time scanning through these birds, we'll continue on to St. David. This small town is known to host a few pairs of Mississippi Kite, the most westerly known population of this species. After dinner in Tucson, we will enjoy our final Sonoran Desert sunset as well as have a chance to track down any missing nocturnal species.
Overnight: Tucson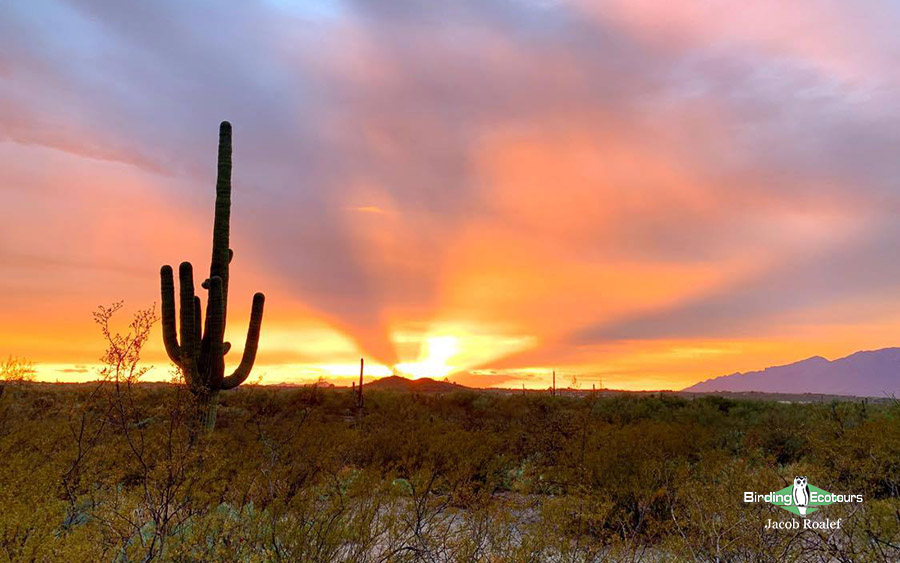 A classic Sonoran Desert sunset, a seemingly every-night occurance.
Day 10. Tour concludes
For some, the Desert and Sky Island Arizona tour concludes this morning after a successful run through the southeastern portion of the state. You will be dropped off at the Tucson International Airport for your flights home. For others, it may be the start of an exciting second itinerary, to northern Arizona. Participants joining the second tour will be transferred from Tucson to Phoenix for Day 1 of that itinerary.
Please note that the itinerary cannot be guaranteed as it is only a rough guide and can be changed (usually slightly) due to factors such as availability of accommodation, updated information on the state of accommodation, roads, or birding sites, the discretion of the guides and other factors. In addition, we sometimes have to use a different international guide from the one advertised due to tour scheduling.
Download Itinerary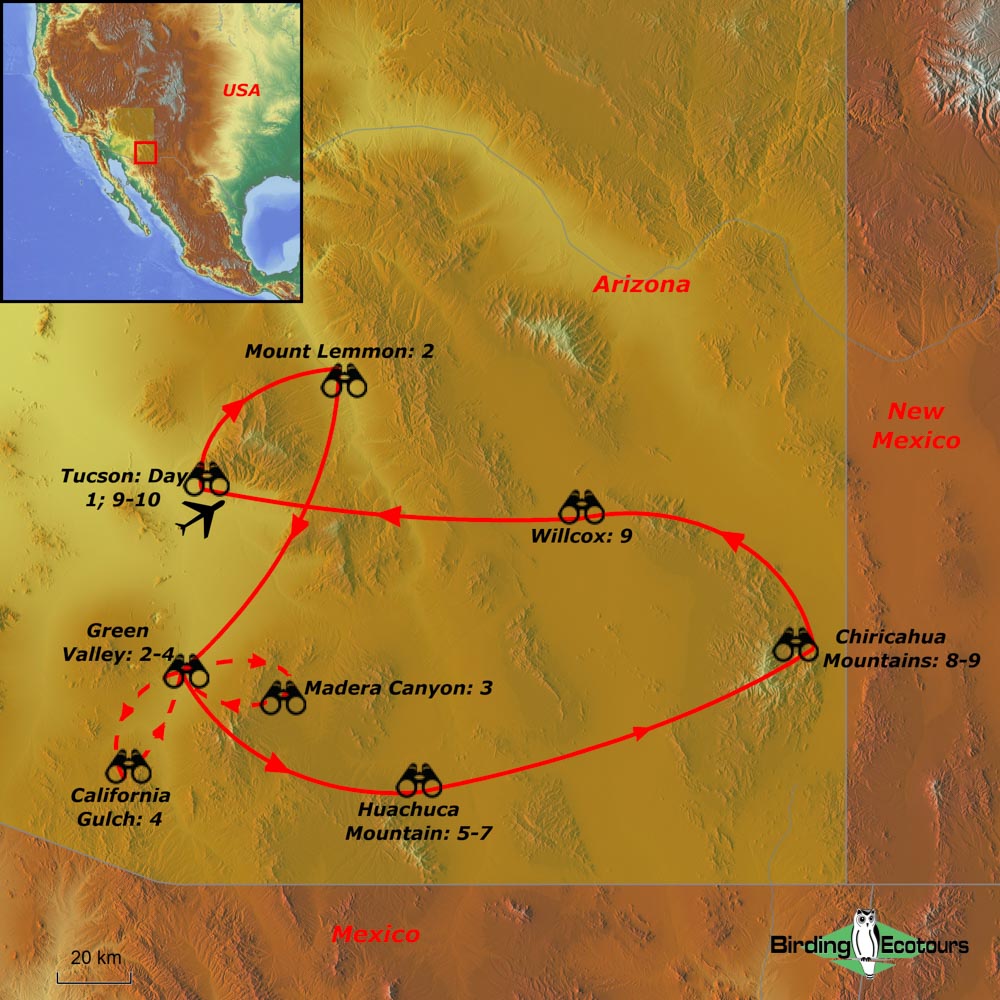 Arizona – Southeastern Arizona Custom Trip Report, August 2021
16 – 25 AUGUST 2021
DOWNLOAD TRIP REPORT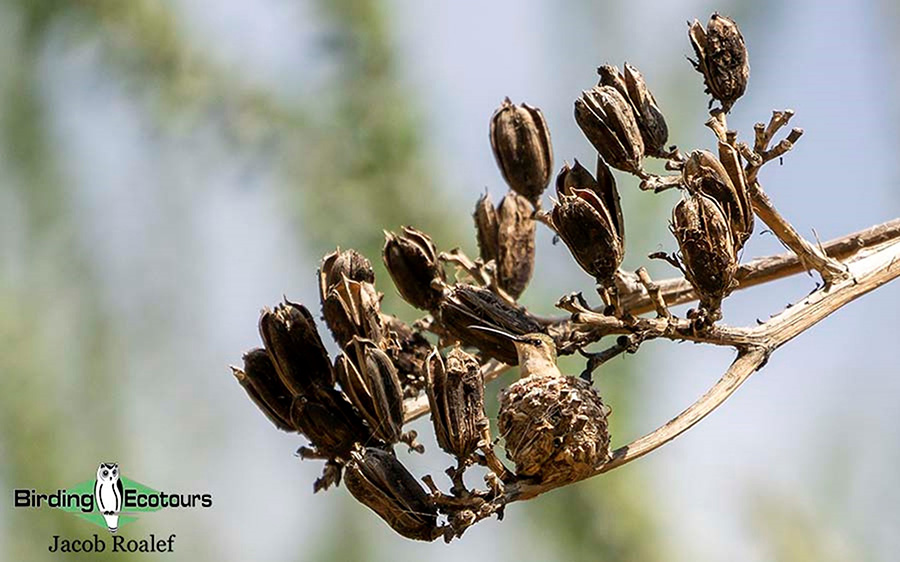 This brilliantly camouflaged Lucifer Hummingbird on her nest was a real treat.
Overview
This ten-day set departure tour of Southeast Arizona commenced in Tucson, Arizona on the 16th of August 2021 and concluded back there on the 25th of August 2021. Several of the tour participants arrived early for one day of pre-trip birding in the Phoenix, Arizona area. The tour visited many amazing birding locations including Mount Lemmon, Madera Canyon, Box Canyon, Paton Center for Hummingbirds, Patagonia Rest Area, Carr Canyon, Ramsey Canyon, Las Cienegas National Conservation Area, Ash Canyon Bird Sanctuary, Cave Creek South Fork, Rustler Park, and Lake Cochise.
The tour connected with many fantastic target birds giving us a great list for our ten days in the region. Avian highlights include a long list of both migrants and regional specials including Lesser Nighthawk, Mexican Whip-poor-will, Rivoli's, Lucifer, and Violet-crowned Hummingbirds, Blue-throated Mountaingem, Greater Roadrunner, Inca Dove, Band-tailed Pigeon, Grey and Zone-tailed Hawks, Whiskered Screech Owl, Elegant Trogon, Arizona Woodpecker, Thick-billed Kingbird, Mexican Jay, Phainopepla, Mexican Chickadee, Juniper Titmouse, Crissal and Bendire's Thrashers, Rufous-winged, Botteri's and Cassin's Sparrows, Red-faced Warbler, Lazuli and Varied Buntings, and Hepatic Tanager. We also saw several ABA rarities including Rose-throated Becard, White-eared and Berylline Hummingbirds, and Five-striped Sparrow.
A total of 168 bird species were seen (plus six species heard only), along with a few amazing mammals including Ringtail, Mexican Long-tongued Bat, Black-tailed Jackrabbit, and Pronghorn.  A few other noteworthy animal highlights included a Rock Rattlesnake, Arizona Sister butterfly and Tadpole Shrimp . Full bird and mammal checklists can be found at the end of the report.
Detailed Report
Pre-trip, 15th August 2021. Arrival in Phoenix, transfer to Tucson
Four of the tour participants decided to fly in early to Phoenix where they were picked up by Jacob for a little bit of pre-trip birding. Around mid-morning we headed off to Encanto Park, a small residential park in the middle of Phoenix. It wasn't long before we spotted our main target bird for the area, Rosy-faced Lovebird. These small parrots are escapees but have an established population in Phoenix and deemed countable by the ABA. We made a quick loop around the park netting some common species such as Gila Woodpecker, Great-tailed Grackle and White-winged Dove. After this we decided to brave the heat and venture out to the desert and a location known as "the thrasher spot". While the heat prevented us from spotting any thrashers, we did manage a couple of nice species including MacGillivray's Warbler and Bullock's Oriole. We headed to lunch after this and had a nice visit from an adorable Inca Dove before we eventually made our way to Tucson for the night.
Day 1, 16th August 2021. Arrival and birding in Tucson
While waiting for the rest of the group to arrive, some of us headed out for a bit of morning birding at Sweetwater Wetlands before the heat picked up. This pleasant park is a water treatment facility with trails looping around the bodies of water, a rare occurrence for the desert, so it is normally full of wildlife activity. A few of the highlights from the morning included Tropical Kingbird, Lucy's Warbler, and Abert's Towhee. After this, we picked up Eric and now had a group of five. We headed north a bit to some farming areas and witnessed a spectacular display of migrating swallows, mostly Tree and Cliff Swallows. We also bumped into a fun little Burrowing Owl along the roadside. From here we headed to the airport to pick up Sue and bring our group to full size. After a bit of lunch, we ventured off to explore Sam Lena Park. It was hot but we weren't deterred and enjoyed a nice afternoon of birding, scoring species such as Curve-billed Thrasher, Black-tailed Gnatcatcher, Vermillion and Pacific-slope Flycatchers, and Wilson's Warbler.
We enjoyed some tasty Mexican food for dinner and then we were off again for an evening session of birding at Saguaro National Park – East, keeping a careful eye on the weather and storms that might move in. It was a beautiful evening drive along the Cactus Loop where we enjoyed huge Saguaros, a gorgeous sunset, Lesser Nighthawks flying around, and a Great Horned Owl perched off in the distance. After sunset we scored an Elf Owl but unfortunately, we had to settle for heard only and get out of the park just before a large thunderstorm rolled in. Certainly, a fantastic first day of birding to get the trip off to a great start!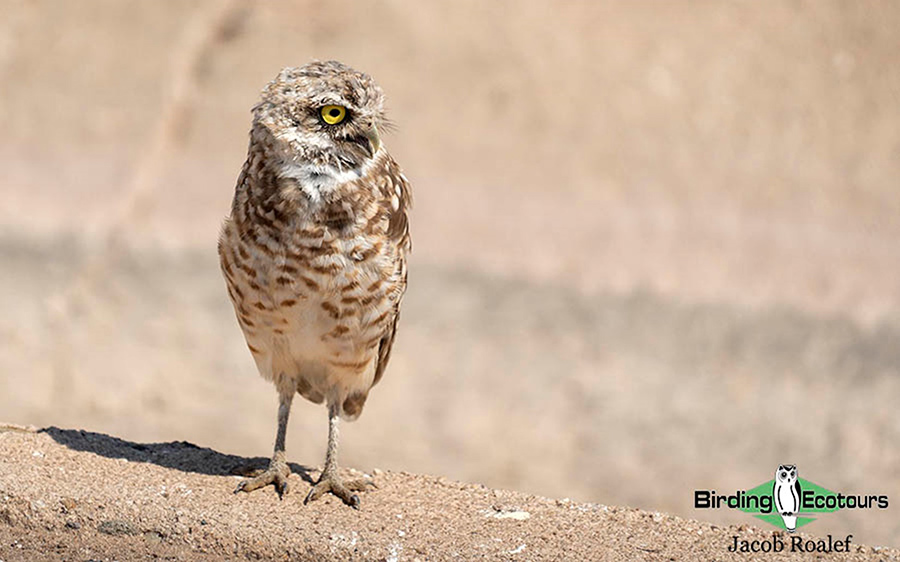 We enjoyed watching this diurnal Burrowing Owl along the roadside.
Day 2, 17th August 2021. Mount Lemmon birding and transfer to Green Valley
Today we set out to conquer Mount Lemmon, located just northeast of Tucson. We would experience a great diversity of habitats as we climbed in elevation throughout the course of the day. Starting in the lowlands featuring desert scrub and Saguaro forest, we spotted Gilded Flicker, Gila Woodpecker, and Black-throated Sparrow. As we drove up the mountain, we enjoyed the scenery and visible difference in vegetation that came with the altitude change, from desert to mixed oak, to coniferous forests. We made several stops along the way at various pull offs scoring us species such as Zone-tailed Hawk, Steller's Jay, Hutton's Vireo, Black-throated Grey Warbler, and Acorn Woodpecker. We eventually made it to Rose Canyon Lake campground; a small lake located at rather high altitude. Here we encountered several great avian species including Yellow-eyed Junco, Cordilleran Flycatcher, and Grace's, Hermit and Red-faced Warblers.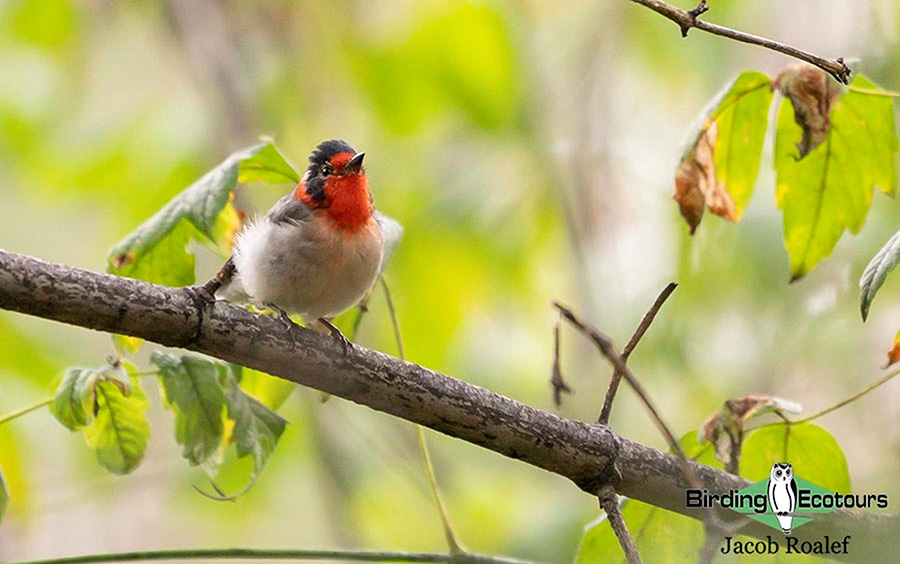 This beautiful Red-faced Warbler gave everyone killer views.
After this we climbed to the small town of Summerhaven for lunch, located at 7,700 ft (2,347m ) in elevation. A few of the businesses here put out feeders for the birds so we enjoyed watching these for a while which netted us Pygmy Nuthatch, Broad-tailed and Rivoli's Hummingbirds, and Townsend's Warbler. Finally, it was time to start working our way back down the mountain, after a bit of rain at the top of the mountain. We enjoyed the beautiful scenery and rock formations and managed to spot a few more species including Peregrine Falcon. Back at the bottom we all had a good laugh about an interesting Red-tailed Hawk we saw, before starting the journey south to Green Valley for the night.
Day 3, 18th August 2021. Box and Madera Canyon
This morning marked our first exploration of the sky islands starting with Box Canyon in the Santa Rita Mountains. After breakfast we headed down the bumpy gravel road to a known stakeout spot with a particular target in mind. It was a beautiful morning with several fantastic species including Varied Bunting, Hooded Oriole and a female Lucifer Hummingbird sitting on her tiny nest. Our main target however was making us wait and work hard for a view. After hearing it several times, the Five-striped Sparrow finally perched up on a century plant for some extended views!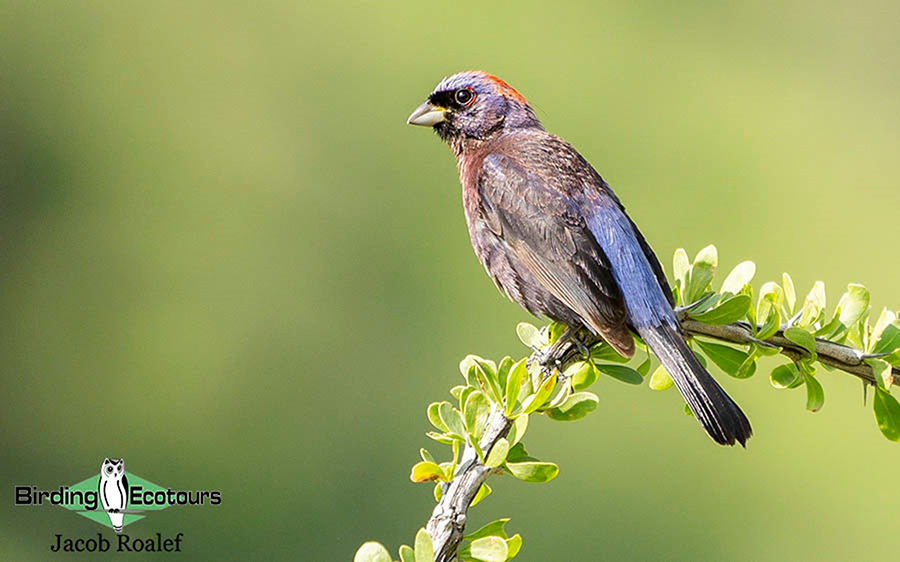 A striking Varied Bunting perched in some very green Ocotillo.
Leaving Box Canyon behind we headed "next door" to the famous Madera Canyon. Our first stop was at the relaxing Santa Rita Lodge feeders. Here we enjoyed a picnic lunch and some time resting and enjoying the birds coming into the feeders including Hepatic Tanager, Mexican Jay, Acorn Woodpecker, Wild Turkey, Anna's, Black-chinned, Broad-billed, and Rivoli's Hummingbirds and Lesser Goldfinch. We continued on to the top of the mountain and hiked up the Old Baldy trail. Unfortunately, things had really quieted down in the afternoon, however we did encounter a real showstopper Painted Redstart which was a treat for everyone. We then headed back down to Green Valley for dinner. After dinner we headed right back up Madera Canyon for some evening birding fun. At the top we managed to hear a Mexican Whip-poor-will calling loudly for us and we spotlighted a few Mexican Jays sleeping in the Alligator Juniper trees which provided a few laughs. While the birds were slow, the real highlight of the evening came in the form of some fantastic mammals. Back at the Santa Rita Lodge, the hummingbird feeders were now attracting a new animal, Mexican Long-tongued Bats! There were probably 20-30 bats zooming in and out taking hits of the sweet sugar water giving us quite a show. While the bats themselves were amazing, something even more incredible happened after that. Another birder and friend had spotted a Ringtail cross the road and head into a tree! We all managed to get over to the tree and shine a light without disturbing this incredible mammal too much, and all enjoyed amazing views. It was feeding on an Arizona Grey Squirrel. What an absolutely epic experience to cap off the evening nature session!
Day 4, 19th August 2021. More Madera Canyon, Desert Meadows, and Montosa Canyon
We headed back to the Old Baldy trail in Madera Canyon first thing this morning in hopes of catching up with an Elegant Trogon, but no such luck was to be had today and that bird would have to wait a little while longer for us. We did manage to get onto a small mixed flock however including Plumbeous and Hutton's Vireos, White-breasted Nuthatch, Bridled Titmouse, and Painted Redstart. We headed back to the feeders for one more check in hopes of something new but after a little while viewing the same species as the previous day, we headed to the Mount Washington campground. Here some of the heavy rain from monsoon season had flooded and washed out the trails so we didn't make it very far, with the highlight being a pair of Sulphur-bellied Flycatchers visiting a nesting cavity in a telephone pole. We decided to call it a day with Madera Canyon and headed back into town to a small park called Desert Meadows. This pleasant oasis in the desert yielded some great plants for our botany enthusiasts as well as nice birding with species including Rufous-winged Sparrow, Gambel's Quail, and Vermillion Flycatcher. After lunch we headed out to Montosa Canyon for a great session of birding encountering several new trip birds along the river. Highlights included Canyon Towhee, Pyrrhuloxia, Phainopepla, Western Tanager, Northern Cardinal, and Bell's Vireo. From here we headed off to dinner and called it a day's birding.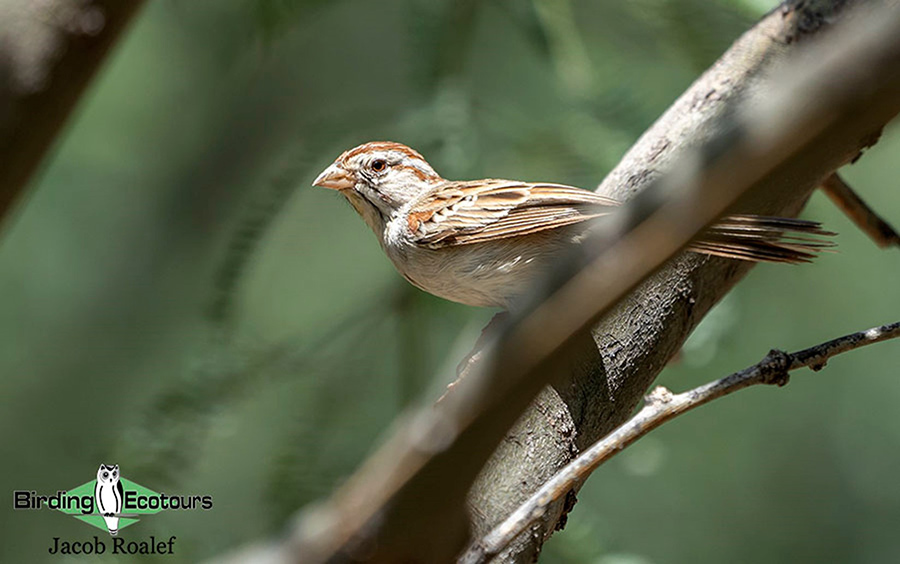 Showing off its namesake, this Rufous-winged Sparrow was quite accommodating.
Day 5, 20th August 2021. Tubac to Patagonia to Miller Canyon
Today we said goodbye to Green Valley and started our journey to Sierra Vista and the Huachuca Mountains. We began heading south with our first stop being Santa Gertrudis Lane. We were treated to both Cassin's and Tropical Kingbirds in the parking area before making our way down the lane to the trail. Here we managed to score species such as Summer Tanager and Inca Dove. On the way out we were treated to a nice viewing of a family of Thick-billed Kingbirds, a true special of the region. We continued onwards to the Patagonia Rest Stop, famously known for the rest stop effect, but we first spotted a gorgeous Grey Hawk along the way! After arriving we found a small flock of White-collared Swifts circling a nearby cliff. With a little bit of walking, it didn't take long to bag the top target here, a Rose-throated Becard. We took some time to view their large, messy nest hanging down from a sycamore before heading onwards to the town of Patagonia for lunch. During lunch we heard a higher nasal call from a smaller black corvid and boom, Chihuahuan Raven was on the list! After lunch we ventured over to the Paton Center for Hummingbirds where we enjoyed a leisurely hour digesting our lunch and viewing the feeders, with the star being a Violet-crowned Hummingbird. It was then soon time to move onwards to the Beatty's Guest Ranch in Miller Canyon for our first taste of Huachuca birding. More hummingbird feeders awaited us here and it wasn't long before the real star and ABA rarity showed up, White-eared Hummingbird! Other hummers included Rivoli's, Black-chinned, Anna's and Broad-billed Hummingbirds. From here, it was off to dinner after a very successful day of transit between mountains and a list full of hummingbird species.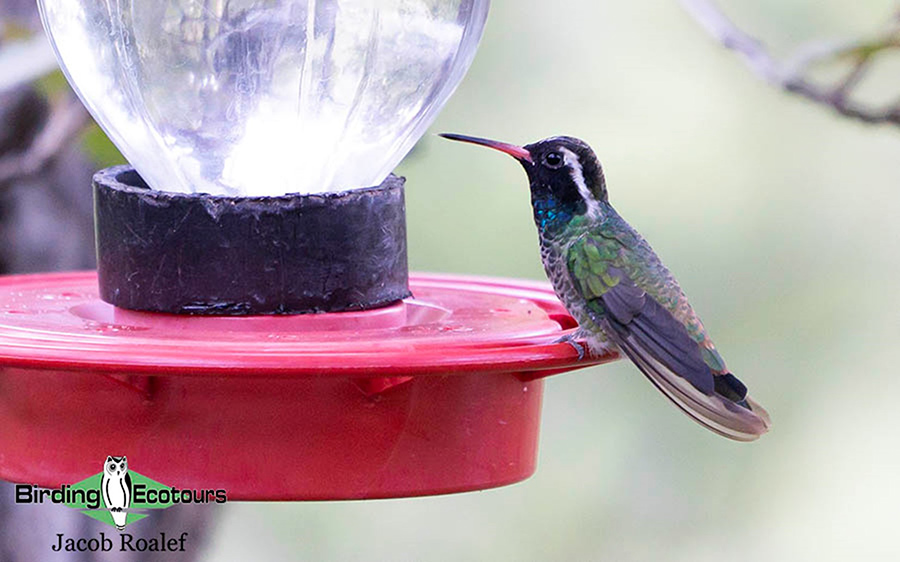 We enjoyed the brilliance of this rare White-eared Hummingbird.
Day 6, 21st August 2021. Carr and Ramsey Canyons
We headed out in the morning to continue our exploration of the Huachuca Mountains starting with Carr Canyon. This location allows us to drive to the top where a campground awaits us with mixed coniferous forest. The road is steep, windy, and full of rocks and gravel but offers us some great views of Sierra Vista below. On our climb up we made a few birding stops at pull-offs catching up with several great species including Arizona Woodpecker, Bewick's Wren, and Painted Redstart. At the reef campsite we managed to dig up Western Wood Pewee, Spotted Towhee, Grace's Warbler, and a small flock of Bushtits among others. We drove our way back down and over to Ramsey Canyon Preserve for lunch and a little hike up the trail. This beautiful park features a small river running through it and is a favorite for Sulphur-bellied Flycatcher, Brown Creeper and Elegant Trogon. Unfortunately, we dipped again on the latter species, but we hadn't given up hope for that species yet, stay tuned! After our hike we decided to check out the feeders at the nearby Ramsey B&B and they sure put on a show. We enjoyed eight species of hummingbirds just at these feeders including Blue-throated Mountaingem, Violet-crowned, Rufous, and Rivoli's Hummingbirds. While these birds are all beautiful, the true star was the incredibly rare male Berylline Hummingbird which made an appearance after about an hour's wait! Other highlights from the feeders included Arizona Woodpecker, Western Tanager, and Black-headed Grosbeak. Pulling ourselves away from the feeders, we headed off to dinner.
After dinner we headed out to lower Carr Canyon for some nighttime birding. Upon arrival we heard several Common Poorwills calling out in the distance. After some time with no owl luck, we moved up the road a little further to try a different location. It didn't take long to pick up on a Whiskered Screech Owl calling. A few of us ventured in the woods a little way and managed to score some awesome visuals! The evening birding was a big success, and it was back to the hotel for some much-needed sleep and rest.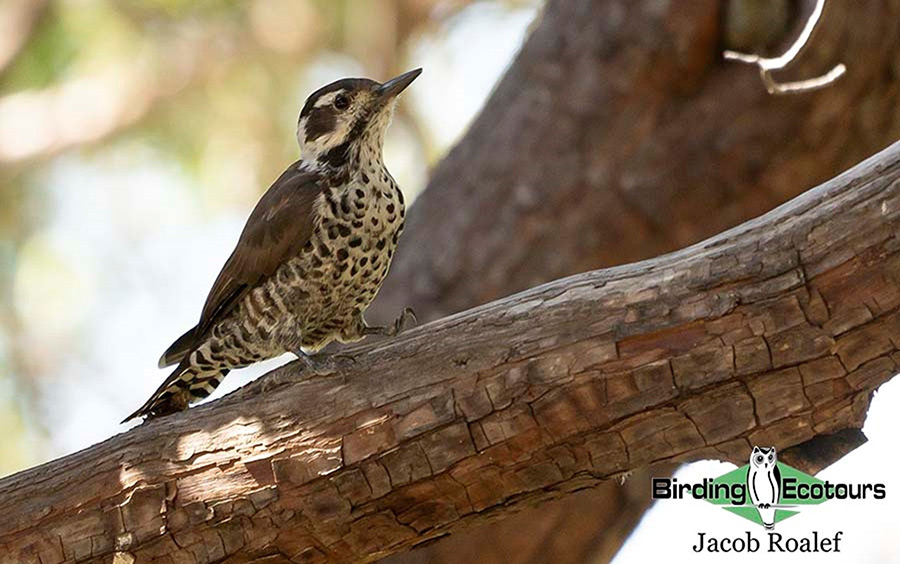 Arizona Woodpecker is always a favorite of the region.
Day 7, 22nd August 2021. Las Cienagas and Ash Canyon
It was time for a little change in scenery and habitat. Most of the tour had featured desert and canyon birding but this morning we headed out to the grasslands of Las Cienagas National Conservation Area. Upon our approach to the grasslands, we were greeted by a gorgeous Swainson's Hawk perched on the telephone wires. This huge and expansive habitat treated us well with many great sightings including Eastern Meadowlark (Lilian's subspecies), Cassin's and Botteri's Sparrows, Lazuli Bunting, American Kestrel, Loggerhead Shrike, Western and Cassin's Kingbirds, Northern Harrier, Say's Phoebe, and Horned Lark. Birds weren't the only animals using this habitat as we stopped by a Black-tailed Prairie Dog colony and spotted a Pronghorn on the horizon. The most interesting animal had to be the bizarre Tadpole Shrimp in a small puddle along the roadside. After a great morning of birding the prairies and grasslands we headed off to enjoy a delicious brunch.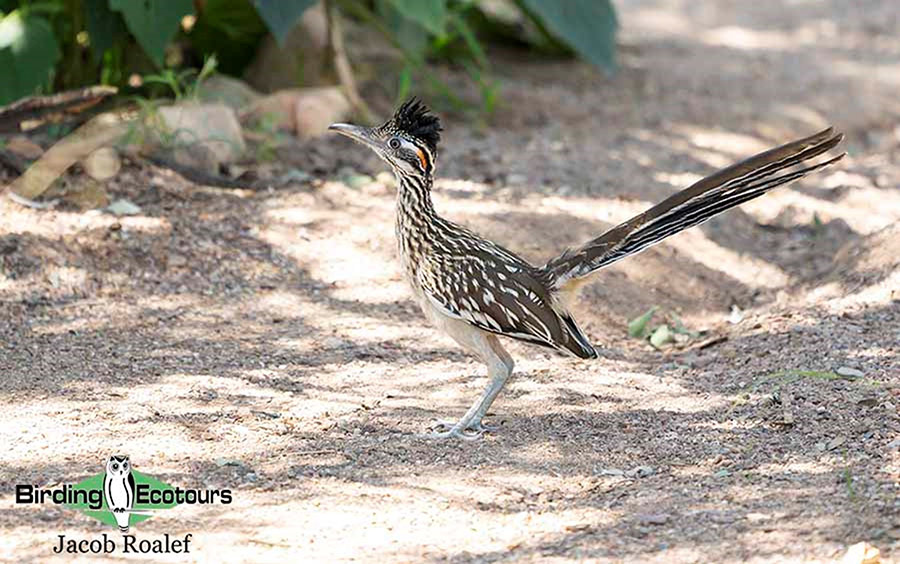 Everyone loves a good Greater Roadrunner sighting!
We spent the afternoon digesting and enjoying the feeders of Ash Canyon Bird Sanctuary. This lovely little spot is a true blessing to have in our birding community and we enjoyed the many visiting birds including Greater Roadrunner, Lucifer Hummingbird, Canyon Towhee, and Ladder-backed Woodpecker. We decided to make one last quick birding stop before dinner at the Sierra Vista Environmental Operations Park (EOP). This little body of water in the middle of the desert can attract quite a few birds and in our brief visit we noted a huge flock of Red-winged Blackbirds with a couple Yellow-headed Blackbirds mixed in. Unfortunately, the park is closed most of the time so we couldn't do a full loop. It was now time for dinner and then sleep for our early morning the next day.
Day 8, 23rd August 2021. Portal and the Chiricahua Mountains
Today was an early morning with a 5:30am start and about a 2-hour drive to get us to the Portal area and the Arizona/New Mexico border. Upon arrival we cruised up and down Stateline Road watching birds cross between the states and joking about ticking them for both Arizona and New Mexico.  Along this gravel road we noted Greater Roadrunner, Scaled and Gambel's Quail, and Cassin's Kingbird. We continued on from the desert scrub and entered into the Chiricahua Mountains, the final set of canyons we would explore of the sky islands. Our first stop was a mid-morning hike along South Fork in Cave Creek Canyon. The birding was a bit slow however we saw some nice species including Arizona Woodpecker and Mexican Jay, and towards the end of the trail, a top trip highlight awaited us. A pair of Elegant Trogons had nested in a small cavity in an oak tree and every 15-40 minutes one of the parents would fly in with a large insect to feed the young waiting in the cavity. We waited patiently and managed to get amazing views of both the male and female trogons. After trying for this species in the other two mountain ranges on numerous occasions, we were finally treated to their beauty, and what a treat it was!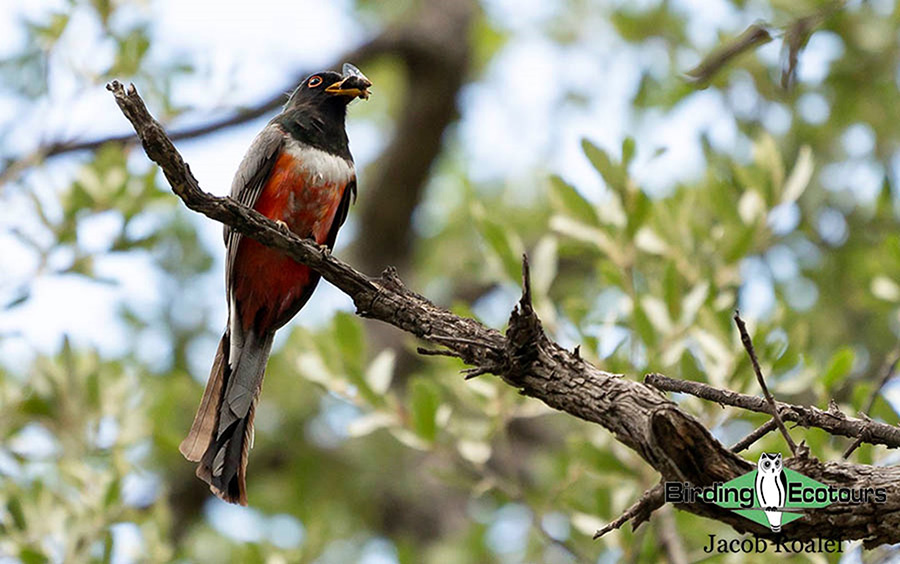 Watching an Elegant Trogon bringing food to its young was a top highlight of the trip.
The afternoon birding session had its fair share of ups and downs. So far during the trip we had done a great job at avoiding any adverse weather conditions, however, as soon as we left the trogons, the rains began. It down-poured and huge chunks of hail even fell as we were sheltered in the car. We eventually made it to the top of the mountains and to Rustler Park hoping to catch a break in the weather. Conditions were still drizzling, and the birding was slow but when the rain finally broke, we got onto a nice mixed flock including Mexican Chickadee, House Wren (Brown-throated subspecies), and Hermit Warbler. As we got back to the van, we discovered a bit of a problem, our tire was losing air and quickly! Luckily it wasn't raining, and we managed to work as a great team putting on the spare. Just as we had finished Eric noticed a bird perched nearby, Band-tailed Pigeon! A new trip bird and lifer for some, how serendipitous. We all shared a good laugh and got down the mountain and decided to call it a day with the birds, quite an eventful one at that.
Day 9, 24th August 2021. Portal Area, Wilcox, and back to Tucson
We started the day back in the lowlands of the desert scrub searching for a few more targets. Today the wind seemed to be calmer and the birds more active. We managed to find several great species despite some nearby noisy donkeys. These included Crissal and Bendire's Thrashers, Chipping, Lark, Black-throated and Brewer's Sparrows, and a cute covey of Gambel's Quails. From here we headed to Paradise, a tiny town located in the Chiricahuas, where we visited the George Walker House. The gracious host was full of fun information and the birds cooperated too with highlights being Juniper Titmouse and Calliope Hummingbird. From here it was time to say our goodbyes to the sky islands and begin our drive back to Tucson with a few birding stops along the way.
First up was Lake Cochise in Wilcox. This small body of water acts as a real oasis in the desert and hosts many amazing waterfowl and shorebird species during their migration. Some of the highlights here included Wilson's Phalarope, Long-billed Curlew, Black-necked Stilt, American Avocet, Baird's Sandpiper, White-faced Ibis, Cinnamon Teal, and Northern Shoveler. We continued along until we reached the town of Saint David for a quick stop to view what is likely the western-most nesting population of Mississippi Kites in the USA. It is always fun to watch these graceful acrobats in the air. Eventually we made it back to Tucson where we had an excellent final dinner of Mexican cuisine and began to talk about our favorite birds and moments of the trip.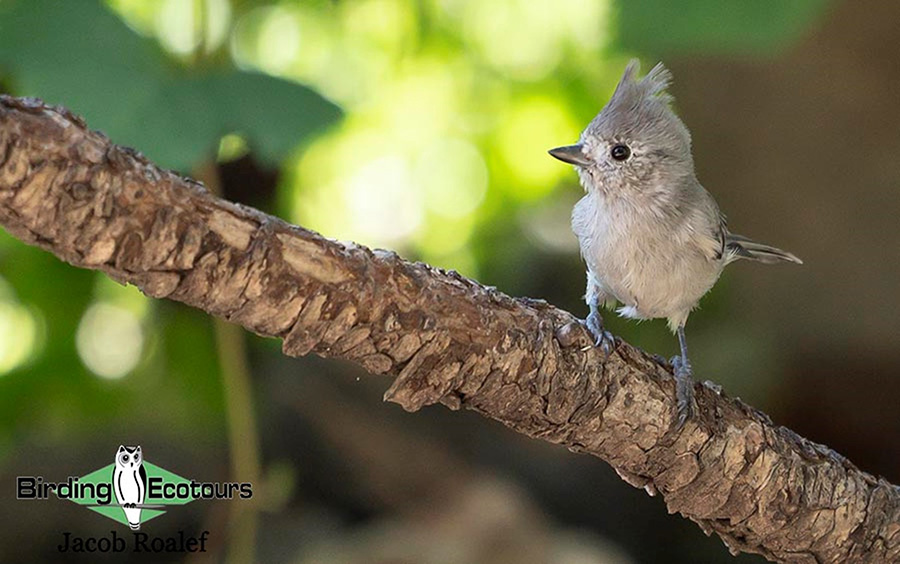 The cute Juniper Titmouse gave some fantastic views.
Day 10, 25th August 2021. Departure day
After some breakfast at the hotel, it was time to make the first run to the airport and say our goodbyes. The other participants were transported back to Phoenix in the afternoon and thus wrapped up a lovely trip to Southeast Arizona. Everyone was asked to name their five favorite species and they wanted to share the results below. Jacob's favorites had to be the Berylline and White-eared Hummingbirds, Elegant Trogon, Whiskered Screech Owl, and Cactus Wren.
| | | |
| --- | --- | --- |
| Eric | Ed | Sue |
| Elegant Trogon | Rose-throated Becard | Vermillion Flycatcher |
| Steller's Jay | Elegant Trogon | Violet-crowned Hummingbird |
| Painted Redstart | Greater Roadrunner | Painted Redstart |
| Acorn Woodpecker | Arizona Woodpecker | Elegant Trogon |
| Gambel's Quail | Violet-crowned Hummingbird | Band-tailed Pigeon |
| | | |
| John | Scott | Wil |
| Whiskered Screech-Owl | Curve-billed Thrasher | Whiskered Screech Owl |
| White-eared Hummingbird | Red-faced Warbler | Red-faced Warbler |
| Violet-crowned Hummingbird | Violet-crowned Hummingbird | Curve-billed Thrasher |
| Rufous-winged Sparrow | Whiskered Screech Owl | Zone-tailed Hawk |
| House Wren (Brown-throated) | Zone-tailed Hawk | Hermit Warbler |

Please see the downloadable PDF above with the full species lists included. This is a sample trip report. Please email us ([email protected]) for more trip reports from this destination.
GENERAL INFORMATION ARIZONA
Thanks for considering or booking our Arizona tour! With any luck we may soon be looking at Grey Hawk, Thick-billed Kingbird, Violet-crowned Hummingbird, and many more new and exciting species. In addition we may find one or two real local rarities, such as Yellow Grosbeak, Rufous-capped Warbler, or Roseate Spoonbill. On a prior tour we found Purple Gallinule! Hummingbirds almost always put on a great show, and we will make every possible attempt to see California Condor at the Grand Canyon.
FLIGHTS
Please inform us if any of your flights, times, or arrangements change. During your air travel to Tucson you will need to have your flight schedule and valid passport (or photo ID for US citizens) readily accessible. Increased security measures have been implemented at all airports to insure safer travel. If you have not flown in recent months you may wish to contact your travel agent, airline, or departure airport for current requirements. Arrive at the airport in plenty of time, be patient and cooperative, and be prepared for you and your luggage to be thoroughly checked. Smile and say "thank you" when everyone is finished.
TRIP INSURANCE
You should purchase travel insurance and trip cancellation insurance to protect your investment in case of injury or illness to you or your family prior to or during the tour. One supplier of this coverage that we suggest is Allianz Travel Insurance, The World Access Building, 2805 North Parham Road, Richmond, VA 23294, USA. Their toll-free phone numbers are 1-866-884-3556, 1-855-284-0331, and 1-800-284-8300.You can apply by phone or, for US residents, via the Internet here.
IDENTIFICATION
We will not cross the border into Mexico during the tour, but we may pass through one or more border patrol checkpoints within the US. Please bring proof of citizenship if you are not a US citizen. A passport is always acceptable.
WALKING AND CONDITIONS
There is a moderate amount of walking each day of the tour. These walks are not fast-paced and for the most part not terribly strenuous, although they may be a bit hilly and rocky. We try to do most of our walking early in the day before it gets too warm. A possible walk up Miller Canyon to look for Spotted Owl is one of the more strenuous walks, even though it is only about a two-mile round trip. We may also go into Florida Canyon and California Gulch. We will take our time and do a lot of birding along the way. These walks are always optional, but are planned to provide you with the best possible birding opportunities. We will do our best to make another arrangement if you do not wish to join a particular walk. A good regime of exercising and walking from now until the tour begins will help make things easier and more enjoyable for you on the tour.
WEATHER
You can expect temperatures to range from 60 °F (15 °C) to the low 90 ºF (33 °C) for much of the tour. There may be some cooler temperatures early and late in the day, especially in the mountains. On the other hand there may be a few days that are a bit warmer. We do our best to stay out of the really hot areas at midday and spend our time in the shady, cooler mountains and canyons. There is a daily chance of some desirable rain, so a raincoat can be handy and double as a jacket on a chilly evening when looking for Elf Owl or Common Poorwill. A little rain will cool the temperatures considerably and make the birds more active. A small umbrella can be very handy to keep you and your binoculars dry. It is always best to have your raingear in the van, just in case.
TRANSPORT
The step into our Ford Transit 12-passenger van is approximately 14 inches (35 centimeters) high, not much higher than on an average van. Please let us know if a small step stool would be useful for you.
DRINKS
We drink plenty of water every day. Please remember to bring a personal water bottle with you. There will be gallon jugs of water in the van from which to fill your personal bottle. Please let us know if you have any other favorite drinks, such as sodas or juice. Your guide will buy these at the grocery store and then have them in a cooler in the van. We need to know your exact preferences, especially caffeinated versus decaffeinated. There are probably ten different kinds of Coke, so please be as specific as possible. Upon your request your guide will purchase wine or beer for you, if you wish, for the end of the day. Again, please be specific with your request, and your guide will do his best to get just what you prefer. You can reimburse him for any wine or beer at a later time, as the cost of alcoholic drinks is not included in the tour fee.
PACKING LIST  
Items that we suggest you bring, based upon years of experience in Arizona, include:
Loose, comfortable clothing.
Sweatshirt, sweater, or jacket
Raincoat and small umbrella. Your raincoat can also serve as a windbreaker.
Plastic bags to protect equipment and hold wet or dirty gear
A hat for sun protection and to reduce glare
Sunglasses will be useful.
Comfortable walking shoes and hiking boots. If you bring new ones be certain to break them in before the tour. Open-toed shoes (sandals, flip-flops) are okay around the lodge or going to dinner, but not while birding.
Sunscreen and insect repellent. Some people add a long-sleeved shirt for extra protection.
Hand sanitizer
Alarm clock and flashlight, with extra batteries for both. Each person should have a flashlight.
Binoculars are a necessity. The better the quality and condition of your binoculars, the more you will enjoy the birds and wildlife that you observe.
The guide will have a high-quality spotting scope to share with the group. If you have a scope and are willing to bring it, please let us know. We would like to have at least one additional scope if possible.
Camera and chargers
Personal water bottle, so that you can carry water with you during our walks. This is not optional; it is an absolute necessity so that everyone remains healthy and hydrated. There will be gallon jugs of water in the van for you to fill your personal bottle.
You may want to bring a few of your favorite snacks. There will be fruit, crackers, cookies, and a variety of drinks in the van.
Daypack or fanny pack to carry personal items during our walks
Health insurance card
Any prescription medicines you will need for the length of the tour, which you should pack in your carry-on. Aspirin, hydrocortisone cream, and antibiotic cream may be useful. There will be a basic first aid kit in the van.
Tweezers can be extremely useful to remove an unwanted cactus spine. Put them in your checked luggage, not in your carry-on because they would be confiscated at the security gate.
Helpful field guides include National Geographic, Robbins, or Peterson's Western Guide. Many people use the Sibley or Kaufman field guide. Identification apps on your phone are becoming increasingly popular and useful.
Mammal, reptile, wildflower, cactus, and other nature guides are always helpful.
Airline schedule, passport (or photo ID if you are a US citizen)
When you pack your suitcase keep in mind that there is no guarantee that it will arrive in Tucson when you do. Probably it will, usually it does, but it may not. Thus your carry-on luggage is very important. Pack in your carry-on everything that you absolutely must have for the first few days, including a change of clothes, binoculars, all medications for the entire tour, airline schedule, passport or photo ID, money, and other essential items. Either wear comfortable hiking shoes or put a pair in your carry-on.  Open-toed shoes are not advised for birding. Sandals and cacti do not mix! Items such as scissors, nail clippers, tweezers, tools, anything sharp, or anything that could be construed as a weapon should be in your checked luggage, not in your carry-on.
Two small bags are much easier to handle when loading the van as opposed to one large one. You can do laundry at several of our motels. So if you want to pack light plan on enough clothes for five to six days and do a load of laundry along the way. You may want to bring a small container of laundry detergent.

'The Southeast Arizona tour is in the perfect area to see the maximum number of species and rarities. This tour has the perfect guide, Jacob Roalef, who works diligently to make sure that each participant sees all the birds he finds. This tour has the perfect number of participants to have fun, share knowledge and get to know each other. I would highly recommend this tour!
Jacob was an outstanding guide and I can't say enough good things about him!. First, he knew the birds and could identify them by ear and sight. He made sure that each of us saw the bird(s) he had heard, seen or scoped. He also provided information about field marks, habitat, behavior and other interesting facts about the birds. Additionally, he knew a lot about the environment and gave us good context for the area that our tour covered. He was very diligent in finding the "rarities," and then persistent until we saw them. Jacob also was very perceptive about each individual on the tour and gave equal attention to each of us based on our skill level in birding and our personal quirks. He is fun and funny, patient and well-organized and a safe and good driver. I innocently asked if there had ever been a flat tire on ones of his tours and that jinxed us because we indeed had one at 7,800 feet after a rain. Jacob was cool, calm and collected and what could have been a disaster ended with hilarity and a Band-tailed Pigeon. He facilitated and contributed to the camaraderie and banter that our group shared. I hope to go on another tour that Jacob guides.'
Sue