Western South Africa: Cape Endemics, Namaqualand Wildflowers and the Kalahari
Go to: South Africa Birding Tours | Birding Tours in Africa | All our birding tours
Download Itinerary
Western South Africa: Cape Endemics, Namaqualand Wildflowers and the Kalahari
August 2023
This birding tour lies firmly within the endemic-rich zone of western South Africa, and sees us focusing much of our time getting to grips with the many rare and highly localized birds found only in this region, and is certainly a must for any world birder. Additionally, we time this tour to best coincide with the annual flower blooms along the west coast of South Africa and in the Namaqualand region. Although these blooms can be unpredictable and vary from year to year, we have selected the best dates to allow us a greater chance of seeing these incredible floral carpets. The experience of seeing dazzling rafts of yellow, orange, white, blue and purple flowers covering vast areas of this otherwise arid, rugged landscape is a sight to behold, and is one of the ultimate natural experiences anywhere in the world!
The bizarre Secretarybird should be seen on this trip.
This carefully-designed tour has been specifically developed to try and find the maximum number of endemic and regional specials occurring in this unique part of the world. We include time in key habitats, including fynbos, renosterveld and the greater Nama-Karoo, and these together offer up almost all of western South Africa's most prized birds, which should result in a hefty list of endemic and near-endemic species. Although set up to primarily focus on the birds of the region, we also dedicate some time on this tour to track down mammals, and indeed we should end with an impressive array of cats and other animals. Incorporating a visit to the world famous Kgalagadi Transfrontier Park, one of Africa's greatest game parks, gives us opportunities to see the incredible black-maned Lions of the Kalahari, along with other cats (often including Cheetah and Leopard, plus smaller species; African Wild Cat is unusually common here), and some of the lesser-known mammals of this region, including the strange Bat-eared Fox and many others. The charming Meerkat (always a crowd favorite) is truly at home on the Kalahari dunes, along with some of its poorer-known relatives like Yellow Mongoose.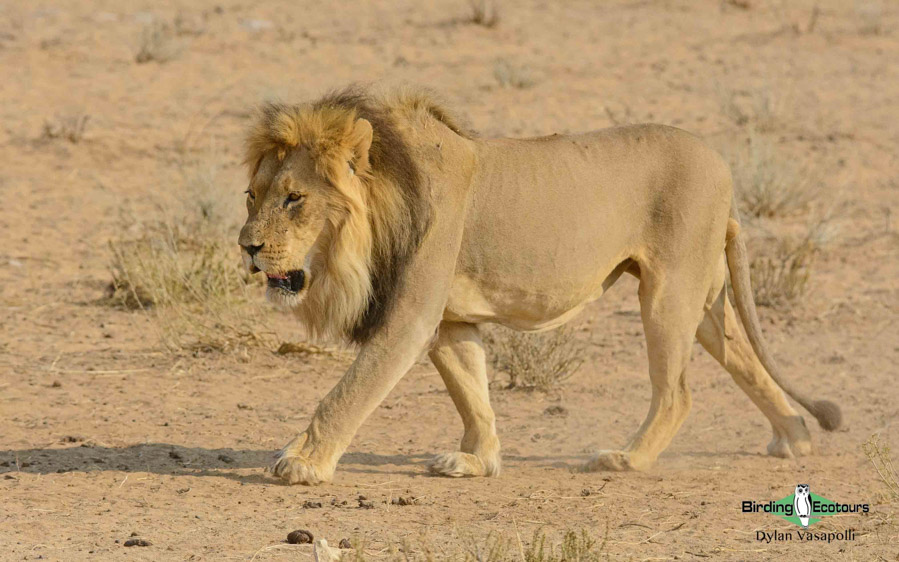 The incredible Kgalagadi Transfrontier Park is one of the best places to see Lions!
We begin this tour in Cape Town, the 'Mother City' of South Africa. Here we spend a short while familiarizing ourselves with some of the more widespread species along with  a plethora of fynbos habitat endemics such as Cape Rockjumper, that can be found amid some of Africa's most splendid scenery! Following our time in and around Cape Town, we transfer a short distance up the west coast to the small coastal village of Langebaan, where we call in for a couple of days. This area gives us further opportunities at more of the country's endemics, such as Southern Black Korhaan, along with giving us our first opportunity to witness some of the dazzling flower displays that often dominate the west coast of South Africa at this time of the year.
We then progress into Namaqualand, where we bird the endemic-rich, beautiful desert mountains of one of the most famous flower areas on earth. Like the fynbos, Namaqualand also has a huge plant diversity, and its spring flower shows make it world-famous. In addition, we can also access the desert coast just south of the Namibian border. Some of the highly prized species we'll be searching for here include the likes of Cinnamon-breasted Warbler, Karoo Eremomela and Barlow's Lark, amongst many others.
Next, we head inland for some extremely localized birds inhabiting the region called Bushmanland. Here, we will focus our efforts on species such as Red, Stark's and Sclater's Larks, along with others such as Karoo Korhaan, Namaqua Sandgrouse and Namaqua Warbler (all of these are essentially restricted to the Northern Cape Province of South Africa and Namibia, except for Red Lark which doesn't extend into Namibia)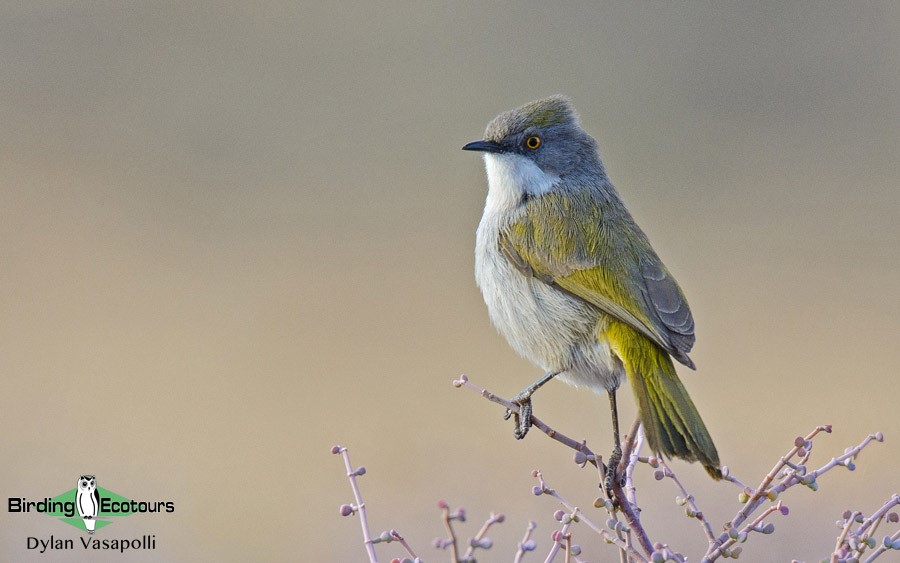 Many sought-after specials can be seen on this tour, such as this Karoo Eremomela.
Without a doubt, one of the main attractions of the tour follows, and sees us heading for one of Africa's great game parks: the Kgalagadi Transfrontier Park. A stop en route sees us bird the surroundings of the impressive "waterfall in the desert" (Augrabies Falls) and its associated gorge! The vast Kgalagadi Transfrontier Park, extending into neighboring Botswana, is on a par with Kruger and Etosha National Parks and is set in one of South Africa's most remote wilderness areas, wedged between Namibia and Botswana. Not only is this game park inhabited by some of Africa's most charismatic megafauna such as Lion and Gemsbok (Southern Oryx), but it also hosts many vibrant southern African endemic birds like Crimson-breasted Shrike, Swallow-tailed Bee-eater, Southern Pied Babbler, Kori Bustard and Black-faced Waxbill. This park is also a truly phenomenal place for raptors and owls, many of which we should see during our stay. The tour comes to an end following our time in this great wilderness area, in Upington, set on the banks of the mighty Orange River.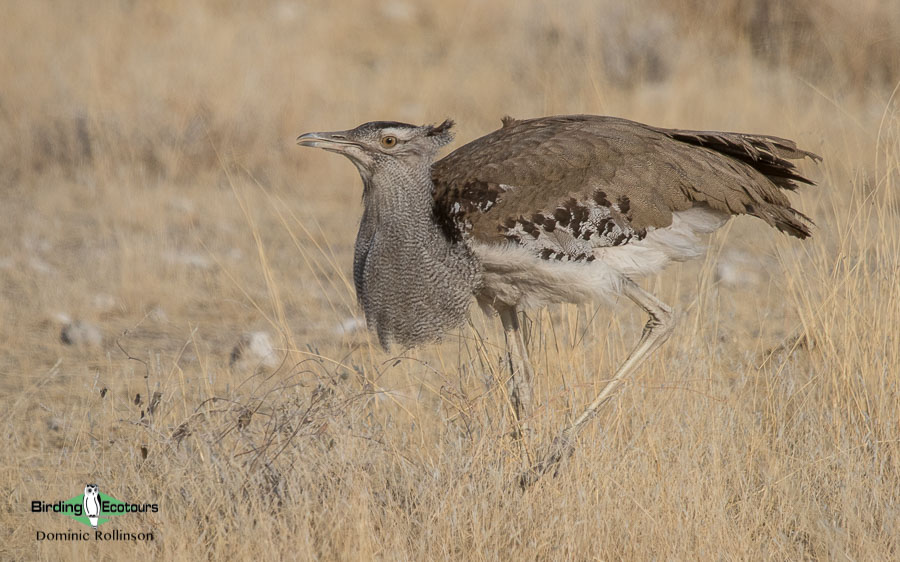 Kori Bustard, the world's heaviest flying bird, occurs in the Kgalagadi.
This tour is set at the beginning of our South African 'core' tour period, and can be combined with several of our other tours. We recommend that you combine it with our very exciting and wonderfully complementary (because it includes such a vastly different set of birds and mammals in eastern South Africa) Kruger National Park and Escarpment Birding Tour. This tour can also be combined with our similar Kalahari Mammal and Birding Tour (which sees us focus more time on trying to find some of the rarer and more elusive nocturnal mammals of the Kalahari such as Aardvark and, with luck, Black-footed Cat).
Itinerary (13 days/12 nights)
Day 1. Arrival in Cape Town
Your international flight arrives in Cape Town any time today or tonight. This is a travel day and if you arrive early enough you can spend it at your leisure. Your guide will meet you at the airport and transfer you to the leafy Cape Town suburbs. Here we will base ourselves for two nights near the world-famous Kirstenbosch Botanical Gardens. Should we have time available this afternoon, we may decide to stretch our legs at some nearby sites and begin familiarizing ourselves with some of the more common birds occurring on the Cape Peninsula. These may include the likes of Southern Boubou, Cape Bulbul, Karoo Prinia, Cape White-eye, Cape Robin-Chat and the delightful Southern Double-collared Sunbird, amongst others. While common, a number of these birds are actually endemics or near-endemics. There are also chances for some of the trickier species occurring in the area such as African Goshawk, Rufous-chested Sparrowhawk and Cape Siskin, but we will need a bit of luck to find these birds.
Overnight: Fernwood Manor, Cape Town
Day 2. Birding Rooi Els, Betty's Bay and surrounds
We have a full day set aside to track down some of the most prized birds occurring in the Western Cape province. The bulk of our time will be spent in the Hottentots-Holland Mountains, where we'll try to include visits to the endemic-rich sites of Rooi Els and the Harold Porter National Botanical Garden and Betty's Bay. We will likely start our day off at Rooi Els, where we'll do our birding on foot as we slowly walk along a gravel road. The scene here is incredibly dramatic, with towering mountains to one side and the rocky shoreline of False Bay to the other, and the area hosts a number of South Africa's most sought-after endemics. First and foremost, will be the delightful Cape Rockjumper, a few pairs of which breed on the mountain slopes here. Although at times they can be difficult to find, this is arguably the most reliable site to see this species and some perseverance usually pays off! Whilst searching for rockjumpers, we're also likely to notch up a number of other prized species, including Ground Woodpecker, Cape Grassbird, Grey-backed Cisticola, Cape Sugarbird, Cape Rock Thrush, Orange-breasted Sunbird, Cape Siskin and Cape Bunting. The difficult Victorin's Warbler occurs here as well, but is usually easier to see at other stops elsewhere on the day. An array of more common and widespread species occurs here as well and species such as White-necked Raven, Rock Martin, Neddicky, Familiar Chat, Cape Weaver and Yellow Bishop usually abound. We'll also keep an eye out for African Oystercatchers on the rocky shoreline.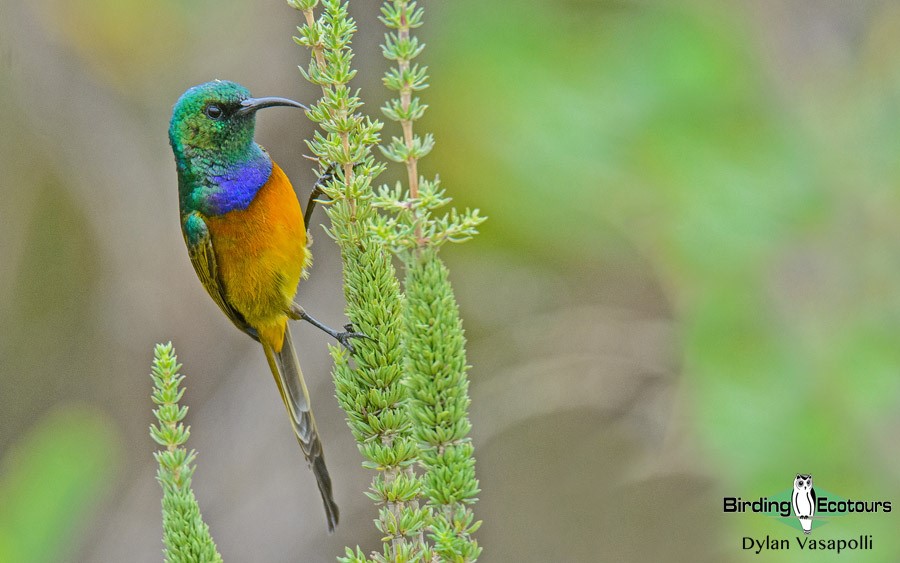 The fynbos endemic Orange-breasted Sunbird is one of South Africa's most beautiful birds!
Harold Porter National Botanical Garden is usually next on our agenda, and searching the mix of manicured gardens, mountain fynbos and riverine woodland often produces species such as African Black Duck, Jackal Buzzard, Cape Batis, Sombre Greenbul, Black Saw-wing, Bar-throated Apalis, Olive Thrush, Fiscal Flycatcher, Swee Waxbill and Brimstone Canary, amongst others. We will also include a visit to the Stony Point African Penguin colony in nearby Betty's Bay. Here we can enjoy excellent and up-close views of these curious and comical penguins, often along with the full suite of marine cormorants, namely White-breasted, Cape, Crowned and Bank Cormorants, all of which breed on the rocks here. Various gulls and terns, including the south-west African endemic Hartlaub's Gull, are usually in evidence as well. The sleepy village of Betty's Bay often has Cape Spurfowl running around on the edges of the gardens, and with a bit of luck we can also see Cape Grey Mongoose. Throughout our time in the Hottentots-Holland Mountains we will keep an eye out for the huge and boldly marked Verreaux's Eagle; a pair regularly breed in the general area and show from time to time.
En route back to our comfortable guesthouse, we usually stop off at the Strandfontein Sewage Works, which is an absolute hive for wetland birds. The various pans all host a differing array of species, and we stand good chances of finding the likes of Cape Shoveler, Cape, the diminutive Blue-billed (Hottentot) and Red-billed Teals, Maccoa Duck, African Swamphen, Great Crested and Black-necked Grebes, Greater and occasionally Lesser Flamingos, Water and Spotted Thick-knees, African Sacred, Glossy and Hadada Ibises, and a variety of widespread herons and egrets. This is also a great site for other species such as African Marsh Harrier, Brown-throated Martin, Lesser Swamp and Little Rush Warblers, Levaillant's Cisticola and Cape Longclaw. We'll settle in for a wonderful evening following a successful day out in the field.
Overnight: Fernwood Manor, Cape Town
Day 3. Birding Kirstenbosch National Botanical Garden and transfer to Langebaan
With a two hour (traffic permitting) transfer to get to our next destination, we have the morning available to do some local birding, and will spend it exploring the stunning and famous Kirstenbosch National Botanical Gardens. These expansive gardens on the lower slopes of Table Mountain host some excellent birds and we stand a chance of seeing some of the fynbos endemics, should we have missed them previously, such as Cape Sugarbird and Orange-breasted Sunbird. Other species we'll search for include the difficult Lemon Dove, Spotted Eagle-Owl, Cape Batis, Red-winged Starling, African Dusky Flycatcher, Malachite Sunbird, Common Waxbill (and with luck, Swee Waxbill), the spectacular Pin-tailed Whydah and Forest and Cape Canaries. Kirstenbosch is also often a great place to see raptors, and we'll keep an eye out for African Harrier-Hawk, African Goshawk, Black and Rufous-chested Sparrowhawks, Common and Jackal Buzzards and Rock Kestrel.
We will then transfer up the west coast to the small coastal village of Langebaan, where we'll be based for two nights. We will have the afternoon to acquaint ourselves with the area, and may likely try and get a head start by visiting some of the 'usual' wildflower blooming areas, located in the greater Langebaan area. These incredible floral displays are quite something to behold, and are a 'must-see' attraction for any nature lover; however, this area also provides good opportunities to see some of the prized birds of the area. We will keep an eye out for species such as Blue Crane, South Africa's national bird, Southern Black Korhaan, Grey-winged Francolin, Cape Clapper Lark and the dazzling Bokmakierie, amongst many others.
Overnight: LeMahi Guesthouse, Langebaan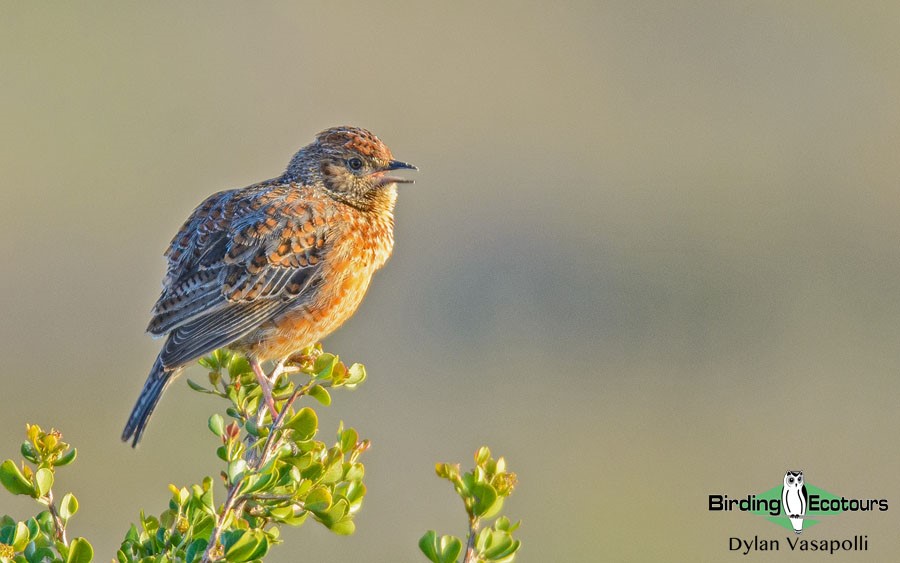 Cape Clapper Lark will be one of many endemic and prized larks we'll be searching for. The tour is timed when they are performing their spectacular, "clapping" display.
Day 4. Birding the West Coast National Park and surrounds
We will have a full day at our disposal to further explore the west coast region around Langebaan, and the bulk of our time today will likely be spent in the fantastic West Coast National Park, located on the outskirts of the village. This scenic national park is centered on the vast Langebaan Lagoon, a mecca for a wide array of wetland birds, and is surrounded by rich strandveld fynbos and the Atlantic Ocean. It is one of the best birding spots in the entire Western Cape province! Additionally, the park also opens its restricted Postberg Section during the period of our visit, allowing us to experience the incredible wildflower displays that are present in the park.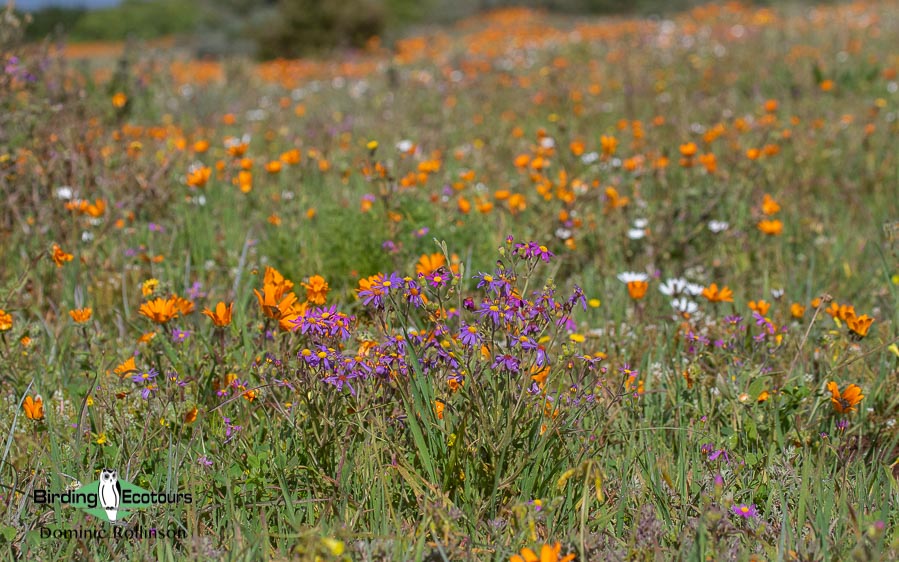 When in full bloom, the wildflowers on the west coast of South Africa can be spectacular!
Together with some walking trails, a number of blinds/hides and viewpoints allow us to access a large section of this park and give us ample opportunity to find all the various specials. On top of the birds mentioned for yesterday (most of which can be seen today as well), we will also try for other species such as Common Ostrich, the stunning near-endemic Black Harrier, Grey Tit, the absolutely tiny Cape Penduline Tit, Cape Grassbird, Grey-backed Cisticola, Bar-throated Apalis, Pied Starling, Karoo Scrub Robin, Cape Robin-Chat, Southern Double-collared Sunbird, Cape Weaver, Yellow Bishop, White-throated Canary and Cape Bunting, all within the fynbos and open areas of the park.
However, the water-based birding will likely be the main event, and we'll search for a great many species including both Greater and Lesser Flamingos, Great White Pelican, South African Shelduck, Cape Teal, African Rail and Black Crake, through to a large diversity of shorebirds, some of which are likely to include Pied Avocet, Black-winged Stilt, Grey, Common Ringed, White-fronted and Kittlitz's Plovers, African Oystercatcher, Eurasian Whimbrel, Ruddy Turnstone, Curlew Sandpiper, Sanderling and Common Greenshank, amongst others. We're also likely to see all of the marine cormorants, including the scarce, localized Bank and Crowned Cormorants, while the ever-present Hartlaub's and Kelp Gulls are never far off. A pair of the majestic Verreaux's Eagle nest nearby, and we'll try to include a visit to see these special birds!
The West Coast National Park is a birdy park, and we're likely to see a number of species over the course of the day. Eventually, we'll settle in for the evening and enjoy an excellent meal after a fruitful day out!
Overnight: LeMahi Guesthouse, Langebaan
Day 5. Birding Langebaan and transfer to Springbok
We have a final morning to traverse the greater Langebaan area for any final birds we may still be missing. These might include a visit to the Vredenburg farmlands as well, where we can try for some slightly different species. Foremost amongst our targets here will be the endemic Cape Long-billed Lark, but a wide array of other species is possible and includes the likes of Blue Crane, Secretarybird, Lanner Falcon, Large-billed Lark, Sickle-winged and Ant-eating Chats and Capped Wheatear, amongst others. We will also try and track down the prized Antarctic Tern which winter sporadically along the South African coast, more regularly in this area.
Eventually, we'll begin our long drive through the endemic-rich Karoo, towards Springbok which is located within the heart of the ruggedly beautiful Namaqualand. The drive will likely take the bulk of the afternoon, but we'll be sure to include various stops along the way, especially at the salt works around Velddrif, which are another magnet for waterbirds, and in particular, large numbers of the sought-after Chestnut-banded Plover. Big flocks of flamingos are also possible, along with scarcer species such as Red-necked Phalarope and Black-necked Grebe. We will likely arrive at Springbok in the late afternoon.
Overnight: Kleinplasie Guesthouse, Springbok
Day 6. Birding from Springbok to Port Nolloth and surrounds
We have a full day at our disposal to explore and traverse the area. This Namaqualand region is arguably even more famous than the west coast for its spring flower blooms, but they are less predictable here and the blooming timing and exact sites tend to vary from one year to the next. We'll keep our 'ears to the ground' and see where the blooms are taking place and plan our day accordingly. One of the likely spots is Goegap Nature Reserve on the outskirts of Springbok, and aside from the incredible floral spectacle possible here, the reserve is a 'must-visit' site from a birding perspective as well! First and foremost, will be major Namaqualand targets; Karoo Eremomela and Cinnamon-breasted Warbler. These are both notoriously difficult and unpredictable birds, but with some dedicated searching we're likely to find both here. The reserve is also a good spot for various other species more characteristic of the drier western regions of South Africa, such as White-backed Mousebird, Acacia Pied Barbet, Pririt Batis, Fairy Flycatcher, Spike-heeled and Karoo Larks, Layard's Warbler (Tit-babbler), Pale-winged Starling, Karoo Chat, Mountain Wheatear, Dusky Sunbird, both races of Black-headed Canary and Lark-like Bunting. The open plains dotted throughout the reserve are a great area for the difficult Ludwig's Bustard. The reserve also hosts the localized (Hartmann's) Mountain Zebra, and we should find our first of the strange Gemsbok. Springbok, the national mammal of South Africa, abounds.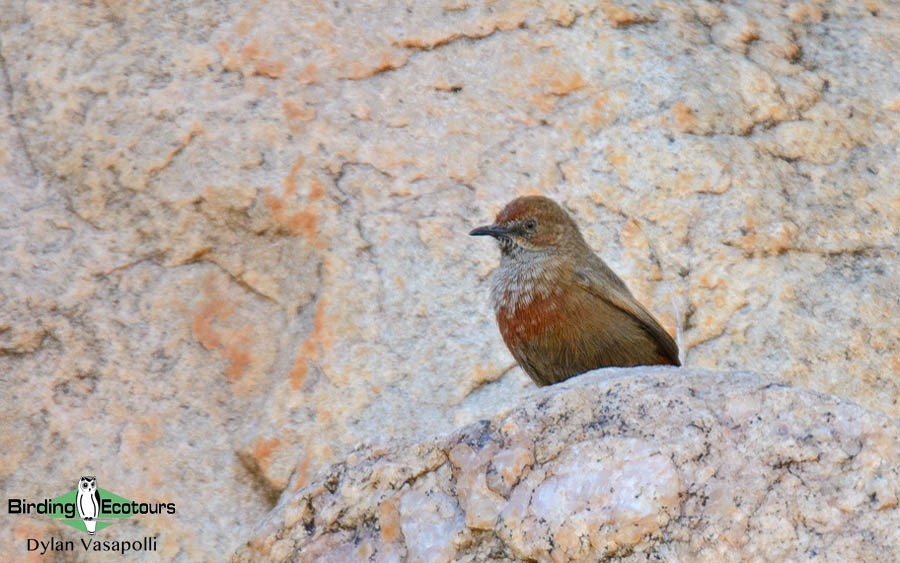 Cinnamon-breasted Warbler is one of our core targets in Namaqualand.
The small coastal village of Port Nolloth, located close to the Namibian border, will also feature on our day's plans. Here at the southern extremity of the Namib Desert, north of this village, hosts the incredibly localized Barlow's Lark, and this is one of the few places in the world to see this species. We will spend some time searching this area for the lark, and are likely to come across other species as we go. The white 'ghost-like' coastal race of Tractrac Chat often perches conspicuously on fence posts, and larger Greater Kestrels and Pale Chanting Goshawks sit atop the roadside electricity pylons, while less conspicuous residents of the typical sparse vegetation found here are Rufous-eared Warbler, Cape Penduline Tit and Grey Tit. Additionally this is also a great area for the endemic Cape Long-billed Lark, and their eerie whistle-call can regularly be heard. The prized Damara Tern does occur in the area, but we'll need some luck to find this species, and while we have our eyes on the coast, the harbor breakwater is also a great area to see the Benguela Current endemic, Heaviside's Dolphin. We will eventually return to Springbok following a full day exploring the area.
Overnight: Kleinplasie Guesthouse, Springbok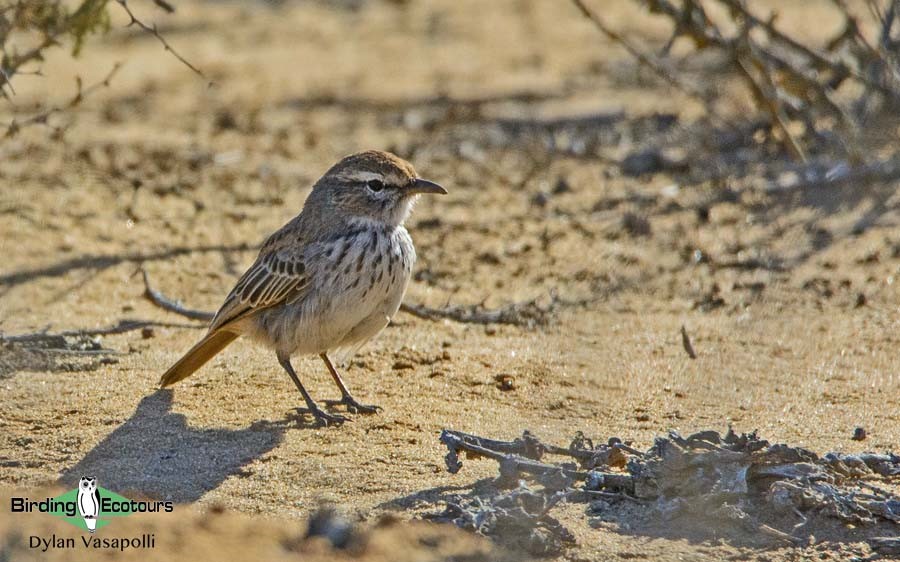 The coastal desert north of Port Nolloth is one of the only places to see the extremely localized Barlow's Lark.
Day 7. Birding Springbok and transfer to Pofadder
We have a final morning to bird in and around Springbok, searching for any birds we may have missed, such as Karoo Eremomela, Cinnamon-breasted Warbler, Ludwig's Bustard, Cape Clapper Lark and Grey Tit. Hopefully we might also get a last view of some of the incredible flower blooms before we leave Namaqualand behind and transfer the short distance eastwards to Bushmanland. This area is generally less rugged and mountainous and consists of open plains, but also hosts a great many prized and endemic birds. This is a short transfer, so we should have the bulk of the day available to begin exploring this area. We will likely include a visit to the Koa Dunes Valley near Aggeneys, which is home to the very localized South African endemic Red Lark – here this red-color 'dunes' form of the lark matches the red soil, and can make picking up the lark quite difficult as it scurries around between grass tufts. However, with perseverance, we should get views of this prized bird. Cattle drinking troughs in the area are also often great for spending time waiting for birds coming in to drink, sometimes producing the likes of Namaqua Sandgrouse, Grey-backed Sparrow-Lark, Red-headed Finch, Black-headed and Yellow Canaries, Lark-like Bunting and Scaly-feathered and amazingly gregarious Sociable Weavers. The Sociable Weavers are indeed one of the charismatic species of these dry regions of western South Africa, as they construct massive straw nests in trees and on electricity poles, and are a characteristic sight as we move through the area. The tiny Pygmy Falcon make use of these massive nests as well, and can often be seen in their vicinity.
The open plains closer to Pofadder are arguably of the greatest interest in the area, as they support three of the most difficult and nomadic birds of western South Africa, namely; Sclater's and Stark's Larks and Black-eared Sparrow-Lark. These three birds are notoriously unpredictable and move around substantially from one year to another; we will need a good dose of luck to run into all of them, but with enough perseverance we stand a good chance. Despite our focus on these three birds, we won't be ignoring the other species present in the area, and we'll also be on the lookout for the localized Karoo Korhaan, Namaqua Dove, Double-banded Courser, Pale Chanting Goshawk, Pygmy Falcon, Karoo Long-billed, Fawn-colored and Sabota Larks, Black-chested Prinia, Rufous-eared Warbler, Yellow-bellied Eremomela, Karoo Scrub Robin, Chat Flycatcher and Sociable Weaver, amongst others. The scarce Burchell's Courser can also be seen here, but is best seen on some of our Namibian tours.
Overnight: Pofadder Hotel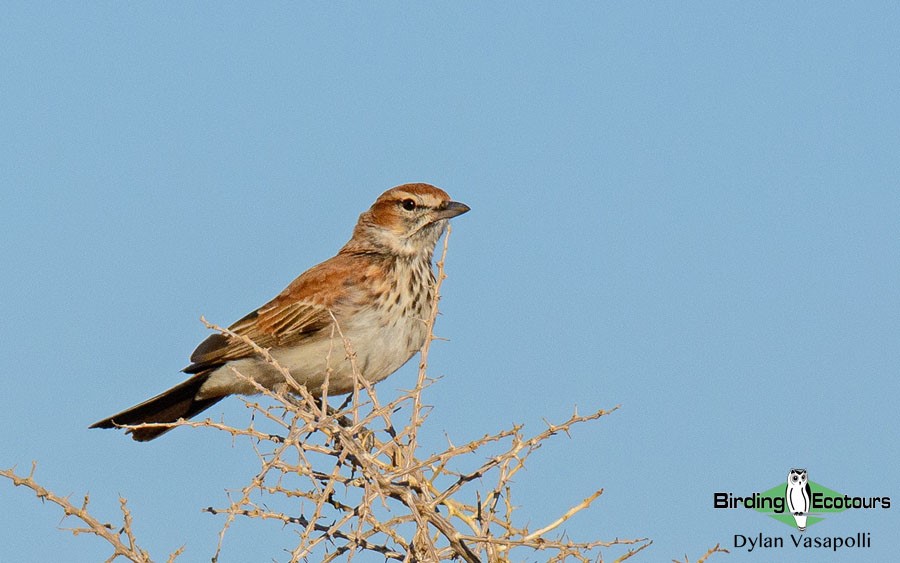 Red Lark is only found in the Northern Cape province of South Africa, we'll search for it near Aggeneys and perhaps at other sites too.
Day 8. Birding Pofadder, Onseepkans and surrounds
We have a full day at our leisure to continue exploring the plains around Pofadder, searching for the species mentioned under Day 7 above. Additionally, we will likely also spend some time around the small village of Onseepkans on the Orange River which forms the border with Namibia. The Orange River has crafted and eroded a rugged, yet incredibly scenic, valley through the region (over vast amounts of time), and aside from the birds is well worth the trip by itself. The lush river oasis gives life to the surrounding dry landscape and the riverine trees support good numbers of the prized Namaqua Warbler, and this is also one of the few areas where truly wild Rosy-faced Lovebirds can be found in South Africa (this is otherwise mainly a Namibian endemic species). The rugged landscape here also supports the likes of Bradfield's and Alpine Swifts, Orange River White-eye, Karoo Thrush, Pale-winged Starling and even Cinnamon-breasted Warbler (should we have missed this elusive bird previously). The river itself also supports species such as Grey Heron, Little Egret, Reed Cormorant, African Fish Eagle and African Pied Wagtail while White-throated Swallows and Brown-throated Martins zip up and down the river.
Overnight: Pofadder Hotel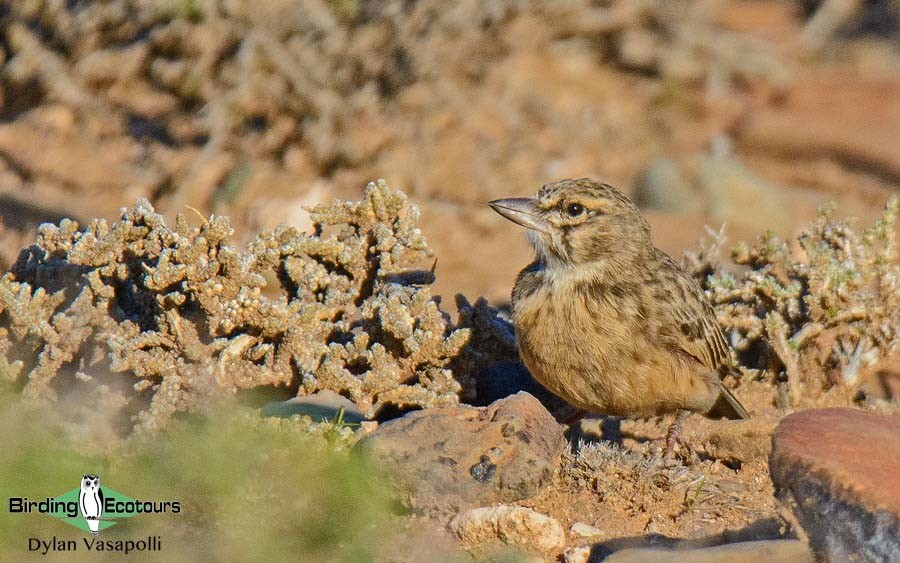 The peculiar Sclater's Lark is one of the region's most nomadic and difficult-to-find birds.
Day 9. Birding Pofadder and transfer to the Kalahari
We have a final morning to spend in and around Pofadder, searching for any species which we might still be missing, and which might include some of the more difficult targets such as Sclater's, Stark's and Red Larks and Black-eared Sparrow-Lark, amongst others. Following breakfast, we'll begin the relatively long (~4.5 hours) transfer to the Kgalagadi Transfrontier Park. En route, we will stop off at the spectacular Augrabies Falls National Park. Here we will spend some time enjoying the powerful Orange River as it blasts down into a beautiful deep gorge below, allowing us to appreciate the local name, "place of great noise". Eventually we'll have to tear ourselves away from the falls, and continue on our way. We will likely only arrive at our comfortable lodge, located directly outside the park's gate, in the late afternoon. Over dinner, there will doubtless be a lot of excitement as we prepare for our upcoming two full days in this great African game park.
Overnight: Kgalagadi Lodge
Day 10 – 11. Birding the Kgalagadi Transfrontier Park
We have two full days to spend within the world famous Kgalagadi Transfrontier Park, set in the Kalahari Desert. Although the bird diversity and total species numbers are lower than some other parks such as Kruger, the quality of the species makes up for it, and we'll search for more localized and scarcer species restricted to these drier areas. Additionally, the park is an excellent area for raptors and various birds of prey, and they're sure to keep us entertained on a regular basis. Due to the dry nature of the park, various waterholes have been installed, and these form a prime focal point for a wide array of birds and mammals. They are sometimes the only source of water for miles around, and so these waterholes will feature prominently on our forays through the park. Some of the large species we'll look out for include Common Ostrich, Kori Bustard and Northern Black Korhaan, while possible raptors include the unique Secretarybird, White-backed Vulture, Black-chested Snake Eagle, the strange Bateleur, Martial and Tawny Eagles, Gabar Goshawk, along with Lanner, Pygmy and Red-necked Falcons. The park can be a great place for owls, and we'll be sure to keep an eye out for Western Barn, Southern White-faced, Spotted and Verreaux's Eagle-Owls and the diminutive Pearl-spotted Owlet.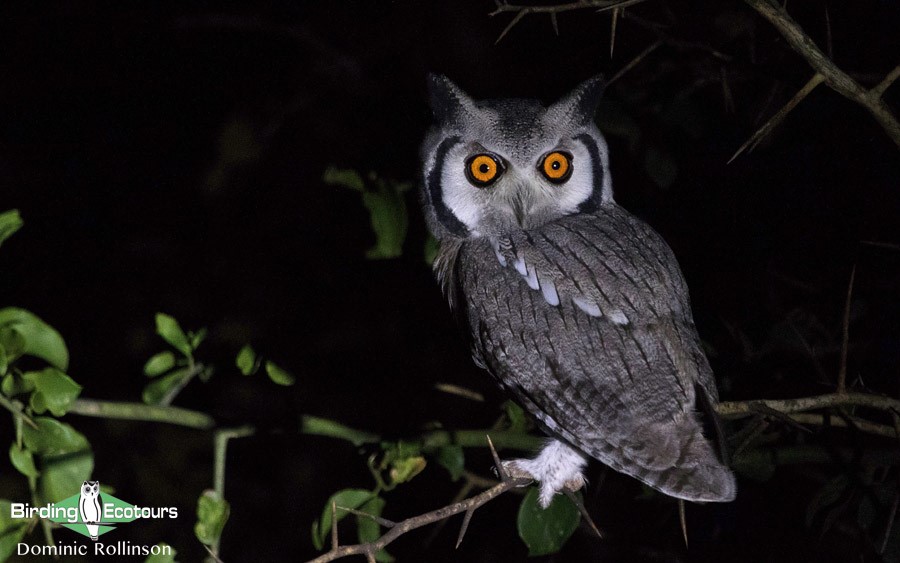 We will have chances of finding the uncommon Southern White-faced Owl in the Kalahari.
During the mornings, vast numbers of both Namaqua and the scarce Burchell's Sandgrouse come to drink from the waterholes, and it can be quite a spectacle with hundreds of these birds all wheeling about coming in to drink! Various other species join them as well, and might include the likes of Namaqua and Ring-necked Doves, Grey-backed Sparrow-Lark, Cape Starling, Cape Sparrow, Scaly-feathered Weaver, Red-headed Finch, Shaft-tailed Whydah and Black-throated Canary. As we go about traversing the park, and in particular the dry Auob and Nossob riverbeds, we'll also keep an eye out for other species such as Double-banded Courser, Common Scimitarbill, Southern Yellow-billed Hornbill, Lilac-breasted Roller, the beautiful Swallow-tailed Bee-eater, the stunning Crimson-breasted Shrike, Brubru, Cape Crow, Ashy Tit, Fawn-colored Lark, Yellow-bellied Eremomela, Chestnut-vented Warbler, Groundscraper Thrush, Kalahari Scrub Robin, Marico Flycatcher, Short-toed Rock Thrush, Great Sparrow, White-browed Sparrow-Weaver, Red-billed Quelea and Black-faced and Violet-eared Waxbills, amongst others.
Mammals will also feature prominently here and we'll make an effort to find as many as we can. The park is an excellent area to find Africa's large cats; Lion, Leopard and Cheetah all occur here, and with some time and luck, we may find all these large cats. We also have chances at some of the scarcer smaller cats, such as African Wild Cat (this species is actually unusually common in this reserve) and even Caracal. The cute and charming Meerkat (Suricate) also occurs, and we'll likely run into some family groups during our travels. Other likely species include Black-backed Jackal (often seen hunting sandgrouse at the waterholes), Springbok (South Africa's national mammal), Blue Wildebeest, Gemsbok, Steenbok and Giraffe. An optional night drive (at a relatively nominal extra cost) into the park is sometimes possible to arrange as well, and gives us additional chances at the larger cats, along with Brown Hyena (with luck though we may see this during the day), Spring Hare and Bat-eared and Cape Foxes.
Overnight: Kgalagadi Lodge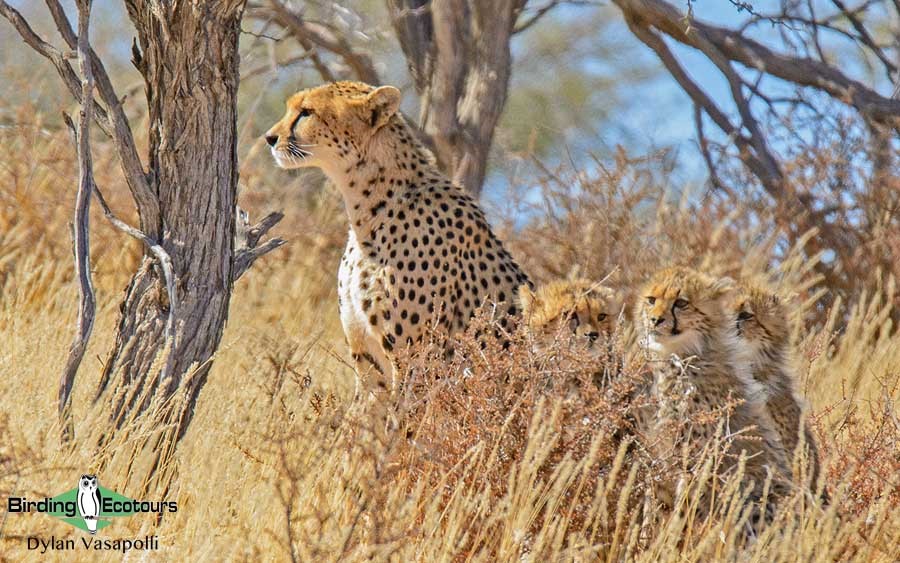 Whilst we traverse the Kgalagadi, we'll keep a beady eye open for Cheetah.
Day 12. Birding the Kgalagadi Transfrontier Park and transfer to Upington
We have a final morning for one last jaunt into the incredible Kgalagadi Transfrontier Park, searching for any species we may not yet have seen and to soak up this incredible wilderness area, before having to transfer to Upington. This is a relatively short transfer (~3 hours), and will likely see us arriving in the mid-afternoon. The afternoon will be spent at our leisure, where we can either relax on the banks of the Orange River, in the grounds of our lush lodge (the river providing much-needed life to the surroundings), or we can explore some of the open areas around the town. The larger trees on the riverbanks support species such as Swallow-tailed Bee-eater, White-backed Mousebird, Golden-tailed Woodpecker, Orange River White-eye and Dusky Sunbird, while the river hosts species such as African Black Duck, African Darter, African Pied Wagtail and the massive Goliath Heron. With some dedicated searching, Namaqua Warbler can also be seen here, if we missed this bird previously. The open plains outside of town host a different suite of birds, some of which we may have seen previously on the trip (in the Pofadder area). Here we have chances for difficult species such as Double-banded and Burchell's Coursers and Stark's Lark, while more commonly seen species include Northern Black Korhaan and Namaqua Sandgrouse. We'll eventually settle in for the day, enjoying our final dinner together on the banks of the impressive Orange River.
Overnight: Sun River Kalahari Lodge, Upington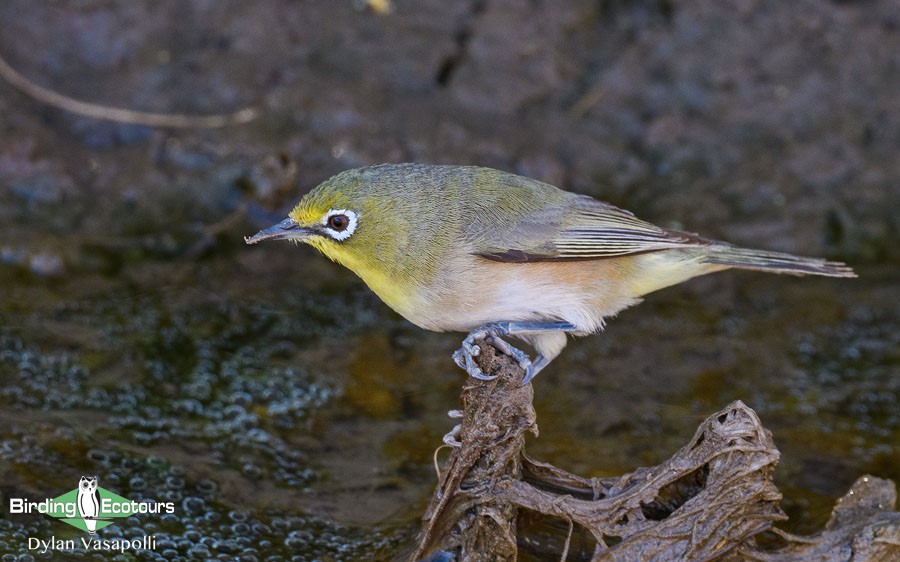 Delightful Orange River White-eyes are common along the Orange River.
Day 13. Departure from Upington
Today is the last day of the tour, and we may have some final time available to us to explore the lodge's grounds on the Orange River (or a bit further afield) searching for a similar suite of species to those mentioned for the previous day. Usually this tour would conclude when we catch our flights from the nearby Upington Airport, but in 2023 we are doing a short extension (6-8 September, finishing at Cape Town airport at 3.30 pm on 8 September, please ask for details).
Please note that the itinerary cannot be guaranteed as it is only a rough guide and can be changed (usually slightly) due to factors such as availability of accommodation, updated information on the state of accommodation, roads, or birding sites, the discretion of the guides and other factors. In addition, we sometimes have to use a different international guide from the one advertised due to tour scheduling.
Download Itinerary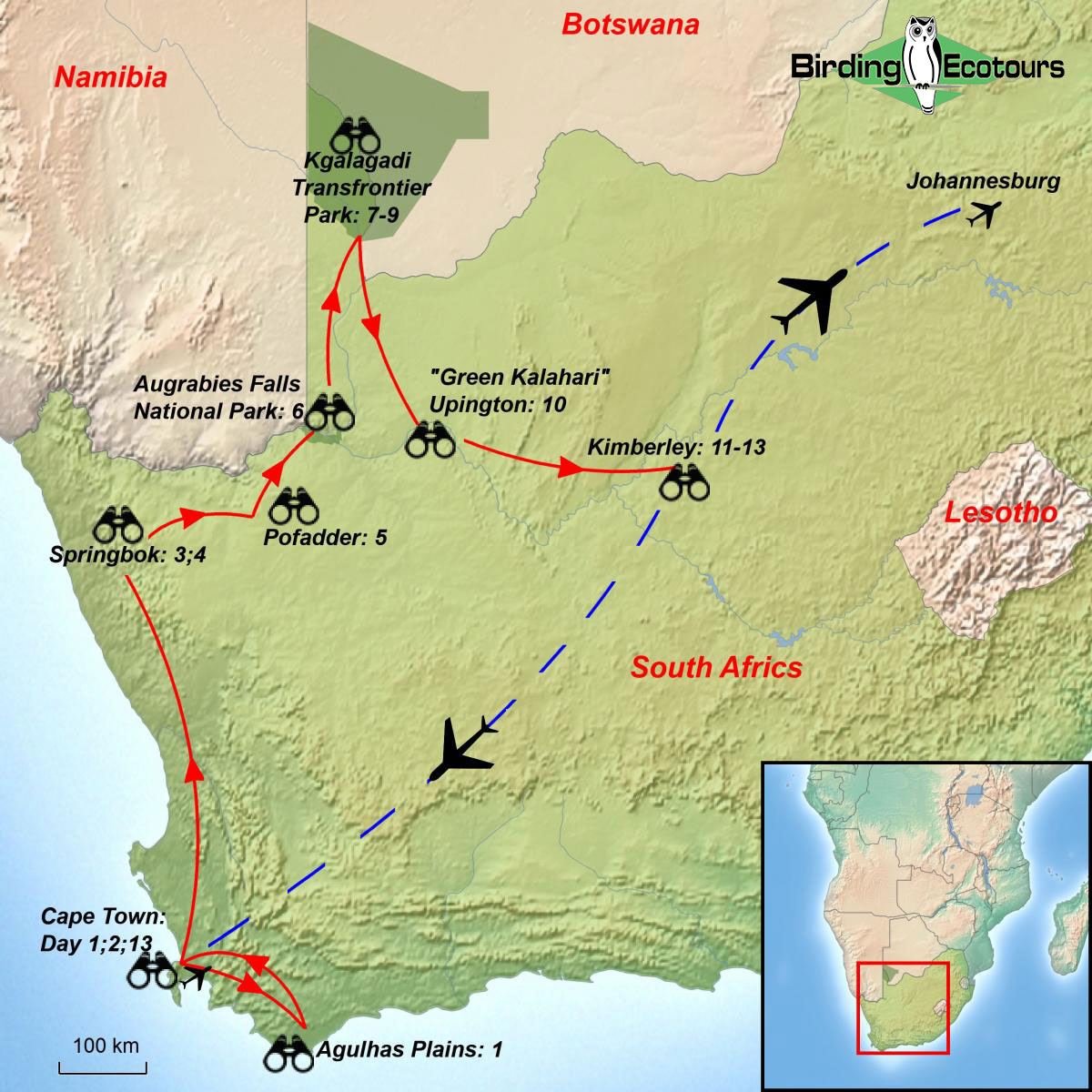 Cape, Namaqualand and Kalahari Trip Report, August 2016
 15 – 27 AUGUST 2016
DOWNLOAD TRIP REPORT
Overview
This tour is timed to take advantage of the great birding conditions in the Western Cape fynbos zone along with the annual displays of the Namaqualand flowers. With only two participants the tour was run as a private tour, tailored to their exact wants.
Beginning in the southern part of the Western Cape Province, we experienced many of the fynbos-endemic birds close to Cape Town before transferring to the Overberg farmland region filled with green fields and Blue Cranes. A visit to the southernmost tip of Africa completed our stay here, before we transferred north into the Namaqualand region. Sadly, the flowers were not at their peak yet, due to a lack of rain throughout the area; however, good birding compensated for this. Transferring to neighboring Bushmanland, we enjoyed further excellent birding with almost all of our target species being found. The mighty Augrabies Falls put on a great show for us, and transferring to our northernmost point, the Kgalagadi Transfrontier Park, was a grand success, filled with many great cat sightings along with excellent birding. Following a long drive to Kimberly, we made the most of our last days with some localized birds and many highly-prized mammals, including black-footed cat, aardwolf, and aardvark, before the tour ended.
Itinerary
| | | |
| --- | --- | --- |
| Date | Location | Overnight |
| 15 August 2016 | Rooiels, Overberg | Potberg |
| 16 August 2016 | Overberg | Potberg |
| 17 August 2016 | Overberg, Ceres, Clanwilliam | Clanwilliam |
| 18 August 2016 | Kamieskroon | Springbok |
| 19 August 2016 | Port Nolloth, Springbok | Springbok |
| 20 August 2016 | Springbok, Aggeneys, Pofadder | Pofadder |
| 21 August 2016 | Pofadder, Augrabies Falls NP | Augrabies Falls National Park |
| 22 August 2016 | Augrabies Falls NP, Askham | Kgalagadi Lodge |
| 23 August 2016 | Kgalagadi Transfrontier Park | Kgalagadi Lodge |
| 24 August 2016 | Kgalagadi Transfrontier Park | Kgalagadi Lodge |
| 25 August 2016 | Askham, Kimberley | Kimberley |
| 26 August 2016 | Kimberley | Kimberly |
| 27 August 2016 | Kimberley | – |
Day 1, August 15. Cape Town to the Overberg
Just after breakfast I met with Pat and Ginger, and we immediately set off toward Rooi-Els, where we would spend the morning. We started off well, recording our first Cape Sugarbird and Orange-breasted and Southern Double-collared Sunbirds, along with Cape Bunting, Karoo Prinia, and Grey-backed Cisticola. As we continued on our walk along the mountain path we picked up a few Cape Rockjumpers and later saw that they were ferrying food into a nesting site; we were enjoying some great views as the birds went about their business. We also managed to pick up both Cape and Sentinel Rock Thrushes, along with Cape Grassbird and Yellow Bishop, before a small group of Cape Siskins flew by, perching briefly atop the nearby rocks. The area seemed to be invaded by siskins; we had good numbers constantly moving through, although none of them showed for long periods. We then picked up a calling Victorin's Warbler, although it was calling from way up the slope and we couldn't get any closer. A small group of the vivid Ground Woodpeckers obliged just as we returned to the car. We headed off to the nearby Stony Point penguin colony and enjoyed close-ups with their famous residents, African Penguins. Bank, Cape, Crowned, and White-breasted Cormorants showed off too, along with good numbers of White-chinned Petrels together with a few Cape Gannets offshore. A Hamerkop flying over the shoreline was an odd sight. The nearby Harold Porter National Botanical Garden was next on the list, and after a good lunch we set off on a brief walk around the garden. We enjoyed the likes of Bar-throated Apalis, Speckled Mousebird, Cape Batis, Brimstone Canary, Yellow Bishop, Olive Thrush, Jackal Buzzard, Cape Spurfowl, and a small group of confiding Swee Waxbills before having to transfer onwards to the Overberg region. We enjoyed a large group of Blue Cranes next to the highway, although we sadly couldn't stop, before arriving on the outskirts of Bredasdorp, from where we birded our way to our overnight accommodation.
Travel initially was slow, with many birds halting us on our way. We ran into our first Southern Red Bishops, followed by Large-billed and Red-capped Larks, Yellow, White-throated, and Cape Canaries, and Levaillant's Cisticola. We pulled over for our first proper views of Blue Cranes – a group right next to the road, and scanning some odd 'geese' in a nearby field revealed a small group of four Denham's Bustards. Albeit a bit distant, we enjoyed good looks at this prized species. Just slightly further along we ran into our first Capped Wheatear, and, as soon as we stopped, heard the characteristic call of Agulhas Long-billed Lark. After a bit of a wait I picked up the bird walking through a very grassy section of the field. The bird soon disappeared but suddenly reappeared in the middle of the road, right next to us! We had crippling views until a car came screaming along and sent the bird back into the field. We had barely left when an Egyptian mongoose came bounding across the road and moved off into the long grass. Many yellow mongooses were also seen as we continued on our way. Some of the last species encountered before arriving at our overnight accommodation were Cape Longclaw, African Stonechat, Pied Starling, and Black-winged Stilt. A fish dinner rounded off an excellent first day.
Day 2, August 16. The Overberg
Following a good breakfast we set off for the nearby De Hoop Nature Reserve. On the way we ran into African Spoonbill, Cape Shoveler, Cape Teal, African Marsh Harrier, Bokmakierie, Yellow Canary, Rock Martin, Fork-tailed Drongo, and our first of many Blue Cranes for the day. Grey rhebok and steenbok were highlights on the mammal side. After checking into the reserve we ran into Grey-winged Francolin perched right next to the road and enjoyed great views of the bird as it sat tight on the road verge. A rising whistle revealed the presence of a Cape Clapper Lark, and in no time we were enjoying great views of an individual perched on an Erica plant right next to us. We were fully able to enjoy the fine markings and details on the feathers of this species before it headed back into the fynbos. A Spotted Thick-knee perched next to the road, along with Common Ostrich, and bontebok and common eland were other notable sightings before we arrived at the camp area. Here we set off on a walk, targeting Knysna Woodpecker and Southern Tchagra. The tchagra wasn't hard to find, and we enjoyed some great views of a bird completely in the open, with a tame Southern Boubou hopping around next to it for comparison's sake. The woodpecker proved a bit trickier to find, and with a strong wind blowing and very infrequent calling it took us a while to pin the bird down. All of a sudden, though, I noticed a lovely male Knysna Woodpecker in a patch of sun, but it took a short flight. We rounded a bush and enjoyed some close-up views of a pair of them before they again took flight. We tried to find them again, although the closest we got was a bird that called from seemingly right next to us.
Content with our sightings we headed back to the car for a brief snack before transferring to Cape Agulhas, the southernmost tip of Africa. A quick scan from here revealed Greater Crested Tern and more White-chinned Petrels offshore. After a good lunch in Struisbaai we headed for the nearby De Mond Nature Reserve. On the way to the reserve we enjoyed many birds, from the likes of fly-by Black Sparrowhawk through to a lovely male Southern Black Korhaan and a pan littered with Kittlitz's Plovers, Little Stints, and Curlew Sandpipers. Arriving at the reserve we headed down to the lagoon and found that the tide was in. Many African Oystercatchers littered the sandbar, along with a group of Greater Crested and Caspian Terns and Greater Flamingos, and other shorebirds present included Grey Plover, Common Greenshank, and Common Ringed and White-fronted Plovers. A quick search upstream produced Common Sandpiper, and while leaving we walked into a Spotted Eagle-Owl perched in one of the large bushes, catching some of the last warm sun rays. Leaving the reserve we had a spectacular sighting of two adult Black Harriers, along with running into a beautiful male Malachite Sunbird. We arrived back at our lodgings just before sunset after another good day.
Day 3, August 17. The Overberg to Clanwilliam
We had a long day of travel ahead, transferring to Clanwilliam, and, having found all of the key species occurring around the Overberg, we departed after breakfast for Swellendam. We made a few stops on the route as the birding was good, and highlights included Cape Clapper, Agulhas Long-billed, and Large-billed Larks, many Blue Cranes, Denham's Bustard, a covey of Grey-winged Francolins, and our first Karoo Scrub Robins. After heading through Swellendam we veered through the mountains heading to Ceres, with the weather continuously changing – from overcast to thick mist, rain, and sun. We immediately headed up to Gydo Pass, where we began our search for Protea Canary. We worked a number of the viewpoints and had perfect conditions – overcast, but no wind, and a hive of bird activity, but we just couldn't get the Protea Canary. We had excellent views of many Cape Canaries, Cape Siskins, Malachite and Southern Double-collared Sunbirds, and Cape Sugarbirds. Just as we arrived at the last point we planned to search, a light drizzle started falling, but we proceeded to try. Just as we were about to give up, another scan of the line of proteas revealed a small but chunky grey bird perched on top – a lovely Protea Canary. I had a slight scare as the bird disappeared before the clients could get onto it, but we managed to find it again much closer to us and enjoyed some good views. We had lunch in Ceres and then made the last stretch to Clanwilliam, arriving in the mid afternoon. After checking into our quaint accommodations we headed to the Kransvlei Poort, where we spent the remainder of the afternoon. En route wee enjoyed a lovely field of flowers. Sadly, we had a stiff wind blowing, which made the birding difficult, but we enjoyed the likes of Yellow-billed Kite, Little Rush Warbler, Fairy Flycatcher, Long-billed Crombec, Streaky-headed Seedeater, Red-faced Mousebird, and a calling Layard's Warbler. As the sun set we called it a day and headed back to town.
Day 4, August 18. Clanwilliam to Springbok
Although we had broken up the normal, long drive from Cape Town to Springbok, we still had a fair bit of ground to cover today, and we only did a relatively short birding walk this morning. Birding activity was quite slow, but we enjoyed both White-backed and Red-faced Mousebirds and Common Waxbill along with a large family of Southern Fiscals, the parents busily attending to their large young. Following breakfast we picked up some supplies from the local supermarket for lunch and were on our way to Kamieskroon. A lovely Black Harrier was the only noteworthy sighting en route. We arrived in good time, headed off on some back roads, and started with a skittish group of meerkats, followed by lunch. We made regular breaks during the lunch for the likes of Layard's Warbler, Grey Tit, Karoo Lark, Bokmakierie, and a persistent Cape Clapper Lark that kept on displaying just out of our sight. Although we had seen this species already, we were quite intent on getting views of the west coast apiata subspecies as well. We enjoyed some fields of flowers between the birding as we continued. A magnificent pair of Verreaux's Eagles played along the rocky ridges, an Acacia Pied Barbet peeked precariously out of its nesting hole, and a Mountain Wheatear perched atop a large boulder. We had to turn around all too quickly and birded some of the roads just north of Kamieskroon for a bit. We had some excellent birding; our first attempt for Cinnamon-breasted Warbler produced the goods, and we had good views for a brief period of time, until the bird perched atop some large boulders with the sun directly behind it. Other good birds seen included Karoo Chat, Rufous-eared Warbler, Malachite Sunbird, Capped Wheatear, and a group of the leucolaema subspecies of Black-headed Canary. We arrived at the excellent Naries Namakwa Retreat shortly after the sun had set.
Day 5, August 19. Port Nolloth and Springbok birding
After having our packed breakfast early in the morning we hit the road for Port Nolloth. A 'stop and go' stop on the way produced our first Karoo Eremomela, although the bird stayed a bit distant, and as we neared Port Nolloth a large group of Ludwig's Bustards, numbering eight individuals, flushed from the roadside. We worked our way along the beachfront before moving north to target the Port Nolloth special – Barlow's Lark. We enjoyed a group of Greater Flamingos feeding in the surf, along with Little Egret, Cape and Crowned Cormorants, African Oystercatcher, and a lone Grey-headed Gull mixed in with numbers of Hartlaub's Gulls. Transferring into the coastal vegetation, we immediately began our search. We found a few different Barlow's Larks, but all remained rather distant; however, after a bit of patience we were rewarded with some good views. Birding was excellent, and we also enjoyed great views of Cape Penduline Tit, Tractrac Chat, Cape Long-billed Lark, Grey Tit, Lanner Falcon, Greater Kestrel, Pale Chanting Goshawk, Black-chested Snake Eagle, and another fly-over of Ludwig's Bustard. Brants's whistling rat showed well on the mammal side.
We headed back toward Springbok and checked into the Goegap Nature Reserve, where we spent the afternoon. Following a good lunch in the reserve we birded the surrounding rocky slopes and were rewarded with crippling views of a very calm Cinnamon-breasted Warbler that hung around for over ten minutes and simply went about its business. A male Dusky Sunbird also proved a highlight along with a pale-breasted Jackal Buzzard. We headed onto the circular drive, but, sadly, late rains had meant that the flowers were yet to be in bloom. However, we enjoyed the wealth of succulents present, along with a number of mammals, including gemsbok, springbok, Cape mountain zebra, and South African ground squirrels. Birding, on the other hand, was relatively slow, but we did enjoy Ant-eating Chat, Karoo Scrub Robin, Verreaux's Eagle, and eventually our main target, a lively group of Karoo Eremomelas. We had stopped to view a few Cape mountain zebras when we picked up on the soft calls of this species, and after a bit of running around we had excellent views as the birds passed by incredibly close to us, presenting far better views than this morning. Following our afternoon drive we arrived back at Naries with a bit of daylight left, and Ginger and I set off on a walk. We enjoyed some good birding with exceptional views of a Cape Clapper Lark (displaying and perched), along with Karoo Lark, Karoo Thrush, Yellow Canary, and a few unexpected Southern Black Korhaans, which showed well, until the sun set and we returned back for a cozy dinner.
Day 6, August 20. Springbok to Pofadder
We began the day with a brief walk around the grounds before breakfast. The birding was good, and we barely made any ground before having to return. We enjoyed excellent views of Karoo Lark, Cape Clapper Lark, Karoo Thrush, Karoo Scrub Robin, Cape Weaver, Yellow Bishop, Pale-winged Starling, Long-billed Crombec, and Malachite Sunbird. After breakfast we collected a few supplies in town before setting off toward Pofadder via the back roads. Our first birding stop was near Aggenys, where we would search for the first of the proper Bushmanland specials – Red Lark. Activity was a bit slow, but some persistence paid off as we initially started with some distant views of a displaying bird and eventually bumped into a bird feeding right next to the road, affording some good views as it scampered between bushes. Grey-backed Sparrow-Larks were present in large numbers, and following up on a brief call revealed a small group of Stark's Larks that showed well, but only briefly before moving off. As we settled down for lunch a nearby water source produced a regular flow of birds, including Red-headed Finch, Scaly-feathered Weaver, Mountain Wheatear, Lark-like Bunting, Fawn-colored Lark, and our first Sociable Weavers.
We continued on our way to Pofadder with regular stops for species including Karoo Long-billed, Sabota, and Spike-heeled Larks, Pale-winged Starling, Sickle-winged and Karoo Chats, a pair of Namaqua Sandgrouse, White-backed Mousebird, and Pale Chanting Goshawk. We made a detour toward a new site for Sclater's Lark, as a few of their other localities had failed to produce them on a recent trip. The main way to see this highly nomadic species is to wait at a water trough in suitable habitat for the birds to come and drink – which they do regularly throughout the day. After arriving we were immediately rewarded with a pair of Sclater's Lark; however, they didn't hang around long and seemed to vanish into thin air. We waited a little while longer at the water trough, and a further individual came in, but again didn't stay around for any length of time. We tried birding some of the surrounding scrub and heard a group of them flying by, but, try as we might, we just couldn't lay eyes on them. All too soon we had to call it quits here and continue on our last leg to Pofadder. The late afternoon was pretty quiet, but we managed to add Northern Black Korhaan along with bat-eared fox, klipspringer, steenbok, and another group of skittish meerkats before we got to town.
Day 7, August 21. Pofadder to Augrabies
Having done quite well with the majority of the 'Bushmanland/Karoo' specials yesterday, we set out to try and track down the last few remaining species possible. We started off well with African Red-eyed Bulbul and a pair of Karoo Korhaans that showed brilliantly. Following this, the bird activity dropped down remarkably, and we had a largely quiet morning with lots of hard work producing not very much. Yellow-bellied Eremomela, Rufous-eared Warbler, Chat Flycatcher, Sociable Weaver, and Acacia Pied Barbet were the most notable sightings before we turned around and made our way over to the nearby Augrabies Falls National Park. We managed to get excellent looks at the highly-desired Pygmy Falcon en route. After arriving we sat down for lunch and, following this, set off to explore the falls area. It was a lovely day, and in between marveling at the falls we enjoyed the likes of Black Stork, Peregrine Falcon, Alpine Swift, African Reed Warbler, Orange River White-eye, and African Fish Eagle. Following a bit of R&R, we headed out on a late afternoon game drive. The breezy conditions made the going tough, but we managed to eke out Crested Barbet, Little Swift, Goliath Heron, African Dater, and a lovely adult Verreaux's Eagle on its nest, feeding a chick. We also managed to get a few mammals, including chacma baboon, vervet monkey, klipspringer, springbok, and rock hyrax.
Day 8, August 22. Augrabies Falls to the Kgalagadi
We began the morning with a quick breakfast, followed by a morning birding session around the camp area. Sadly, the wind was blowing quite strongly, which always makes birding a bit more difficult, but despite this we enjoyed a good morning. A Giant Kingfisher flew overhead, calling loudly, while many Namaqua Warblers tormented us for some time as, try as we might, we just couldn't see the birds in the stiff wind. Eventually, as we had practically given up on seeing them, an individual popped up just in front us and gave us some great (and greatly relieving) views! In the process of trying to get views of the warblers we enjoyed comparative looks at Cape and African Pied Wagtails, along with feeding groups of Common Waxbills, Familiar Chat, White-throated Canary, Southern Grey-headed Sparrow, African Hoopoe, and White-throated Swallow over the open lawns. The Acacia patches held a number of great birds, including Pririt Batis, Brubru, Crested and Acacia Pied Barbets, Swallow-tailedBee-eater, White-backed Mousebird, Dusky Sunbird, and Common Scimitarbill, among others. Before long, though, we had to begin the long trip northwards to the base of the Kgalagadi Transfrontier Park, where we would be staying just outside the park. Following a good lunch in Upington we made steady progress and started with some birding around Askham. The birding was good, and we enjoyed numbers of Grey-backed Sparrow-Larks together with nesting White-backed Vultures, Lilac-breasted Roller, Swallow-tailed Bee-eater, Red-billed Buffalo Weaver, Fork-tailed Drongo, Common Scimitarbill, African Grey Hornbill, and Cape Starling.
We transferred to the nearby Kgalagadi Lodge, where we would be based for the next few days, and the clients opted for an easy, relaxing afternoon. Late in the afternoon Ginger and I went out for a walk around the property and got acquainted with some of the Kgalagadi birds. Black-throated Canaries, Scaly-feathered Weavers, and Red-headed Finches flitted between bushes, while noisy Black-chested Prinias danced around in the rank growth. A colony of White-browed Sparrow-Weavers fed on the ground below their nests before a Kalahari Scrub Robin started calling from the tree tops, which seemed to spur on a lively Chestnut-vented Warbler from the same tree, and a group of Namaqua Doves flew by at the end of the walk. As we headed for dinner we had a lovely show from a Western Barn Owl flying around us, calling loudly, before it headed off into the night.
Day 9, August 23. Kgalagadi Transfrontier Park
Following a quick breakfast we entered the famous Kgalagadi Transfrontier Park with tons of excitement. Today we would work our way up towards Nossob before returning for a quick 'early dinner' at the lodge and having a sunset/night drive out of Twee Rivieren. The day was largely excellent, with good numbers of sought-after birds, plenty of raptors, and our fair share of brilliant mammal sightings. Namaqua and Burchell's Sandgrouse treated us to a great showing at a few of the waterholes, and we watched a Gabar Goshawk attempt to take out a Laughing Dove, admittedly, fairly half-heartedly. Raptors were well represented, and we enjoyed Bateleur, Tawny and Martial Eagles, Pale Chanting Goshawk, Rock Kestrel, and Lanner Falcon. After some effort we eventually managed to locate some Kori Bustards seeking respite from the relentless sun under the shade of some large camelthorn trees.
The 'smaller' birds were also well represented, and during the course of the day we observed the likes of Swallow-tailed Bee-eater, African Hoopoe, the striking Crimson-breasted Shrike, Ashy Tit, Long-billed Crombec, Desert Cisticola, Chestnut-vented Warbler, both Karoo and Kalahari Scrub Robins, Marico Flycatcher, Red-billed Quelea, and African Pipit. On the mammal side we enjoyed a spectacular day for cheetah, encountering at least two different families. We started off with a mother with three cubs standing sentinel atop one of the dunes, followed by a mother with four cubs moving through some woodland. We ran into another mother with three cubs later in the day, not too far from our first sighting of them, and so suspect they were the same family. We were also treated to two lions lazing about in the dry riverbed. A black-backed jackal ran across the road and, stopping alongside this individual, we watched as it quickly ate a rodent it had caught. We finally enjoyed some good looks at the prized meerkats, while antelopes were represented by springbok, blue wildebeest, gemsbok, and steenbok. At one of the picnic sites we had good looks at a four-striped grass mouse that had become habituated to people. Following our dinner we headed back for our sunset/night drive. This too was good, and although birds were only represented by Northern Black Korhaan and numerous Spotted Eagle-Owls, we enjoyed good looks at both Cape and bat-eared foxes and excellent views of many African wild cats along with common duiker, scrub hare, and springhare.
Day 10, August 24. Kgalagadi Transfrontier Park
With another full day in the park we headed up towards Mata Mata this time. The birding was pretty good throughout the day. We started well with an excellent Pearl-spotted Owlet sighting together with Groundscraper Thrush before heading into the park proper. Beginning with the larger birds, raptors were again well represented with many great Secretarybird sightings, along with African Harrier-Hawk, White-backed Vulture, Black-chested and Brown Snake Eagles, Bateleur, Martial and Tawny Eagles, Jackal Buzzard, a stunning adult Black Harrier quartering over the dunes, Rock and Greater Kestrels, along with Lanner and Red-necked Falcons. The Red-necked Falcon sadly left a bit to be desired, as it flew out of one of the trees in the riverbed while we were watching a Brown Snake Eagle and disappeared further up the river – we were unable to relocate it. Many of these species were seen on nests, and we also enjoyed a pair of Tawny Eagles with a large snake firmly in the grasp of one of them. We didn't have to battle for Kori Bustards today and enjoyed good looks at many individuals. We watched as a pair of Lanner Falcons put the fear of god into a large contingent of doves and finches at one waterhole.
We had many of the same 'smaller' species as yesterday, while new additions included Purple and Lilac-breasted Rollers, Common Scimitarbill, Southern Yellow-billed and African Grey Hornbills, a distant Cardinal Woodpecker, Sabota Lark, a very confiding Yellow-bellied Eremomela, a somewhat out-of-place Short-toed Rock Thrush at one of the picnic sites, and a Violet-eared Waxbill that simply refused to cooperate. What was surprising was the number of Spotted Eagle-Owls we saw today – finding a number of roosting individuals throughout the park. The mammals were a little slower today, but we did enjoy our first red hartebeest and giraffes aside from the regular array of species. Our cats were somewhat limited, and we only came across our first cat in the late afternoon – a regal lioness lying in the riverbed, roaring softly. After a good two days in the park we retired for a well-deserved meal.
Day 11, August 25. Kgalagadi to Kimberley
With an incredibly long day of driving ahead of us we hit the road shortly after breakfast. Today was almost entirely a travel day and saw us arriving at Marrick Safaris, just outside of Kimberley, in the late afternoon. That being said, we made a number of stops on the way to break up the journey. Our first stops were near Askham, where we enjoyed our first look at a Lappet-faced Vulture flying low over the road. Kori Bustard, White-backed Vulture, and Tawny Eagle followed shortly after. An opportunistic stop near Griekwastad produced a few Bradfield's Swifts among a number of Little and African Palm Swifts. After arriving Ginger and I again set off to explore the area surrounding the main house. We had a good late-afternoon walk and managed to notch up a number of birds. Wattled Starling, Crowned Lapwing, Northern Black Korhaan, and the sought-after Double-banded Courser were seen on the open plains, while the surrounding Acacia woodland was excellent and produced Black-throated and Yellow Canaries, Black-faced Waxbill, Marico and Fiscal Flycatchers, Kalahari Scrub Robin, Chestnut-vented Warbler, Fairy Flycatcher, Crimson-breasted Shrike, Brubru, Pririt Batis, Common Scimitarbill, and a calling Golden-tailed Woodpecker that we just couldn't find. Despite the day being mostly a driving day, we managed to get some good birds during its course.
Day 12, August 26. Kimberley
We woke up ready for our last full day on the tour and got going shortly after a good breakfast. We spent the entire morning birding around the property, taking in all its open, grassy habitats together with its excellent Acacia woodland. The woodland delivered many exciting species, including excellent views of Black-faced and Violet-eared Waxbills, Red-headed Finch, Cape Penduline Tit, Crimson-breasted Shrike, Acacia Pied Barbet, Swallow-tailed Bee-eater, Common Scimitarbill, and some visuals this time of Golden-tailed Woodpecker. The open areas, however, were the prime focus of our birding, and we were well rewarded. We managed to get more excellent views of multiple Double-banded Coursers, which are always exciting to see. Larks were also well represented, and after some work we eventually managed to get stunning views of the sought-after Pink-billed Lark. Spike-heeled, Red-capped, and Eastern Clapper Larks and Grey-backed Sparrow-Lark featured as a good supporting cast. We were treated to excellent close-up views of a Cloud Cisticola on the ground, while nearby Ant-eating Chats and Northern Black Korhaans vied for attention. Both Kori Bustard and Namaqua Sandgrouse treated us to good flybys, while Quailfinch obliged a few times with some rather poor flybys, sadly.
A number of Pearl-breasted Swallows worked over the area, and we had good views of them when they eventually alighted on a nearby fence. A pair of South African Shelducks walking in the open fields was a strange sight. Before rounding the morning off we enjoyed good views of nesting Western Barn Owls up in a high nesting box. Mammals were also well represented, with springbok pronking and black wildebeest, red hartebeest, giraffe, plains zebra, and common duiker all being seen well. Following a large lunch and a bit of time off we headed to the large Kamfers Dam on the northern outskirts of the city. The normal access point only treated us to distant views of the birds, and after some scouting we tried a few back roads and managed to get ourselves right to the dam's edge. Here we marveled at the thousands of Lesser Flamingos, together with smaller numbers of their larger cousin, Greater Flamingo. We were also treated to a small group of Hottentot Teals with some Yellow-billed Ducks on the dam's flooded edge. A number of waders/shorebirds were also present, and sifting through them revealed Little Stint, Ruddy Turnstone, and Kittlitz's and Three-banded Plovers. A few Common Moorhens scuttled quickly across openings in the vegetation, while noisy Grey-headed Gulls constantly flew overhead. The surrounding woodland produced a lovely White-bellied Sunbird together with a lone Pale Chanting Goshawk, Wattled Starlings, and Common Waxbills.
We returned back to Marrick for the last bit of daylight, and Ginger and I headed off to visit a nearby pond, while Pat relaxed. We enjoyed a number of seedeaters coming in to drink, consisting of Scaly-feathered Weaver, Red-headed Finch, Lark-like Bunting, Yellow Canary, Red-billed Quelea, and a lone non-breeding Shaft-tailed Whydah. After a good dinner we readied ourselves for our night drive around the property. We were joined by Johnny for the evening, and we headed out with high hopes. We had barely got going when we had a striped polecat scamper across the road and disappear. Large numbers of springhares were in evidence, and we were also treated to good views of Cape Hare. Not long afterwards we picked up on some promising eyeshine, and as we got slightly closer we confirmed that it was indeed that of black-footed cat. This is an incredibly sought-after cat, due to both its scarcity and secretive habits, and it is always truly exciting to come across one. We managed to get a bit closer and enjoyed some good looks before the cat hunkered down in the vegetation and disappeared out of sight. Excellent! A highveld gerbil followed soon after, and we were also treated to a quick view of a Cape porcupine before it disappeared. The small hyena-like aardwolf was next up, and we truly had incredible close-up views of one – certainly the best views I've had of one ever before. We were able to fully appreciate this magnificent creature with its bold stripes and shaggy fur. Aardvark was the only outstanding target, and we spent the next hour or so searching without seeing much more. We eventually managed to get onto a bat-eared fox, and while we were enjoying it picked up on a 'large' beast scampering away – aardvark. We had to backtrack a bit and drive a small loop to intercept the animal. We picked it up shortly after and watched as it came toward us. Although it never got really close, we had good views of it and even watched as it began digging, sending masses of dirt into the night air. This secretive, nocturnal mammal is also a highly-prized species, and a sighting is never guaranteed. With all our targets having been seen well we called it an evening after an excellent night drive – we certainly couldn't have asked for a better one!
Day 13, August 27. Departure
With Pat and Ginger having a mid-morning departure from Kimberley Airport, we had only a brief period this morning available for birding before having to head to the airport. After breakfast we set out on a walk to see what we could track down. Despite the wind we had a good morning with sightings of Swallow-tailed Bee-eater, Ashy Tit, Cardinal Woodpecker, Pririt Batis, Brown-crowned Tchagra, Crimson-breasted Shrike, Black-faced Waxbill, and African Hoopoe. Numbers of Swifts were moving overhead, and we enjoyed looks at Bradfield's, Little, and White-rumped. Before long we were on our way to the airport, and when dropping Pat and Ginger off, I said goodbye to them.
I would just like to thank Pat and Ginger for the good times shared, the good fun had, and the brilliant birding we enjoyed! The vast array of areas, habitats, and regions covered resulted in an impressive list of species seen, including some of the region's most prized species. Our incredible night drive on the last night must surely rank as one of the top highlights, along with our spectacular cheetah sightings, but on a tour filled with so many great areas and wonderful birds and mammals there were many highlights.
Please see the downloadable PDF above with the full species lists included. This is a sample trip report. Please email us ([email protected]) for more trip reports from this destination.
'Birding Ecotours company and SA office staff
I can highly recommend booking a trip through Birding Ecotours South Africa. The Birding Ecotours staff is professional, the e-mail responses fast and all questions receive detail replies. Chris Lotz of Birding Ecotours forwarded excellent advice to me on how to start world birding, which countries to visit in order to find a high number of birds over a short period and which bird book(s) to use for a country. Birding Ecotours' newsletters provide further information on upcoming trips, details on areas (e.g. East African birding), on target birds per trip, as well as regarding birding books available for countries or areas. Trip reports (forwarded upon request) allow one to mentally prepare regarding number of possible birds, endemics per country and difficulty or travel time of a trip. The Birding Ecotours' Facebook postings include snippets from current trips with photos as well as spaces available on future trips. The single supplement for Birding Ecotours' trips is in most cases lower than other tour companies, which makes for safe as well as affordable travelling.'
Lisl