By Wian van Zyl
Cape Town is without doubt one of the top tourist attractions in the whole of South Africa, and no visit to South Africa is fully complete without visiting the "Mother City".
Despite many tourists enjoying Cape Town and its attractions, there is no shortage in key birding sites, and on a good day with great weather you can quite easily rack up over 80 species of birds. The key, as with any kind of birding, is habitat. Find the various habitats hosted in and around Cape Town, and you can get a decent list out of a full day's birding.
You'll find that the information below gives you some tips and insights on what to expect at some of the best birding spots in and around Cape Town. All these spots can't necessarily be covered in one day, so take traffic, travel time and weather into account when planning your day out birding.
Kirstenbosch National Botanical Garden is well known for its astonishing flora and adored by birders for its impressive avifauna. To get the best out of the garden you might plan to bird here first thing in the morning. Upon entering the garden keep an eye out on the vast, green, and lush lawns for the likes of Swee Waxbill, Cape Spurfowl, Helmeted Guineafowl, and Black Saw-wing flying overhead (summer). The first few flowerbeds and shrubby gardens regularly yield Cape Robin-Chat, Karoo Prinia, Southern Double-collared Sunbird, Cape Canary, and Common Waxbill.
From the lower reaches of the garden head up into Kirstenbosch's Tree Canopy Walkway, a.k.a. the "Boomslang". From here one has a spectacular vantage point overlooking the entire garden and could find Cape Batis, African Olive Pigeon, Sombre Greenbul, African Goshawk, Olive Woodpecker, Olive Thrush, Forest Canary, and African Dusky Flycatcher. At the walkway's southern entrance sit on one of the logs and wait patiently for Lemon Dove to show its face.
After enjoying some time in the forest canopy make your way up to the higher reaches of the garden, where you'll most likely encounter Cape Sugarbird, Orange-breasted Sunbird, Southern Boubou, Southern Fiscal, Speckled Mousebird, and, if you're lucky, a fly-by African Harrier-Hawk.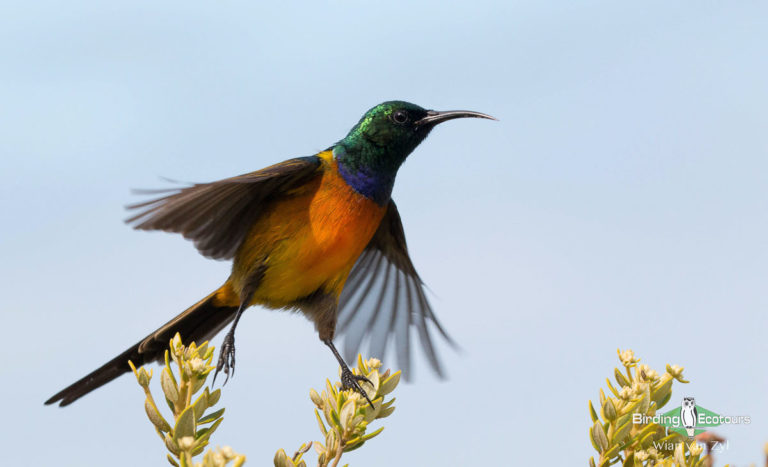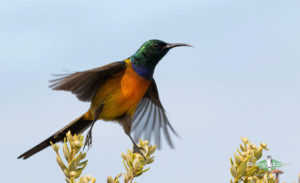 Orange-breasted Sunbird
A breeding pair of Spotted Eagle-Owl either roosts along the forest canopy walkway or at the main entrance (where the conservatory is located), where they nest in suspended plant baskets.
Top Spot 2: Strandfontein Sewage Works
Hands down one of the most popular birding spots in all of South Africa, Strandfontein Sewage Works attracts many a birder and is well known for frequent reports of South African rarities observed there. Being a wetland birding site, one can bird here a little later in the day and still manage to connect with everything that this location has to offer.
Upon entering the fenced-off reserve you'll follow the road through an open field, where you can connect with Zitting Cisticola, Black-headed Heron, Brown-throated Martin, White-throated Swallow (summer), and Spotted Thick-knee (around the Visitors' Centre).
The first two bodies of water often yield Red-knobbed Coot, Yellow-billed Duck, Cape Shoveler, Black-necked and Little Grebes, Maccoa Duck, Southern Pochard, Red-billed and Cape Teals, and Greater Flamingo. As you navigate the ponds be sure to keep a lookout (more like an ear out) for Little Rush and Lesser Swamp Warblers, Cape Weaver, and Levaillant's Cisticola.
Just before the main entrance to the sewage works (here you'll turn right and away from the sewage plant) you'll come across a platform to the west. Scan here for White-breasted Cormorants, Pied Avocet, Black-winged Stilt, Glossy Ibis, and Water Thick-knee (at the edge of the road).
Continue navigating the ponds and look out for Purple Heron, African Swamphen, Common Moorhen, African Marsh Harrier, and African Sacred Ibis. The main west end pond is well known for its flocks of Greater and sometimes Lesser Flamingos, Great White Pelican, Spur-winged Goose, and various terns, such as Caspian, Swift and Sandwich Terns (summer).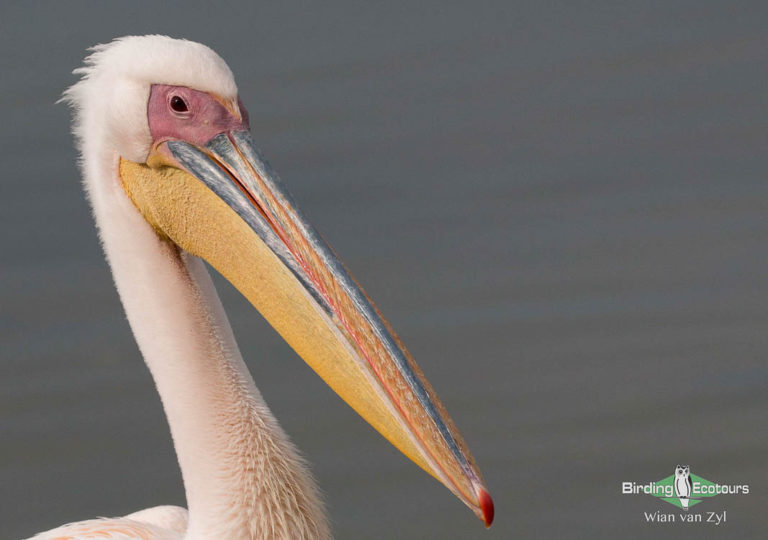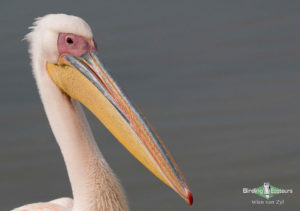 Great White Pelican
Other birds to look out for include African Pipit, Cape Longclaw, Common Waxbill, Black-winged Kite, Jackal Buzzard, White-necked Raven, African Oystercatcher, and summer-visiting shorebirds, such as Little Stint, Ruff, Common Greenshank, and more.
Top Spot 3: Rooiels (Cape Rockjumper sight)
Rooiels, a town named after the Red Alder plant found around these parts, ranks high on most local and international birders' lists, as this is one of the most accessible spots to find a member of only two endemic families in South Africa. If you guessed Cape Rockjumper, you guessed right. Birding here is very straightforward and on a good day can be very rewarding.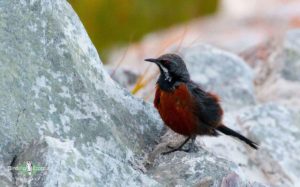 Cape Rockjumper
As soon as you leave the main road passing through the village, and head south along the dirt track, keep your eyes open for Cape Robin-Chat, Cape Sugarbird, Red-winged Starling, Fiscal Flycatcher, and Cape Rock Thrush perched on the roofs of the surrounding houses.
Park your car at the designated spot and follow the track along the edge of the mountain slope (be sure to stick to the track and don't go off into the surrounding habitat). Around the entrance scan for previously mentioned species as well as Orange-breasted Sunbird, Cape Siskin, Neddicky, Karoo Prinia, and Cape Bunting, as well as Verreaux's's Eagle and Rock Kestrel soaring overhead.
As soon as you reach the first larger-sized boulders, start scanning the rocky mountainside (from the road to the base of the cliffs) for Cape Rockjumper, looking for their typical rock-jumping and ground-foraging behavior. Other species to look out for along the track, while scanning for the rockjumper, include Yellow Bishop, Ground Woodpecker, Rock Martin, Grey-backed Cisticola, Familiar Chat, and, if you're really lucky, maybe even Sentinel Rock Thrush.
Top Spot 4: Stony Point Penguin Colony
Stony Point Penguin Colony is probably the better option to view African Penguin in the Cape Town area, Boulders Beach being the alternative. Being less crowded and with the entry price a third of that of Boulders Beach, Stony Point offers some of the best penguin viewing in the False Bay region. Enter the parking area slowly, as quite often you encounter your first penguins right in the parking lot. As you walk to the entry point for the boardwalk keep an eye out on the rocks for African Oystercatcher, Little Egret, Kelp and Hartlaub's Gulls, Cape Wagtail, and White-necked Raven, and sometimes on the radio tower one can see a perched Peregrine Falcon.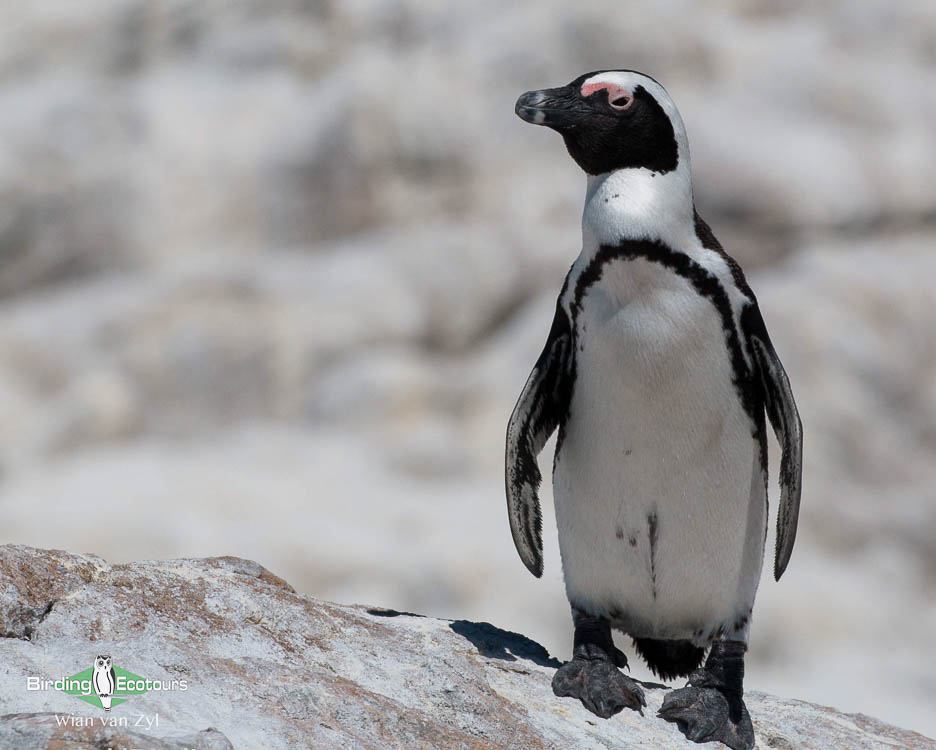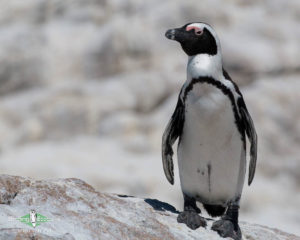 African Penguin
The boardwalk itself winds through the nesting holes and penguin trails, giving you great views of their daily habits. At the second main viewing deck you'll see a huge cormorant rookery. Scan through the cormorants to pick out White-breasted, Cape, Bank, and Crowned Cormorants. If you have a scope, make your way to the viewing deck at the far end and scan for pelagic species from here. On a windy day one can often get views of Cape Gannet, Shy Albatross, White-chinned Petrel, and Sooty Shearwater. Although it may be distant, one can often make out key ID features with a good scope.
Top Spot 5: Cape of Good Hope Nature Reserve (Cape Point)
This part of the Table Mountain National Park is a great spot for the slightly more relaxed birder who wants to enjoy good birds, interesting wildlife, and beautiful scenery.
Upon entering the reserve one can already scan the protea-strewn hillsides for Cape Sugarbird, Orange-breasted and Malachite Sunbirds, Bokmakierie, and Rock Kestrel going about their business. Drive down the Platboom Beach road to the end. En route you could encounter Cape Grassbird, Grey-backed Cisticola, Common Ostrich, and Cape Longclaw. Once you arrive at Platboom Beach look around the parking lot for Bokmakierie, Yellow Bishop, Cape Robin-Chat, and Karoo Prinia. The view over the beach often yields White-fronted Plover, African Oystercatcher, Swift Tern, and during the summer months Sandwich and Common Terns.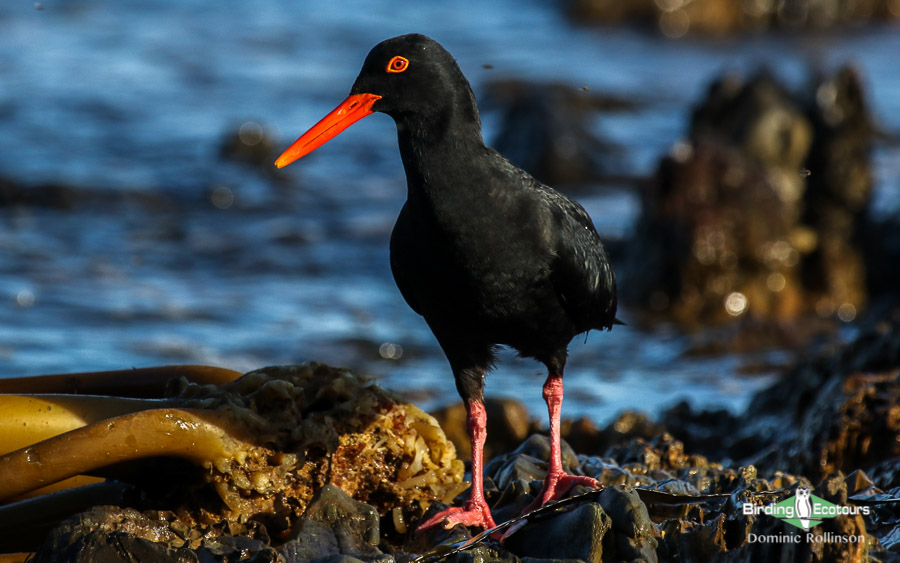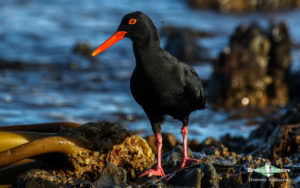 African Oystercatcher
Cape Point itself offers fantastic views of the dramatic coastline as well as some great birds too. Cape Siskin, Cape Bunting, Red-winged Starling, Karoo Prinia, White-necked Raven, Rock Kestrel, Cape Cormorants, and Peregrine Falcon can all be seen here. On a windy day pelagic species such as Cape Gannet, White-chinned Petrel, Shy Albatross, and more (a good scope is recommended!) may be seen during a seawatch.
If you find this information helpful but would still like to have a professional guide take you around and help you find the Cape's key species, have a look at the day tours we offer in the Cape Town area and get in touch with us; we'd be more than happy to take you around.
South Africa Day Tours: https://www.birdingecotours.com/tours/birding-tours-day-tours/birding-tours-day-tours-south-africa/