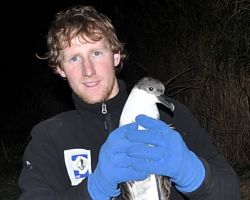 Dominic Rollinson
Senior Birding Guide and Website Manager
Dom grew up in Zululand in northeastern South Africa, where his passion for birding began at a young age. Soon birding the savannas and forests of Zululand was not enough, and family trips were organized to obscure birding destinations throughout the southern African subregion, from the Cape to Malawi.
In 2012 Dom moved down to Cape Town, where he undertook a PhD under Peter Ryan and Ross Wanless, investigating seabird mortality from tuna longline fisheries off South Africa. He took the scenic route to obtain his PhD, which involved spending many months onboard longline fishing vessels while conducting research as well as scientific excursions to many subantarctic islands and Antarctica itself. The results of his PhD dissertation have shed more light on the foraging ecology of seabird species susceptible to longline bycatch and, most importantly, what precautionary measures can be taken by fisheries to reduce seabird bycatch. His time at sea allowed him to tick many of the subregion's and Southern Ocean's spectacular seabird species.
Dom recently co-authored the 5th edition of the best-selling Sasol Birds of Southern Africa field guide which is one of the subregion's most comprehensive and detailed bird field guides. He is currently serving on the South African National Rarities Committee, along with his Birding Ecotours colleague Dylan Vasapolli.
Dom really enjoys the competitive side of birding and is a self-confessed lister. Big Birding Days up in Zululand are always the most anticipated days of the year for him, while driving hundreds of kilometers to see a rare bird does not seem at all crazy.
The last few years of guiding for Birding Ecotours have opened up many new exhilarating birding destinations (particularly African destinations) for Dom and he is looking forward to the many more exciting opportunities and adventures with Birding Ecotours.

Join Dominic Rollinson on the following upcoming tours:
Read Dominic Rollinson's feedback from clients:
Our guide, Dominic Rollinson, was exceptional in every way. Of course, he had an unbelievable knowledge of where and how to find the birds. Additionally, he was a real pleasure to be with. He was happy to answer any question and his knowledge of South Africa really enhanced our experience. The itinerary was thoughtfully planned and we were able to see a huge variety of birds. The accommodations he choose were comfortable and interesting and the food was consistently delicious. We can't say enough good things about Dom and the trip!
Wendy and Karen
Dom was endlessly willing to entertain our (considerable) curiosity despite initially struggling with a post-Covid dry cough. He also worked very hard to find species despite the challenge of having to drive considerable distances. His ability to notice and identify slight sounds was truly impressive and his knowledge of the avifauna was immense. He was an excellent travelling companion, able to inform us about a wide range of topics including his fascinating research. We have no hesitation in recommending him to others.
He ranks among the very best guides we have ever had.
Peter
My sister and I used one of our 2 and a half days in Cape Town to do a birding tour of the Peninsula including the Cape of Good Hope. I had great communication with our guide, Dom, before the tour and he picked us up right on time at our hotel. It was an excellent day. Dom is very knowledgeable and good company. It turned out he was at Magee Marsh in Ohio the same time I was this year! The weather was glorious and we got to see lots of SA endemics plus a Humpback Whale and a lifer sewage pond! I would recommend Birding Ecotours and Dom Rollinson to anyone birding in South Africa.
Jean - On Dom and South Africa
Our birding trip to Ethiopia was fantastic. The country is so rich in history and interesting people and customs. The birding was great! Needless to say Dominic is an expert birder. He is a warm and gracious person and we all really enjoyed his company. Our Ethiopian driver and guide, Tesfaw, was also very good. He was an experienced guide and driver. His contacts were good as were his day to day decisions. He kept our group on time and on schedule but was also flexible to our requests and needs. We rate our trip excellent (A,10/10). Thank you for all your work in arranging the trip. We appreciate all your prompt correspondences. We certainly will be using Birding Ecotours in the future. We hope to meet you in person some day.
Laurie and Steve - On Dominic and Ethiopia
I am writing to you to send a formal review of our birding day tour with Dominic Rollinson on May 18,2021. Dominic Rollinson, our truly knowledgeable and awesome birding guide provided Matt and I with a truly unique and genuinely wonderful birding experience! Dominic Rollinson provided us with in-depth knowledge and a greater understanding of the various birds, wildlife and ecosystems that make up the areas in/around Cape Town and South Africa! Our expectations for the day were not only met but greatly exceeded with Dominic guiding us along the way! Matt and I truly had a blast and would highly recommend Dominic Rollinson as a birding guide!
Matt and Chris - On Dom and South Africa
We chose the 2-day Tankwa Karoo birding trip and had an incredible time. I think we saw just short of 90 different species over the 2 days, including many new species for our bird book, which would have taken us years to find without Dom. It was an incredible experience and Dom's ability to find birds just by their call is something to marvel at.
Ashleigh - On Dom and Tankwa Karoo
When we were out away from the day to day living, this expedition brought the peace and quiet that was much appreciated. I enjoyed this being an informational expedition on a small ship and not a cruise of 1000's of cruisers. The knowledgeable and friendly staff shared unknown information to me about the environment and the mammals and birds.
Janis
I would definitely recommend Birding Ecotours! Before the trip, we had prompt responses to our enquiries and we were fast assigned to a guide, Dominic Rollinson. We had such a great time with Dom on our day out in the Cape Peninsula. He was flexible with the schedule, itinerary, and with our photographic demands. He adjusted the trip so that we did everything at a slower pace, to be able to take pictures of literally every bird we saw. He knew how to position the car to get a better light on the subject, when that was the case. He's very patient and pleasant to be with, and he shared with us some tips on where to go during the next days.
Olivia - On Dom and Cape Day Tours
Dom is a fabulous guide! He is patient, attentive to details, & always wiling to answer questions. He's extremely knowledgeable about birds, their songs, the differences between different species, and if he doesn't know the bird as well as he would like, he asked directed questions to Harriet. Harriet and Dom worked very well together. He was a delight to bird with, and I will gladly go on another trip with him.
The local guides that we used in a variety of places were most excellent as well. They knew the birds & bird songs in their area; also they were very attentive when we struggled to make it up or down a hill by lending a hand. I find over all the Ugandan people that we ran into friendly helpful and eager to have us come back to their country.
Frances - On Dom and Uganda
Dom and Harriet definitely know their African birds, along with their status and distribution. Their familiarity with
vocalizations helped a great deal as well.
Dom is quite affable and displayed a calm demeanor and even temper throughout, treating everyone (not just clients)
with equal courtesy and respect. I appreciate that he went over Birding Ecotours group rules/expectations at the
beginning (e.g., rotating locations on the bus and trails).
Jim - On Dom
Dom was fantastic. He is such a nice person and though this was only his second trip to Uganda, his enthusiasm
made up for his less refined experience with all the vocalizations. He has a nice pace, in general does a very good
job keeping an eye out for any problems his clients are having, and does a great job of getting everyone on the birds.
Derek - On Dom
Dom was a delight to be with for 3 weeks. He was unfailingly polite and attentive to all of the group and always made sure everyone got to see the target birds. His breadth of knowledge always made the evening check list review productive and informative. He clearly laid out the plans for the following day and the target birds for that day.
Ron - On Dom
With 153 species, 113 of them new species for me, this trip met and exceeded expectations. The effort put in by our
guides to find our target species was monumental. All our guides were knowledgeable and personable and persistent,
ensuring good views of many of the hard-to-see skulkers.
Between Dom and Fan, all the details were handled seamlessly, the two of them worked well as a team with the many
local guides that were engaged. I was not really up to the rigorous level of this trip but Fan and Dom made sure one of
the local guides were keeping an eye on me or one of them lent a hand over particularly rough terrain, for which I am
exceedingly grateful.
Mitch - On Dom and Madagascar
335 species of birds is a good start for highlights. Loved traveling across the county of Namibia to Botswana, birding tours are a great way to experience the many types of environments of the country.
Birding Ecotours provided an outstanding experience, from pre-trip communications, recommended air travel assistance, accommodations and most of all finding the birds.
Dominic Rollinson's first priority was to get everyone on the bird; only after everyone had gotten on the bird did he help folks who wanted a photo. His extensive knowledge as to where to find species and his tenacity in finding target species made this a very successful trip. Dom managed the trip seamlessly allowing participants to focus on enjoying the trip. I particularly appreciated his willingness to call out species we've seen throughout the trip as it's easy to be overwhelmed by the sheer number of birds being seen.
Mitch - On Dom and Namibia
Dom was an amazing guide! He was friendly, kind, and funny while also being incredibly knowledgeable, working nonstop to both guide and keep accurate bird lists, and tolerated an endless stream of questions and misidentifications with the patience of a saint.
Jackson - On Dom
Dominic's guiding ability was exceptional. There appears to be a collaborative spirit amongst birders in South Africa which has not been apparent in other countries. This together with his enormous personal experience enabled Dom to get us an amazing number of birds.
Steve and Anne - On Dom and South Africa
Dom was AMAZING! He went above and beyond the call of duty. Even after the tour had finished. We would like to thank Dom SO MUCH. Professional, friendly, kind, highly skilled, organised, patient, generous, enthusiastic, humble, gracious, knowledgeable, wonderful with people, high in ethic, positive, I could go on and on. We were very fortunate indeed to have him guide us and we would go birding with Dom again in a heartbeat. Please pass on our sincere and abundant THANKS!
Daniel - On Dom
Dom was an excellent guide for the day and was very knowledgeable about the Cape's fauna. He was excellent company for the day, and I really enjoyed talking to him about wildlife and conservation, as we scanned through various habitat types searching for birds and mammals.
Daniel - on Dom and Cape mammal tours
I don't think we could have had a better time or been more pleased with Dominic Rollinson on our Oceanwide Arctic Cruise this past June. We had a wonderful time touring in South Africa with Dom last year and were eagerly anticipating this trip and Dom did not disappoint!
Dom is the consummate birding guide. He has an absolute command of where the birds are, how they behave, actually finding them, and getting us great looks of them! Dom is very organized and timely with his pre and post trip communications, which was very helpful. Dom shared the trip eBird lists, the well-written and illustrated trip report, and beautiful pictures in a timely fashion. And Dom is just a true gentleman and an absolute pleasure to be with. He is kind, considerate, easygoing, thoughtful, and has a great sense of humor.
Dom was very proactive in coming up with ways to make our arctic experience great! He suggested that we rent a vehicle for our pre-cruise time in Longyearbyen, which was a fantastic idea. And Dom maximized the vehicle rental by taking us out both the evening and morning before we boarded our cruise and we got fantastic close views of all our targets – in particular, absolutely gorgeous views of the Red Phalarope and the Arctic Fox! It was also a very relaxed way to see some local sights including the Global Seed Vault and the northernmost church in the world. Dom also spent the morning after disembarkation with us birding around Longyearbyen on foot, which was such a treat. He was very generous with his time.
We have so many great memories of Dom on the cruise ship! We felt very privileged to have Dom's expertise available to us and we also appreciated that he graciously shared that expertise with other passengers. Dom was always cheerful and helpful whether we were on excursions, on deck looking for whatever wildlife presented itself, or whatever else we might have gotten ourselves into. I know that the ship's guides also really appreciated Dom. I heard one of them tell another that they should always listen when Dom was talking because "You can learn so much from Dom!" We all are grateful for the huge amount of time Dom spent on deck scanning for polar bears and other wildlife, no matter what the temperature or wind conditions!
We highly recommend Dom. If you are considering a trip that Dom is leading, I would encourage you to sign up immediately – you won't find a better guide!
Karen and Wendy - On Dom and Svalbard