How about seeing King Penguin, Macaroni Penguin, Southern Rockhopper Penguin, and Gentoo Penguin? How about Crozet Shag, Kerguelen Tern, and Lesser Sheathbill? And how about the chance to include all these species on your South African bird list? These are all possible if you join BirdLife South Africa's "Flock to Marion", which gives you a rare chance to visit Marion, the larger of the two Prince Edward Islands, South African territory in the vast southern oceans. Hardly any birders have the opportunity of sampling these remote islands, in contrast to some of the New Zealand islands and the Falklands, which are on the main tourist routes to Antarctica.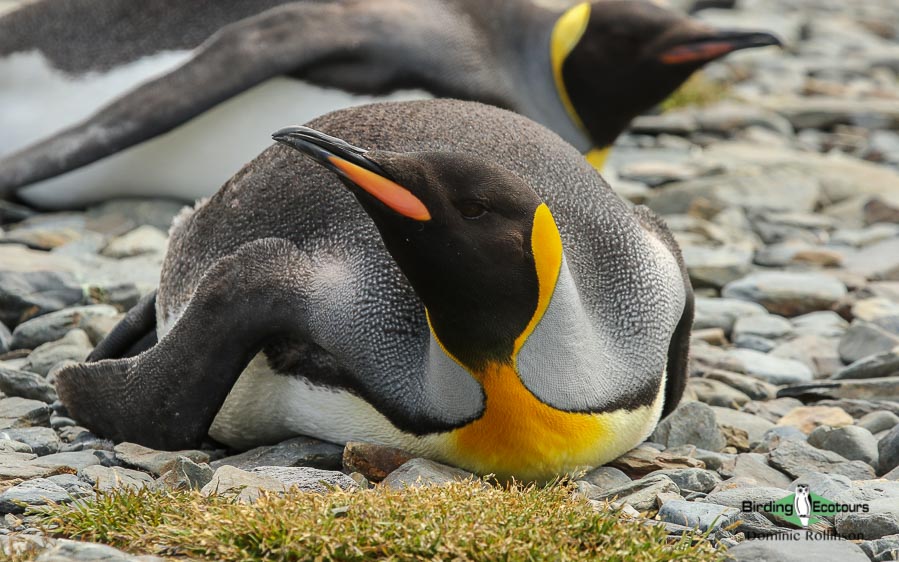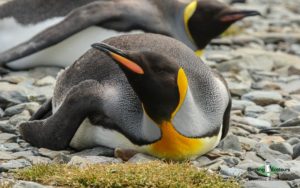 Large numbers of King Penguins breed on the Prince Edward Islands.
The Prince Edward Islands consist of Prince Edward Island "itself" and the larger Marion Island. South Africa has declared these two islands a "special nature reserve", surrounded by a marine protected area, meaning that only researchers and conservationists are usually able to visit these islands. BirdLife South Africa has planned a birding cruise from 24-31 January 2022 to get near Marion Island (landing won't happen, though, partly in order not to disturb the wildlife), providing a once-in-a-lifetime opportunity for birders to observe species that are otherwise inaccessible in South African territory.
Peter Ryan, one of the few people who has visited Marion Island (as he is in the privileged position of doing avian research there), is the top South African lister, with 796 species (he needs four more vagrants to be the first person to crack the magical 800 species for the country!). The rest of us are now able to narrow the gap a bit and perhaps see ten or more new South African birds on Flock to Marion. If you haven't yet, I highly recommend you get yourself onto the South Africa's lister's club and then start dreaming about how much higher your list will be after Flock to Marion.
Flock to Marion is a "conservation cruise", aimed at raising money for bird conservation. Please book the cruise directly through BirdLife South Africa. You can find all the details you need here. A great many of the cabins have already been booked, so there are limited spaces left.
Birding Ecotours is offering a brilliant variety of exciting pre- and post-flock terrestrial tours out of Durban (where the cruise starts) and Cape Town (where the cruise ends).  Since Flock to Marion will have a disproportionate number of South African birders on board, we've designed the pre- and post-tours to target difficult birds and endemics that a lot of South African birders will still "need". These include Hottentot Buttonquail (the most enigmatic of the fynbos endemics), Cinnamon-breasted Warbler, Knysna Warbler, Spotted Ground Thrush, Mountain Pipit, Lemon-breasted Canary, Swamp Nightjar, and so many others. If you join all the pre- and post-tours you should then have cleaned up the bulk of the Cape, Drakensberg, and Zululand endemics and specials. We also spend a lot of effort looking for vagrants/rarities such as Eurasian Oystercatcher, Sooty Tern, Red-necked and/or Wilson's Phalaropes, Common Redshank, and whatever else may be around. Flock to Marion is remarkably inexpensive, and we have tried to keep our pre- and post-tours very reasonably priced as well to suit birders on a budget. Please find details of the pre- and post-tours on our website.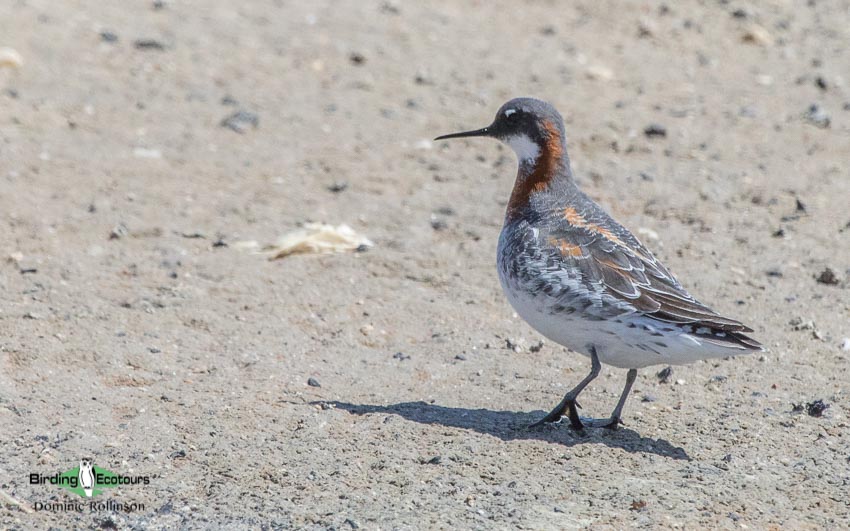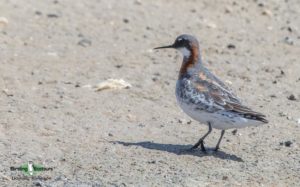 Red-necked Phalarope are regular at Velddrif along the South African west coast.
Like the cruise itself we've made these pre-and post-tours conservation trips, donating a percentage of what you pay to BirdLife South Africa. As a company we donate to Mouse-free Marion, one of the most important conservation initiatives on the island.
Well, back to Flock to Marion itself. We've already mentioned some of the subantarctic species at the start of this blog. But we must not forget the pelagic seabirds. This could be your first opportunity to get acquainted with the unusual, dainty Diving Petrels (both Common and South Georgian). Several albatross species also breed on Marion Island, and we will be looking for Wandering Albatross, Sooty Albatross, Light-mantled Albatross, and Grey-headed Albatross, as well as the more common species many of you will be familiar with from 1-day Cape pelagic trips. We also, of course, expect to see a lot of other seabirds like shearwaters, petrels, storm petrels (Grey-backed Storm Petrel if we're lucky!) and prions.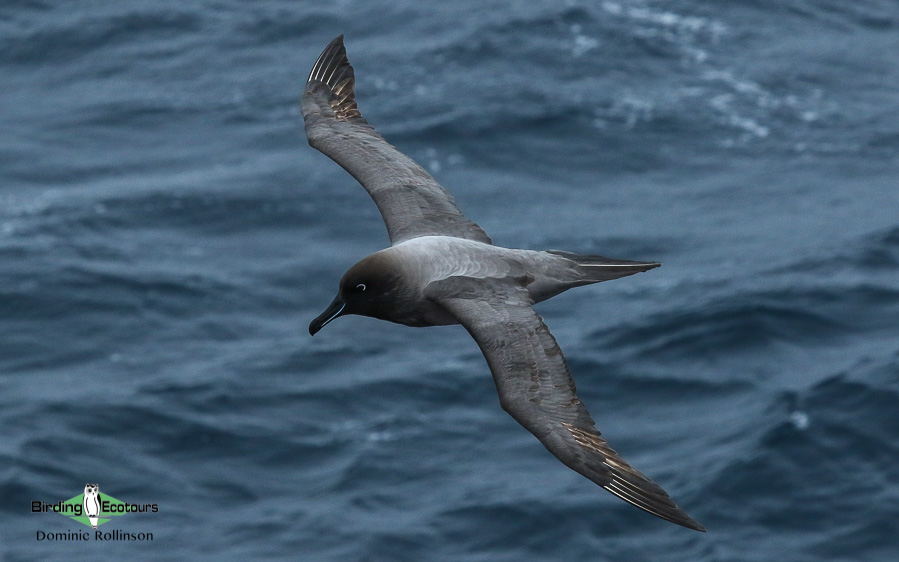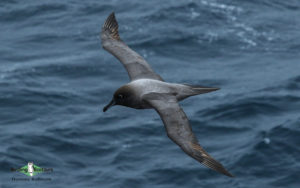 Light-mantled Albatross, one of the many albatross species which breed on the Price Edward Islands.
In Terms of mammals the opportunities are equally exciting. We expect to see Southern Elephant Seal, Subantarctic and Antarctic Fur Seals, and various cetaceans. With lots of luck we might even see the aggressive, inquisitive, prehistoric-looking Leopard Seal.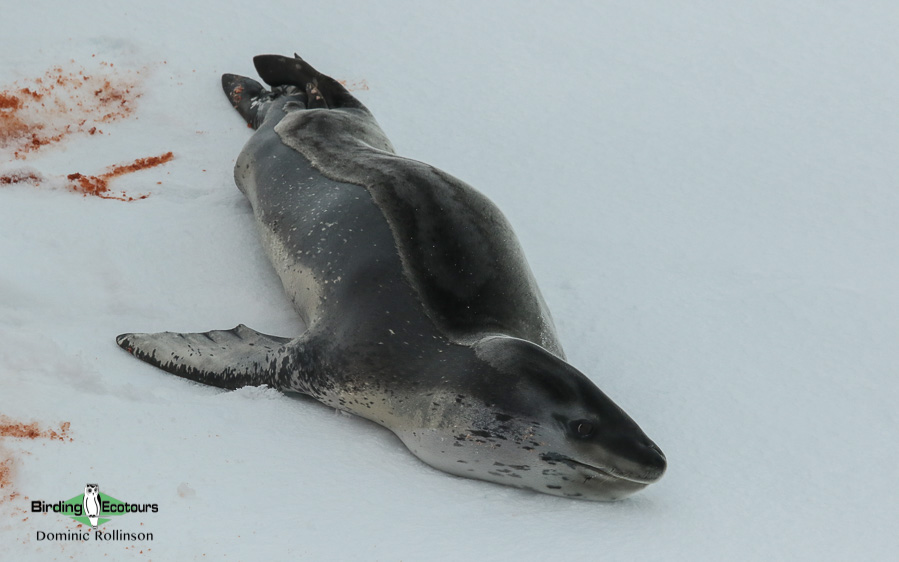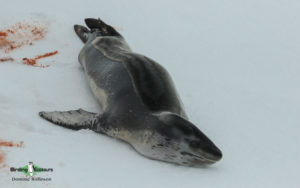 The huge and prehistoric-looking Leopard Seal may be seen around the Prince Edward Islands.
Birding Ecotours is also offering a series of Flock to Marion – KwaZulu-Natal pre-tours, and a series of Flock to Marion – Western Cape Post-tours.