We run our set departure, small group birding tours to Costa Rica between January and April each year. Some of the reasons for this are as follows:
This is the main dry season in Costa Rica.
It allows birders from the northern hemisphere to escape winter and spend some time having a bird watching holiday in a warm climate – a break from the snow during which you can see brightly-colored tropical birds such as Resplendent Quetzal, one of the world's most dazzling species (an honorary Bird-of-paradise)! We even call one of our trips a "

Costa Rica Escape

" to get away from the winter.
The North American migrants are present, as they too want to escape the cold winter of the USA and Canada. These include Chestnut-sided Warbler and Golden-winged Warbler among many other migrant birds. So it's possible to get an even higher bird list during the northern hemisphere winter when the migrants are in Costa Rica escaping the cold. For birders who aren't from the Americas (e.g. all the British birders who flock to Costa Rica) January to April is a good time to see both Central and North American birds on the same trip. North American birdwatchers might be less concerned about seeing "their" birds in Costa Rica and may be more focused on resident birds of this little Central American country.
However, it's not nearly that simple, and other months besides January to April are also truly excellent for birding vacations to Costa Rica. Costa Rica is only the size of Belgium or West Virginia, yet it boasts almost as many bird species as the whole of the United States! Avibase shows Costa Rica's IOC World Bird Names bird species count as 936 species! For sure, you're going to see a great many birds, including many hummingbirds, macaws such as Scarlet Macaw and Great Green Macaw, toucans, gaudy tanagers, etc., etc., etc., year-round. So if it's tropical birds that you're happy to focus on, then any time of the year is good.
In a recent Zoom session hosted by the Tucson Audubon Society  our guide Andy Walker  made some very interesting and informative statements about timing of your wildlife tour to Costa Rica, some of which questioned the usual dogma about when to go. Andy noted that Chestnut-sided Warbler and other North American migrant species in Costa Rica in the January to April dry season are in non-breeding plumage and not in the bright, fresh plumage they're in when migrating through the United States/Canada in May (when they can be seen at famed birding sites such as Magee Marsh and Point Pelee). And in many ways seeing these winter-plumaged warblers only distracts bird enthusiasts from the real Costa Rican target birds ("there's yet another dingy-looking, non-breeding-plumage Chestnut-sided Warbler" says your birding guide). This is of course a good point, but it probably depends on your particular aims. Andy rightly points out that a trip during the rainy or transitional season in Costa Rica can actually be very good, as he also noted during this Zoom session that the rain doesn't usually pose a significant problem, e.g. it may rain just for a couple of hours a day. So even in the rainy season there's usually still plenty of time for birding. Once the rain stops the birds are also often more active and vocal than ever, and the rain cools things down nicely (which for us humans is nice). Furthermore, Costa Rica is even greener during the rainy season than outside of it. Birds like the rain anyway, and in fact there is more food around during the "green season", as it's called in Costa Rica, so a lot of the birds choose this time to breed as it's easier for them to raise their young when food is more abundant. Please see our notes about the transitional months as a compromise between the rainiest and the driest seasons below.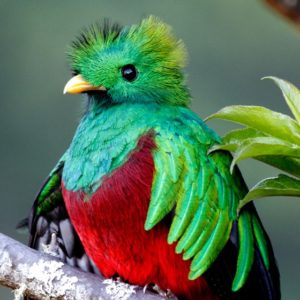 A non-breeding-plumage Chestnut-sided Warbler pales into insignificance compared to a Resplendent Quetzal (Kevin Easley)
So December to April, especially January to March, is the dry season in Costa Rica, if you do prefer to do your ecotour to this amazing little Central American jewel at the driest time of the year. July is also well known as the month of veranillo, the word Costa Ricans use for "the short summer". So July and to a lesser extent August are usually rather dry months too, and fewer tourists know this, so it's a good time to visit if you prefer to travel during a relatively quiet time (notwithstanding that July and August are holiday time for many Americans and Europeans). Many hotels and birding lodges used to give special rates outside of the January through March classic dry season, but since many visitors to Costa Rica have now caught on to the "short summer" of July and August, this is less often the case now. If you really want the least expensive bird watching trip to Costa Rica when many of the lodges still do offer amazing deals and low rates you should consider the rainy or the transitional season, which (as per Andy's comments mentioned above) is a very good time to go on a bird vacation to Ticoland.
Good news is that Costa Rica is (strangely) outside of the hurricane belt of the Caribbean and North America. We're certainly not saying that it's impossible for Costa Rica to experience a hurricane or tropical storm, as it's a tropical country with a long coastline, but the chances are small. A hurricane has never actually made landfall in Costa Rica. Even Hurricane Nate did not hit Costa Rica directly (but it did bring heavy rainfall and hurricane-force winds). But what we're saying is that many people are surprised to learn that hurricanes are not much of a risk in Costa Rica.
Hopefully we haven't confused you with so much information, some of it conflicting. So, to summarize and clarify, December to April (especially January to March) are usually the driest season in Costa Rica. We have to say "usually" as a caveat, as El Niño years can bring different conditions, and of course weather is never completely predictable. Not to mention that different parts of Costa Rica (e.g. the Caribbean lowlands compared to the Pacific slopes compared to the central highlands compared to the Costa Rican rainforests and cloud forests) have different climates. July and August come next in the continuum from driest to wettest and are also usually relatively dry. The rainiest months are in general October and November. The transitional months of May, June, and September might perhaps be the best compromise as they are "in the middle". These transitional months during the green season in Costa Rica have fewer tourists and can be significantly less pricey than the classic dry season.
If you want to get off the beaten track and away from other eco-tourists, you might also consider visiting some of the lesser-known national parks in Costa Rica. Carara National Park is one of the most-famous to birders, but there are currently 29 national parks in Costa Rica to choose from! And, you might also consider avoiding Monteverde, Arenal, and other famous birding hotspots, as literally there are hundreds of public and private protected areas in Costa Rica. So you're spoiled for choice.
Whatever you do, GO! Costa Rica is geared to avitourists (and ecotourists in general). You'll love the comfortable, often inexpensive accommodations, good infrastructure, tropical birding. And of course you also have a chance of seeing howler monkeys, sloths, volcanos, beautiful beaches, friendly, helpful people – and so much more, all in a compact little country; so driving distances aren't long between the diverse sites from the cool highlands to the steaming Caribbean lowlands.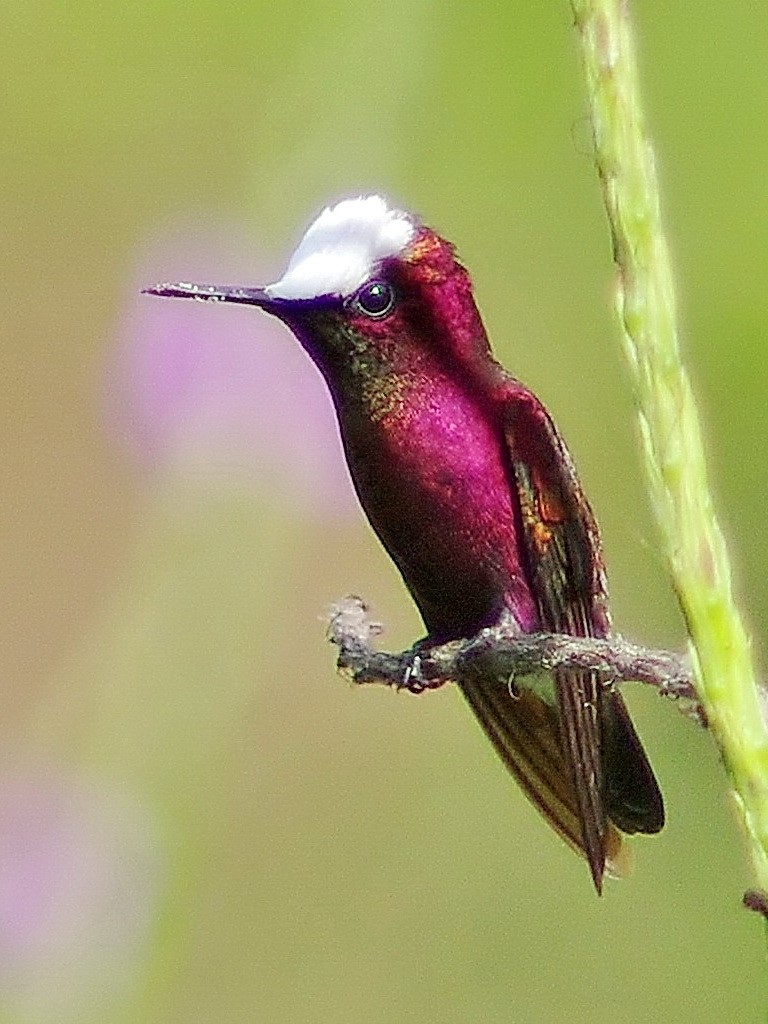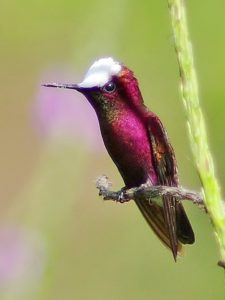 Snowcap is one of Costa Rica's most-wanted hummingbirds.