First posted on 24 March 2020, and updated on 10 August 2023.
The situation in March 2020 after three months of e-birding (please scroll down for the August 2023 update).
Nearly a quarter of the year is already over, and our team has logged almost a quarter of the world's bird species in that time during our tours! We started our team eBird account back in December and have been excited to see how many species we can record while on Birding Ecotours tours from 1 January through 31 December 2020 (and future years). On our tours we pride ourselves on achieving high species lists while also taking the time to really enjoy the birds we are seeing (we do not feel these are mutually exclusive endeavors; kindly see what sets us apart from other bird tour companies.
So far in 2020 we've completed very successful tours to eight different countries (India, Thailand, USA, Dominican Republic, Costa Rica, South Africa, Colombia, and Guyana) and have logged 2231 species of birds while on tour! Sadly our March Jamaica tour was cancelled due to the COVID-19 situation. We did get in some amazing back-to-back trips, though, for example Dylan guided three back-to-back India trips covering a large part of that country, and Andy did similar for Thailand.
We've also been quite busy since starting this account several months back with now 3141 lifer species. Below is a map to show all the countries we've visited since this fun tracking journey began.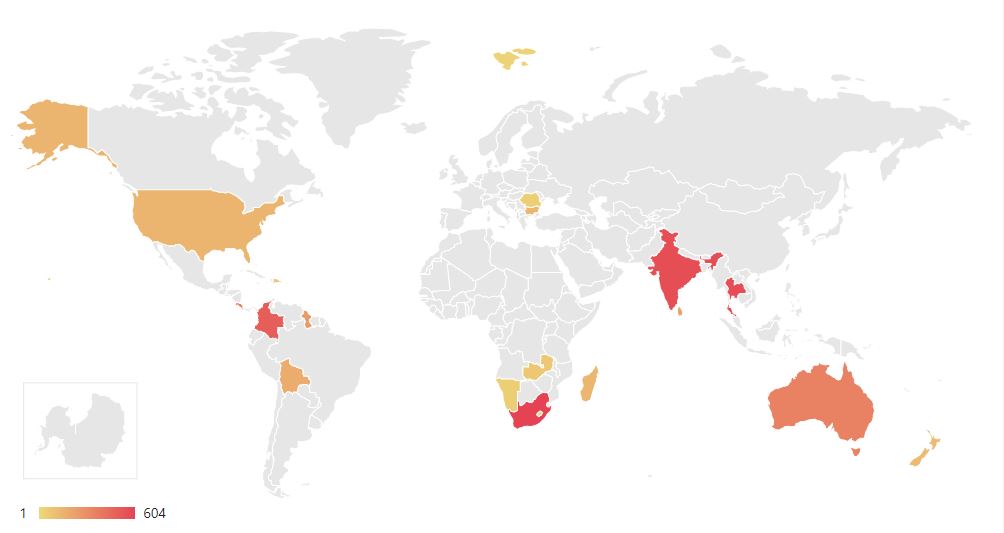 These numbers use Clements taxonomy; so they are arguably a bit more conservative than those who use IOC or other lists.
We are curious to know how many species you think our team will end up with for 2020? Plenty more traveling to be done and birds to be seen! We'd love it if you joined in on the fun of seeing some of these species and amazing countries. Also please reach out if you have questions regarding eBird. It is a great tool to help track your personal lists.
AUGUST 2023 UPDATE:
Since our company eBird journey began in 2019, our team has greatly enjoyed logging the birds on all our birding trips. We feel very strongly about doing so for many reasons including sharing lists with all our tour participants, contributing to citizen science, and keeping track of the Birding Ecotours life list. So far, we have managed to share 5,889 species with our valued participants and it has been an incredible honor doing so. We look forward to sharing many more lifers with you in the years to come!
2022 saw our first full calendar year of trips post pandemic and we managed to tally 4,215 species while visiting 28 different countries! What an incredible year it was. So far in 2023 we have recorded an impressive 3,297 species through the first seven months which is around 900 more than last year at this same time. We have toured in 18 countries in 2023 and look to add a few more before the year's end, with trips set for West Papua, Colombia, Argentina, South Africa, Zimbabwe, Mozambique, Namibia, Australia and more, we hope to break our 2022 record and maybe even surpass the 5,000 mark for our year list!
A few more interesting data points from our eBird adventures are the country lists. So far, Uganda leads the way for our life list at 710 species recorded with Indonesia (706) and Colombia (701) in hot pursuit with South Africa (681) and the United States (626) rounding out our top five most species rich countries. As for country leaders in 2023, it is no surprise that South Africa is in the lead with 543 species. Uganda is close behind at 529 with Ghana (425), USA (415), and Costa Rica (382) in the top five. It will be exciting to see how the last five months of 2023 will shake up these leaderboards and we suspect to see a move from Indonesia and Australia to crack into these top lists! 
Below is the updated map of all the countries we have visited since 2020.