As only India can!
Have you been to India? Have you traveled to the Himalayas? Have you been on a jeep safari in Jim Corbett National Park? Well, take a couple of minutes to whet your appetite with my own experience of this diverse country.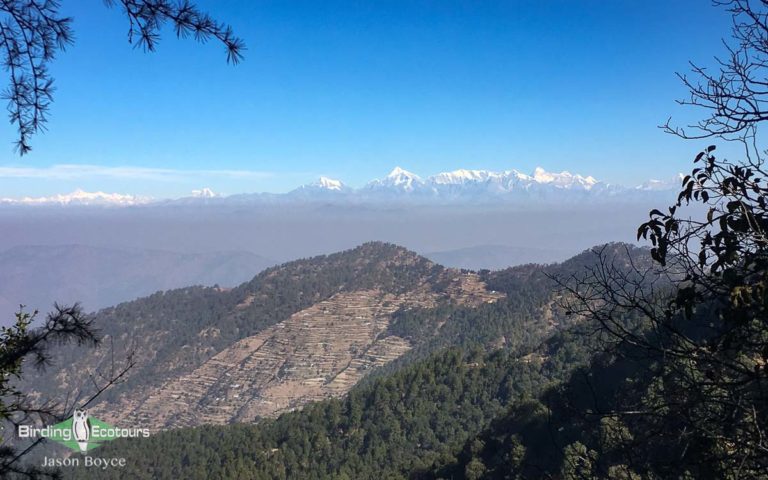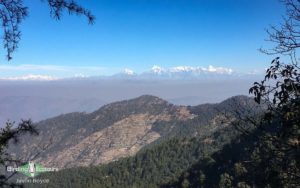 A mountain range that speaks for itself, the magnificent Himalayan range
The first thing that most naturalists think of when someone mentions India is surely the majestic Bengal Tiger. This giant of a feline is one of the most incredible mammals still to roam our planet and, every year, thousands of tourists flock to different parts of India in order to try and get a glimpse of one. However, India is a massive country, about one third the size of the United States, and of course has many different habitats and climatic regions. The tropical south of Kerala state and the Western Ghats (also known as Sahyadri, Benevolent Mountains) surely feels like a whole new world compared to the frigid northern state of Jammu and Kashmir in the western Himalayas. Let us not forget the 1208 odd islands, including birding hotspots like Nicobar and the Andamans. India boasts an incredible 1335 bird species with 83 of these being endemic (IOC World Bird List, June 2019). 423 species of mammals have been recorded (Zoological Survey of India, Bhawan et al, 2013), and other than the Bengal Tiger special species include the likes of Indian Rhinoceros, Fishing Cat, Sloth Bear, and the magical Snow Leopard, to name but a few. India can definitely produce the goods for the mammal enthusiasts out there.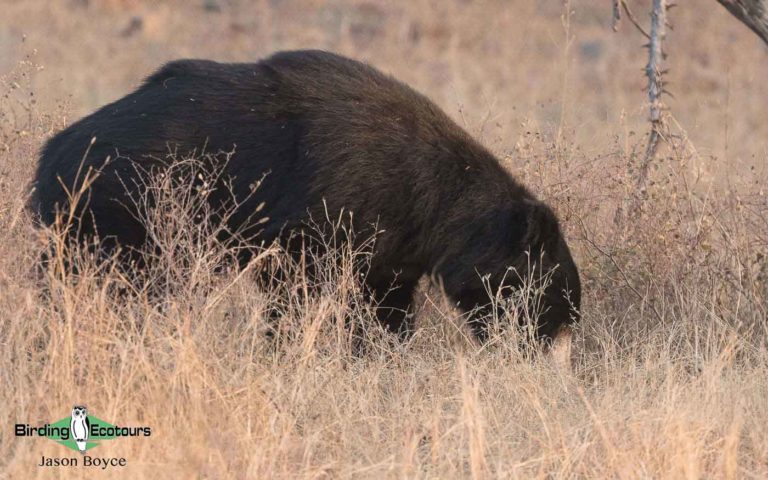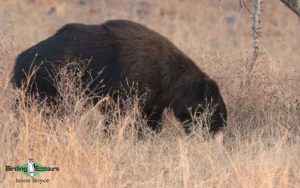 A rare sighting of a Sloth Bear
I have been fortunate enough to travel to various parts of India as well as Bhutan over the last few years, and I can certainly say that India is a place you just have to see! India has become a popular destination over the last 20 years for naturalists and is fairly accessible for world travelers. Birding Ecotours has run our Northern India tour: Tigers and Birds for many years now – with a really good hit rate on tiger and key bird species such as Ibisbill and the endemic Painted Spurfowl.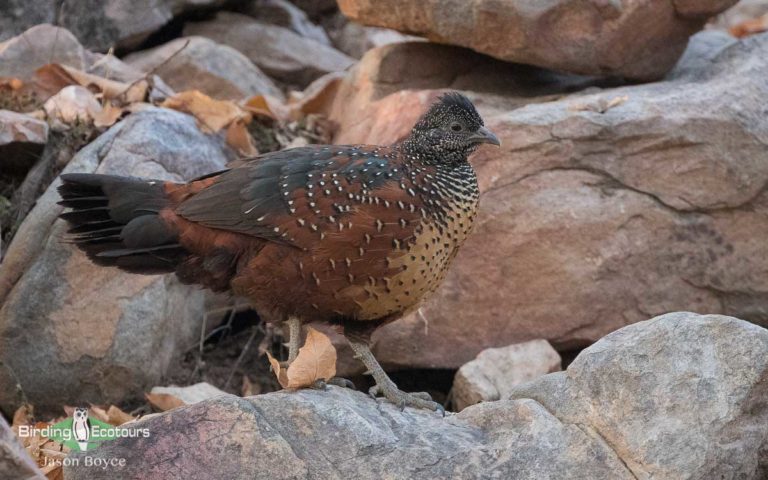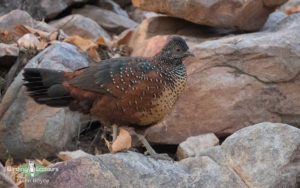 The endemic Painted Spurfowl
Ranthambhore National Park – this is the first stop on our northern tour and certainly one of the best places that I traveled in during my time in India. Not only is it a tiger safari hotspot in India but it also boasts a great assortment of general avian woodland species, some of these include: White-naped Woodpecker, Common Iora, Painted Sandgrouse, and Plum-headed Parakeet. One also cannot visit central northern India without heading through to Bharatpur and the UNESCO world heritage site of Keoladeo Ghana National Park. This former duck-hunting reserve is one of the major wintering areas for Palaearctic waterfowl and during the right time of the year produces a fascinating spectacle of thousands upon thousands of birds. January to March is certainly the best time to be at Keoladeo; keep a close look out for Black, Cinnamon, and Yellow Bittern in between all the herons, egrets, spoonbills, pelicans, ducks, geese, and the occasional flamingos that frequent the park. The beautiful resounding call of the Sarus Crane is also often heard throughout the park.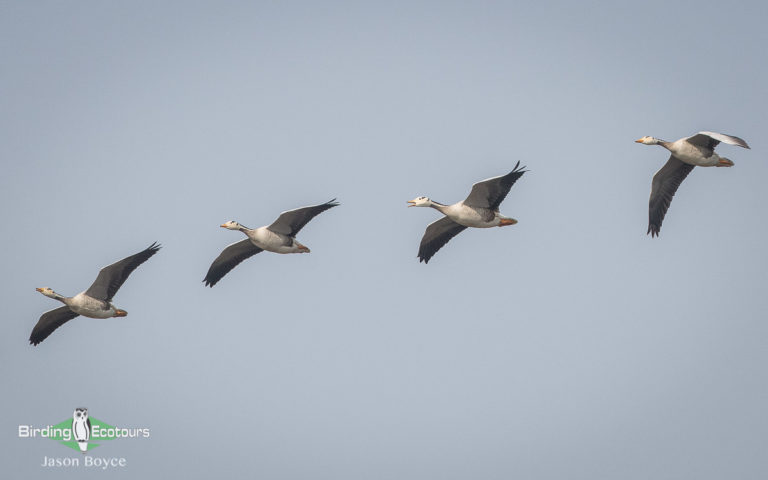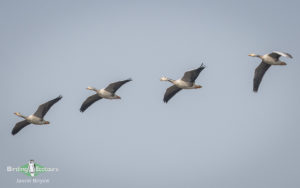 Bharatpur is certainly a must-visit place; the picture above captured four of thousands of Bar-headed Geese that can be seen wintering at Keoladeo Ghana National Park.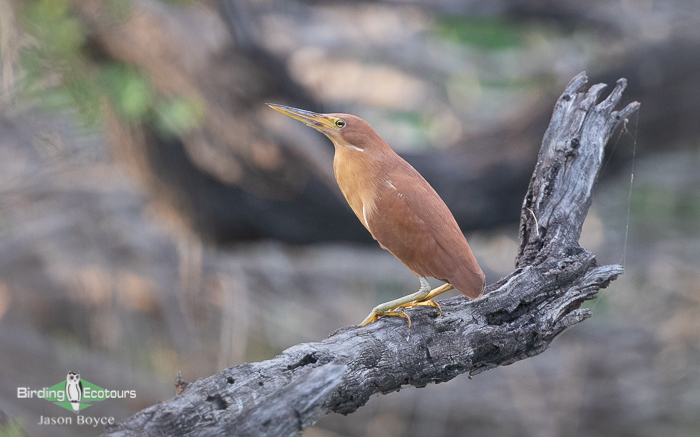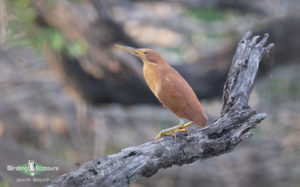 A local scarcity, the elusive Cinnamon Bittern.
The diversity of India has always astounded me. The Himalayan state of Uttarakhand is certainly one of my favorites. This state holds the famous Jim Corbett National Park as well as the birding hotspots of Pangot and Sattal. On a clear day in February the Himalayan range is simply breathtaking – the highest peak seen from Pangot is Nanda Devi, which reaches an altitude of 7,816 meters or 25,643 feet. The birding done around Pangot and Sattal is around 2200 meters in altitude, and so many higher-altitude and wintering species are found in these montane forests. Highlights here are Cheer, Koklass and Kalij Pheasants, Bearded Vulture, and various thrushes and minivets, as well as the likes of Crimson Sunbird, White-crested Laughingthrush, Streak-throated Woodpecker, and Speckled Piculet.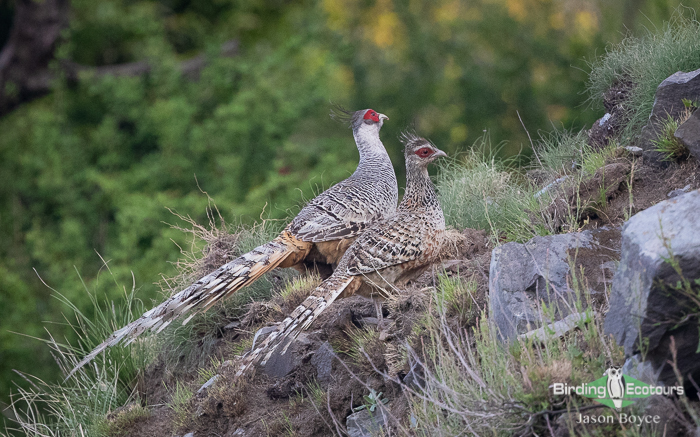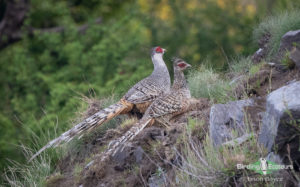 A magnificent pair of Cheer Pheasants on the high-altitude slopes near Pangot. The male is behind the female.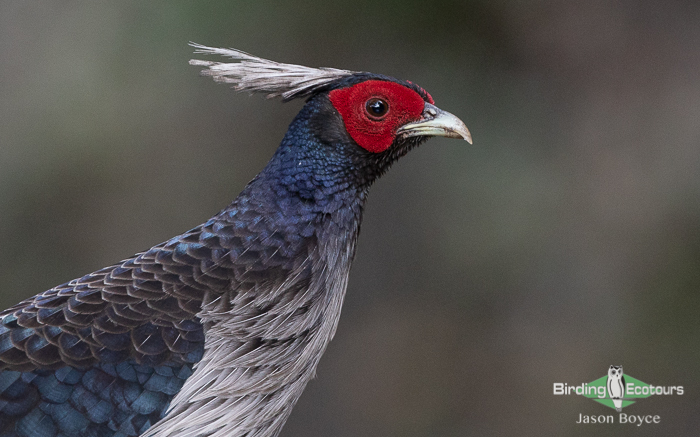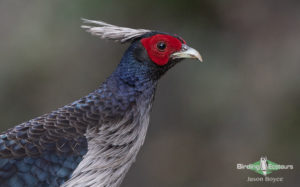 A close-up of a male Kalij Pheasant as he looks at us with interest.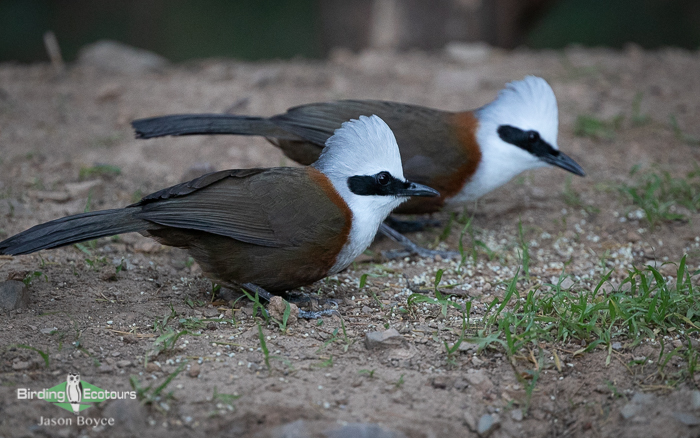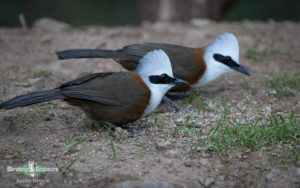 White-crested Laughingthrush is one of many interesting and exciting laughingthrush species in India.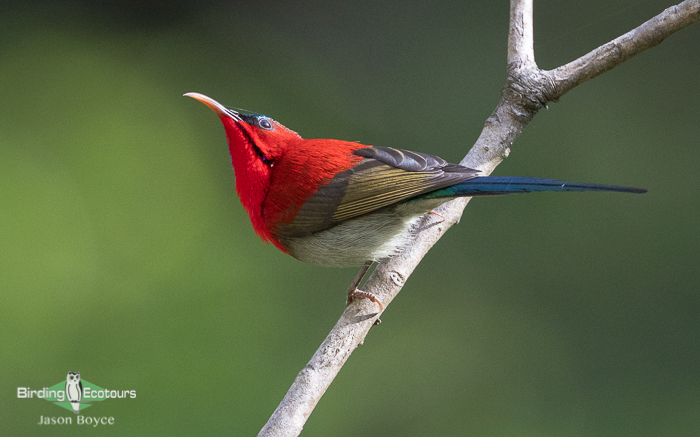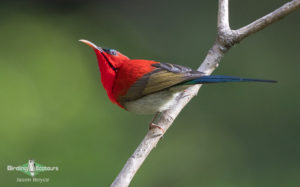 An active Crimson Sunbird in the Sattal area.
One of my personal favorite sightings came in March of last year on our second Northern India set-departure for the year. We were traveling from Nainital to Pangot, where we would spend two nights, and we had stopped to take a few pictures of our first looks at the Himalayan range. It was a beautiful, clear day, fresh air, blue skies. and suddenly from below us appeared this magnificent Black Eagle on the wing! The rocky slopes started warming up, and this eagle took to the skies. Black Eagles have a very interesting and distinctive wing-shape that make them easy to identify. They occupy the foothills of the Himalayas and other mountainous regions across sub-continental India. We enjoyed phenomenal looks at this bird as it "hung" in the wind above us.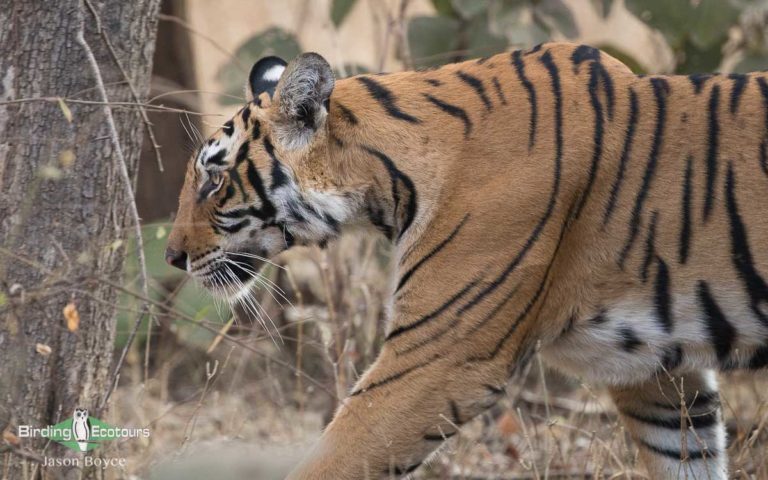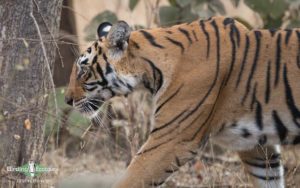 Need I say any more?
Jim Corbett National Park along with Nameri National Park in Assam are two of the most well-known parks in India. The latter is a special place; it has a beautiful assortment of fauna and flora with well over 500 species of birds and is also the oldest national park in India. Here we often spend three or four nights to take as many jeep safaris into different ranges within the park. Some of my favorite sightings here have been up-close-and-personal looks at Brown and Tawny Fish Owls, Great Slaty Woodpecker, Blue-bearded Bee-eater, Pallas's Fish Eagle, Red-headed Vulture, Black Francolin, Great Hornbill, and Common Green Magpie. Mammal sighting often include Asian Elephant, Golden Jackal, Yellow-throated Marten, various deer including Sambar and Spotted Deer (Chital), and of course the fierce Bengal Tiger.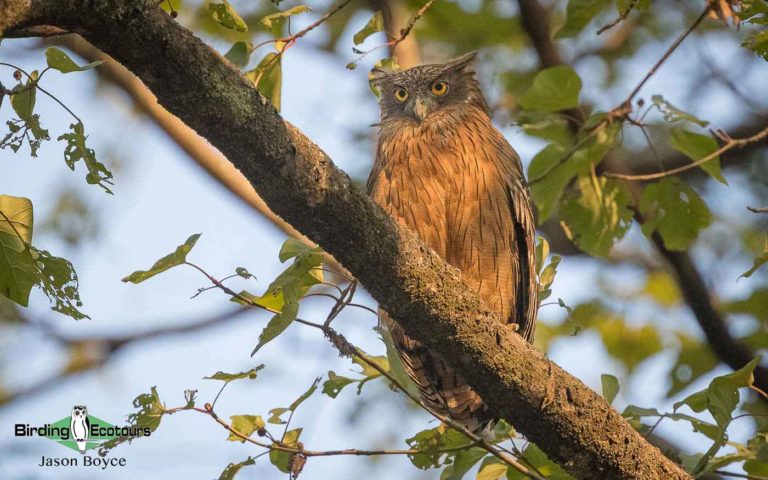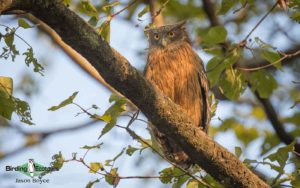 A superb Tawny Fish Owl seen near the entrance to the Dhikala range of Jim Corbett National Park.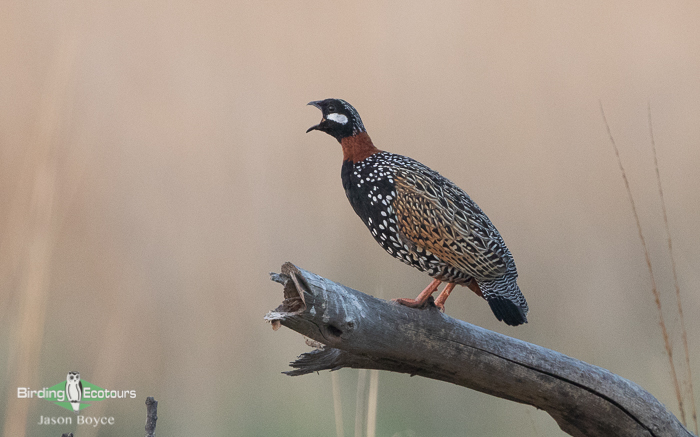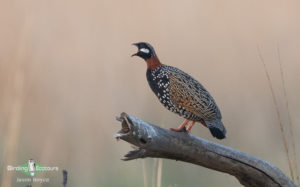 Black Francolin– a male bird declaring his territory to all who can hear.
The general sights in India, often seen from the tour bus and trains, are very different to what I was used to back home in parts of Africa and more particularly South Africa – things are happening everywhere all the time, many people are working, selling things, and are generally incredibly busy. There is color everywhere, and people put a lot of effort into their dress and attire. The cultural history is incredibly rich, and visiting various monuments and historical sites is also very stimulating. One cannot look past the Taj Mahal as the iconic historical site in India, but other sites like Fatehpur Sikri and the Red Fort in New Delhi are also worth visiting.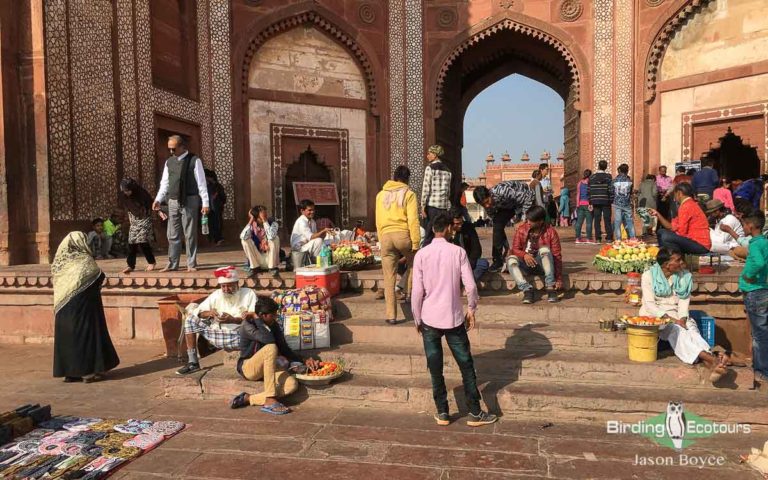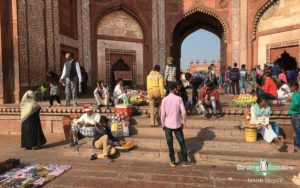 A small market outside one of the gates at Fatehpur Sikri.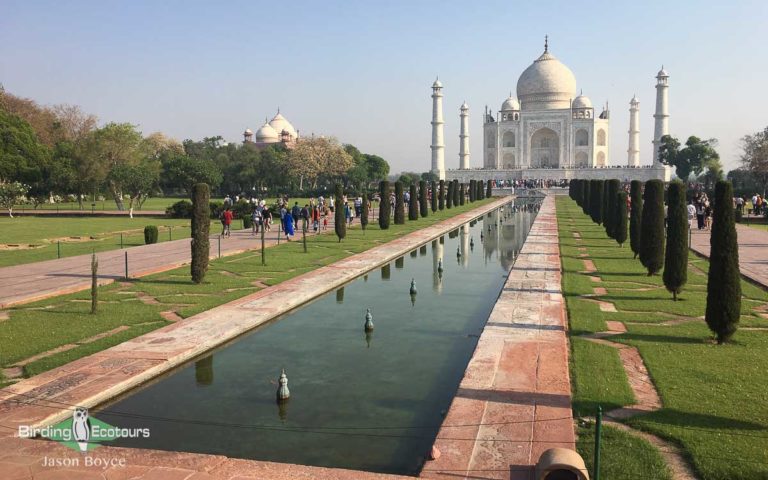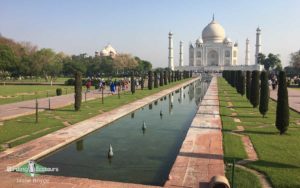 The Taj Mahal
There are many things that together will make a fantastic birding holiday, but they all start with choosing a destination that has something different to what you know and are used to. Indeed, I can say with certainty that India is one of those destinations; it surely has an "x-factor" about it! I hope that this has given you a good idea of what India can offer. If you would like to chat more about anything please do get in touch with us at [email protected].