Posted on 23 March 2022.
In European birdwatching terms, Greece is not a country that has the fame of other areas like Spain, Poland, Iceland, and the United Kingdom. However, to overlook this fascinating country is to miss out on some top birding, and some beautiful scenery, culinary delights, and wonderful people as well.
Greece sits in the southeast corner of Europe and as such it plays host to a wonderful spring and fall bird migration. However, what is less known about Greece is that it is also a fantastic winter birding location.
With that in mind, I decided to visit the beautiful northern part of the country for five days during February 2022. My focus was the well-known Lake Kerkini and the lesser known Axios Delta, with some bonus stops thrown in along the way. We visit both of these fantastic areas on our Greek birding tours and so I was very excited to recce them.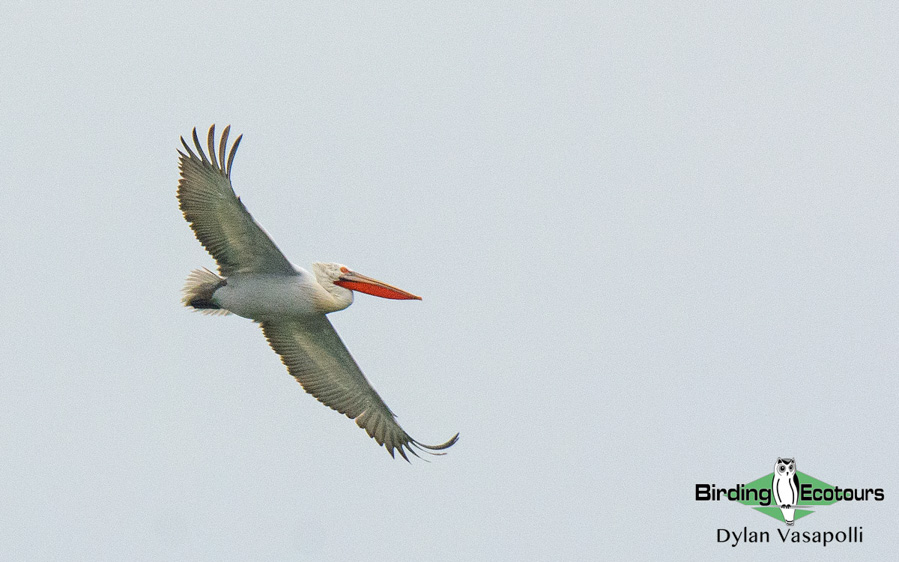 The highlight of any visit to Lake Kerkini is the wonderful, and Near Threatened (BirdLife International), Dalmatian Pelican, which live and breed on the lake. Lake Kerkini is arguably the best place in Europe to see this increasingly rare bird.
My first stop of the trip was the vast Axios Delta, just south of the city of Thessaloniki. My day in the delta gave a total of 88 species, with highlights including groups of 200 Corn Buntings and 50 Black-necked Grebes, plus Little Stint, Pygmy Cormorant, Dalmatian Pelican, Lesser Spotted Woodpecker, Long-eared Owl, Hen Harrier, four Greater Spotted Eagles, including a fulvescens pale morph, White-tailed Eagle, 50+ Little Gulls, Moustached Warbler, and Calandra Lark. These personal highlights were interspersed with thousands of wildfowl, waterbirds, and shorebirds (waders).
My first stop on day two was an old quarry outside Thessaloniki. Not a place you'd think to look for birds ordinarily, but one which turned out to be spectacular. Initial scouting gave up Western Rock Nuthatch, Black Redstart, Cirl Bunting, Woodlark, Crested Lark, and a group of 13 Hawfinches.
On moving to another section of the quarry, my main target species appeared, Wallcreeper! This beautiful bird gave incredible views as it fed on the rock faces above me, even occasionally stretching to reveal its beautifully colored and patterned wings. What a bird and always a thrill to see this bird, which belongs to a monotypic family. Other birds here included an immature Peregrine Falcon, several more Cirl Buntings, Common Linnet, and a Eurasian Sparrowhawk.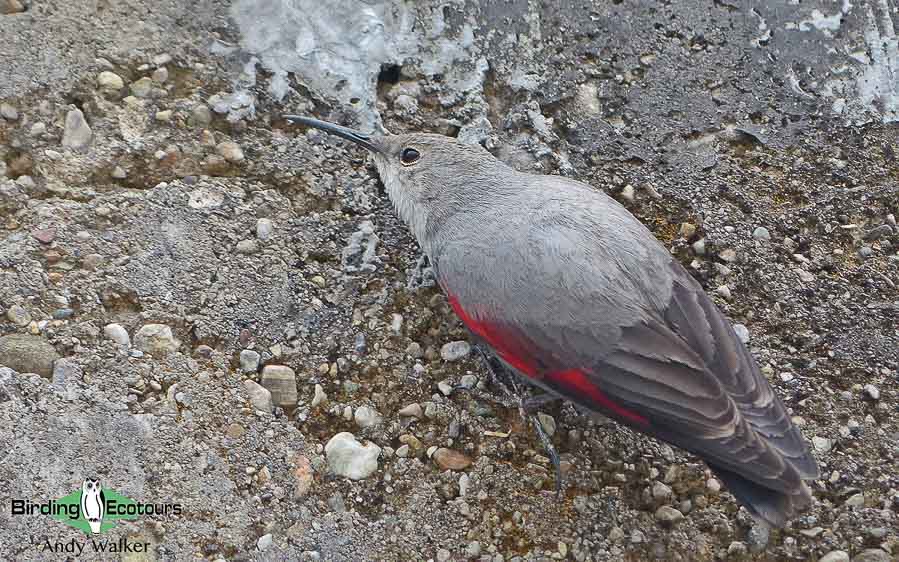 Wallcreeper is a highly prized monotypic family and a real star of a winter trip to Greece.
After early morning success my journey took me further north, towards Lake Kerkini. Along the route I stopped at a reservoir known for its wintering population of Smew, and they did not disappoint with a staggering 51 birds present – this is one of the best-looking ducks in the world! Also here were 200+ Common Pochards, 10+ Eurasian Spoonbills, a couple of Greater Flamingos, 15 + Grey Herons, 10+ Great Egrets (including one sitting on a house roof!), and a few more wildfowl species like Gadwall, Eurasian Teal, and Mallard. Several Northern Lapwing were on the far shore, and Great Crested Grebe, Little Grebe, and Black-necked Grebe were dotted about on the water too.
Before reaching Lake Kerkini, I explored an area on the slopes of Mount Belles. The Beech Forest here held European Greenfinch, Eurasian Bullfinch, Eurasian Siskin, Hawfinch, Fieldfare, Mistle Thrush, Black Woodpecker, and Lesser Spotted Woodpecker. As evening approached, I finally arrived at Mandraki Harbour, on the north bank of the lake. Despite the low water levels, a good number of birds were seen including Greater White-fronted Goose, Greylag Goose, Common Crane, Eurasian Spoonbill, Dalmatian Pelican, Great Egret, and Merlin.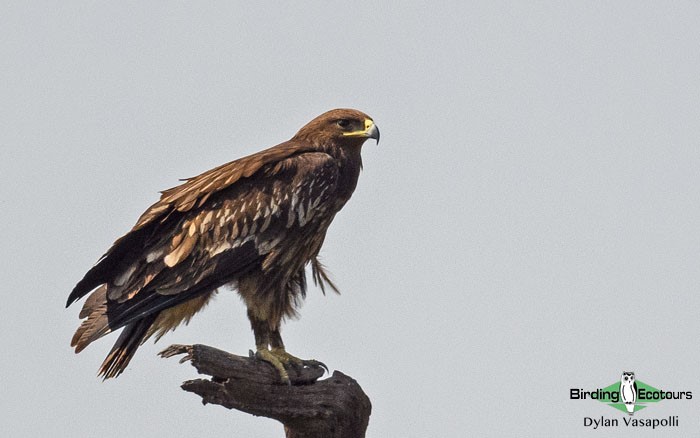 Greater Spotted Eagle was a surprisingly common raptor during my time at Kerkini.Lake Kerkini looked truly spectacular under winter sunshine. The birding around the lake is a real experience and one not to be missed.
Lake Kerkini and its surrounds are a vast site and covering it in full detail would take far more than the permitted word limit here, so I have summarized my experience below. Overall, birding the lake area is fantastic, and I cannot wait to return in spring to experience the migration here, and the bonus of several spectacular mountain sites close to the lake make it of even greater value.
Key species seen in the Kerkini area during my brief birding trip included Dalmatian Pelican, Great White Pelican, Common Crane, seven woodpecker species, Western Rock Nuthatch, Eurasian Eagle-Owl, Blue Rock Thrush, Sombre Tit, Tundra (Bewick's) Swan, Black Stork, Eurasian Spoonbill, Greater Flamingo, Lesser White-fronted Goose, Greater Spotted Eagle, Eastern Imperial Eagle (a really nice surprise!), Northern Goshawk, Pygmy Cormorant, Caspian Gull, European Crested Tit, and European Serin.
This part of Greece had seen significant snowfall this winter and this made finding the tracks of Grey Wolf much easier, a pity that the animal themselves did not show! The mountains near the lake are beautiful and exploring the woodlands made me wonder what they must be like in spring when the migrant passerines arrive, a spectacular sight and sound.
Sadly, my time at Lake Kerkini was at an end and it was time to head back towards Thessaloniki. Fortunately, this meant more birding and the journey back was broken up by several interesting stops.
Wetland areas are scattered throughout the drier, Mediterranean-type habitat that lie to the south of Kerkini. Sadly, they are under increasing threat from drainage, but this does not mean they are not worth checking for birds. Several stops along the route gave sightings of Long-legged Buzzard, Hen Harrier, Western Marsh Harrier, Black-tailed Godwit, and other waders like Green Sandpiper and Northern Lapwing. These areas will be amazing to explore in the spring and I cannot wait to visit them again.
My final stop on this brief trip was at Lake Koroneia. This vast lake is not easy to access, but having done so it was very rewarding with around 2,000 Northern Shovelers, 500 Common Pochards, several Northern Pintail, Mallard, Eurasian Teal, Eurasian Wigeon, and Gadwall all present. Four Hen Harriers hunted over the lake edges with at least 20 Western Marsh Harriers, while Greater Flamingo, Great Egret, Great Cormorant, Pygmy Cormorant, and Grey Heron all foraged on the lake edge. All in all, pretty spectacular!
Overall, this was a wonderful visit to the area and a respectable 141 species were observed in just four full days. I really cannot wait to return to Greece in spring and fall to witness migration in the area at its peak. If you'd like to join me, then you can find out more about birding in Greece by clicking here. Also keep an eye out on our website for a brand-new winter tour to Greece coming very soon. A few more photos from the trip follow.