In June 2017 Andy Walker made a scouting trip to Iceland to have a look at some of the areas we'll be visiting on the next Birding Ecotours Iceland Tour. Here's a summary of some of the highlight birds he found, and some he managed to photograph.
Passerines:
There are not a huge number of passerines in Iceland, but some special ones, and they are so plentiful and in-your-face that you can't fail to get great views. Redwing, for example, is an abundant breeding species in Iceland and is found almost everywhere. Other species likely to be encountered that I had no trouble locating included Northern Wheatear, the Icelandic form of Common Redpoll (rostrate), which also occurs in Greenland and Canada, White Wagtail, Snow Bunting, Northern Raven, and the endemic subspecies (and surely a potential future split) of Eurasian Wren, which is much darker than western European subspecies, with a longer bill too.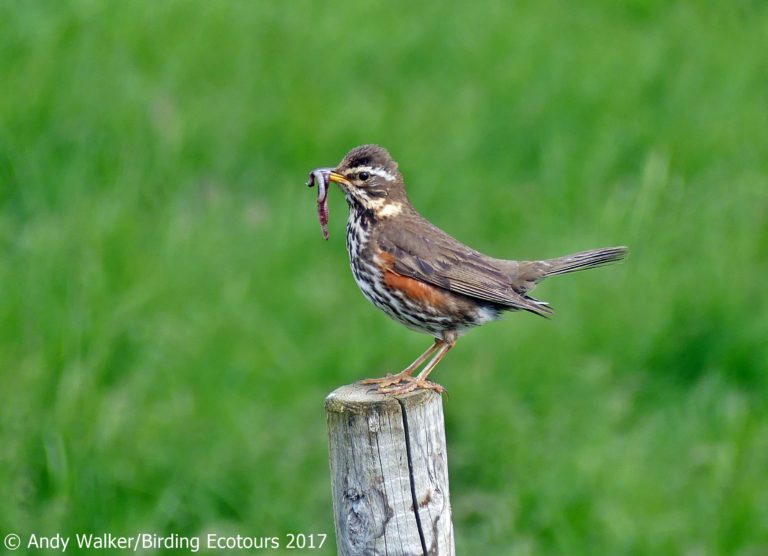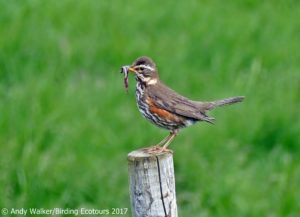 Redwing taking some food back to its nest.
Raptors:
Gyrfalcon is the big draw here, and it's not surprising. It is a mega falcon – HUGE! I saw a couple of birds during the week. An immature female was hunting close to Lake Mývatn and flew right in front of my car! Luckily I could pull off the road and watch it hunting, or, more exactly, getting chased off by dozens of locally breeding shorebirds. I also had a couple of sightings of a male in a similar area, likely to belong to a breeding pair. An immature male Merlin was also busy putting the fear of God into the locally breeding Meadow Pipit population. It's always an exhilarating moment when one of these raptors dashes into view.
Seabirds (gulls, terns, auks, etc.):
Iceland is well known on the European birding scene for having an excellent breeding seabird population. Top draw is Thick-billed Murre (Brunnich's Guillemot), which has a very limited breeding distribution in Europe. When you add in Common Murre (Common Guillemot), Black Guillemot, Atlantic Puffin, Northern Fulmar, Black-legged Kittiwake, European Shag, and Northern Gannet, the cliffs come alive with a range of interesting sights, sounds, and smells. While I was at these sea cliffs, as well as enjoying great close-up views of all the above species, I also saw locally breeding European Storm Petrel and Manx Shearwater as they foraged out at sea. Great Skua was frequently observed trying to steal food from returning nesting seabirds, or just to take the young seabird nestlings themselves.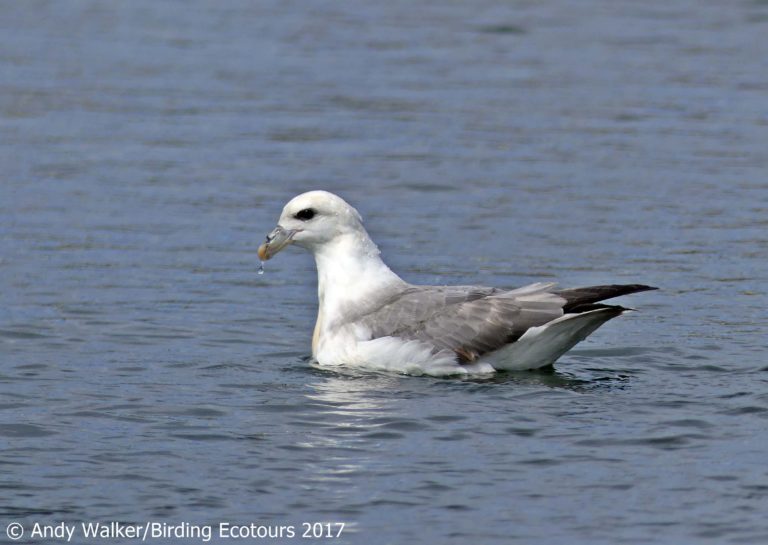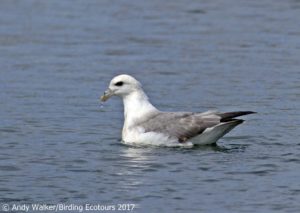 Northern Fulmar with a snow-capped mountain in the background.
Several species of gull breed in Iceland. Black-headed, Common, European Herring, Lesser Black-backed, and Great Black-backed Gills can probably be considered to be Europe's commonest and most widespread species, but Glaucous Gull also breeds here, and Iceland Gull, although just a non-breeding visitor to Iceland, can usually be found year-round in low numbers. As well as observing many gulls breeding across Iceland, as is usual with gulls, I found some interesting aggregations of non-breeding birds of various ages and variable plumages in several small coastal fishing villages, with Glaucous Gull and Iceland Gull being the pick for me, having been out of the UK for the winter.
Arctic Terns are EVERYWHERE! Breeding colonies are dotted around in every conceivable place, along the coast in cliff-top vegetation, or flying along fast-flowing mountain rivers, around lakes and marshes, and even hawking for insects along roads. Fantastic views of these species are guaranteed, every day! But do not assume that every 'tern-like' bird you see flying around is actually an Arctic Tern, because Parasitic Jaegers (Arctic Skuas) breed on the island and are often found chasing terns and raiding nests for food. It was great to see both pale- and dark-phase birds over the course of the week.
Shorebirds:
Iceland is stacked out with breeding shorebirds. You can hear and see Common Snipe and Common Redshank literally 24 hours of the day. The Icelandic subspecies of Black-tailed Godwit, which is stunningly beautiful, is common, as are Whimbrel, European Golden Plover, and Dunlin. However, there are one or two breeding shorebirds that are the real draw to Iceland, and Red-necked Phalarope is one of those. The females are the more brightly colored of the pair, as it is the males that raise the young. On certain wetlands they can be super-abundant and often very confiding. With a bit of luck and some careful placement (watching for the angle of the sun and making sure you don't end up in the water yourself) you can get some great photos of these dainty shorebirds. The sight of lots of baby shorebirds is a real joy to behold, and the cuteness ratings go off the scale!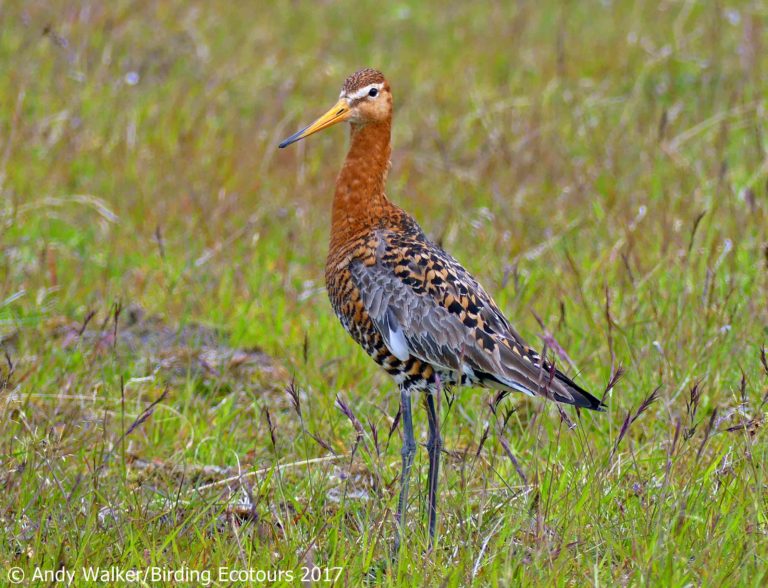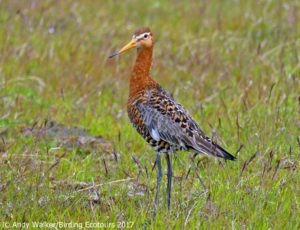 Black-tailed Godwit starting to moult into its non-breeding plumage (phone-scoped with IPhone 7 and Swarovski ATX95 scoped)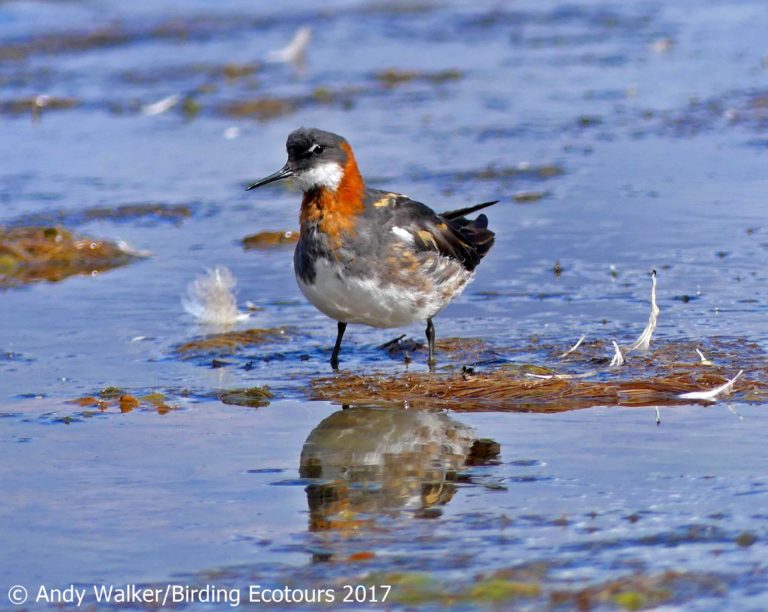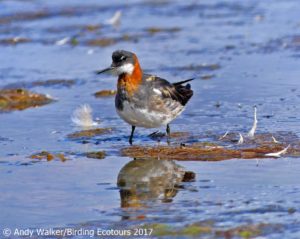 Red-necked Phalarope – a female off feeding, she plays no part in raising her young after laying the eggs. The male (who is more drably plumaged) does all of that.
Wildfowl (divers and ducks):
Two species of loons (divers) breed in Iceland, Common Loon (Great Northern Diver) and Red-throated Loon (Red-throated Diver). Both species were fairly frequently recorded, and both species were looking spectacular in full breeding plumage, even more so when they had tiny babies either in tow or riding on their backs. The sound of Common Loon echoing around the mountains was spine-tingling.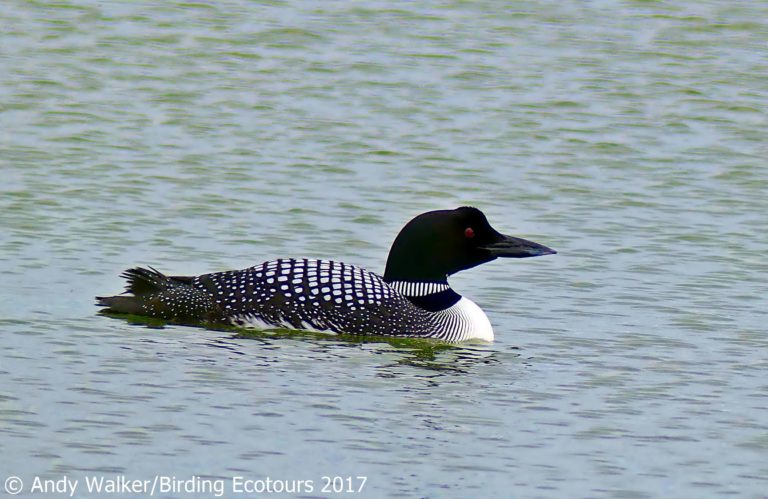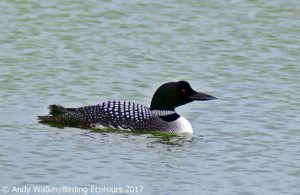 Common Loon (Great Northern Diver) was found on several large water bodies and out on the sea. Take a look at Birding Ecotours YouTube for a video of this bird and its mate with their tiny baby.
A few species of geese breed in Iceland. Greylag Goose is common, and once you get into certain areas you start finding Pink-footed Goose and Barnacle Goose too, which were nice to see.
Another of the big draws for birders, especially European birders, is the breeding duck population with several key species present. Top of the list is Harlequin Duck, closely followed by Barrow's Goldeneye. The former is scarcer than the latter, with Harlequin Ducks generally found on fast-flowing rivers and Barrow's Goldeneye out on larger lakes. I had fantastic views of both during the week, Barrow's Goldeneye chicks being my favorites of all chicks observed, Iceland also gives the rare chance to see breeding Long-tailed Ducks in Europe. This species is probably more frequently seen in their largely white-necked and white-headed non-breeding plumage with a grayish back, but during the breeding season they moult into a glorious black neck head with a striking long tail and a dark back.
Harlequin Duck was one of the highlights of this Iceland trip. By late June most of the males have left the females behind at the nest sites and have gone back out to sea. Most of the time I was in suitable Harlequin Duck habitat I was just finding females, then right at the end of my trip I spotted a pair along a river with this stunning drake present. One spectacular bird!
Several other ducks occur, and good views are practically guaranteed of the following species: Common Shelduck, Red-breasted Merganser, Common Merganser (Goosander), Eurasian Wigeon, Eurasian Teal, Mallard, Gadwall, Northern Pintail, Tufted Duck, Greater Scaup, Common Eider, and Common Scoter. Indeed, to see most of these species with young was highlight enough for me. Lake Mývatn was literally covered in baby ducks while I was there, as were many of the small waterbodies I visited or drove past. During my week there I even found a couple of American rarities in the form of drakes of both American Wigeon and Ring-necked Duck. There are great possibilities for finding other interesting species such as King Eider, Surf Scoter, and Velvet Scoter, but you've got to leave something for the next time, right?
Summary
In addition to all the great views and photo opportunities of the incredible birds found in Iceland, the landscape views were seriously spectacular: huge sea cliffs, giant crags, roaring rivers crashing through waterfalls, snow-capped mountains, glaciers, volcanoes of all shapes, sizes, and activity, numerous waterbodies, lava fields, boulder fields, stunted forest, heathland, and 24 hours of daylight! And although I didn't have time to do it on this trip, the whale watching off northern Iceland is considered some of the best in the world, with a good chance of Blue Whale. All of this combines to a really great place to visit, and I can't wait to get back in June 2018!