The

Maleo

Twitch
On our July Sulawesi tour (details here) we go through Luwuk in Central Sulawesi and overnight near Taima, where we visit the Alliance for Tompotika Conservation, a great chance to see the charismatic and Endangered (IUCN) Maleo, endemic to Sulawesi. The Maleo is a megapode, but unlike most others that are very similar-looking brownish birds it is blue, black, and white with an elaborate blue-and-yellow face and a large bluish knob on top of its head. Maleos are colonial nesters. They dig deep holes into the sand where they lay their eggs. When these eggs hatch the young emerge from the hole and look after themselves.
As we were limited on time during this trip we decided to make a daytrip to the site in order to take a quick look at the area. We saw some incredible scenery along the way, and once at the reserve we had the real privilege of chatting to program director Marcy Summers, who gave us a fantastic learning experience on site. We walked to the viewing area (which has some exemplary strict rules to keep disturbance at a minimum) and then enjoyed excellent views of over 40 birds maintaining their nesting area. Just a remarkable bird and sight to observe! It was a much quicker stay than the one we would make on our tour, but still it left us totally spellbound by these incredible birds and the wonderful work undertaken by the international and local team to protect this unique species.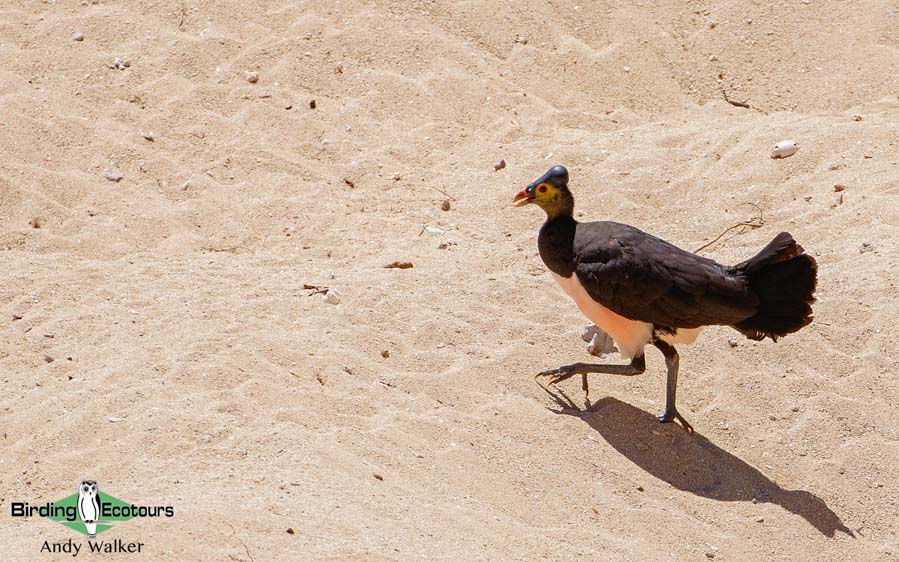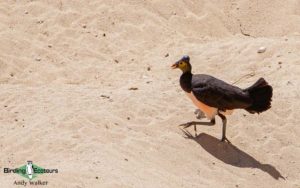 A Maleo walking around the nesting area, where we saw at least 40 birds at one time. Just incredible!
 If you're interested in seeing Maleo and other fabulous birds in Sulawesi please contact us at [email protected], or take a look at the link at the top of this blog post to the Sulawesi tour page.