Eastern Australia offers many varied birding options, with cities such as Cairns, Brisbane, Sydney, and Melbourne providing excellent entry points into the country. All are interesting cities with top birding and wildlife watching right on their doorsteps. It is also possible to form a nice route taking in some of these areas over an approximate 3-week period as shown here, which is a perfect introduction into Australian birding.
We'd recommend starting in the cosmopolitan city of Melbourne, Victoria, in southeast Australia, where your birding adventure will start with common (yet exciting for the visitor) species such as Galah, Rainbow Lorikeet, Sulphur-crested Cockatoo, Superb Fairywren, Willie Wagtail, and Laughing Kookaburra.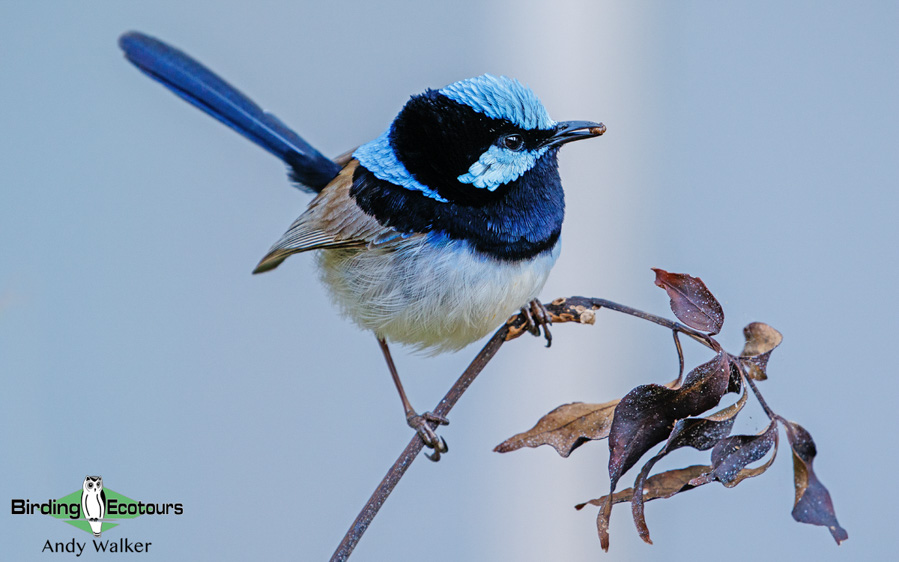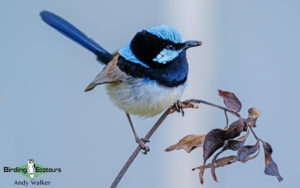 Superb Fairywren
On leaving the city visits to the coastal heathlands of southern Victoria can target key species such as Gang-gang Cockatoo, Rufous Bristlebird, Shy Albatross, and Powerful Owl, and the temperate forests nearby offer Flame Robin, Rose Robin, Pilotbird, Crested Shriketit, and Superb Lyrebird. Here too it is likely that you will get your first endemic mammals, with Koala, Short-beaked Echidna, and Eastern Grey Kangaroo all possible. Close to Melbourne is one of Australia's most famous birdwatching sites – the Werribee Western Treatment Plant, where it is possible to see over 100 species in half a day! Musk Duck, Freckled Duck, and Blue-billed Duck are all Australian endemics and big targets of visiting birders. The site is always packed full of ducks, shorebirds, terns, and raptors and is a must-visit spot.
Moving inland into the mallee forests a whole host of species such as Malleefowl, Mallee Emu-wren, Striated Grasswren, Splendid Fairywren, and Major Mitchell's Cockatoo await, along with numerous honeyeaters, thornbills, treecreepers, and fairywrens. Here you can also get into the 'Outback' – the true Australian experience – and probably you might see your first Emu and Red Kangaroo!  Moving north and east out of the mallee and into farmland and sclerophyll other species await, including one of the most highly sought species in eastern Australia, the monotypic, nocturnal, and rare Plains-wanderer. Other birds in the region are equally impressive, such as Regent Honeyeater, Painted Honeyeater, Turquoise Parrot, and Superb Parrot.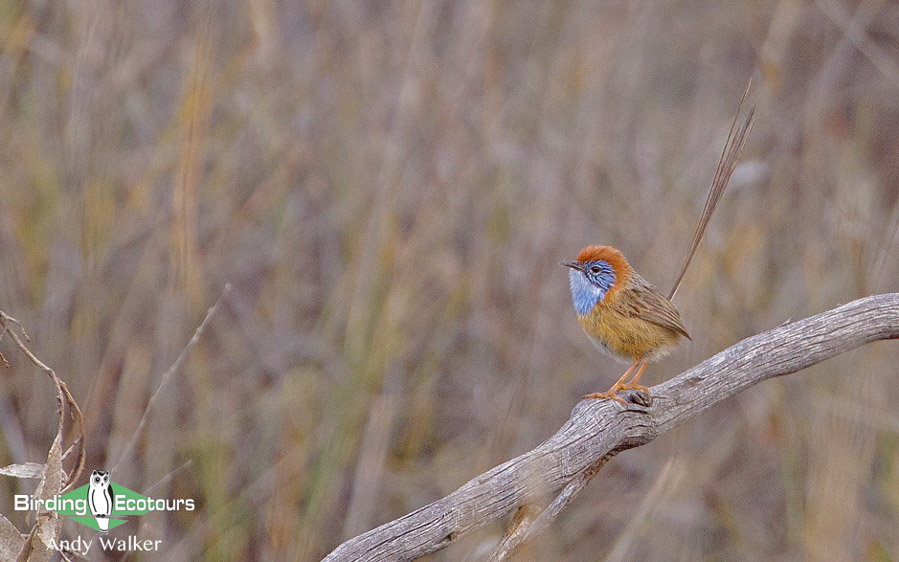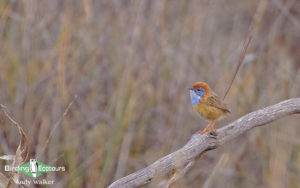 Mallee Emu-Wren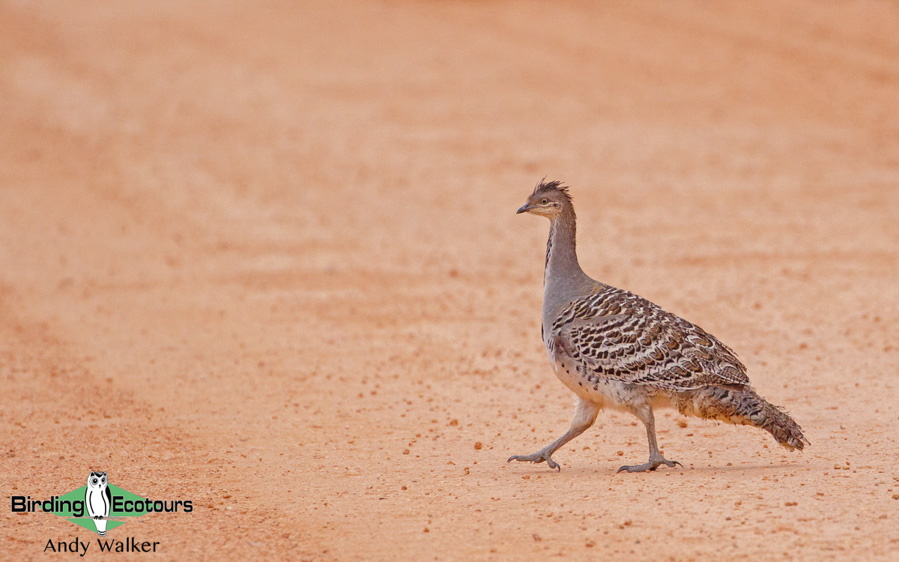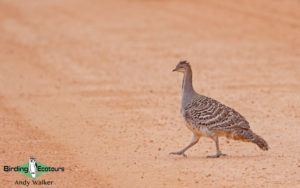 Malleefowl
Internal flights in Australia, like in the US and Europe, are the best way of connecting between cities and new birding destinations. After a birdwatching circuit of Victoria and adjacent New South Wales an internal flight from Melbourne to Brisbane, Queensland, will take you to a whole different world and a ton of new birds and natural experiences. Brisbane has some excellent birding right around the city with restricted-range mangrove specialties (e.g. Mangrove Honeyeater), plenty of nocturnal activity (Greater Sooty Owl, Marbled Frogmouth, and Eastern Grass Owl for example), and just a few hours south of the city is the unique and world-famous O'Reilly's Rainforest Retreat. Nestled within a large tract of subtropical rainforest fully loaded with exciting birds such as Paradise Riflebird, Rufous Scrubbird, Regent Bowerbird, Satin Bowerbird, Noisy Pitta, Albert's Lyrebird, Bassian Thrush, Russet-tailed Thrush, and Australian Logrunner. Here also are unrivaled photographic opportunities of many birds, including Australian King Parrot, Crimson Rosella, and many of the aforementioned species.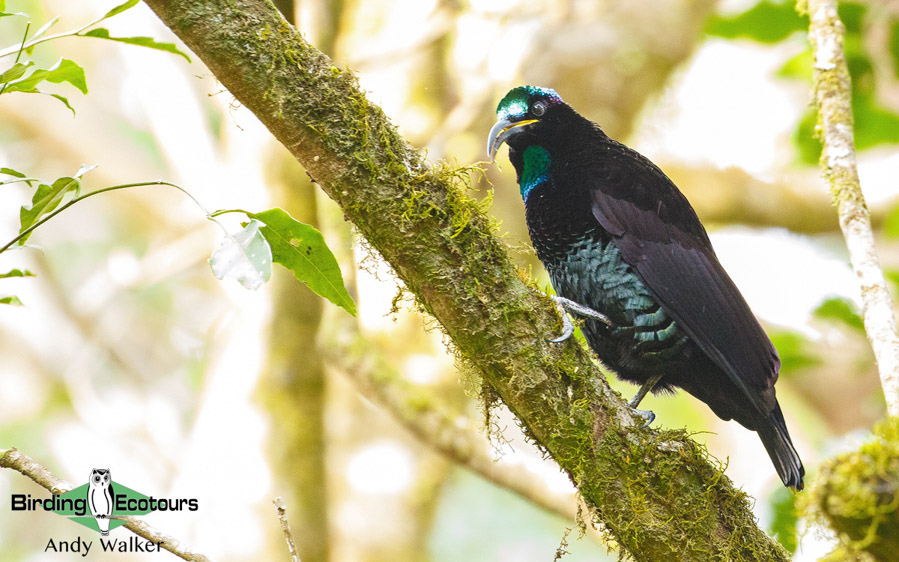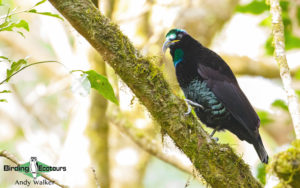 Paradise Riflebird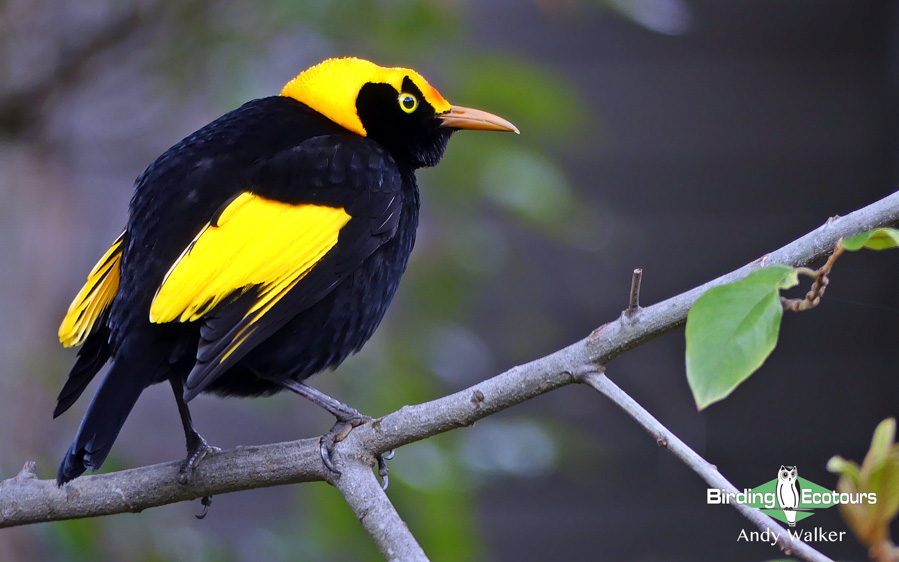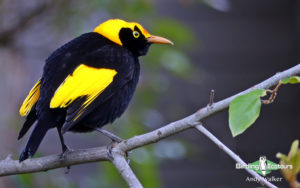 Regent Bowerbird
One final flight between Brisbane and Cairns will take you into the Wet Tropics of far northern Queensland, where you can explore one of the world's most ancient rainforests for key species such as Southern Cassowary, Buff-breasted Paradise Kingfisher (at the correct time of year), and Platypus. Here numerous endemic birds occur, and careful planning is needed to maximize time in the correct areas (we love staying at eco-friendly places such as Kingfisher Park Birdwatchers Lodge, Cassowary House, and Chambers Wildlife Rainforest Lodges) to connect with the likes of Victoria's Riflebird, Tooth-billed Bowerbird, Golden Bowerbird, Spotted Catbird, Fernwren, and Chowchilla. Drier areas here can also provide plenty of species, such as Australian Bustard, Blue-winged Kookaburra, Red-winged Parrot, and Great Bowerbird.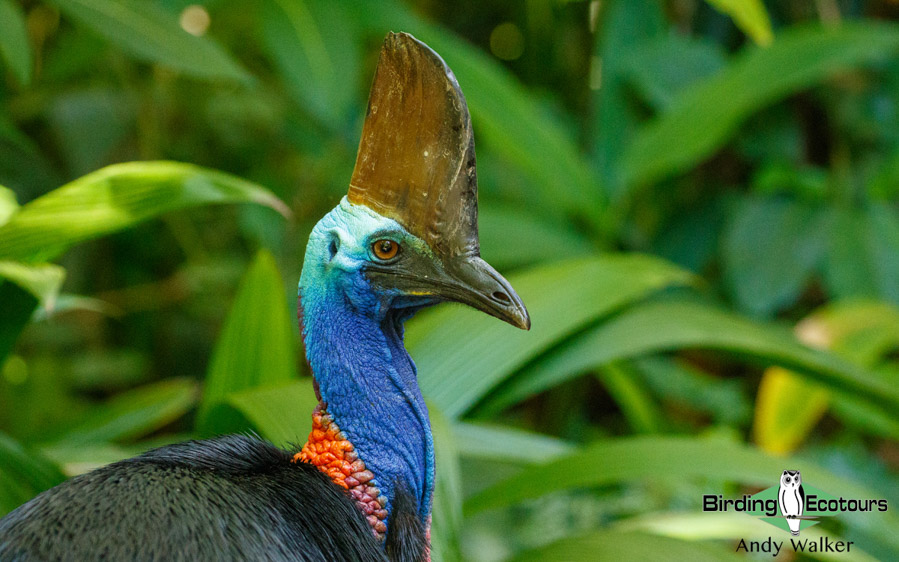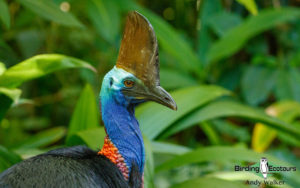 Southern Cassowary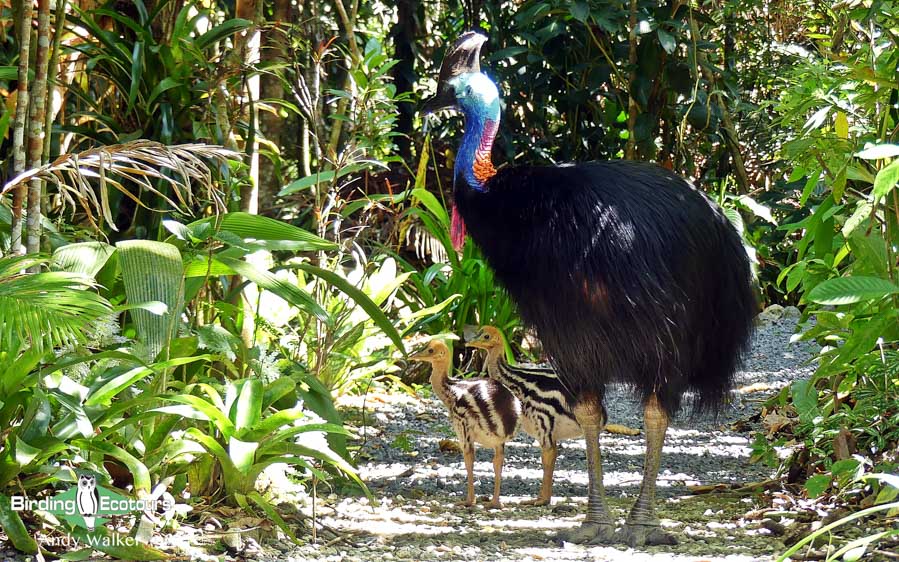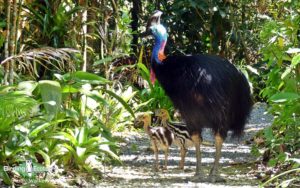 Southern Cassowary
We'd also recommend a couple of boat trips while in the region, one boat trip along the Daintree River (looking for Great-billed Heron, Black Bittern, Pale-vented Bush-hen, Superb Fruit Dove, Azure Kingfisher, Little Kingfisher, and Papuan Frogmouth), the other boat trip to the Great Barrier Reef, where an abundance of nesting seabirds (e.g. Sooty Tern, Brown Booby, and Brown Noddy) can be found, along with Red-footed Booby, Great Frigatebird, Lesser Frigatebird, and Black-naped Tern. Here the underwater life is worth exploring also, and snorkeling or scuba diving near Michaelmas Cay and Hastings Reef can easily prove to be a trip highlight. The opportunity to swim with a mesmerizing array of delightful tropical reef fish and huge, stately Green Turtles is just one not to miss.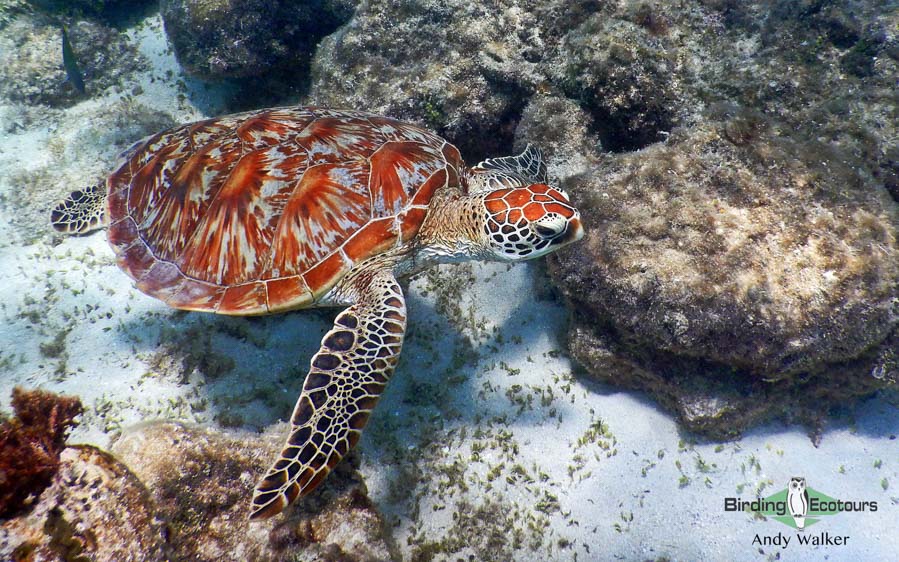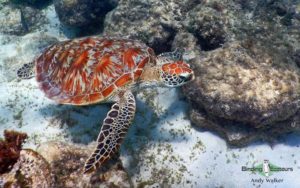 Green Turtle
Cairns, with its relaxed beach-side atmosphere, is the perfect soothing way to end a few weeks of travel. It also has the added bonus of several top Australian birdwatching sites, namely Cairns Esplanade, where numerous shorebirds are present in the correct season (Beach Stone-curlew is one huge target here, as are Grey-tailed Tattler, Terek Sandpiper, and dozens of other species) and which also provides opportunities for roosting Rufous Owl, Double-eyed Fig Parrot, and more. Just in the city the Cairns Botanical Gardens and Centenary Lakes also provide relaxed birding with notable targets present, such as Black Butcherbird, Grey Goshawk, Orange-footed Scrubfowl, and more.
As you can see there are many options available for birding and wildlife watching in eastern Australia. Our eastern Australia tour is probably one of our best-selling tours in the country, as it offers the first-time visitor a large number of bird species in a short timeframe, finds some seriously charismatic birds and animals, takes in some breathtaking scenery and landscapes, and visits the unique Great Barrier Reef for an altogether totally different experience. If you've already been to Western or northern Australia the east will give you a whole host of new birds and wildlife, many only found in the region. Why not join the experts and let us take you around this fascinating region, details are here.
For those with a sense of adventure we can also customize a trip to the Cape York Peninsula (and Iron Range), where species more typical of New Guinea can be found, such as Magnificent Riflebird, Trumpet Manucode, Palm Cockatoo, Papuan Pitta, Golden-shouldered Parrot, Eclectus Parrot, Red-cheeked Parrot, Yellow-billed Kingfisher, Black-eared Catbird, and Fawn-breasted Bowerbird, to name a few targets.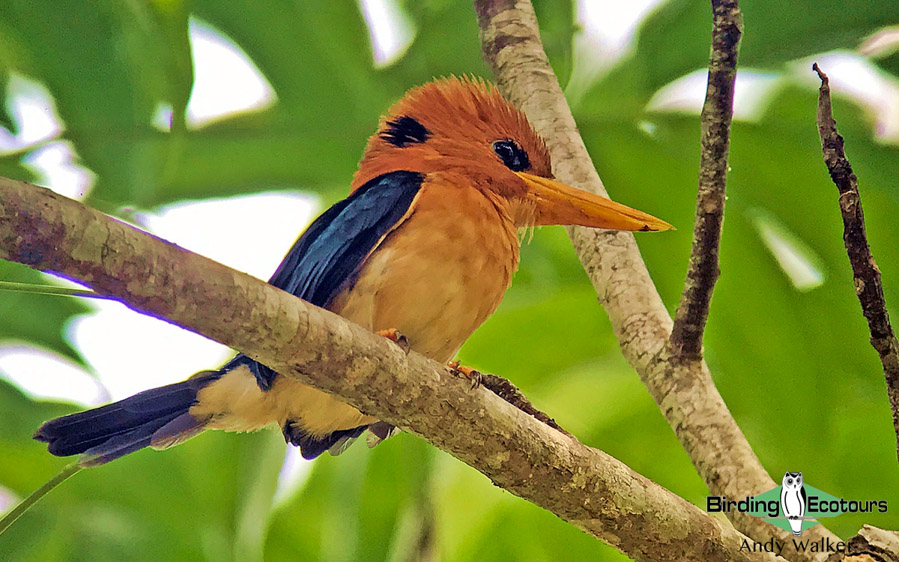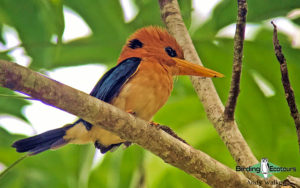 Yellow-billed Kingfisher