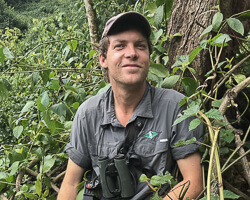 Dylan Vasapolli
Senior Tour Leader and South African Office Manager
Dylan Vasapolli grew up in the suburbs of Johannesburg and was fortunate enough to experience the joys of the then largely still-wild surroundings on a regular basis. From a young age the beauty of nature, and in particular of birds, was instilled in Dylan, and it would go on to shape his life. Turning annual 'family holidays' into pure birding adventures was one way how he and his family went about this. Knowing that he wanted to bird for the rest of his life, Dylan came into the bird-guiding world straight after high school and has been at home leading a wide array of tours ever since. Dylan has traveled and guided extensively throughout the southern half of Africa, along with eastern Europe, central America, the Caribbean, parts of South America, North America, and most recently in parts of Asia.
An impressive repertoire comprised of experience beyond his years, a well-valued persona centered on compassion, a figurative 'golden' ear when it comes to picking up the faintest of bird calls, a raw skill when getting clients onto tough species, and a strong sense of perseverance rivaled only by a select few all add up to his highly credible reputation as one of southern Africa's most respected birders, one of the region's best guides, and an invaluable part of the Birding Ecotours team. Popular with clients, Dylan is regularly booked up far in advance.
When Dylan isn't busy guiding all around the world, he manages our South African office and oversees a wide array of tasks and projects but can also be found serving on the South African Rarities committee and, more frequently, birding the greater Johannesburg region and in particular his local patch – a vibrant wetland in montane grassland a short hop away from his home.

Join Dylan Vasapolli on the following upcoming tours:
Read Dylan Vasapolli's feedback from clients:
Dylan is just what you want in a guide - excellent eyes and ears, quick with the scope, knows just where the specialties are found in each site. He knows multiple sites well and that allowed us to modify our day in real time to not waste time driving when the remaining hours in the day were running short. He is a super nice guy as well, I really enjoyed spending the day with him.
Bryan - On Dylan
Dylan Vasapolli is extremely knowledgeable about birding and photography, but it's his enthusiasm for the subject that is wonderful to experience. He has been birding for many years, and still, he has such a love for birding and the environment, which is very infectious. I was extremely lucky to have him as my guide.
Alma - On Dylan and South Africa
I just wanted to email and say how much I enjoyed the day yesterday in and around Suikerbosrand – Dylan was a fantastic guide, unbelievably knowledgeable, very helpful (and patient!) and good company. We saw much more than I expected, and the flufftail was the icing on the cake! I would go out of my way to recommend you guys and Dylan in particular – thanks again for a thoroughly enjoyable day. I will be in touch when I return to South Africa – even if just to set eyes on that pesky grass owl. . .!
Liam - On Dylan and South Africa
We had an absolutely wonderful weekend at Ezemvelo. Great company, good weather and Dylan. What a good guide that young man is!!! He certainly knows his birds, and tries very hard to make everyone happy. He really goes out of his way. He's such a gentleman, he's going to go far. By the way four adults and one Blue Crane chick were seen on the weekend. Also a Black Stork, which Dylan was so pleased to see, and a couple of Honey Buzzards
Bev - On Dylan and South Africa
We spent three weeks with Andy in Thailand and enjoyed the trip thoroughly. Andy worked so hard to find the birds, and get us on them. He was very patient and took the time we needed. He knew all the best places to go, knew what birds would be expected, identified them in an instant and still managed to find some pretty good rarities along with the known birds, Himalayan Cutia anyone? And we spent literally hours getting great looks at Spoon-billed Sandpiper. Andy got us very close without disturbing the birds or any other birders. It was a highlight of the trip. We are hoping to see Andy in York later this year for a days birding on his home patch!
Bob and Terrie - On Andy and Thailand
Just a quick note today to let you know that mom (Eleanor) and I had a fantastic day with Dylan. First of all it was a great comfort to meet someone at the airport from the area who knows how to go about things. Dylan provided us with a splendid introduction day to the common bird families and antelope (plus a mongoose) at Rietvlie which was exactly what we needed after being cooped up on a plane for so long! He also capably described things about each family and then the species we were seeing. What surprised me was how knowledgeable he is about other species around the world which makes it easy for him to relate to our knowledge base. We had a splendid day talking about all sorts of things. You guys are doing everything right -Bravo! Your website came up first in a Google search and it's very inviting which encourages an inquiry. Chris, you got back to me right away, and Dylan followed up with answers and then read perfectly what we needed. Thank you so much! I will most definitely recommend you to anyone coming to this part of Africa. Keep up the good work! Dylan, thank you! I look forward to coming back some day.
Kim - On Dylan and South Africa
We went out to Marievale with Dylan to (re)connect with some South African birds after some years away from SA. It was a wonderful experience. Dylan was charming, helpful and incredibly knowledgeable about the birds. We saw over 50 species in a morning and learned a lot about the birds. We would highly recommend Birding Ecotours for an excellent birding experience.
Linda - On Dylan and South Africa
Dylan is an excellent birder and so at ease with all ages and skills and personalities. He's comfortable in new situations and very organized and made the tour a pleasure. I can't believe how young he is! Deepak was great! We were so fortunate to have him with his good English, local knowledge of birds and culture, and he was such a help to me personally.
Betty - On Dylan and India
Highlights of the Western Ghata and Nilgiri tour included seeing the regional endemic bird species such as Nilgiri Blue Robin, White-bellied Blue Robin, Black-and-orange Flycatcher, Malabar Whistling Thrush, Crimson-backed Sunbird, Sri Lanka Frogmouth, Sri Lanka Bay Owl, giant squirrels and Asian Elephants. The local cuisine was also a highlight! Dylan was friendly and professional with a good sense of humour. He knew when to be intense, when to lighten up on the birding and was always cordial. Dylan was never demeaning when answering questions. Our local guides were excellent, especially in Thattekad and Masinagudi.
Ira - On Dylan and India
I have birded with Birding Ecotours since 2004. As I stated in my first web trip report of Southern South Africa that I thought you were one of the most competent guides I had ever birded with and that Birding Ecotours was an extremely professional organization in every way. In 2013, after birding with you a dozen times in 8 countries (and more this April and June) my opinions are now cast in concrete. Your ear and ability to co-ordinate the sounds with species is unsurpassed. You are decisive and a lot of fun to travel with which, in my opinion, are qualities essential in a top guide. You and Nadia organize trips meticulously and show truly sound judgment in your choices of routes, lodging and transportation arrangements. As you know, I ask a lot of questions and have always received thoughtful and timely answers. I have never been left feeling neglected in any way. I've been asked many time by birding friends all over the world for recommendations, and Birding Ecotours is always my first choice in Africa. I don't doubt that our coming trips to Asia and the Caribbean will be equally productive and fun.
Jay - On Birding Ecotours
Dylan is a very competent guide who has an excellent knowledge of the birds, always listening for calls and very able to direct his participants to their location. He had endless patience with the group and solved any issues that came his way with great patience and good humor. We so enjoyed his company that we have booked another tour with himas our guide.
Susan - On Dylan
Dylan is an extraordinarily gifted guide with incredible hearing, visual acuity, memory for bird calls and their
appearance. He was very eager to explain and patient with the not-so-gifted participants. Not every native speaker
has such a clear, distinct and understandable pronunciation.
Zieger - on Dylan
Dylan was a perfect tour guide with amazing gifts of fantastic hearing, vision, acoustic and eye remembrance, on top
of a huge knowledge of birds habitats and behavior. He showed us this fabulous bird world with real compassion. He
never lost his good mood, always tried to satisfy complex whishes and pampered all of us, thank you very much.
Both Angolan guides did their very best and we learned much about the country.
Beatrice - On Dylan and Angola
This was my first trip to Africa and my longest birding trip ever. The itinerary was excellent, the accommodations were pleasant, and the guides were outstanding. Compared to other birding tours I've been on, this was orders of magnitude better. Kudos to Dylan and William or the support they gave to a visually- and hearing-impaired birder!
Rob - On Dylan and Uganda
An excellent tour with a great range of activity from easy roadside birding to a couple of good long day walks. I enjoyed the whole thing and particularly like it when the accommodation lends itself to birding in the gardens.
Dylan is a fantastic guide, absolutely dedicated to getting the specials and numbers expected on a trip like this. He also has an eye out for anything else interesting, a good sense of humor and is unfailingly helpful.
Rosemary - On Dylan and Uganda
Dylan takes care of each person individually taking into account fitness and physical ability to ensure all of the group
see as many birds as possible. He is a great character and an extremely capable guide with a vast knowledge of the
birds and their calls.
Danny - On Dylan
Kind, friendly and unassuming, it took a bit for me to realize that Dylan Vasapolli, who seems quite young to one of my generation, is an incredibly good birder. He found birds most often by ear, and later I came to find out he is described as having the "golden ear" by his colleagues. But he patiently made every effort to get each group member on every bird, especially the endemics and target birds. His tireless enthusiasm was infectious, and gave the group a sense of enjoyable cooperation and togetherness. He also made very good coffee and biscuits for us in the field each morning! He was an excellent group leader. Dylan is like the friend you want to go birding with, and I hope I have the opportunity to do so again in the future.
Judith - On Dylan
I have been fortunate to have been on many birding tours, and this was undoubtedly the best. The depth of experience, knowledge and birding skill of our guide Dylan Vasapolli was absolutely outstanding; and combined with his enthusiasm and kindness to every group member it made for a wonderful tour. The group size was small, which had many benefits. The depth of Birding Ecotour's experience in Africa shown thru in the choice of birding locations, meals and lodgings. These were usually quiet and less travelled, but excellent and filled with character, with a full compliment of birds and other animals nearby. We often felt as if we had these magical places to ourselves. The birds were overwhelming at times, and the bird list organization by family was helpful as we got great looks at all the target endemics – take a look at the bird list!
Judith - On South Africa and Dylan
This tour is obviously geared towards a fairly knowledgeable birder. I admit that I did not adequately prepare for this trip. But Dylan and his assistant, Luke Safford, worked tremendously hard to help us identify and see as many of the South African birds and wildlife as possible on the trip. Both these guys were extremely knowledgeable and, more importantly, un-endingly patient with those of us that had not taken the "birding" aspect of the trip that seriously and came on the trip with the idea of just having a good time and seeing whatever wildlife was offered. Dylan's professionalism, knowledge, patience, work ethic, and just plain old sense of humor made the whole trip a wonderful time. He did a GREAT job.
James - On Dylan and South Africa
Dylan and his assistant, Luke Safford, worked tremendously hard to help us identify and see as many of the South African birds and wildlife as possible on the trip. Both these guys were extremely knowledgeable and, more importantly, un-endingly patient with those of us that had not taken the "birding" aspect of the trip that seriously and came on the trip with the idea of just having a good time and seeing whatever wildlife was offered. Dylan's professionalism, knowledge, patience, work ethic, and just plain old sense of humor made the whole trip a wonderful time. He did a GREAT job.
James - On Dylan
There were so many highlights, but having Dylan as our guide and the caring and patient way he led the tour with such expertise on the bird life was really a pleasure to experience. It's funny to write, but drinking coffee and enjoying "eet-sum-mor" shortbread biscuits in Dullstroom with Yellow-breasted Pipits and African Snipe flying by was a standout experience. Of course, Kruger was amazing. Ending at Zenzele is a tremendous way to close out the tour. The pelagic boat was a little small for my liking…but I'm not that great out in the ocean so that's really on me!
Dylan's knowledge and expertise on the birds and wildlife of South Africa was amazing, but even more importantly he connected well with the tour group and exuded patience and graciousness throughout. Tucson Audubon is fortunate to have partnered with Birding Ecotours on this experience to South Africa.
Luke - On South Africa and Dylan
Dylan led the tour group with aplomb, never wavering from a patient and gracious demeanor. His knowledge of the birds and wildlife of the region was excellent. As a fellow leader I was impressed and it was easy to trust him in all situations.
Luke - On Dylan
Dylan is an excellent guide, with great birding skills, a willingness to assist less able birders and ability to track down the hard-to-spot species. He is also a lot of fun and a very nice person.
Linda - On Dylan
Senegal and The Gambia is a delightful destination and is full of birds. For those that have not experienced Africa before, it is an excellent introduction to African birding. The river trips are wonderful and it is difficult to know where to look first with bee-eaters, kingfishers of multi colors assaulting the mind. Dylan is a very able leader whom we enjoy travelling with as his African birding knowledge is first class as well as having a delightful personality well able to overcome problems that inevitably arise in African countries. The climate of sun and heat is a welcome relief of grey, cold miserable weather experienced in the northern hemisphere in winter. Accommodation is basic but adequate and local eateries are interesting but would not win any medals for hygiene.
Sue - On Senegal/The Gambia and Dylan
Great organization and a fabulous trip. Our guides and drivers were knowledgeable and attentive in the extreme. The birds, wildlife and scenery were stunning and the memory of breakfasting on the road with a view of the snow-capped Himalayas will stay with me forever! Dylan was professional, incredibly knowledgeable and skilled, caring, friendly, incredibly hard-working and always there for us!
Ron & Ruth - On Bhutan and Dylan
A brilliant day out with an exceptionally brilliant guide (Dylan), in some beautiful places, with some amazing birds - perfect.
Colin - On Dylan and Johannesburg day tours
My three day tips out of Joburg with Dylan were phenomenal - a perfect introduction to the birds of the region, with all the logistics nailed down expertly. I would strongly recommend to anyone wanting to get a quick sense of the region's bird life.
Michael - On Dylan and Johannesburg day tours
Absolutely fantastic tour of Suikerbosrand Nature Reserve and nearby wetlands. Birdlife was excellent – a great introduction to Africa for me. Dylan was excellent company and a fantastic guide - very knowledge about the local flora and fauna, and was able to quickly identify all birds by sight and call. I would highly recommend him to any prospective clients.
Alistair - On Johannesburg day tours and Dylan
Marievale Bird Sanctuary provided ample opportunity to see thousands of birds. We saw a total of 82 bird species with over 40 new life birds. Weather was perfect. Our guide, Dylan, was knowledgeable and informative.
Marcia - On Johannesburg day tours