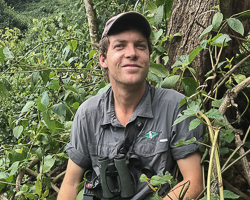 Read the blog article 'Getting to Know our Guides - Dylan Vasapolli'
Senior Tour Leader and South African Office Manager
Dylan Vasapolli grew up in the suburbs of Johannesburg and was fortunate enough to experience the joys of the then largely still-wild surroundings on a regular basis. From a young age the beauty of nature, and in particular of birds, was instilled in Dylan, and it would go on to shape his life. Turning annual 'family holidays' into pure birding adventures was one way how he and his family went about this. Knowing that he wanted to bird for the rest of his life, Dylan came into the bird-guiding world straight after high school and has been at home leading a wide array of tours ever since. Dylan has traveled and guided extensively throughout the southern half of Africa, along with eastern Europe, central America, the Caribbean, parts of South America, North America, and most recently in parts of Asia.
An impressive repertoire comprised of experience beyond his years, a well-valued persona centered on compassion, a figurative 'golden' ear when it comes to picking up the faintest of bird calls, a raw skill when getting clients onto tough species, and a strong sense of perseverance rivaled only by a select few all add up to his highly credible reputation as one of southern Africa's most respected birders, one of the region's best guides, and an invaluable part of the Birding Ecotours team. Popular with clients, Dylan is regularly booked up far in advance.
When Dylan isn't busy guiding all around the world, he manages our South African office and oversees a wide array of tasks and projects but can also be found serving on the South African Rarities committee and, more frequently, birding the greater Johannesburg region and in particular his local patch – a vibrant wetland in montane grassland a short hop away from his home.

Join Dylan on the following upcoming tours:
Read Dylan's feedback from clients:
"Dylan is just what you want in a guide–excellent eyes and ears, quick with the scope, knows just where the specialties are found in each site. He knows multiple sites well and that allowed us to modify our day in real time to not waste time driving when the remaining hours in the day were running short. He is a super nice guy as well, I really enjoyed spending the day with him."

Bryan
"Dylan Vasapolli is extremely knowledgeable about birding and photography, but it's his enthusiasm for the subject that is wonderful to experience. He has been birding for many years, and still, he has such a love for birding and the environment, which is very infectious. I was extremely lucky to have him as my guide."

Alma
"I just wanted to email and say how much I enjoyed the day yesterday in and around Suikerbosrand – Dylan was a fantastic guide, unbelievably knowledgeable, very helpful (and patient!) and good company. We saw much more than I expected, and the flufftail was the icing on the cake! I would go out of my way to recommend you guys and Dylan in particular – thanks again for a thoroughly enjoyable day.
I will be in touch when I return to South Africa – even if just to set eyes on that pesky grass owl. . .!"

Liam
"We had an absolutely wonderful weekend at Ezemvelo. Great company, good weather and Dylan.
What a good guide that young man is!!! He certainly knows his birds, and tries very hard to make everyone happy. He really goes out of his way. He's such a gentleman, he's going to go far. By the way four adults and one Blue Crane chick were seen on the weekend. Also a Black Stork, which Dylan was so pleased to see, and a couple of Honey Buzzards"

Bev
"Chris,

Our trip was wonderful! Dylan was great. Top notch birder and guide. Patient, kind, thoughtful, understanding. Best birding ears ever! He found us so many great birds! My count is 430, more than I had expected for the entire trip! Great views as well. He worked hard to get the birds and get us in position for photos. My best decision was hiring Birding Ecotours.

Cheers, more later. Off to Vic Falls now…"

Bob and Terrie
"Hi Chris,

Just a quick note today to let you know that mom (Eleanor) and I had a fantastic day with Dylan. First of all it was a great comfort to meet someone at the airport from the area who knows how to go about things. Dylan provided us with a splendid introduction day to the common bird families and antelope (plus a mongoose) at Rietvlie which was exactly what we needed after being cooped up on a plane for so long! He also capably described things about each family and then the species we were seeing. What surprised me was how knowledgeable he is about other species around the world which makes it easy for him to relate to our knowledge base. We had a splendid day talking about all sorts of things. You guys are doing everything right -Bravo! Your website came up first in a Google search and it's very inviting which encourages an inquiry. Chris, you got back to me right away, and Dylan followed up with answers and then read perfectly what we needed. Thank you so much! I will most definitely recommend you to anyone coming to this part of Africa. Keep up the good work! Dylan, thank you! I look forward to coming back some day."

Kim
"We went out to Marievale with Dylan to (re)connect with some South African birds after some years away from SA. It was a wonderful experience. Dylan was charming, helpful and incredibly knowledgeable about the birds. We saw over 50 species in a morning and learned a lot about the birds. We would highly recommend Birding Ecotours for an excellent birding experience."

Linda
"Dylan is an excellent birder and so at ease with all ages and skills and personalities. He's comfortable in new situations and very organized and made the tour a pleasure. I can't believe how young he is! Deepak was great! We were so fortunate to have him with his good English, local knowledge of birds and culture, and he was such a help to me personally."

Betty
"Highlights of the Western Ghats and Nilgiri tour included seeing the regional-endemic bird species such as Nilgiri Blue Robin, White-bellied Blue Robin, Black-and-orange Flycatcher, Malabar Whistling Thrush, Crimson-backed Sunbird, Sri Lanka Frogmouth, Sri Lanka Bay Owl, giant squirrels and Asian Elephants. The local cuisine was also a highlight!
Dylan was friendly and professional with a good sense of humor. He knew when to be intense and when to lighten up on the birding and was always cordial. Dylan was never demeaning when answering questions. Our local guides were excellent, especially in Thattekad and Masinagudi."

Ira
"Dylan is a very competent guide who has an excellent knowledge of the birds, always listening for calls and very able to direct his participants to their location. He had endless patience with the group and solved any issues that came his way with great patience and good humor. We so enjoyed his company that we have booked another tour with him as our guide."

Susan
"I was really happy to hear that Dylan would be my guide again, on this tour, which was my second with Birding Ecotours. I was not disappointed. Not only is he an excellent guide, he is also really personable and easy to get along with. I would not hesitate to recommend him to anyone interested in the Birding Ecotours trips."

Alma
"Dylan is one of the world's top African guides. I would recommend him to others and, having been with him on several trips, would not hesitate to go with him again."

Jay