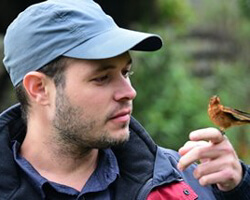 Giancarlo Ventolini
Tour Leader for Birding Ecotours
Giancarlo, a new addition to the Birding Ecotours team, comes from an Italian family that immigrated to Colombia, where he grew up and lives. Giancarlo has been in love with birds and nature all his life.
His birding skills, such as excellent eyes, hearing abilities, and knowledge of bird calls seem to indicate that he was predestined to become the excellent birding tour leader that he is proving to be. In addition to his birding proficiency Giancarlo has great people and communication skills and is a wonderful travel companion and good friend. There is nothing that he enjoys more than showing new birds to his clients and driving wherever birds are calling as far as the car can go.
He has extensive knowledge about his native Colombia, especially in his local areas such as the western and central Andes, including the classic hotspots like the Rio Blanco Reserve, Anchicaya Road and San Cipriano, Los Nevados National Park, Otún-Quimbaya, and the entire Cali area. Giancarlo has birded in a number of other neotropical countries including Peru, Costa Rica and Bolivia. He will guide our Colombian tours for now, but his popularity among clients guarantees that he will expand his frontiers to more neotropical destinations in the near future.

Join Giancarlo Ventolini on the following upcoming tours:
Read Giancarlo Ventolini's feedback from clients:
Giancarlo was an excellent guide. He is very knowledgeable about the birds of Colombia and a very pleasant person to be with. He was good at seeing and hearing birds and then using the tapes to draw the birds in. It was also very good that he wasn't using a camera. We've had guides who were more focused on getting photographs for themselves rather than helping us get the photographs. We were very impressed by the sheer number of birds we saw and the range of interesting and beautiful habitats on our 2020 Best of Colombia birding tour. We really did think we were seeing the best of Colombia from a birding perspective. Giancarlo was an excellent guide and a very nice person to be with for 3 weeks. It was also very nice that there were just the three of us and we weren't in a large group.
John and Maggie - On Giancarlo and Colombia
Excellent birder. He had great birding eyes and ears. He always helped us to see the birds. He was such a kind person, enjoyable to be around even when we were not birding. He took special care of us, always making sure we were comfortable.
Laurie - On Giancarlo
Giancarlo has the perfect characteristics of an expert guide. He is very attentive, pleasant, outgoing, calm and helpful. He is also completely honest. He gets along with people well and does what he can to solve problems.
Zane - On Giancarlo