South Peru – Birding the Inca Empire, Andes and Amazonian Rainforests
Go to: Peru Birding Tours | Birding Tours in the Neotropics | All our birding tours
Download Itinerary
South Peru: Birding the Inca Empire, Andes and Amazonian Rainforests
July 2024
Peru has the second highest country bird list on the planet (second only to Colombia). With an incredible bird species list of 1,890 species and an equally amazing 113 country endemics, Peru is, quite simply, a must-visit birding destination. Our 16-day tour through southern Peru will take you to explore some of the classic highlights of this incredible country. Peru is also famous for being one of the richest countries on the planet for archaeology, with a staggering pre-Hispanic heritage that started around 5,000BC, making it easy to find remains of its ancient past around each corner. This tour will take you to explore some of the country's classic, famous birding sites of the southern part of the country: Machu Picchu, the Manu Road and the Macaw Clay Lick. The magnificent Andean scenery and archeological sites provide a grand backdrop to the birding.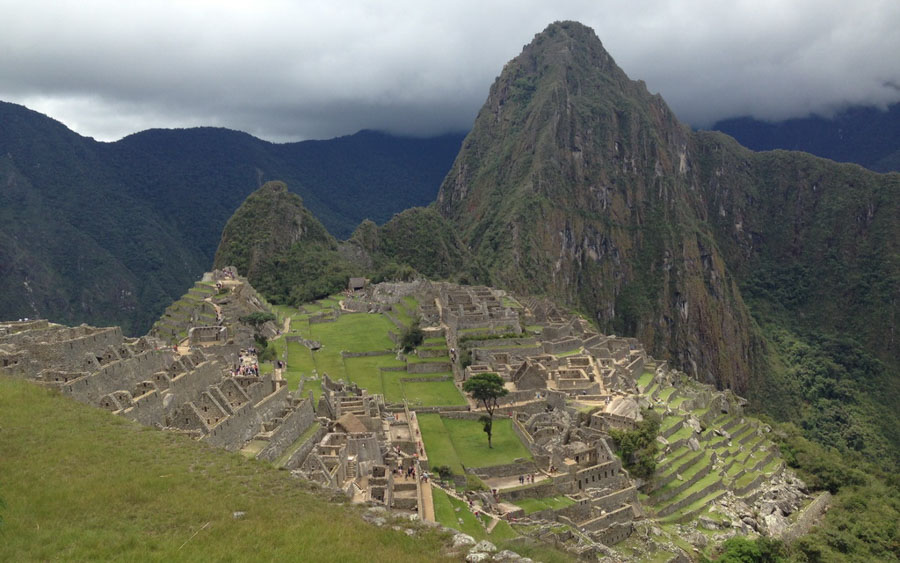 We will spend some time enjoying the famous Machu Picchu ruins (Niall Perrins).
Our tour will start in the city of Lima, the international point of entry to the country, and after being welcomed by our staff, we will spend a night in a comfortable hotel in the city. The following day we will catch a flight to the city of Puerto Maldonado, the capital of the Madre de Dios state, in the Peruvian Amazon. Puerto Maldonado provides the main point of access to the Tambopata National Reserve, a 1,060 square mile (2,700 square kilometers) wildlife haven which protects several Amazon rainforest ecosystems. This reserve is a refuge for a number of threatened and charismatic species including the likes of Giant Otters, Jaguars, Harpy Eagles and several species of loud and colorful macaws. We shall spend five days exploring this region which includes a couple of nights at the Chuncho Lodge, located near the famous Macaw Clay Lick along the Tambopata River. Here you will have the chance to witness one of the most incredible natural avian spectacles, with dozens of macaws and parrots congregating in a unique combination of color and noise; a sensory overload if there ever was one! To maximize our chances of seeing the clay lick in its full splendor we have included two visits to it. During our stay in Chuncho Lodge, we will also spend time birding along a number of forest trails where we may be lucky enough to encounter other elusive forest creatures such as Colombian Red Howler Monkey, Southern Amazon Red Squirrel, Tayra, and, with luck, a Lowland (Brazilian) Tapir or even the elusive Jaguar. Our Best of Brazil tour birding and mammal tour, which includes the Pantanal, is the best option for seeing Jaguar and other charismatic South American mammals; in Peru they tend to be more elusive.
We will have the chance to visit a classic Amazon oxbow lake where we should encounter some similar widespread Amazon species similar to those found at Chuncho Lodge but with the addition of some aquatic birds such as the incredibly beautiful Agami Heron, American Pygmy Kingfisher, Green Ibis, Sungrebe, the famous leaf-eating Hoatzin, Horned Screamer and with some luck, the scarce and endangered Giant Otter.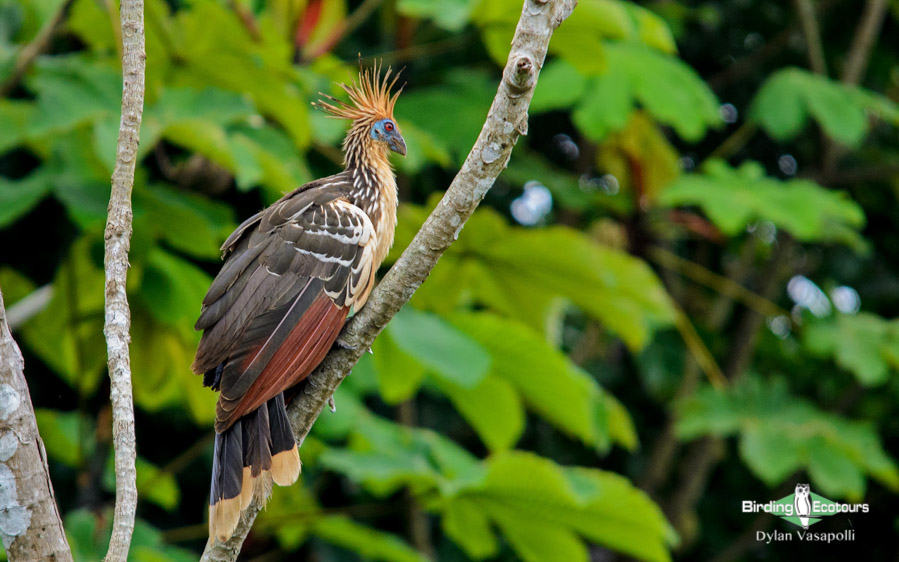 The strange-looking Hoatzin will hopefully be encountered in the Amazon rainforest.
After six days in the Amazon basin, we will fly to the city of Cusco, at an altitude of 8,858 feet (2,792 meters), from where we will be transferred to the comfortable Hotel Pakaritampu in the nearby town of Ollantaytambo. In the hotel gardens we will hope to see a number of fantastic hummingbird species including Bearded Mountaineer and Green-tailed Trainbearer. The small tourist town of Ollantaytambo stands near the train station that will take us to the famous Machu Picchu ruins.
The next day we will take a 1.5-hour, magnificently scenic, Andean train ride to the town of Aguas Calientes (hot springs), the base from which we will enjoy the ancient Inca ruins of Machu Picchu (we will have a maximum of three hours at this site). We will use the time to see the site from all its classic angles and soak in the atmosphere of this world-famous archaeological wonder. While we are here, we will also spend time tracking down the Peruvian endemic Inca Wren. The lush forest around Machu Picchu holds other interesting species such as the endemic Masked Fruiteater, the endemic Green-and-white Hummingbird, Slaty Tanager, Sclater's Tyrannulet, Andean Cock-of-the-rock, Andean Motmot, Ocellated Piculet, Blue-naped Chlorophonia, Variable Antshrike, Rust-and-yellow Tanager, Andean Guan, White-eared Solitaire, Pale-legged Warbler, Oleaginous Hemispingus, while the nearby river provides views of Torrent Duck, White-capped Dipper and Fasciated Tiger Heron.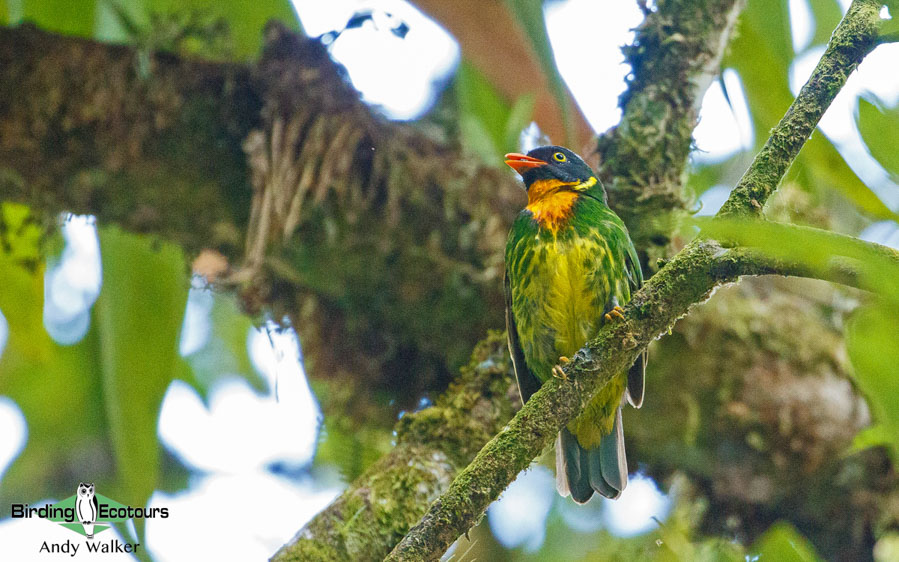 The brightly colored Masked Fruiteater.
The last leg of our adventure will take us to explore the fantastic Manu Road, a famous (among birders especially), unpaved, old road that links the city of Cusco with the lowlands of Madre de Dios, in the Amazon basin. Manu Road provides us with dramatic altitudinal changes, ensuring we pass through many different habitat types which, in turn, means we will encounter a myriad of bird species. Manu Road is an essential inclusion on any birding tour to southern Peru. We will spend the following five days exploring habitats including arid scrub slopes, steep mountain slopes, cloud forest and lush humid tropical forest. We will look for an incredible set of species such as the endemic Red-and-white Antpitta, Marcapata Spinetail, Creamy-crested Spinetail, Chestnut-breasted Mountain Finch, Masked Trogon, Grey-breasted Mountain Toucan and Golden-headed Quetzal. Mixed-species flocks will be investigated for a number of tanagers such as Paradise, Bay-headed, Spotted, Beryl-spangled, Blue-and-black and Golden-collared as well as the gorgeous Versicolored Barbet.
The two-week-long odyssey will give you an introduction to South America like no other. On this tour we will visit two mega birding destinations, Manu Road and the Macaw Clay Lick as well as the world-famous Machu Picchu Inca ruins. This tour can be combined with our preceding Cusco and Apurímac Jewels birding trip, where we target a number of classic Andean specials. Come and join us on this birding adventure which is sure to be an assault on the senses.
Itinerary (16 days/15 nights)
Day 1. Arrival in Lima
This is a travel day. You will arrive at Jorge Chávez International Airport in Lima and will be transferred to your hotel.
No activities are included on Day 1, since most international flights arrive in Lima late in the evening. If you arrive on an early flight you might be able to arrange an early check-in at the hotel (usually at a reasonable price), or we can organize an optional birding morning near the city.
Overnight: Hotel in Lima
Day 2. Flight to Puerto Maldonado and birding the town
After a 2.5-hour flight we will reach the Amazon town of Puerto Maldonado. Once in Puerto Maldonado, we will check in at the hotel and after lunch explore the Cachuela Road near town for our first set of birds.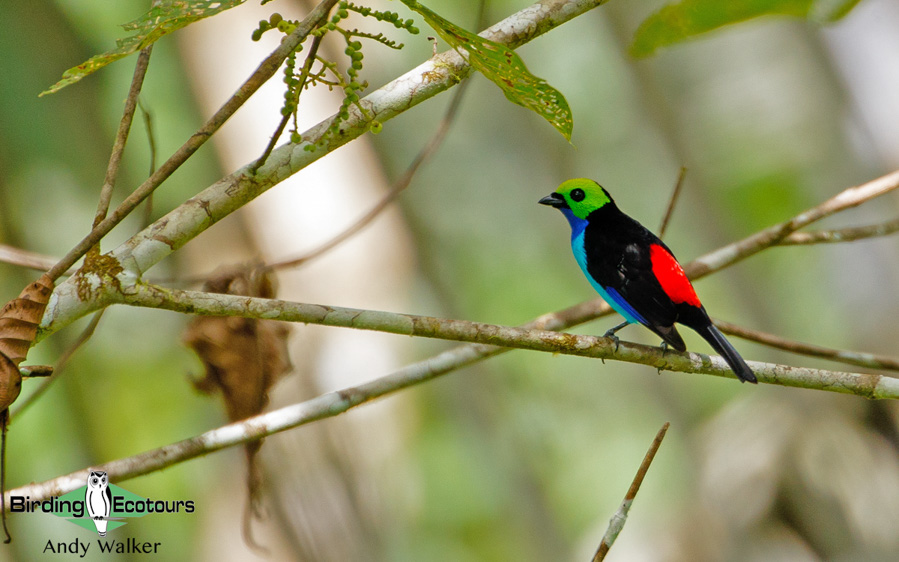 Paradise Tanager is one of the many tanager species we should see on this tour.
The birding around Puerto Maldonado is quite good early in the morning and then again in the afternoon. The habitat consists of agricultural pastures with tropical secondary growth, which is quite good for finding specials like the localized White-throated Jacamar. A population of Brazilian Teal has established itself around town, and we should have close-up views of this bird. Other birds include Rusty-margined Flycatcher, Spotted Tody-Flycatcher, Cobalt-winged Parakeet, Blue-headed Parrot, Bare-necked Fruitcrow, Green Ibis, Roadside Hawk, Red-breasted Blackbird, White-tailed Kite, Chestnut-bellied Seedeater, Purus Jacamar, Great Antshrike and Barred Antshrike.
Overnight: Hotel Cabaña Quinta, Puerto Maldonado
Day 3. Birding Sandoval Lake
We will have an early start to take our 45-minute-long boat trip along the river to the Sandoval Lake, a huge oxbow lake near the Madre de Dios River. The trail leading to the lake is roughly two miles (almost three kilometers) long and along the trail we will keep a look out for species such as Black-fronted Nunbird, Buff-throated Woodcreeper, Yellow-tufted Woodpecker, White-bellied Parrot, Coraya Wren, Great Antshrike, Black-faced Antthrush, Plumbeous Pigeon, Lineated Woodpecker, Undulated Tinamou, Spix's Guan, Speckled Chachalaca, Black-tailed, Blue-crowned and Green-backed Trogons and Amazonian Motmot. When we reach the lake, we will have a canoe ride across the lake where we expect to see the gorgeous Blue-and-yellow Macaw, and other birds such as Green Ibis, Grey-cowled Wood Rail, Bluish-fronted Jacamar, Sungrebe, Sunbittern, Long-billed Woodcreeper, Point-tailed Palmcreeper, Horned Screamer, Limpkin, Capped Heron, Sunbittern, Greater Ani, Masked Crimson Tanager, White-throated Toucan, Black Caracara, Snail Kite, Ringed, Green, Amazon and American Pygmy Kingfishers, Gilded Barbet, and with luck the elusive Agami Heron. We shall pay special attention to Red-bellied Macaws, which roost in the Mauritian Palm trees. We will then take the trail back to the river to be transferred to Puerto Maldonado city.
Overnight Hotel Cabaña Quinta, Puerto Maldonado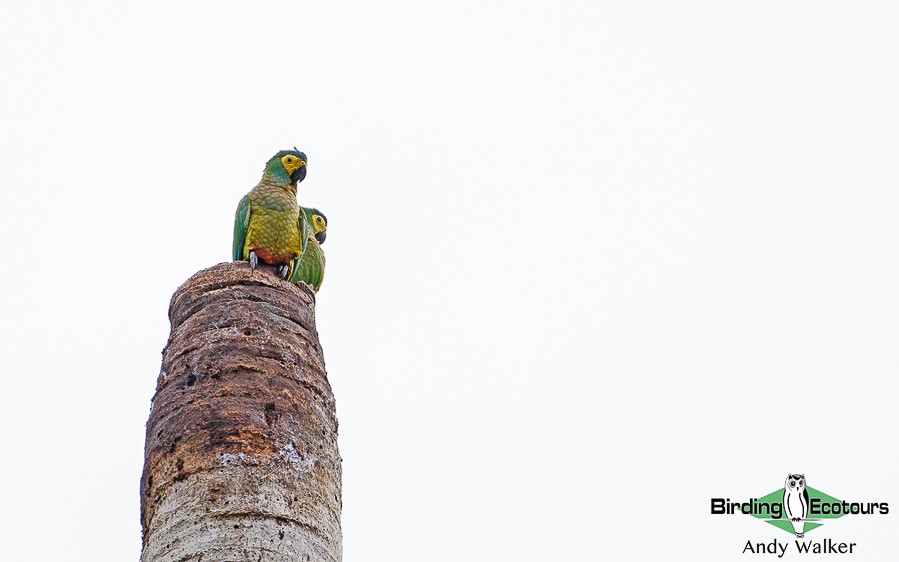 Red-bellied Macaw is one of a number of parrot species we should see on this tour.
Days 4– 6. Macaw Clay Lick and Amazon rainforest
We will spend the next three days exploring the Chuncho Lodge located along the Tambopata River. This lodge can only be reached by a combination of land and river transportation from Puerto Maldonado and is located near the Tambopata National Park in the Amazon lowlands.
The lodge is strategically located near the famous Chuncho Macaw Clay Lick where (weather permitting) we can witness the daily ritual of several species of parrots and macaws coming to ingest the clay from which they obtain nutritional supplements and antioxidants to eliminate potential toxins from their usual diet.
The Chuncho Macaw Clay Lick provides us with chances of seeing Chestnut-fronted Macaw, Red-and-green Macaw, Scarlet Macaw, Blue-and-yellow Macaw and Blue-headed Macaw, which should hopefully give us six macaw species for the trip.
Other parrots seen at the clay lick include Southern Mealy Amazon, Yellow-crowned Amazon, Blue-headed Parrot, Orange-cheeked Parrot, White-eyed Parakeet and Dusky-headed Parakeet.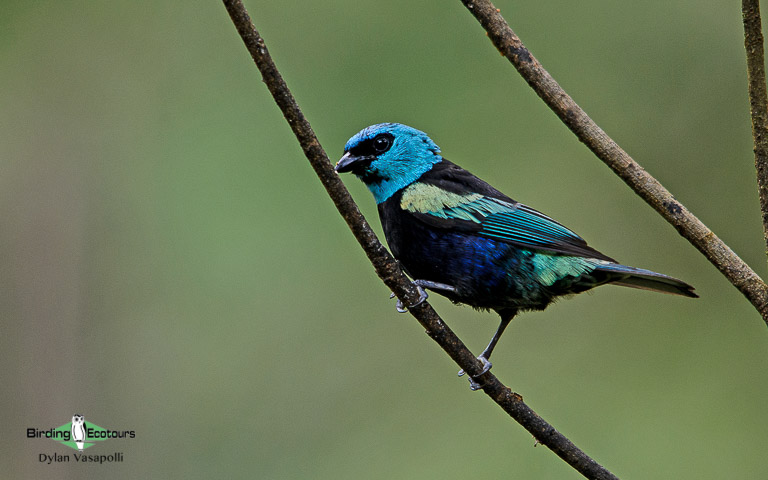 Blue-necked Tanager, yet another gorgeous tanager.
The river trips from the lodge to the clay lick can be delightful with some of the following fantastic species likely: Capped Heron, Cocoi Heron, White-banded Swallow, White-winged Swallow, Yellow-tufted Woodpecker, Black Caracara, Great Black Hawk, Swallow-winged Puffbird, Roadside Hawk, Sunbittern, and perhaps even our first encounters with Colombian Red Howler Monkeys and Capybaras. If we are lucky, we may see the scarce Orinoco Goose; this is one of the best places to see this species in Peru.
The forest interior holds skulking species such as Striated Antbird, White-browed Antbird, White-lined Antbird, Silvered Antbird, Plumbeous Antbird, Goeldi's Antbird, Chestnut-tailed Antbird, Black-faced Antthrush, Undulated Tinamou and Moustached Wren. Other canopy and sub-canopy forest species that we might see,include White-necked Puffbird, Semicollared Puffbird, Lemon-throated Barbet, Lettered Aracari, Chestnut-eared Aracari, Band-tailed Manakin, Screaming Piha, Crimson-crested Woodpecker, and Red-necked Woodpecker. With luck, we might also find the elusive Razor-billed Curassow, Pavonine Quetzal and Pale-winged Trumpeter.
At night we can try for Crested Owl, Spectacled Owl and Tawny-bellied Screech Owl.
Overnight: Chuncho Lodge
Day 7. Flight to Cusco and transfer to Ollantaytambo
Today we will be transferred back to the city of Puerto Maldonado and catch a flight to Cusco in the Peruvian Andes.
The city of Cusco is well-known as the capital of the ancient Inca Empire and is certainly one of the most important archaeological destinations in the world. Cusco is a busy tourist destination with good facilities and we will overnight in Cusco later in the tour; today we'll instead proceed further to Ollantaytambo. We should hopefully arrive in this small, fascinating Andean town in the Urubamba Valley, the "sacred valley of the Incas" in the afternoon.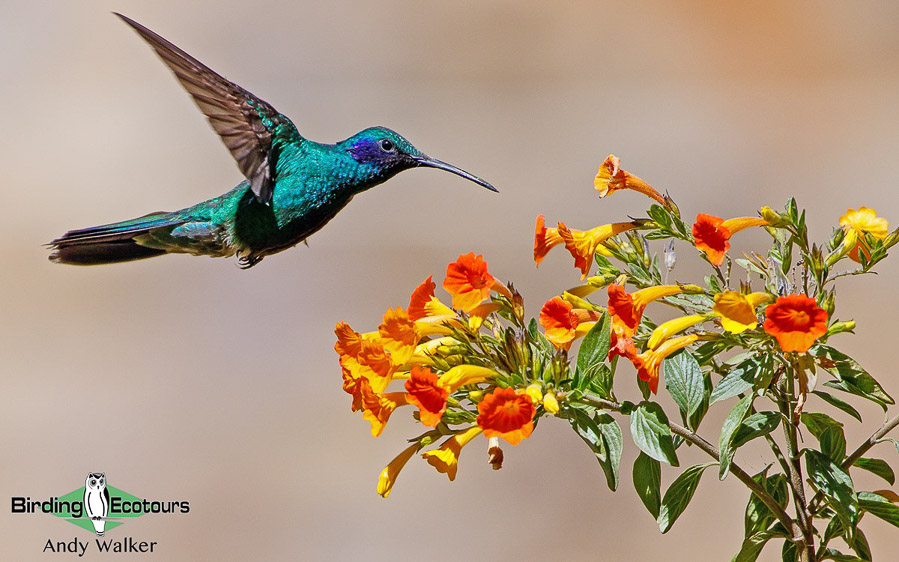 Sparkling Violetear, one of the many hummingbird species we will likely encounter on this trip.
The gardens of the hotel are very good for hummingbirds such as the endemic Bearded Mountaineer, spectacular Black-tailed and Green-tailed Trainbearers, White-bellied Hummingbird, Sparkling Violetear and a number of other species including Greenish Yellow Finch and Golden-billed Saltator.
Overnight: Hotel Pakaritampu, Ollantaytambo
Day 8. Birding Machu Picchu
Ollantaytambo is a very busy, yet small, tourist town. From here, we will take a 1.5-hour train journey to the village of Aguas Calientes (hot springs), the entry point to the famous Machu Picchu ruins. This is the most scenic part of the journey and through the train windows it is possible to see Torrent Ducks on the rapids of the Urubamba River. We will then take a 20-minute bus drive to the top of the mountain and will then enter the renowned Inca ruins of Machu Picchu. Despite the crowds of tourists, we will do our best (weather permitting) to ensure you get all the classic Machu Picchu views and appreciate its fine and impressive stone work. Please note, the visit does not include the complete cultural and comprehensive tour that can take over three hours, as there are also some important target birds for us to look out for while here.
The lush forest around Machu Picchu holds great species such as Andean Motmot, Collared Inca, Slate-throated Whitestart, Green Hermit, Plum-crowned Parrot, Torrent Duck, Torrent Tyrannulet, Black Phoebe, Silver-backed Tanager, Mottle-cheeked Tyrannulet and the Peruvian endemic Inca Wren.
Overnight: Aguas Calientes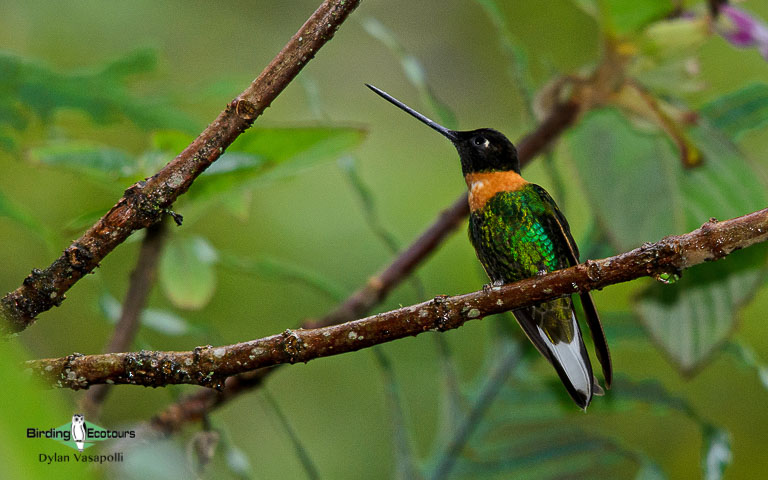 We'll look for the distinctive local subspecies of Collared Inca in the Machu Picchu area.
Day 9. Birding the Urubamba River, return to Cusco
We will spend a full morning along the Urubamba River, looking for the endemic and most-wanted Masked Fruiteater as well as the endemic Green-and-white Hummingbird. We will look out for mixed-species flocks which often contain Sclater's Tyrannulet, Plumbeous-crowned Tyrannulet, Ashy-headed Tyrannulet, Blue-necked Tanager, Saffron-crowned Tanager, Ocellated Piculet, Slaty Tanager, Fawn-breasted Tanager, Barred Becard, Azara's Spinetail, Chestnut-capped Brushfinch, Capped Conebill, Mitred Parakeet, Golden-crowned Flycatcher, Golden-olive Woodpecker and Grey-breasted Wood Wren.
After lunch we will take the train back to Ollantaytambo and then drive back to Cusco to our hotel located just a few blocks from the main Cusco square.
Overnight: Andean Wings Boutique Hotel, Cusco
Day 10. Birding the Manu Road
Today we will explore the famous road that connects the Andes of Cusco with the Amazon rainforest, the Manu Road. The Manu Road passes through different types of habitat like dry high-altitude Andean mountains, elfin forest, cloud forest, and moist montane forest. We shall leave Cusco in the direction of the Manu Road with the first stop on the Huacarpay Lake. Here we shall have a quick look for several species of Andean waterfowl, like Yellow-billed Teal, Yellow-billed Pintail, Puna Teal, Cinnamon Teal, and Andean Duck. Other birds include Plumbeous Rail, Andean Coot, Yellow-winged Blackbird, Many-colored Rush Tyrant, Streak-fronted Thornbird, Wren-like Rushbird, Andean Gull, Andean Lapwing, Andean Flicker and Cinereous Harrier. We will also look for Giant Hummingbird, the largest hummer in the world, as well as for the endemic Rusty-fronted Canastero.
We will drive up the mountains to 12,500 feet (3,800 meters), where we will have chances of seeing Slender-billed Miner, Mountain Caracara, Andean Flicker, Brown-bellied Swallow, Puna Thistletail, Brown-backed Chat-Tyrant, D'Orbigny's Chat-Tyrant, White-throated Tyrannulet, Violet-throated Starfrontlet, Amethyst-throated Sunangel, White-banded Tyrannulet, along with two fine Peruvian endemics, Creamy-crested Spinetail and Chestnut-breasted Mountain Finch. In the evening we will look for Swallow-tailed Nightjar, which is often seen along the road.
Overnight: Wayqecha Biological Station near Manu National Park
Day 11. Birding the Manu Cloud Forest
We will explore the area around the lodge including the Wayqecha Canopy Walkway and the famous Pillahuata area looking for two important Peruvian endemics, Red-and-white Antpitta and Marcapata Spinetail, as well as other great birds such as Grey-breasted Mountain Toucan, Band-tailed Fruiteater, Masked Trogon, Southern Mountain Cacique, Red-crested Cotinga, Black-throated Tody-Tyrant, Trilling Tapaculo, Barred Fruiteater, Fulvous Wren, Moustached Flowerpiercer, Masked Flowerpiercer, White-collared Jay and Montane Woodcreeper. We will search through mixed-species feeding flocks where we may pick out a number of tanager species such as Golden-collared Tanager, Grass-green Tanager, Scarlet-bellied Mountain Tanager, Chestnut-bellied Mountain Tanager and Hooded Mountain Tanager. With some luck, we might find Yungas Pygmy-Owl, which is often seen in the cloud forest around Wayqecha. After a hopefully good morning birding session, we will start our slow drive through the magical humid montane forest including the Rocotal area where we can get our first looks at Blue-banded Toucanet, Chestnut-crested Cotinga and Andean Cock-of–the-rock.
Near the Union bridge, we will check the fast-flowing waters of the Kosñipata River looking for Torrent Duck and White-capped Dipper and with luck Lyre-tailed Nightjar at its daytime roost.
After a great day's birding, we will arrive at the Cock of the Rock Lodge which will be our base for the next three days.
Overnight: Cock of the Rock Lodge, Manu Cloud Forest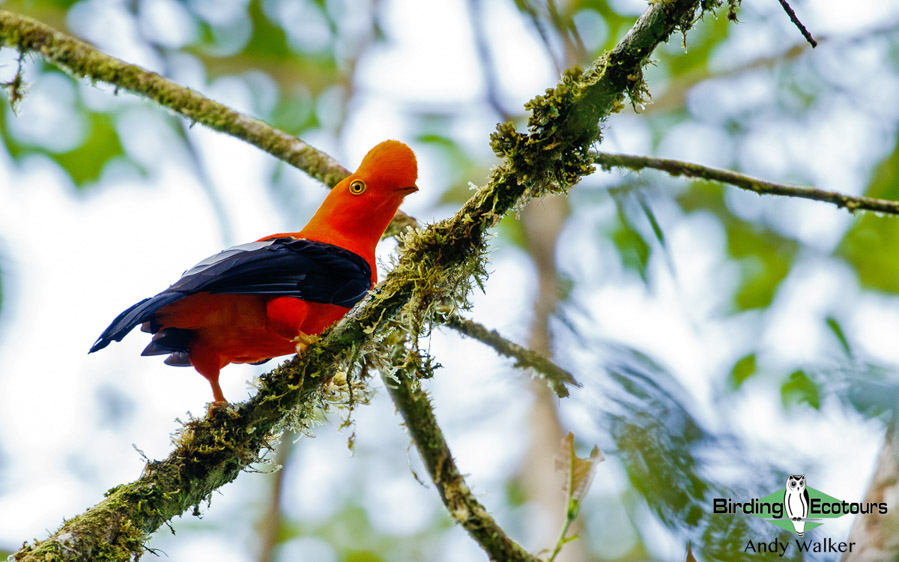 The highly sought-after Andean Cock-of-the-rock.
Days 12 – 14. Birding around Cock of the Rock Lodge
We have three full days to explore the area around the Cock of the Rock Lodge, looking for amazing flocks of tanagers such as Bay-headed Tanager, Golden Tanager, Blue-necked Tanager, Orange-eared Tanager, Spotted Tanager, Paradise Tanager, Straw-backed Tanager, Green-and-gold Tanager, Golden-eared Tanager and Beryl-spangled Tanager. We will also of course look for many other birds like Blue Dacnis, Black-faced Dacnis, Versicolored Barbet, Montane Foliage-gleaner, Peruvian Warbling Antbird, Stripe-chested Antwren, Chestnut-backed Antshrike, Western Fire-eye, Yungas Manakin, Olive-backed Woodcreeper, Plumbeous Pigeon, Lemon-browed Flycatcher, Slaty-capped Flycatcher, Black-and-chestnut Eagle, Ochre-faced Tody-Flycatcher, Magpie Tanager, Long-tailed Tyrant, Blue-banded Toucanet, White-eared Solitaire and Andean Cock-of-the-rock. At night we may find Rufescent Screech Owl and with luck the scarce Band-bellied Owl.
Then we have another day to explore the lower altitude parts of Manu Road, where we can find Bamboo Antshrike, Red-billed Scythebill, Dot-winged Antwren, White-lined Antbird, Ornate Stipplethroat, Scaly-naped Amazon, Buff-rumped Warbler, White-winged Tanager, the Peruvian endemic Black-backed Tody-Flycatcher. Hummingbird feeders provide great views of Violet-fronted Brilliant, Wire-crested Thorntail, Rufous-booted Racket-tail, Fork-tailed Woodnymph, Speckled Hummingbird, Sparkling Violetear, and Many-spotted Hummingbird.
We will be lucky to find the secretive Brown Tinamou which sometimes visits the Cock of the Rock Lodge gardens, also a good place to try for the elusive endemic Cerulean-capped Manakin and Yungas Manakin. The feeders in the garden often attract other wildlife such as Tayra, Bolivian Squirrel and Margarita Island (Large-headed) Capuchin.
The viewpoint known locally as the "Mirador" a few kilometers above the lodge, is a good vantage point to look for Black-and-chestnut Eagle and Solitary Eagle, truly spectacular raptors, while we will have our work set out for us as we keep a look out for Andean Potoos at their day roosts. Other mixed flocks often contain Cuzco Warbler, Two-banded Warbler, Grey-mantled Wren, Streak-necked Flycatcher, Capped Conebill and with luck Yellow-rumped Antwren.
Overnight: Cock of the Rock Lodge, Manu Cloud Forest
Day 15. Transfer to Cusco
On our final day on the Manu Road we will drive from Cock of the Rock Lodge back to Cusco, making selective stops along the road while looking for species we may have missed on previous days.
Overnight: Andean Wings Boutique Hotel, Cusco
Days 16. Flight to Lima and departure
You will fly out from Cusco to Lima city and connect to your international flights.
Please note that the itinerary cannot be guaranteed as it is only a rough guide and can be changed (usually slightly) due to factors such as availability of accommodation, updated information on the state of accommodation, roads, or birding sites, the discretion of the guides and other factors. In addition, we sometimes have to use a different international guide from the one advertised due to tour scheduling.
Download Itinerary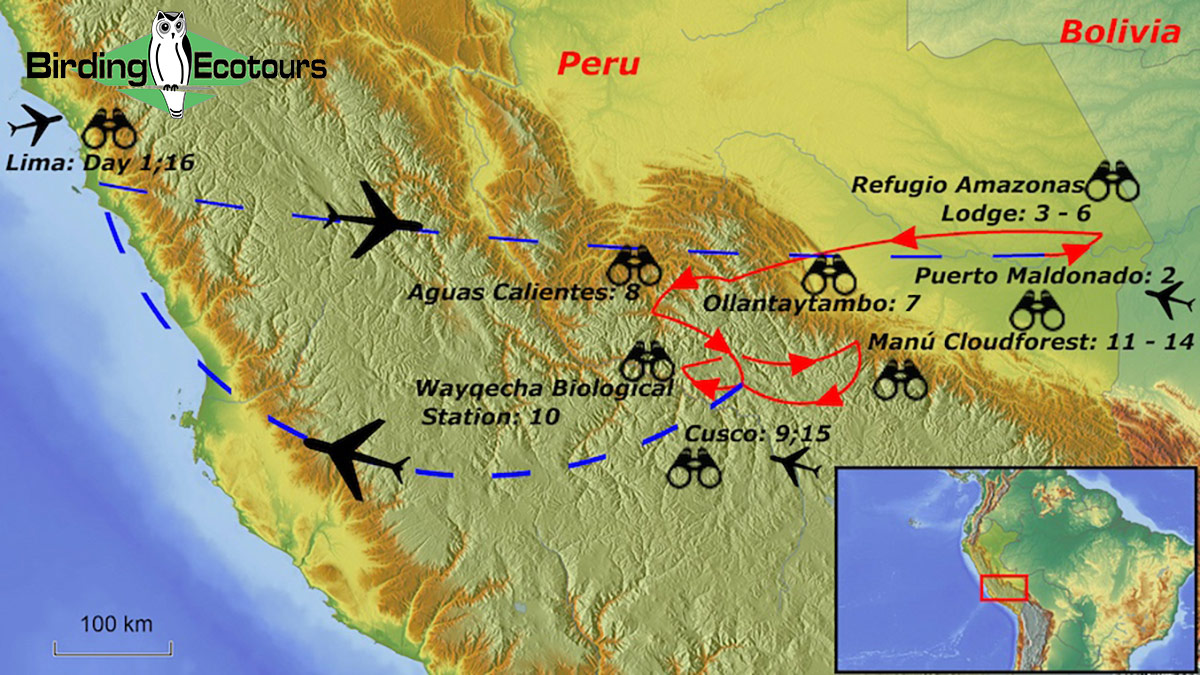 Peru: Machu Picchu and the Manu Road Trip Report
JULY/AUGUST 2017
DOWNLOAD TRIP REPORT
Without doubt, our 2017 Peru Cusco and Manu birding trip was a great experience for those who never had been in the Neotropics, especially considering the short time to explore as much as we could in 10 days only. We decided to focus on the highlights of the south-eastern part of the country, such as the legendary ruins of Machu Picchu and the humid mountain forest of the Manu Road. We had time to spend a full day along the coast south of Lima, adding some coastal birds, and another day to visit the dry mountains of Cusco and the famous Sacred Valley during our journey to Machu Picchu. On this 10-day birding trip we were very lucky with both weather and bird activity. Focusing only on Manu without including the Amazon lowlands allowed us to record 403 avian species, including several country and regional endemics.
Our trip began in the city of Lima, which is the main entrance point to the country for all international travelers. The group stayed in the convenient Miraflores area out of the bustling urban horrors of the airport area. The next morning we met at the hotel, and before jumping into the vehicle we had a little time to enjoy West Peruvian Dove, Long-tailed Mockingbird, Rufous-collared Sparrow, Southern Beardless Tyrannulet, Amazilia Hummingbird, and Scrub Blackbird just in front of the hotel gardens.
We left the city and took the Pan-American Highway directly to the fishing village of Pucusana. On the way to the highway we crossed the famous Pantanos de Villa (Villa Marshes) Wildlife Refuge, which is a classic birding site near the city, but we decided to leave it for later in the day and arrive at Pucusana as early as possible.
Once at the Pucusana lookout we saw our first Belcher's Gull, dozens of Inca Terns flying in front of us, Peruvian Pelican, Peruvian Booby, Blackish Oystercatcher, and Red-legged Cormorant. We scanned the waters in search of the most-wanted Humboldt Penguin and had the privilege of watching through the scope a family of eight porpoising in the water.
We then visited the opposite site of the lookout to admire Inca Terns roosting at an incredibly close distance, about four to six meters in front of our eyes. It was fantastic watching these gorgeous terns at such proximity and with excellent light as well, indeed a treat for photographers.
Later we took a boat to sail around Pucusana Island. This is a short and gentle boat ride in the bay of Pucusana, which allowed us close-up views of species like Guanay Cormorant, Blackish Oystercatcher, Peruvian Pelican, Peruvian Booby, Whimbrel, Ruddy Turnstone, and a colony of Blue-footed Booby as a main target of the site. It was nice to have two species of boobies roosting on the same cliff for comparison.
A great bonus was seeing the elusive and seldom-seen marine otter a short distance from our boat. This is normally a very shy species, but the number of sightings has been increasing since our last visit to this place. We also were able to watch a number of South American sea lions resting on the rocks while we were looking for the endemic Peruvian Seaside Cinclodes but we could not find it.
Then we hit the road again and drove 11 kilometers south of the Pan-American-Pucusana road junction to get to the Puerto Viejo Wetlands. Sadly, this area is not well protected, and the impact of human disturbance is very obvious. Nevertheless, the area always produces some nice surprises for birders; Peruvian Martin, Hudsonian and Marbled Godwits, and Wandering Tattler have been reported from the area. We arrived and quickly ticked our first target, the endemic Coastal Miner. Other birds included Grassland Yellow Finch, Peruvian Meadowlark, Chestnut-throated Seedeater, West Peruvian Dove, Black-crowned Night Heron, Great Egret, Striated Heron, Great Grebe, Wren-like Rushbird, and the gorgeous Many-colored Rush Tyrant.
After moving to the shore we saw hundreds of Grey Gulls and a few Whimbrels and American Oystercatchers. Normally this beach is empty during our winter and is only visited by surfers due to its spectacular waves, but no services are available. So after our delicious picnic lunch we left Puerto Viejo and moved back to Lima, but with a short stop along the Pan-American Highway near the archaeological site of Pachacamac. Even though the archaeological site is not obvious from the road there is a small bridge next to the road, where you can carefully park and look for some species. Here we observed Croaking Ground Dove, Groove-billed Ani, Amazilia Hummingbird, Chestnut-throated Seedeater, Pacific Parrotlet, and Northern Crested Caracara.
We continued our drive towards Pantanos de Villa, where we managed to add Andean Coot, Common Gallinule, Pied-billed Grebe, Little Blue Heron, Snowy Egret, Black-necked Stilt, Cinnamon Teal, White-cheeked Pintail, Grey-headed Gull, Laughing Gull, a shy Least Bittern, a single Burrowing Owl, and a nice flock of Black Skimmers to our list.
The day had been nice so far, but we were still missing an endemic target and did not surrender. On the way back to Miraflores we took a detour to the Circuito de Playas (which is the road that runs parallel to the shore of Lima and connects Chorrillos and La Punta in the Callao province). This road is very popular and busy during most of the day but presents really nice scenery. We went straight to the Chorrillos shore, and on the rocky slopes, as if it were meant for us, we found our last target for the day, Peruvian Seaside Cinclodes, waiting for us. Finally we arrived back at the hotel to get ready for the next day's flight to Cusco.
After a smooth one-hour flight we arrived in Cusco and were immediately transferred to the Huacarpay wetlands, which are located not far from Cusco. We stopped our vehicle at the local restaurant and immediately started to find species of bush and scrub habitat, such as Blue-and-yellow Tanager, Golden-billed Saltator, Band-tailed Seedeater, Chiguanco Thrush, Rufous-collared Sparrow, White-browed Chat-Tyrant, and the elusive Streak-fronted Thornbird
Then we explored on foot the rocky slopes near the Pikillaqta ruins, having splendid views of the endemic Rusty-fronted Canastero and Andean Flicker and great views of Black-chested Buzzard-Eagle and Variable Hawk.
A little bit lower, near the wetlands, we had great open views and could scan the area. Here we found Cinereous Harrier, Yellow-winged Blackbird, a very cooperative Plumbeous Rail, Andean Duck, Yellow-billed Teal, Yellow-billed Pintail, and Puna Teal. We also recorded another Many-colored Rush Tyrant, and Wren-like Rushbirds could be heard calling. Several Andean Lapwings, Andean Gulls, and Puna Ibis were also enjoyed.
Having enjoyed great views of all the morning's target species we moved along the Urubamba River, also known as the Sacred Valley of the Incas, and almost two hours later we arrived in Ollantaytambo at the comfortable Hotel Pakaritampu. The drive to Ollantaytambo was not very birdy, but we still added Sparkling Violetear and our first Spot-winged Pigeon en route. Once in the hotel we ordered some drinks in the garden and started looking for the star of the day, the endemic Bearded Mountaineer. Soon we managed to have terrific views of this cracker species feeding easily in the hotel garden, where it seems to be resident.
Other birds we observed in the garden were Black-throated Flowerpiercer, Rusty Flowerpiercer, a perched Spot-winged Pigeon, Hooded Siskin, Cinereous Conebill, and an awesome glimpse of Giant Hummingbird. This had been our first day in the Cusco Region, and after this exciting, long day we went to get a hot meal to recover our energy.
The next day was incredibly hectic. New regulations for visitors to Machu Picchu include a single admission fee valid for six hours only and two groups per day. The first group is allowed to visit from 06.00 a.m. to 12.00 p.m.; the second group is allowed to visit from 12.00 p.m. to 17.00 p.m. In addition to a the lack of prior information and the disorder produced by these new regulations, they force the tourists to get bus tickets (for the bus that goes from Aguas Calientes to the ruins) well in advance, resulting in long queues even early in the morning. I do not know how, but we survived all this chaos and sometime later than expected we were visiting Machu Picchu as part of the first group, and we fortunately had cracker views of our major endemic target, Inca Wren. However, getting to and visiting Machu Picchu is not as much fun anymore as it used to be. The ruins themselves did not offer much more than the expected Blue-and-white Swallow, Tropical Kingbird, Rufous-collared Sparrow, and White-winged Black Tyrant.
We arrived back in Aguas Calientes for a quick lunch and then spent the rest of the afternoon birding along the Urubamba River between the train station and the old helicopter field. We managed to get first scope views of a pair of Torrent Ducks (we had seen several pairs from the train window on the trip from Ollantaytambo to Aguas Calientes) in addition to Torrent Tyrannulet, White-capped Dipper, Andean Guan, Plum-crowned Parrot, Azara's Spinetail, Andean Motmot, Saffron-crowned Tanager, and Yellow-bellied Seedeater.
We spent the whole next morning birding the area between Puente Ruinas and the Mandor Valley, a walk that starts just in the village and following the river towards the old train station. The forested area just behind the first bridge provided Saffron-crowned Tanager, Black Phoebe, and Band-winged Nightjar before dawn.
The campsite at Los Jardines de Mandor and the new Butterfly House are always good for Ocellated Piculet, Mitred Parakeet, Slate-throated Whitestart, Streaked Xenops, Chestnut-capped Brushfinch and Grey-breasted Wood Wren. The people involved in the butterfly farm project are maintaining fruit feeders for tanagers, and during our visit we saw Blue-grey Tanager, Saffron-crowned Tanager, Thick-billed Euphonia, and Dusky-green Oropendola. One should keep an eye out here for a potential Versicolored Barbet, which is usually seen a little bit further at the old train station. It is also appropriate to support the project with a volunteer contribution to help them buying fruit for the birds and encourage their offering of more facilities for birders.
At Puente Ruinas we found Golden-crowned Flycatcher, Mottle-cheeked and Sclater's Tyrannulets, Golden-naped Tanager, Barred Becard, Slaty Tanager, Capped Conebill, Golden-olive Woodpecker, Silver-backed Tanager, Variable Antshrike, Pale-legged Warbler, and Tropical Parula. We continued walking further with more views of Andean Motmot and Roadside Hawk. Suddenly the call of White-eared Solitaire revealed its presence, and after a tape attempt we managed to bring it closer and were able to admire its striking appearance – for sure one of the most handsome birds of the tropical Andean cloudforest. A small flock with the usual friends also provided the uncommon Fawn-breasted Tanager and Oleaginous Hemispingus as new for the trip. We walked back to Puente Ruinas, and I was lucky enough to hear the call of Masked Fruiteater and to show both male and female very well to all participants. We walked back to town for lunch, retrieved our luggage from the hotel, and walked to the station to get our train back to Ollantaytambo, from where we traveled by car to Cusco for a comfortable overnight.
The next day we started our trip to the Manu Road. We were planning to spend a night at the Wayquecha Cloud Forest Biological Station and then three nights at the Cock of the Rock Lodge (CORL) in Manu National Park and in this short time to try to enjoy as much as possible. This is one of the most incredible birding routes in the Andes with different altitudinal ranges, diverse natural habitats changing from high puna grasslands to elfin and cloudforest mountains, and upper tropical Amazon habitats in an elevation that goes from 3600 to 500 meters. The secret is always the weather, and we could not complain at all, as we indeed had good weather overall, and the misty and raining day we had at CORL allowed us to have a very active flock activity throughout the afternoon.
We left Cusco and again passed the Huacarpay wetlands, and then we crossed the Puente Huambutio on the way to Paucartambo, the closest town to the entrance of Manu National Park. On the way we added several new species to our trip list, including Plumbeous, Peruvian, and Ash-breasted Sierra Finch, Cream-winged Cinclodes, Ochre-naped Ground Tyrant, Slender-billed Miner, Mountain Caracara, Rufous-webbed Bush Tyrant, Andean Flicker, Spot-winged Pigeon, Chiguanco Thrush, and Shining Sunbeam, in habitats such as open agricultural pastures, rocky slopes, and short, bushy vegetation with Eucalyptus trees.
Paucartambo is a picturesque, remote Andean town in the mountains above Cusco and is famous for being the center of the religious festival of Virgen Del Carmen and the entrance of the Manu Biosphere Reserve. We stopped in the market to stretch the legs and crossed the pedestrian bridge over the Quencomayo River, looking for Brown-bellied Swallow and also finding White-winged Cinclodes and White-bellied Hummingbird.
Not much later we reached the Acjanaco pass, the gateway to Manu National Park. While our staff set up our picnic lunch we were busy with surprisingly good flock activity for such a bad time of the day; we easily encountered the endemic Creamy-crested Spinetail, White-throated Tyrannulet, White-banded Tyrannulet, Moustached Flowerpiercer, Brown-backed Chat-Tyrant, and Violet-throated Starfrontlet. After lunch we explored the area, and it was well worth it. We enjoyed Grass Wren, Puna Thistletail, Blue-blacked Conebill, Puna Tapaculo, Scarlet-bellied Mountain Tanager, and the localized Scribble-tailed Canastero.
After getting back to the main road we drove toward the Wayquecha Cloud Forest Biological Station, amazed at the change of scenery and habitats, and added more species to our list, including Red-crested Cotinga, Streak-throated Bush Tyrant, and Andean Guan. We arrived at the station in perfect time for a nice cup of tea and admired a number of new hummingbird feeders with species such as Long-tailed Sylph, Amethyst-throated Sunangel, and Tyrian Metaltail. We also found Masked Flowerpiercer to be rather common around the lodge clearing as well as Rufous-breasted Chat-Tyrant.
The next morning we left the station before dawn in the direction of the tunnels, and we scored with an amazing view of a male Swallow-tailed Nightjar sitting by the road. An incredible start! At the tunnels we added Grass-green Tanager, Superciliaried Hemispingus, Citrine Warbler, the endemic Marcapata Spinetail, Pearled Treerunner, and Montane Woodcreeper. While walking back to the station we had good views of Andean Solitaire, Masked Trogon, Barred Fruiteater, and a cooperative Trilling Tapaculo – all these goodies before breakfast!
After a quick and yummy breakfast we started birding the road again, focusing on the area between the station and Pillahuata. We did well, adding Bolivian Tyrannulet, Black-backed Tody-Flycatcher, Three-striped Hemispingus, Golden-collared Tanager, Blue-and-black Tanager, and Maroon-belted Chat-Tyrant to our list. A remarkable Sword-billed Hummingbird proved to us that birding in the tropical Andes is magic. Then we found a number of flocks with Grey-eared Brushfinch, Fulvous Wren, Mountain Wren, Andean Guan, Sierran Elaenia, Hooded Mountain Tanager, Southern Mountain Cacique, and a diurnal Yungas Pygmy-Owl. We also heard Red-and-white Antpitta quite often during the morning, but by the time we arrived in Pillahuata it did not respond; however, we had a plan B for it. We started to descend deeper in to the lush forest of Manu below Pillahuata, where we found White-collared Jay, Chestnut-bellied Mountain Tanager, Blue-capped Tanager, Chestnut-breasted Coronet, and Golden-headed Quetzal. Later in the day the birding became quieter, though, and we didn't manage much more than Black-backed Grosbeak, Streak-necked Flycatcher, Cinnamon Flycatcher, and Ochre-faced Tody-Flycatcher at its classic stakeout.
We were in time to look for the Andean Cock-of-the-rock courtship display at the famous lek along the Manu Road. Normally almost all birders who stayed at CORL in the past used to visit the former Andean Cock-of-the-rock lek. However, this lek has no longer been active for several years since the place was hit by a landslide, which washed it off the slope. As a consequence the birds are now displaying at another lek that is run by a different lodge. Even though this lodge is not suitable for most birders, the current lek is quite conveniently near the road. We had a very active afternoon with several male Andean Cocks-of-the-rock present and luckily also one or two females. It was a great time indeed with nice views of Peru's national bird.
Other species we saw this afternoon included Bolivian White-crowned Tapaculo, Two-banded Warbler, Three-striped Warbler, and Grey-breasted Wood Wren.
We arrived back at CORL in time to enjoy all expected species of hummingbirds at the feeders, including Fork-tailed Woodnymph, Many-spotted Hummingbird, Green Hermit, Violet-fronted Brilliant, White-bellied Woodstar, Wire-crested Thorntail, Rufous-booted Racket-tail, Sparkling Violetear, and Lesser Violetear.
The next morning was spent around the lodge vicinity and on the road for a few kilometers. The activity at the lodge was good in the morning with a great selection of classic tropical species such as Golden Tanager, Blue-grey Tanager, Silver-beaked Tanager, Dusky-green Oropendola, Buff-throated Saltator, and Orange-bellied Euphonia attending the fruit feeder. Around the garden we observed Plumbeous Pigeon, a single male Andean Cock-of-the-rock, and Paradise, Blue-necked, Spotted, Bay-headed, and Palm Tanagers while enjoying a cup of tea on the lodge veranda. Suddenly we were surprised and shocked by the seldom-seen Brown Tinamou walking across the garden. This is the third time that we managed to have this experience at the same place.
This made us wonder how many other species the lodge could attract for easier observation if they would invest resources in creating more attractions for birders, such as building a strategically located compost area with a hide for observers or even start feeding tinamous and antpittas as they do in other parts of the Andes in northern Peru.
Outside the lodge we encountered Tropical Kingbird, Lemon-browed Flycatcher, Streaked Flycatcher, Scale-crested Pygmy Tyrant, Common and Yellow-throated Bush Tanagers, Blue-naped Chlorophonia, Golden-olive Woodpecker, Montane Foliage-gleaner, Yellow-breasted Warbling Antbird, White-backed Fire-eye, Stripe-chested Antwren, Chestnut-backed Antshrike, Slaty-capped Flycatcher, Olive-backed Woodcreeper, Slaty Antwren, Magpie Tanager, Paradise Tanager, Squirrel Cuckoo, Long-tailed Tyrant, and Crested and Russet-backed Oropendolas.
Back at the lodge in the garden we only found White-tipped Dove. However, a single Central American agouti, a Bolivian squirrel, and tayra (a mustelid related to weasels) were good additions to our mammal list.
After a welcome cup of tea we left the lodge again, driving up the road this time. We were thrilled to find the mysterious Andean Potoo, and other birds in the vicinity included the striking Versicolored Barbet, Marble-faced Bristle Tyrant, Bolivian Tyrannulet, and Black-eared Hemispingus. At dusk we had great views of a male Lyre-tailed Nightjar, and back at the lodge we enjoyed superb views of Rufescent Screech Owl before the end of the day.
The following day we left CORL toward lower elevations with the plan to bird the recently opened Villa Carmen Biological Station. This place is run by ACCA (Asociación para la Conservación de la Cuenca Amazónica), the same association that runs the Wayquecha and Los Amigos biological stations. Villa Carmen is located at Pilcopata on the lower parts of the Manu Road, and we expected to arrive there by 10 a.m., leaving CORL by 6 a.m. En route we saw Yellow-breasted Antwren, Black-billed Treehunter, Chestnut-bellied Seed Finch, Fiery-capped Manakin, and the elusive Peruvian Piedtail, a country endemic that showed nicely for the report photo cover. We managed to get good views of Ornate Antwren, Dot-winged Antwren, Blue Dacnis, Black-faced Dacnis, White-winged Tanager, and Bluish-fronted Jacamar. We passed the large bamboo stands of Chontachaka, where we tried for the endemic Black-backed Tody-Flycatcher sadly in vain. As soon as we arrived in Patria, a small community in the lower valley, we found some common lowlands species such as Swallow Tanager, Rusty-fronted Tody-Flycatcher, Ruddy Ground Dove, Chestnut-bellied Seedeater, Blue-black Grassquit, and a few others. We arrived in Pilcopata, a larger village before the town of Atalaya and took a detour to the Villa Carmen Biological Station, where we spent the rest of the day. We saw good open-habitat birds around the station clearing, such as Swallow-tailed Kite, Grey-crowned Flatbill, and Purplish Jay, and at the main marsh we had nice views of Hoatzin and Limpkin.
The forested area in front of the bungalows was very good for the sometimes-scarce Orange-fronted Plushcrown and the endemic Fine-barred Piculet. Although it was the quiet time of the day we explored the bamboo trail and managed to find Black-backed Tody-Flycatcher, Fiery-capped Manakin, White-lined Antbird, Flammulated Bamboo Tyrant, Bamboo Foliage-gleaner, and Manu Antbird.
After lunch we went to the main Pilcopata bridge to scan the Alto Madre de Dios River. Here we found a few Black Caracaras, White-winged Swallow, White-banded Swallow, a juvenile Fasciated Tiger Heron, and two Sunbitterns, which were a nice surprise for some of the participants. On the way to the Atalaya lookout we enjoyed views of a roosting Great Potoo, and at the lookout itself we observed Scarlet Macaws, a flock of Chestnut-fronted Macaws, and a pair of Blue-and-yellow Macaws. After a great time at lower elevations we returned to CORL for an overnight.
The plan for our last morning was to leave the lodge as early as possible and head straight to Pillahuata in order to try for Red-and-white Antpitta at a time when they are more active. Actually, our plan worked well; a few minutes after we arrived at Pillahuata we had a cracking view of the endemic Red-and-white Antpitta. With this target in the bag we searched for Grey-breasted Mountain Toucan, which we were lucky enough to find feeding by the road below the Wayquecha Cloud Forest Biological Station. Before we left Manu we explored the Canopy Walk trail, adding good views of Band-tailed Fruiteater, Black-throated Tody-Tyrant, Streaked Tuftedcheek, and Grass-green Tanager.
After a few days on the Manu Road we returned to Cusco to celebrate our great birding adventure and another successful Birding Ecotours 2017 southeast Peru tour.
Please see the downloadable PDF above for the full species lists. This is a sample trip report. Please email us ([email protected]) for more trip reports from this destination.
'Eduardo was a fantastic guide. Our trip to Peru and Manu was catered to be one of culture, wildlife, and of course, birds. Eduardo is very patient and knowledgeable, a great conversationalist guide as well! My first trip to South America was overall an incredible experience, even with a tight schedule of less than two weeks. Well done!'
Noah
'Peru was extraordinary!!!!!! My "to do" list includes a message to Eduardo with some images that we captured and a tally of the last day's birds seen with Dennis near Lima, so he can prepare a complete trip report. Wil and I completed our tally while he was still here visiting after our trip and it came in at a staggering 430+ species seen, and a trip total of 460 species either seen or heard by the Taylor brothers. Your guys delivered BIG TIME on this trip, with three stellar guides and nearly flawless logistics, including two excellent drivers as well. Can't thank you enough, Chris.
Eduardo, as you no doubt already know, was top notch. It was tough saying good bye to him and Raul when they dropped us at the Cusco airport. We could not have had a better guide/driver combo for the core of the trip.
Wil and I have never hesitated to recommend you and BE to our acquaintances, and we now know that our unconditional recommendation can be extended to your Peruvian office as well. Thanks a million for your help in getting the Peru trip arranged. We'll be in touch. I attach a photo of satisfied customers with their weary guide near the lower end of the Manu Road, with the Rio Union in the background.
For my part, the tour with you was the best overall of all the tours we've taken; most memorable, rewarding, and enjoyable.'
John