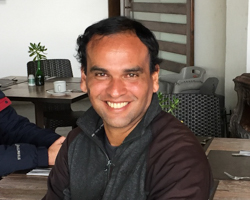 Read the blog article 'Getting to Know our Guides - Eduardo Ormaeche'
Senior Tour Leader and South American Office Manager
Eduardo Ormaeche has worked continuously for Birding Ecotours since 2004. He started guiding tours in his native country of Peru and from there spread out into many South and Central American countries, birding, guiding, and co-guiding tours in Chile, Argentina, Bolivia, Paraguay, Brazil, Ecuador, Colombia, Guyana, Panama, Costa Rica, Cuba, Jamaica, Guatemala and the USA. Eduardo is the head of Birding Ecotours' Peru office and coordinates most of our Neotropical trips. He enjoys traveling and showing birds to his clients. Eduardo's logistics skills will provide you with the best facilities available in order to allow you the most enjoyable birding holiday.
Many years ago Eduardo abandoned promising studies in psychology to become a licensed tour guide and get a degree in business management, something he would never regret. He is a serious birder with a world list of 2600 species seen to date. He works very hard to find as many birds as possible on every trip, targeting endemics and range-restricted species for the most hard-core clients.  He is also extremely enthusiastic and knowledgeable about other wildlife (he loves mammals) and will always give you the chance for a night walk, looking for elusive animals and for as many members as possible of his favorite bird family, the owls.
Eduardo's other interests include history, art, gastronomy, anthropology, hiking, and movies, and he is a declared addict to tea and chocolate. When he is not guiding he lives in Lima with his family, developing new routes for the company. Eduardo's golden dream is to see the Great Grey Owl; his bogey bird is still the Puna Tinamou. Some of the more memorable moments of his career include a massive mixed flock with 60+ species in the fruiting trees of Wildsumaco Bird Lodge in Ecuador, the first time he spotted the Long-whiskered Owlet in the Abra Patricia Mountains in Peru, an adult Ornate Hawk-Eagle a few meters above his head watching him for over ten minutes in the forest of Tumbes in Peru, where the species had not been reported in over 100 years, and seeing his lifer Snowy Owl in Ohio in May 2017. White-plumed Antbird, Ocellated Tapaculo, Diademed Plover, Long-whiskered Owlet, Chucao Tapaculo, and Marvellous Spatuletail are among his favorite birds.
Eduardo's favorite guiding destinations are Northern Peru, Northern Ecuador, Colombia with Santa Marta, the Pantanal and Cristalino Lodge in Brazil, Panama, and the Caribbean. A very friendly, patient, enthusiastic, and knowledgeable guide indeed!

Join Eduardo on the following upcoming tours:
Read Eduardo's feedback from clients:
"I've just returned from our custom tour with Eduardo and I want to tell you – he is a jewel! Very knowledgeable, approachable, friendly and seems to enjoy birding and helping other birders find and appreciate the birds. His guiding, listening and decorum were beyond reproach. He could many times describe where the target bird was, rather than just pointing and scaring it away. A true gentleman and very helpful when I needed help or clarification. It would be a pleasure to go again with him. He was able to find 26 lifers for me when I expected at the most 19. Now my world list total is 7466 and counting!"

Kay
"I have recently taken a trip with four friends to northern Peru with Eduardo Ormaeche, Birding Ecotours. I have no hesitation in recommending Eduardo or his guiding assistant Giancarlo Ventolini to anyone wanting to take a birdwatching tour in Peru. Eduardo was an outstanding bird guide. His knowledge of birds and his ability to quickly and easily identify birds was truly exceptional. This included all those very tricky flycatcher types that are so difficult to ID. Eduardo was extremely helpful, patient and excellent company. I am an extremely experienced bird watcher having travelled extensively globally bird watching. Eduardo proved to be one of the very best bird guides I have ever experienced. If you are considering bird watching in Peru then think no further than using Eduardo."

Rolland
"The trip met all our expectations, and more! We saw and experienced the Cerrado, the Amazon rainforest and the Pantanal with its amazing variety and volumes of wildlife. The highlights included Hyacinth Macaws, Jaguars, Giant River Otters, Maned Wolf, Brazilian Tapir, Anaconda and all the birds for which Eduardo made special efforts to find. We had an excellent session of forest birding on the canopy towers where we could really appreciate the advantage of our private tour, which we think was good value for the additional cost. It was a pleasure to travel with Eduardo again who showed his expertise even in the presence of other local guides. In summary we came back very satisfied customers of Birding Ecotours and we thank you for the opportunity to experience the Best of Brazil tour."

Jacques and Elzine
"I feel that our trip to Colombia was one of the most enjoyable and rewarding bird tours I have ever been on. You did an excellent job of planning, guiding and looking after the logistics on the tour.
Colombia is a pleasure to travel in with very friendly people, excellent roads and pleasant, clean accommodation. Even the more basic places were comfortable, clean and quiet.
Santa Marta is a wonderful place with plentiful birds and fantastic scenery. Rio Blanco was my favorite part of the tour with the antpittas and Ocellated Tapaculo at my feet. Otun Quimbaya with Red-ruffed Fruitcrows as yard birds was also a very enjoyable.
In all parts of the country I never felt at risk. Colombia is now a safe, rewarding country to travel in. I can hardly wait to return.
Thank you,"

Jim
"Peru was extraordinary! You guys delivered big time on this trip with stellar guides and flawless logistics including two excellent drivers. Eduardo was top notch. Will and I have never hesitated to recommend Birding Ecotours. Thanks a million for your help getting the Manu trip arranged. For my part, the tour with Eduardo was the best overall of all tours we've taken; most memorable, rewarding and enjoyable."

John
"Birding Peru for the first time in July 2012 with Eduardo, a professional and very knowledgeable local Peru guide, ensured a smooth, safe and hassle-free trip filled with south Peruvian endemics such as Junin Canastero, White-bellied Cinclodes, Great Inca-Finch and Inca Wren. Eduardo was quick to spot birds and ensured that all in the group got onto the birds as fast as possible. While birding, Eduardo also enlightened and amused us with his vast knowledge of birds and other fauna of the area. At the end of each day Eduardo assisted the group to complete a list of birds seen and heard for the day. A briefing each evening prepared participants on what to expect the next day. The accommodation was clean and safe, even in off-the-beaten-track areas. I can highly recommend the Birding Ecotours bird guide in Peru."

Lisl
"Eduardo thanks so much for all your efforts to make this a fantastic, superbly well-organised, entertaining, comfortable, informative, comprehensive and safe trip to southern Peru. The Peru you showed me is indeed fabulous. It was a trip of a lifetime for me, which Sue and I can now enjoy remembering together."

Owen
"The Costa Rica Escape tour was my second trip with Birding Ecotours, after Brazil. It was a great winter break and also a teaser trip to the country, leaving us wanting to see more. Any trip with a Resplendent Quetzal has to be a good one, but the variety of birds we saw at the various stops was amazing. One of the highlight memories for me was when Eduardo and the local guide were off the trail, listening for an owl, and a Great Tinamou walked right up to their feet without them realizing it. As a guide, Eduardo is professional, knowledgeable and personable. I'm already planning my third trip with the company!"

Tracy