Birding Tour Guatemala: Tikal and Mayan Rainforest Highlights
Go to: Guatemala Birding Tours | Birding Tours in the Neotropics | All our birding tours
Download Itinerary
Guatemala: Tikal and Mayan Rainforest Highlights
March 2024
Come join us in the fascinating Central American country of Guatemala as we combine antiquities and birding, exploring the temples of Tikal and birding in Mayan rainforests. Guatemala is an easy country to travel in and has the added appeal of being just a short flight away from North America. Furthermore, this Guatemala birding tour can work well as an introduction to birding in the neotropics.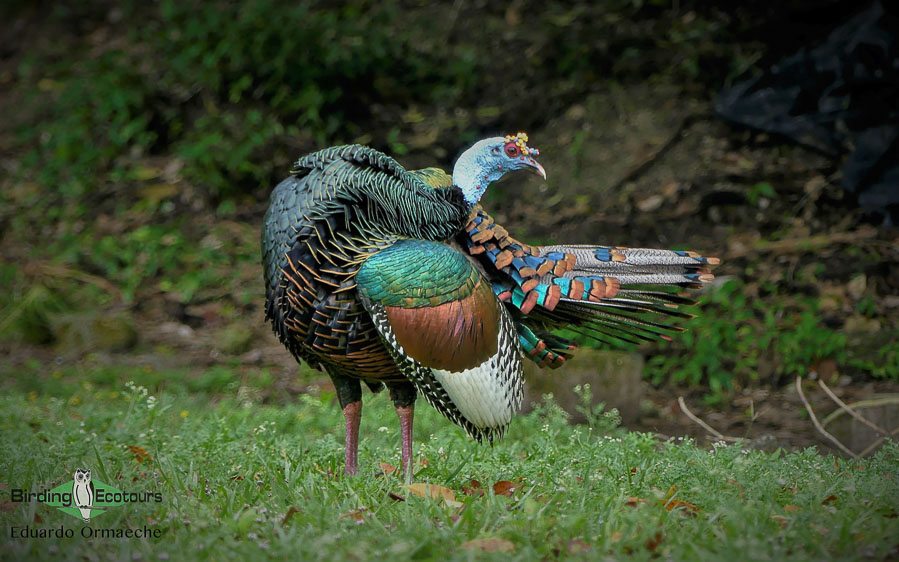 Ocellated Turkey is reliable around the Tikal ruins.
Northeast Guatemala and the department of Petén holds two main tourist destinations, Laguna del Tigre National Park and Tikal National Park. Laguna Del Tigre National Park covers 1,300 square miles (3,300 square kilometers) making it the largest national park in Guatemala and the largest protected wetland in Central America. This amazing RAMSAR site is Guatemala's last refuge of the declining Scarlet Macaw. The fabulous forests and rivers here are home to plenty of special birds including the likes of Agami and Boat-billed Herons, Ruddy Crake, Thicket Tinamou, Northern Potoo, Sungrebe, Lovely Cotinga and localized species such as Yucatan Woodpecker and Yucatan Jay. We will spend three nights within the park exploring the rainforest and looking for as many birds as possible and, with luck, we may encounter shy wildlife such as Jaguar or Puma, which still occur in these remote forests.
Tikal National Park covers 223 square miles (576 square kilometers) and is one of the finest archaeological examples of Mayan architecture. It is a complex of temples, buildings and pyramids from the classic Mayan period 200-850 AD and today is a UNESCO World Heritage Site. Tikal is surrounded by a beautiful and lush rainforest that provides a unique birding experience with specials such as Ocellated Turkey, Grey-throated Chat, Northern Barred Woodcreeper, Yucatan Flycatcher, Yucatan Poorwill, Mayan Antthrush, Pale-billed Woodpecker, Keel-billed Toucan, Northern Mealy and Red-lored Amazons. Tikal is also one of the best places to look for the most-wanted Orange-breasted Falcon.
We invite you to join us on our comprehensive Guatemala: Tikal and Mayan Rainforest Highlights tour for a wonderful birding and cultural experience which can also be combined with our preceding Guatemala itinerary.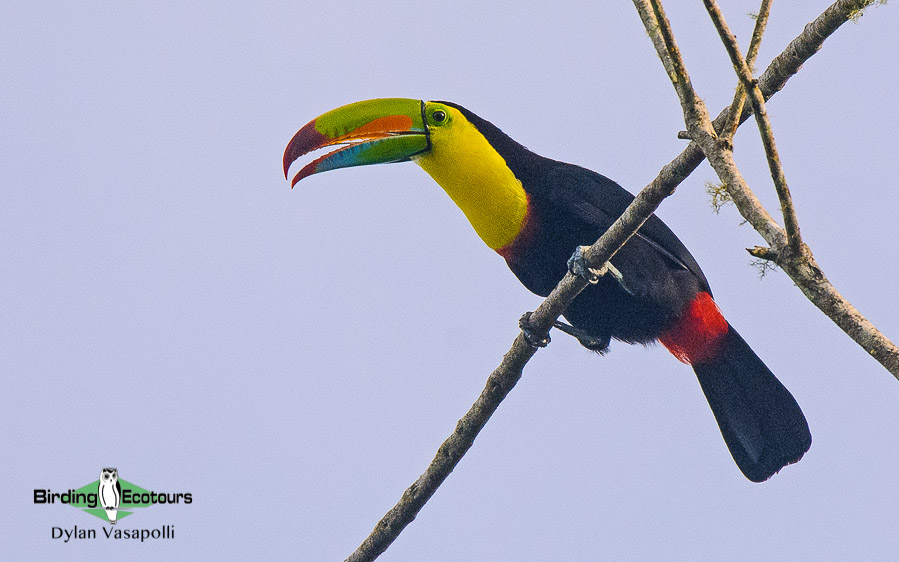 Keel-billed Toucan is abundant in the Tikal National Park.
Itinerary (8 days/7 nights)
Day 1. Arrival in Guatemala City
Today is an arrival day and upon arriving in Guatemala City, you will be transferred to the hotel.
Overnight: Hotel Barcelo
Day 2. Flight to Flores and transfer to Las Guacamayas Biological Station
We will have a domestic flight to Flores in northeast Guatemala, and be met by our ground crew to start our 4×4 drive to San Pedro River. The wetlands and pastures along the drive provide a good selection of introductory species such as Northern Jacana, Purple Gallinule, Sora (some luck required), American Coot, Black-bellied Whistling Duck, Wood Stork, Snail Kite, Belted, Ringed, Green and Amazon Kingfishers, Fork-tailed and Vermilion Flycatchers, Eastern Meadowlark, Morelet's Seedeater, Blue Ground Dove, Olive-throated Parakeet, Mangrove Swallow, Bronzed Cowbird, and Yellow-faced Grassquit. On arriving at the river, we will take the boat for a ride along the San Pedro River to the Las Guacamayas Biological Station which is part of the Laguna del Tigre National Park. From the boat it is possible to see Great Blue and Little Blue Herons, Anhinga, Neotropic Cormorant, Keel-billed Toucan and Pale-vented Pigeon. Once at the station we will get lunch and check the hummingbird feeders to tick the first Wedge-tailed Sabrewing, White-bellied Emerald, Rufous-tailed Hummingbird, and Green-breasted Mango.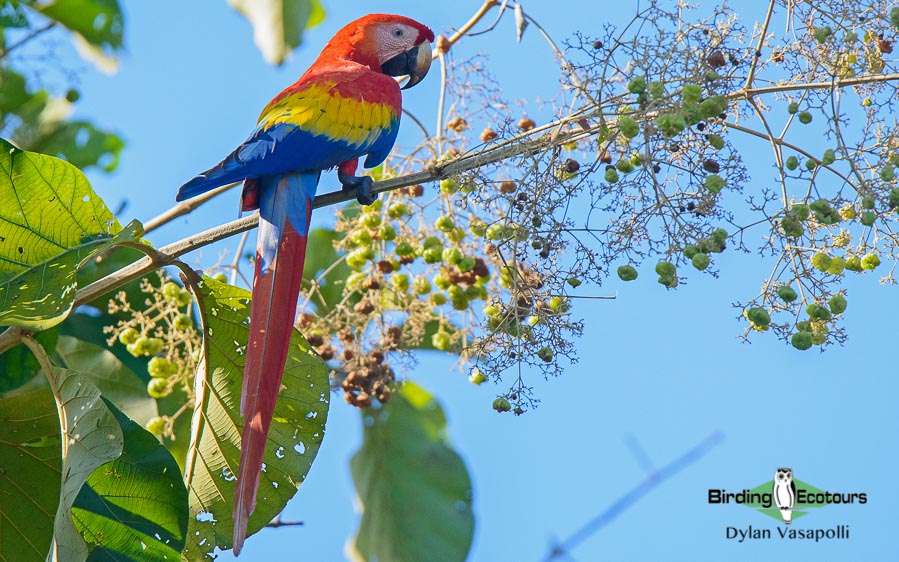 Scarlet Macaw seen at Las Guacamayas station.
An evening boat ride along small tributaries may provide the most-wanted Agami Heron and Boat-billed Heron, and perhaps our first Scarlet Macaw. Black-and-white and Mottled Owls may be seen around the station at dusk.
Overnight: Las Guacamayas Biological Station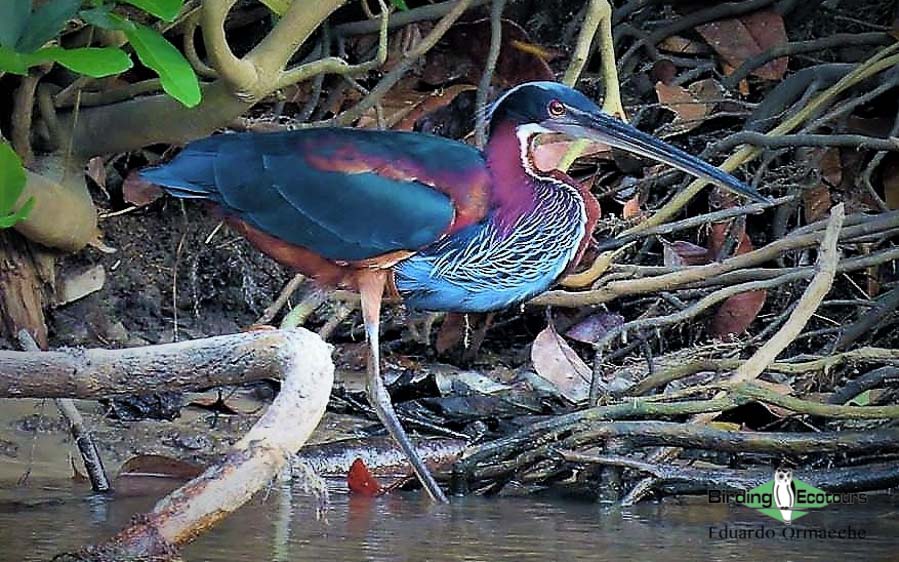 Agami Heron can be seen at Las Guacamayas Biological Station.
Day 3. Waka Peru Trail and Sarluc River boat cruise
Today we will have a full-morning hike through the rainforest on the Waka Peru Trail to enjoy some fine forest birding. Some of the special birds we can see include Ruddy, Ivory-billed, and Olivaceous Woodcreepers, Barred Antshrike, Pale-billed, Chestnut-colored, and Velasquez's Woodpeckers, Tody Motmot, Crested Guan, Rufous-tailed Jacamar, Black-headed Trogon, White-whiskered Puffbird, White-collared and Red-capped Manakins, Stub-tailed Spadebill, Northern Bentbill, Mangrove Vireo, Spot-breasted and White-bellied Wrens, Grey Catbird, Grey-headed Tanager, and Scarlet Macaw. Other parrot species are likely to see include White-crowned and Brown-hooded Parrots and Red-lored Amazon. If we are lucky, Northern Potoo, at a daytime roost, as well as uncommon species such as Yucatan Jay and the shy Thicket Tinamou and Great Curassow.
Geoffroy's Spider Monkeys may be encountered anywhere around the station while the habitat around the cabins hosts Plain Chachalaca, Green-backed Sparrow, Blue Bunting and White-eyed Vireo. In the afternoon, we will take a boat ride along the Sarluc River to look for specials such as Yucatan Woodpecker and Sungrebe. Additionally, Las Guacamayas provides excellent chances for the secretive Ruddy Crake.
Overnight: Las Guacamayas Biological Station
Day 4. Las Guacamayas Station
We have another full day around Las Guacamayas, starting with an early morning birding session from the canopy platform, where it is possible to get species such as Golden-olive Woodpecker, Bright-rumped Attila, King Vulture, Black-and-white Hawk-Eagle, White-necked Puffbird, Scaled Pigeon, Brown Jay, Masked Tityra, Trilling Gnatwren, Blue-grey Gnatcatcher, Red-lored Amazon, Scarlet Macaw, Squirrel Cuckoo and, if we are lucky, the rare Lovely Cotinga. We will then spend the afternoon birding in the nearby forests, for any species we are still missing. While at Las Guacamayas, we may encounter other wildlife such as Central American Agouti, the localized Morelet's Crocodile, Common Green Iguana, and Geoffroy's Spider Monkey.
Overnight: Las Guacamayas Biological Station
Day 5. Transfer to Flores and exploring Yaxhá National Park
We will leave Las Guacamayas after three incredible days of birding and exploring Laguna del Tigre National Park and then return to Flores to head to Yaxhá National Park. This less-frequently visited national park protects antiquities from the Maya Classic Period (from around 800 BC) and is a monumental site that includes pyramids, temples, and buildings, surrounded by lush rainforest and bordered by Yaxhá Lake. We will enjoy a wonderful birding afternoon looking for the likes of Slaty-tailed Trogon, Yucatan Flycatcher, Lesser Greenlet, Red-throated Ant Tanager, Pheasant Cuckoo, Collared Aracari, Tawny-winged Woodcreeper, Northern Schiffornis, Mayan Antthrush, Yellow-bellied Tyrannulet, White-breasted Wood Wren, Dot-winged Antwren and Swallow-tailed Kite. We will spend a night in the charming Sombrero Lodge, right on the edge of the national park.
Overnight: Sombrero Lodge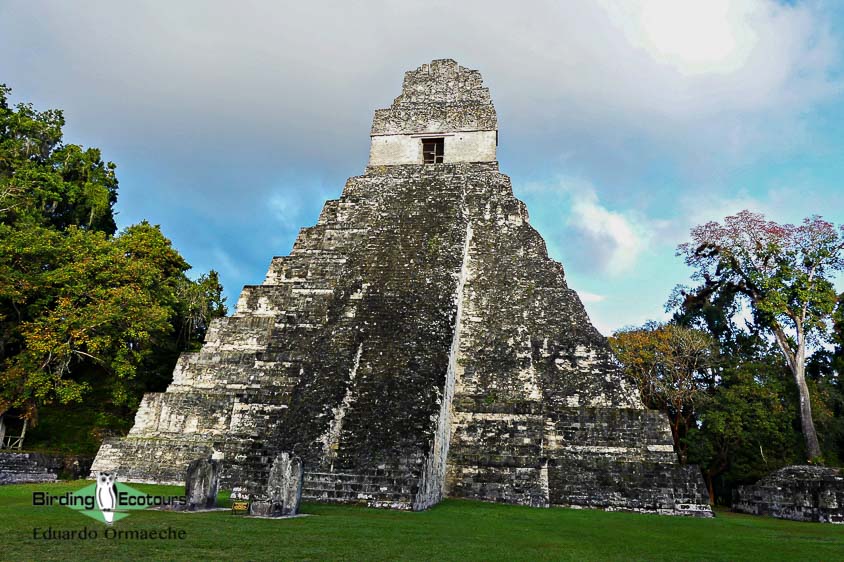 Tikal temples surrounded by Central American rainforest.
Day 6. Yaxhá and transfer to the Tikal National Park
We will spend a whole morning birding Yaxhá, looking for the localized Grey-throated Chat and will then transfer to the Tikal National Park to stay at the Jungle Lodge.
Along the way to the lodge, we might spot our first Ocellated Turkey. We will then spend the afternoon birding around the lodge, outside of the archaeological site. We will be on the lookout for Yucatan and Ochre-bellied Flycatchers, Montezuma Oropendola, Sulphur-rumped Myiobius, Short-billed Pigeon, Plain Antvireo, Plain Xenops, Stripe-throated Hermit, Black-headed Saltator and Yellow-winged Tanager. There is normally an excellent set of North American migratory species in the Petén area, and throughout the tour in general, and we may find Hooded, Tennessee, Magnolia, Black-and-white, Kentucky, Wilson's, Chestnut-sided, and Worm-eating Warblers, Northern Waterthrush, and Ovenbird. Further migrants include Baltimore and Orchard Orioles, Wood Thrush, and Philadelphia Vireo.
Overnight: Jungle Lodge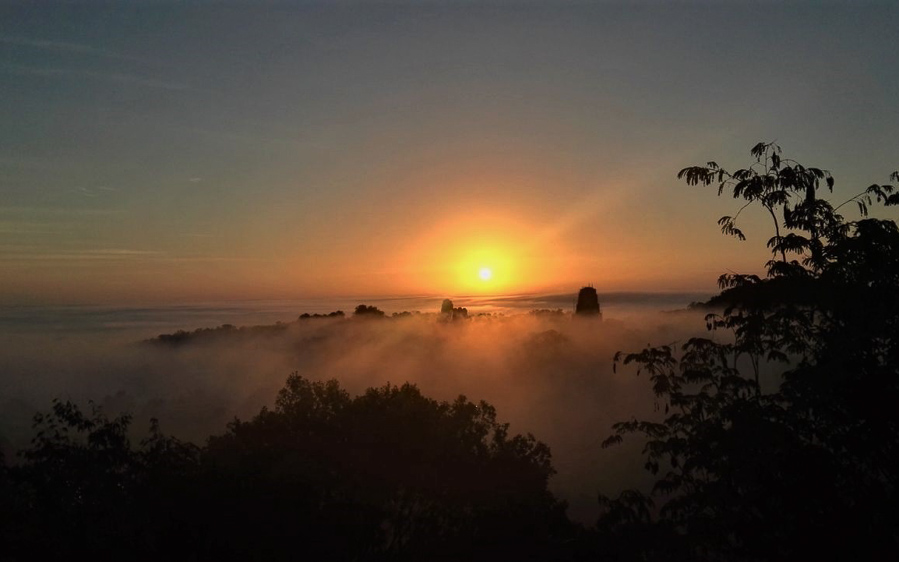 An impressive sunrise in Tikal National Park (photo Miguel Marin).
Day 7. Tikal National Park and Temple IV sunset view
We will spend the full day admiring the Tikal pyramids and archaeological sites. Birding around Tikal provides unique encounters with forest species such as Ocellated Turkey, Scaly-throated Leaftosser, Tawny-crowned Greenlet, Dusky Antbird, Green Honeycreeper, Rufous Piha, Ruddy Quail-Dove, Northern Royal Flycatcher, Barred Forest Falcon, Brown-hooded Parrot, Red-lored Amazon, Slaty-tailed Trogon, Pheasant Cuckoo, Mayan Antthrush, Rufous Mourner, White-bellied Wren, Ruddy and Northern Barred Woodcreepers, Rose-throated Becard, Plumbeous Kite, and Pale-billed Woodpecker.
We will climb to the top of Temple IV to get a breath-taking view of the forest and sunset and in particular, to look for the most-wanted Orange-breasted Falcon, which is normally reliable here.
Overnight: Jungle Lodge
Day 8. Birding Tikal and transfer to Flores to catch domestic flight to Guatemala City
We will have a predawn start to look for the localized Yucatan Poorwill, and have a last morning's birding around the old airfield near Tikal. We will then return to the lodge to be transferred back to Flores and catch a 3 pm flight back to Guatemala City. We will arrive back in Guatemala City to connect with our international flights back home.
Please note that the itinerary cannot be guaranteed as it is only a rough guide and can be changed (usually slightly) due to factors such as availability of accommodation, updated information on the state of accommodation, roads, or birding sites, the discretion of the guides and other factors. In addition, we sometimes have to use a different international guide from the one advertised due to tour scheduling.
Download Itinerary
Download Guatemala General Information
GUATEMALA: GENERAL INFORMATION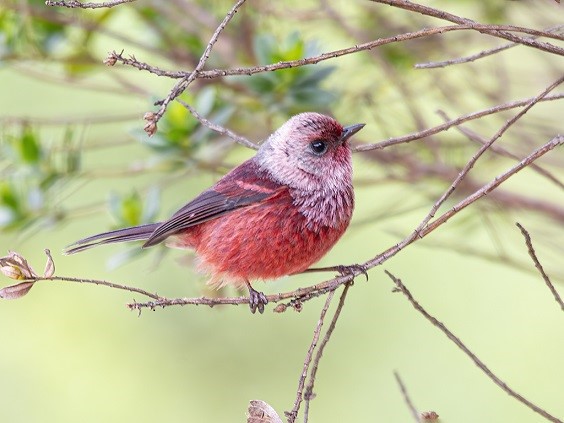 The most wanted Pink-headed Warbler is always one of the tops of our Guatemala tours.
PLEASE SEE TOUR PAGES FOR SPECIFIC INFORMATION ABOUT INDIVIDUAL GUATEMALA TOURS
MEDICAL AND TRIP CANCELLATION INSURANCE
We strongly encourage you to purchase trip cancellation or interruption insurance in case you have to cancel due to illness or for any other reason, as tour payments are non-refundable as per our terms and conditions. We advise you to get a plan that will cover all of your medical care and evacuation back to your country of residence.
MONEY
We recommend carrying US dollars. Please do not bring US dollar bills that are damaged in any way (broken tips and edges, ink marks, pieces of tape, etc.). Most businesses and individuals will not accept damaged bills. Travelers' checks/cheques are difficult to change, and it is not possible to do this everywhere, especially in remote areas. It would be very difficult and time consuming to have to look for financial institutions where you can cash travelers' checks during the tour. Since this is almost an all-inclusive tour, you would only need minimal cash to cover personal expenses like drinks, laundry service, phone calls from the hotels, bar expenses, souvenirs and gifts you want to take home, or any non-mandatory gratuities you may want to give to any person who you think has provided exceptional service. During our tour, neither ATM machines nor places to exchange US$ to Q (Quetzales, the local currency) are easy to find. We recommend that you bring some US$ and draw local currency at the ATM at the airport when you arrive in the country. Depending on your arrival time, some of the exchange houses at the airport will be open and we advise you to change currency there. Please note that credit cards are not accepted everywhere, especially in remote locations.
MEALS
During our Guatemala tours, we will either eat breakfast at the lodges that make breakfast available very early, or we will leave the lodge with a cup of coffee and have a packed or field breakfast in the field to maximize birding time. Most of the lunches are served at the lodges or in restaurants. This depends a lot on the day's schedule. The dinners are always hot meals, either in the lodges or in hotel restaurants. In restaurants, there are two menu options, one of which is always a vegetarian meal. In the lodges we have a fixed meal. Please let us know in advance about any dietary restrictions or preferences you may have. Often, on the last day in Guatemala, we have an a la carte meal.
We have found that Guatemalan cuisine is one of the most delicious and varied in the whole of Central America and the coffee is some of the finest in the region.
Bottled water during the trip is included in the tour price. Drinks, including soft drinks, fruit juices, alcoholic beverages, and beer are not included in the tour price.
ACCOMMODATION
We always aim to book the best accommodation available for our tours, to provide our clients with a memorable holiday. It is generally comfortable but not luxurious. In some remote regions, the lodges only offer basic accommodation; in these areas we either stay in these more basic lodges or even family homes, to ensure we have the best chances of finding our key target species. Where the birding sites are near to cities, we generally stay in better accommodation in the cities where possible.
Note on bedrooms: The price of our tour is per person sharing a twin bedroom. Most of our clients, even some couples, prefer to have their own bed to ensure a better sleep after a long day out birding. The standard matrimonial or double bed in South America is the normal double bed size, which might be too small for some people. Bedrooms with queen/king-size beds are normally found only in city hotels and are more expensive, and we do not include these rooms in the tour price. If you prefer to upgrade your room, the hotel will charge the difference directly to you (subject to availability). This surcharge is not included in the tour price.
HEALTH
Please refer to the Center for Disease Control website for health advice (including about malaria and vaccinations). Please also consult with your physician or your local travel clinic for recommendations. While not a requirement for entry into Guatemala (unless you are arriving from an infected area in another country), a yellow fever vaccination is a good idea for most people traveling to less developed and/or tropical countries, and the vaccination is valid for ten years. Hepatitis A, B and C, as well as polio, tetanus, rabies and typhoid protection is advised. Dengue fever is very infrequent and is transmitted by day-flying Aedes mosquitoes infected with the dengue virus. There is no prophylaxis against dengue fever, therefore proper clothing and use of insect repellent, especially in lowland areas, is the best protection. Diarrhea is always a tricky hazard whilst traveling in South America. Although some travelers do escape untouched, we ask you to consult your doctor and bring some medication to treat diarrhea, such as Imodium or Ciprofloxacin 500mg. We recommend drinking only bottled water and not eating in street shops where hygiene standards are low. Follow your tour leader's suggestions.
We carefully select the places where we go for meals. We ask you to clean your hands using hand sanitizer. Please note that sometimes the dramatic change from your normal diet might result in some mild stomach or digestive abnormalities that may disappear in a short time. Should nausea and/or fever follow, there may be a real diarrhea problem. Again, please ask your doctor what they recommend is best for you. Please do let us know about any medical condition you have, such as diabetes, asthma, allergies, heart conditions, or knee problems. Please also include phobias or anything you think we should know, so that we can take care of you and suggest what is best for you, so that you can have an enjoyable trip.
INSECTS
Insects should not be a big problem along most of our route, but they can be more abundant in the lowlands. We recommend that you wear loose-fitting long pants and long-sleeved shirts and keep insect repellent handy. Spraying your feet, socks, shoes, and the lower portion of pants with insect repellent will help reduce a problem with chiggers. Chiggers are burrowing mites that are well-spread throughout the Americas in hot areas. They occur on grass, and even though they do not spread any kind of disease, their bites produce long-term itching as an allergic reaction.
WHAT TO BRING
Kindly read our general list of what to bring on a birding tour here. The tour leader will usually have a spotting scope for general use of all participants. However, we ask you to take brief views of the birds in order to allow all tour participants to have good views, especially of elusive species. If you like to enjoy longer scope views of species, you might consider bringing your own scope. Digiscoping is not allowed with the tour leader's scope. Please do not bring any military camouflage, as that conveys an inappropriate image to police and military personnel: a likelihood at highway checkpoints. Please avoid nylon or plastic jackets and/or rainwear of similar materials. Noisy clothing is annoying to others and may frighten birds, especially when owling.
SECURITY
Even though Guatemala has unfortunately had a bad reputation for crime for many years, the Guatemalan countryside in all areas that we visit is now considered safe and you will find that Guatemalans everywhere are friendly and helpful. However, cities such as Guatemala City and Flores experience the same problems as large cities everywhere, and you should take precautions to safeguard personal belongings such as money, passport and optical equipment. We recommend using money belts or security pouches worn inside your clothing. Avoid walking at night without informing your tour leader and don't walk around big cities displaying binoculars and big cameras.
ELECTRICITY
Different electrical plug-in sockets are present in Guatemala, such as Type A, B, G and I. The voltage is usually 120 volts. We strongly recommend bringing a surge protector and a universal adaptor to fit your electric devices into all kinds of sockets.
PASSPORT AND VISA
A passport valid for at least six months beyond your planned departure from Guatemala is required. We recommend having a few blank pages; some countries require a full page for the stamp in your passport. Bring a few Xerox copies of your passport and details of your Consular Representative in Guatemala as well. Citizens of the USA, Canada, Australia, New Zealand, the UK, the EU, and Latin America do not currently require a visa to enter Guatemala. This may change so please check carefully. Citizens of any other country should check with their local Guatemalan Consulate about what requirements there are to get into Guatemala.
TOUR VEHICLES & SEAT ROTATION
We mostly use vans (Mercedes Sprinters) for all our Guatemala tours when we have more than 4 participants on the tour. We do occasionally switch to 4×4 vehicles when negotiating rougher sections of road. At Birding Ecotours, we employ a seat rotation policy on all our small-group set departure tours. This will ensure everybody has equal opportunities throughout the tour. Unfortunately motion sickness will not excuse you from our seat rotation policy and thus if you are prone to motion sickness you should ensure that you bring the necessary medication. We also require that you are fit and flexible enough to maneuver yourself to the back of the vehicle. Tour participants should also be considerate about what extra equipment they bring into the general seating area of the vehicle (rather than the luggage section). We request, from both a comfort and a safety point of view, that general thoroughfares and/or extra seats are not obstructed with camera equipment, tripods, etc.
Download Tour Specific Information
GUATEMALA: TIKAL AND MAYAN RAINFOREST HIGHLIGHTS
SPECIFIC INFORMATION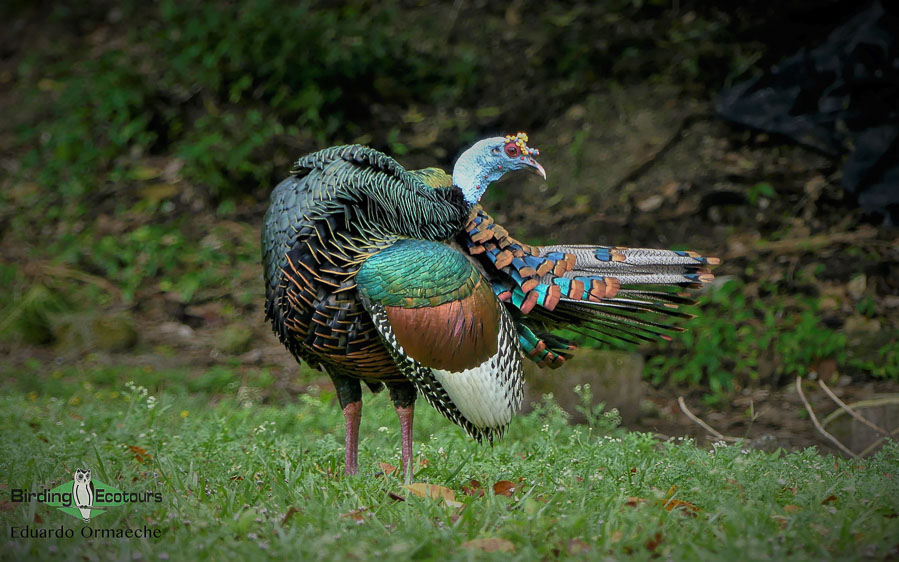 Ocellated Turkey, one of the highlights of the Guatemalan lowlands.
ARRIVAL INFORMATION
Please e-mail us at [email protected] (or contact us a different way if preferred) before you book any flights, as this information is only a guide and subject to change. Our tour will start in Guatemala City, capital of Guatemala. You can reach La Aurora international airport (GUA) with flights from certain international airports like Miami, Atlanta and Houston (USA) Mexico City (Mexico), Panama City (Panama) and Madrid (Spain). You may want to consult a travel agent for assistance with booking the most convenient flight. (You are also welcome to contact us if you would like some guidance). Most international flights arrive in Guatemala City late in the evening. You will be met at the airport and transferred to your hotel – please look for someone holding a sign with your name or with the Birding Ecotours logo. In cases where you arrive on an early flight (in the morning), we will meet and transfer you to your hotel but you will then have to wait until the hotel's check-in time starts. You might be able to check-in early and you may be charged extra by the hotel – this additional cost would be for your own account (i.e. excluded from the Birding Ecotours tour price.)
Please remember to keep your luggage tags, as they are required to exit the terminal at the Guatemala airport. When filling out the customs declaration form, use this address for the hotel: Hotel Barcelo, 7A Avenida 15-45 Guatemala City 01009, Guatemala.
DEPARTURE INFORMATION
After 8 days and 7 nights, our tour will end in Guatemala City after flying from Petén to La Aurora International Airport, where we will say farewell. Should you prefer to stay an additional night in Guatemala City to have enough time to connect with your international flight, we can easily book an additional night in Guatemala City for you.
DOMESTIC FLIGHT INFORMATION
There are two domestic flights on this trip – from Guatemala City to Petén and from Petén back to Guatemala City. These flights are not included in the Birding Ecotours tour price, but we will book them for you. Your flight details will be sent to you about two months before the tour starts and provided we have received full payment for the tour. There is a limited weight for check-in and carry-on luggage aboard included in the ticket price and extra weight will be charged separately by the airline.
PHYSICAL REQUIREMENTS AND PACE
We classify this trip as moderate. Most of the birding consists of walking along roads, humid forest trails (some of them are slightly up and down) and full mornings walking around the Tikal archaeological site which includes walking up and down pyramids steps. We will spend time sitting and enjoying hummingbird feeders and watching for birds around the lodges' clearings. There are also pleasant boat trips. Keep in mind that – as is usual on birding trips – we will need to be awake very early in the mornings and thus pre-dawn starts are the order of the day. We usually spend the whole morning birding in the field, then return to the lodge for lunch and a little rest and then more birding in the afternoon. Your guide will sometimes invite you to look for owls at night, but this is an optional activity that you can skip if you feel tired. Some people prefer to rest, skipping birding in the afternoon; this can be done at those lodges where we are staying more than one night. When we do birding stops while traveling from location to location, participants who feel tired are welcome to remain in the vehicle. We spend two or three nights at a few places during this tour, giving you the opportunity to walk around calmly and not worry about packing and unpacking every day. This trip may be difficult for people with back, walking, and/or balance problems or for those who are not used to the early starts involved in birding trips.
ATM MACHINES
ATM machines are available in La Aurora (Gautemala City) and Las Flores (Petén) airports only.
WEATHER
The weather on this trip will be hot and humid in Tikal and Las Guacamayas Biological Station but we may experience some windy days and slightly cool temperatures at night.
LAUNDRY
Laundry facilities are limited on this trip. The Guacamayas Biological Station staff can do laundry for you, but they do not have a tumble drier and so there is a risk that laundry may not get dry. Jungle Lodge is located within the woods of the Tikal National Park about 40 kilometers from Flores. Electricity is limited and the lodge mainly uses generators, so they normally send the laundry to town. The express laundry delivery service is limited and dependent on availability.
ACCOMMODATION
We rank the accommodation on this tour as very good. Jungle Lodge offers nice rooms with fan (usable 24 hours a day) and private bathroom. The Guacamayas Station is more rustic but with air-conditioned rooms and amazing views. Both lodges turn off their electricity generators late in the evening but there is enough time for everyone to charge their electrical devices.
TRANSPORT
We will have a private van for the whole tour with plenty of room for everybody when we have more than 4 participants. However, we will have to divide the group for the transfer from Flores to Las Guacamayas Biological Station and back. The roads on the stretch from Flores to the San Pedro River are too rough for the regular large tourist vans, so we will use 4×4 vehicles instead. Normally, for a group of four people we use two 4×4 vehicles.
MISCELLANEOUS
Due to the lack of electricity 24 hours a day at Jungle Lodge, participants who need an air breathing nasal mask for apnea therapy might have trouble if their device is not rechargeable. At Las Guacamayas Biological Station it is possible to pay a fee (usually about US$15 per hour) to get additional hours of electricity but this will also depend on the availability of fuel for the station generator.
The use of playback to attract birds is not allowed in Tikal National Park.
There is no transport from Jungle Lodge to any of the birding and archaeological sites within Tikal National Park. Be prepare for long daily walks.
Admission fees to Tikal National Park are booked in advance and allow a day visit only.
We are not allowed to wander around on our own within the park – we must always be escorted by an authorized Tikal local guide.
We are not allowed to explore outside the demarcated areas in the park.
Even when not visiting Guatemala during the rainy season, we can get sporadic rain showers in the tropical rainforest lowlands.
Bugs are present on the tour but should not be a major problem. We advise bringing insect repellent.