by John Kinghorn

When people travel to the Kruger National Park they mostly go for the bigger animals, the "big five", or even birds, but they always tend to overlook our gorgeous little mammals which play a huge role in keeping a balance in the ecosystems within Kruger. The lowveld is home to approximately 50 species of Bats, of which roughly 46 can be found in the Kruger National Park, thus giving you no excuse not to try your luck at finding these little guys when you pay this magnificent park a visit.
In this series of write-ups I will be "travelling" through the park, camp by camp, outlining the species which occur in the various camps, as well as where your best chances are of finding them. I will start in the middle section of the park, covering Satara, Olifants, and Letaba Rest Camps. This middle section of the park is a mixture of mopane woodland and savanna with various water sources around, both big and small (the main two rivers being the Olifants and the Letaba), thus providing homes to various species of bats. Due to the presence of water there is a large amount of insect activity, which is the staple diet of all insectivorous species. The most common species of bats in central Kruger are the following:
• Angolan Free-tailed Bat (Tadarida condylura)
• Little Free-tailed Bat (Tadarida pumila)
• Wahlberg's Epauletted Fruit Bat (Epomophorus wahlbergi)
• Peter's Epauletted Fruit Bat (Epomophorus crypturus)
• Sundevall's Roundleaf (Leaf-nosed) Bat (Hipposideros caffer)
• Mauritian Tomb Bat (Taphozous mauritianus)
• African Yellow (Yellow-bellied House) Bat (Scotophilus dinganii)
• Banana Pipistrelle (Bat) (Pipistrellus nanus)
There are a host of various other species that occur in the central Kruger area; however, these are not often encountered, especially without the use of various methods of capture. So instead I will focus on the species one is more likely to encounter.
Letaba Rest Camp
Letaba is undoubtedly best known for its bat houses. The camp originally had 12 bat houses, which were set up to encourage bats to move out of the thatch accommodations; however, this only brought in the Angolan Free-tailed Bats (Tadarida condylura), which now currently reside in their thousands in every one of the ten bat houses that still stand. Unfortunately, the bat houses are falling to pieces due to lack of maintenance, and there has already been one colony collapse and bats had to be rehabilitated by FreeMe. Having said this, recent efforts to erect new bat houses and refurbish old ones have been implemented. Letaba still remains one of the most bat-rich camps in the entire park.
Angolan Free-tailed Bats (Tadarida condylura) occupy the bat houses within the camp, whereas Little Free-tailed Bats (Tadarida pumila) occupy some of the accommodations that haven't yet been bat-proofed. African Yellow Bat (Scotophilus dinganii) can also be found in the thatch accommodations between the thatch and the wooden polls, as in the photo below. Banana Pipistrelle (Pipistrellus nanus) can be found in the dead leafs of the palm trees in C Circle and also in one or two other palms around the camp, particularly towards the luxury tent accommodations. Mauritian Tomb Bats (Taphozous mauritianus) are also found on the camp's palm trees in summer, and Wahlberg's and Peter's Epauletted Fruit Bats (Epomophorus spp.) can be found hanging under the thatch at the back of the restaurant and under the palm-tree leaves also at the back of the restaurant.
Unfortunately, these bats can only be separated by the amount of palatal ridges behind the last molar, and handling of bats in Kruger is prohibited, unless one has obtained written permission from the relevant authorities. Thus one cannot confirm which species one is looking at. So in total one can find about seven species of bats fairly easily within Letaba, which is roughly 14% of the lowveld's bat species – a good tally for a single rest camp, especially considering that the observations are done without catching any bats.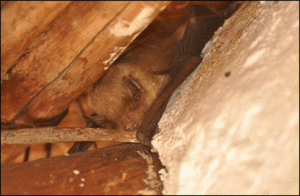 African Yellow Bat
Olifants Rest Camp
Olifants is situated on top of a hill along the Olifants River. It is home to some fantastic riverine forest and is one of the best places in the park to search for Pel's Fishing Owl. However, once again one can easily overlook the bats that call this camp home. Olifants is home to mostly free-tailed bats (Angolan and Little), and these two species can be found roosting together in mixed roosts, or singly in the majority of the thatch accommodations. Olifants has recently started to bat-proof their accommodations, but these small mammals still manage to find their way in every now and then.
The best place in the camp to view the free-tailed bats is standing by the side of the restaurant at night and watch them drop from their roost. If you are struggling to find them, just use your sense of smell – it will lead you. The reason for this smell is that, when roosting together, free-tailed bats create a rather pungent smell, undoubtedly a characteristic of this family. Other species in the camp include a roost of Darling's Horseshoe Bat (Rhinolophus darlingi) at Lebombo Guest House. (If you wish to visit this roost, please do not stay for long. After 10 – 15 seconds of watching them they already start to get very agitated. It is best to leave them be, once you have got a view.)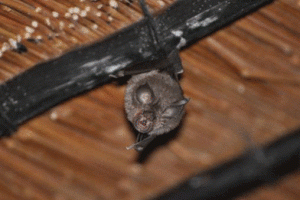 Darling's Horseshoe Bat
Satara Rest Camp
Satara is a very difficult camp with regards to trying to find bats. However, there have been one or two nice records from this area and the south of the park, starting from Satara.
The camp itself is home to Wahlberg's and Peter's epauletted fruit bats (Epomophorus spp.), as well as to African Yellow Bat (Scotophilus dinganii), Mauritian Tomb Bat (Taphozous mauritianus), and some sporadic records exist of Sundevall's Roundleaf Bat (Hipposideros caffer). The usual free-tailed bat species (Angolan and Little) also make an appearance in the thatch accommodations as well as on the side of the restaurant building.
The S100 dirt road, just south of Satara, has also produced Egyptian slit-faced bat (Nycteris thebaica) in one of the drainage pipes. It was flushed out due to heavy rain and roosted on a low-hanging branch as it awaited the decline in water levels. This species is most probably more common than one would think in the Satara region, and upon future examinations of these drainage pipes I am more than confident that evidence would prove this theory.
How to find bats in Kruger
Finding bats in Kruger is in fact very easy if you know the signs. The most prominent signs are droppings below the roost site, as well as urine and oil stains at the entrance of the roost. Photographs depicting both of these are below. Other signs include smell in the case of the free-tailed bats. As mentioned above, free-tailed bats create a fairly pungent smell when roosting together and are also very noisy, "moaning" at one another throughout the day.
One would also need to take note of the roosting preferences of the various species; for example, you won't find a banana pipistrelle roosting in a cave. This is the same rule that applies to birds and birding, one will not go in search of a Dune Lark in the middle of the Lowveld system in eastern South Africa, but instead one will target it in its preferred habitat, the Namib dunes of Namibia. Thus it is imperative that one knows what species one is looking for and where that species would generally roost, as well as its preferred habitat. This information can be learnt from the various mammal books on sale at the local South African bookstores, or even better in the book Bats of Southern and Central Africa, which is authored by Ara Monadjem, Peter John Taylor,Woody Cotterill, and Corrie Schoeman.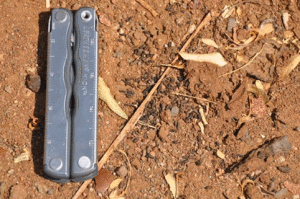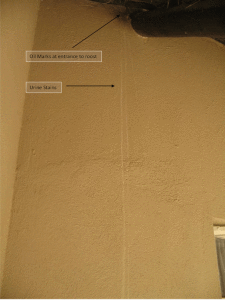 Bats in Kruger will also often utilize hollow trees, as in the case of some free-tailed bats in Shingwedzi rest camp. These individuals are using hollowed-out mopane trees as their roosts, and one does not necessarily notice these roosts with ease, and only upon closer inspection does one start to pick up the tell-tale signs of resident bats.