By

Chris Lotz

, with input from

Dylan Vasapolli

and other birders. Posted 10 April 2014, updated 23 March 2021.
We start this blog with an enthusiastic introduction, and then we detail an opportunity for you to get involved with owl surveys – all very exciting!
Introduction – the lure of owling:
Due to their nocturnal habits, we find that even talented birders are often unaware that their own neighborhood is graced by owls. As one example, while African Grass Owl is not that uncommon on the outskirts of Johannesburg, few Gauteng birders have seen one. Even knowing the location of an African Grass Owl nest site, it took us several tries to actually start seeing the bird. Now we rarely miss it, only because we spent many hours at this site learning its behavior. Its insect-like foraging call is a key to finding it. A very similar story unfolds with the Cape Eagle-Owl at Dullstroom. Most Gauteng birders are aware that this species breeds near Dullstroom. But it took us a great many hours of hard work to learn how to find this family of owls. Now we rarely miss them when aiming to show them to clients, only because we know exactly where and how to look for them – and that is the result of lots of practice, rather than skill! With their silent wing beats, it is easy to miss this bird at dusk, even if it flies right over your head after leaving its diurnal roost site to start foraging for the night. The easiest time of year to find this family of owls is when their fledged young have left the nest and are really noisy (although not making a call we have found on any app and one that puzzled us at first – we did not realize it was an owl!). But there are ways of locating these owls year-round.
Moving further afield, locating Pel's Fishing Owl in South Africa (as opposed to Botswana, where it is reliably seen) probably always will be a bit of a mission. This species is declining in South Africa. A couple of us will never forget being at Crooks Corner near Pafuri in the Kruger National Park, right up in the far north with views of both Zimbabwe and Mozambique across the river, when one of these monstrous ginger owls suddenly appeared, as dusk approached, and sat on a stump next to the river! A Bat Hawk flew over shortly thereafter. That certainly turned out to be an epic birding tour!
Owling is advanced birding and, quite simply, it requires many hours of preparation to learn how to find all but the most obvious handful of them. In Peru, our chief birding guide Eduardo spent a great many hours, which became days and weeks, perfecting how to find some of the toughest neo-tropical species, such as Long-whiskered Owlet and Buff-fronted Owl, to name but two. After weeks of practice, Eduardo now offers what might even be the best owling tours in South America – see Owls of Northern Peru.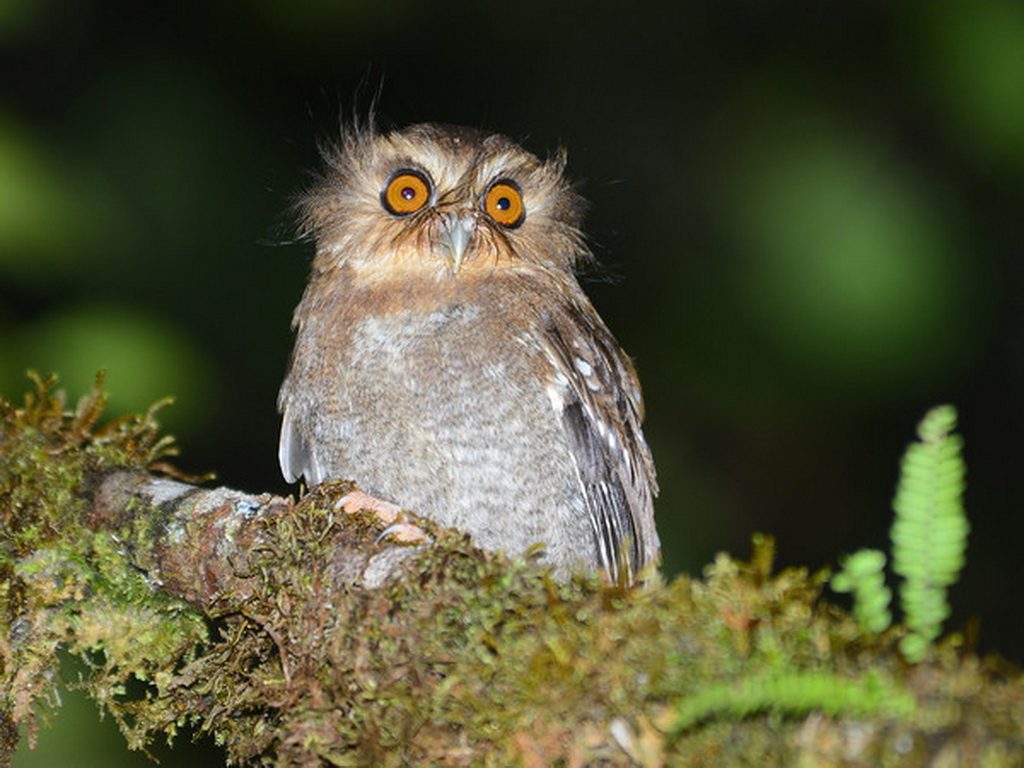 Long-whiskered Owlet from last year's Northern Peru Owls of the World ® tour (photo Alan van Norman).
While living in Wyoming for 2.5 years, after cleaning up on all the "easy" birds, one of the authors of this blog (Chris) then started the real fun of tracking down tougher birds around Wyoming and Colorado, which included the many chicken-like grouse species (e.g. Sage Grouse, Sharp-tailed Grouse, both Greater and Lesser Prairie Chickens, and all the others), and of course the amazing owls of the United States – all 19 species of them! I had to fly to the twin cities of Minneapolis/St. Paul in Minnesota and then drive to Duluth on the freezing shores of Lake Superior, in the middle of winter, to find my first Snowy Owl, only to discover on my return home that not one but two of these magnificent birds had just arrived in my back yard in Colorado! I went to see them as well, and they really stood out, as there was no snow around but only brown grass, making it easier to pick out these rather large white blobs sitting on the prairie, than it had been to locate them in snowy Minnesota.
Now that I had seen Snowy Owl, which had always been a dream of mine since childhood, I was able to focus on Great Grey Owl, which I was lucky enough to see in Idaho just across the state line from Jackson, Wyoming. One by one, and with much effort and persistence (but always ever-so-exciting, heading into the mountains at night, sometimes even on skis), we managed to find the likes of Boreal (Tengmalm's) Owl, Northern Saw-whet Owl, Flammulated Owl, both Eastern and Western Screech Owls (at the eastern and western extremities of their respective ranges), Northern Pygmy Owl, fabulous Long-eared Owl, close-up at their daytime colonial roost sites – and of course the more common species like Short-eared and Great Horned Owls. This "owling year" was one of the most spectacularly enjoyable times of my birding career. There was one evening when we left Laramie mid-afternoon, went to the Snowy Range to try for Boreal Owl (where we'd seen it the week before), then continued to the Sierra Madre Range, where we were now seeing Flammulated Owl reliably, and ending off with a Northern Saw-whet Owl above our heads, prompted by my short whistle. Tracking down and eventually actually seeing elusive birds such as owls is as rewarding and memorable as it gets! Of course, we also headed off to Arizona, where some of the missing owls were located.
Johannesburg/Pretoria, South Africa, specifically:
Back in a South African context, this time focusing around the Greater Gauteng area, we too are blessed to have numerous owls within easy striking distance of the large metropolitan areas of Johannesburg and Pretoria. The suburbs situated all around have fairly large numbers of Spotted Eagle-Owls. This is the 'default' owl throughout South Africa. Western Barn Owls are present only in the outer-lying suburbs, where vast tracts of open wild land still remain. Although not present in suburbia proper, another 'common' owl present in the immediate vicinity of this huge metropolitan area is Marsh Owl. They can be quite irruptive into certain areas, moving in response to burnt grassveld patches. But wherever there is suitable habitat (largely dense, rank grassland areas, often bordering on the edges of "vleis"/marshes), Marsh Owl is likely to be found. Our last 'common' owl is none other than the charismatic Pearl-spotted Owlet, a pygmy owl species. The dainty little Pearl-spotted Owlet is primarily found from Pretoria northwards, as their preferred acacia/dry-woodland habitat is dominant there. Often found during the day, this partly diurnal owl is a favorite among small passerines – which constantly bombard them, making these owls easy for birders to find!
Moving onto the 'special' owls of the Gauteng area, these are quite simply African Scops Owl, Southern White-faced Owl, African Grass Owl, Verreaux's Eagle-Owl, and Cape Eagle-Owl. African Scops Owl, although relatively common in places such as the Kruger National Park, just reaches the corners of Greater Gauteng, and it is actually quite difficult to pin down here. Last year (2013) a group of dedicated birders from Gauteng, put in some effort and managed to track one individual down in the general area of Rust de Winter north of Pretoria.
Although known from the area, that particular sighting has prompted much further searching in the general surrounds, and many people have now seen this species there. Southern White-faced Owl is not quite as tough as African Scops Owl here in Greater Gauteng: they have a greater range, and their southern distributional limit is just north of Pretoria. But being a small owl, they are notoriously tough to get visuals of. That being said, in October last year, whilst out atlassing with some close friends (Leon Spies, Richard van der Spuy), Dylan Vasapolli somehow managed to find four individuals at their day-time roost south of Settlers! Randomly driving through numerous agricultural fields, and enjoying the likes of Chestnut-backed Sparrow-Lark and such, the only tree for some distance, conveniently placed right next to the road, held what they initially thought was a plastic bag. On closer inspection, the bag rapidly developed into the first of four Southern White-faced Owls!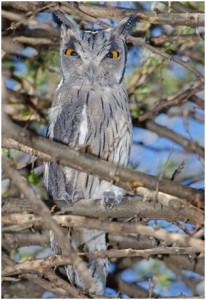 One of the four Southern White-faced Owls seen south of Settlers.
African Grass Owl is probably the most prized of all the owls within the Greater Gauteng area. This is partly due to its Vulnerable red data status as opposed to its looks – although its dark cream front/dark brown back combo can in fact be quite something to enjoy. The pure effort that one needs to put in to track this species down is the other half of its attraction. This owl is greatly affected by disturbance, and known locations for it are few and far between.
Dylan is rather fortunate in that he lives in southern Johannesburg and regularly has Western Barn Owls and Spotted Eagle-Owls in his garden, along with Marsh and African Grass Owls in the surrounding open tracts of grassland.
Verreaux's Eagle-Owl is one of the two monoliths occurring within South Africa. This is another species only just reaching the southern tip of its range around Gauteng, and locating one here normally requires a great deal of luck. You can find them at night, but they range far and wide and are very unpredictable at night. They favor some of the larger river courses, and enough time spent walking around along some of these will normally turn up the bird. This is exactly what Jason Boyce, Jonathan Sykes, Matthew Axelrod, and Dylan (Birding Ecotours guide) did last winter (specifically June 2013), and they managed to find a stunning adult, just as they began discussing the prospect of giving up and returning to fight again another day!
As you will see mentioned below, Cape Eagle-Owl has been sporadically claimed within the Greater Gauteng context, but no publicly known site currently exists. The habitat is definitely suitable to contain a population, but their favored rocky habitat is difficult to access throughout the area. It has been the cause of much discussion – finally resulting in the plan mentioned below on how a group is to undertake the task of trying to locate a reliable site for this species in Gauteng.
Our planned owl surveys of the Greater Gauteng area of Johannesburg – starting April 2014:
Johannesburg and Pretoria in South Africa's Gauteng Province are blessed with many owls. However, we strongly believe that a great many of the less common species (i.e. besides Western Barn Owl, Spotted Eagle-Owl and Marsh Owl) have actually been largely overlooked. A recent morning of birding at Klipriviersberg Nature Reserve in the south of Johannesburg (with Lance and Hanneline Robinson) left us thinking that there's stacks of suitable habitat for owls, which might even include Southern White-faced Owl and African Scops Owl – we're now hoping to arrange night access to systematically sample for these and other owl species in this particular reserve.
Then there's the rather large Suikerbosrand Nature Reserve, where we believe there simply have to be Cape Eagle-Owls, which would be an almost unbearably exciting concept for Greater Gauteng birders! We hope to arrange access to the reserve at dusk, then to spend an hour trying to locate Cape Eagle-Owls. The idea is to get a large enough group of volunteers together so that we have enough cars and people to spread out throughout suitable areas within the reserve to increase the chances of locating one. We would like to do this now in April and May, as the species usually starts breeding around May, and so we expect it to be territorially calling then (although it does often start calling as early as November or December). While we're at Suikerbosrand at night, we'd also like to survey the thornveld for the small owls mentioned for Klipriviersberg above – they must be there (OK, well, they might be there, with a bit of luck!). Cape Eagle-Owls should be active around dusk, whereas the smaller owls are more likely to start calling later at night – so we expect to stay until perhaps 10:30 pm to try for all of them. Suikerbosrand is already a well-known location for African Grass Owl, a rather sought-after red data species.
We also plan to systematically survey the Wilge River Valley northeast of Pretoria for Cape Eagle-Owl, along with the Kgaswane Nature Reserve on the west side of Pretoria (near Rustenburg) – all in ways similar to Suikerbosrand. The Wilge River Valley is situated in the Gouwsberg mountain range, and there are numerous suitable places to find the owls. The same applies to Kgaswane – which is situated on the Magaliesberg.
If you would like to volunteer for any of this scouting, please contact us. Also, if you want us to help you survey your own area for owls, please do not hesitate to contact us.
Some general words on doing owl surveys:
Methods for establishing whether owls are lurking in any particular area depend almost entirely on the actual species. Some of them are better searched for at dusk (such as eagle-owls), as they tend to appear when it is still partially light, and they tend to be vocal. The "song" of a Cape Eagle-Owl can be, for example, heard from a couple of kilometers away! Clearly, listening for them as darkness approaches is a good way of assessing whether they are present in an area. Pel's Fishing Owl also tends to call at dusk, and it's easier to listen for it at this time of day than to rely on stumbling across one at its day-time roost. However, lodge guides often know where they are roosting, and this in fact is a key to seeing a plethora of owl species world-wide – to link into local knowledge. Many of the smaller owls are best surveyed for in complete darkness, and in the USA we used to drive along mountain roads at night, stopping every half a mile and using playback for various species.
There's nothing more exciting than when a rarer species such as a Boreal Owl suddenly appears out of nowhere and peers at you. One thing to realize about owls is that for every one you see, probably 100 see you! Here at Birding Ecotours we're constantly trying to up our game and to increase the odds. The more we learn about the owls' habits, the more we see them. Above all, we urge birders to use playback and spotlights extremely sparingly, and never to flush owls. We've definitely learned that once you know the behavior of the birds, there is no reason to invade their privacy much. For example, as far as the Cape Eagle-Owls at Dullstroom are concerned, we insist on looking at them only when they naturally emerge from or return to their roost site, where they tend to hide for most of the day (unless we're very lucky and see them sitting in the open in broad daylight).