Andy Walker spent some time in Thailand this winter and provides a brief summary of his time there below:
This winter, between late January and early March, I spent time leading two customized tours and scoping out new areas for future birdwatching tours in Thailand.
My first birding tour was three weeks in length and visited some of Thailand's most spectacular National Parks, such as Kaeng Krachan, Khao Yai, Doi Inthanon (Thailand's highest peak), Doi Chiang Dao, Mae Ping, and Doi Pha Hom Pok (Doi Lang), as well as some very famous and important bird areas such as Chiang Saen Lake, the Mekong River, and Pak Thale and Laem Pak Bia. You can read the trip report for this tour here.
Some of the highlights from the first tour included Baer's Pochard, Mrs. Hume's Pheasant, Silver Pheasant, Chinese Egret, Pied Harrier, Spoon-billed Sandpiper, Nordmann's Greenshank, Greater Painted-snipe, Far Eastern Curlew, Asian Dowitcher, Long-billed Dowitcher, Small Pratincole, Great Hornbill, Banded Kingfisher, Red-bearded Bee-eater, Blue-bearded Bee-eater, Great Slaty Woodpecker, Rusty-naped Pitta, Eared Pitta, Blue Pitta, Crested Jay, Ratchet-tailed Treepie, Giant Nuthatch, Limestone Wren-Babbler, Himalayan Cutia, Silver-eared Mesia, Scarlet-faced Liocichla, (Northern) White-crowned Forktail, Black-backed Forktail, Slaty-backed Forktail, Siberian Rubythroat, Himalayan Bluetail, Ultramarine Flycatcher, Dark-sided Thrush, Orange-headed Thrush, Black-breasted Thrush, Chestnut Thrush, Chestnut-eared Bunting, Chestnut Bunting, and Pin-tailed Parrotfinch.
My second tour was more of a photography tour for just a week and visited Kaeng Krachan National Park, Pak Thale, Laem Pak Bia, and the Nong Pla Lai areas. You can read the trip report for this tour here.
Some of the highlights from this tour included Kalij Pheasant, Oriental Darter, Greater Spotted Eagle, Slaty-breasted Rail, Watercock, Nordmann's Greenshank, Far Eastern Curlew, Great Knot, at least six (!) Spoon-billed Sandpipers, Little Stint, Oriental Pratincole, Asian Emerald Cuckoo, Chestnut-winged Cuckoo, Himalayan Cuckoo, Chestnut-breasted Malkoha, Great Eared Nightjar, Red-headed Trogon, Orange-breasted Trogon, Great Hornbill, Tickell's Brown Hornbill, Red-bearded Bee-eater, Blue-bearded Bee-eater, Laced Woodpecker, Buff-rumped Woodpecker, Heart-spotted Woodpecker, Great Slaty Woodpecker, Black-thighed Falconet, Silver-breasted Broadbill, Banded Broadbill, Black-and-yellow Broadbill, Blue Pitta, Oriental (Blyth's) Paradise Flycatcher, Common Green Magpie, Chinese Blue Flycatcher, Hill Blue Flycatcher, Tickell's Blue Flycatcher, Siberian Blue Robin, and Crimson Sunbird.
Each tour also found plenty of other interesting wildlife to keep us on our toes, and across the tours we found the following highlights: Indochinese leopard (black variant), sun bear, Asian elephant, lar (white-handed) gibbon, Siamese crocodile, Asian giant tortoise, Indian rock python, and numerous stunning butterflies.
Thailand offers so much to the visitor, with friendly people, great food, very beautiful natural scenery, stunning forests, and some very impressive temples to go with the incredible birding and wildlife.
For details of our Thailand tours please see here.
Some photos and notes taken during the tours follow: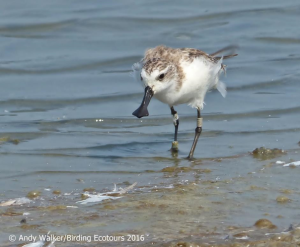 Spoon-billed Sandpiper: We saw at least seven of these Criticallty Endangered (IUCN) birds across the two tours, including six birds together on the second tour (which did not include the bird above). This bird (U6) is a 'Headstarted' bird, born in July 2015 in Chukotka, Far East Russia. It left its native area on the 5th of August 2015. It was then resighted at Yuboo Island, South Korea, on the 28th of September 2015, where it was also still present on the 28th of October 2015. It was next found at Pak Thale, Thailand, on the 29th of November 2015, and we saw it during the first tour on the 6th of February at the same location.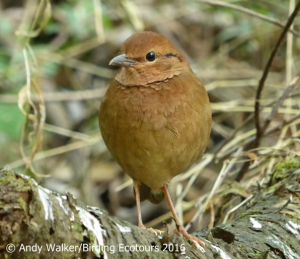 Rusty-naped Pitta: One of the most secretive and difficult species of pitta to find in Thailand. We'd already enjoyed views of Eared Pitta and Blue Pitta during the first tour, but to get this one was a real bonus. We actually managed to find a pair of birds at this site and spent a couple of hours mesmerized as they fed within 6 feet of us! A real privilege.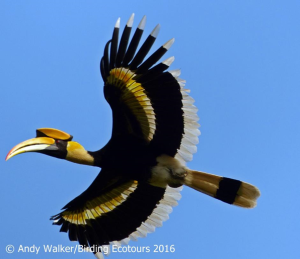 Great Hornbill: A spectacular species that we commonly encountered in the central areas during both tours. We enjoyed watching them feeding in fig trees at close range; however, it is when they fly that they send the hairs on the back of your neck on end. Such an impressive sight and sound!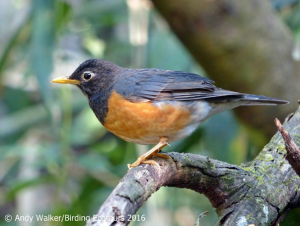 Black-breasted Thrush: We had great views of several of this beautiful migratory thrush while in the north. We also saw several other migrant thrushes, such as Grey-sided, Eyebrowed, Chestnut, and Orange-headed Thrushes.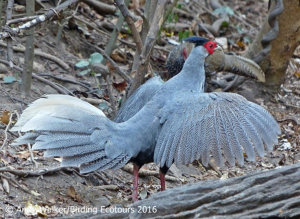 Kalij Pheasant: We enjoyed very nice views and photo opportunities of this species on both tours. Here the male is displaying to a rather uninterested female! We also had the spectacular Silver Pheasant while in Khao Kai National Park, but it always remained out of range of my camera.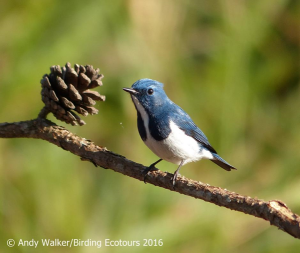 Ultramarine Flycatcher: This stunning migrant flycatcher was very approachable up in the mountains of northern Thailand along the Myanmar border. Here we simply sat down and let it come to us!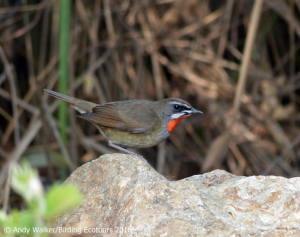 Siberian Rubythroat: We saw several smashing males during our time in the north, but this one was probably the most striking. This bird really is smart and always popular.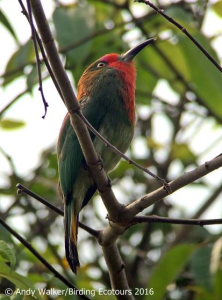 Red-bearded Bee-eater: One of the best-looking bee-eaters on the planet, the huge Red-bearded was recorded on both tours. This photo was taken on my IPhone through my Swarovski ATX-95 telescope at Kaeng Krachan National Park.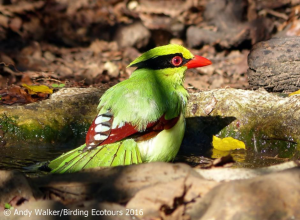 Common Green Magpie: This simply stunning bird came to drink and bathe at a waterhole near Kaeng Krachan National Park and was enjoyed during both tours. This really needs to be seen to be believed!