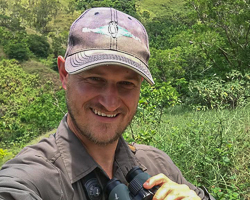 Andrew Walker
Senior Tour Leader
Andrew (Andy) Walker is from the United Kingdom (UK) but based in our satellite Indonesia office in Bali, an ideal location for his many Asian and Australasian bird tours. Andy has spent the last 34 years birding extensively across the world with a focus on the Oriental, Australasian, and Western Palearctic regions, where he leads/guides many of our tours. However, he can also be found occasionally dipping into the biodiversity of the Afrotropical, Neotropical, and Nearctic regions in search of new and interesting birds and other wildlife.
A love of traveling came about after he spent two years living and studying (mainly birding!) in Kenya, followed later by two years living in Costa Rica, where he worked as a bird guide and tour leader. He has been living in Bali, Indonesia, since 2020, where he has made lots of interesting discoveries.
Andy has recently led tours in India, Sri Lanka, China, Thailand, Vietnam, Peninsular Malaysia, Borneo (Sabah and Sarawak), Indonesia (multiple islands including West Papua, Java, Bali, Sulawesi, Halmahera, Sumba, Flores, Komodo Island, Alor, Rote, and Timor), Poland, Iceland, Costa Rica, Australia, New Zealand, New Caledonia, Fiji, and Samoa. He has also scoped out numerous birding tour locations, including the Philippines, Taiwan, Brazil, Colombia, Peru, Ecuador, Panama, Trinidad and Tobago, various states in the United States of America, Canada, Uganda, Kenya, the Gambia, and various European/Western Palearctic birding destinations (e.g. the UK, France, Spain, Portugal, Cyprus, Sweden, Canary Islands, Israel, and Latvia). He is rarely found not birding somewhere or other in the world, for work or pleasure!
Andy is a keen eBirder and has amassed a great number of records on the platform, with around 3,000 species photographed on his eBird account (he is also a keen amateur photographer and sound recordist). He gains great satisfaction from being able to show people new and exciting birds and help them learn about their behavior and biology. He enjoys putting in the hours for those secretive, yet highly rewarding, forest skulkers, especially pittas, his favorite family.
Andy holds a BSc (Hons) degree in Countryside Management and Ornithology (Hull University, UK), and as well as his tour leading/guiding experience, also has over 16 years ornithological consultancy experience, where he has managed a large team of ornithologists. His consultancy experience includes working on a range of medium- and large-scale developments for a variety of sectors, including renewable energy (wind, solar, etc.), industrial, commercial, transport, and residential developments throughout the UK and South Africa. His involvement in ecological projects ranges from design and implementation of diurnal and nocturnal ornithological survey methodologies, consultation, report writing (e.g. Environmental Statement Chapters, Technical Baseline Reports, Monitoring Reports, Habitat/Environmental Management Plans, and Habitat Regulation Appraisals), and data analysis (including Collision Risk Modeling and Population Viability Analysis) to mitigation advice. Andy's enthusiasm is completely infectious, and like all our guides he is excellent with people, which goes together with his impeccable birding skills and knowledge. He loves giving presentations to bird clubs around the world, to spread awareness of the incredible birds on our planet; recent talks he's given include Australia: The East Coast, Australia: The West, Thailand: Winter Birding, and Papua New Guinea: Birds-of-paradise. If you'd like to book Andy for a presentation, please contact us.

Join Andrew Walker on the following upcoming tours:
Read Andrew Walker's feedback from clients:
Our small group had a great trip birding Iceland with Andy Walker. Andy's knowledge, tenacity, organizational skills, patience and fun personality allowed us to maximize this opportunity to see every possible bird within our range. Because of Andy's scientific knowledge as well as field skills I learned a great deal. His enthusiasm kept us going even when the weather attempted to dampen and freeze mine! Iceland is an awesome country and Ecotours did a great job of arranging an itinerary that provided excellent food and lodging along the way. Very well organized. I'd go with this company and guide again!
Claudia - On Andy and Iceland
Birding with Andy through western Iceland was marvelous. He's a wealth of birding knowledge and information, down to the most minute details of all the birds we viewed. He has tremendous patience and perseverance in locating the birds, and worked hard with each individual to make sure we were satisfied with all sightings. He kept us on track and in motion, as we passed through the vast and rugged expanses of western Iceland. He has non-stop energy and a great personality. Couldn't ask for better.
Kristine - On Andy and Iceland
We just returned from our trip to Thailand. It was wonderful. Thank you very much for arranging our tour with Andy Walker. He was the best guide we ever had. He is knowledgeable,easy going, hard working, and has all the qualities that people expect from a guide. We really enjoyed birding with him. We would be happy to go birding with him any time and would highly recommend him as a guide to any of our friends. Thanks again for giving us the opportunity to have him as our guide.
Ahmad and Sue - On Andy and Thailand
We spent three weeks with Andy in Thailand and enjoyed the trip thoroughly. Andy worked so hard to find the birds, and get us on them. He was very patient and took the time we needed. He knew all the best places to go, knew what birds would be expected, identified them in an instant and still managed to find some pretty good rarities along with the known birds, Himalayan Cutia anyone? And we spent literally hours getting great looks at Spoon-billed Sandpiper. Andy got us very close without disturbing the birds or any other birders. It was a highlight of the trip. We are hoping to see Andy in York later this year for a days birding on his home patch!
Bob and Terrie - On Andy and Thailand
The 2016 Northern India Birding Ecotours trip was everything I had hoped for and more. As a novice both when it came to Asian birds and Indian travel, the trip couldn't have been better. Andy Walker, our guide, was brilliant at finding the expected birds and some amazing rarities and getting us good looks. I managed close to 400 lifers combined with Fatehpur Sikri, the Taj Mahal, some fascinating glimpses of rural India and a spectacular time in the Himalayan foothills. Our driver, van, train travel and hotels were all comfortable and worked like clockwork. Thanks for the trip of a lifetime.
Hume - On Andy and India
Andy is a superb guide with a wonderful knowledge of birds and where to find them. He is enthusiastic and keen, great company and a real pleasure to bird with. Our Australian trip was very successful in terms of sightings and also really enjoyable. Andy played a big part in that with his superb organisation, excellent birding skills, easy-going nature and positive attitude. I would happily join Andy on a birding trip again and hope to be able to do so later this year!Not sure how you would pick a favourite place from that. Each region is different and of course getting to see different parts of the country is something that I would have thought one would want to do if doing OZ. I would have loved to have seen more butterflies, mammals and reptiles than we did, but maybe that requires different locations and more time in the field. We did however get Platypus and Echidna. Butterflies are pretty much restricted to the north east. Timing for birds is tough as there is so much movement amongst them depending upon food sources, but I would have said we did pretty well. While obviously we wanted to see all we could, it was not the end of the world if we missed anything, and a huge list was not our goal. We were there in the dry season, I would hate to think what it would be like in the wet season, as a number of places/routes would have been under water, especially in the Darwin region. Accommodations on the whole were very good – I loved the different lodgings, many of which we had to do our own breakfast, with kitchen facilities in the cabins. The country is huge, and with very few people, less than SA!, so some of the locations there was little choices, especially for a large group, but Barry did great in getting what he did. At each region we had to get a bus, there were 14 of us – these varied between great to OK, as the on the extension we had to have one with a trailer.
Janice - On Andy and Australia
I had an awesome two weeks' trip in northern India in January 2016 with Andy Walker of Birding Ecotours. Total bird species seen by the group was 401. Highly recommended for life birds, collecting bird families and beautiful scenery. Some highlights included: Hill Partridge, Painted Spurfowl, Koklass and Cheer Pheasants, Black Bittern, Himalayan Vulture, Sarus Crane, Barred Buttonquail, Ibisbill, Pheasant-tailed Jacana, Indian Courser, Painted Sandgrouse, Sirkeer Malkoha, Crested Treeswift, Stork-billed Kingfisher, Himalayan Flameback, Collared Falconet with prey (Cinereous Tit), Chestnut-headed Tesia, Striated Laughingthrush, White-rumped Shama, White-tailed Rubythroat, Golden Bush Robin, Brown Dipper, Pink-browed Rosefinch, Crested Bunting and Altai Accentor. The group total also included 10 owls and 17 woodpeckers, all seen.
Lisl - On Andy and India
We loved traveling with Andy. Thanks to Andy's birding and organization skills, this trip exceeded our expectations. Andy is an excellent bird guide and tour leader! His knowledge of the birds, their songs, habitats, and ability to locate birds was amazing. We all appreciated his ability to make sure that we all saw good views of the birds.
Donna and Allen - On Andy and Australia
Andy provided an amazing 1-day tour around Bali. He knows every bird and where to find the key treasures. Loved spending the day with Andy and looking forward to more birding trips with him.
Chad - On Andy and Bali
"Andy is a first-rate guide; his ability to direct people on to a bird is tremendous. He is also not just a birder; on this trip we also ended up with over 100 invertebrates fully identified; great for the all-round naturalist! Always affable, and with the best interests of his clients in mind; I look forward to more trips with him in the future". Kelvin, UK.
Kelvin - On Andy and Sulawesi and Halmahera
Andy Walker is a truly exceptional guide. His ready knowledge of both the local and worldwide birds is phenomenal.
Andy is a very kind, helpful guide who repeatedly went out of his way to help all of us on the tour. I would bird again
with him and, in fact, that's just what I'm doing right now, as I'm in Manokwari, W. Papua for the start of another tour
with him. Andy has my highest recommendation.
Charles - On Andy and Sulawesi and Halmahera
I had a terrific trip, and realized virtually all my expectations for this excursion. There were 6 people on the trip, and I was the only one NOT a birder, but that did not detract from my enjoyment. My goals with this trip were to see and hopefully photograph the birds-of-paradise, and to my delight, I was able to do that. The local guides were terrific!
Andy Walker was our overall tour guide, and his knowledge of the birds is encyclopedic. He kept the group well organized, on time, and in position to see many very special birds. Andy has promised to send me information on additional trips to PNG and Vietnam.
Alan - on Andy and West Papua
Andy Walker is one of the best, good-natured birding guides who has served me on 42 guided tours. He makes
certain that everyone in the group has seen each bird and keeps at it until that happens. The two Indonesian tours I took with Andy immediately before this one was excellent and I was able to meet my goals of seeing the last three bird families of all 248 (eBird/Clements list) and to see half of all bird species. Andy has my highest recommendation to other birders – he will serve you well!
Charles - On Andy
This is a fantastic tour. The birds, scenery, mammals, other wildlife, pelagic tours, lodging, and food were all beyond compare. The guides were extraordinary in their knowledge and consideration. I highly recommend this tour for all bird and nature lovers. Andy is wonderful. His consideration and kindness were above and beyond. He is very knowledgeable, and he ensured that I enjoyed the best possible views of the birds and the other wildlife as well. His patience and good humor made this the most pleasant trip.
Jillian - On Andy and New Zealand
We had an excellent experience on the Birding Ecotours Sabah Classic Tour with Andy Walker, the tour leader, and our local guide, both being exceptional birders. They located all the key target birds with skill and tenacity and always worked hard for all members of the group to get good views. So many highlights: the elusive Whitehead's Trogon and Broadbill, the mythical Bornean Ground Cuckoo, the last-minute Bornean Bristlehead, Forktails, Fruithunters, Everett's Thrush…to name just a few truly exceptional birds that were so worth the effort of searching them out. Boating on the Kinabatangen River gave superb views of so many fantastic hornbills and the canopy walkways gave access to great views of many species otherwise unreachable. This was our second time birding with Andy. Excellent birding skills, very well organised, sensitive to needs of group members (photographers/non-photographers), and good company.
Steve and Joanne - On Andy and Borneo
This trip was amazing. This is my second trip with Andy, and he is absolutely amazing. His knowledge and birding skills are extraordinary, and he's so committed to getting all his tour group a good view of all species possible. He also deals with difficult situations and keeps the group on an even footing. A very professional young man! He was invisibly but constantly working to take care of the eBird lists, lodgings, transportation, schedules and all details that made the trip as seamless as possible.
Claudia - On Andy and Borneo
The birds were spectacular (of course) and both Andy, our Birding Ecotours leader, and our local guide, were excellent in their ability to find and show birds and to shepherd our group.
Bill - On Andy and Borneo
Andy Walker is one of the truly exceptional guides in the world of birding. His skill at hearing and then finding birds is amazing. Couple this with an innate sense of getting his clients into the best possible position to both see and photo the given bird elevates him from "competent" to "top notch." I have been with Andy twice and intend to search him out again.
Jay - On Andy and Australia
Took the "Eastern Australia: from the Outback to the Wet Tropics" tour, my first with Birding Ecotours. Itinerary fit my needs to a "T". Birds were spectacular and guides made a special effort at each stop to find the unique birds. Also bagged some fascinating fauna including tree kangaroo, platypus, koala, and echinda. Andy Walker was an excellent guide. He is personable with a great sense of humour. His ability to adapt to changing circumstances was excellent. He and his local guide knew the birds and terrain very well, optimized our birding time at each locale by knowing what key species occurred at each, and took pains to be sure everyone got on each bird.
Mike - On Andy and Australia
'Exceptional experience in seeing the many birds-of-paradise and other rarities seen in PNG and New Britain. Andy was a very good guide – organized, patient and did his best to see ensure all participants could see the birds.'
Ira - On Papua New Guinea, New Britain and Andy
'The tour was excellent, with great birds, although can be strenuous, buggy and wet, even during the dry season. Andy was conscientious, smart, well-organized, hard-working and knows the birds.'
Ramona - On Papua New Guinea and Andy