Indonesia: West Papua & Southwest Papua – Birds-of-paradise & Endemics of the Arfak Mountains, Waigeo Island & Klasow Valley August 2024/2025
Go to: New Guinea Birding Tours | Papua New Guinea Birding Tours | Indonesia Birding Tours | Birding Tours in Asia | All our birding tours
Download Itinerary
Indonesia: West Papua & Southwest Papua – Birds-of-paradise and Endemics of the Arfak Mountains, Waigeo Island and Klasow Valley
August 2024/2025
New Guinea is a geographic rather than political term that refers to the main island in the region. The western half of the island of New Guinea comprises the Indonesian provinces of Southwest Papua (Papua Barat Daya), West Papua (Papua Barat) and Papua, collectively once called West Irian or Irian Jaya; the eastern half of the main island of New Guinea comprises the country of Papua New Guinea. We will be based in Southwest and West Papua for this exhilarating, small-group birding adventure. Aside from the large landmass of New Guinea, the New Guinea region includes numerous small islands (some part of Indonesia and others part of Papua New Guinea), and we will visit one of these areas: Waigeo, part of the Raja Ampat Archipelago in Southwest Papua (also known as the Northwestern Islands).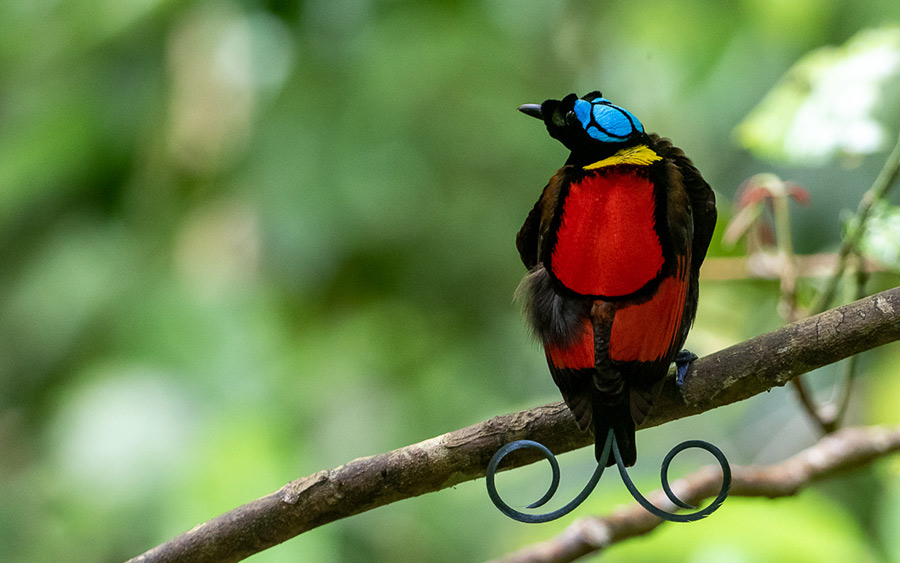 Wilson's Bird-of-paradise is often considered one of the best-looking birds in the world!
Approximately 680 bird species have been recorded from Southwest and West Papua, from slightly more than 900 for the whole New Guinea region. Some 550 species are considered breeding residents, with 279 New Guinea endemics (found in Indonesia and/or Papua New Guinea) and at least an additional 42 endemics found only in Southwest and West Papua. There are also over 115 Palearctic and Australian migrant species and a range of seabirds which spend some of their time in the region.
This Papuan bird tour will begin in the town of Manokwari, situated on the northeastern tip of West Papua's Bird's Head (or Vogelkop) Peninsula, where we could get our tour started with the huge Blyth's Hornbill and numerous gorgeous fruit doves. We will travel to the nearby Arfak Mountains, where we will search for a fabulous suite of birds, renowned in birders' circles as the "Vogelkop Endemics", such as Western Parotia, Arfak Astrapia, Crescent-caped Lophorina (formerly part of the Superb Bird-of-paradise complex), Long-tailed Paradigalla, Arfak Catbird, Vogelkop Melidectes, and Vogelkop Bowerbird. We can also find more widespread birds-of-paradise (BoPs) here too, such as Black Sicklebill, Black-billed Sicklebill, Magnificent Bird-of-paradise, Trumpet Manucode, and Crinkle-collared Manucode.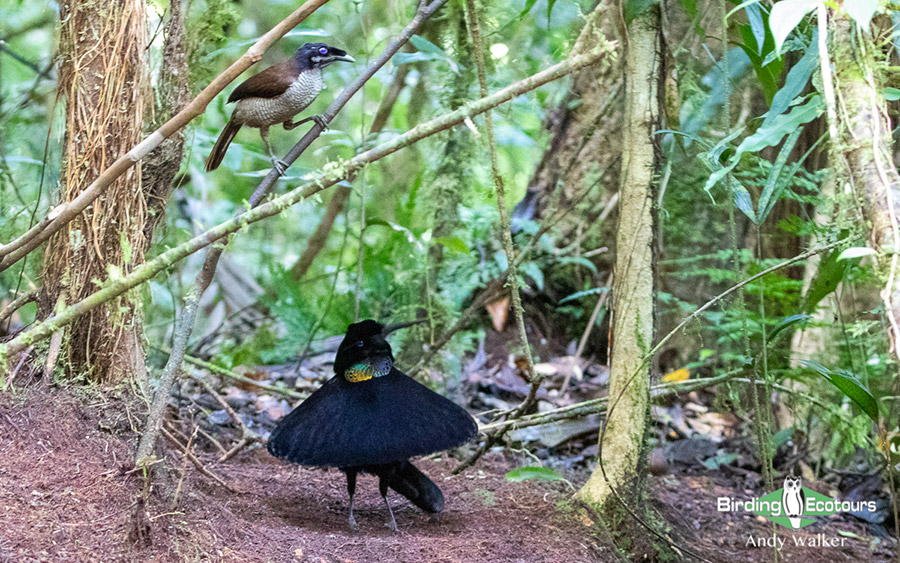 Watching Western Parotia undertaking their ballet dancing display is incredibly impressive.
There are numerous other simply breathtaking and highly sought-after birds possible in the Arfak mountains, and just a few of these include Spotted Jewel-babbler, Blue Jewel-babbler, Masked Bowerbird, Pesquet's (New Guinea Vulturine) Parrot, Moluccan King Parrot, Modest Tiger Parrot, White-striped Forest Rail, Feline Owlet-nightjar, Mountain Owlet-nightjar, Papuan Boobook, Tit Berrypecker, Mottled Berryhunter (a monotypic family), Papuan Treecreeper, Papuan Logrunner, Grey-banded Mannikin, Papuan Grassbird, Drongo Fantail, Goldenface, and Lesser Melampitta.
The second leg of our tour takes us to the Raja Ampat Islands, and specifically Waigeo Island. Here we will search for endemic Wilson's Bird-of-paradise, Red Bird-of-paradise, and Glossy-mantled Manucode. Wilson's Bird-of-paradise is often considered one of the best-looking birds on the planet, and so we will look forward to making our own judgments on this. Again, there are numerous other species high on our 'wanted' list, including Western Crowned Pigeon (a seriously impressive bird that will rival the birds-of-paradise for 'bird of the trip', if we find them), plus the likes of Hook-billed Kingfisher, Rufous-bellied Kookaburra, Yellow-billed Kingfisher, Papuan Dwarf Kingfisher, Common Paradise Kingfisher, Beach Kingfisher, Papuan Hawk-Owl, Marbled Frogmouth, Papuan Frogmouth, Palm Cockatoo, Papuan Eclectus, Great-billed Parrot, Raja Ampat Pitohui, Hooded Pitta, Papuan Pitta, and Brown-headed Crow.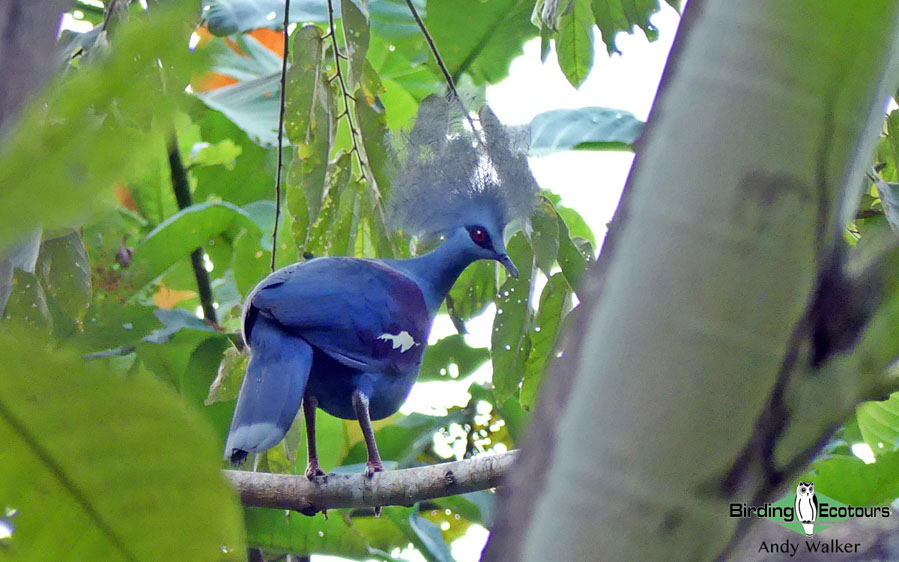 A huge bird, Western Crowned Pigeon is sure to impress on Waigeo.
The third and final leg of our tour takes us to Sorong and the Klasow Valley, where we might find King Bird-of-paradise, Magnificent Riflebird, Red-breasted Paradise Kingfisher, Blue-black Kingfisher, Northern Cassowary, Black Lory, Thick-billed Ground Pigeon, New Guinea Bronzewing, Papuan Nightjar, Red-billed Brushturkey, Papuan Babbler, Dwarf Koel, and Emperor Fairywren, along with numerous spectacular fruit doves and pigeons.
Immediately prior to this New Guinea birding tour, you could join our Indonesia: Sulawesi and Halmahera – Spectacular Endemic Birding tour looking for (Wallace's) Standardwing and Halmahera Paradise-crow (these are two endemic birds-of-paradise), plus Maleo, Ivory-breasted Pitta, North Moluccan Pitta, Sulawesi Pitta, Purple-bearded Bee-eater, Green-backed Kingfisher, Sulawesi Lilac Kingfisher, Scaly-breasted Kingfisher (with over 15 kingfisher species actually possible on this tour!), Moluccan Owlet-nightjar, Knobbed Hornbill, Hylocitrea (a monotypic family), Malia, Geomalia, and a multitude of more, exciting endemics.
Furthermore, you could combine this Papuan birdwatching tour with our Papua New Guinea: Birding Attenborough's Paradise tour, where we will see numerous birds-of-paradise and other exceptional birds, most different to what will be seen on our Southwest and West Papua tour, such as Blue Bird-of-paradise, Raggiana Bird-of-paradise, King of Saxony Bird-of-paradise, Ribbon-tailed Astrapia, and Princess Stephanie's Astrapia to name a few of the stunners, along with Blue-capped Ifrit and Wattled Ploughbill (two more monotypic families), plus so many other gorgeous endemics!
Additionally, we also offer a tour to the endemic-rich, amazing satellite islands of Biak, Numfor, and Kofiau where, on our Stunning Paradise Kingfishers and Small-Island Endemics tour to the three islands, we look for small-island endemics, such as Biak Paradise Kingfisher, Numfor Paradise Kingfisher, Kofiau Paradise Kingfisher, and many more key, range-restricted species, such as Numfor Leaf Warbler, Kofiau Monarch, and Biak Myzomela.
Detailed Itinerary (15 days/14 nights)
Day 1. Arrival in Manokwari
Arrival at Rendani Airport in Manokwari during the day, where you will be met and taken to your nearby hotel for the remainder of the day at leisure. We will meet for a group evening meal together as the anticipation builds for the exciting birds and adventure awaiting us.
Overnight: Aston Nui Manokwari Hotel and Conference Centre, Manokwari
Day 2. Birding near Manokwari, travel to and birding in the Arfak Mountains
We will get the tour under way with some great birds near Manokwari, such as Pacific Baza, Claret-breasted Fruit Dove, White-bibbed Fruit Dove, Pinon's Imperial Pigeon, Collared Imperial Pigeon, Zoe's Imperial Pigeon, Papuan Mountain Pigeon, Blyth's Hornbill, Papuan Eclectus, Black-capped Lory, and Hooded Butcherbird.
Around the middle of the morning, we will leave the city and travel into the Arfak Mountains, our base for the next four days. On the lower slopes of the mountain, we might have a chance to spot Trumpet Manucode, a rather unusual crow-like bird-of-paradise and along the way we might spot other species, such as Lowland Peltops, Northern Variable Pitohui, New Guinea Friarbird, and Boyer's Cuckooshrike. The afternoon will be spent birding in the forest near our accommodation, where we may see some of the birds listed for Days 3 to 5.
Overnight: Arfak Mountains (mid-elevation)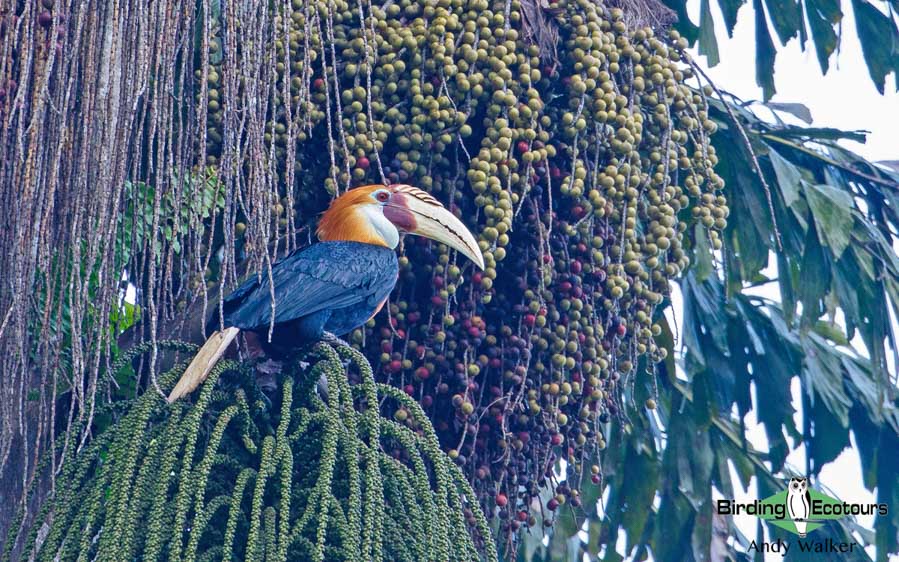 There is only one hornbill (Blyth's Hornbill) in New Guinea, though it is a spectacular one.
Days 3 – 5. Birding in the Arfak Mountains
We have three full days (in addition to the afternoon of Day 2 and the morning of Day 6) to explore what is arguably the premier birding region in West Papua, the Arfak Mountains. This area supports several endemic bird species and numerous other species with restricted ranges, including several stunning birds-of-paradise.
Over the course of our stay on the mountain we will focus our attention on the birds-of-paradise, and bird our way around their display sites. This tactic works well and gives us great opportunities for viewing the birds-of-paradise on their lek sites, as well as then also picking up numerous other exciting birds along the way. We will spend a few nights in a basic yet comfortable 'village' at mid-elevation on the mountain, after which we will head up (on foot) to the high-elevation zone for a night in a basic camp (see the tour-specific information about this, accessed from the general information tab on the tour page). Those tour participants not wishing to make the hike higher up the mountain will be able to stay in the village and will be suitably looked-after by our excellent support staff, with further birding opportunities in that zone! The exact day-to-day routine over these few days will be dictated by the location of the birds-of-paradise lek sites, but a bird-filled time is to be expected, the birding here is seriously exciting.
Around our village base in the mid-elevation zone, we will look for Magnificent Bird-of-paradise which may be seen on his court, displaying, in sequence, his iridescent carmine back, dark-green breast shield, and sulfur-yellow cape before jerkily dancing up and down a vertical sapling, while quivering his cocked, sickle-shaped central tail feathers.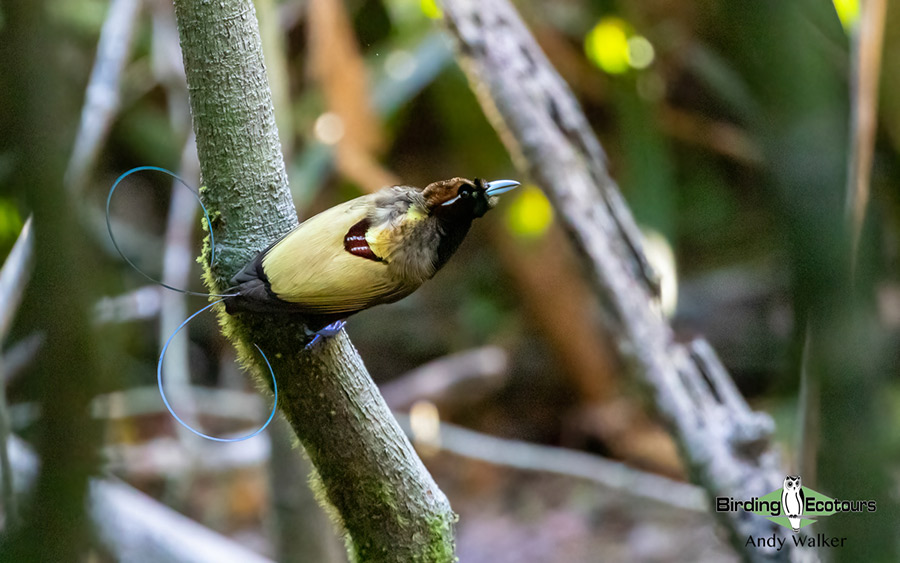 Magnificent Bird-of-paradise may be seen in the Arfak Mountains.
Around the village we will look for the additional exciting bird-of-paradise trio of Western Parotia, Black-billed Sicklebill, and Crescent-caped Lophorina. The male of the Western Parotia performs a bizarre side-step dance on the floor of their display courts, while their flank plumes are spread to form a circular skirt, with their six, wiry, antenna-like nape feathers directed forward. Black-billed Sicklebill is also found in this zone, quite a large bird, they spend a lot of time in the mid-canopy but drop down to exposed display perches early in the morning when we have a good chance to view them well. One of the most interesting though, is the Crescent-caped Lophorina (formerly part of the Superb Bird-of-paradise complex). This bird is mesmerizing when displaying, and we will hope for a repeat performance witnessed on previous tours. The males' fixed, delta-shaped, iridescent, blue-green breast-shield (with elongated side feathers making it protrude way beyond its chest) and its expandable hind neck cape combine to give this bird a strange look, but one you (or the female birds) cannot take your eyes off!
Of all the endemic birds of the region, one of the most famous ones (though not the most beautiful!) must be Vogelkop Bowerbird – the world's greatest avian architect. Males of this amazing species build a roofed house-like maypole (tented) bower, construction at the base of a tree sapling, inside and in front of which they place colorful berries, flowers, and insect parts to attract females, a true sight to behold for the female, and us!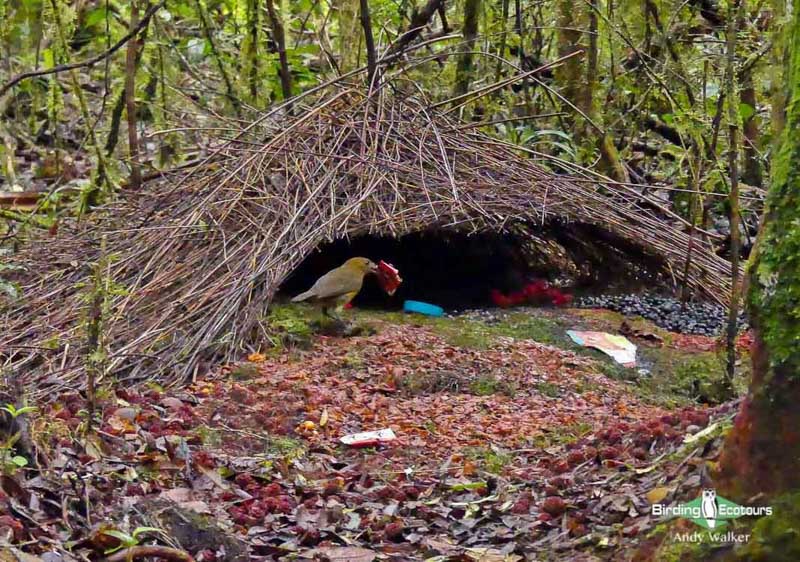 The impressive bower of the Vogelkop Bowerbird is something pretty special, even if the bird is rather drab – what it lacks in good looks, it certainly makes up for in architectural ability!
Other interesting birds possible in this area may include Pheasant Pigeon, Spotted Jewel-babbler, White-striped Forest Rail, Pesquet's (New Guinea Vulturine) Parrot, Arfak Catbird, Arfak Honeyeater, Vogelkop Melidectes, Vogelkop Scrubwren, Vogelkop Whistler, Papuan Eagle, Black-mantled Goshawk, Masked Bowerbird (the colors on this one need to be seen to be believed!), Moluccan King Parrot, Red-breasted Pygmy Parrot, Black-capped Lory, Papuan Lorikeet, Ivory-billed Coucal, White-crowned Cuckoo, Dwarf Koel, Drongo Fantail, Papuan Mountain Pigeon, White-bibbed (Mountain) Fruit Dove, Red-collared Myzomela, Papuan Black Myzomela, Rufous-sided Honeyeater, Northern Variable Pitohui, Hooded Pitohui, White-shouldered Fairywren, Papuan Parrotfinch, Wattled Brushturkey, Sclater's Whistler, Regent Whistler, Rufous-naped Bellbird (formerly called Rufous-naped Whistler but moved from that family to a new family called Australo-Papuan bellbirds, and now known to be a poisonous bird!), Goldenface, Mountain Peltops, Black-breasted Boatbill, Papuan Treecreeper, Papuan Sittella, Green-backed Robin, Black-throated Robin, Slaty Robin, Garnet Robin, Lesser Ground Robin, and, if we are lucky, Feline Owlet-nightjar or Mountain Owlet-nightjar.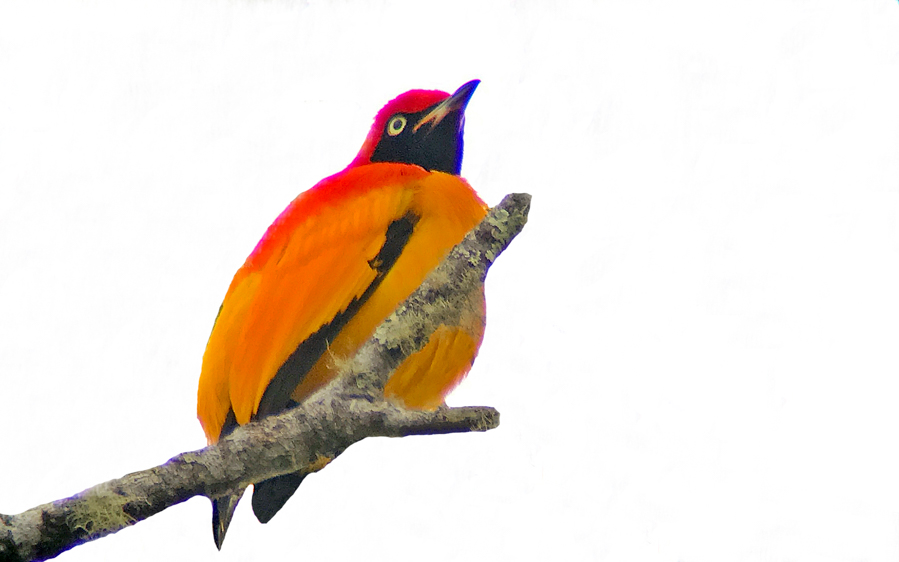 The colors on the male Masked Bowerbird really need to be seen to be believed, this is one insanely colorful bird! Its bower is nowhere near as impressive as the Vogelkop Bowerbird (above), but when it looks like this, it probably doesn't matter to the female!
Depending on timing and road conditions, we might be able to take our 4×4 vehicles to an open area that is home to the extremely range-restricted endemic Grey-banded Mannikin, which is a beautiful bird. Other species possible in this area include Torrent-lark, Papuan Grassbird, Great Woodswallow, Pale-vented Bush-hen, and Grey Wagtail.
Our time in the high-elevation zone (almost 6,550 feet/2,000 meters) will focus on a range of different species, including three new birds-of-paradise, two of which are endemic, the little-known Arfak Astrapia and Long-tailed Paradigalla (the latter rediscovered as recently as 1989!), as well as the more widespread Black Sicklebill, with its magnificent tail, which can be 31 inches (80 centimeters) long, with an ability to turn itself into assorted shapes; the cobra move is particularly noteworthy! All three of these birds are incredibly unique and well worth the tough hike!
Our time here will be focused on finding the above three great birds-of-paradise, but we will also be in the zone for plenty of other exciting birds, and we will hope to also see the likes of Lesser Melampitta, Brehm's Tiger Parrot, Modest Tiger Parrot, Bronze Ground Dove, Crested Berrypecker, Orange-crowned Fairywren, Obscure Berrypecker, Fan-tailed Berrypecker, Tit Berrypecker, Mottled Berryhunter (a monotypic family endemic to New Guinea), Papuan Logrunner, Ashy Robin, Smoky Robin, Black-throated Robin, Canary Flyrobin, Cinnamon-browed Melidectes, Arfak Honeyeater, Papuan Treecreeper, Papuan Parrotfinch, Mountain Mouse-warbler, Red-collared Myzomela, Vogelkop Owlet-nightjar, and Papuan Boobook, among, as always, so many others.
Overnight: Arfak Mountains (two nights at mid-elevation and one night at high-elevation)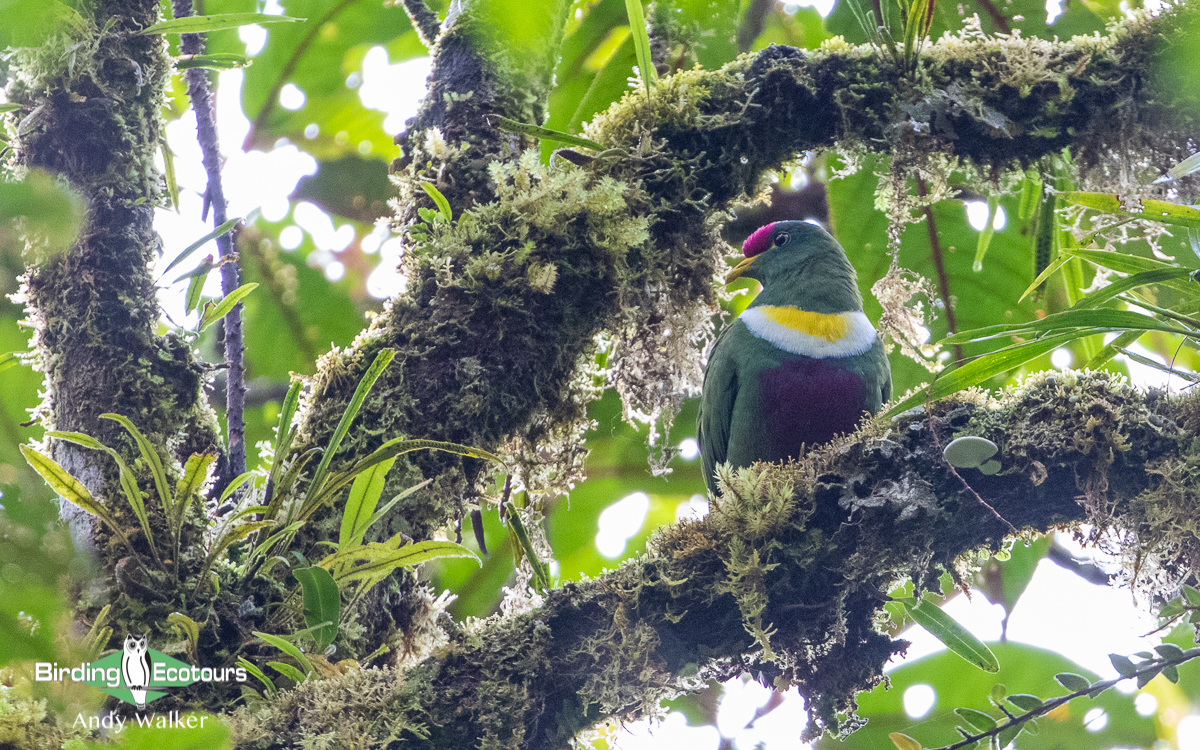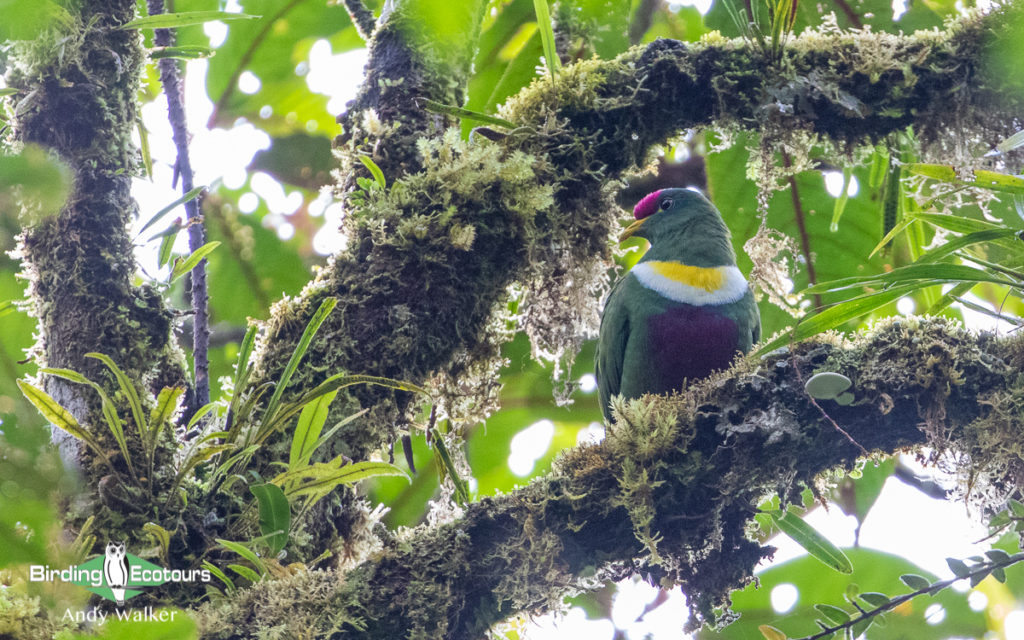 The attractive White-bibbed (Mountain) Fruit Dove will be a target while birding the Arfak Mountains.
Day 6. Arfak Mountains to Manokwari
We will have a final morning birding in the Arfak Mountains, mopping up species mentioned above, or maybe taking one last look at our favorite birds-of-paradise of this area for the final time. After our final lunch in the village, we will bid a fond farewell to our hosts and we will then descend the mountain, before retuning back to Manokwari for a welcome night in our comfortable hotel.
Overnight: Aston Nui Manokwari Hotel and Conference Centre, Manokwari
Day 7. Manokwari to Sorong
We will take a short flight in the morning between Manokwari and Sorong where we will then check into our very comfortable hotel for the night. In the afternoon, after the heat of the day wanes, we will venture into the mangroves, where we hope to find Blue-black Kingfisher, Azure Kingfisher, Little Kingfisher, Barred Rail, Black Bittern, Little Bronze Cuckoo, Moustached Treeswift, Orange-fronted Fruit Dove, Collared Imperial Pigeon, Orange-breasted Fig Parrot, and Emperor Fairywren.
Overnight: Swiss-Belhotel International, Sorong
Day 8. Sorong to Waigeo
After breakfast and checking out of our hotel, we will transfer by fast-ferry from Sorong to Waigeo Island across the Indonesian Dampier Strait (sometimes also known as Augusta's Strait). The crossing can take two or three hours, and we will be within an air-conditioned cabin.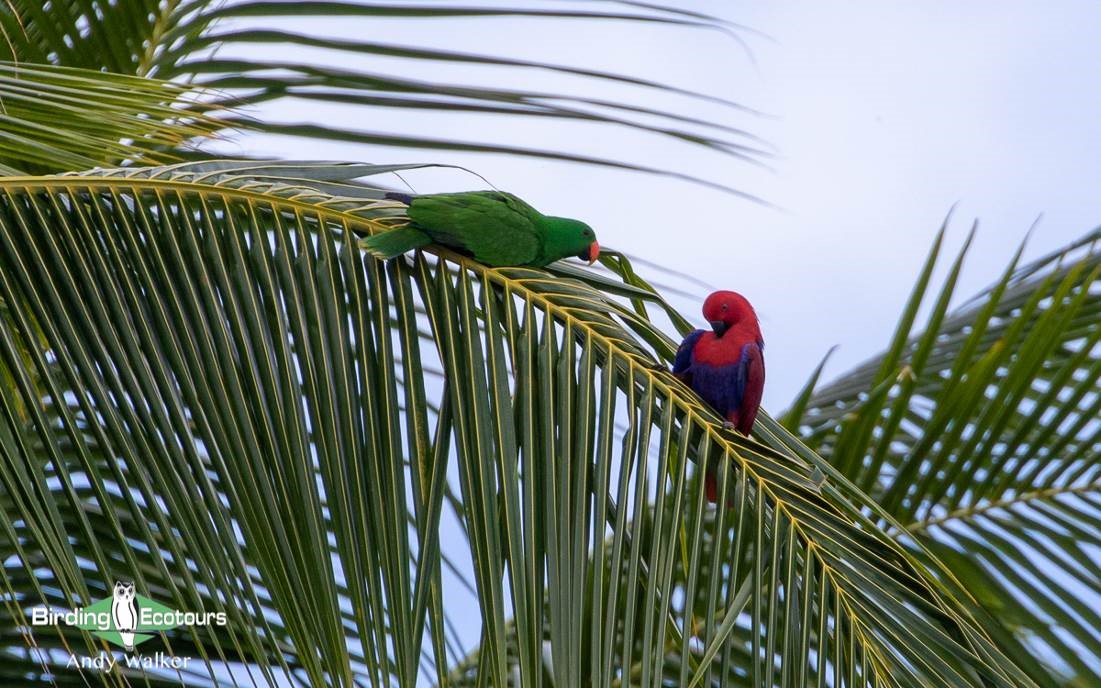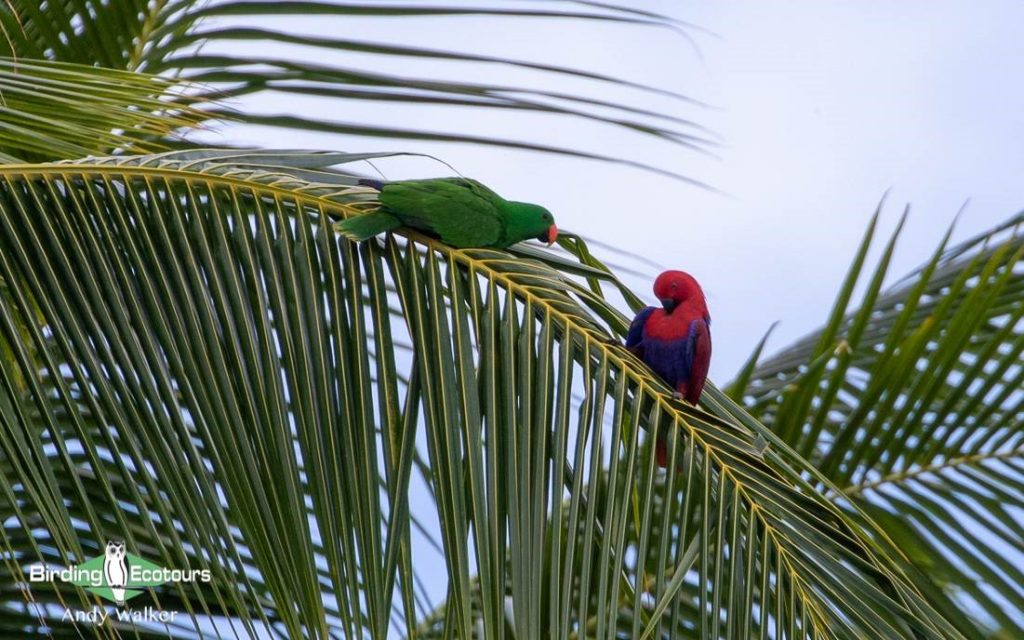 Papuan Eclectus can be found along the roadside and around our resort on Waigeo.
On arrival at Waigeo Island we will likely see White-breasted Woodswallow and Singing Starling in the harbor. We will then drive the short distance to our picturesque and secluded beachside dive resort, where we will check in for the next few nights. As we take the short drive between the harbor and our resort, we might spot Papuan Eclectus, Red-cheeked Parrot, Pacific Baza, Claret-breasted Fruit Dove, Black Sunbird, Oriental Dollarbird, New Guinea Friarbird, Moluccan Starling, and Rufous-bellied Kookaburra along the way.
Overnight: Raja Ampat Dive Resort, Waigeo Island
Days 9 – 10. Birding on and around Waigeo Island
Waigeo, where we will be based for the next two full days for our birding, is the largest island in the Raja Ampat Archipelago, comprising over 1,500 small islands, cays, and shoals and located off the northwest tip of the Bird's Head Peninsula. These islands are home to two endemic birds-of-paradise, the exquisite Wilson's Bird-of-paradise with its bright, cerulean-blue, bare crown, crisscrossed by fine black lines (considered by many as the best-looking bird on the planet – see the front cover of this itinerary for an idea of how stunning this bird is) and the crimson-plumed rather slick-looking Red Bird-of-paradise. We will look for both species while on Waigeo.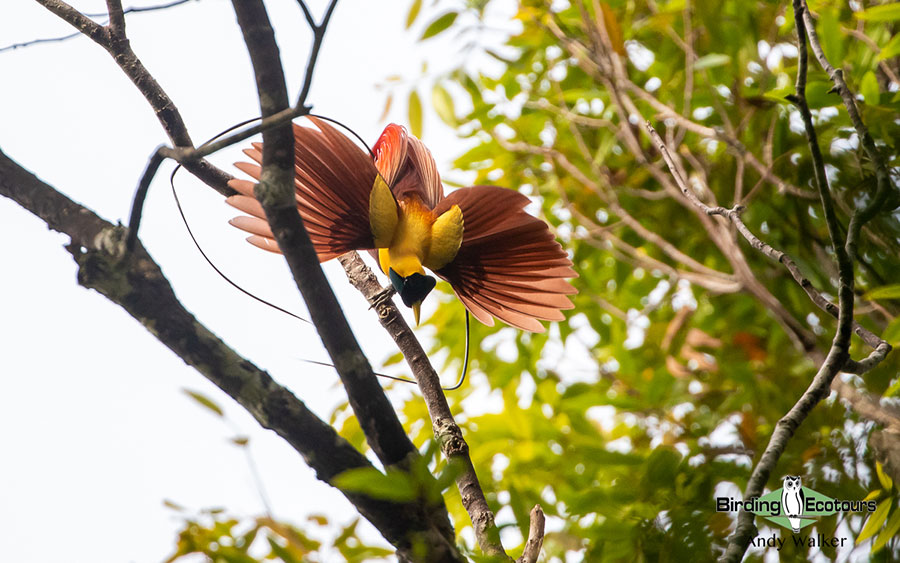 Endemic to Raja Ampat, Red Bird-of-paradise is yet another interesting BoP with its wire-like tail projections. We will visit a lek site of this bird while on the island.
Waigeo Brushturkey was fairly recently rediscovered, but this island endemic is a very tough bird and is unlikely to be found on this tour – if you'd like to try for this very difficult range-restricted species please talk to us about a possible expedition extension to look specifically for it after the tour.
Other birding highlights on these islands include Hook-billed Kingfisher, Common Paradise Kingfisher, Western Crowned Pigeon (a ginormous pigeon), Pheasant Pigeon, Palm Cockatoo, and Great-billed Parrot. We will also hope to get good views of yet another bird-of-paradise while in this region – Glossy-mantled Manucode. These birds have elongated tracheas which serve to magnify their voice!
During our time on Waigeo we also hope to encounter, among a multitude of others, Papuan Pitta, Hooded Pitta, Rufous-bellied Kookaburra, Yellow-billed Kingfisher, Papuan Dwarf Kingfisher, Blyth's Hornbill, New Guinea Friarbird, Southern Variable Pitohui, Raja Ampat Pitohui, Hooded Butcherbird, Black Butcherbird, Marbled Frogmouth, Papuan Frogmouth (often right outside the resort dining room at night!), Papuan Boobook, Dusky Megapode, Pygmy Eagle, Gurney's Eagle, Red-necked Crake, New Guinea Bronzewing, Moustached Treeswift, Moluccan King Parrot, Brown-headed Crow, Tawny-breasted Honeyeater, Green-backed Honeyeater, Long-billed Honeyeater, Black-sided Robin, Golden Monarch, Spot-winged Monarch, Frilled Monarch, Beautiful Fruit Dove, Purple-tailed Imperial Pigeon, and Stephan's Emerald Dove.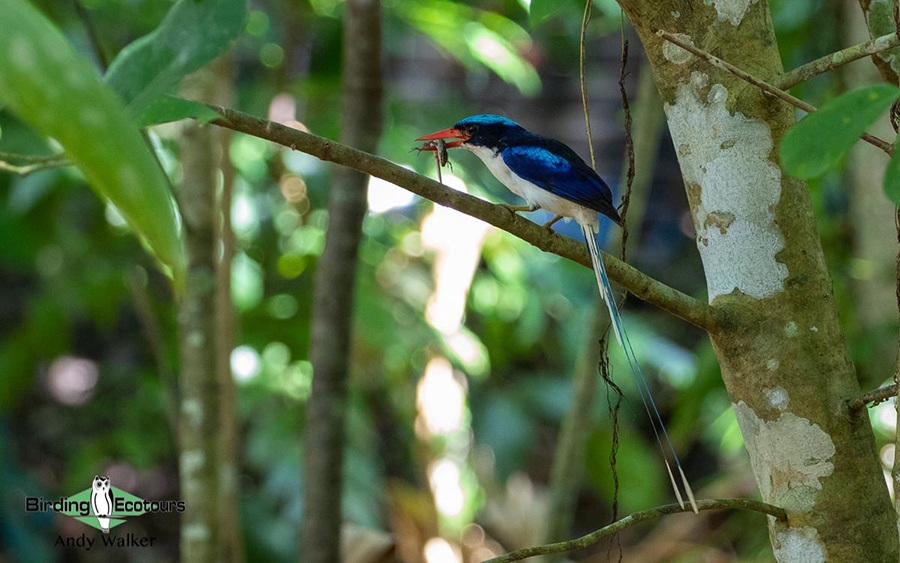 We see some amazing kingfishers on this tour and Common Paradise Kingfisher is one beautiful example of the family.
We will have early-morning and late-afternoon birding sessions in the forest and the late-morning and early-afternoon will be at your leisure around the resort where you can sit and enjoy the view, maybe even with Palm Cockatoos feeding above your heads! Or you can take some time to snorkel in the reef right outside our rooms, the coral reef and various fish and sea-life present here is remarkable and well worth an underwater experience.
On one of our afternoons while here, we will take a boat into Kabui Bay to look for Spice Imperial Pigeon, Pied Imperial Pigeon, Metallic Pigeon, White-bibbed Fruit Dove, Beach Kingfisher, Violet-necked Lory, Great-billed Heron, Dusky Megapode, Radjah Shelduck, Island Monarch, Common Paradise Kingfisher, Varied Honeyeater, Arafura Fantail, Moluccan Starling, and White-bellied Sea Eagle, ending with sunset and watching the huge Great-billed Parrots coming in to roost.
Overnight: Raja Ampat Dive Resort, Waigeo Island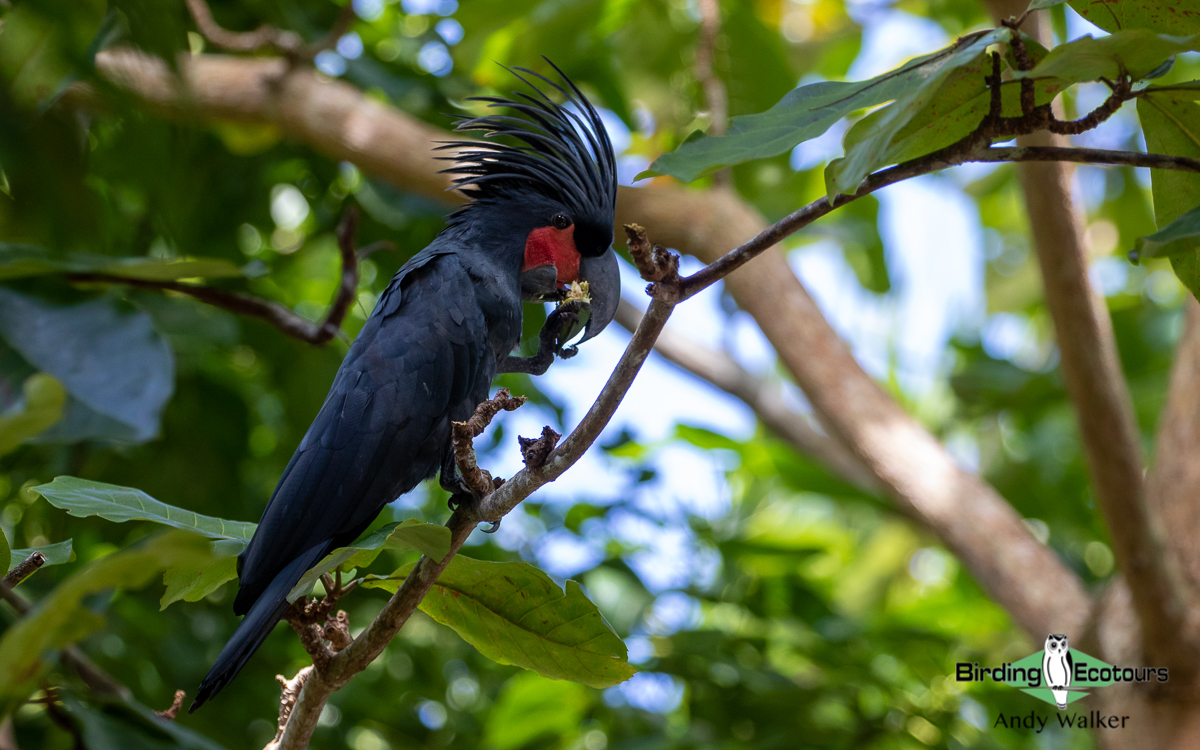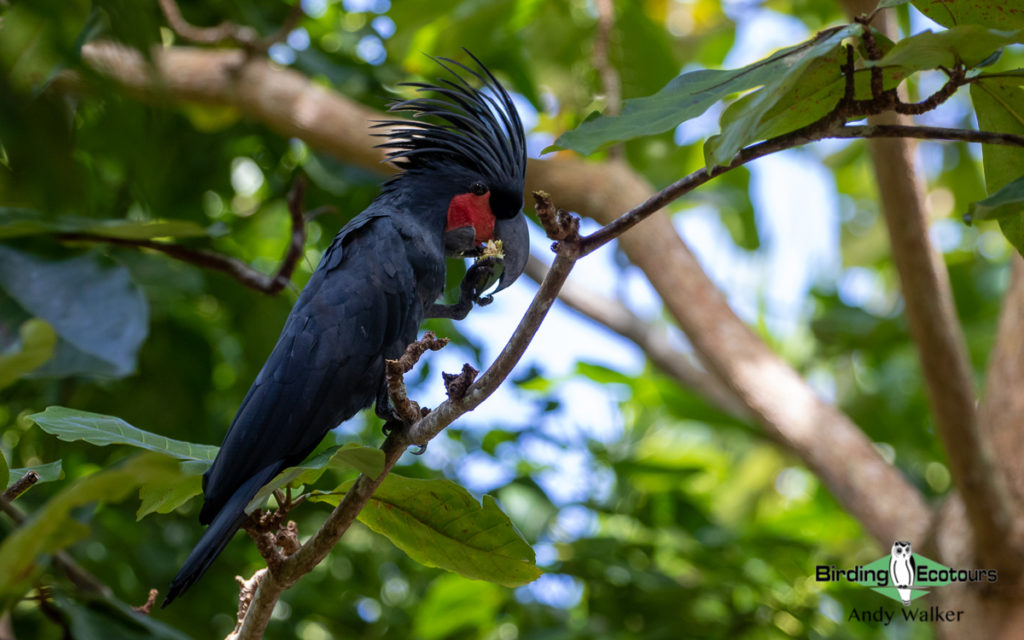 The rather large Palm Cockatoo can often be found around our accommodation.
Day 11. Birding on Waigeo and travel to Sorong
We will have a final morning on Waigeo, where we will search for more of the species mentioned above, maybe again enjoying the otherworldly Wilson's Bird-of-paradise for one final time. We will take the afternoon fast-ferry back to Sorong where we will arrive in the late afternoon in time for our evening meal.
Overnight: Swiss-Belhotel International, Sorong
Day 12. Sorong to Klasow Valley
After breakfast we will leave our accommodation and drive a couple of hours to the east of Sorong, to the jump-off point at the Klasow Valley (this area is also known as Malagufuk amongst birders). Porters will carry our baggage in wheelbarrows along a relatively flat boardwalk for four kilometers (two and a half miles) to our homestay and we will make the same journey on foot, birding along the way. Given the numerous stunning and highly sought-after species on offer here, it could take a while!
As we make our way along the boardwalk to our remote homestay, we could extend our bird-of-paradise list in the form of the raucous Magnificent Riflebird, the delightful and rather small King Bird-of-paradise, the simply gorgeous Lesser Bird-of-paradise, and the bizarre Twelve-wired Bird-of-paradise. There will be plenty to look for beyond the above four species however, with many of the birds listed for Day 13 possible too. We will spend the afternoon, full day tomorrow, and the following morning (Day 14) birding this bird-rich area.
Overnight: Eco Village Malagufuk, Klasow Valley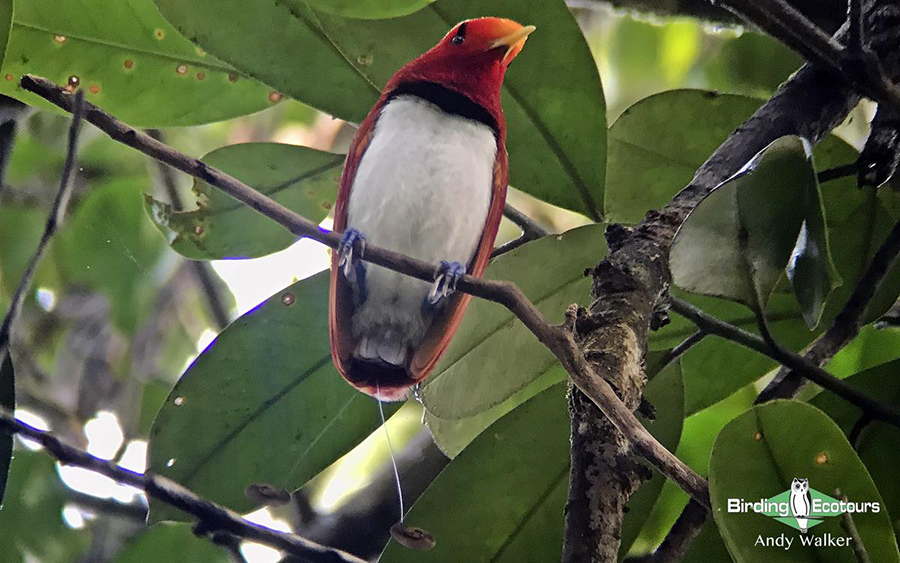 King Bird-of-paradise is a beautiful BoP and we will hope for some great views at their lek site.
Day 13. Birding Klasow Valley
The Klasow Valley has come to prominence over recent years for offering the opportunity to see some highly sought-after, rare, and downright spectacular birds, including the most-wanted Northern Cassowary (several birds can occasionally be found in this area, and we will be making sure to try and find them during our time here). One of the other top targets here is the localized and secretive, Red-breasted Paradise Kingfisher, this area of New Guinea offers the best chance to connect with this species in the world. Plenty of other tough birds are on the menu here, such as Thick-billed Ground Pigeon, New Guinea Bronzewing, Cinnamon Ground Dove, Forest Bittern, Papuan Hawk-Owl, Papuan Nightjar, Black Lory, Red-billed Brushturkey, and Tawny Straightbill.
A wide range of more common and widespread species will also make up the exciting numbers during our time birding here, and we may also enjoy views of  Papuan Spine-tailed Swift, Papuan Pitta, Hooded Pitta, Blyth's Hornbill, Palm Cockatoo, Sulphur-crested Cockatoo, Red-cheeked Parrot, Coconut Lorikeet, Moluccan King Parrot, Large Fig Parrot, Yellow-billed Kingfisher, Blue-black Kingfisher, Golden Cuckooshrike, Brown Oriole, Dwarf Fruit Dove, Pink-spotted Fruit Dove, Superb Fruit Dove, Orange-bellied Fruit Dove, Wompoo Fruit Dove, Ivory-billed Coucal, Dwarf Koel, Frilled Monarch, Papuan Babbler, Rusty Pitohui, White-eared Catbird, Lowland Peltops, Grey Crow, Long-billed Honeyeater, Emperor Fairywren, Sooty Thicket Fantail, Black Thicket Fantail, White-bellied Thicket Fantail, Long-tailed Honey Buzzard, Grey-headed Goshawk, and Variable Goshawk.
Overnight: Eco Village Malagufuk, Klasow Valley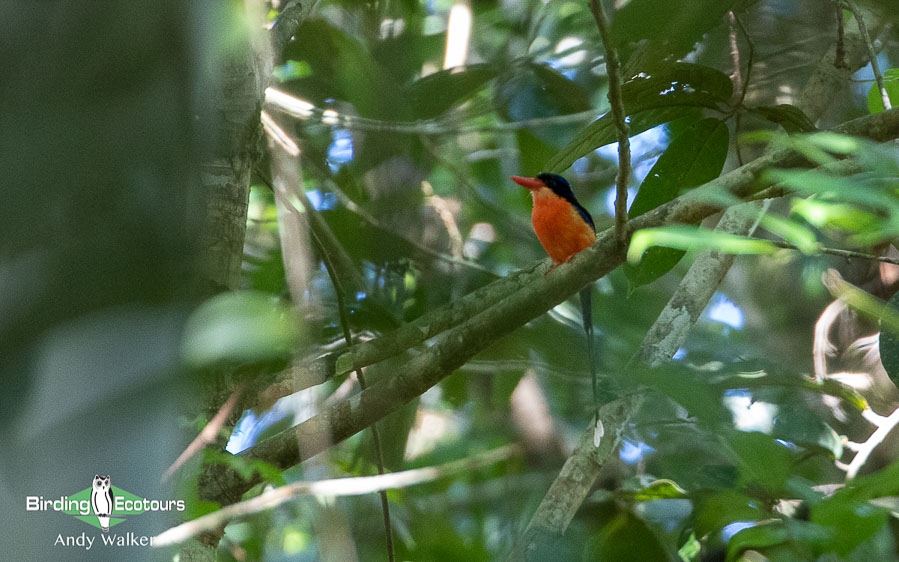 Another kingfisher target on this tour, one of many, is Red-breasted Paradise Kingfisher.
Day 14. Birding Klasow Valley and travel to Sorong
We will have a final morning birding in the Klasow Valley, looking for the species mentioned for Days 12 and 13. In the late morning/early afternoon we will commence our hike out of the valley back to the jump-off point where we will meet up with our vehicles and drive back to our hotel in Sorong for the final night of the tour. We will have a final group dinner together and try and choose a 'bird of the trip', which won't be easy.
Overnight: Swiss-Belhotel International, Sorong
Day 15. Departure from Sorong
Time at leisure and departure from Sorong.
Overnight: Not included
Please note that the itinerary cannot be guaranteed as it is only a rough guide and can be changed (usually slightly) due to factors such as availability of accommodation, updated information on the state of accommodation, roads, or birding sites, the discretion of the guides and other factors. In addition, we sometimes have to use a different international guide from the one advertised due to tour scheduling.
Download Itinerary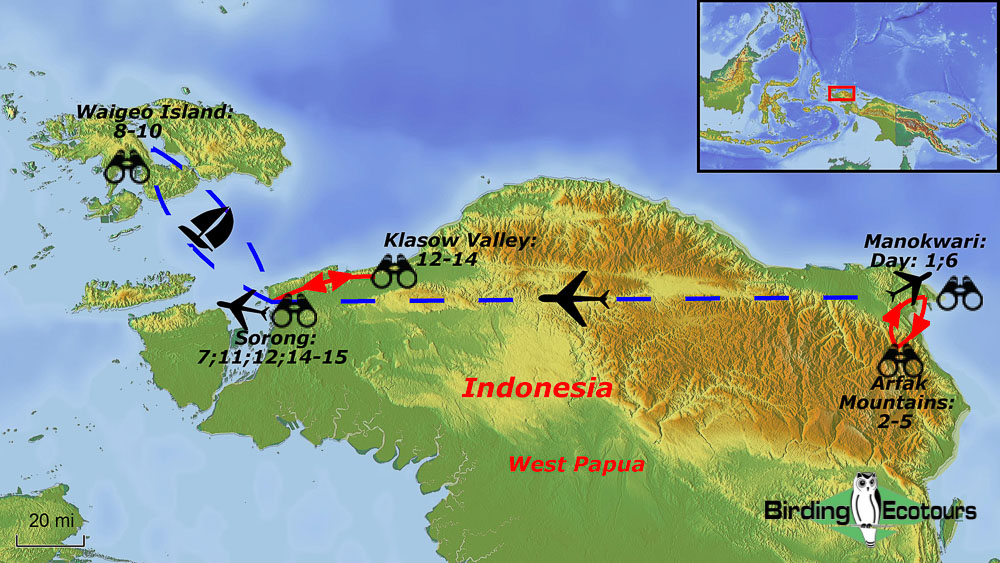 Indonesia: West Papua – Birds-Of-Paradise and Endemics of the Arfak Mountains and Waigeo Island Trip Report, August 2023
01 – 12 AUGUST 2023
DOWNLOAD TRIP REPORT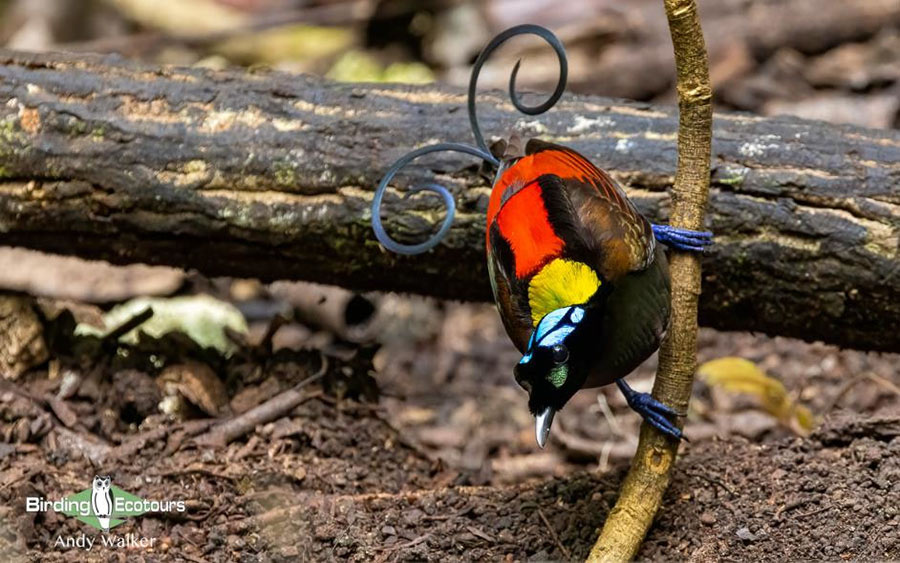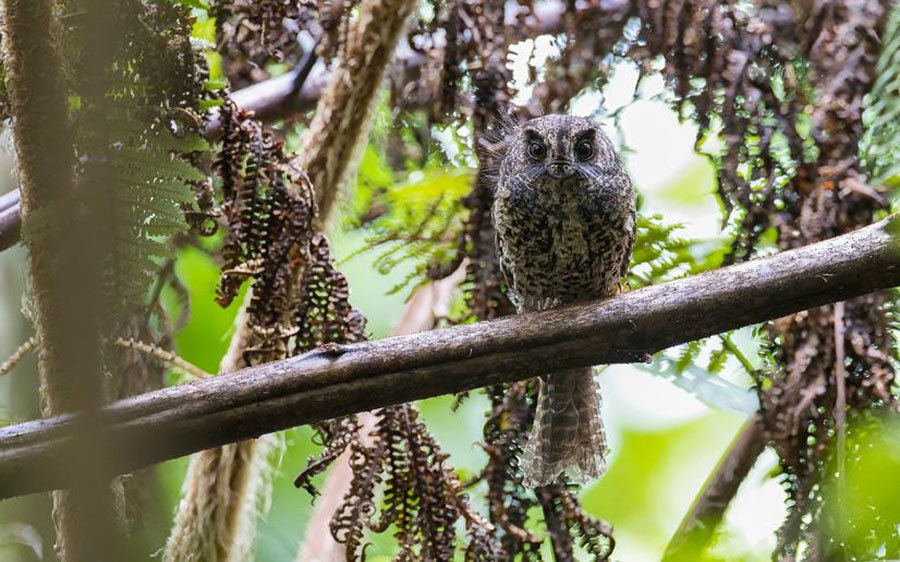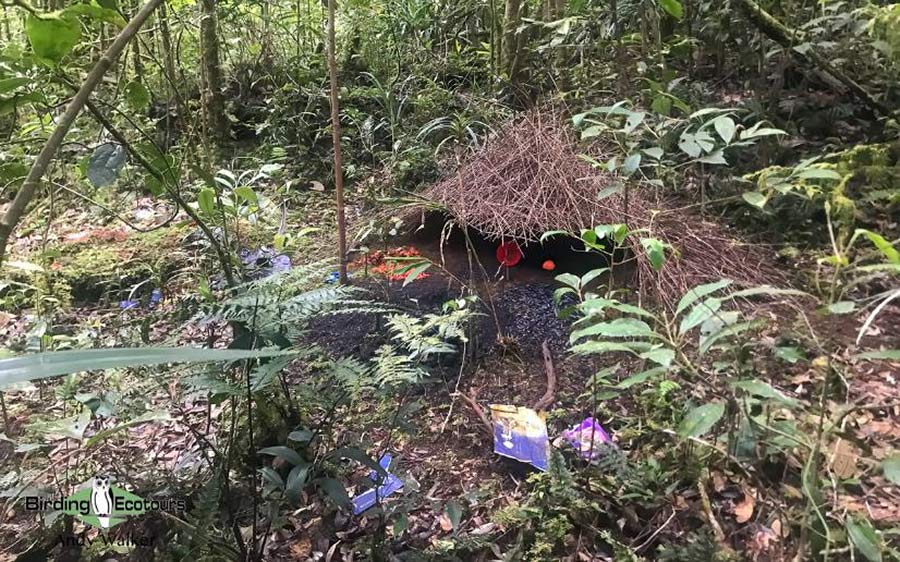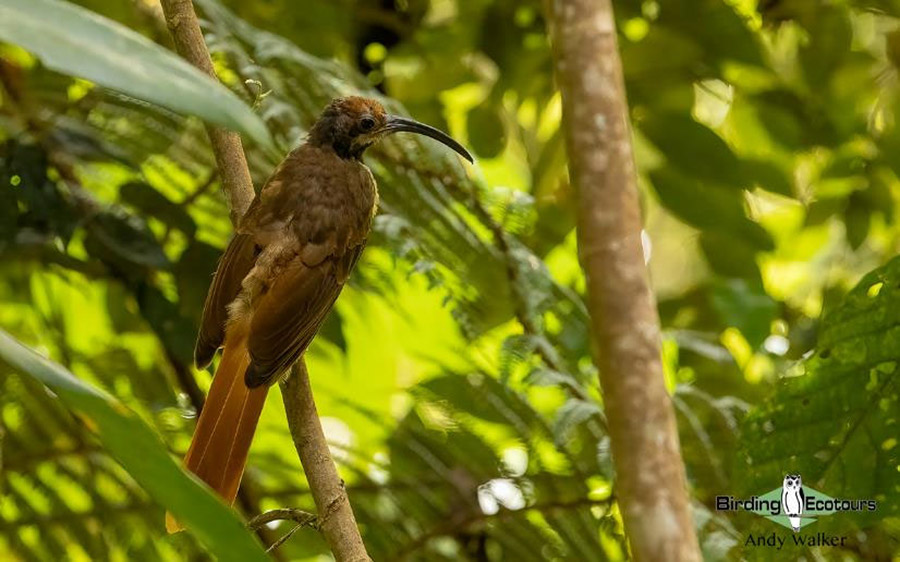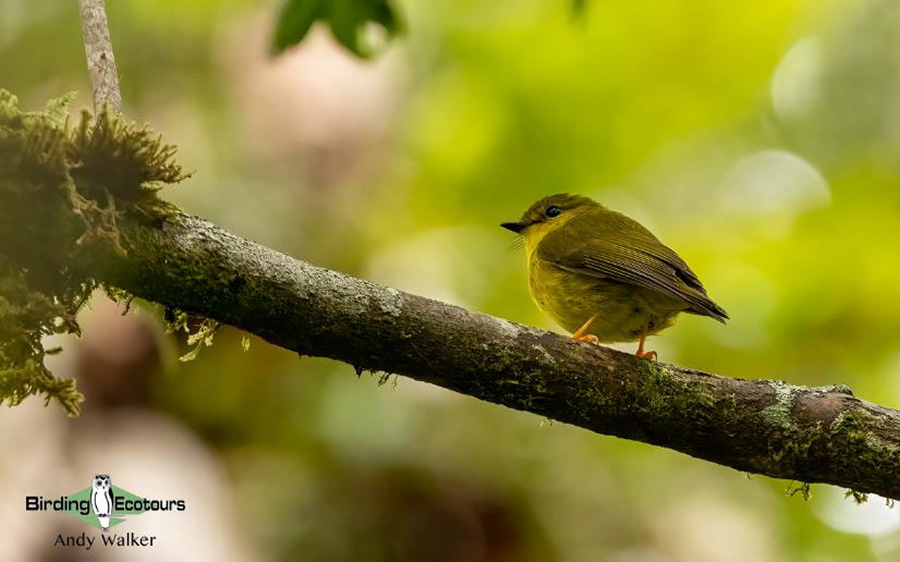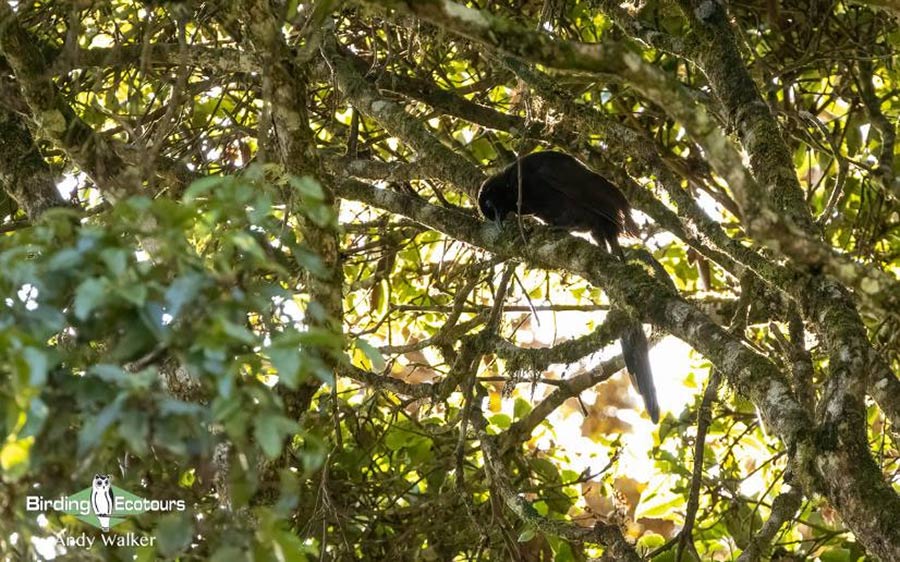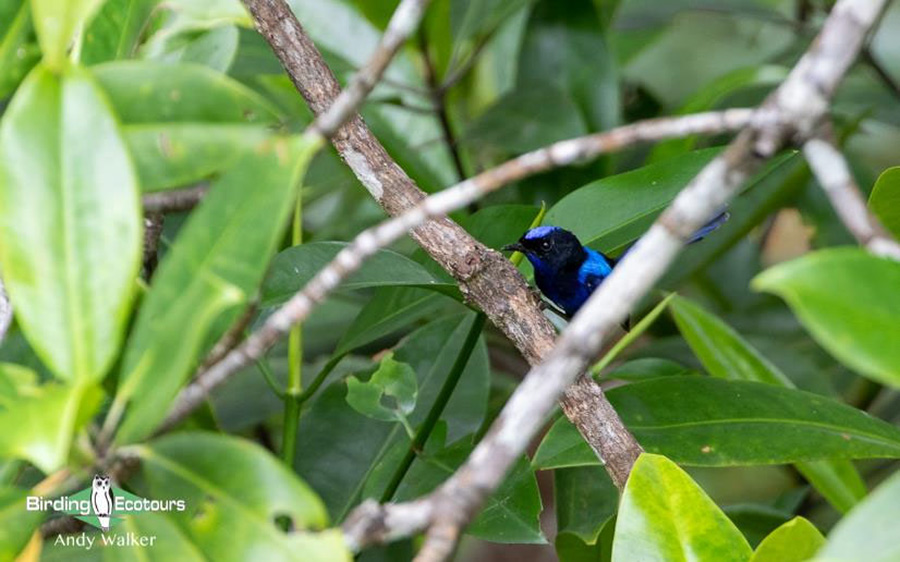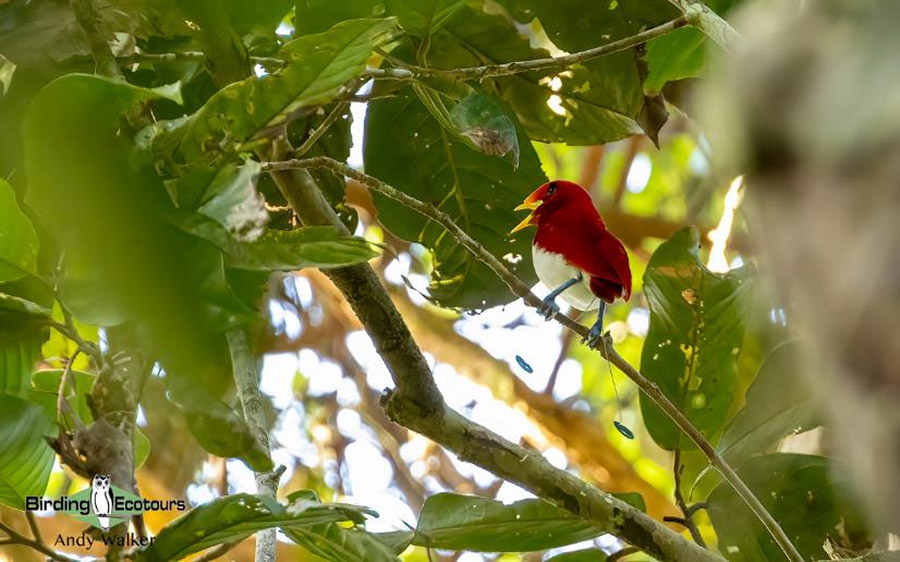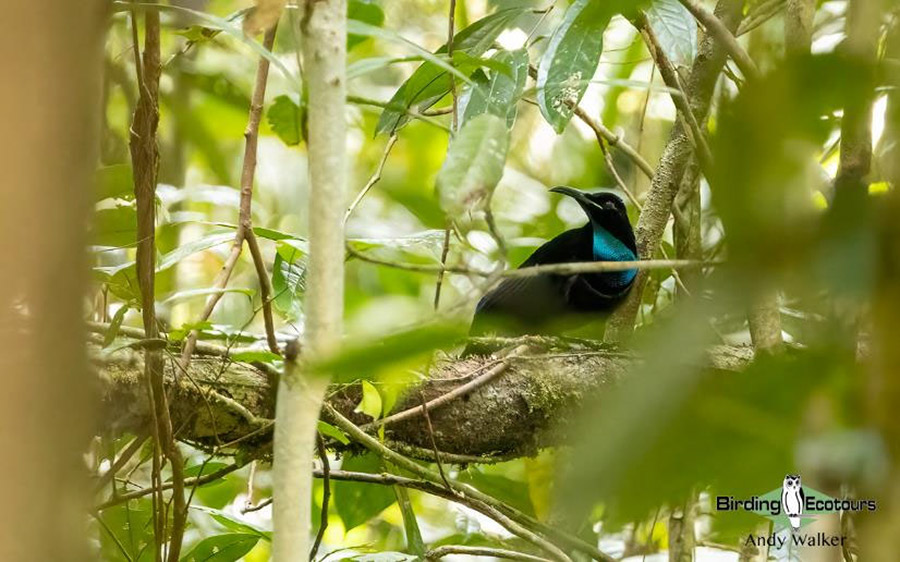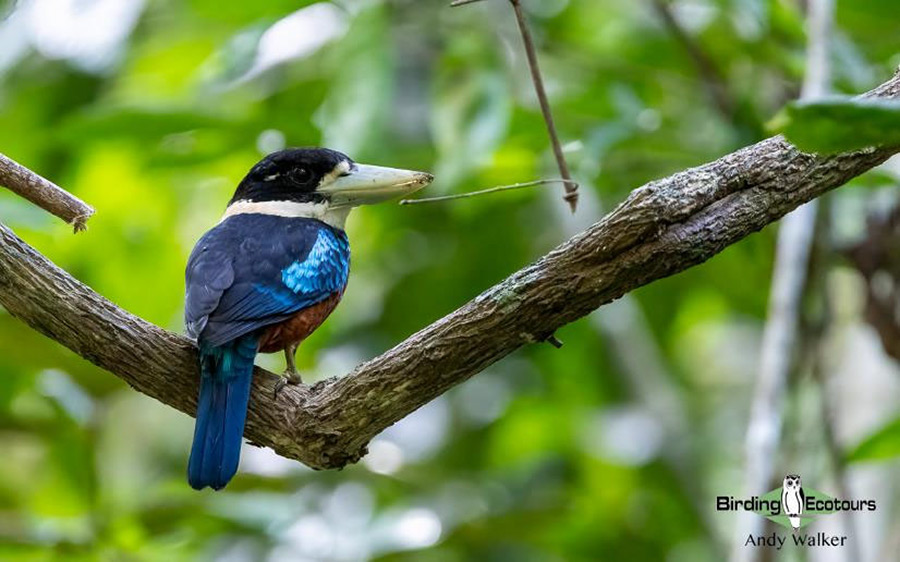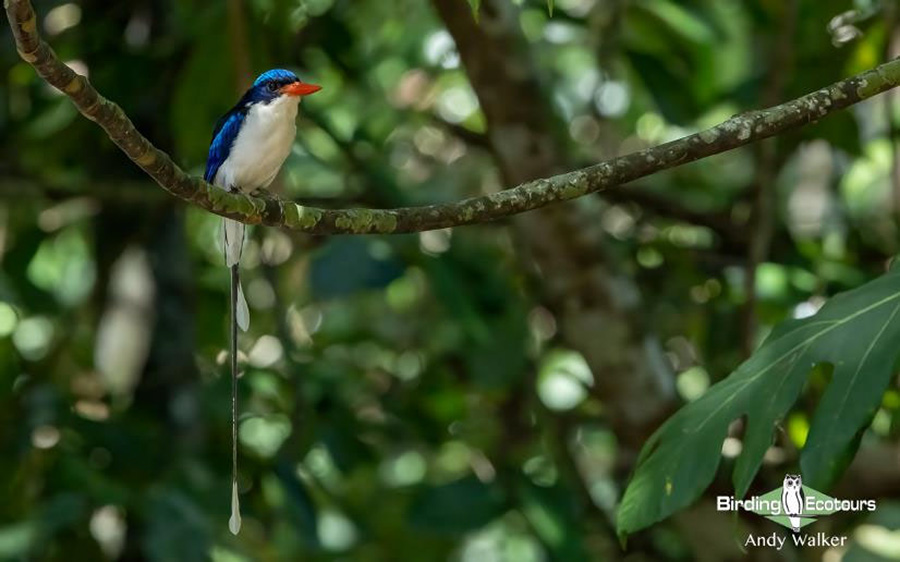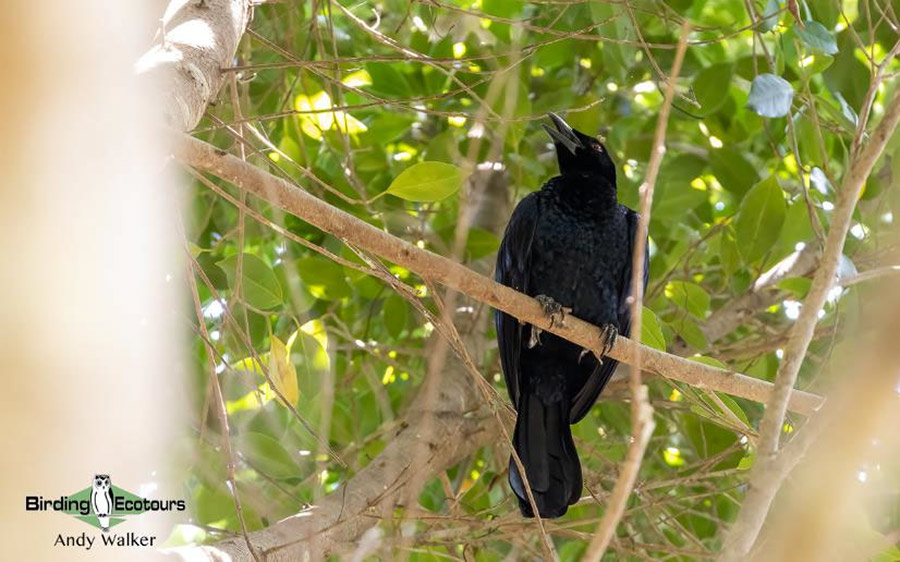 Day 12, 12th August 2023. Tour concluded with departure from Sorong
A non-birding day with everyone departing for onward travel in the morning. A huge thank you must go out to our excellent local team of guides, porters, cooks, drivers, etc., for helping make the tour run so smoothly, we are already excited to return next year. Another huge thank you to all the tour participants for making this such an enjoyable trip!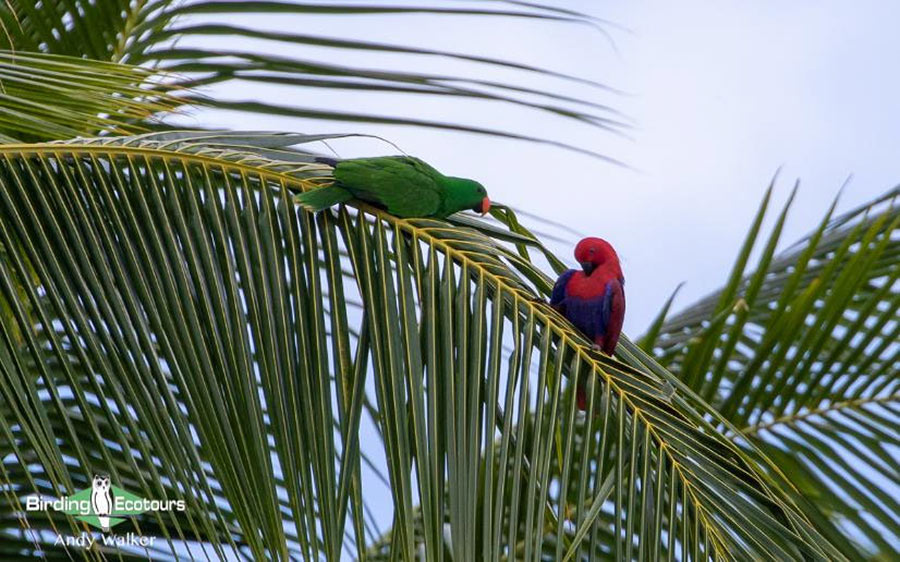 Papuan Eclectus was a popular parrot which was enjoyed daily on Waigeo.
Bird List – Following IOC (13.2)
Birds 'heard only' are marked with (H) after the common name, all other species were seen. The following notation after species names is used to show conservation status following BirdLife International: VU = Vulnerable.
Common Name
Scientific Name
Megapodes (Megapodiidae)
Red-billed Brushturkey (H)
Talegalla cuvieri
Dusky Megapode
Megapodius freycinet
Frogmouths (Podargidae)
Marbled Frogmouth (H)
Podargus ocellatus
Papuan Frogmouth
Podargus papuensis
Owlet-nightjars (Aegothelidae)
Mountain Owlet-nightjar
Aegotheles albertisi
Vogelkop Owlet-nightjar
Aegotheles affinis
Treeswifts (Hemiprocnidae)
Moustached Treeswift
Hemiprocne mystacea
Swifts (Apodidae)
Glossy Swiftlet
Collocalia esculenta
Mountain Swiftlet
Aerodramus hirundinaceus
Uniform Swiftlet
Aerodramus vanikorensis
Papuan Spine-tailed Swift
Mearnsia novaeguineae
Cuckoos (Cuculidae)
Ivory-billed Coucal (H)
Centropus menbeki
Pacific Koel (H)
Eudynamys orientalis
Channel-billed Cuckoo
Scythrops novaehollandiae
Shining Bronze Cuckoo (H)
Chrysococcyx lucidus
Chestnut-breasted Cuckoo
Cacomantis castaneiventris
Brush Cuckoo
Cacomantis variolosus
Pigeons, Doves (Columbidae)
Rock Dove (Feral Pigeon)
Columba livia [dom]
Spotted Dove
Spilopelia chinensis
Sultan's Cuckoo-Dove
Macropygia doreya
Bar-tailed Cuckoo-Dove
Macropygia nigrirostris
Great Cuckoo-Dove
Reinwardtoena reinwardti
Wompoo Fruit Dove (H)
Ptilinopus magnificus
Pink-spotted Fruit Dove
Ptilinopus perlatus
Ornate Fruit Dove
Ptilinopus ornatus
Orange-fronted Fruit Dove
Ptilinopus aurantiifrons
White-bibbed Fruit Dove
Ptilinopus rivoli
Claret-breasted Fruit Dove
Ptilinopus viridis
Orange-bellied Fruit Dove
Ptilinopus iozonus
Spice Imperial Pigeon
Ducula myristicivora
Purple-tailed Imperial Pigeon (H)
Ducula rufigaster
Rufescent Imperial Pigeon (H)
Ducula chalconota
Pinon's Imperial Pigeon
Ducula pinon
Zoe's Imperial Pigeon
Ducula zoeae
Pied Imperial Pigeon
Ducula bicolor
Papuan Mountain Pigeon
Gymnophaps albertisii
Flufftails (Sarothruridae)
White-striped Forest Rail
Rallicula leucospila
Rails, Crakes & Coots (Rallidae)
Barred Rail
Hypotaenidia torquata
Pale-vented Bush-hen
Amaurornis moluccana
Grebes (Podicipedidae)
Tricolored Grebe
Tachybaptus tricolor
Plovers (Charadriidae)
Pacific Golden Plover
Pluvialis fulva
Sandpipers, Snipes (Scolopacidae)
Eurasian Whimbrel
Numenius phaeopus
Common Sandpiper
Actitis hypoleucos
Grey-tailed Tattler
Tringa brevipes
Gulls, Terns, Skimmers (Laridae)
Greater Crested Tern
Thalasseus bergii
Bridled Tern
Onychoprion anaethetus
Black-naped Tern
Sterna sumatrana
Common Tern
Sterna hirundo
Whiskered Tern
Chlidonias hybrida
Petrels, Shearwaters, Diving Petrels (Procellariidae)
Bulwer's Petrel
Bulweria bulwerii
Frigatebirds (Fregatidae)
Lesser Frigatebird
Fregata ariel
Herons, Bitterns (Ardeidae)
Yellow Bittern
Ixobrychus sinensis
Striated Heron
Butorides striata
Intermediate Egret
Ardea intermedia
Little Egret
Egretta garzetta
Pacific Reef Heron
Egretta sacra
Ospreys (Pandionidae)
Osprey
Pandion haliaetus
Kites, Hawks, Eagles (Accipitridae)
Pacific Baza
Aviceda subcristata
Long-tailed Honey Buzzard
Henicopernis longicauda
Gurney's Eagle
Aquila gurneyi
Variable Goshawk
Accipiter hiogaster
Black-mantled Goshawk
Accipiter melanochlamys
Grey-headed Goshawk
Accipiter poliocephalus
Swamp Harrier
Circus approximans
Brahminy Kite
Haliastur indus
White-bellied Sea Eagle
Haliaeetus leucogaster
Barn Owls (Tytonidae)
Greater Sooty Owl (H)
Tyto tenebricosa
Owls (Strigidae)
Papuan Boobook (H)
Ninox theomacha
Hornbills (Bucerotidae)
Blyth's Hornbill
Rhyticeros plicatus
Rollers (Coraciidae)
Oriental Dollarbird
Eurystomus orientalis
Kingfishers (Alcedinidae)
Hook-billed Kingfisher (H)
Melidora macrorrhina
Common Paradise Kingfisher
Tanysiptera galatea
Rufous-bellied Kookaburra
Dacelo gaudichaud
Beach Kingfisher
Todiramphus saurophagus
Sacred Kingfisher
Todiramphus sanctus
Yellow-billed Kingfisher (H)
Syma torotoro
Papuan Dwarf Kingfisher
Ceyx solitarius
Bee-eaters (Meropidae)
Rainbow Bee-eater
Merops ornatus
Caracaras, Falcons (Falconidae)
Oriental Hobby
Falco severus
Cockatoos (Cacatuidae)
Palm Cockatoo
Probosciger aterrimus
Sulphur-crested Cockatoo
Cacatua galerita
Old World Parrots (Psittaculidae)
Pesquet's Parrot – VU
Psittrichas fulgidus
Yellow-capped Pygmy Parrot
Micropsitta keiensis
Moluccan King Parrot
Alisterus amboinensis
Papuan Eclectus
Eclectus polychloros
Red-cheeked Parrot
Geoffroyus geoffroyi
Blue-collared Parrot
Geoffroyus simplex
Great-billed Parrot
Tanygnathus megalorynchos
Plum-faced Lorikeet
Oreopsittacus arfaki
Pygmy Lorikeet
Charminetta wilhelminae
Red-flanked Lorikeet
Hypocharmosyna placentis
Papuan Lorikeet
Charmosyna papou
Yellow-billed Lorikeet
Neopsittacus musschenbroekii
Black-capped Lory
Lorius lory
Black Lory
Chalcopsitta atra
Violet-necked Lory
Eos squamata
Coconut Lorikeet
Trichoglossus haematodus
Large Fig Parrot
Psittaculirostris desmarestii
Blue-fronted Fig Parrot
Cyclopsitta gulielmitertii
Double-eyed Fig Parrot
Cyclopsitta diophthalma
Orange-fronted Hanging Parrot
Loriculus aurantiifrons
Pittas (Pittidae)
Papuan Pitta
Erythropitta macklotii
Hooded Pitta
Pitta sordida
Bowerbirds (Ptilonorhynchidae)
Arfak Catbird
Ailuroedus arfakianus
Vogelkop Bowerbird
Amblyornis inornata
Masked Bowerbird
Sericulus aureus
Australasian Treecreepers (Climacteridae)
Papuan Treecreeper
Cormobates placens
Australasian Wrens (Maluridae)
Emperor Fairywren
Malurus cyanocephalus
White-shouldered Fairywren
Malurus alboscapulatus
Honeyeaters (Meliphagidae)
Rufous-sided Honeyeater
Ptiloprora erythropleura
Brown-backed Honeyeater
Ramsayornis modestus
Arfak Honeyeater
Melipotes gymnops
Marbled Honeyeater
Pycnopygius cinereus
Mountain Myzomela
Myzomela adolphinae
Red-collared Myzomela
Myzomela rosenbergii
New Guinea Friarbird
Philemon novaeguineae
Spotted Honeyeater
Xanthotis polygrammus
Tawny-breasted Honeyeater
Xanthotis flaviventer
Puff-backed Honeyeater
Meliphaga aruensis
Scrub Honeyeater
Microptilotis albonotatus
Mimic Honeyeater
Microptilotis analogus
Cinnamon-browed Melidectes
Melidectes ochromelas
Vogelkop Melidectes
Melidectes leucostephes
Ornate Melidectes
Melidectes torquatus
Australasian Warblers (Acanthizidae)
Goldenface
Pachycare flavogriseum
Rusty Mouse-warbler
Origma murina
Mountain Mouse-warbler (H)
Origma robusta
Pale-billed Scrubwren
Aethomyias spilodera
Vogelkop Scrubwren
Aethomyias rufescens
Large Scrubwren
Sericornis nouhuysi
Brown-breasted Gerygone
Gerygone ruficollis
Green-backed Gerygone
Gerygone chloronota
Berrypeckers, Longbills (Melanocharitidae)
Yellow-bellied Longbill
Toxorhamphus novaeguineae
Painted Berrypeckers (Paramythiidae)
Tit Berrypecker
Oreocharis arfaki
Jewel-babblers, Quail-thrushes (Cinclosomatidae)
Spotted Jewel-babbler
Ptilorrhoa leucosticta
Blue Jewel-babbler (H)
Ptilorrhoa caerulescens
Boatbills (Machaerirhynchidae)
Yellow-breasted Boatbill
Machaerirhynchus flaviventer
Black-breasted Boatbill
Machaerirhynchus nigripectus
Woodswallows, Butcherbirds & Allies (Artamidae)
White-breasted Woodswallow
Artamus leucorynchus
Mountain Peltops
Peltops montanus
Black Butcherbird
Melloria quoyi
Hooded Butcherbird
Cracticus cassicus
Mottled Berryhunter (Rhagologidae)
Mottled Berryhunter
Rhagologus leucostigma
Cuckooshrikes (Campephagidae)
Boyer's Cuckooshrike
Coracina boyeri
Black-bellied Cuckooshrike
Edolisoma montanum
Black-browed Triller
Lalage atrovirens
 Australo-Papuan Bellbirds (Oreoicidae)
Rufous-naped Bellbird
Aleadryas rufinucha
Whistlers & Allies (Pachycephalidae)
Vogelkop Whistler
Pachycephala meyeri
Grey Whistler
Pachycephala simplex
Regent Whistler
Pachycephala schlegelii
Rusty Pitohui
Pseudorectes ferrugineus
Arafura Shrikethrush
Colluricincla megarhyncha
Figbirds, Old World Orioles, Piopios (Oriolidae)
Northern Variable Pitohui
Pitohui kirhocephalus
Raja Ampat Pitohui
Pitohui cerviniventris
Hooded Pitohui
Pitohui dichrous
Brown Oriole
Oriolus szalayi
Drongos (Dicruridae)
Spangled Drongo
Dicrurus bracteatus
Fantails (Rhipiduridae)
Willie Wagtail
Rhipidura leucophrys
Northern Fantail
Rhipidura rufiventris
Sooty Thicket Fantail
Rhipidura threnothorax
Black Fantail
Rhipidura atra
Chestnut-bellied Fantail
Rhipidura hyperythra
Friendly Fantail
Rhipidura albolimbata
Dimorphic Fantail
Rhipidura brachyrhyncha
Monarchs (Monarchidae)
Black Monarch
Symposiachrus axillaris
Golden Monarch
Carterornis chrysomela
Frilled Monarch
Arses telescopthalmus
Shining Flycatcher
Myiagra alecto
Crows, Jays (Corvidae)
Brown-headed Crow
Corvus fuscicapillus
Grey Crow
Corvus tristis
Torresian Crow
Corvus orru
Birds-of-paradise (Paradisaeidae)
Glossy-mantled Manucode
Manucodia ater
Trumpet Manucode
Phonygammus keraudrenii
Long-tailed Paradigalla
Paradigalla carunculata
Arfak Astrapia
Astrapia nigra
Western Parotia
Parotia sefilata
Crescent-caped Lophorina
Lophorina niedda
Magnificent Riflebird
Ptiloris magnificus
Black Sicklebill
Epimachus fastosus
Black-billed Sicklebill
Drepanornis albertisi
Magnificent Bird-of-paradise
Diphyllodes magnificus
Wilson's Bird-of-paradise
Diphyllodes respublica
King Bird-of-paradise
Cicinnurus regius
Lesser Bird-of-paradise (H)
Paradisaea minor
Red Bird-of-paradise
Paradisaea rubra
Australasian Robins (Petroicidae)
White-faced Robin
Tregellasia leucops
Slaty Robin
Peneothello cyanus
Black-sided Robin
Poecilodryas hypoleuca
Black-throated Robin
Plesiodryas albonotata
Ashy Robin
Heteromyias albispecularis
Olive Flyrobin
Kempiella flavovirescens
Canary Flyrobin
Devioeca papuana
Green-backed Robin
Pachycephalopsis hattamensis
Lesser Ground Robin (H)
Amalocichla incerta
Swallows, Martins (Hirundinidae)
Pacific Swallow
Hirundo tahitica
Leaf Warblers (Phylloscopidae)
Island Leaf Warbler
Phylloscopus poliocephalus
Grassbirds & Allies (Locustellidae)
Papuan Grassbird
Cincloramphus macrurus
White-eyes (Zosteropidae)
Black-fronted White-eye
Zosterops chrysolaemus
Capped White-eye
Zosterops fuscicapilla
Starlings, Rhabdornises (Sturnidae)
Metallic Starling
Aplonis metallica
Singing Starling
Aplonis cantoroides
Moluccan Starling
Aplonis mysolensis
Yellow-faced Myna
Mino dumontii
Golden Myna
Mino anais
Flowerpeckers (Dicaeidae)
Olive-crowned Flowerpecker
Dicaeum pectorale
Sunbirds (Nectariniidae)
Black Sunbird
Leptocoma aspasia
Olive-backed Sunbird
Cinnyris jugularis
Old World Sparrows, Snowfinches (Passeridae)
Eurasian Tree Sparrow
Passer montanus
Waxbills, Munias & Allies (Estrildidae)
Streak-headed Mannikin
Mayrimunia tristissima
Scaly-breasted Munia
Lonchura punctulata
Grey-banded Mannikin
Lonchura vana
| | |
| --- | --- |
| Total seen | 195 |
| Total heard only | 16 |
| Total recorded | 211 |
Mammal List
Common Name
Scientific Name
Cuscuses and Brushtail Possums (Phalangeridae)
Northern Common Cuscus
Phalanger orientalis
Bandicoots (Peramelidae)
Common Echymipera
Echymipera kalubu
Old World Mice and Rats (Muridae)
Brown Rat
Rattus norvegicus
Reptile List
Common Name
Scientific Name
Geckos (Gekkonidae)
Common House Gecko
Hemidactylus frenatus
Skinks (Scincidae)
Pacific Bluetail Skink
Emoia caeruleocauda
Azure-tailed Skink
Emoia impar
Littoral Whiptail Skink
Emoia atrocostata
Indonesian Brown Rainbow Skink
Carlia fusca
DOWNLOAD TRIP REPORT
This is a sample trip report. Please email us ([email protected]) for more trip reports from this destination.
Indonesia: West Papua & Southwest Papua – Birds-of-paradise and Endemics of the Arfaks and Waigeo
Tour-Specific Information
GENERAL INFORMATION ABOUT INDONESIA CAN BE READ HERE
TOUR OUTLINE
This amazing, once-in-a-lifetime tour focuses on the multitude of endemic birds that can be found in West Papua and this includes numerous simply spectacular birds-of-paradise (BoPs), including possibly the best-looking bird in the world, Wilson's Bird-of-paradise. This tour starts in Manokwari and ends in Sorong. We take in the excellent Arfak Mountains, home to loads of restricted-range "Vogelkop Endemics", such as Arfak Astrapia, Crescent-caped Lophorina, Western Parotia, Long-tailed Paradigalla, and Vogelkop Bowerbird, along with more widespread (in New Guinea) Black Sicklebill, Magnificent Bird-of-paradise, Spotted Jewel-babbler, Masked Bowerbird, and so many more. While in the Sorong area, we will visit the Raja Ampat Islands (specifically Waigeo) and the recently explored Klasow Valley (also known to birders as Malagufuk) and this leg of the trip gives us the opportunity for the aforementioned Wilson's Bird-of-paradise, along with King Bird-of-paradise, Red Bird-of-paradise, Lesser Bird-of-paradise, Magnificent Riflebird, Twelve-wired Bird-of-paradise, Northern Cassowary, Red-breasted Paradise Kingfisher, Western Crowned Pigeon, Thick-billed Ground Pigeon, Papuan Pitta, and Hook-billed Kingfisher.  This is just a tiny sample of what's on offer on this tour, please refer to the detailed itinerary for further details.
Note that in November/December 2022, the Indonesian government split West Papua province into two provinces, West Papua (in the east), with the capital city of Manokwari) and Southwest Papua (to the northwest of West Papua!) with the capital city of Sorong. Within this document we retain the term "West Papua" to refer to both provinces.
DAILY ACTIVITIES, PHYSICAL REQUIREMENTS, AND TOUR PACE
This West Papua, Indonesia birdwatching tour requires reasonable physical fitness and good agility to bird the relatively steep slopes found here (even at coastal locations). West Papua is one of the most remote and undeveloped areas within Indonesia, so remember you are visiting a developing country and will be camping/staying in the most remote areas, where there are no proper sanitation facilities. Expect many things to be very different from home, or even other parts of Indonesia.
We will shift our body clocks on this tour rising very early but sleeping early too. While we are birding in the Arfak Mountains, we will usually have breakfast around 05:00 hrs., or earlier, to then get onto the trails and into bird blinds where we will wait for the birds-of-paradise to arrive (they usually display around first light or sometimes late in the afternoon). We will therefore usually be walking on the trails in the dark or half-light, so we can get into position before the birds do. After our early morning session in the bird blinds, we will do some forest birding on the trails and roads nearby until mid-morning. We will usually take lunch around 11:00 hrs., before a siesta during the middle part of the day. In the middle of the afternoon, we will have another birding session before it gets dark, after which we will have an early dinner, checklist session, and then showers and bed. There is no electricity in the mountains, other than that supplied by the generator, which usually gets turned off around 21:00 hrs. When we are birding on Waigeo we will follow a similar pattern of activity and when in Sorong we will have a very early start as we leave the hotel at around 04:00-04:30hrs. to get to a forest patch for our birding there, either having an early breakfast before we leave the hotel or taking a boxed breakfast away with us. We will then have similarly early starts while birding in the Klasow Valley.
Most birding occurs on narrow, sometimes swampy forest trails, and other times we will bird from wider roads and tracks that are often uneven and can be slippery. On the trails care must be taken as there are trip and slip hazards from damp roots, fallen trees, boulders, and uneven and rough surfaces. In the Klasow Valley we walk along a boardwalk that can be slippery if wet, so care should be taken at all times, with one hand on or near the handrail.
Walking sticks or hiking poles are a great idea as they provide added stability to help with balance and are compulsory for anyone who is not steady at walking and highly recommended for everyone no matter of ability. Most trails are either going up or down due to the nature of the terrain we will be birding in. Our local porters are excellent at helping those less physically active at getting around the trails and into position to view the birds. When we are in the lower areas of the Arfak Mountains, and on Waigeo all our birding is carried out from our accommodation bases, so these walks can be optional if you'd like to take a rest for some of them. We have more than one chance for most of the birds-of-paradise (and other excellent birds) at these locations, so sitting a session out does not mean you will necessarily miss something totally.
We will also spend time within small bird blinds (which are often not particularly comfortable and may entail sitting on the ground or small stools) to get close to the various birds-of-paradise's lekking/display sites. Any minor temporary discomfort will be well worth it when a Black Sicklebill, Western Parotia, or Magnificent Bird-of-paradise drops into view.
The village in the Arfak Mountains, makes a great base for walks of a few hours. These walks can, in sections, be tough, but we will take them slowly and we will have time to rest back in the village afterwards. The only activity different to the above scenario is the hike to the top of the Arfak Mountains. This is considered a very tough hike (both going up and coming back down), with further tough hiking when we reach the top to look for the birds themselves. This trek should only be carried out by those of a good fitness level (please contact us if you would like to discuss whether you think you will be able to do this hike). If you don't want to do the mountain hike and basic camping at the top of the mountain (see further details in the "Accommodation" section below), it will be possible for you to stay behind in the village where you will be suitably looked after while the rest of the group head up the mountain for one night.
For our time birding in the Klasow Valley, we will hike along a relatively flat (but often slippery) boardwalk for four kilometers (two and a half miles) to our homestay inside the forest. Everyone will be expected to make this walk as we will be spending two nights there and using this as a base for our birding.
Note that in each year the specific locations of the birds-of-paradise lek sites may change due to numerous factors beyond our control. Sometimes birds can be found displaying next to nice easy access points with very limited and simple walking of around 10-30 minutes, but at other times they can be further away and take much more effort to reach, sometime involving a walk on difficult terrain for an hour or so. We will try and provide as much information ahead of each hike for each specific bird-of-paradise lek site, to help you know what to expect and make any decisions on whether you want to miss a particular hike. When possible, we will take the easiest option, but sometimes the easiest option can also result in a fair bit of effort to reach.
In any reading you may have done on visiting West Papua, you may have seen reference to a requirement for a Surat Jalan (police clearance) for visiting the province. This is no longer required, however, please note that immigration officers at your first point of entry into Indonesia (such as Jakarta, Makassar, or Denpasar) are not always well-informed about West Papua and can be sensitive about this province, so if possible don't even mention you are going there. Over recent years the Raja Ampat Islands have increased massively in both domestic and international tourism circles due to the excellent diving on offer, so an increase in visitors has made the area more well-known for tourism and tourists are a more familiar sight than they once were.
This is a fairly tough tour and unfortunately will not be suitable for everyone, though we try and make the birding as accessible to everyone as possible as we know that the birds-of-paradise and multitude of other spectacular and range-restricted birds are highly desired by birdwatchers the world over. The information within this document will hopefully help in your preparation for this tour and please do contact us if you have any specific requests for further information. We have helped many people see the birds of New Guinea who maybe thought they had missed their opportunity. While being physically fit will increase your enjoyment and participation in this tour we are also able to help those less active to get the most out of this tour, largely thanks to our extremely helpful local team who go above and beyond to work with everyone. The local people here are incredibly proud of their forests and their birds, and they love to share these with us. Tourism to this area provides valuable income for the villagers as well as protects the forest for the birds and future generations.
We recommend that if you decide to join this tour (no matter your fitness level) that you work on your physical fitness prior to it, hiking up and down hills/steps is a good way to prepare.
TRANSPORTATION
We use a wide range of transport on the tour. Most of the driving is carried out in 4×4 vehicles (such as Toyota Hilux or similar) and depending on the final group size we may have between one and four vehicles for our birding expedition. We require that you are fit and flexible and can maneuver yourself into these high-clearance vehicles. We ask everyone to please be aware of the amount of extra equipment they bring into the seating area of the vehicles as there will not be much room (excess luggage can go in the back of the pickup). Most of the roads away from the towns are rough and windy (bring motion sickness tablets if you suffer from motion sickness) and at times this can be a little uncomfortable, however it is the only way to get to some of these remote birding places, so it's worth the effort when you see the amazing birds!
We will fly across the island between Manokwari and Sorong (see the "Domestic Flights" section below). We will take several boat trips during the tour when we are in the Sorong area. This includes a fast-ferry crossing between Sorong and Waigeo and back. On these crossings, which last approximately two hours each way, we have seats in an air-conditioned (usually rather cold) cabin. There is no opportunity to birdwatch from the ferry. We will take a speedboat trip around some of the smaller islands in the area one afternoon and will bird from the boat around several islands that we can't land on, and then access others that we can do. Accessing the speedboat or ferry may require climbing up or down a ladder onto/off a pier. One island we may visit would require a "wet landing".
DOMESTIC FLIGHTS
This tour requires a domestic flight between Manokwari and Sorong. The cost for this flight is included in the tour cost. The domestic flight is likely to have a hold luggage weight limit of 44 pounds (20 kilograms) and a hand luggage allowance of 15 pounds (7 kilograms) and will be with whichever local airline fits our schedule best on the day we need it, this might be one of Lion Air Indonesia, Batik Air, Garuda Indonesia, or Sriwijaya Air. Any overweight baggage will likely incur costs and will be the responsibility of the individual. Excess baggage costs will need to be paid in cash to the airline at the airport.
LUGGAGE
Please pack as lightly as possible for this tour (noting the expected weight allowance of the domestic flight detailed above). A medium, soft-sided, and robust duffle bag is likely to work best for packing in the tour vehicles. We recommend a daypack is used to keep items that you wish to use daily when in the vehicle or when birding in the field.
Note we usually spend one night camping in basic facilities higher in the Arfak Mountains than our basic village base lower down the slope, where we spend most of our nights while birding the area. For this one night you will need an overnight bag, this could be your day pack, or should be another small bag large enough for what you might need for one night (noting we will be at elevation so will require warmer clothes etc.). We must hike to the overnight spot, but our porters (for a nominal charge) can carry whatever we take up the mountain and we usually leave the remaining, and majority of, our luggage with our team back at our main base. Note you can also leave luggage in the hotel in Manokwari and take a smaller set of items to the mountain.
Note a similar scenario to the above (taking a smaller overnight bag) would also work well for our trip into the Klasow Valley, where we will stay for two nights. Luggage will be taken by our porters in wheelbarrows from our drop-off point to our homestay and back.
If you are not planning on hiking up to the top of the mountain (see information in the "Daily Activities, Physical Requirements, and Tour Pace" and "Accommodation" sections) then you don't need to worry about bringing something for carrying luggage to the top of the mountain, but would still need something smaller for our trip to the Klasow Valley.
SAFETY
Your safety is our paramount concern on this, and all of our tours, hence the detailed information contained within this tour-specific information and the Indonesia general information. Our tour takes us to a remote part of Indonesia, and then to a remote part of West Papua too.
Political tensions in West Papua province have previously given rise to mass demonstrations in cities like Manokwari and Sorong. We monitor local news media as well as keep in regular contact with our various local guides and ground team (who live in these cities) to keep on top of potential security threats. Sometimes there are difficulties with internet connections and communications may be limited (i.e. they are cut off to prevent demonstrators being able to keep in contact to plan further disruption). We will keep clear of any and all protests, demonstrations, and political rallies to the best of our abilities as they can turn violent without warning.
Care should be taken when we are at the port in Sorong as there are a lot of people milling around trying to get paid for loading/unloading the boat and petty theft (e.g. pickpockets etc.) can be a concern as we are likely to stand out rather a lot. It will be important that the group stays closely together and maintains a tight hold of all personal equipment with eyes on bags and personal possessions etc. Please listen to the advice of your local guide or tour leader here. Similarly, care should be taken when passing through the airports, there is often lots of people standing around outside these and similar issues could be possible. Please do not go walking around outside the city hotels on your own as you could become a target of crime. Please speak to us if there is any need for you to go outside of the hotel (such as going to a shop to purchase a SIM card or snacks) as we will have someone we know accompany you.
Trips and falls when on trails, tracks/roads, around our campsites, and getting into or out of the 4×4 vehicles or boats are all possibilities on this tour and care should be taken. A hiking pole or walking stick is compulsory if you are at all unsure on your feet. Please seek the services of one of our excellent porters who will be able to help you navigate the sometimes steep and slippery trails. They are excellent and have helped many clients safely get around these remote birding sites. We do not have access to a satellite phone and regular cell coverage is limited when we are away from the cities. The nearest good emergency medical facilities in the case of a serious emergency might be in Australia (e.g. Darwin) so make sure you have suitable medical insurance in case something unexpected occurs.
Natural disasters such as earthquakes, tsunamis, volcanoes, and flooding are frequent across Indonesia and we will be monitoring the situation in the lead up to, and during the tour. Be aware that a volcanic eruption far away from the tour location can cause travel (flight) disruption, e.g. if a volcano erupts in or near the Indonesian international airports in Bali or Java.
There is a high risk of malaria in West Papua. Atovaquone/Proguanil or Doxycycline, or Mefloquine are recommended, but please consult your doctor or local travel clinic for specific advice. We will be spending time birding in lowland forests and mangroves over the dawn and dusk periods, where we will come into contact with mosquitoes. Mosquitoes are also present in the Arfak Mountains and can be a pest when we try and sit quietly in the bird blinds for the birds-of-paradise. Insect repellent with a high DEET concentration can be useful for keeping them away and reducing the chance of getting bites. DEET insect spray can also keep chiggers and leeches away. Chiggers can lead to Scrub (Bush) Typhus and can be incredibly irritating. Leeches do not spread diseases, but they are rather unnerving and can cause blood loss.
Care should be taken when swimming and snorkeling in the Raja Ampat Islands. The reef life is spectacular and some of the best diving in the world, with the highest diversity of fish anywhere on earth. However, with this comes serious danger in the form of creatures such Australian Box Jellyfish (Sea Wasp) and "Blue-ringed Octopus". Please consult with the dive resort experts prior to taking a swim and follow any health and safety advice they provide.
WEATHER/CLIMATE   
While in the lowlands of Manokwari, Sorong, and Waigeo we can expect average daytime highs of around 87 F (30 C) and average nighttime lows of 75 F (24 C). There is often thick cloud cover here, resulting in hot and humid, rather oppressive conditions.
In the mountains it is cooler than the lowland temperatures and we can expect average daytime highs of around 65 F (18 C) and average nighttime lows of 50 F (10 C) when we are birding around our middle elevation sites of 4,500 feet/1,400 meters. When we reach the higher parts of the mountain, e.g. when we camp overnight at 7,000 feet/2,200 meters, we can expect lower temperatures again, and overnight temperature can feel relatively cold.
The sun is strong at this time of year and care should be taken to remain hydrated and use sun protection. Rain is possible at any time, at any location so rain gear and an umbrella will be essential. A dry bag is also recommended for protecting optics, electrical equipment/cameras, and important documents (see the "What to Bring: Clothing and Other Items" section below).
ACCOMMODATION
Hotels in Manokwari and Sorong are typical western-style hotels with good facilities, restaurants, television, Wi-Fi internet, air-conditioning etc., and where you can get laundry done. There are supermarkets and pharmacies in the towns if you find you have forgotten something essential. Tea and coffee facilities are provided in rooms.
When you stay in the village in the Arfak Mountains (at an elevation of approximately 4,500 feet/1,400 meters), it is basic accommodation with electricity from a generator early in the morning and in the evening only (but enough to allow charging of phones/camera batteries etc.). Rooms are small bungalow-type buildings with, usually, a couple of bedrooms which are basic, and consist of beds with a mosquito net, a table, and an outside bench on the porch to soak in the astonishing views and birds. We will provide you with a sleeping bag and pillow. Most rooms now (as of May 2023) have showers with hot water. There are western-style sit-down toilets located in the toilet/shower room (which may be outside of the bungalow). We bring a cook up to the village with us and so still have very nice local meals during our stay. It is also possible to get laundry done here. Tea and coffee facilities are provided in a communal dining area. There is no Wi-Fi and very limited phone signal here.
When you hike up the mountains, you camp at 7,000 feet/2,200 meters in a very basic wooden room, and it gets even more basic than in the village. Essentially, we lay out a sleeping mat and sleeping bag in a communal shelter – with rustic pit/drop toilets, no showers, more basic food etc. We will provide you with a sleeping bag and sleeping mat (more comfortable if this is on the wooden floor). You should bring a travel pillow if you would like one. It is also cooler and damper at the top of the mountain where we spend the night, and it takes a full morning to walk up there (birding along a steep trail along the way). There is no electricity at the campsite, or a generator, so if you need to charge batteries you will need to have a power bank (portable power supply) to do so. We usually only stay at this upper campsite for one night. While this accommodation, or the trek to get there, is not going to be suitable for everyone, it is definitely worth the effort and temporary discomfort to try and see some of the special endemics that only occur high up the mountain (such as Arfak Astrapia, Black Sicklebill, and many more). Tea and coffee facilities are provided in the communal dining tent. See note in "Luggage" section regarding bringing a smaller bag for the overnight trip up the mountain. There is no Wi-Fi and very limited phone signal here.
There is a nominal charge for porters to carry daypacks, overnight bags, and other belongings, and this can be booked a day or two before the trek, when you first arrive in the village (you spend a couple of nights before (and after) the trek up the mountain, in the village at a lower altitude. You are also encouraged to tip the villagers for this service at your discretion (they also do a lot of other hard work for the group, e.g. heating water, making meals, etc.), and will help on the trails if you need help walking on the rough terrain, or if you want your daypacks carried.
In Waigeo, we usually stay in a simple dive resort near our main birding sites. Rooms have a fan and/or air-conditioning, mosquito net, and simple private bathroom facilities. Tea, coffee, and drinking water facilities are provided in the restaurant area. There is excellent snorkeling or diving off the accommodation. There is occasionally Wi-Fi in the dining room and there is now phone signal here, but it is erratic so not totally reliable. The dive resort is either reached by boat from the sea or via the nearest road by a set of 70 steep steps with a handrail. Meals are usually of local style with plenty of freshly sourced fish and generally served buffet style.
In Klasow Valley we will stay in a very basic homestay (an eco-village) at Malagufuk for two nights. There are a couple of wooden A-frame rooms with an upstairs and downstairs sleeping area, and some additional tents are provided for sleeping. The A-frame rooms have fans with electricity supplied by a generator or solar power. Bathroom and toilets are shared (no private facilities). It will be hot and humid during the day, but more comfortable during the evening when the temperature drops a little. Food here will be basic and local-style. Although this is a basic place, waking up in a remote area with rarely seen wildlife all around will make it worthwhile.
ELECTRICITY
While we are in the Arfak Mountains and in the Klasow Valley we will not have any mains electricity. For our time in the village in the Arfaks (where we will spend most of our nights in the mountains) there will be limited electricity supplied by a generator. This is usually on in the early hours of the morning over breakfast and then for a few hours in the evening while we eat, do the checklist, get cleaned up, and get ready for bed. This is usually enough time to get camera and phone batteries charged up. When we go high up the mountain to our campsite there is no form of electricity at all, not even a generator. Therefore, if you think you will want/need to charge any electrical equipment you should bring a power bank (portable power supply). Make sure any power bank is certified safe for air travel as these items are likely to be inspected and checked over at airport security checkpoints (they have to go in hand luggage) and if they do not meet the required safety standards they are likely to be confiscated.
The eco-village in Malagufuk has solar power in some areas.
All other locations we visit on the tour should have a regular power supply, notwithstanding any unexpected power cuts etc.
COMMUNICATIONS
Phone signal is limited (or absent) for most of the tour route, except for around the cities of Manokwari and Sorong. You may be able to use your international roaming package in Indonesia, but it may be quite expensive to do so. You may be able to purchase a local SIM card, however this can be quite complicated (e.g. if you purchase a card on a different island it might not work on other islands, without adding specific "local" credit through topping up a balance at a convenience store in cash and the Indonesian government are bringing in new rules all the time about what foreigners are allowed to do in regards to phone/internet access). If you think you are going to need phone signal – where it exists – during the tour, please let us know as we might be able to purchase SIM cards in advance depending on the current rules in place, which do change from time to time. Our hotels in Manokwari and Sorong, and the dive resort in Waigeo (usually) have Wi-Fi and this might be the most convenient way to go about communicating with the outside world during the tour if you should wish to do so.
FOOD AND MEALS
In the cities and tourist areas (e.g. Manokwari and Sorong) we will eat in the hotel restaurants where most types of food (Western and Indonesian) and drinks will be available. Meals will become simpler as we move into the mountains while birding the Arfak Mountains and in the Klasow Valley, and there will be no alcoholic drinks (unless we bring our own with us). Our accommodation on Waigeo provides home-cooked Western and Indonesian meals served buffet style.
We can accommodate vegetarian and special dietary needs if we know in advance. Most meals are based around chicken or fish with rice and noodles, and mixed vegetables, tempeh, and tofu. Fresh fruit will be available in most places. Due to the lack of refrigeration, dairy products are not common. We suggest you bring your favorite snacks or protein bars to supplement your diet.
MONEY
Getting money out of ATMs on this tour in Manokwari and Sorong can sometimes be difficult. It is recommended that you either bring a supply of Indonesian rupiah with you from home or withdraw some cash from the international airport that you arrive at. You are likely to have time to do that prior to catching your onward flight to Manokwari, such as when you are in Jakarta, Makassar, or Denpasar.
WHAT TO BRING: CLOTHING AND OTHER ITEMS
The following is a list of useful items to bring on this West Papua birding tour and should be read in conjunction with the Indonesia general information document.
A field guide to the region. Either of the following books are suitable. Our tour leader will have digital copies of each.

Birds of New Guinea: Including Bismarck Archipelago and Bougainville – Phil Gregory (2017), Lynx Edicions. This field guide has a clear and modern layout and current take on New Guinea, but is only available as a hardback and is expensive.
Birds of New Guinea – Thane K Pratt and Bruce M Beehler (2014), Princeton University Press, 2nd Edition. This field guide is older and more 'arty' than the above guide with some plates tough to follow, but is a softback and is affordable.

Overnight bag (small rucksack) for stay in the Arfak Mountains and the Klasow Valley, either one that is used for the time in the mountains, or just for the one night at the higher elevation campsite.
Hiking pole or walking stick to help on the tracks and trails. A walking stick is compulsory for anyone who is unsteady walking, as we feel this is a safety issue; we don't want anyone slipping on the trails or anywhere else. Please discuss with us if you are unsure whether you will need one or not.
Torch (flashlight) and/or headlamp (headtorch), and spare batteries – we will be camping overnight in the mountains with no electricity and at our base lower down the mountains we will not have electricity between c.21:00 – 05:00 hrs. Additionally we will likely be setting off into the forest when it is still dark, so this is essential kit, with a headlamp (headtorch) allowing hands to be kept free to hold walking poles etc.
High concentration DEET insect repellant.
Anti-malarial tablets.
Leech socks – useful, particularly if it is wet.
A small personal first aid kit. See the suggested items from the Centers for Disease Control and Prevention (CDC), here. There are pharmacies in Manokwari and Sorong, but we will only have limited access to these, so it is always best to bring some basic essentials with you.
Footwear is a matter of personal preference. Rubber boots are probably essential in muddy conditions and often dry out quickly, but often lack suitable ankle support which can be given by walking/hiking boots (especially useful on the hike up the Arfak Mountains). If you don't mind getting dirty in favor of better ankle support, go with walking boots. If it is particularly wet during the tour it may be possible to purchase rubber boots in Manokwari before heading up the mountain, if there is time/availability of your size. A set of sandals/flip flops/trainers would be useful for walking around some of the accommodation, such as the beach resort.
Quick-drying birding clothes (i.e. suitable forest colors) are the best for this tour and a good selection of clothing layers are also recommended for time at the higher elevations where temperatures will be much lower than in the lowlands (see the "Weather/Climate" section for further information on likely temperatures during the tour).
Something warm to sleep in when in the mountains as the temperatures do drop and the basic rooms can get cold.
Rain jacket (and small umbrella) and a coat/fleece for the time in the mountains.
Swimwear, mask, and snorkel for optional swimming during free time in Waigeo (note that equipment can be hired from the dive resort, so you don't need to bring your own if you don't want to or are limited for space in your luggage – there is likely to be a small charge (c.US$10-20) for hiring any equipment and this should be paid in cash in local currency).
A small hand towel or wash cloth can be handy for cleaning and drying things when in the rainforest. Not essential but handy.
A dry bag to keep valuable documents in such as passports, cell phones, wallets etc., as well as cameras if it rains.
Power bank – essential if you want to charge items while camping as there will be no electricity at all in some areas – e.g. higher parts of the Arfak Mountains, and limited electricity during the daytime lower down the mountain (see the section on "Electricity" above for further information). Electricity could be an issue in the Klasow Valley.
A travel pillow and travel bath (i.e. large) towel for time in the Arfak Mountains. We will provide other camping gear, such as a sleeping bag and a sleeping mat/roll mat. If you would prefer to use your own camping equipment, please feel to bring it along.
A mosquito/fly net might be useful for use at the top campsite in the mountains, to keep creepy crawlies off you at night.

Download Indonesia: West Papua Information
'I had a terrific trip, and realized virtually all my expectations for this excursion. There were 6 people on the trip, and I was the only one NOT a birder, but that did not detract from my enjoyment. My goals with this trip were to see and hopefully photograph the birds-of-paradise, and to my delight, I was able to do that. The local guides were terrific.
Andy Walker was our overall tour guide, and his knowledge of the birds is encyclopedic. He kept the group well organized, on time, and in position to see many very special birds. Andy has promised to send me information on additional trips to PNG and Vietnam.'
Alan