When I mention the Cape most tourists will envisage Table Mountain, the dramatic cliffs of Cape Point, and the spectacular flower displays of the west coast. However, there is a subgroup of tourists who rather imagine rockjumpers in the Fold Mountains, sugarbirds feeding on proteas, and albatrosses squabbling behind fishing vessels. The Cape region offers birders the chance to find and enjoy a diverse array of bird species, many of which can only be seen in the Cape and nowhere else on earth. The reason for the Cape's high level of endemism is that one of the world's six plant kingdoms occurs entirely within the Western and Eastern Cape regions of South Africa. The Cape Floristic Kingdom is the smallest of the world's six floral kingdoms; however, it contains an amazing diversity of plant species, with as many as 9000 vascular plants, of which around 70% are endemic. The large number of endemic plants means that many of the birds occurring in these habitats have evolved as separate species, resulting in a high level of endemic bird species in the Cape. The Cape Floristic Kingdom is largely comprised of fynbos vegetation (vegetation dominated by species from the Restionaceae, Proteaceae, Ericaceae, Rutaceae, and Iridaceae families), and thus the Cape-endemic birds are mostly restricted to fynbos habitat. The Cape is also one of the easiest spots to find a number of South African endemics which are not restricted to only the Cape region.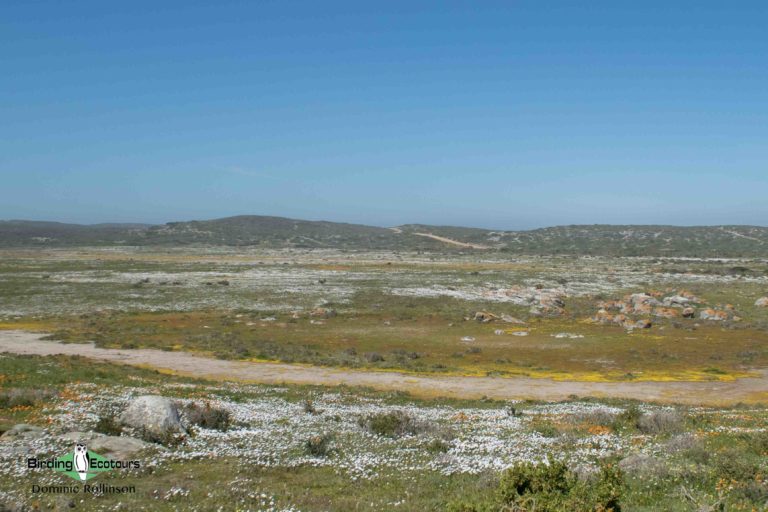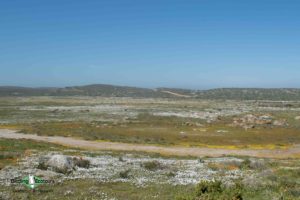 Impressive spring flower displays on the west coast
The Cape is not only known among birders for its endemic bird species but also for its impressive pelagic birding and relatively high diversity of seabird species. The waters just south of Cape Town are particularly productive for foraging seabirds, as here cold, nutrient-rich water from the Benguela Current is forced close to the surface by the continental shelf. These productive waters naturally attract many fishing vessels to the area, in particular deep-water hake trawlers. It is these trawlers which are the targets on a Cape Town pelagic; sitting behind a trawler busy hauling its nets with as many as 10 000 scavenging seabirds close behind is a spectacle any seabird enthusiast should experience at least once!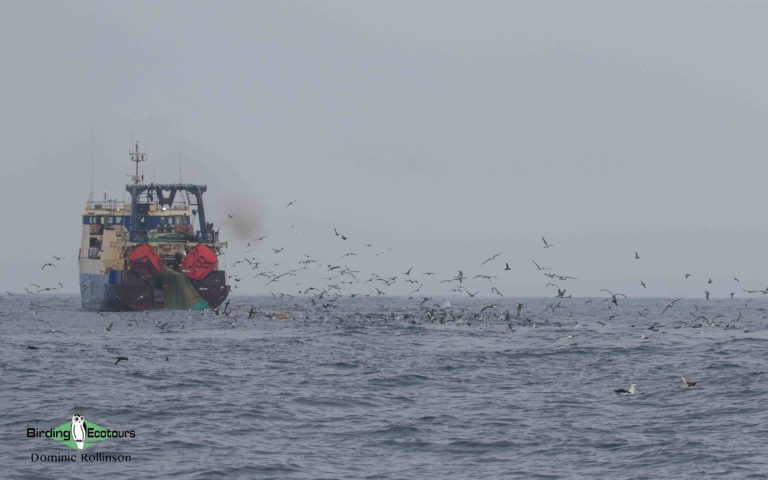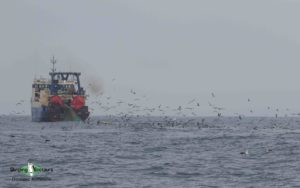 A typical scene behind a fishing trawler off the Cape
A number of Cape and South African endemics can be found on one of the many bird tours Birding Ecotours runs in the region. Some of these tours concentrate on the Cape only and aim to hunt down as many of the Cape endemics as possible, while others are part of wider South African tours that include a shorter Cape leg. These Cape tours usually include a pelagic trip off Cape Town to add a few albatrosses and petrels to your list. Most of the areas described below can be accessed on a (long!) day trip from Cape Town; however, some are beyond the limits of a day trip and are best explored by spending a few nights in the area.
Birding the Cape Peninsula will yield a number of Cape and South African endemics. Cape Bulbul is common in fynbos throughout the Cape and has adapted well to suburban gardens, as has the noisy (and sometimes cheeky) Cape Spurfowl. Investigating any blooming flowers in the fynbos, particularly protea stands, is likely to produce sightings of the Cape's two endemic nectarivorous bird species, Cape Sugarbird and Orange-breasted Sunbird. During the breeding season sugarbirds can be seen aggressively and vociferously defending territories, with the males often seen chasing each other around through protea stands with their impressively long tails in flow. Orange-breasted Sunbirds are much smaller and more delicate with amazingly bright plumage. Once you tune into their 'seep-seep' call you will be surprised just how common they can be in the Cape's fynbos. The last of the Cape's endemics that can be seen on the peninsula is Cape Siskin, which generally occurs in low densities; however, it can be seen with relative ease across a number of localities on the peninsular. Exploring the forested areas on the eastern slopes of Table Mountain should reveal Cape Batis, Cape White-eye,Swee Waxbill, and Forest Canary (endemic), while scanning overhead could reveal Forest Buzzard (endemic), which can be a tough species to connect with, though.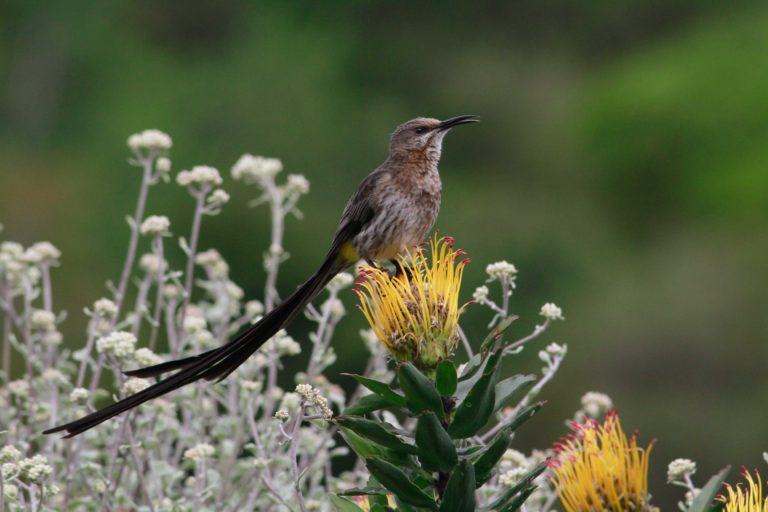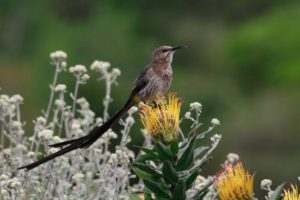 Cape Sugarbird defending its territory from a protea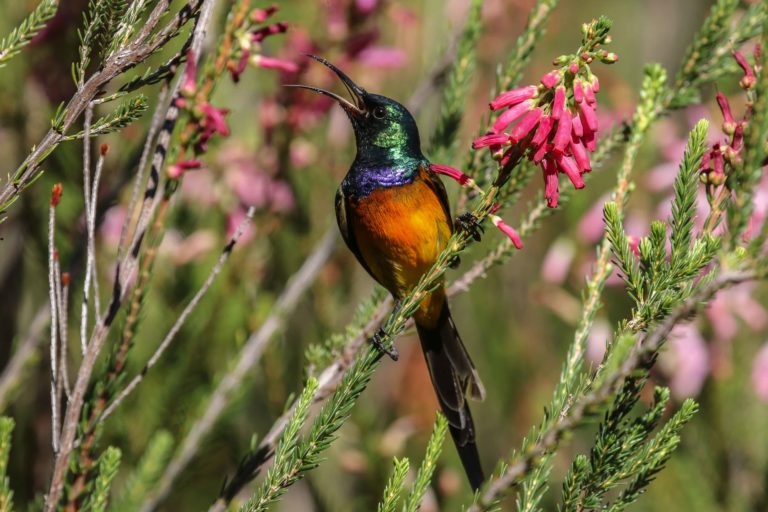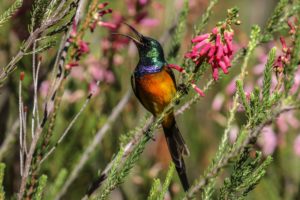 Orange-breasted Sunbird is surprisingly common in the Cape's fynbos
The Cape Peninsula is also the launching point for pelagic trips off Cape Town. Most pelagics leave from either Simon's Town or Hout Bay and spend most of the day at sea before returning in the early afternoon. As most of the Procellariiformes (albatrosses, petrels, and shearwaters) which are seen off the Cape breed on subantarctic islands in the Southern Ocean, winter is the most exciting time to head out, when these species move north to escape the bitterly cold temperatures. Most trips usually yield four Albatross species (Shy, Black-browed, Indian Yellow-nosed, and Atlantic Yellow-nosed), while the winter months are a good time to hope for a five-Albatross day, when Wandering and both Royal species occasionally make their way into our waters. The albatross-sized Southern and Northern Giant Petrels are usually both seen on pelagic trips, especially if a trawler is located. In winter large flocks of the beautifully-patterned Cape Petrel may be seen, which is also the time to see Antarctic Prion. Closer to the coast large numbers of shearwaters are usually encountered; Sooty Shearwater occurs year-round. However, Manx, Great, and Cory's Shearwaters are summer visitors only. The diminutive Storm Petrels are represented by three species; Wilson's is primarily a winter visitor and European a summer visitor only, while Black-bellied is a passage migrant and only occurs briefly in spring and autumn. White-chinned Petrels are the most abundant tubenose, routinely seen in their thousands behind fishing trawlers. During the summer months the large White-chinned Petrelflocks need to be scanned thoroughly for their rarer cousin, Spectacled Petrel. Cape Town is one of the most accessible places in the world to hope for sightings of Spectacled Petrel, although they are far from guaranteed. A number of species restricted to Southern Africa can also be seen along the coastline on these trips, including three cormorants (Bank [endemic], Crowned, and Cape) as well as African Penguin.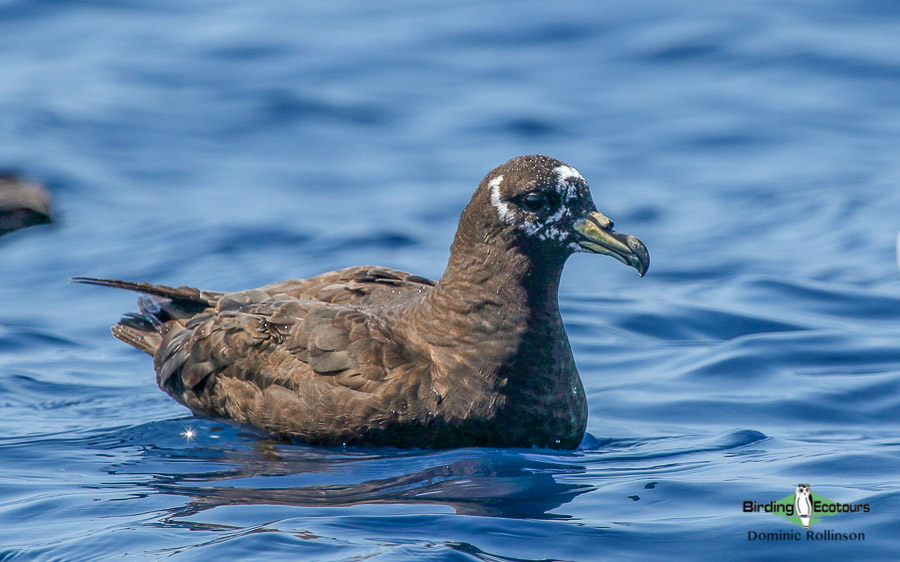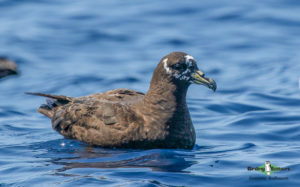 Spectacled Petrel is an uncommon visitor to the Cape's waters in summer
Heading north up the west coast into the low, scrubby vegetation known as strandveld produces a very different mix of species, including a few Cape and South African endemics. Southern Black Korhaanand Cape Long-billed Lark are the two most important species to find here. The korhaans are best located by their raucous calls, which carry far across the strandveld. Calling males can often be quite bold and allow for close inspection of their beautiful plumage. Less attractively marked but more range-restricted than the korhaan, Cape Long-billed Larks occur in a narrow band of strandveld up the west coast but are also not averse to occupying seemingly sterile agricultural lands. Other South African endemics and near-endemics that can be found in the strandveld include Grey-winged Francolin,Large-billed Lark, Cape Grassbird, Karoo Prinia, Grey Tit, and Sickle-winged Chat, while wader-watching along the west coast's rocky shoreline should reveal African Oystercatcher.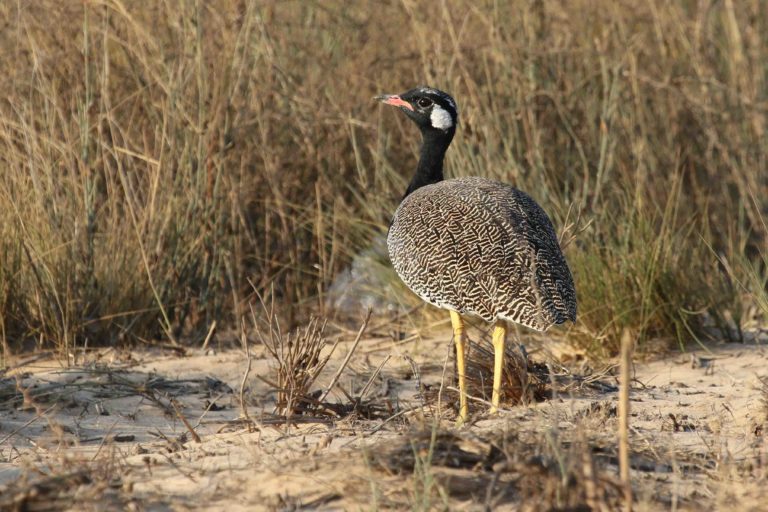 Southern Black Korhaan can be found easily on the west coast
Moving a couple hundred kilometers inland and onto the plateau, here the vegetation changes drastically. This area, known as the Tankwa Karoo, experiences very little annual rainfall (less than 100 mm per year), and thus the vegetation consists of sparse, low shrubland, with an amazing diversity of succulents (part of the Succulent Karoo Biome). Although there are strictly no Cape endemics to see here, there are many species that are restricted to the Karoo vegetation in the interior of South Africa and further north into southern Namibia. Perhaps the most range-restricted of the species to see in the Tankwa Karoo is the endemic Karoo Lark, which can be found quite easily, especially during spring, when males perform their aerial display flights. Namaqua Warbler is a near-endemic which is best found by exploring dry river beds with sufficient Phragmites reeds. Other important targets of the Tankwa Karoo include Karoo Eremomela, which occurs in small groups in low shrubland, and Cinnamon-breasted Warbler, which can be found by exploring rocky gorges. Black-eared Sparrow-Lark is a tough species to find throughout its range due to its highly nomadic lifestyle. It follows the rains throughout the Karoo and during the right conditions can be found in high abundance, but at other times it is entirely absent from the area. Other sought-after species that can be seen throughout the Tankwa Karoo include Karoo Korhaan, Namaqua Sandgrouse, Karoo Long-billed and Spike-heeled Larks, Karoo and Tractrac Chats, Rufous-eared Warbler, Layard's Warbler, Pririt Batis, Black-headed Canary, and Lark-like Bunting, as well as Ludwig's Bustard and Burchell's Courser, which are both nomadic species and usually tricky to track down. The mountainous areas surrounding the Tankwa Karoo are one of the best places to search for Protea Canary, which is one of the toughest Cape endemics to find.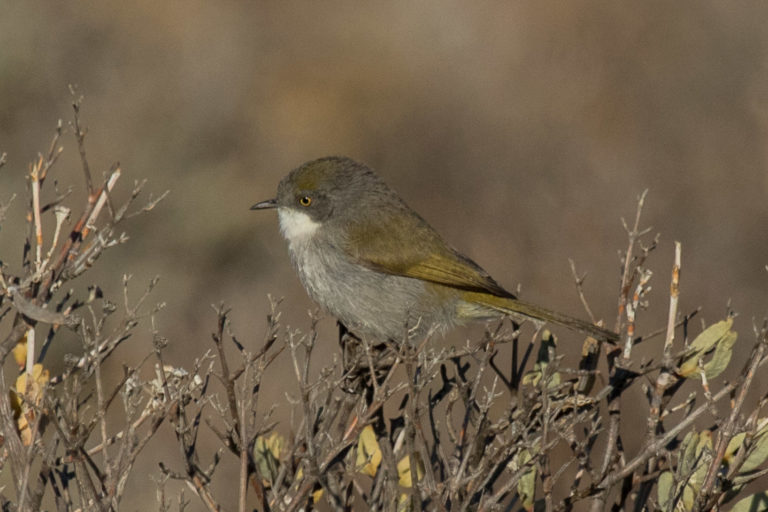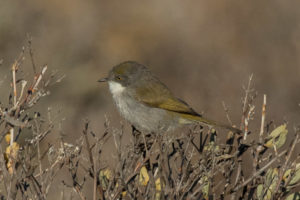 Karoo Eremomelas can be found in small groups on the plains of the Tankwa Karoo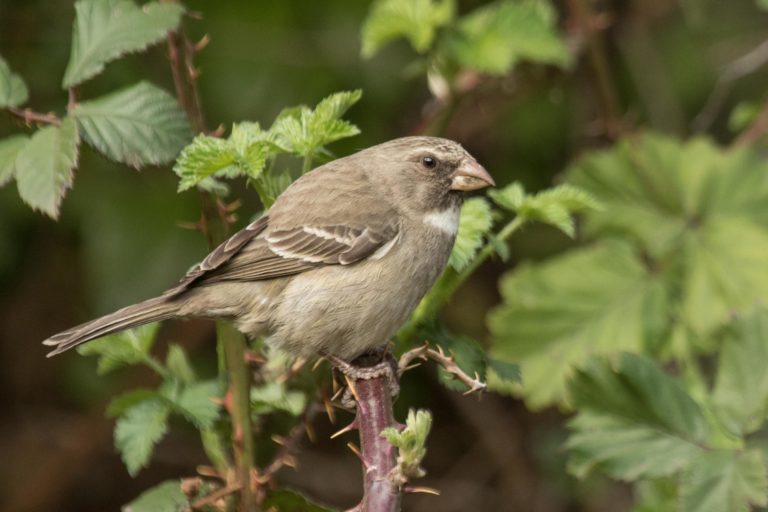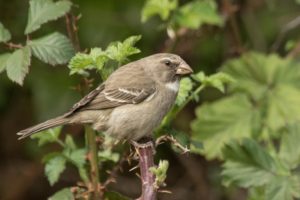 Protea Canary is one of the tougher Cape endemics to see
Back over the mountains, but this time we are heading south into the Overberg region, which consists of remnant patches of renosterveld in between the expansive wheat fields and is bordered by the Cape Fold Mountains. The small patches of renosterveld should be searched for two lark species, Cape Clapper Lark (near-endemic) and Agulhas Long-billed Lark (endemic). Both are best located in spring by their aerial displays, particularly Cape Clapper Lark, which can be almost impossible to find during other seasons, when it is silent. The seemingly sterile agricultural fields are surprisingly productive and are worth birding, as they too hold Agulhas Long-billed Lark as well as many other worthwhile species such as Black Harrier, Blue Crane, Denham's Bustard, Karoo Korhaan, Cape Weaver (endemic), Cape Longclaw, Cloud Cisticola, and Pied Starling. The thickets closer to the coast should be investigated for Southern Tchagra as well as the abundant Fiscal Flycatcher, while constant scanning overhead should reveal the odd Cape Vulture out foraging for the day from their nearby colony. The Overberg region is probably the best place to find what many consider South Africa's toughest endemic, Hottentot Buttonquail, which is restricted to the fynbos biome. There are a number of sites in the Overberg where one can find the buttonquail; however, it often involves a lot of effort to see it. Just about all sightings are of flushed birds, which explode out of the vegetation in front of you before landing back in the vegetation and vanishing. The best way to see the birds is to organize a group of people to walk through the vegetation and hope for the best!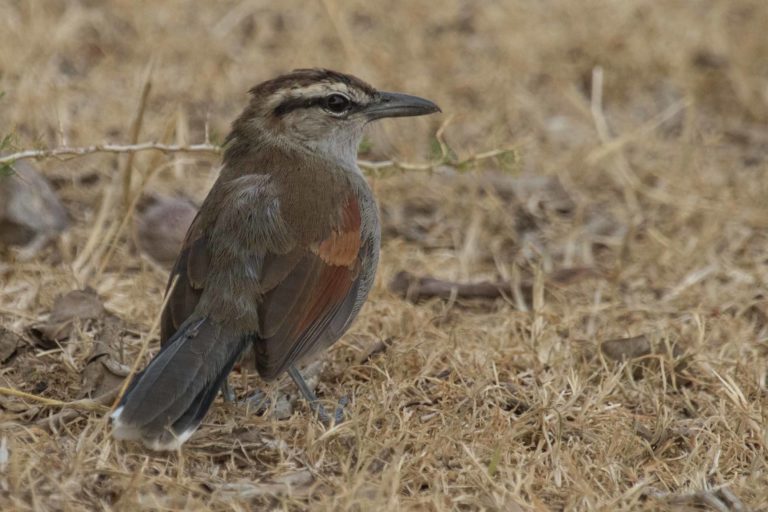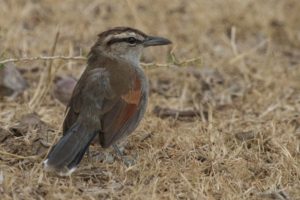 Southern Tchagra occurs in thickets in the Overberg region
Moving out of the plains and into the surrounding mountainous areas, the main targets are the endemics Cape Rockjumper and Victorin's Warbler. The rockjumper is often high on most birder's target lists as, together with Drakensberg Rockjumper, it forms an endemic family only found in South Africa. The rockjumper is best found by listening for its high-pitched, excited call, which often gives away the presence of a small family group. The warbler, however, is a classic skulker and often requires you to clamber around deep into the thick fynbos from which the bird calls. Cape Siskin (endemic) can also be seen in these mountainous areas and occurs in higher densities than on the Cape Peninsula, as do Ground Woodpecker (endemic) and Cape Rock Thrush (endemic) and Sentinel Rock Thrush.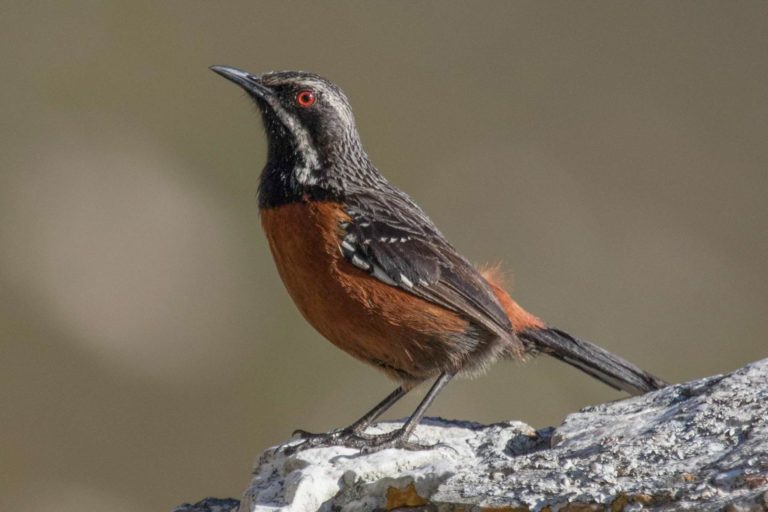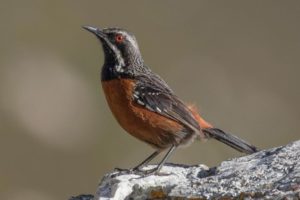 Cape Rockjumper is part of an endemic South African family
Beyond the limits of a day trip and moving approximately 300 km east of the Overberg takes one into the tall, evergreen forest of the Knysna/Wilderness area. The area is picturesque and best birded along its many trails. The two most important endemics to find in this area are Knysna Warbler and Knysna Woodpecker. Both are best found by listening for their calls; however, neither is easy to locate. The warbler is another skulker that spends its time in the forest undergrowth, often running along the ground, while the woodpecker calls very infrequently between bouts of quiet foraging. This area is probably the best place to find both, along with other South African near-endemics such as Knysna Turaco, Chorister Robin-Chat, and Greater Double-collared Sunbird.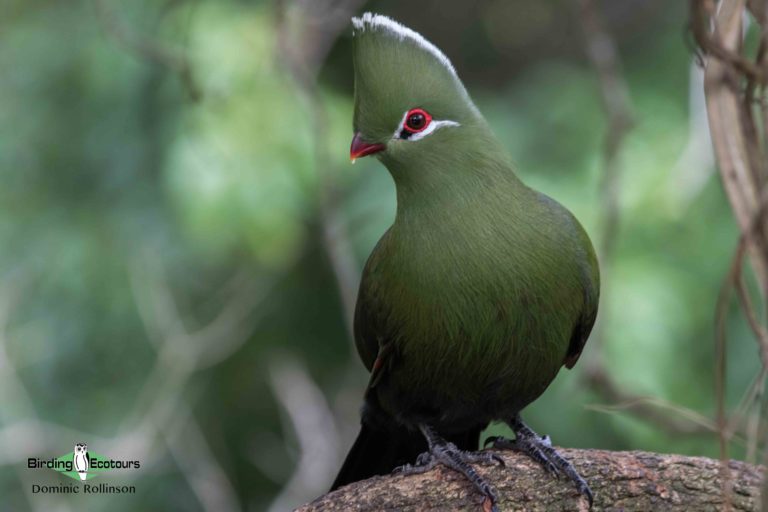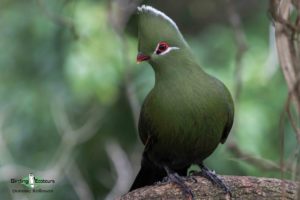 Knysna Turaco is common and conspicuous in the Cape's eastern forests