Lake County, Ohio, 2020 Birding Big Year
By Sarah Preston and Jim Smallwood
This blog was first published on 17 May 2020 but Parts 2 and 3 were updated on 22 May and 30 May respectively.
Part 1 – Introduction (Parts 2 and 3 now added below this, watch this space for further frequent updates!)
Sarah
It's mid-May, and my fourteenth year teaching organic chemistry just ended. It was quite the unusual semester since the COVID-19 pandemic forced all college courses to move to an on-line format. As challenging as these times have been, I now have greater flexibility in my schedule and I'm kept from leaving Lake County for work or travel, which has allowed me to chase and find all kinds of birds near home. It also cemented an idea I've had in my head since a spectacular day of birding in January, but more about that day later. The idea of course was to do a Lake County Big Year. I finally have some time to reflect on how it's gone and hopefully get this blog caught up to the present.
I have appreciated nature and the outdoors for as long as I can remember. My family often went hiking and camping when I was growing up. We had a bird feeder and a circa-1980 copy of Peterson's Field Guide to Birds. The first time I remember listing and counting is when I was eight and we drove from Cincinnati, Ohio, to Key West, Florida. I tallied all the herons, egrets, ospreys, eagles, and hawks, not always specific species because at that time all white wading birds were simply egrets and a hawk was just a hawk.
Fast forward 30 years to 2014, when I took an ornithology course at the small college where I teach, which is when I became a birder. I borrowed a tiny pair of 8×25 binoculars, which I learned how to use in class by focusing on clumps of leaves or whatever our instructor would tell us to turn around and see how fast we could find. We also learned about eBird, but our professor cautioned us, "It's not a competition." And I thought to myself, "Oh, but it is!" This was years before I knew anything about the eBird Top 100 lists. I took those binoculars to Magee Marsh at the end of the semester and used them to see the first warbler I can remember, a female Golden-winged Warbler, which had attracted quite a crowd. This bird I'd never heard of was a big deal! I became hooked on this birding thing that offers intellectual challenge, exciting chases, and views of beautiful and intriguing beings.
I officially met Jim in January 2019 at the dawn gathering to see Ohio's first Slaty-backed Gull. Shortly after the gull was identified that morning practically the entire flock lifted and took off for the dump. I was dismayed because the look I'd gotten was quite unsatisfactory. What were these strings of pearls everyone was claiming to have seen? Half the time my 17x magnification scope had frost on the lens, so I couldn't see anything at all. I stayed behind wishfully thinking that the Slaty-backed Gull had also. Jim was there too, and the two of us scrutinized this dark-mantled gull's legs until we received the disappointing news that the gull had been identified at the dump. Over the past year Jim and I have seen each other at additional rare bird sightings and worked together volunteering for Cleveland Lights Out. Recently Jim mentioned writing about this year's unique birding situation, so I invited him to write this blog with me.
Jim
As I sit here trying to introduce myself, the other Lake County Big Year birders are out there chasing everything that moves. This does hamper concentration a bit as my Messenger app keeps dinging, indicating a possible new or rare bird. I don't want to miss a good bird as completion is stiff. The other reason I'm sitting here at home is that my Zeiss binoculars have been hung-up for months at the repair factory in Germany due to the pandemic. I don't want to go another day without them, and they require a signature and ID and are arriving sometime today. So there is no better time to write than now.
I have lived in Lake County, Ohio, for 31 years. I came here in 1989 when I took a park ranger position with Lake Metroparks. I semi-retired in 2016 and now spend almost all of my spare time chasing birds all over the state. This culminated into an Ohio Big Year in 2019, where I fell two birds shy of the magic 300. This year was supposed to be another Ohio Big Year, and I was well planned out and had picked up 20 difficult species outside of Lake County in preparation for toppling that 300 mark. Then the pandemic hits, and travel is discouraged with stay-at-home orders from the Governor.
I didn't just start birding when I retired. It all started before my 37 years in park law enforcement. I went to Hocking College for Natural Resources in Nelsonville, Ohio, from 1979 to 1981.  My last quarter before graduation required me to take a field ornithology class. This was truly one of the toughest courses I've ever taken, and it dealt solely with identifying birds in the field by sight and sound, and I knew very little about birds. I barely passed that class, but I never forgot my instructor's amazing abilities to identify a bird on a chip note or at great distance with just a quick glance; it was magic to me. I was so intrigued that I started attending the Clark County Audubon Society bird walks after leaving college and became good friends with hike leader Doug Overacker circa 1982.
That's the path that I took to get to this epic Lake County Big Year and becoming a Real Lake County Birder. I may also go for that magic 300, but the county competition comes first. There may never be another chance for a Lake County Big Year with all the great locals birding together. This has never happened before, and, like I've said, I've lived here 31 years.
My Instagram birding pics can be found at @jsskyline17.
Lake County, OH
Lake County, where we both reside, is in northeast Ohio and is the smallest county in the state. Lake Erie makes up its entire northern border. We boast a number of rarities, the most recent one being Ohio's first Tropical Kingbird found by Lake County birding legend, Ray Hannikman. According to eBird our little county is the #3 county in Ohio for all time number of bird species with 337 on record. Below is a table of notable Lake County hotspots and relative distances and driving times from our respective houses.
Hotspot
Distance from Sarah's house
Driving time from Sarah's house
Distance from Jim's house
Driving time
from Jim's house
Mentor Headlands
7 miles
12 minutes
15 miles
27 minutes
Mentor Lagoons
4 miles
10 minutes
12 miles
19 minutes
Chagrin River Park
5 miles
8 minutes
5 miles
8 minutes
Wake Robin
7 miles
12 minutes
15 miles
19 minutes
According to Lake County birder lore and available eBird records the record for most species seen in our county in a single year is 250 species set by Dave Chase in 2017. Some people believe that a much higher number is possible, and there are folks who don't keep their records in eBird and have had nearly that many species in a year in the Headlands area alone. Whatever the actual record, 250 is a nice round number to have as a goal, similar to Ohio's 300 club.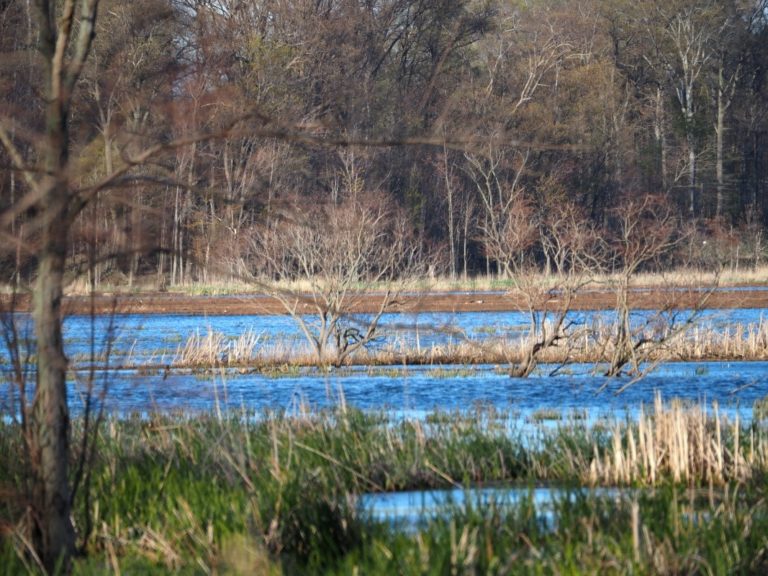 Lake County's Mentor Marsh, which contains several birding hotspots.
Part 2 – January 20, 2020 (watch this space for the next installments!)
Jim
I learned a lot from analyzing my Ohio Big Year attempt. My main goal for this January was to knock off some of those tough-to-get birds I chased all year as well as shooting for the "Ohio January 100". I also looked at my record-keeping system, which consisted of a paper checklist with the difficulty rating of seeing each species. This became a nightmare when the list got temporally misplaced. That archaic system had to change, and with the start of 2020 I began eBirding every sighting. I never realized just how powerful a tool eBird could be until I started using it full-time.
By January 20th I had 10 difficult state species behind me, including a lifer Harris's Sparrow. I met with my birding buddy Jamie that morning, and our goal was to look for Horned Lark, Snow Bunting, Lapland Longspur, and possibly the super-hard-to-find Purple Sandpiper here in Lake County. We checked Fairport Nursery Road and Fairport Harbor Lakefront Park and finally ended up at Headland Dunes State Nature Preserve.
I told Jamie I wanted to check the beach and breakwall for Purple Sandpipers. Jamie humored my request, and off we went to the beach. Let's be honest, how often have you ever found a Purple Sandpiper on the beach? My answer to myself is "never". As we get close to the beach near the lighthouse I see a shorebird and tell Jamie it's a Purple Sandpiper. He sees the bird and looks at me and says, "Do you think it is a Purple?" I shrug, but the bird is too far away to identify. I had a Dunlin in Cleveland the week prior, so the odds are it's a Dunlin, but I can't see the bird well enough, so I say nothing. As we get closer I'm dumbfounded to find out that it is indeed a Purple Sandpiper, and on the beach at that! This bird is also a Lake County lifer for me.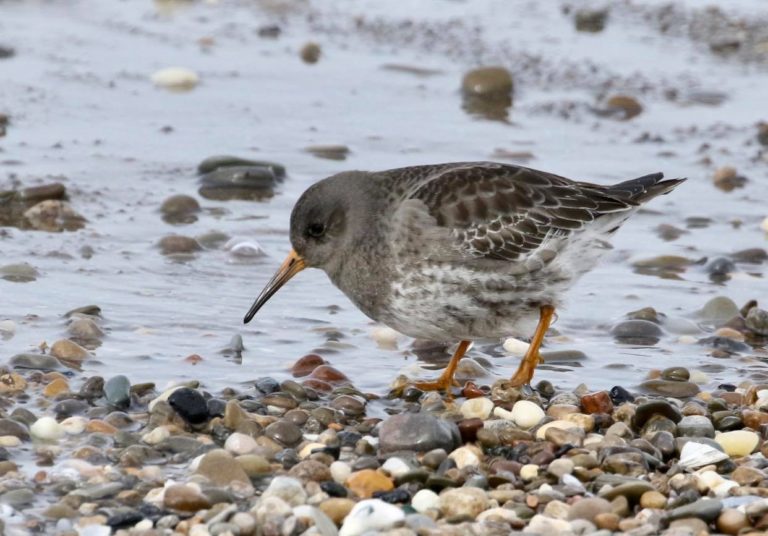 Purple Sandpiper at Headland Dunes State Nature Preserve (photo Jim Smallwood)
I take dozens of pictures of this bird, which literally walks within ten feet of us going about his business of dining on whatever washes up. I put the sighting out on Messenger to our Lake County group as well as post it on Ohio Chase Birds. Andy, from our Lake County group, texts back, asking if it's really on the beach and I respond by saying, "of course."
In the meantime Jamie is getting pictures from Sarah of a Great Horned Owl being seen at Chagrin River Park. Jamie can't figure why she is sending him pictures of this owl, and I'm too busy taking and uploading pictures of the sandpiper to pay much attention to a Great Horned Owl. He tells me she knows he already has one for the year. We start making our way back to our cars and feel sorry for the sandpiper, as we know folks will be flocking here en masse to see it even before we get out of the parking lot. We meet Sarah on the trail and give her a more detailed location of the bird. That's also when we find out from Sarah that the pictures she sent Jamie weren't actually of a Great Horned Owl but of a Long-earned Owl. Holy mackerel! I chased a Long-eared Owl all last year before finding one at Killdeer Plains Wildlife Area in late December; it was my 298th and last bird of 2019. Now we are running to the car to get onto this bird before it's gone, and Jamie keeps saying, "I was wondering why she was sending me pictures of a Great Horned Owl."
Sarah
The year began very rough for me. I spent New Year's Eve and most of January on the couch with a respiratory illness that left me with a terrible cough and no energy. I only went birding nine days during the entire month, my focus being Lake County and actual lifers. I had an exciting day in Wood County with my friend Deb, where we chased and found Prairie Falcon and found Eurasian Collared Dove and Greater White-fronted Goose as well. I was also able to easily pick up Harlequin Duck and Snowy Owl for the year in Cuyahoga County.
My friend Kari and I had been lamenting about how we'd never seen a Long-eared Owl and how unlikely it would be, since they are a sensitive species and their locations are usually kept secret. We made an owl pact, promising to tell each other if we ever found one.
Not long after that I was enjoying a quiet Martin Luther King Day in my pajamas when I got a text from Kari, "Let owl at Chagrin now." I thought I knew what she meant but couldn't believe it, "What kind of owl? Chagrin River?" She responded, "L.E." to which I texted, "Omg!" I put my warm clothes on in a rush and sped down Ohio State Route 2. This was the day I made my first Big Year rule, "always be dressed."
I got to the park, but there was nowhere to park because everyone was there sledding. Kari was leaving and let me have her spot. Our friend Josh took me to the owl location, which wasn't in dense conifer as expected. The owl was right out in the open and didn't seem bothered at all by the small group of people gawking at it. I took a few pictures and texted one to my dad and a few friends, including my friend Jamie (for which I guess I should have included an ID. I am not the only person this year who should have followed the rule "Don't just send a picture.") Jamie responded with the news that he and Jim had found a Purple Sandpiper on the beach at Headlands. I was still not feeling well and probably shouldn't have been out, but I figured I was already out, so I might as well try for the sandpiper, which I did get. Little did I know I would be diagnosed with walking pneumonia the next day and wouldn't leave my house for over a week. Good thing I got these birds when I did, although this day isn't the only time these species made appearances in Lake County in 2020!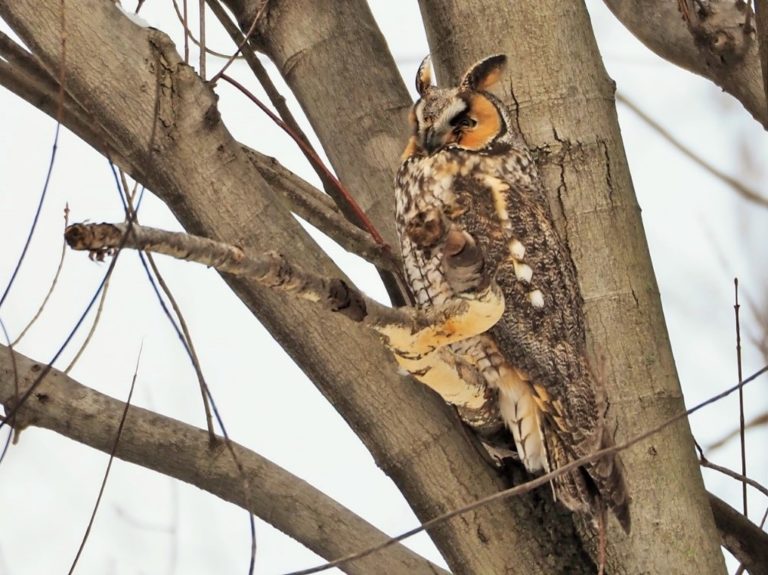 Long-eared Owl at Chagrin River Park (photo Sarah Preston)
January Lake County totals:
Jim: 68
Sarah: 43
February Part 3
Jim
The first eleven days of February 2020 had been slow for Big Year birds. January brought me Lesser Black-backed Gull, Iceland Gull, Red-necked Grebe, Snow Bunting, Northern (Common) Raven, Great Cormorant, Merlin, and Cackling Goose. On February 12th my buddy Tim Jasinski (Tim runs the entire ground game for Cleveland Lights Out) texted me an Ohio Chase Birds post about a Pacific Loon being seen from Cleveland Lakefront Nature Preserve. The loon had been found a couple of days earlier by a Cleveland birding buddy of mine, Doug Deppen. Doug never posts, so our mutual friend Lori Brumbaugh photographed this bird after she found it that day and posted it to Ohio Chase Birds.
The Pacific Loon was a nemesis bird in my 2019 Big Year. It was late November and then again early December that I chased a Pacific Loon at East Fork State Park just east of Cincinnati, Ohio. Let me just say that from the Cleveland area to this bird it was a nine-hour and 556-miles round trip. You do the math and then add in that I dipped both times, and it's ugly. I never got a Pacific Loon last year, and now one is 20 minutes from my house and I'm in CPR class. We finished class early, and I was out the door and arrived at CLNP at 1:19 p.m. It took me a half hour to re-find the bird, but there it was, poor pics and all.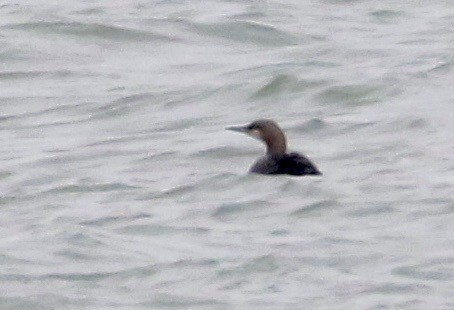 Pacific Loon (photo Jim Smallwood) at Cleveland Lakefront Nature Preserve
It was then that I saw a message to our birding group from Sarah asking if anyone was going for that bird. I messaged her that I was on it, and in no time she arrived a little out of breath and found it in my scope. Life birds are worth a beer up here on the North Coast. My heritage is mostly British, followed by Irish and then Scottish, so you might say birds and beer are in my blood… just no accent. As Richard Crossley told me a couple of years ago at The Biggest Week in American Birding, "There is nothing better at the end of a long day of birding than discussing birds over a pint."
Sarah
There was a lull in the Lake County birding action, so I made a few forays into Cuyahoga County in February. Our only Snowy Owl was a one-day wonder, so I went to the famed 100th Bomb Group Restaurant second-floor patio to look for one being seen at Cleveland Hopkins Airport across the street. I knew the lay of the land since this had been the location of the first Cleveland Birds & Beers gathering in January. I scanned all over with my little, ancient scope, checking the runway signs the bird is apt to perch on without luck. I checked the snow piles, and an owl-shaped lump caught my eye. Did I see its head turn? Just then a couple from central Ohio arrived with a better scope. I pointed out the snow pile, and as we were looking the lump flapped and began preening. Score!
On February 12 I planned to visit Cleveland Lakefront Nature Preserve in search of a would-be-lifer Pacific Loon. I wrote a quick message to the Lake county group chat, "Anyone want to chase the Pacific Loon at CNLP or the California Gull at Wendy this afternoon? I'll drive, you bring scope," but didn't receive a response. An hour later as I arrived at the preserve Jim answered that he was there and had found the loon. I hurriedly walked the half mile as fast as my recovering lungs would allow (another rule of Big Year birding: cardio). Jim was still on the loon and let me look at it in his scope. I told him that loon was a lifer, so I owed him a beer. We looked for the California Gull also, but it was nowhere to be found.
After getting a Horned Lark as the third county lifer of the year and adding Snow Buntings to my year list on Friday I made good on my promise that Saturday at Spuddy's Tavern when I, my husband, Adam, Jim, and Jamie had a fun dinner chatting about birds and birders. Little did we know this would be the last time the four of us would be able to get together at the beloved dive bar for quite some time.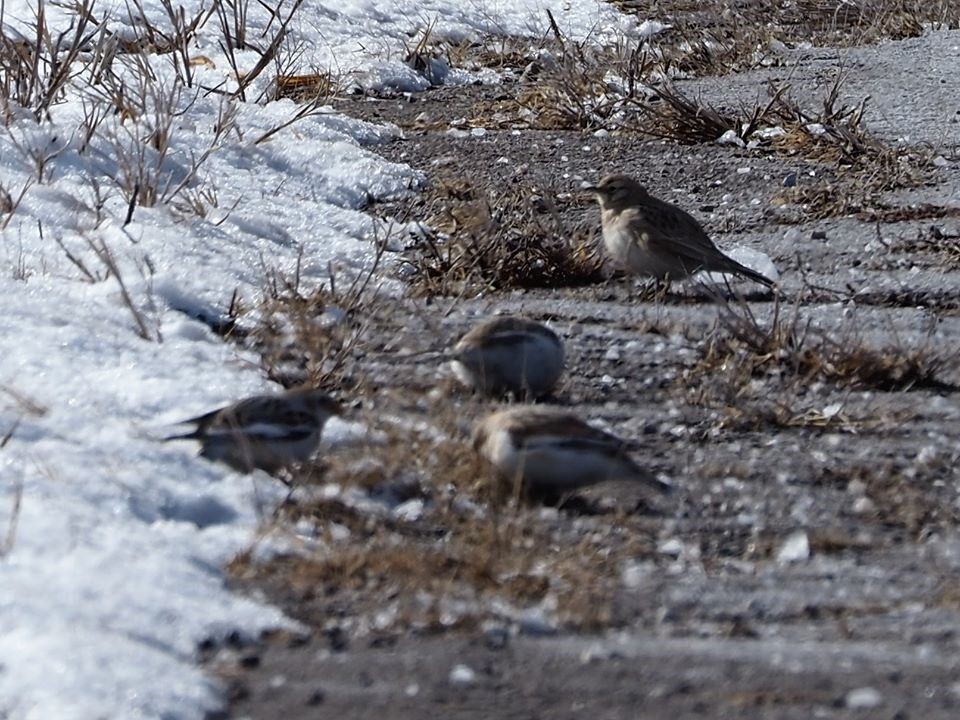 Horned Lark (back) and Snow Buntings (foreground) along Route 535 (photo Sarah Preston)