Johannesburg, more readily known as Joburg or Jozi, is the largest city in South Africa and located on the highveld plateau of central South Africa. Despite the populous nature of the greater Joburg area its unique positioning in the highveld means that it is a great place to find many of the country's endemics, all within earshot of the city.
In this blog we'll be looking at some of Joburg's best birding sites and the species for which one should keep an eye out in and around these areas. Birding Ecotours run many day trips around Joburg, primarily to the sites below, and this blog can prove useful when preparing for an upcoming day trip.
Suikerbosrand Nature Reserve
Located about 30 minutes south of the city, Suikerbosrand is arguably its most well-known nature reserve. The reserve protects an important piece of natural highveld grasslands along with high montane rocky grasslands and dry acacia, all of which play host to a wide selection of species, including a host of endemics and near-endemics. If you only have a short amount of time available for birding around Joburg this site should probably be your first choice, as it offers many species unique to southern and South Africa.
To begin with we'll look at the lower-lying grasslands found on the northern side of the reserve, such as the road to the main entrance gate and along the Eendracht Road in the north-eastern section of the reserve. These open areas are frequented by a host of species. The most sought-after of them are African Grass Owl, Marsh Owl, Orange River Francolin, Northern Black Korhaan, Melodious, Eastern Clapper, and Spike-heeled Larks, Desert and Cloud Cisticolas, Cuckoo-finch, Quailfinch, and Orange-breasted Waxbill. While searching for these tricky birds you're bound to come across Swainson's Spurfowl, South African Cliff Swallow, Banded Martin (the latter two in the austral summer only), Rufous-naped Lark, Ant-eating Chat, Capped Wheatear (austral winter only), Levaillant's Cisticola, African Stonechat, Cape Longclaw, a full host of Widowbirds (White-winged, Fan-tailed, Red-collared, and Long-tailed), and Southern Red Bishop. Scarcer species such as Pink-billed Lark do move through from time to time but are better sought elsewhere, and it is also worth keeping an eye out for raptors such as Amur Falcon (austral summer) and Secretarybird.
Moving into the reserve proper we'll focus first on the acacia thornveld and wooded gulleys found primarily on the southern slopes of the reserve, such as around the Holhoek picnic site, but also around the main visitors center and the Diepkloof picnic area shortly after coming through the main entrance gate. These areas host many sought-after species, such as Acacia Pied Barbet, White-backed Mousebird, Red-throated Wryneck, Brown-backed Honeybird, Common Scimitarbill, Chinspot Batis, Brubru, Ashy Tit, African Red-eyed Bulbul, Kalahari Scrub Robin, Chestnut-vented Warbler (Tit-babbler), Fairy Flycatcher (austral winter only), Violet-eared and Black-faced Waxbills, Green-winged Pytilia, and Long-tailed Paradise Whydah. Aside from these specials these areas are always great to explore; they are full of activity with other, more common species, such as Crested and Black-collared Barbets, Speckled and Red-faced Mousebirds, Green Woodhoopoe, Lesser Honeyguide, Cardinal Woodpecker, Bokmakierie, Fiscal Flycatcher, Bar-throated Apalis, Neddicky, Black-chested Prinia, White-browed Sparrow-Weaver, Cape Weaver, Streaky-headed Seedeater, and Yellow Canary.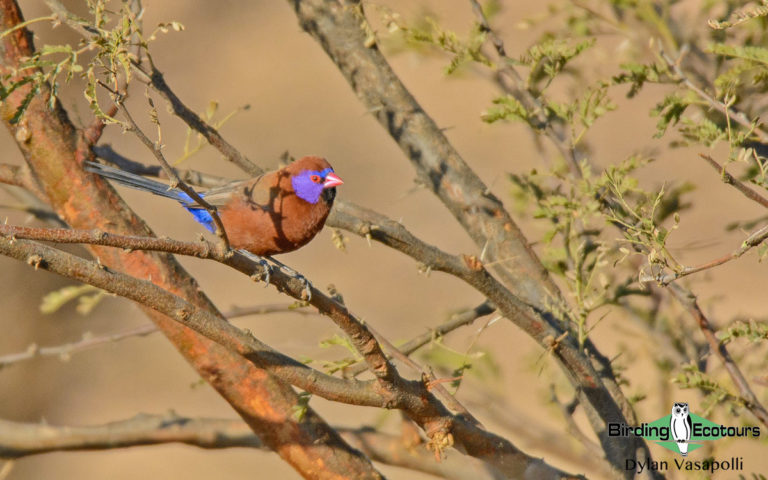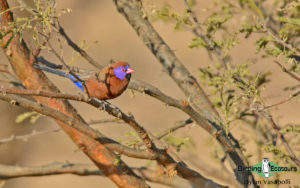 Violet-eared Waxbill is a denizen of the acacia thornveld in the reserve.
The rocky, montane grasslands found once you reach the plateau – the highpoint at the top of the mountains – do host fewer species, but there are a few key birds for which to keep an eye out. The main ones are Grey-winged Francolin, Eastern Long-billed Lark, Sentinel Rock Thrush (austral winter only), Cape Grassbird, Wailing Cisticola, Malachite Sunbird, Yellow Bishop, and Cape Bunting. Other species that are usually more conspicuous up here include Wing-snapping Cisticola, Mountain Wheatear, Familiar Chat, Long-billed Pipit, and Cape Canary.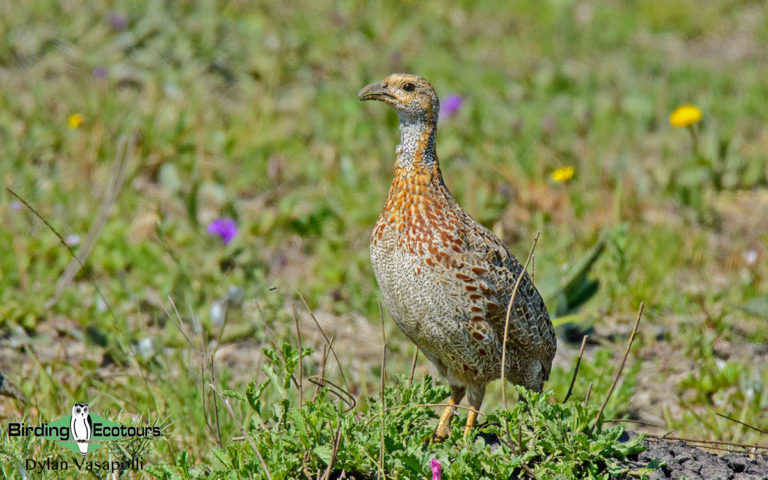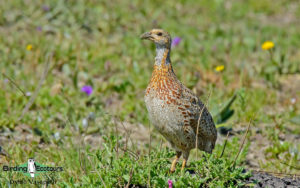 Grey-winged Francolin occurs in the montane grasslands at the top of the plateau.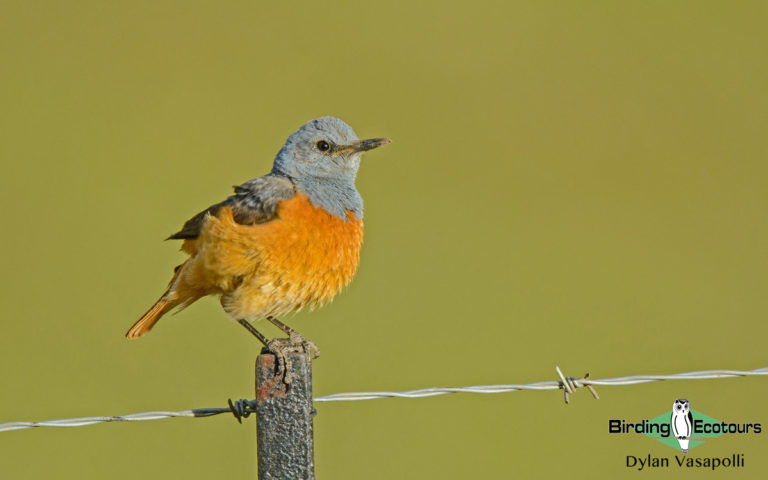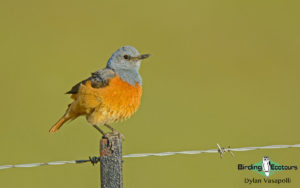 Sentinel Rock Thrush is a winter visitor to the reserve.
All in all, Suikerbosrand has a wide choice of habitats for you to bird and immerse yourself in, and one can comfortably bird throughout the reserve over the course of a day. Half-day trips don't usually allow you to cover all the habitats thoroughly, but a good half day in summer can result in over 100 species being found – somewhat fewer can be expected during the winter period.
Marievale Bird Sanctuary
Located a bit further afield than Suikerbosrand Nature Reserve, this fantastic birding site is situated near Nigel, about an hour to the south-east of Joburg, and is one of the country's premier wetland birding areas. The sanctuary is a formally protected area and a Ramsar site. There is a small road network taking you up and down the length of the wetland, with a number of hides strung out along its length and a picnic area centrally located.
The sanctuary hosts a wide range of deeper-pooled sections along with shallower mudflats and extensive reedbeds. The deeper sections of water are usually less productive, but it is these sections that give you the best chance of finding Great Crested Grebe and Southern Pochard, while they can sometimes be amazing due to huge numbers of Red-knobbed Coots that also gather in the deeper sections. Pockets of shallower water host a wide range of ducks, including White-faced and Fulvous Whistling Ducks, Red-billed and Hottentot Teals, Cape Shoveler, Yellow-billed Duck, and Spur-winged and Egyptian Geese, along with Black-headed, Grey, Purple, Black, and Goliath Herons, Glossy and African Sacred Ibis, and Greater Flamingo. Mudflats and shallow sections of the wetland often found along the roads and in between the various reedbeds host a wide range of waders/shorebirds. Resident species include Black-winged Stilt, African Snipe, and Three-banded Plover, but these species are augmented in summer with many Palearctic migrants such as Common Greenshank, Marsh, Wood, and Curlew Sandpipers, Little Stint, Common Ringed Plover, and Ruff.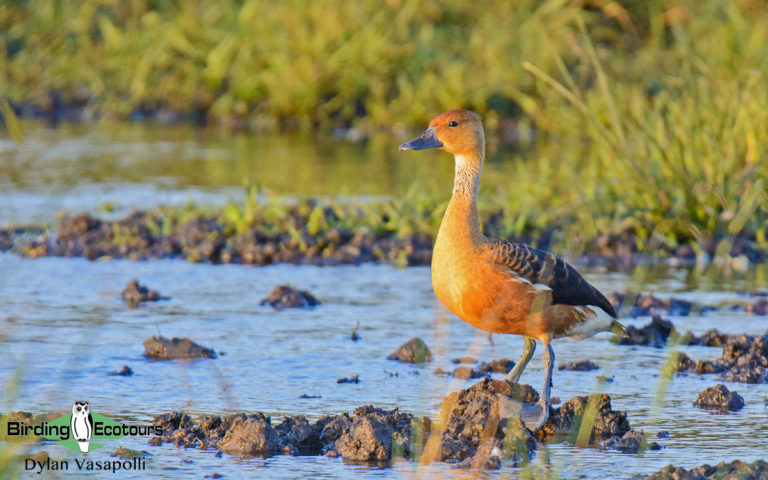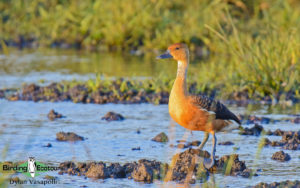 Fulvous Whistling Duck reliably occur at Marievale.
It is worth keeping an eye on the reedbeds for skulkers such as Black Crake, African Rail, and Red-chested Flufftail – finding them is made easier with knowledge of their calls, as they are all fairly common in the area. Scarcer species also turn up from time to time, and you should keep an eye out for Greater Painted-snipe and Baillon's and Spotted Crakes as well. Malachite and Pied Kingfishers hunt from the reedbeds, which also host a wealth of warblers. Little Rush and Lesser Swamp Warblers can be found year-round, but the summer brings in more species, such as Sedge, African Reed, and Great Reed Warblers. Knowledge of their calls helps in locating these shy birds as well. When drier conditions prevail, especially in the late winter, more saline-dependent species can move in, such as Cape Teal, Lesser Flamingo, and Pied Avocet. Insect life is good around wetlands, and aerial feeders can be very prolific at times, so it is worth keeping an eye out for Horus Swift and Brown-throated and Sand Martins among more common species such as Greater Striped and White-throated Swallows. Grassy sections on the edges of the wetlands host species such as Common Quail (austral summer only), African Crake (austral summer only), Fan-tailed Widowbird, and Orange-breasted Waxbill.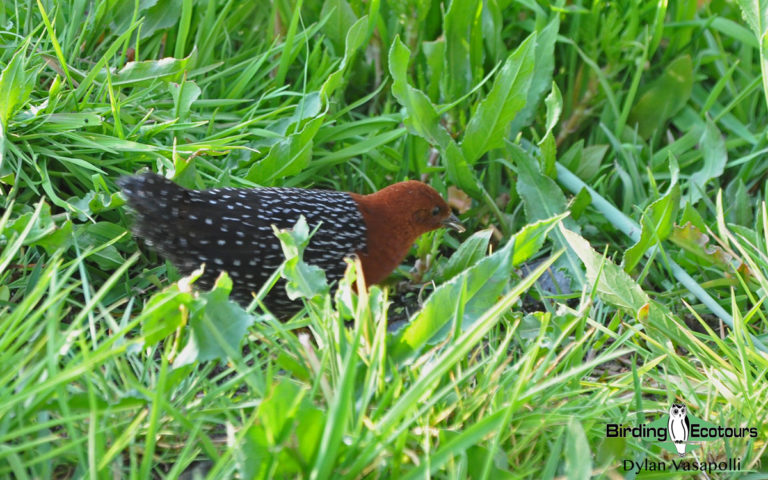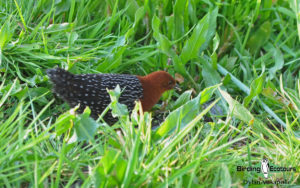 Red-chested Flufftail is one of the skulkers to be sought in the sanctuary.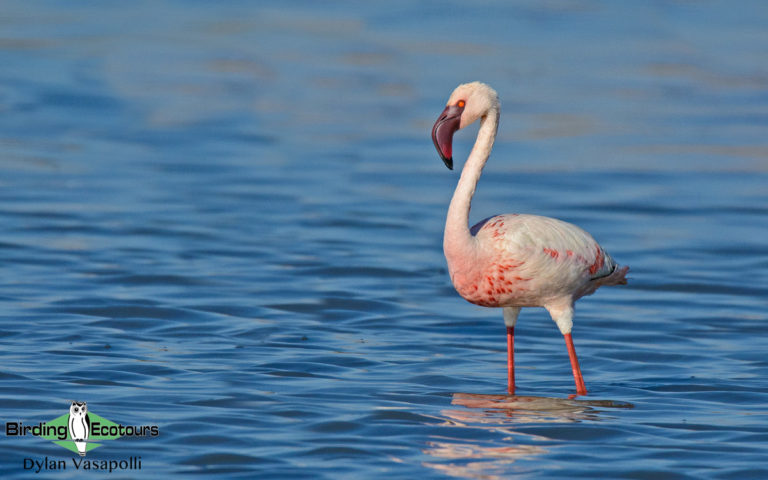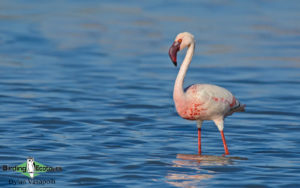 Lesser Flamingo moves into the area during the winter months.
Marievale can be combined with Suikerbosrand Nature Reserve to give you an excellent day's birding, and this combination is one of our most popular day-trip routes around Joburg.
Walter Sisulu National Botanical Garden
Located to the west of Joburg, past Roodepoort, lies this famous locality. Perhaps best known for its resident pair of Verreaux's Eagles that breed on the cliffs within the garden and have been present for many, many years, the botanical garden offers a great half-day getaway for some excellent birding. Like in most botanical gardens there are manicured, slightly modified sections, although there is still a strong presence of natural vegetation that persists, including excellent riverine woodland and broken montane woodlands and grassland.
A large network of walking trails crisscrosses the garden, and all can be comfortably birded in half a day. The riverine woodlands host species such as African Olive Pigeon, Red-chested and Black Cuckoos (austral summer), Brown-hooded Kingfisher, Lesser Honeyguide, Golden-tailed Woodpecker, Southern Boubou, Black-backed Puffback, Black-headed Oriole, Grey-headed and Orange-breasted Bushshrikes, Black Cuckooshrike, Bar-throated Apalis, Kurrichane Thrush, and Cape Weaver, among others.
The river that runs through the garden is a good place to find African Black Duck, and if you're lucky you may find one of the Half-collared Kingfishers that work a large section of this river. Vagrants such as Grey Wagtail have also turned up in recent years. The small dam and bird hide aren't overly productive, but there is a bustling colony of Southern Red Bishops that usually entertain, and Little Rush and African Reed Warblers can sometimes be coaxed from the reedbeds.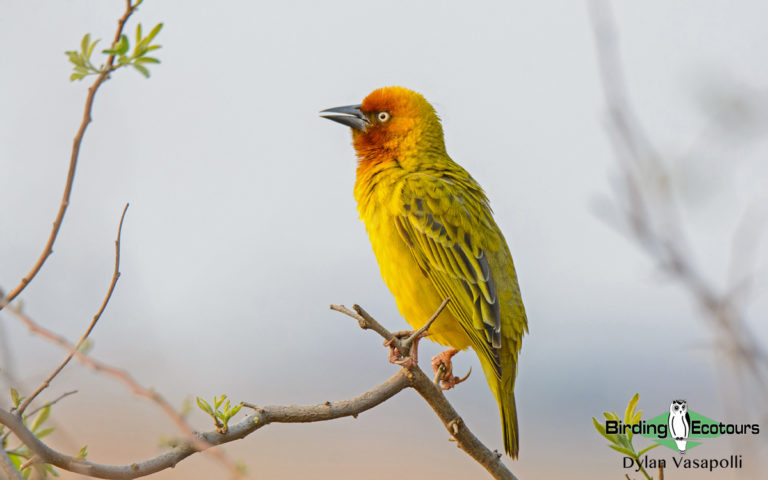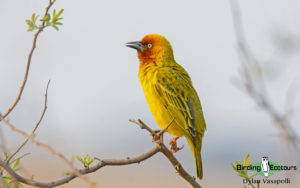 Cape Weaver breed within the garden.
The combination of natural vegetation on the slopes of the mountains hosts an interesting mix of highveld and bushveld species, and with some careful searching you may find Red-winged Francolin, Klaas's Cuckoo, Grey Go-away-bird, Acacia Pied Barbet, Yellow-fronted Tinkerbird, Brown-backed Honeybird, Red-throated Wryneck, Chinspot Batis, Brown-crowned Tchagra, Black-chested Prinia, Fairy Flycatcher (austral winter), Fiscal Flycatcher, Streaky-headed Seedeater, and Yellow-fronted and Black-throated Canaries. The upper reaches of the slopes and the rockier areas lining the top host species such as Black-crowned Tchagra, Cape Rock Thrush, Wailing and Lazy Cisticolas, Red-winged Starling, Striped Pipit, and Cinnamon-breasted Bunting. Flowering plants and the aloe gardens should be searched for Malachite and Greater Double-collared Sunbirds, which augment the resident populations of Amethyst and White-bellied Sunbirds. One also needs to keep an eye to the sky here, as many raptors move along the cliffs in addition to the resident pair of Verreaux's Eagles (which nest near the waterfall each year). In particular Ovambo Sparrowhawk, African Harrier-Hawk, Common Buzzard, Rock Kestrel, and Peregrine Falcon are most frequent. Also search through the hirundines for African Black, Alpine, and Horus Swifts along with Rock Martin and both Greater and Lesser Striped Swallows.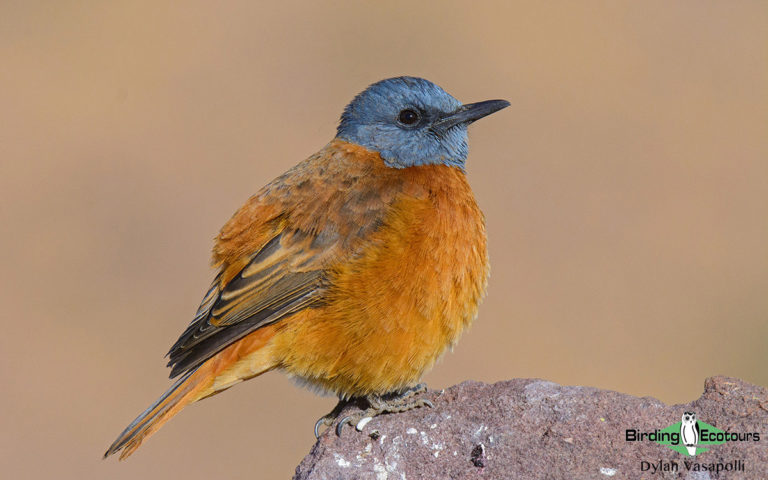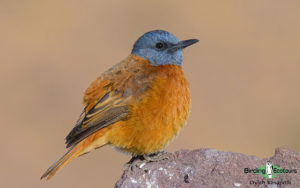 Cape Rock Thrush is found along the upper slopes.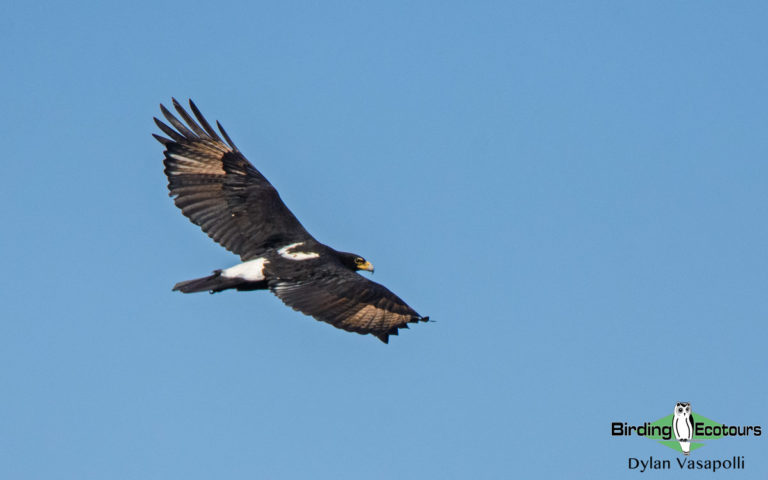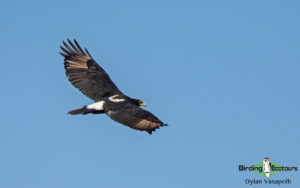 Verreaux's Eagle is perhaps the most famous bird species of the gardens – where they have nested for many years.
Devon Grasslands
Of the sights dealt with here this one is the farthest away, lying over an hour from Joburg and a little bit farther away than Marievale, located to the south-east of Joburg and south of the small town of Devon. This area is dominated by agriculture, but large tracts of highveld grassland persist between the agricultural areas and play host to many species localized in the greater Joburg area. Summer and winter both host excellent birding, although highly varied. Summer visits see various migrants move into the area, with both Montagu's and Pallid Harriers to be found floating over the grasslands and large flocks of Black-winged Pratincoles moving into short grasslands and wetlands throughout the area. Various cisticolas also begin calling, allowing for easier ID, and species to be sought include Cloud, Wing-snapping, and Pale-crowned Cisticolas. Careful investigation can also reveal their brood parasite, Cuckoo-finch. Various bishops and widowbirds also display over the grasslands in all their splendor. Blue Cranes are resident in the area in small numbers, but the winter months see this species flock together in huge numbers – sometimes well above 200 birds, which are occasionally joined by wandering Wattled and Grey Crowned Cranes.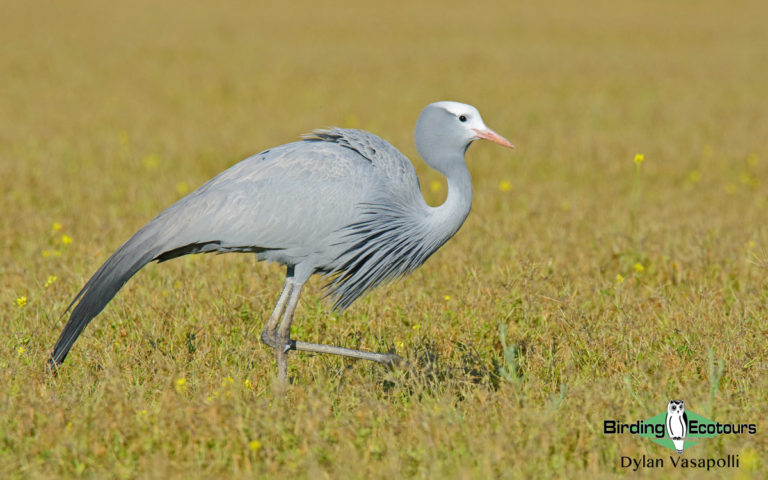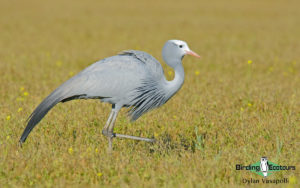 Blue Crane can be found throughout the year.
Secretarybird too seems to move into the area during the winter, and astonishing numbers can be found, upward of 50 birds! Blue Korhaan is also resident in the area, and the winter months with less grass cover make seeing this species a bit easier. Pink-billed Lark and Chestnut-backed Sparrow-Lark can also be found year-round but are nomadic and condition-dependent. Orange River Francolin regularly feeds on the road edges along with Red-capped and Spike-heeled Larks. The winter months see the enigmatic Black Harrier move into the area, along with scarcer species such as Sentinel Rock Thrush and Sickle-winged Chat, and large numbers of Marsh Owls can also be seen sauntering around well into the day. Many small dams and wetlands can be found throughout the area, and careful searching of the various waterbodies can reveal scarcer species such as Black-necked Grebe, White-backed and Maccoa Ducks, Cape Teal, Lesser Flamingo, and Pied Avocet, among others. Smaller raptors such as Rock and Greater Kestrels and Lanner Falcon perch atop the telegraph poles. Other more common species that feature prominently here are Black-winged Kite, Swainson's Spurfowl, Cape Crow, African Stonechat, Capped Wheatear (austral winter), Cape Longclaw, African Pipit, and Yellow and Black-throated Canaries.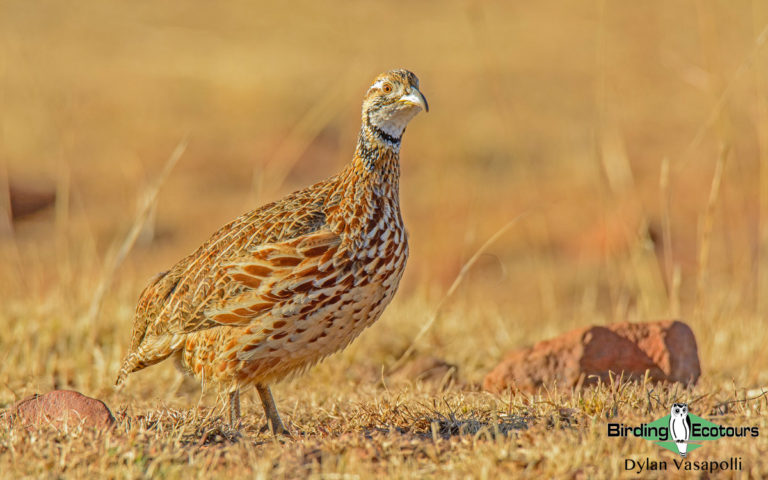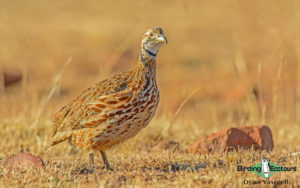 Orange River Francolin is common in the grasslands.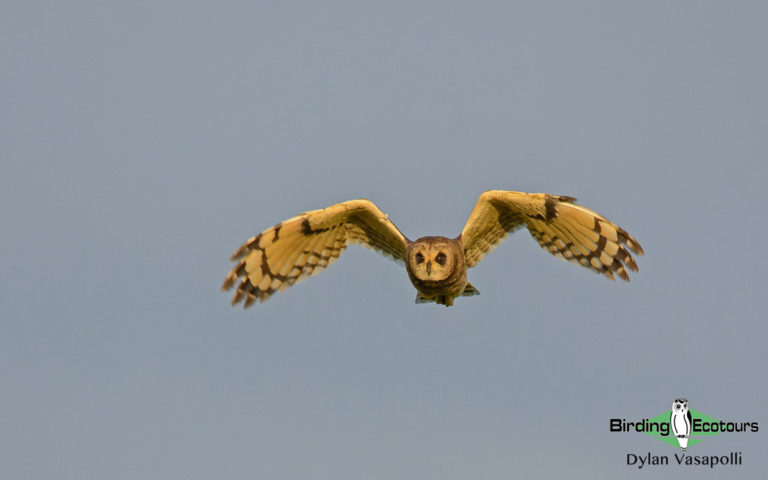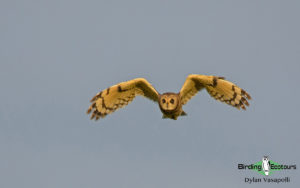 Marsh Owl can regularly be seen quartering during winter mornings.
A visit to Devon can be easily combined with the Marievale Bird Sanctuary, which should result in a great tally of species, but on its own a half day around Devon should yield between 50 and 100 species.
Rietvlei Nature Reserve
Technically this site should probably fall within the greater Pretoria area, as it is situated right on the southern edge of Pretoria, the sister city that lies just to the north of Joburg. We have included it here, though, as it is a site we visit regularly on our day tours from Joburg, and it is located less than 30 minutes from the OR Tambo International Airport, making it convenient and easy to get to. This is an excellent highveld site, with great grassland birding, supplementary riverine woodland, dams and wetlands, and acacia thornveld, hosting a wide range of endemic and near-endemic species. In addition to birds the reserve also hosts many different mammals, including Cheetah.
Grasslands and the open plains form the main habitat here, and species to be sought include Secretarybird, Red-winged Francolin, Northern Black Korhaan, Desert, Cloud, and Wing-snapping Cisticolas, Spike-heeled Lark, Ant-eating Chat, Plain-backed Pipit, Cape Longclaw, Pied Starling, and Quailfinch. Common species such as Common Ostrich, Swainson's Spurfowl, Helmeted Guineafowl, Rufous-naped Lark, Zitting Cisticola, African Stonechat, and African Pipit are usually the most conspicuous species, however. The dams can be slow at times, but persistence can pay off with a wide range of ducks possible, including White-faced Whistling Duck, Cape Shoveler, and Southern Pochard, and others like Great Crested Grebe. Reedbeds host the scarce Little Bittern along with Purple Heron, Black-crowned Night Heron, and Striated (Green-backed) Heron – the latter readily found along the river.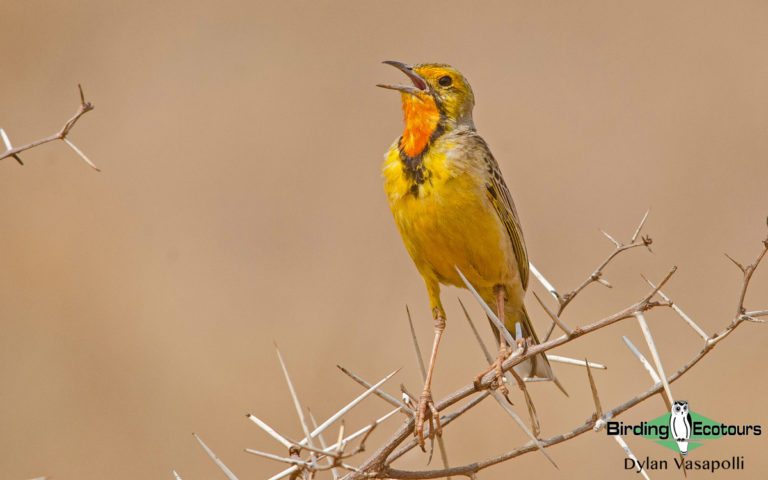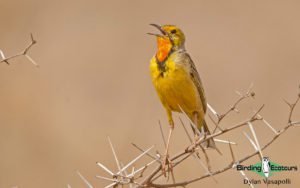 Cape Longclaw is best sought in the grasslands.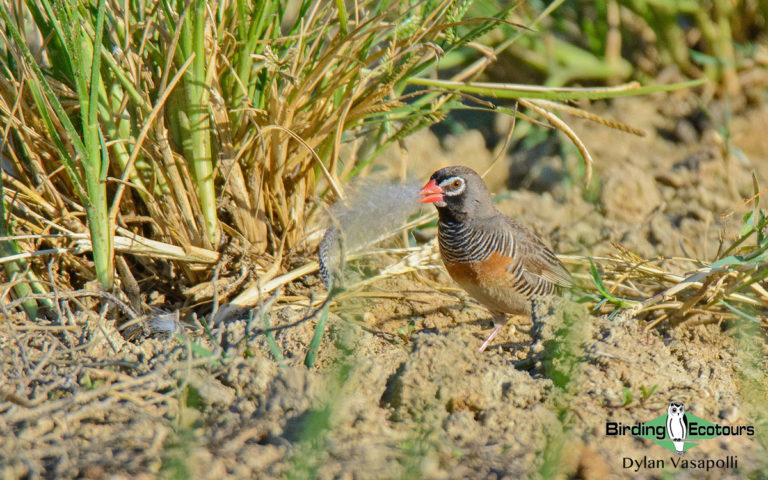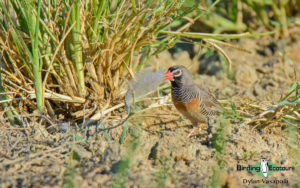 Quailfinch is a difficult bird to observe well, and Rietvlei is a great place to get good looks.
The scarce African Finfoot has also been seen recently, and it's worth keeping an eye out for this tricky bird. Pied, Malachite, Giant, and Half-collared Kingfishers can all be found, and thicker portions of reeds host Black Crake and African Rail. African Yellow Warbler and Cape Grassbird are two specials to be sought in the rank growth fringing the wetlands and rivers. The patches of mixed woodland, riverine woodland, and acacia thornveld that dot the reserve should be searched for White-fronted Bee-eater, Brown-backed Honeybird, Lesser Honeyguide, African Grey Hornbill, Red-throated Wryneck, Kurrichane Thrush, Arrow-marked Babbler, Bokmakierie, Crimson-breasted Shrike, Chestnut-vented Warbler (Tit-babbler), and Streaky-headed Seedeater among others.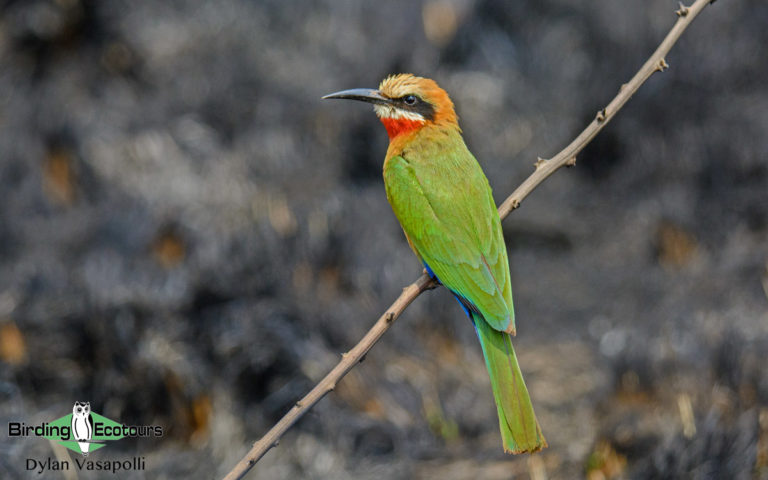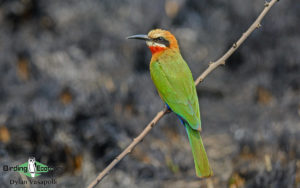 White-fronted Bee-eater occurs in the riverine woodland.
The diversity present in this reserve is outstanding, and it can be rather easy and quick to obtain a tally of over 100 species. Whether you have a full day or a half day available, or even only a few hours, Rietvlei Nature Reserve is always well worth a visit.