Published 14 July 2021
In late March 2021 I had an amazing opportunity to join Andrew de Blocq and Linda van den Heever of BirdLife South Africa to help with an avitourism assessment of the Maputo Special Reserve in southern Mozambique. As part of the assessment, we were to explore the reserve and identify the best areas for birding and make recommendations to reserve management as to how best the reserve could be marketed to birders and wildlife holidaymakers. This meant a few glorious days of exploring and documenting the birds of this under-birded area of southern Mozambique.
After an early start from Johannesburg, South Africa we had a roughly seven-hour drive and a border crossing ahead of us to reach this exciting reserve. The drive went quickly (the road from Maputo city south to Ponta do Ouro and the Kosi Bay border post is now tarred) and the border crossing was incredibly smooth (despite being in Covid times) and we were soon being welcomed to Maputo Special Reserve. This 580 square mile (1,500 square kilometer) reserve is a transfrontier park which links up with Tembe Elephant Park in South Africa through the Futi Corridor. The area encompasses coastal, sand and mangrove forests, coastal grasslands, a number or large freshwater lakes, and marine coastal beaches, with this diversity of habitats leading to a particularly impressive reserve bird list! Maputo Special Reserve also includes the Ponta do Ouro Partial Marine Reserve which helps to further protect the incredible biodiversity on offer here – the reserve is in fact within the Maputaland Centre of Plant Endemism!
It must be said that a birding holiday in Maputo Special Reserve would definitely appeal more to those adventurous-hearted birders with a taste for exploration. The roads are very sandy and thus you have to use a 4×4 vehicle, and at times the roads are a little overgrown, with navigation often not straight-forward. There are however good accommodation options in the park (with more to come) with upmarket lodge-style accommodation at Ponta Milibangalala while the campsites at Ponta Membene were some of the best I have ever seen – large spacious camp sites set far apart from one another, with excellent bathrooms and communal areas, and just a stone's throw from the Indian Ocean! Another campsite was busy being constructed on the edge of Lake Xinguti which looks to be of a similar standard to Ponta Membene. Additionally, we were told of the idea to construct rustic camps along 4×4 routes, which is an exciting prospect!
Our time here was spent birding and exploring the myriad of habitats in this large and diverse reserve. We thought four full days in the reserve would have been ample time to explore the reserve in its entirety, however we felt that we had not quite done the reserve justice at the end of our trip, and perhaps with another day or two we could have explored just about all of the reserve. I have summarised our daily birding activities below and the habitats and areas of the reserve that we visited.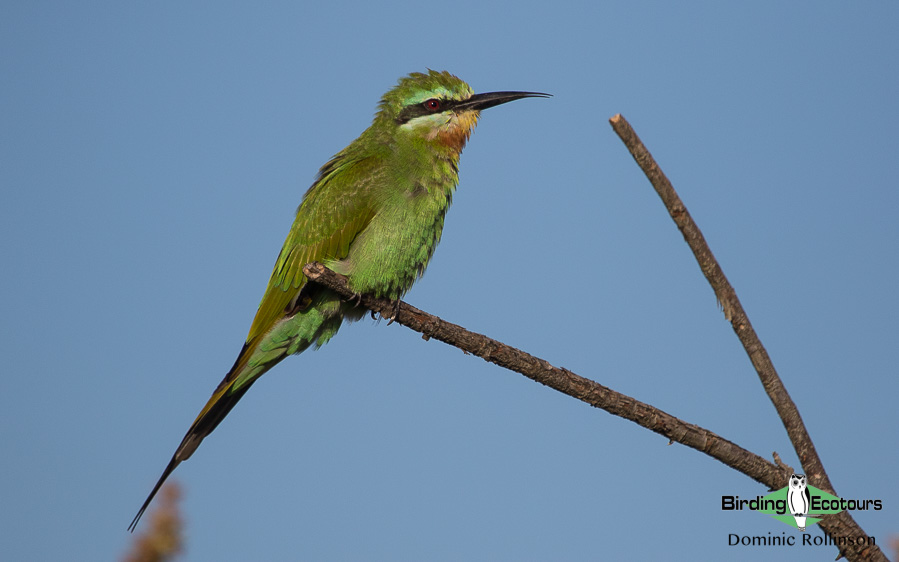 Bee-eaters feature strongly in Maputo Special Reserve – this being a Blue-cheeked Bee-eater.
On our first afternoon, soon after settling into our comfortable accommodation, we decided it was time to get our bird list going and took a drive out into the coastal grasslands and forest patches (towards Lake Xinguti) to see what the area might hold. It did not take long until we were into good birding areas and found grasslands species such as Rufous-naped Lark, Yellow-throated Longclaw, Croaking Cisticola, many Little, European, and Blue-cheeked Bee-eaters and Lizard Buzzard. The nearby forest patches had the usual common coastal forest species such as Emerald-spotted Wood Dove, Gorgeous Bushshrike (unfortunately only heard, and not seen), Black-bellied Starling, Common Square-tailed Drongo, Black-headed Oriole, and Red-capped Robin-Chat. We eventually made it to lake Xinguti where we enjoyed an impressive sunset as many Swamp Nightjars started to give their loud chop-chop-chop calls with some settling nearby and giving us great views. On our drive back to camp we heard the excited whinnying call of an African Barred Owlet from a small patch of coastal forest.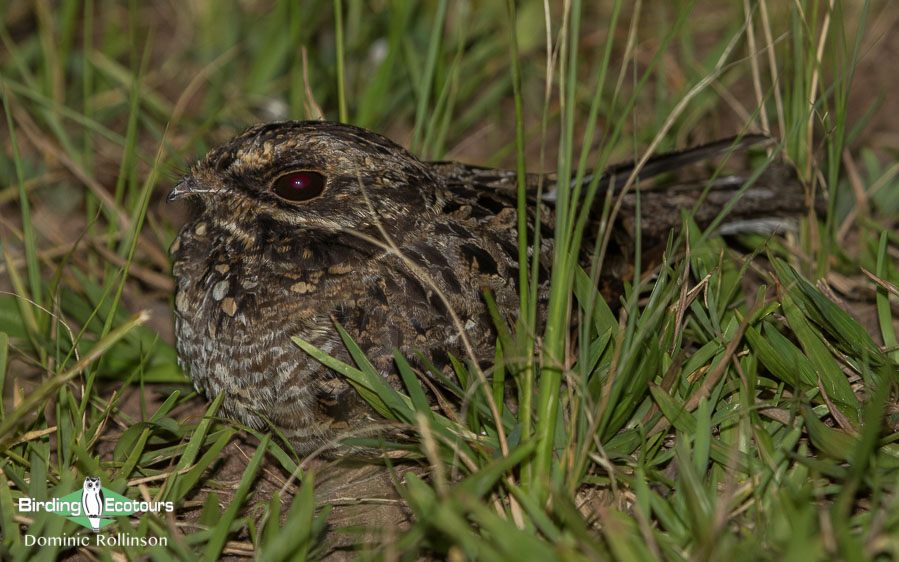 Good numbers of Swamp Nightjars were seen in the coastal grasslands of Maputo Special Reserve.
The next day we packed lunch and headed out early for a full day of birding. Again, we concentrated on birding the coastal forest patches, and some small patches of sand forest, as well as the vast open grasslands and lake edges. As like the previous afternoon, the forest patches were alive with bird call and it did not take long before we had racked up an impressive list of forest species, including the likes of Crowned Eagle, Crested Guineafowl, Blue-mantled Crested Flycatcher, Grey Sunbird, Trumpeter Hornbill, Livingstone's and Purple-crested Turacos, Yellow-rumped Tinkerbird, Woodward's Batis, Brown Scrub Robin (surprisingly abundant), Yellow-bellied Greenbul, Dark-backed Weaver, Green Twinspot, Southern Yellow White-eye, and a particularly obliging Narina Trogon.
The open coastal grassland between the forest patches yielded good numbers of Grey-rumped Swallows as well as Brown and Black-chested Snake Eagles, further masses of bee-eaters, Quailfinch, and Croaking Cisticola. The birding highlight of today (and possibly of the trip) was finding two small groups of Olive Bee-eaters in the coastal grasslands. There is a small disjunct breeding population of these bee-eaters centered around Inhaca Island (just north of Maputo Special Reserve), however they surprisingly hardly ever make it into nearby South Africa, with just a handful of records for the country. We saw both of these groups of birds less than 30 miles (50 kilometers) from the border and I can imagine further investigation of bee-eaters in northern Kwa-Zulu Natal is likely to result in more South African records of this species. Interestingly Olive Bee-eaters were last recorded breeding in South Africa in 1928!
We also birded the edges of the numerous inland lakes in the area, however with the exceptionally high summer rainfall the area had experienced this year, it meant there was very little lake-edge habitat to explore, and the wetland birding was not perhaps quite as good as it could have been. We did however record African Fish Eagle, White-faced Whistling Duck, Purple Heron, Hamerkop, African Jacana, Caspian Tern, and African Marsh Harriers quartering over the reedbeds, while the swampy areas held Eastern Golden Weaver, Little Rush and Lesser Swamp Warblers, Rufous-winged Cisticola, African Rail, Little Bittern, Red-chested Flufftail, and African Swamphen.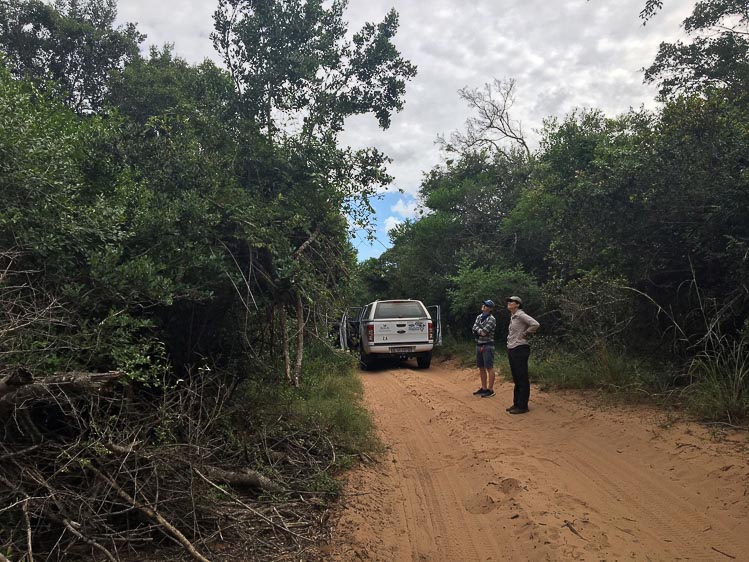 Birding the coastal forest patches of Maputo Special Reserve.
Sand forest patches and open bushveld areas were explored where we found Rudd's Apalis, Grey-headed Bushshrike, Eastern Nicator, Pale Flycatcher, Crowned Hornbill, Purple-banded Sunbird, and the uncommon, sand forest special Neergaard's Sunbird.
The following morning, we had the privilege of joining the Maputo Special Reserve rangers on their monthly coastline patrol, along the entire stretch of the reserve's coastline. It was encouraging and reassuring to see how seriously they took the threat of illegal fishing and poaching in the area. While on the patrol we explored coastal habitats where we found White-fronted and Common Ringed Plovers, Sanderling, Terek Sandpiper, Eurasian Whimbrel, Little and Lesser Crested Terns, and Grey-headed Gull. In these coastal areas there is always the potential for something rare and exotic (we had our hearts set on a Crab-plover) however it was not to be today. The lack of estuaries perhaps means the coastal birding and wader-watching potential is not as high as other coastal areas, however the mudflats just north of the reserve (closer to Inhaca Island) looked to have great potential for shorebirds.
For the remainder of the afternoon, we headed into the nearby popular holiday town of Ponta do Ouro to stock up on supplies, refuel the vehicle, and enjoy a meal overlooking the picturesque bay. This short trip out further highlighted the accessibility of the reserve, as we could be back in civilization, just 30 minutes from the park's gate. The new tarred road from the South African Kosi Bay border post all the way to Maputo has opened up this area to tourism; previously the drive from the border post to Ponta do Ouro was only possible in a 4×4 vehicle.
Our third full day was another exciting one as we explored the northwest of the reserve along the Futi River and the vast Futi Floodplain. The morning was simply magical as we worked our way through the riverine forest and birded stretches of the Futi River. Some of the interesting birds we saw along the river included Squacco Heron, Black-crowned Night Heron, Intermediate (Yellow-billed) Egret, Black Crake, African Jacana, and waders such as Black-winged Stilt, Wood Sandpiper, and Ruff. The reedbeds held Red-faced Cisticola, African Reed Warbler, Rufous-winged Cisticola, Thick-billed, Eastern Golden, and Southern Brown-throated Weavers, and flybys of Red-headed Quelea. The riparian forest was even more productive where we had good views of a pair of Southern Banded Snake Eagles and recorded other good birds such as Long-crested Eagle, Lizard Buzzard, African Goshawk, White-eared Barbet, Blue-mantled Crested Flycatcher, Trumpeter and Crowned Hornbills, African Barred Owlet, Gorgeous Bushshrike, and Crested Guineafowl. We had an interesting hiatus in our birding when we found the road blocked by a huge fallen tree – about 90 minutes later, with the use of a pocket-knife blade and we were on our way again – it all adds to the adventure!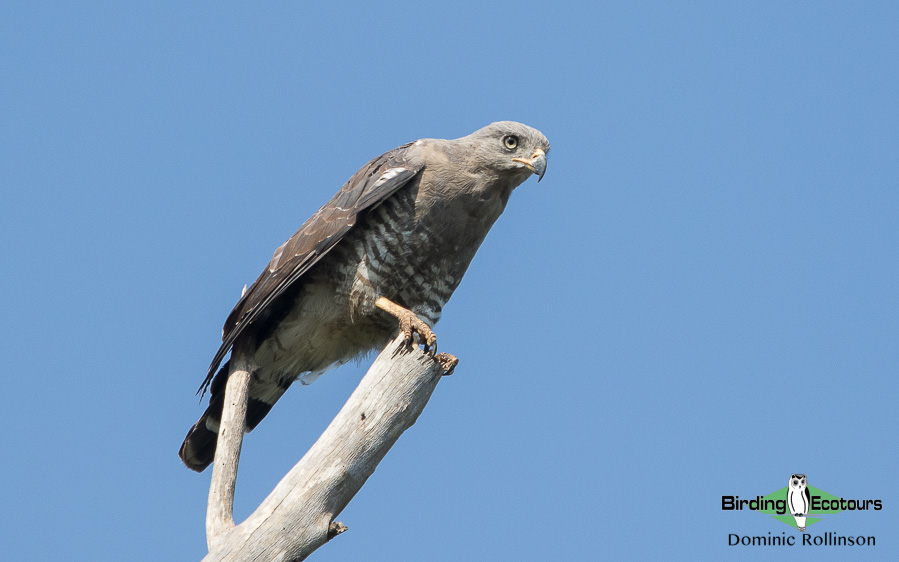 A pair of Southern Banded Snake Eagles were seen along the Futi River.
After the morning birding along the Futi River we eventually made our way out into a massive floodplain which was just dripping with birds. One of the first exciting finds of the area was a couple of Black Coucals which gave us distant but satisfactory views. We then set up our scopes and in no time at all we had added many new additions to our park list with good numbers of waterbirds, waterfowl, and other water-associated species. We postulated that the floodplain area must hold Rosy-throated Longclaw but could not find any of these beauties today. Some of the more interesting birds we found here included Collared Pratincole, Whiskered and White-winged Terns, Red-billed and Blue-billed Teals, Reed and White-breasted Cormorants, African Wattled Lapwing, Red-knobbed Coot, Little Grebe, African Marsh Harrier, and then another candidate for bird of the trip, Long-toed Lapwing. The lapwing is thought to occur in low densities in southern Mozambique (south of Maputo) however due to the lack of birders visiting the area, there are very few recent records. Similar to the Olive Bee-eater, it is very rarely recorded in South Africa, despite being less than 30 miles (50 kilometers) from the border here. We enjoyed extended scope views of this distinctly marked lapwing before we made our way back to camp in the late afternoon.


Scanning the Futi Floodplain.
For our final full day in Maputo Special Reserve we birded the area to the west of the main road to Maputo, along the Futi Corridor. The habitat here was quite different to anything we had encountered in the park, being a much drier broadleaved woodland with patches of sand forest, which reminded me very much of Tembe Elephant Park, in South Africa, which the corridor ultimately links up with. Birding the woodlands here was really productive and it was unfortunate we could not explore the area more extensively, as the above-average rainfall had meant some areas were impassable. We did however find Retz's Helmetshrike (unfortunately without the rare Thick-billed Cuckoo brood parasite in tow), Green Malkoha, Pink-throated Twinspot (interestingly we had not even had a sniff of this species on the eastern side of the main road), Livingstone's Turaco, Eastern Nicator, Woodward's Batis, Crested Guineafowl, and Rudd's Apalis. We kept our eyes and ears open for Plain-backed Sunbird which occurs nearby in Tembe Elephant Park, however did not have any success. I'm convinced that further exploration of this area will reveal numbers of this rare sunbird.
Maputo Special Reserve also has good numbers of mammals which have been re-introduced to the park. As we drove through the grasslands, we came across many Plains Zebra, Common Wildebeest, Waterbuck, Common Reedbuck, and Impala while the forest and bushveld areas held Giraffe, Nyala, Greater Kudu, Bushbuck, Red Duiker, Vervet and Blue Monkeys, and of course African Elephants (after which the reserve was formerly named).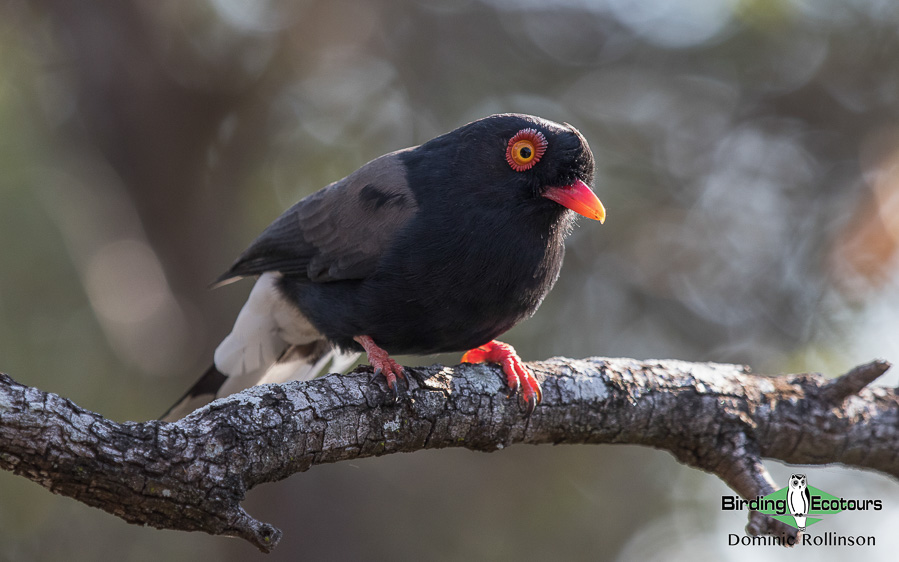 We had a few groups of characterful Retz's Helmetshrikes along the Futi Corridor.
Over our four full days in Maputo Special Reserve, we accumulated a bird list of just under 200 species which highlights the impressive avian diversity of the area. Further exploration of the reserve is likely to reveal good stakeouts for specials such as Plain-backed Sunbird, Rosy-throated Longclaw, Black-rumped Buttonquail, and African Broadbill, none of which we found during our time in the park (although there are previous records from the park), which could add even more appeal to visiting birders. I strongly encourage adventurous birders to head off the beaten track and explore this magical gem of a birding destination, you never know what you might just find out there!
If you are interested in exploring Mozambique why not join us on one of our birding tours to this exciting country. Our tours include a southern Mozambique trip which starts in Maputo and finishes in Beira, targeting specials such as Crab-plover, Olive-headed Weaver and Green Tinkerbird as we head north. Our central Mozambique tour is confined to Mozambique only in 2021 (due to travel difficulties with COVID) however it normally includes some time in Zimbabwe too. On this tour we target specials such as African Pitta, White-chested Alethe, Swynnerton's Robin, Böhm's Bee-eater, and many others.