A great many African birders have never seen a flufftail, even though a couple of species are rather common. This is because they are Africa's most elusive birds; they hide like no others (and that is the understatement of the century!). The habitats of the different species are highly varied. Some of them are forest birds, whereas others make their homes deep within marshes, and yet others lurk in overgrown bracken patches within mountain grasslands. All of them remain well-hidden at all times – yet their eerie calls are commonly heard. The voice of Buff-spotted Flufftail is like a foghorn and is usually uttered at night; others' calls are more staccato versions of this weird drawn-out hooting. Many people do not realize that these mysterious sounds actually are made by birds! Also known as pygmy crakes, these tiny (about 6 inches long) chicken-shaped birds are closely related to rails, yet are arguably even more skulking! Here I will take you on a journey of my personal experiences with these truly enigmatic birds.
My first flufftail encounter was when I was a young child (I already was a budding birder before reaching double digits), on vacation on the outskirts of Plettenberg Bay, a small town deep within South Africa's beautiful Garden Route. Here I listened to the foghorn-like call of a Buff-spotted Flufftail that lived deep within a thicket that even during the day was visually impenetrable. The other problem was that my little "friend" only seemed to call on foggy nights, making peering into the thicket even more difficult with my little flashlight. Needless to say, I never did see that bird, but not from lack of trying! It also does not help that this species never seems to respond to playback.  This is a bird of the forest floor, but it is known to hop onto a low perch within the deepest thicket it can possibly find, to "sing"! However, Buff-spotted Flufftail does also seem to have the habit of entering well-wooded gardens.
During my student days at the University of Cape Town, I heard that one had been seen every morning for the previous couple of weeks in a Cape Town Garden, and needless to say I made my way out there almost immediately (as I was still flufftail-less as far as actual visuals go, even after spending most of my childhood as one of the world's most enthusiastic birders). Speaking to the owner of the property, it became clear that this garden-dwelling flufftail had a predictable daily routine (based on how its call moved around the garden) and would make its way from one flowerbed to the next before hopping through the fence to the neighbour's garden, only to vanish for the rest of the day. Knowing the direction in which the bird would go each morning, we put a saucer of mealworms in the middle of its route in a tiny open patch in one of the flowerbeds. After waiting less than half an hour, the tiny little bird suddenly appeared, ate the mealworms one by one, and afforded the most brilliant views for a minute or two before it vanished again. What an amazingly beautiful bird! It's one of the prettiest little things I have ever seen, but it's like a phantom, and few birders ever get this kind of privilege of laying eyes on it. It's almost as if it's from a different world.
While I've heard this species so many times, I've only seen it on two other occasions, in my 11 years of bird guiding since I finished studying. Both times were in Zululand, South Africa. Once, thanks to my friend Bruce's eagle eyes, he actually spotted the duller female sitting motionless a couple of inches off the ground in a deep forest. And then, also in Zululand (this time at Cape Vidal near Lake St Lucia), I saw a male crossing a trail, and I called the clients, whispering that it might cross the next trail soon as it was walking casually in that direction! And yes, it did, providing a second view!
White-spotted Flufftail, a common bird in the forests of Kenya, Uganda, and other East African countries, is actually slightly less skulking than most other flufftails, so I've shown them to a good numbers of birders. The same can be said of Madagascar Flufftail. However, the extremely rare Slender-billed Flufftail, a marsh bird best seen near Mananara Lodge in Madagascar, is the opposite – it's one of the world's most difficult flufftails, due to its sheer rarity and not only its elusiveness. One of our guides has seen it, but I have yet to make the effort, as I've been tied up with too many other trips (if you want to join me, please do contact me, though – I can always be tempted!).
This would be a good time to talk about another incredibly rare one, the critically endangered White-winged Flufftail, which is only known as a breeding bird in the highland marshes of South Africa and Ethiopia (with one or two sightings in between). The best way to see this species is to join an organized flushing event, which is arranged every couple of years near Dullstroom (2.5 hours' drive east of Johannesburg) in the Greater Drakensberg region of South Africa. These are fund-raising events, and all moneys donated by flufftail flushers go towards conservation of the species.  I've only joined one such event, but I got a great view of the bird in flight! A captive breeding program is planned for the Johannesburg Zoo, and, interestingly, blood samples are being obtained for stable isotope and genetic analysis to see, among other things, whether this tiny little bird migrates the long distance between South Africa and Ethiopia, or whether these are completely separate populations. Birdlife South Africa is doing a lot of this conservation research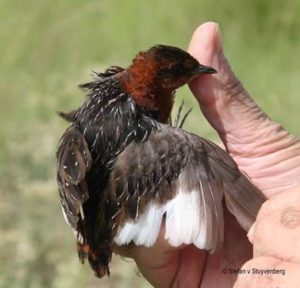 White-winged Flufftail – the rarest of the rare! (photo by Stephan van Skuyvenberg)
Striped Flufftail is a fairly rare and rather localised one that lurks in bracken thickets within montane grasslands, from Cape Town north-eastwards to the mountains of south-east Africa. My first one was flushed by my birding buddy in Malawi's spectacular Nyika National Park (while I was trying to admire a Mountain Marsh Widowbird).  It flew right across a valley and gave me the most incredible views of its red tail and head, and its funny little dark body. We sprinted towards the spot where it landed, and could not believe our luck when we proved the books wrong when they proclaim that "a flufftail cannot be flushed a second time". After that, we left it in peace. Striped Flufftail is a bird we do look for fairly often these days, as Birding Ecotours guides, and in fact we do find it for clients more or less annually, most often in South Africa.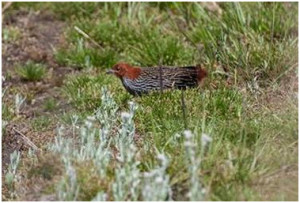 The above photo of Striped Flufftail is extraordinary – how did he manage to get this skulker in the open? (Photo by Alan Lee)
Another very localised flufftail is Streaky-breasted Flufftail. Good places to see it are the marshes ("vleis" in southern African lingo) within the city of Harare in Zimbabwe and northwards to the wetlands of southern Zambia. I've heard it in both of these places, but I still need to go and try to actually see one! Similar comments for Long-toed Flufftail, Gabon being a particularly good country for it.
I'll end with one of the easiest of the pygmy crakes, Red-chested Flufftail. This is a bird that we (Birding Ecotours) have several surprisingly reliable South African sites for, from Gauteng to the Cape. The best site of all is in the Garden Route, five hours' drive east of Cape Town, where we see the little thing running under a boardwalk, sometimes within feet from us. Getting a photo of it is nearly impossible, though: it is mouse-like and never remains still even for a second. We also see it quite often within the suburbs of Pretoria. It's a bird of tall reed beds, but sometimes it can be seen as it moves between patches of reeds.
Birding Ecotours does some trips targeting tough birds such as flufftails – e.g. Birding Tour South Africa: Elusive Owls and Flufftails
The Streaky-beasted Flufftail follow-up to this blog is now shown at Rare rallids of Harare in Zimbabwe