After finishing my Central and Northern Thailand January 2020 birding tours (click the links for trip reports) I headed to Sulawesi for a spot of birding. There were a few targets I wanted to look for; the first was Maleo, the rather unique-looking, endemic megapode, and the second was the stunning Sula Pitta, a bird endemic to Peleng Island, part of the Banggai Archipelago off Central Sulawesi. There was also a chance for some really rare and localized species on Peleng Island, like Banggai Crow, and a few newly described species such as Banggai Leaf Warbler and Peleng Fantail (as mentioned in this recent Audubon Society article). There was also a chance for numerous local and endemic subspecies which may warrant full species status in some cases and so are well worth the effort to see.  This is Part 1 of three blog posts on the trip; links to the other blog posts appear at the bottom of each post.
Our first birding stop was Peleng Island
We arrived to Luwuk, Central Sulawesi. An hour's morning birding near our hotel produced Sulawesi Goshawk (not a bad start!), Yellow-billed Malkoha (one of the best-looking malkohas on the planet), Grey-sided Flowerpecker, Yellow-sided Flowerpecker, Black-faced Munia, and Great (Sulawesi) Hanging Parrot. We then took a boat across to Peleng Island, enjoying numerous flocks of Red-necked Phalaropes along the way.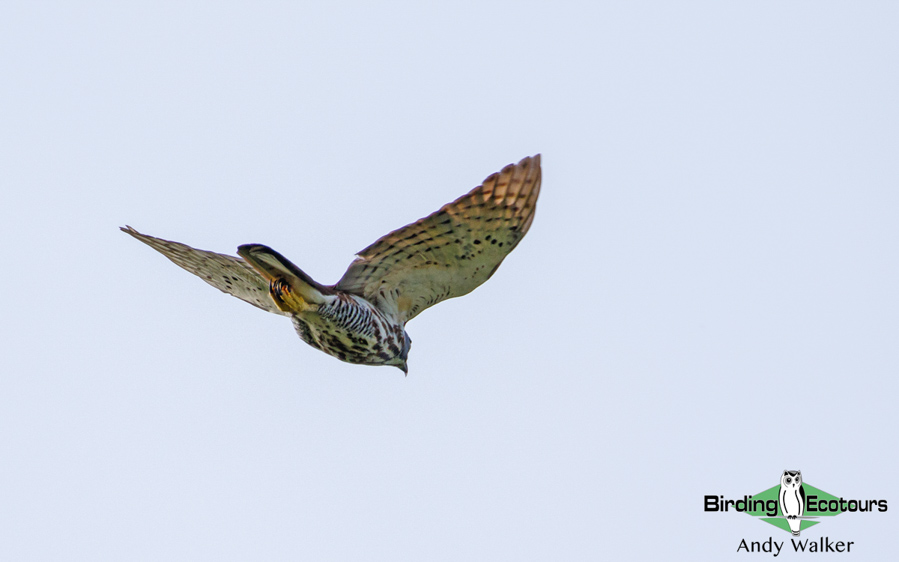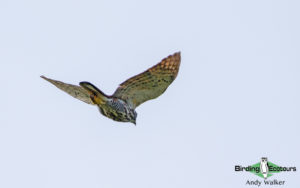 Finding the uncommon and tough Sulawesi Goshawk was a great start to our trip.
An exciting day dawned in Peleng. We were up nice and early, ate breakfast, and jumped on the back of some motorbikes for about an hour, all heading uphill.
Our first stop yielded the rare Sula (Solilonggon) Cuckoo-Dove, Sultan's (Sulawesi) Cuckoo-Dove, and Sulawesi Drongo. Moving onward and upward we arrived at our jumping-off point, where we were greeted by a (Western) Superb Fruit Dove on a nest. Starting out our hiking we were suddenly watching lots of amazing birds, some of which included Sula Hanging Parrot, Sulawesi Serpent Eagle, Banggai Fruit Dove, and Black-naped Fruit Dove. A brief rain shower in the early morning was unexpected, and luckily we were able to take shelter in a disused hut. After the rain the bird activity went crazy, suddenly there were very vocal Golden-mantled Racket-tails (a gorgeous parrot with rackets on the end of its tail! ) flying around, along with Moluccan King Parrot, Northern (Banggai) Golden Bulbul, Grey-rumped Treeswift, Black-naped ("stresemanni") Oriole, and then one of our main targets, the incredibly rare, endemic Banggai Crow, a species only recently rediscovered after a 100-year absence! After enjoying views of two of them we were amazed to see a flock of 10 coming into a tree to dry off after the rain.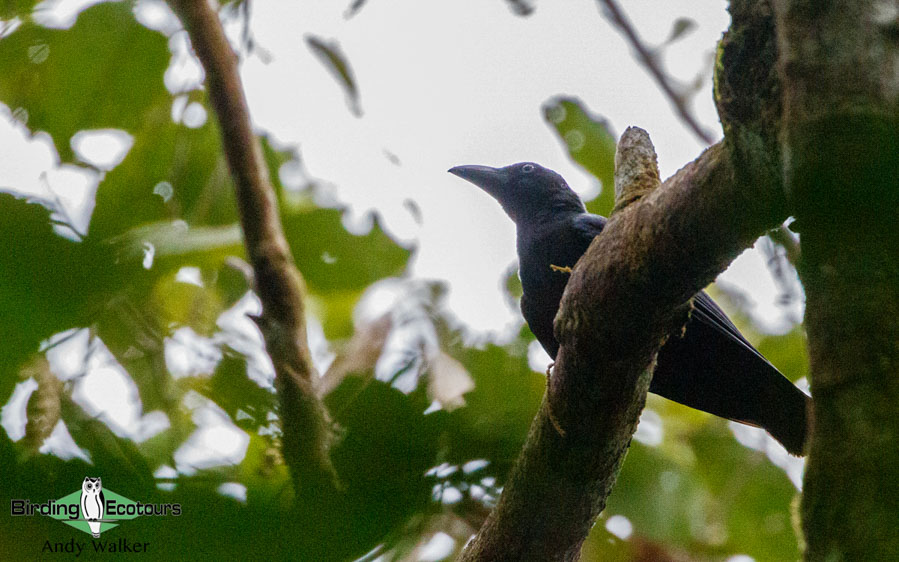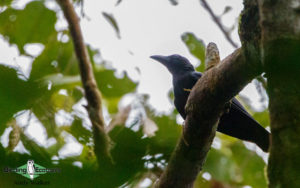 Banggai Crows quietly feeding in the forest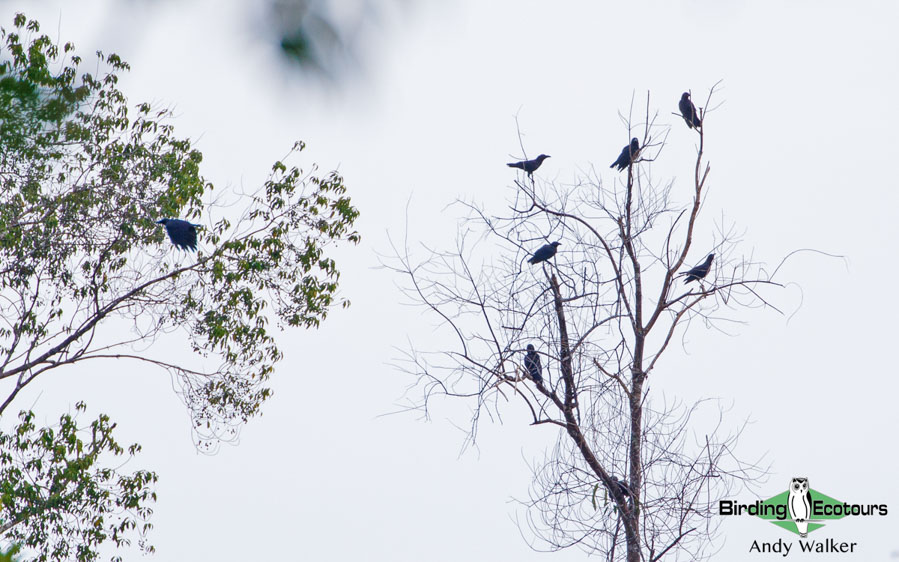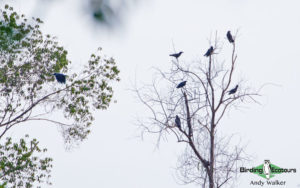 Part of a flock of 10 Banggai Crows drying off after a storm
The Banggai Crow was discovered in the 1880s (two specimens). It is endemic to Peleng Island, Sulawesi. After discovery it was not seen for over 100 years! BirdLife International considers it to be Critically Endangered with a population estimate of 50-249 birds, Handbook to the Birds of the World "HBW" gives an estimate of 30-200 birds. So a very rare and very localized species and one we were very pleased to connect with so early in the trip.
Waking around a little more we found yet more of our key target species, such as the recently described Peleng Fantail and Banggai Leaf Warbler with a pretty awesome supporting cast of Yellow-throated Whistler, Drab Whistler, Pale-blue Monarch, Citrine Canary-flycatcher, Black-capped White-eye, and another big target, Banggai Jungle Flycatcher.
We did an hour's birding near our accommodation after dinner and were duly rewarded with breathtaking views of Sulawesi Scops Owl of the endemic island subspecies and split by some authorities as Banggai Scops Owl, and the rarely seen Peleng Island form of Sulawesi Masked Owl ("pelengensis"), the latter also showing extremely well, sitting on a coconut frond.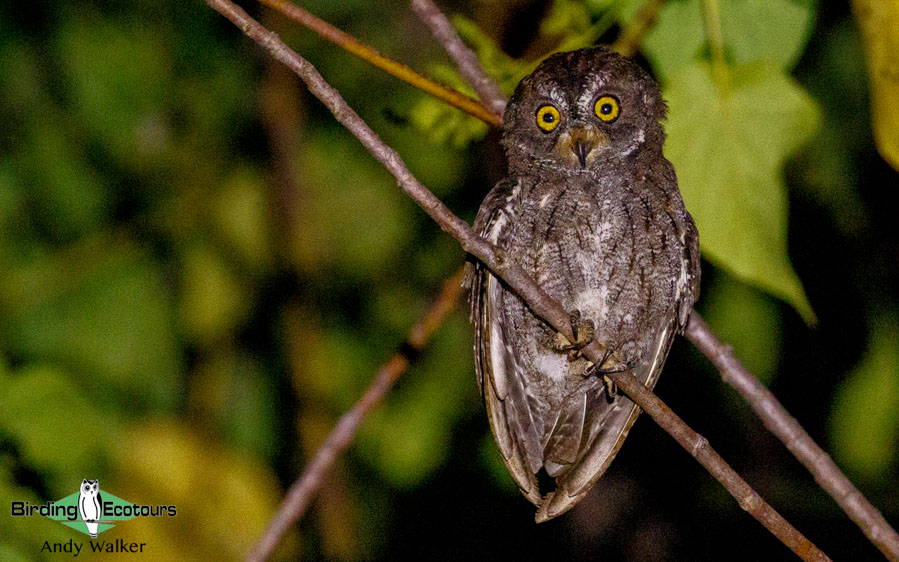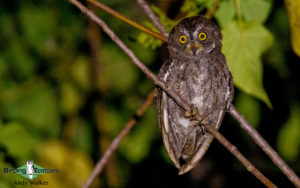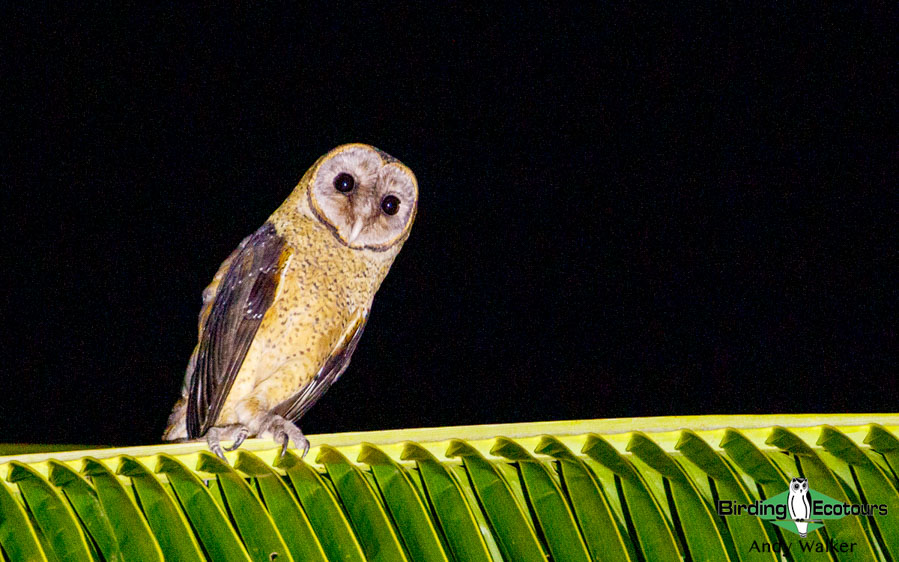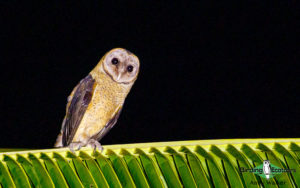 The Sulawesi (Banggai) Scops Owl (top) flew in and gave some incredible, close views, and remarkably the Sulawesi Masked Owl did similar.
Click

here

for Part 2…
If you're interested in seeing some of these rare and endangered birds please contact us at [email protected], as we'd be pleased to help put together a custom tour for you, or consider looking at our July Sulawesi and Halmahera Tour (details here).